29+ Small Kitchen Layout Ideas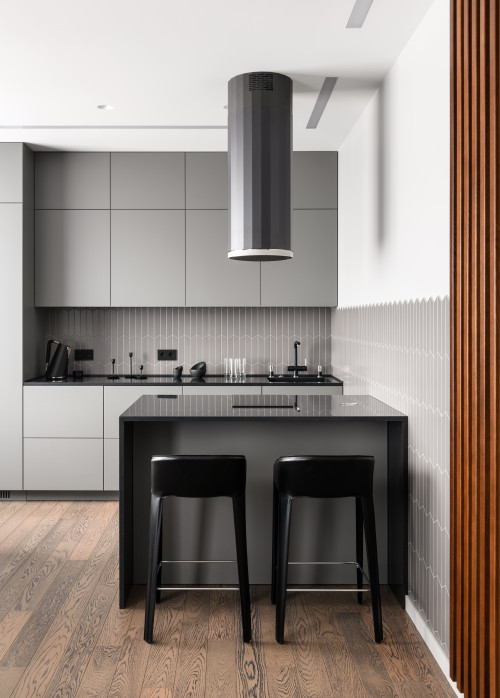 ID# 166404 | Houzz.com – Credit | © Olga Ladurko Interior Design
---
Gray Contemporary Kitchen with Black Granite Countertops
In the interior design world, gray is one of the most flexible hues that can be used in any design principle, and the gray color palette in this contemporary kitchen demonstrates a timeless beauty. The matte gray kitchen cabinetry and gray backsplash tiles offer a unified aesthetic with a contemporary flair. The black granite countertops offer modernism while also increasing visual intrigue. Last but not least, the round range hood stands out over the peninsula, creating a one-of-a-kind style.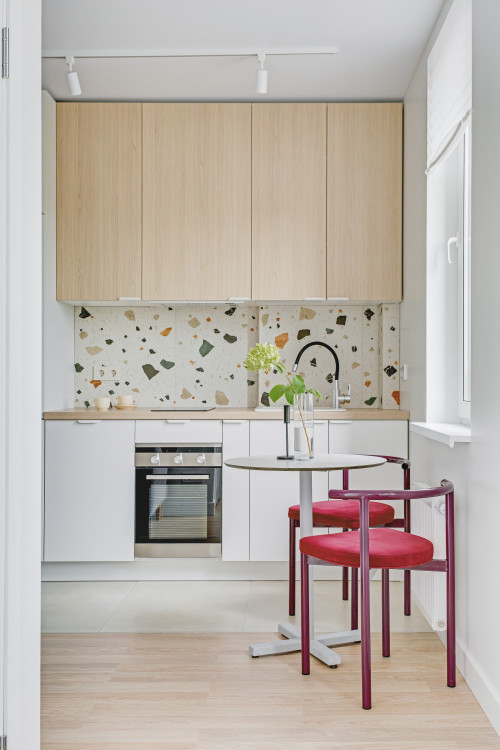 ID# 166416 | Houzz.com – Credit | © Суворова Анна
---
Tiny Kitchen Design with Terrazzo Backsplash and Two-Tone Cabinets
This tiny kitchen is a perfect example of how one material can easily transform the overall look!! Here, the terrazzo backsplash directly draws attention and becomes the focal point of the space. The colorful texture of the terrazzo tiles instantly elevates this otherwise neutral kitchen with white and wood cabinets.
Small Kitchen Layout Ideas
Who wouldn't want to have a spacious kitchen with an abundance of worktops, plenty of space for counters, and more freedom? Unfortunately, big kitchens may not happen to everyone. Luckily though, small kitchen layout ideas guide you on how to navigate small spaces better to optimize storage and create a desirable look.
Functional Layout Options for Small Kitchens
The most functional small kitchen layouts comprise galley, U-shaped, L-shaped, and single-wall kitchens. Depending on the form of your kitchen, you can decide which layout suits your home better. It, of course, also depends on whether you have an open-plan or enclosed kitchen. From the color scale to cabinet styles, the configuration of the counters, hardware choice, and use of patterns, each detail constitutes how the space feels. In this blog, we have rounded up 30+ small kitchen layout ideas from which you can steal some inspiration to be more conscious in the future while dealing with compact zones.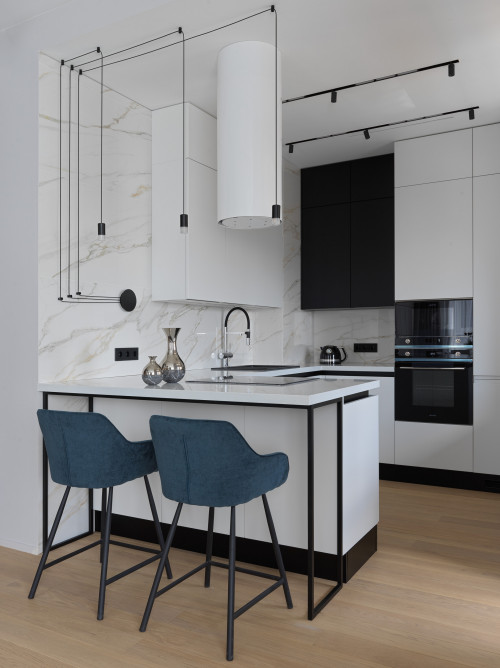 ID# 166401 | Houzz.com – Credit | © Рожкова Полина
---
Black and White Kitchen with Quartz Backsplash and Countertops
This monochrome kitchen design perfectly highlights the timeless elegance of the modern look with its matte black accents! These black elements give a wow effect by standing out against the white flat-panel kitchen cabinetry and peninsula. Full-height quartz backsplash and countertops, on the other hand, blend natural beauty with a sense of luxury. The light wood floor softens the strong contrast and breaks up the black-and-white color palette. Thanks to the u-shaped layout and the peninsula addition, this small kitchen serves as a stylish and at the same time functional cooking space.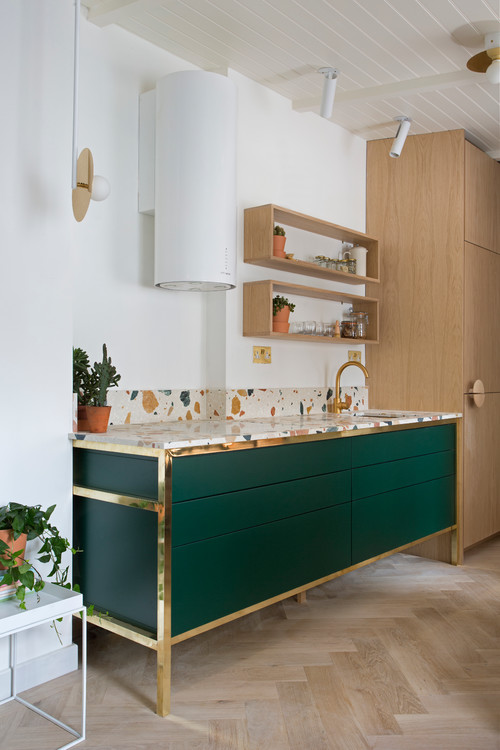 ID# 166402 | Houzz.com – Credit | © Play Associates
---
One Wall Small Kitchen Layout Ideas with Green Cabinets
If you are working on a small kitchen space, a one-wall layout might be a perfect way to create an airy and spacious atmosphere. However, having a small kitchen doesn't mean that you need to sacrifice glam! As you can see in this kitchen, the sophisticated appeal of the dark green cabinets dominates the space, creating a striking focal point. The polished gold details enhance the luxurious sense. The addition of the terrazzo backsplash and countertop creates a cohesive look with the cabinets while adding joy.
Design tip: In small kitchens, using open shelving instead of upper cabinetry is a great way to enhance the open and airy feel.
What is the best layout for a small kitchen?
The key to establishing the best plan for your small kitchen is to first analyze its architectural characteristics! Examine if your kitchen has a sloped roof, skylights, the size and position of windows, and whether it is enclosed or open plan. You may make an informed judgment on how to improve the area based on these qualities. In general, the U-shaped layout is often recognized as the finest design for tiny kitchens, particularly if you have a lot of cookware to store. A U-shaped layout provides three rows of cabinets, allowing you to include extra counter space and work places.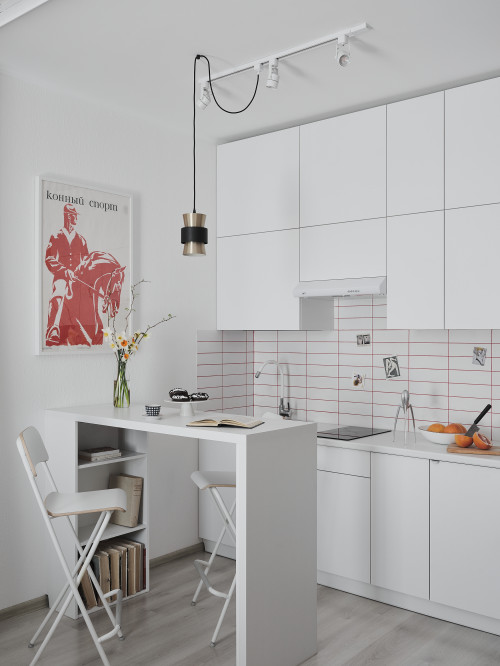 ID# 166403 | Houzz.com – Credit | © AY STUDIO
---
All-White Contemporary Kitchen Design with Pink Accents
All-white color schemes are ideal choices for small spaces. As you can see in this contemporary kitchen, white color surrounds all the surfaces and create a bright and spacious atmosphere, making the space feel larger!! Even though the kitchen has a simple one-wall layout, the addition of the small peninsula adds another function and provides extra storage space with its open shelves. The pink accents such as the painting and the grout of the stacked tile backsplash add a splash of color to enhance visual interest.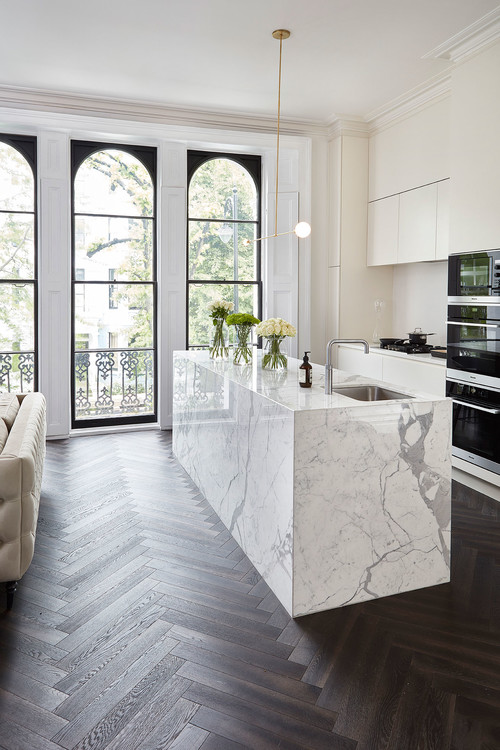 ID# 166405 | Houzz.com – Credit | © Huxley Home Design Group
---
Small Kitchen Layout Ideas with Marble Island and Herringbone Floor
Marble will be your rescuer if you want to give a rich feel to your kitchen design! This material has a high-end appearance because of its natural veining. The marble kitchen island takes center stage in this white contemporary kitchen and creates an eye-catching focal point. Even though the kitchen has a one-wall arrangement, the marble island quickly lifts the overall design. At the back, the modern white cabinets and backsplash provide a clean and fresh backdrop that allows the island design to stand out.
Best Small Kitchen Layouts
If you happen to have a narrow kitchen space, don't despair! There are a number of functional layouts that can help you make the most of what you have and maximize the functionality of your small kitchen. Galley, single-wall, U-shaped, L-shaped, or square kitchen layout. When it comes to arranging your little kitchen area in the most effective way, each of these has its own distinct advantages.
Small U-Shape Kitchen Layout
U-shape layouts are one of the most suitable configurations in small kitchens that help maximize the efficient use of the space, forming a triangle with three worktops. In other words, for a U-shape layout, you need three adjacent walls for the cabinets aligned to. But in open-plan layouts, you may not have three walls. So, you can add an island unit or a breakfast bar to add another "arm" of cabinets to achieve the U shape. In that sense, U-shapes are flexible layouts that you can use in both open-plan and separate kitchens. Plus, these layouts provide you with plenty of worksurface and storage that you can even expand more with wall-hung cabinets. If you have sloping roofs, niches, and corners with a skylight, you can again go with U-shaped kitchen layouts.
But how to make use of these layouts at best? First of all, lighting is a key issue. If you want your kitchen to function fully, you need a great lighting system. And what is recommended for U-shape layouts are the task and ambient lighting. Apart from that, centering the design around a window also helps even the distribution of natural light. As for the storage, you can use pull-out storage in the corners for convenient use, so that you won't lose anything to the depth of the cabinets. Streamlining your space is another essential point to avoid visual clutter, which you can support with built-in handgrips or barely visible lip pull notches.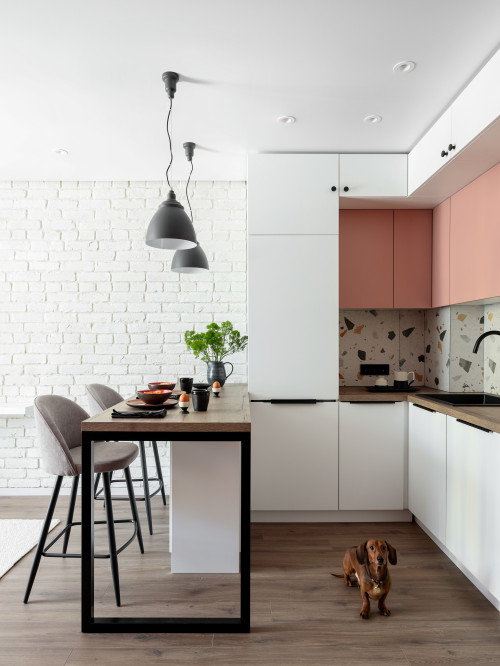 ID# 166406 | Houzz.com – Credit | © Maxim Maximov
---
U-Shaped Kitchen Layout Ideas with Terrazzo Backsplash
Colorful details instantly elevate this otherwise neutral kitchen design! The pink upper cabinets and terrazzo backsplash create a joyful focal point in this Scandinavian kitchen. The white flat-panel cabinets provide a clean and fresh frame for these features and create an open and airy atmosphere. The dark wood countertops complement the wooden flooring and add visual interest by creating contrast. The addition of the peninsula serves as a dining area with gray chairs and black pendant lights.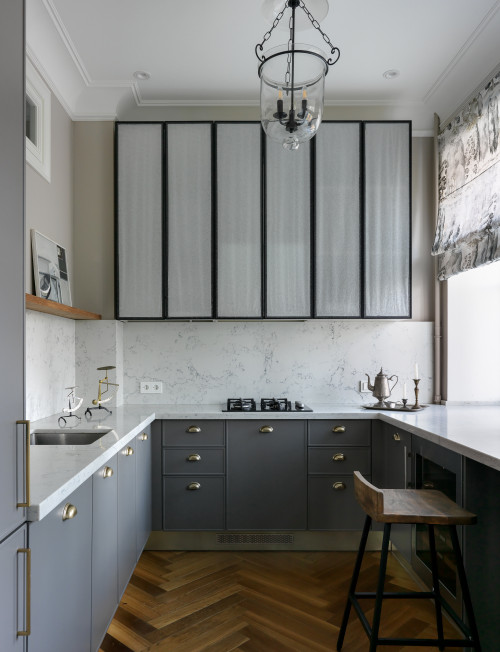 ID# 166407 | Houzz.com – Credit | © Мария Пилипенко
---
Gray Kitchen Cabinets with White Marble Backsplash and Countertops
Gray base cabinets with brass knobs ooze subtle refinement in this u-shaped kitchen and provide sufficient space for all your kitchen supplies! The tall upper cabinets with frosted glass doors add elegant elegance while also providing a glimpse inside your perfectly chosen collection. The white backsplash and countertop exude timeless beauty and purity. The wood herringbone floor parquets, which lend a natural and inviting mood to the room, offer this kitchen a great touch of warmth and character. This beautiful herringbone pattern not only adds visual appeal, but it also adds a touch of sophisticated elegance to the flooring.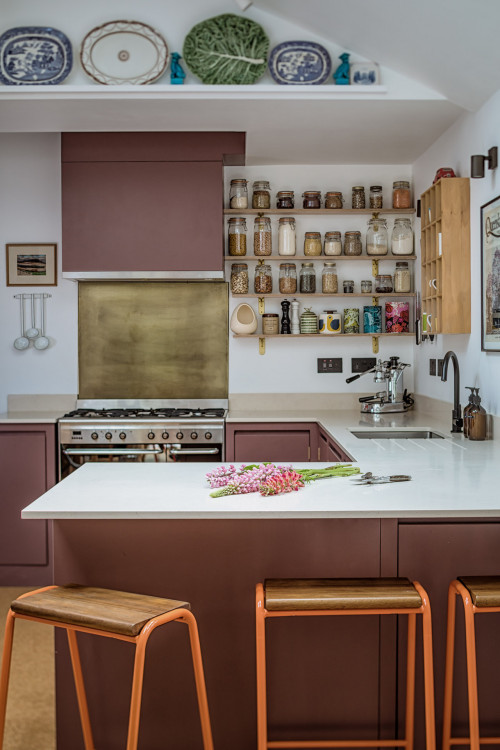 ID# 166408 | Houzz.com – Credit | © Honest Kitchens
---
Burgundy Kitchen Cabinets with Brass Sheet Backsplash Behind Stove
The sophisticated appeal of the burgundy color surrounds this contemporary kitchen through the cabinets, creating a stylish and elegant overall design. The beige countertops create a harmonious look with the cabinetry while the brass sheet backsplash behind the stove complements the rich and royal sense of the burgundy. The open wood shelves serve as a storage space for the jars and at the same time, these jars create a visually appealing accent wall.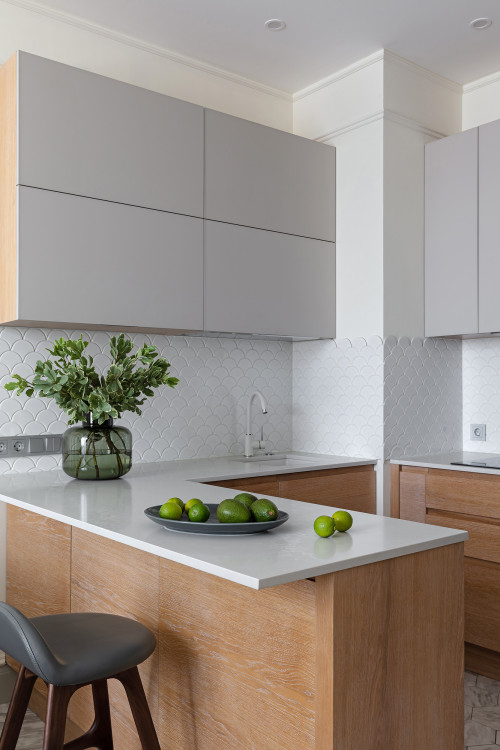 ID# 166409 | Houzz.com – Credit | © Osterman studio. Дизайн интерьеров.
---
U-Shaped Small Kitchen Layout Ideas with Two Tone Cabinetry
Try a gray and wood combo to create a clean and modern vibe in your kitchen! This neutral color scheme may simply adapt to your particular style and help you get your desired result. The two-tone gray and white cabinetry gives a streamlined foundation in this transitional kitchen. The white quartz countertop and white fish scale tile backsplash compliment the cabinetry's futuristic lines wonderfully, creating a beautiful tactile effect.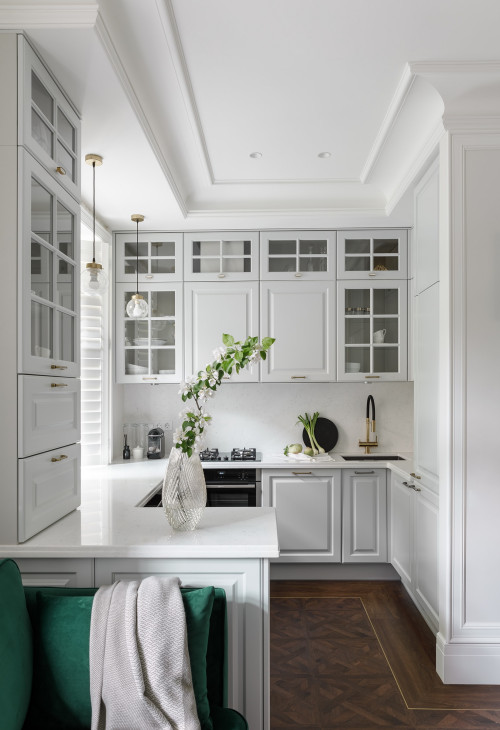 ID# 166410 | Houzz.com – Credit | © Duga Studio
---
Traditional Kitchen with Glass-Fronted Cabinets
With its raised panel and glass-fronted cabinet doors, this little white kitchen accentuates the classic design's ageless charm. Off-white paint on the cabinets creates a simple and elegant foundation. The U-shaped layout of the kitchen places an emphasis on functionality without sacrificing aesthetics. The white quartz backsplash and countertop, which have a marble-like feel, perfectly match the whole design and up the opulence factor!!
Small L-Shape Kitchen Layout
Practical and versatile L-shape kitchen layouts consist of two runs of cabinetry on adjacent walls, creating an open feel. The L-shape also allows for flexibility and plenty of storage, providing space-saving solutions with the efficient use of corner spaces. Plus, you can use this layout both in traditional, rustic, and contemporary kitchens.
In these layouts, adding curved corners ensures a better flow and soft turns to eliminate any accidents that may occur due to the sharp edges. Glossy finishes and floating cabinetry are other additions you can consider to keep light bouncing around the room and the floor neat and clear.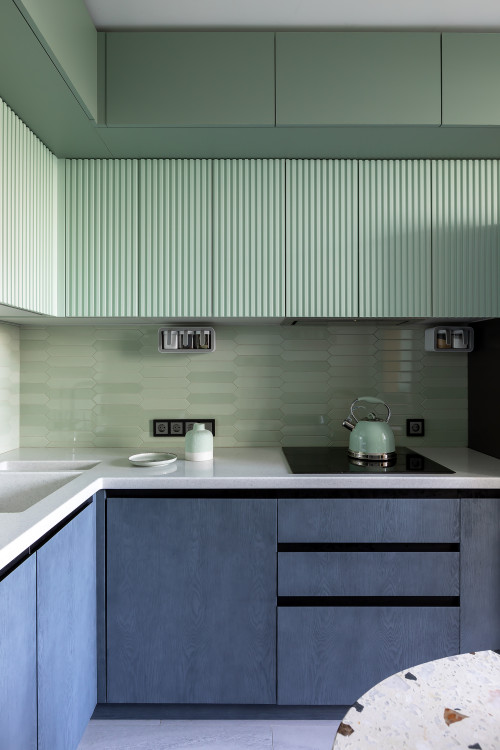 ID# 166411 | Houzz.com – Credit | © "ЭСТЕТ DESIGN " Надежда Ракова и Алёна Гуслиц
---
Blue and Green Kitchen Design with Hexagon Tile Backsplash
The deep blue color of the lower cabinets in this modern kitchen radiates a wonderful richness, serving as a captivating focal point that enhances the space's depth and refinement. The bright green upper cabinets create a vivid and active atmosphere in the room. The elongated hexagon tiles give dimension and texture to the kitchen while also enhancing the overall design. The sleek white quartz countertop, as a finishing touch, not only emanates clean sophistication but also serves a useful purpose!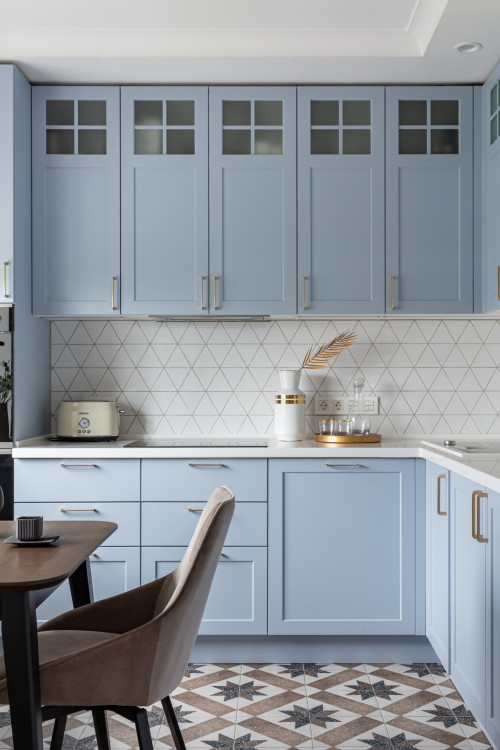 ID# 166412 | Houzz.com – Credit | © Миксон — мебель на заказ
---
L-Shaped Small Kitchen Layout Ideas with Patterned Floor Tiles
The backsplash for the light blue cabinets in this transitional kitchen is made out of white triangle tiles that are arranged in a diamond design. The cabinets' stunning blue paint color and the shiny brass hardware exude romance. The pattern on the floor tiles, which also give the space depth, detracts from the modest size of the kitchen.
Small Galley Kitchen Layout
Considered an ergonomic design, galley kitchens consist of 2 runs of cabinetry that run parallel to each other. And they make for one of the most functional layouts for small kitchens. With these layouts, homeowners can make the space live up to its full potential. But for the sake of maximizing storage, it is important to avoid using tall units on both sides. Rather, allocating one side for the floor-to-ceiling cabinets and built-in appliances is enough. It in turn helps keep the other top half free. To open up the space more, floating shelves are recommended instead of overhead wall units.
Additionally, pale colors in long and narrow spaces help the kitchen feel roomier. This way, the natural light also gets diffused much better. In such cases, pale blue, gray, and green tones are generally the best shades to go with. However, if you need an extra light diffuser, polished countertops do the work for you.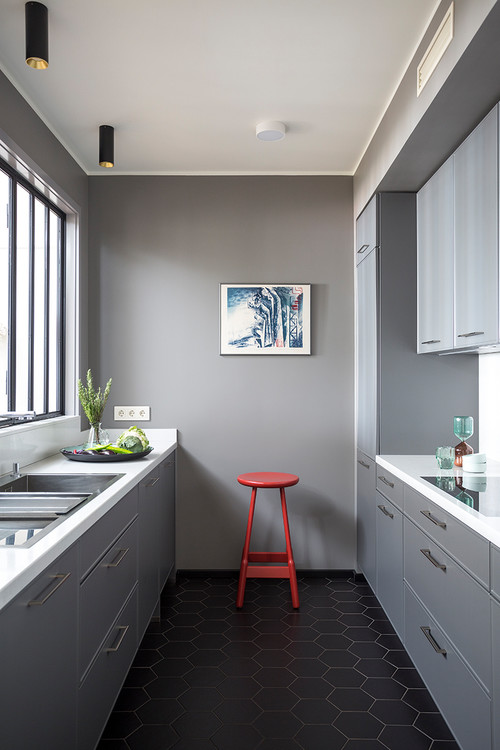 ID# 166413 | Houzz.com – Credit | © Лена Зуфарова
---
Galley Small Kitchen Layout Ideas with Black Hexagon Floor Tiles
If you are working on a narrow kitchen space as in this example, a galley kitchen layout might be the ideal way to make your space feel larger. The gray-painted walls create a continuous look with the cabinetry while the white countertops add a bright look. The black hexagon floor tiles make a strong statement and bring depth and dimension to the space. Thanks to the large window opening, this contemporary kitchen has a spacious atmosphere, even though it has a dark color scheme!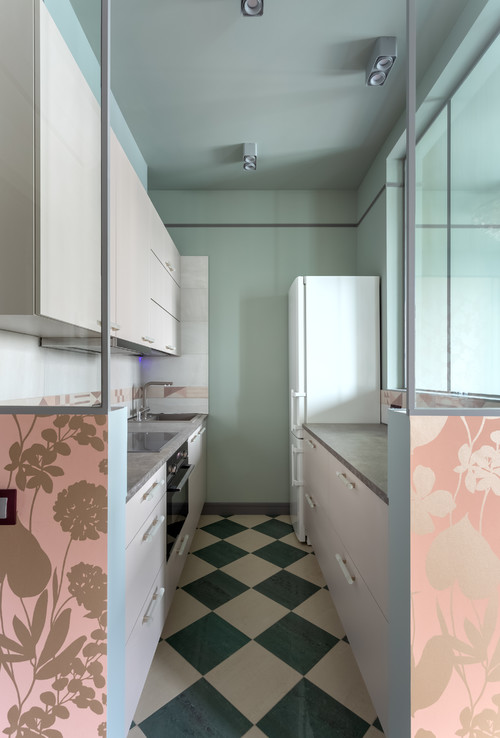 ID# 166414 | Houzz.com – Credit | © PUUSTELLI MOSCOW
---
White Flat-Panel Cabinets with Pastel Green Walls and Ceiling
This modern kitchen evokes the beauty of vintage appeal due to its checkered floor tiles and pastel color palette! The pastel green painted walls and ceiling in this room provide a romantic ambiance, while the white flat-panel kitchen cabinets offer a tidy and modern foundation. The floor tiles with black and white checkered patterns become the center of the area between the light colors.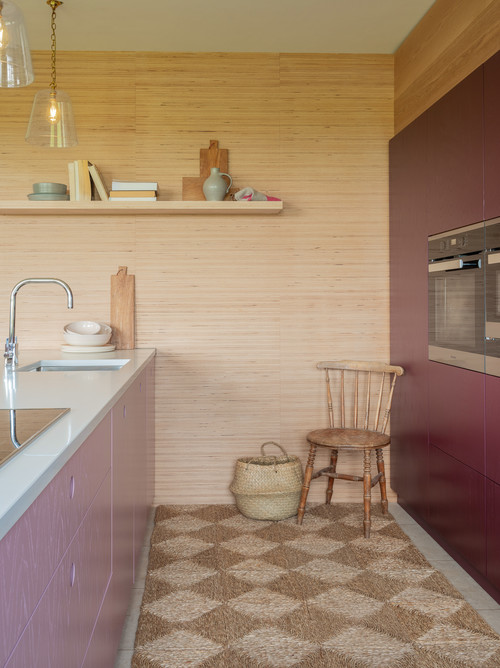 ID# 166415 | Houzz.com – Credit | © Naked Kitchens
---
Purple Kitchen Design with Ligth Wood Paneling
The sophisticated backdrop of this cutting-edge concept's sleek and polished dark purple cabinets, as well as its ample storage solution, exude refinement!! While the lovely lavender cupboards to the left of the sofa give a bright splash of color and enhance aesthetic appeal, they also blend in perfectly with the dark purple tint
Small One-Wall Kitchen Layout
Taking up less floor space when compared to the previous layout types, small one-wall kitchen layouts have one of the most minimalist footprints. As the cabinets are fitted along one wall as the name already suggests, the resulting scheme feels less complicated, providing a less-cluttered look.
The one-wall kitchen layouts can also apply to both small enclosed kitchens and open-plan spaces. Particularly in the open-plan spaces, they enhance the openness since they don't hide behind the islands or another run of cabinetry. When designing one-wall layouts, you can take cues from minimalist and Scandinavian designs and go with streamlined looks. If you are looking for a festive feel, feel free to add pops of yellows, oranges, and pinks. One-wall kitchens handle color bombardments much better than other layouts.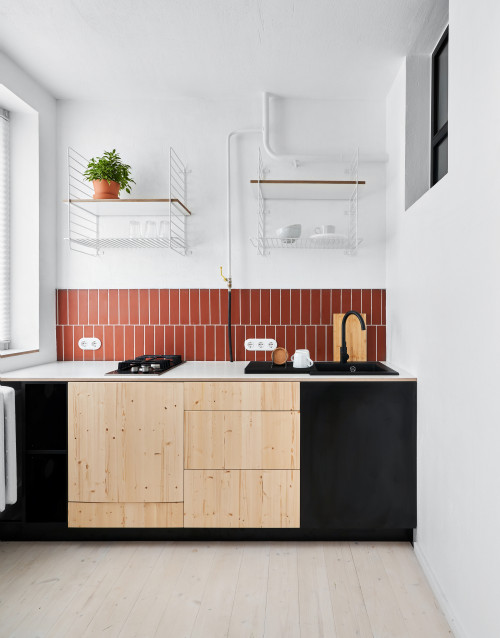 ID# 166417 | Houzz.com – Credit | © Line Design Studio
---
One-Wall Small Kitchen Layout Ideas with Red Stacked Tile Backsplash
In this beautiful kitchen design, the smoothness of the black cabinets is wonderfully paired with the organic warmth of the wood accents to create a fashionable and modern appeal! For meal preparation and cooking, the white countertop offers a bright and hygienic surface, while the vertical arrangement of a dramatic red backsplash gives the room some life and color. The open white shelving also adds a sense of visual intrigue to the overall design while acting as a practical yet attractive storage and display alternative.
Small Kitchen Layout with Island
In small kitchens, the kitchen islands are generally as big as to house two stools, functioning as space organizers, space dividers, and many more. But the best part of the islands is that they allow you to think outside the box and experiment with forms. Ranging from cantilevered islands to waterfall island units, there are many different forms of studies. Plus, if you are going to hide your kitchen base behind an island, why wouldn't you make it a statement piece?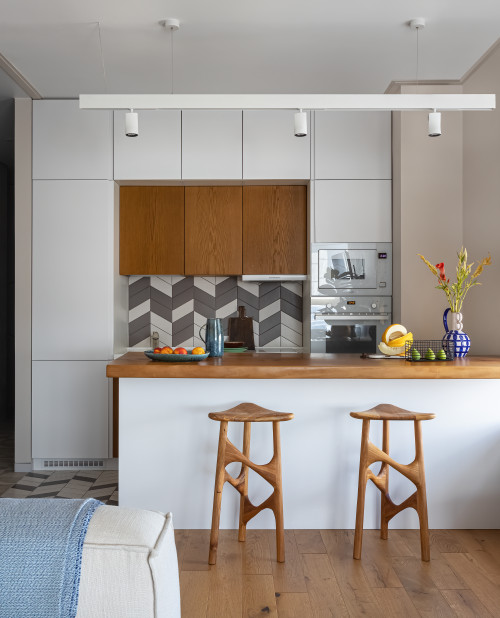 ID# 166418 | Houzz.com – Credit | © Brick buro
---
Small Kitchen Layout Ideas with Island and Wood Countertop
To add interest to white kitchen cabinets, experiment with different colors and textures for the backsplash! Here, the flat-paneled cabinet surfaces are given some vitality by the gray chevron backsplash tile's eye-catching pattern and gray tones. The wooden countertop of the peninsula, the wooden counter seats and the earthy backsplash tiles all go well together.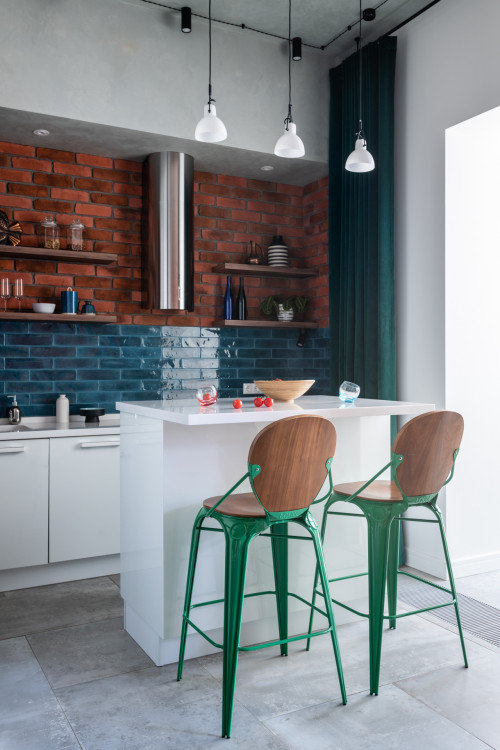 ID# 166419 | Houzz.com – Credit | © Князева Вероника /студия "ProIntDesign"
---
Tiny Industrial Kitchen with Blue Subway Tile Backsplash
With its two striking backsplashes, this industrial kitchen stands out from other styles. First, a backsplash made of blue subway tiles adds vivid colors. Along with a rounded chrome range hood, a simulated brick backsplash immediately above completes the industrial appearance. In addition to adding accents, the floating shelves that were used in place of top cabinets freed up space on the wall. This vibrant backdrop is enjoyed by an industrial-style kitchen island and white industrial stools.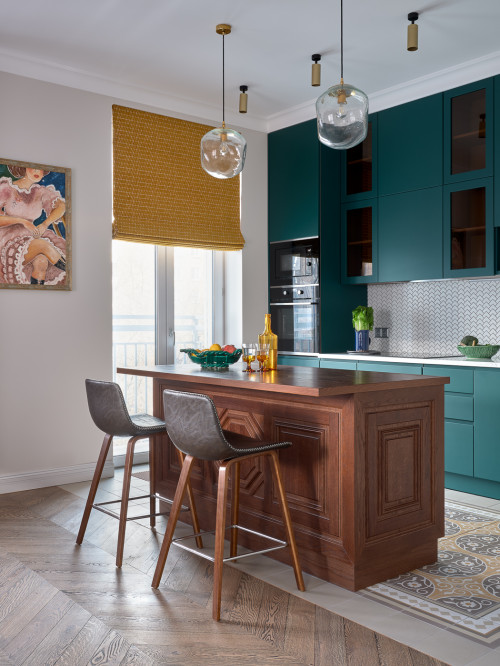 ID# 166420 | Houzz.com – Credit | © Студия Enjoy Home
---
Stunning Wood Kitchen Island Design with Green Cabinets
Wow, look at this meticulous attention to detail of this wooden kitchen island makes a powerful statement. The exquisite craftsmanship of the island is highlighted by its gorgeous molding. The island really pops out against the sleek white herringbone backsplash and the dark green kitchen cabinets. For the rest, multicolored floor tiles, glass pendant lights, leather counter seats and a vivid yellow window treatment complete the design's distinctive aesthetic. A truly spectacular kitchen space is created when all the pieces come together!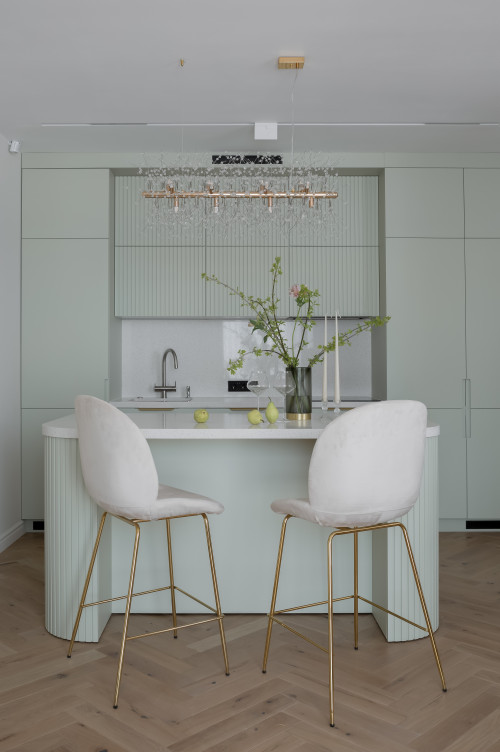 ID# 166421 | Houzz.com – Credit | © Anna_Zhovner
---
One-Wall Small Kitchen Layout Ideas with Pastel Green Color Scheme
This modern kitchen has a romantic and feminine feel thanks to the dominant pastel green cabinetry and island! The white quartz slab backsplash and countertops complement the bright and airy look of the cabinetry. The glass lighting fixture with gold accents above the island makes a glamorous touch.
Small Kitchen Layout with Peninsula
Peninsulas are great alternatives to kitchen islands. But unlike the islands which are independent units, the peninsulas are connected to the rest of the cabinetry. If you don't have any space for an island, peninsulas are one of the best alternatives to do an island's job.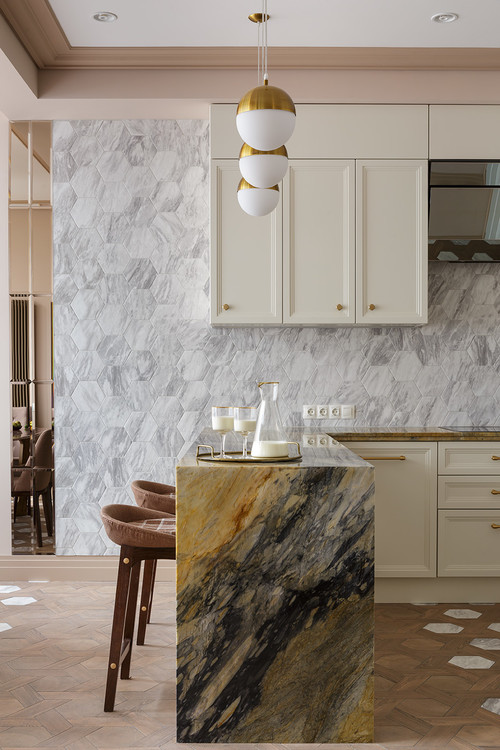 ID# 166422 | Houzz.com – Credit | © Архитектурное бюро Картун
---
Marble Hexagon Wall Tiles with Beige Kitchen Cabinetry
The natural stone backsplash design and the brass accents give the kitchen a noble look with a rich touch while the light beige recessed-panel kitchen cabinets offer an attractive appeal. In terms of geometry, the backsplash and floors are both hexagons. The brass accents and quartz counters work well together to create an upscale appearance!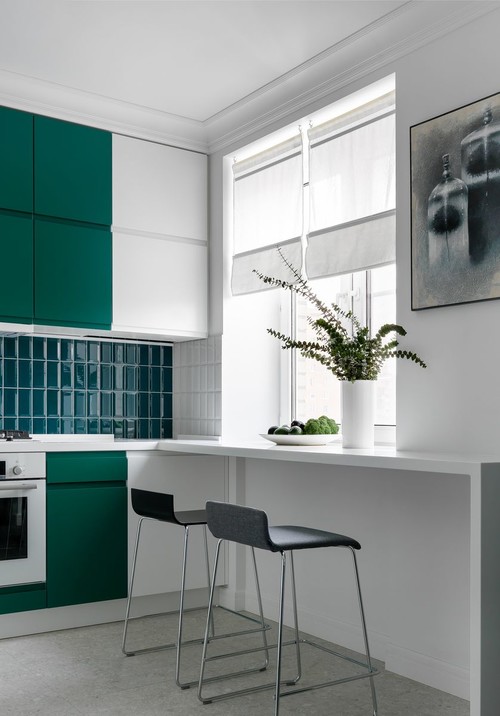 ID# 166423 | Houzz.com – Credit | © «Точка дизайна»
---
Small Kitchen Layout Ideas with Green and White Color Scheme
This modern kitchen is an excellent choice if you want to construct a kitchen that stands out! A striking accent wall is created by the union of the green and white cabinetry and the green stacked tile backsplash. The white countertop is extended on the right side to provide a peninsula with more counter and dining area.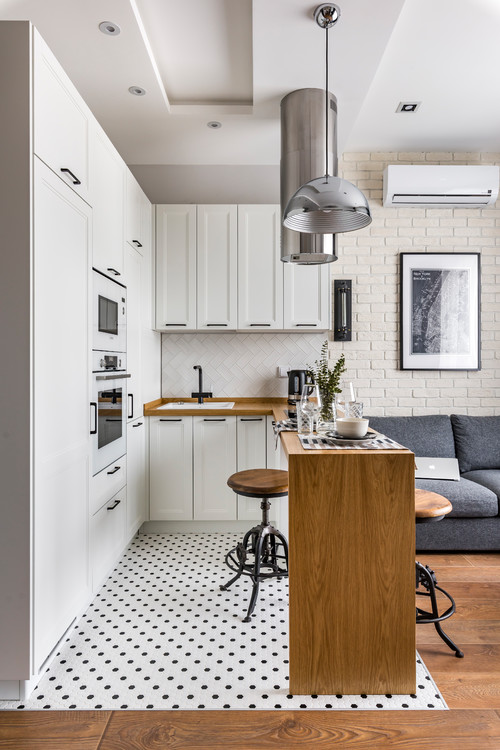 ID# 166424 | Houzz.com – Credit | © Бриц Анна Brits.design
---
White Shaker Cabinets with Butcher Block Countertop
You can build a cozy kitchen in a corner of your living room if you don't have enough area to design a whole room like a kitchen. White shaker cabinets with black knobs, a butcher block countertop, a cylindrical range hood, a metallic pendant, antique wooden stools, and a carpeted floor are all included in this corner kitchen. The addition of a countertop divides the living space from the kitchen and also adds a dining area.
How do I design my small kitchen?
When designing small kitchens, your focus should be on the layout and how to make small spaces look bigger. Depending on the shape of the room, you can determine the layout. While doing so, also, think about the work triangle that consists of a stove, fridge, and sink. This way, you can ensure the efficiency of the layout.
As for the spaciousness, lighter and pale shades, floating shelves, and colorful pegboards serve the kitchen well. Window backsplashes, extensive use of mirrors, and reflective finish counters and countertops create a more interactive space where natural lights feel much free. And these reflective surfaces bring an illusion of brightness and spaciousness as well.
Lighting is another key issue in compact spaces. Make sure to use accent, ambient, and task lighting to dimension and depth to the space. While using pendants, ensure that they are proportionate to the kitchen's size; so, avoid using big pendants that might end up cluttering the kitchen.
Additionally, full-height cabinets give the kitchen a sense of grandeur. In cottage-style kitchens, for instance, you can use vertical paneling and beadboard cabinets to achieve the same effect.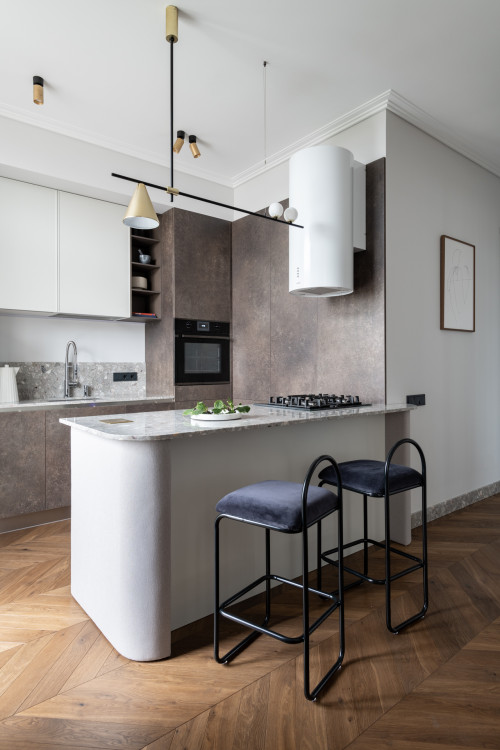 ID# 166425 | Houzz.com – Credit | © Buro 19.23
---
Small Kitchen Layout Ideas with White Peninsula
The harmonious merging of textures and tones in the gray and white kitchen cabinets is enhanced by the pure white upper cabinets, which add a touch of brightness and refinement. The base cabinets' stone-like texture lends the design character and depth. The granite countertops and backsplash make the space more sturdy and eminently timeless, while the white peninsula with its sumptuous chairs acts as a chic meeting and dining area!
Small Open Concept Kitchen Layout
When we talk about open-concept kitchens, we refer to the kitchens inserted into the living rooms, which is one of the key features of modern homes. And this combined concept brings several advantages, especially for small kitchens. First of all, it maximizes the square footage and helps the space open up, free of walls and joineries. As a result, it creates a well-connected space amalgamating different functions with a fluid arrangement of spaces. This openness also helps air circulate throughout the entire space and light to diffuse evenly. This way, you can maintain a sense of float and airiness in the most-used spaces of your home.
Secondly, in open-concept kitchens, cooking can easily turn into a social activity. While cooking in the kitchen zone, you can still maintain a conversation with your guests and family members. But if you are concerned about the elimination of borders and want to break up the area, you can use a kitchen island, a peninsula, or a breakfast bar. Or, use a different but complementary color scheme for the kitchen zone. In short, you can navigate the space easily with a color scheme and additions of the arms of cabinetry. Or better, you can go with a single-wall kitchen that won't hide behind any piece of furniture.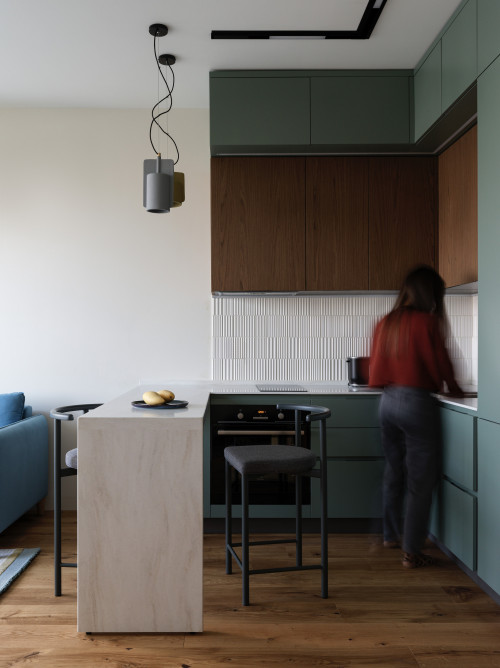 ID# 166426 | Houzz.com – Credit | © Katya Shilova
---
Small Open-Concept Kitchen with Neutral Color Scheme
Due to its use of simple, neutral colors, this contemporary open-concept kitchen radiates a refined air! The white tile backsplash adds a tactile element, while the sleek and sophisticated combination of green and wood cabinetry makes a gorgeous backdrop for this space. The choice of a white backsplash was a wise one since it counterbalances the dark colors and gives the entire kitchen a light, airy appearance.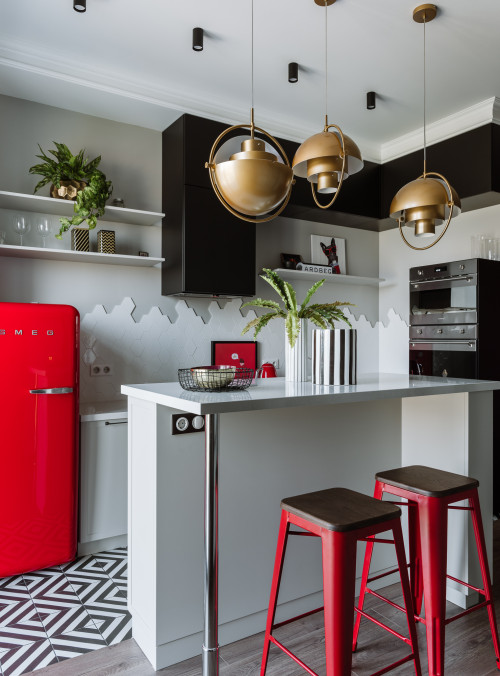 ID# 166427 | Houzz.com – Credit | © Анна Моджаро
---
Black and White Kitchen with Red Accents
If you want to jazz up your black-and-white kitchen, adding some colorful accents will give you the wow factor that you want! As in this contemporary kitchen, the vibrant red additions such as the fridge and counter stools instantly elevate the overall design by enhancing visual interest. For the rest, the black and white cabinets create a simple and modern backdrop while the white peninsula serves as a breakfast bar. The unique layout of the white hexagon tile backsplash complements the quirkiness of the red details perfectly.
Small Square Kitchen Layout
Square kitchen layouts offer functional forms that can be arranged as galley, G-shaped and U-shaped kitchens. They also allow you to have plenty of countertops and cabinets for storage. And to make the space more welcoming, you can use light shades combined with some pops of color or authentic materials to create a more desirable look!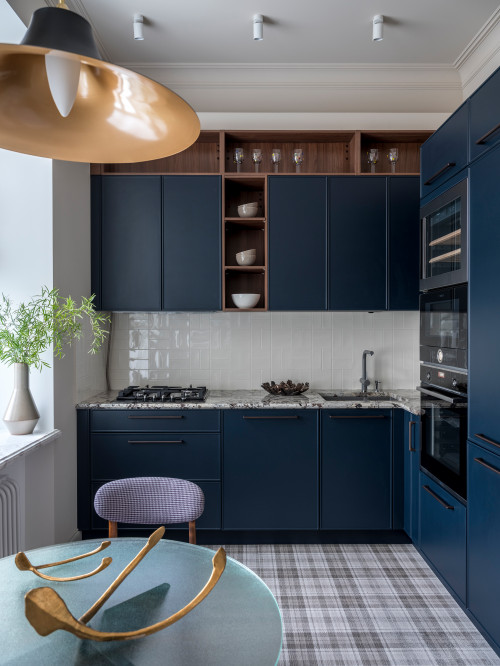 ID# 166428 | Houzz.com – Credit | © Анна Кларк
---
Square Small Kitchen Layout Ideas with Navy Blue Cabinets
The blue cabinets with beaded inserts in this transitional kitchen design exude an air of elegance and sophistication. The strong contrast from the white basketweave backsplash heightens the classic charm of the white counters that resemble marble. The open wooden cabinetry elements compliment the blue upper cabinets to create a warm and inviting ambiance while facilitating simple access to stored objects and offering a visually appealing respite.
What is the most functional kitchen layout?
U-shaped kitchen layouts are considered the most functional layouts. It is mainly because they can be adapted to almost any sized space. And by giving you three walls, they maximize storage. Even if the three walls are not available, you can always add another arm of cabinetry in the form of a floating island, peninsula, or breakfast bar. These additions also create informal spots for family members or guests to gather around and enjoy some conversation and a laid-back dinner!!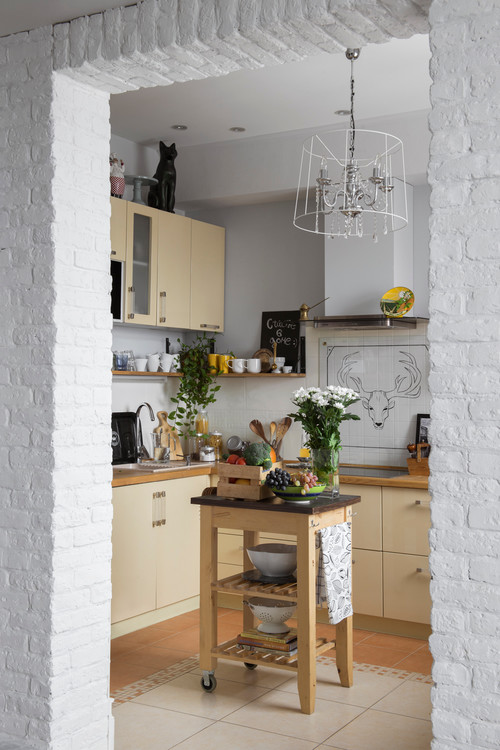 ID# 166429 | Houzz.com – Credit | © Дина Александрова
---
Yellow Cabinets with Small Kitchen Layout Ideas
The kitchen's plain and minimalist design is perfectly complemented by the yellow cabinets' smooth, flat panel appearance. The floor tiles' beige color provides the ideal foreground while letting the other elements shine out. This tiny area maximizes every square inch by boosting both its usability and aesthetic appeal despite its modest size!