20+ Yellow Kitchen Cabinets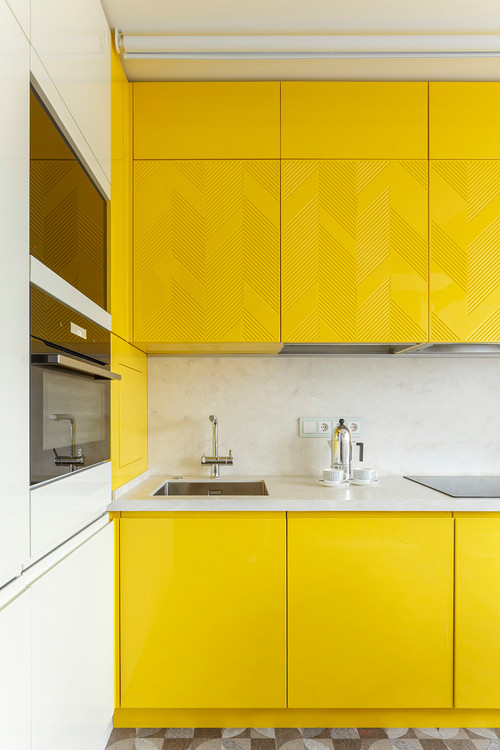 ID# 162301 | Houzz.com – Credit | © Студия "Атаманенко, Архитектура и Интерьеры"
---
Two-tone Cabinetry with White Backsplash and Multi-colored Flooring
In this contemporary kitchen, vibrant yellow cabinets colonize the main food-preparation area, while ceiling-height white cabinets alleviate the color density of the space. White-colored stone slab backsplash and book-matching countertop along with the other white cabinets create a well-balanced ambiance, while multi-colored flooring with intertwined circular patterns introduces intriguing shapes to the otherwise pattern-free kitchen. It is also the vaguely visible geometric forms on the overhead yellow cabinets, which break up the homogeneous look. Overall, this contemporary kitchen features a nurturing atmosphere with lots of colors and soothing cheerfulness.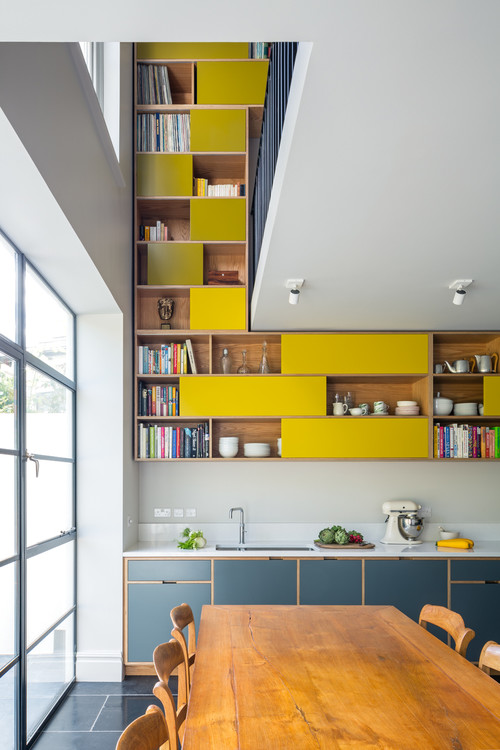 ID# 162312 | Houzz.com – Credit | © Uncommon Projects Ltd
---
Contemporary Kitchen with Two-tone Cabinetry and White Countertops
The double-height contemporary kitchen sits in an open conversation with the surroundings, while the full-height black-trimmed industrial-style windows blur the distinction between the interior and exterior spaces.
These cabinets with wood interior and yellow are horizontally enlargened and asymmetrically aligned to create a visually dynamic scene. They clad the whole wall until the ceiling while glassware gets replaced by books as the eyes are drawn upward, which emphasizes the grand scale of the kitchen. Thus, the bookcase and kitchen cabinet functions bleed into each other for visual dynamism and highlight the multi-use of objects.
Yellow Kitchen Cabinets
Yellow is a soothing and cheerful color that can be safely used throughout the space or to highlight certain features of the interior or exterior architecture. As it is associated with friendliness and optimism, it cultivates nurturing emotions in its users, which reflects the kitchens referred to as the heart of our homes. But the question is how you would like to integrate yellow into your kitchen. With backsplash, yellow-painted walls, accents, yellow appliances, or yellow kitchen cabinets? In this blog, we will be looking at kitchen designs with a specific focus on yellow kitchen cabinets, their various shades, and their combination with other colors.
Warm and Inviting Feel of The Yellow Shades
In kitchens, we see, touch, taste, smell, and hear. Water bubbles; the steam dissipates in the air. Fresh vegetables are cooked; cakes are baked. All deliver a sense of flavor and smell to the space, conquering every inch of the room freely. In the same way, yellow creates a sensible environment and speaks to our five senses. Yellow-ing the cabinets highlight the main volumes of the kitchen that will dominate the space. So, as this blog is reserved for yellow kitchen cabinets, get ready to feel a set of various emotions stimulated by the wonderful scale of yellow and its wide range of contextualization patterns in the kitchens, be it transitional, contemporary, modern, rustic, or traditional.
Lastly, don't forget that colors take you on a visual journey playing with the perception of the space. As Israel Pedrosa points out in his book, Da Cor à Cor Inexistente, "color has no material existence: it is only the sensation produced by certain nervous organizations under the action of light, with more precision, the action provoked by the action of the light on the organ of vision."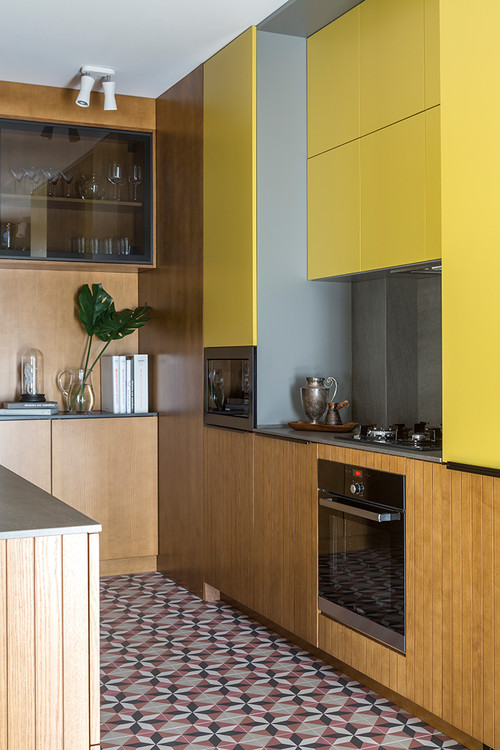 ID# 162302 | Houzz.com – Credit | © Make Interiors
---
Wood and Yellow Kitchen Cabinets with Gray Backsplash
Welcome to this charming kitchen design that exudes creativity and personality! The standout feature of this eclectic space is the two-tone cabinetry, perfectly blending warm and inviting wood base cabinets with vibrantly painted upper cabinets in a playful yellow hue. The display cabinets on the left not only showcase treasured items but also adds charm to the kitchen. Complementing the bold cabinetry, the gray backsplash offers a neutral backdrop that highlights the other design elements. The multicolored floor tiles bring a touch of energy and character to the kitchen and create a lively and dynamic atmosphere.
Is yellow a good Colour for the kitchen?
Associated with joy and friendliness, yellow is one of the best colors to nurture emotions good for health. Mainly used in commercial places, restaurants, and kindergartens, it improves the psychology of the space while whetting the users' appetite in the meantime with its bright and vibrant color. Cultivating a sense of cheerfulness and optimism, it also livens up the space and energizes you, which makes it a great color option for kitchens. If your kitchen, for instance, doesn't get enough natural light, you can compensate for it with yellow which will bring visual warmth and lightness.
From mustard to muted, lemon yellow, light yellow, vintage-inspired pastel yellow, and creamy yellow, there is a wide range of shades of yellow. Each builds a different impact on your kitchen. By applying matte or glossy finishes, you can also manipulate how the look and influence of yellow in your kitchen.
Yellow can also be used in the farmhouse, modern, Scandinavian-inspired, contemporary, and transitional kitchens. Though, probably the shade of the yellow and the accompanying colors and materials would show shifts. For instance, in farmhouse kitchens, muted tones with butcher blocks make for an excellent look that suits the cottage-life flair. As for contemporary styles, as they love lively and vibrant colors giving a facelift, lemon yellow is preferred.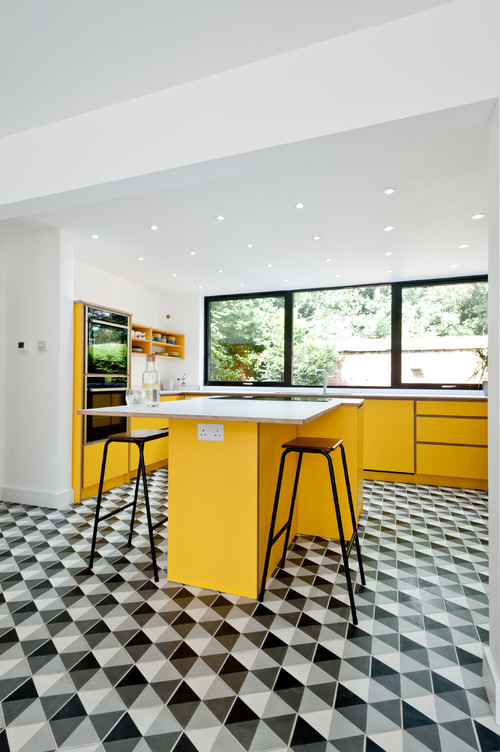 ID# 162303 | Houzz.com – Credit | © Koivu Ltd
---
Modern Kitchen with Monochrome Floor Tiles
Enter this modern kitchen and submerge yourself in its radiant and hospitable ambiance. The spacious window inundates the area with sunshine, generating a cozy and inviting feel. The exceptional characteristic of this kitchen is the magnificent yellow cupboards and island, which contribute a lively and animated aspect to the room. The white surfaces strikingly counterbalance the yellow, establishing a new and contemporary look. The black and white flooring tiles, with their stunning design, additionally intensify the attractive quality of the space!
Different Shades of Yellow
Yellow is one of the greatest colors to entertain the space, yourself, and your guests. It is bright, alluring, and inviting. It also has a secretive aspect to it, which is enigmatic, thus an unknown, making it a delicate and firm addition to your kitchen design. Above all, before integrating yellow into your kitchen, it is better to get familiarized with the yellow shades and how they impact the overall look. Some of the most used tones include mustard, lemon yellow, gold, pastel, light, mellow yellow, and sunflower yellow.
Warm & Joyful Shades of Yellow
Mustard yellow: It is one of the darkest yellow shades and can turn the kitchen into laid-back cooking and eating space when combined with the right textures and colors. Overall, it feels warm and comforting. It goes well with navy blue, white, mauve, emerald green, light pink, gray, and sage green.
Lemon yellow: It is a very eye-catching and bright shade of yellow, favored in contemporary kitchens.
Light yellow: It is a muted and pastel-ish shade of yellow that is not very pronounced. It has a more mysterious and soothing side to it that envelopes the kitchen with warmth and calmness.
Mellow yellow: It is also one of the lightest shades that emanate a sense of warmth and is heartwarming. It is a perfect color option for kitchens with a soothing theme rather than energizing one, suitable in modern and cottage-style kitchens. It also can be combined with timber and stone to elevate the overall look and get it closer to an earthy palette and a natural look.
Sunflower yellow: As the name suggests, it takes its name from the sunflowers, endowing the interior space with visual warmth and sensibility. You can come across kitchens painted sunflower yellow, bringing joy to its users.
Mustard Yellow Kitchen Cabinets
Mustard yellow is one of the characteristic and confident yellow shades that can easily dominate the kitchen. Thus, one might need to invest more thought while employing mustard yellow kitchen cabinets. Mustard also has a masculine vibe to it, preferably combined with black and grey.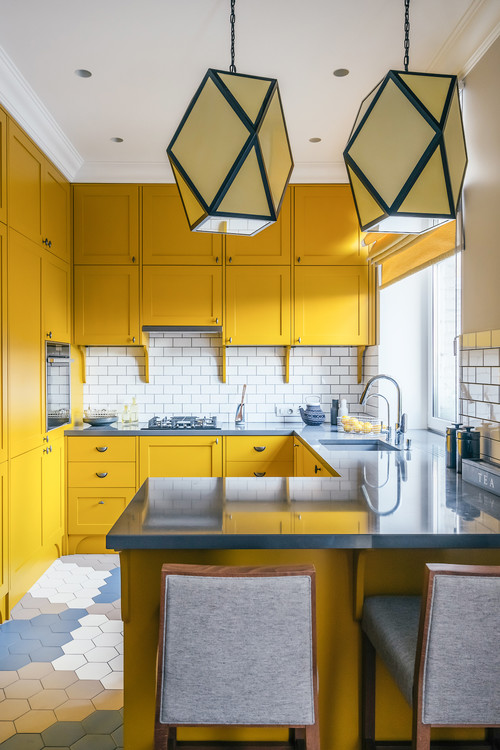 ID# 162304 | Houzz.com – Credit | © Студия Enjoy Home
---
Yellow Kitchen Cabinets with Subway Tile Backsplash and Gray Countertops
This cheerful yellow-dominated kitchen is well-balanced with white backsplash and gray quartz countertops while the laid-back ambiance comes with an industrial and contemporary subtext that reveals a robust look. The subway tile backsplash laid in a running-bond style adds a timeless value to the design. On the floor level, the multi-colored hexagon tile flooring brings together brown, white, and dark blue to enrich the color palette. A duo of oversized pale yellow pendants with disfigured shapes hanging over the peninsula dominate above eye level, and the peninsula offers a practical eating space that suits the kitchen's spirit, which suggests a fast life both related to the commercial and outdoor living, making the design feel relevant to the today's world!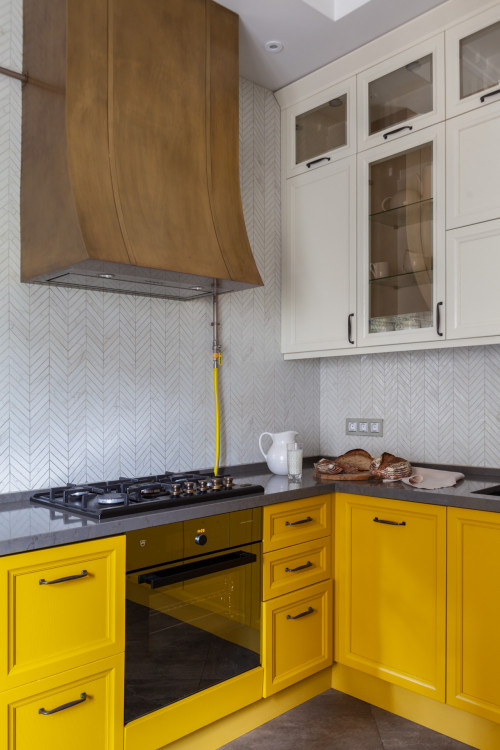 ID# 162305 | Houzz.com – Credit | © Ната Волкова
---
Mustard Yellow Kitchen Cabinets with Gray Countertops and Wood Range Hood
Textually rich and visually striking, this traditional kitchen oscillates between being modern and classic. Though the mustard yellow kitchens deliver a modern appeal, the colossal wood range hood dressing gives the kitchen a traditional spin, which is supported by the white raised panel cabinets. The use of two-tone cabinetry smartly inhibits the mustard yellow counters from dominating the space as the kitchen is not very vast. Additionally, the gloss finish gray quartz countertops and white overhead cabinets soften the overall look to balance the yellow counters, while the wood fixture emanates a sense of warmth. The off-white chevron tile backsplash also develops an interesting look, while black appliances and oversized barn-style pull-out cabinet handle accentuate the cabinets.
Light Yellow Kitchen Cabinets
When it comes to incorporating yellow into your kitchen design, light yellow is a top choice for creating a soothing ambiance! Its soft and delicate shade pairs effortlessly with various design styles, making it quite versatile. If you're after a warm and welcoming atmosphere in your kitchen consider going for a light yellow kitchen cabinet. This graceful shade has the potential to open up your space and create a comfortable and inviting feel in your home.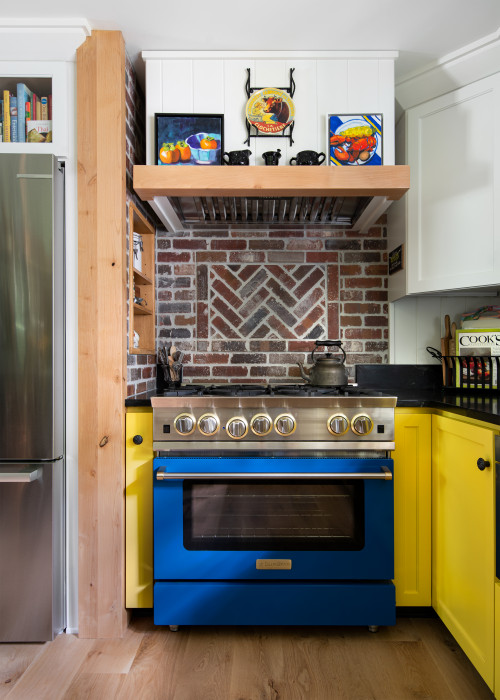 ID# 162306 | Houzz.com – Credit | © Stumpff HomeWorks, LLC
---
Eclectic Kitchen with Light Yellow Kitchen Cabinets and Brick Backsplash
This crowded eclectic kitchen has a bit of everything, unfolding in various colors and textures, ranging from wood to brick, blue, white, yellow, and black. As such, the kitchen embodies an old soul with a timeless look to it that redefines and reimagines the kitchen's design possibilities. The light yellow kitchen cabinets topped with black soapstone countertops and backsplash take their place by the window side to benefit from natural light.
Also, the blue vintage stove adds an unexpected pop of color, and multiple potted plants, books, and other personal items find their place on the wood shelves. Lastly, while stainless steel appliances introduce a level of modernity, the wood flooring with natural stains, wood floating shelves, and brick stove backsplash evoke organic feelings.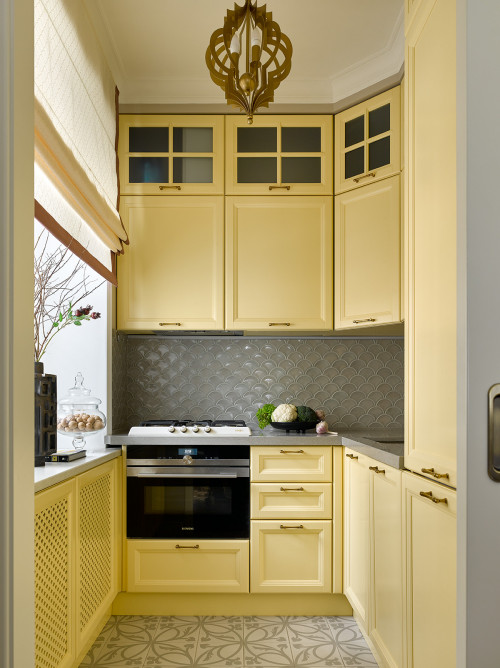 ID# 162307 | Houzz.com – Credit | © MARKINA DESIGN
---
Transitional Kitchen with Gray Fish Scale Tile Backsplash
The space is infused with warmth and brightness thanks to the light yellow shaker cabinets! The kitchen's standout feature is the gray fish scale tile backsplash, which provides a visually stunning and one-of-a-kind focal point while also adding texture to the space. This backsplash pairs perfectly with the gray countertop which offers a sophisticated and polished surface for meal preparation and dining. Additionally, the playful and lively patterned floor tiles add personality and character to the kitchen, bringing the entire design scheme together.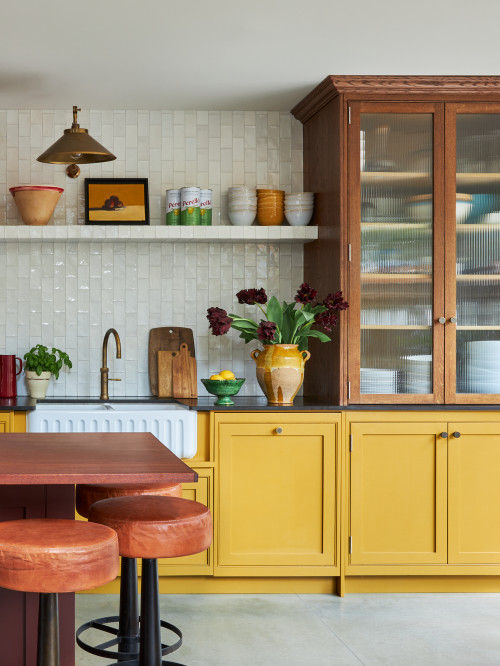 ID# 162308 | Houzz.com – Credit | © Boffe Design
---
Transitional Kitchen with Vertical Subway Tile Backsplash
This transitional kitchen offers a characteristic appeal with every detail! The mustard yellow base cabinets create a joyful atmosphere while the white farmhouse sink and bronze accents perfectly complete the vintage flair. The glossy subway tile backsplash provides a clean and sleek backdrop. The vertical layout of the tiles creates a visual illusion and makes the space feel higher. The floating shelf is also tiled with the same subway to create a continuous look. On the right side, the wood display cabinets perfectly complete the overall look.
Lemon Yellow Kitchen Cabinets
Lemon yellow is a very bright, energizing color that will keep you motivated throughout the day without a doubt. If you incorporate timber elements and potted plants, you can soften it and offset its vibrancy while creating a calming effect. Additionally, you can combine lemon cabinets with a white backsplash and countertops for a seamless look.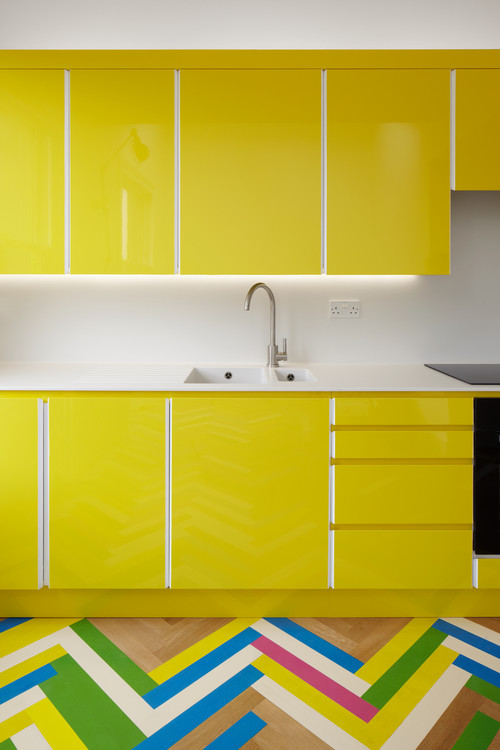 ID# 162309 | Houzz.com – Credit | © Alma-nac
---
Glossy Yellow Cabinets with White Glass Backsplash and Multicolored Backsplash
The vibrant contemporary kitchen feels punchy with lots of yellow and colored herringbone pattern wood flooring. The high gloss bright yellow cabinets coupled with white non-tile backsplash and countertops achieve a seamless look with no visual intervention! Only the white vertical lines distinguish the cabinets while defining their geometric forms. To improve the ambiance, the under-cabinet accent lighting adds a layer of ambient lighting, while black appliances deliver a sharp contrast to add depth and ground the look. The herringbone pattern wood flooring is reimagined to suit this energizing kitchen concept. It is re-colored with green, pink, blue, and white to add more colors, which is softened and balanced with intact wood patterns.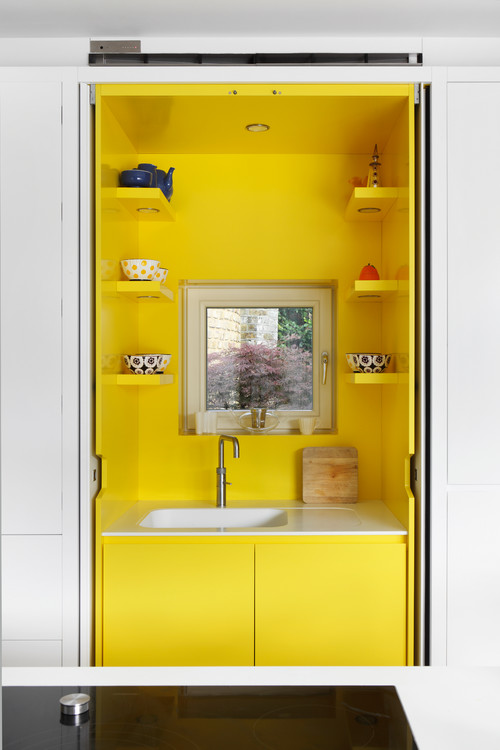 ID# 162310 | Houzz.com – Credit | © E2 Architecture + Interiors Ltd
---
White Modern Kitchen with Hidden Cabinets and Shelves
If you have doubts about using color in your kitchen, why not use it inside the cabinet? In this contemporary white kitchen, the vibrant yellow color dominated the hidden part which features yellow cabinets, an undermount sink and floating shelves. The well-designed cabinet door system allows you to hide these parts of the kitchen whenever you want!
Yellow Kitchen Island Cabinets
The incorporation of yellow kitchen island cabinetry can easily infuse a lively and joyful ambiance into your kitchen layout! The sun-kissed shade of yellow lends a sense of vibrancy and radiance to the area, forming an attractive centerpiece that welcomes you in. Emphasizing yellow kitchen island cabinets brings about an eye-catching feature that injects color into the entire kitchen decor.
What colors go well with a yellow kitchen?
White, black, gray, and green are the most popular colors used in a yellow kitchen. Especially contemporary kitchens love the combination of black and yellow to mix two bold colors to make a statement and achieve a memorable design. While yellow livens up the space and creates a sense of spaciousness, black is more effective to ground the look and add more depth and character. Green and white, on the other hand, when combined with yellow, enlivens the interior space even more.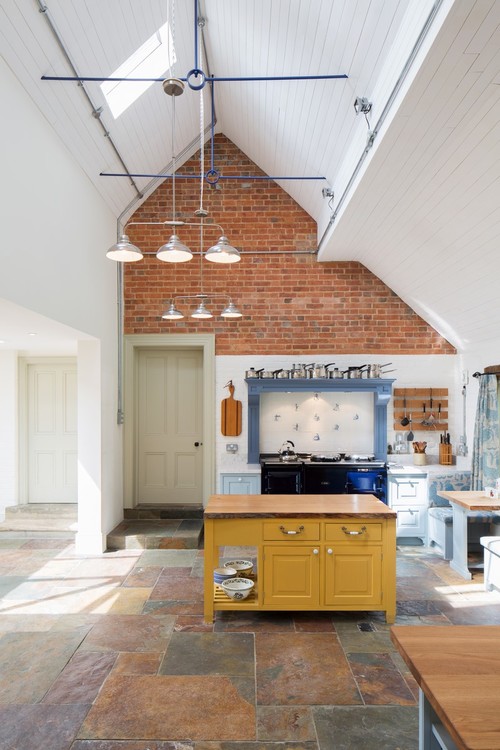 ID# 162311 | Houzz.com – Credit | © HollandGreen Architecture, Interiors & Landscapes
---
Unique Kitchen Design with Exposed Brick Walls and Yellow Island
What a unique design! This transitional kitchen offers a bright and spacious atmosphere thanks to its high ceiling and skylights. The exposed brick wall instantly draws attention and creates a focal point. It also adds a rustic flair to the atmosphere. Light blue kitchen cabinets and dark blue hood trim create a cohesive look at the back. For a final touch, the yellow island with wood countertops adds a pop of color and completes the one-of-a-kind overall look. The slate floor tiles complement the rustic look of the brick wall.
Gray Yellow Kitchen Cabinets
Gray and yellow are very popular together. The gray color brings a sense of sophistication and calmness to offset the bold yellow kitchen cabinets. For those who love vibrant yellow shades, the shades of gray come as a lifesaver to neutralize them. Also, depending on the shade, gray makes the yellow cabinets look more interesting and appealing. Especially when a healthy dose of timber is added to the design!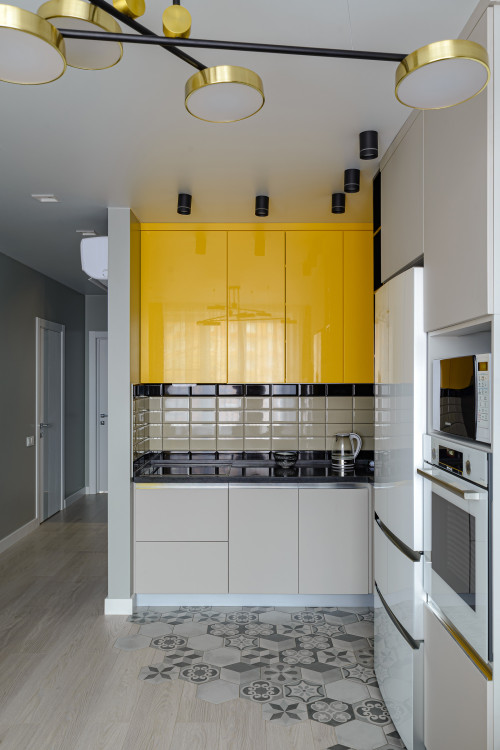 ID# 162313 | Houzz.com – Credit | © Студия 3D дизайн-бюро
---
Small Open-Plan Kitchen with Glossy Yellow Kitchen Cabinets and Gray Backsplash
Given shape by the daily needs of the homeowners, this contemporary kitchen is designed to be practical, calming, and energizing with high aesthetic values. While the glossy surfaces of yellow overhead cabinets energize the kitchen, the matte-finish gray praises calmness. At eye level, the glazed gray subway tile backsplash stands out with its luminous surface, playfully flirting with natural and artificial lights diffused from the oversized lighting fixture.
Only the hexagon and geometric patterns on the kitchen side create visual drama to draw attention and differentiate the kitchen zone from the rest cleverly. Additionally, the black countertops and other black nuanced details build up a contrast, while the bulky lighting fixture with brass accents evokes visual interest above eye level.
White Yellow Kitchen Cabinets
If you don't want to have too many yellow cabinets, you can combine them with white cabinets as well. Two-tone cabinetry is a great alternative to building a well-balanced look. Especially when you integrate bold colors such as bright yellow into your design, you might need something to neutralize or soften it in a complementary manner.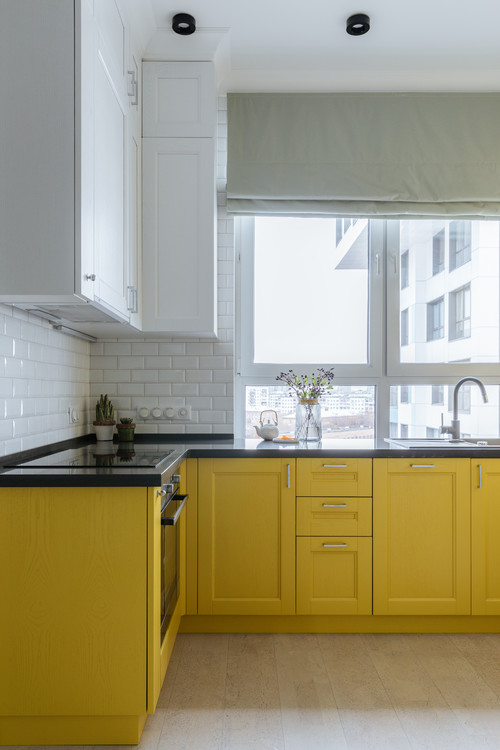 ID# 162314 | Houzz.com – Credit | © Tatiana Fursova
---
White Subway Tile Backsplash with Black Countertops and Yellow Cabinets
This transitional kitchen borrows much natural light from the outdoors and feels flooded with fresh air and brightness. The white overhead cabinets and white backsplash support this brightness to make the kitchen design feel light and airy. The black countertops topping yellow cabinets add pops of color and a characterful look that combines joyfulness with a healthy dose of melancholy to ground the look. Black appliances blend seamlessly with black countertops, while the subway tile backsplash adds a timeless quality to the kitchen, ensuring its relevance in the long term despite the bold color patterns.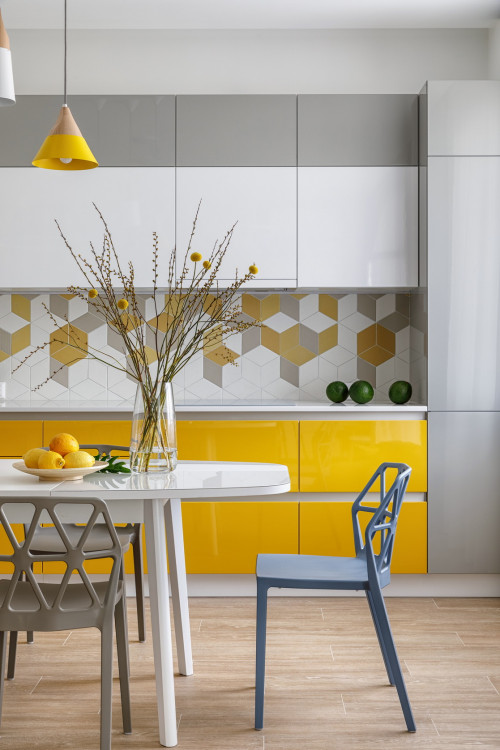 ID# 162315 | Houzz.com – Credit | © iPozdnyakov Studio
---
Gray, White and Yellow Kitchen with Wood Floor
A seamless fusion of yellow, white, and gray cabinets in this space demonstrates the Scandinavian design principles of simplicity and minimalism! The backsplash tiles also in geometric shapes and matching shades reinforce the color scheme while injecting a touch of contemporary playfulness. The white dining table commands attention as the focal point, complemented by an eclectic mix of colorful chairs that introduce personality and energy into the area. Additionally, the wood-look floor tiles project warmth and bring a natural texture to the surroundings, furnishing a snug ambiance to the setting.
Backsplash Options for Yellow Cabinets
Backsplash options for yellow cabinets are variant, ranging from black to gray and white. Though, white seems to be the most prevalent one as it complements the yellow cabinets perfectly and balances the overall design effortlessly. When it comes to patterns and materials, subway and square tiles are commonly used, as well as soapstone and ceramic backsplashes. If you want to integrate something more earthy and natural, wood, terracotta, brick, and limestone backsplashes provide a great alternative to complement the yellow cabinets.
However, the backsplash option is also dependent on the shade of the yellow cabinets and the overall character of the design. For extra bright ones, to anchor the design and create a striking look, the black backsplash can be paired with yellow cabinets and complemented with black countertops.
Yellow Kitchen Cabinets with White Backsplash
White and yellow are a perfect couple as both serve well to illuminate the space and make the kitchen look larger than it is. If your kitchen doesn't get enough natural light, you can mix yellow and white to brighten it up. When it comes to the material, ceramic, porcelain, and quartz backsplashes are great options that lend a modern appeal and accompany the joyful sensations provoked by the yellow cabinets. Subway, square, and hexagon tiles feed this modernity, while slab backsplashes also provide a seamless look.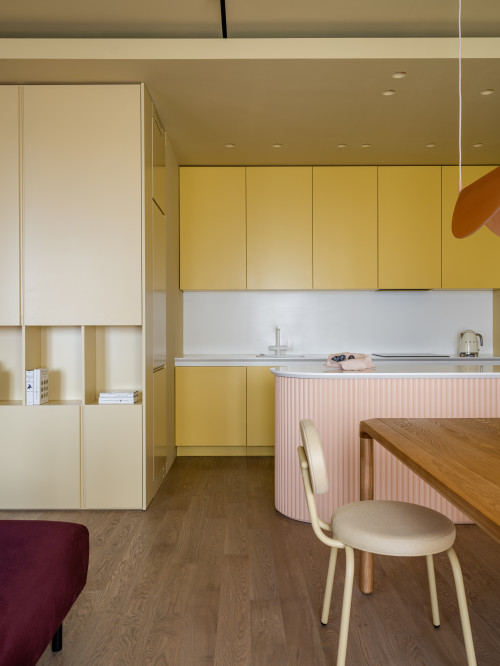 ID# 162316 | Houzz.com – Credit | © Salmon Lair
---
Contemporary Kitchen with Pastel Pink Island and Wood Floor
Thanks to its pastel color scheme, this cooking space offers a warm and inviting atmosphere! The mustard yellow kitchen cabinets create a cohesive look with the white backsplash and countertop. The light pink kitchen island enhances the visual interest with its wood panels while the wood floor completes the warm sense of the room.
Do yellow and grey go together?
Yes, yellow and gray go well together. While yellow introduces a vibrant color to the space, gray neutralizes and brings a calming effect to balance the bold yellow features. For yellow cabinets, for instance, you can use gray countertops, gray backsplash, and gray base cabinets while keeping only the overhead cupboards yellow. This will, in return, create a well-balanced and upscale ambiance without overwhelming your senses with too much yellow.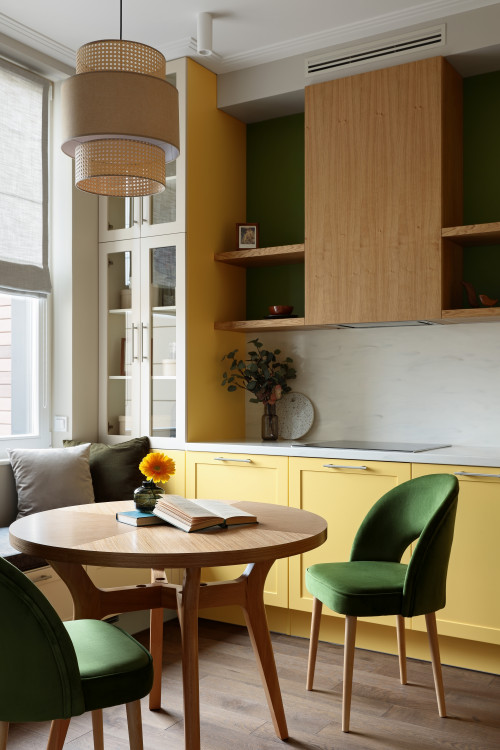 ID# 162317 | Houzz.com – Credit | © Maxim Maximov
---
Modern Eat-in Kitchen with Breakfast Nook
This eat-in kitchen perfectly serves the beauty of the natural colors! The light yellow base cabinets offer a bright and intimate look with the help of the white backsplash and countertop. The wood range hood creates a focal point above the backsplash while the open shelves and green wall paint enhance the impact. The breakfast nook which includes a built-in bench, green chairs, and a wood table, also offers plenty of space for you and your family without sacrificing the style!
What is the complementary color of yellow?
Yellow is a brilliant color and can be paired with various hues to create a striking yet complementary look! The natural beauty of wood is a perfect complement to yellow, especially when it is paired with vibrant green and crisp white. For a contrasting yet harmonious color scheme, black, navy blue and purple are excellent choices. If you're looking for a fresh and lively vibe, then white and green are fantastic complementary colors. Specifically, pairing light yellow cabinets with mint-green backsplashes or cabinets can create a stunning effect while the sophistication of gray complements mustard yellow perfectly.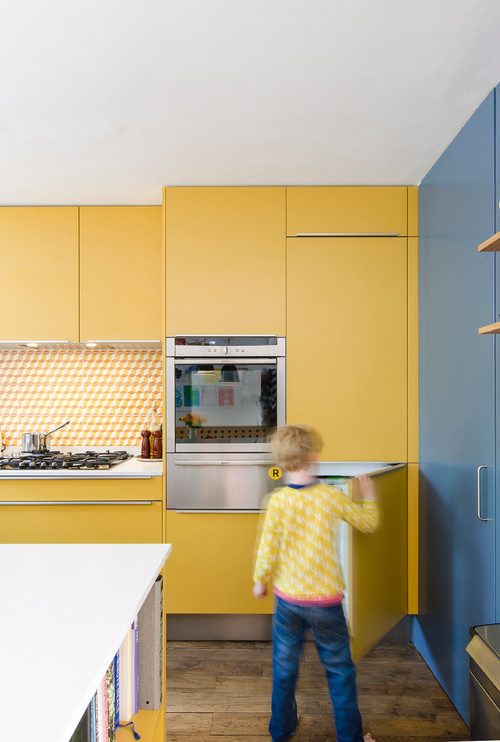 ID# 162318 | Houzz.com – Credit | © R2 Studio Architects
---
Color Blocked Kitchen Design with Dark Wood Floor
This modern, color-blocked kitchen offers a fun and joyful atmosphere with its yellow and blue combination. You might think that these two colors will be overwhelming but this design is proof that it can be good too! The yellow flat-panel kitchen cabinets create a sleek and modern look while the patterned backsplash tiles add visual interest. Also, the blue walls create contrast with the yellow while the dark wood floor enhances the warmth!
Yellow Kitchen Cabinets with Gray Backsplash
Gray backsplashes provide a neutral and sophisticated background for yellow cabinets to shine through. If the yellow shade you want to use is very bold and bright or is planned to have a high gloss finish, gray backsplashes provide the look that will both bring a modern appeal and calming effect to balance the bold statement of yellow cabinets.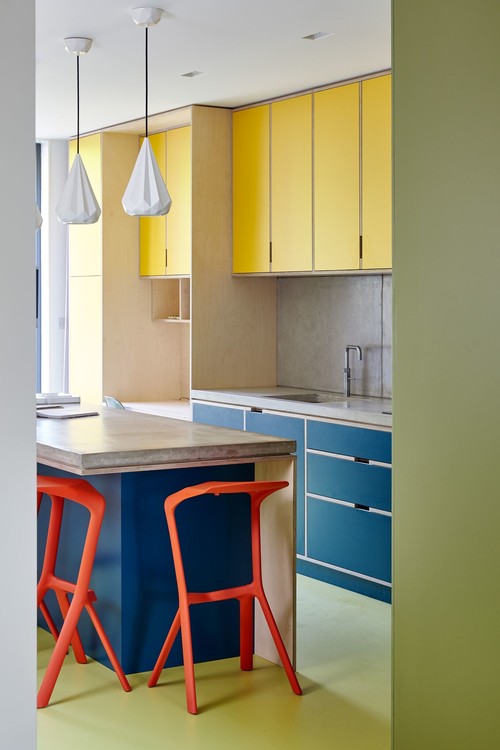 ID# 162319 | Houzz.com – Credit | © R2 Studio Architects
---
Cement Backsplash and Countertops with Multi-colored Cabinets
This multi-colored contemporary kitchen conjugates various colors of green, blue, and yellow alongside the cement backsplash and concrete countertops. It also leaves everything natural with a matte finish keeping their raw forms without any need for polishing. Also, as a connecting piece, a multi-functional island takes the stage. This island mirrors the perimeter counters, offering storage and eating spaces. The red ultra-modern counter stools couple with the island and create a cohesive look.
Yellow Kitchen Cabinets with Colorful Backsplash
Backsplashes are one of the best kitchen elements to make a statement and serve the kitchen as visual focal points. While using colorful backsplashes, one thing to keep in mind is to make sure the color palette is relevant to the overall kitchen design. If color shifts resonate with the color palette of the kitchen, it becomes easier to retain integrity.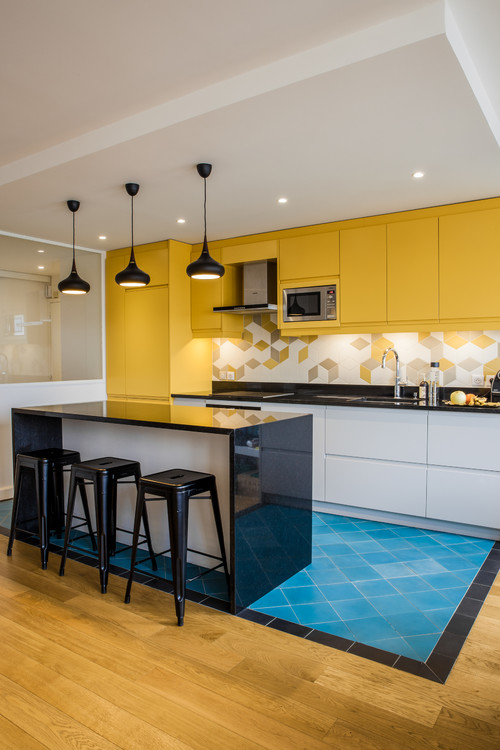 ID# 162320 | Houzz.com – Credit | © Géraldine Laferté
---
Yellow Kitchen Cabinets with Hexagon Tile Backsplash and Blue Floor Tiles
The mixture of gray, blue, mustard yellow, and black accomplishes a peculiar togetherness, while all these colors and materials extend the possibilities for a unique interior design image. On close inspection, yellow overhead cabinets and gray base cabinets take their place, paired with white hexagon tile backsplash and black countertops. While the hex backsplash features cubic patterns colored yellow and gray to build a high level of consistency, the lack of hardware makes for a homogeneous look. In the center, the waterfall island topped with a high gloss black countertop and a white torso portrays a striking contrast, paired with backless black stools and a trio of black modern pendants.
On the floor level, the turquoise blue floor tiles are diagonally laid and framed by black tiles to be given a defining feature. The rest of the floor is finished with medium-tone wood flooring to also add warmth and calm down the various feelings evoked by the color and pattern palette.
How do I make my kitchen yellow?
For those desiring a yellow kitchen, there are a couple of ways to integrate yellow color into the design. First, you can get yellow cabinets, which can be combined with white, black, and green cabinets. But in case the homeowner wishes to stick to the di-chromatic, they can couple only two different color cabinets or only yellow cabinets.
The second way to bring yellow into a dialogue with your kitchen is by incorporating yellow backsplashes. For instance, yellow terracotta backsplashes are one of the best also to introduce subtle tonal variations and earthy material. They can be combined with green or off-white cabinets with subtle yellow tones and brass accents to add some shine.
The third option could be a yellow quartz countertop. If you like monochromatic looks, you can combine yellow cabinets with yellow backsplash and countertops of the same shade. Last but not least, you can also introduce yellow to your kitchen with yellow-colored vintage appliances that will draw all the attention without a doubt.
What color countertop goes with yellow cabinets?
Mahogany, black, beige, gray, white, and butcher block countertops are the most favored countertop colors that team up with yellow cabinets. For example, black countertops are great to create a striking contrast. Depending on the style of the yellow cabinets, you can bring black and yellow together in contemporary, vintage, and eclectic kitchens. Mahogany butcher block countertops could be a great option if you want to suggest a lived-in look and a more natural flavor.
White countertops, on the other side, support yellow cabinets very well for they both add a sense of spaciousness and lighten up the space. In small kitchens, for instance, yellow cabinets coupled with white countertops give the illusion of a larger kitchen. For mellow yellow and light yellow cabinets, beige countertops inject a dose of warmth into the space.