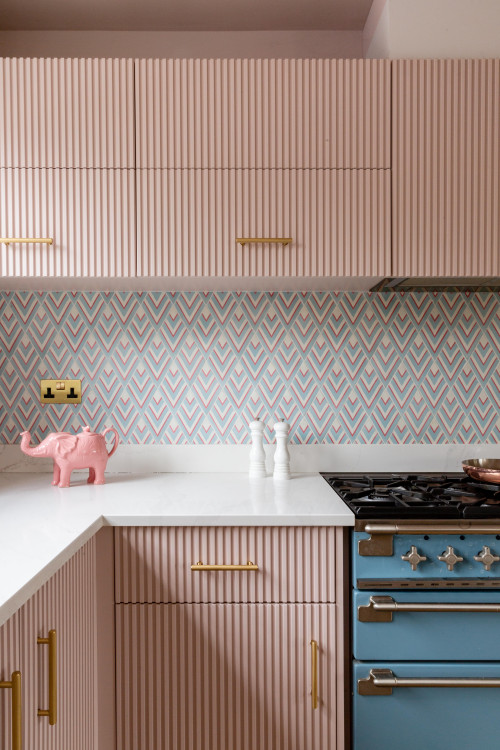 ID# 161810 | Houzz.com – Credit | © Randell Design Group
---
Unique Kitchen Cabinets with Patterned Backsplash and Brass Hardware
Oh my goodness, this kitchen design is absolutely breathtaking! The pink cabinets are an incredibly bold choice but they add so much personality and liveliness to the entire space. The way they contrast against the white quartz countertop and backsplash is so sharp and polished, it really makes the cabinets stand out. And don't even get me started on the patterned backsplash tiles – they add such a playful touch while perfectly balancing style and character. Adding the brass hardware brings a touch of warmth and elegance to the whole design. And let's not forget about that stunning blue stove – it's the ultimate focal point, providing a bold contrast while perfectly tying together the eclectic vibe of the entire kitchen!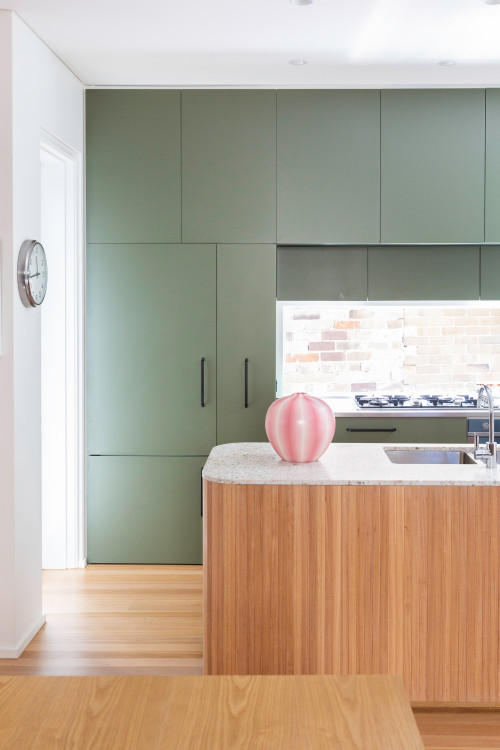 ID# 161815 | Houzz.com – Credit | © Wildly Illuminating
---
Green Flat-Panel Cabinets with Wood Island and Window Backsplash
In this contemporary kitchen, the natural color scheme offers a warm and welcoming atmosphere! The pastel green kitchen cabinets serve a sleek and elegant appeal while the wood island and floor perfectly complete the nature of the green. The white countertops bring a fresh appeal. The window backsplash allows natural light to fill the room, making the space bright and spacious. The black cabinet handles complement the modern style of the flat panel cabinetry and make a perfect final touch.
Pastel Kitchen Ideas
Looking to create a calming and gentle atmosphere in your kitchen? Perhaps you should consider pastel kitchen ideas! Pastel colors like blush pink, pale mint green, light blue, and soft yellow can create a sense of tranquility and elegance in your kitchen space. Incorporating pastel hues into your kitchen cabinets, walls, and decor can easily create an inviting and soothing environment that exudes warmth and comfort! The addition of white or light-colored countertops and backsplashes can also help to illuminate your space, making it feel bright and airy. So, if you are ready to dive into a charming pastel color scheme world, scroll down and check out these stunning pastel kitchen ideas!
Soft & Inviting Feel of Pastel Color Scheme
These soft and playful colors can seamlessly blend into any style, from vintage to contemporary, and be tailored to fit your unique taste. Incorporating pastels into your kitchen can instantly inject a sense of harmony and joy, elevating it from a mere functional space to an aesthetically pleasing one. Whether you decide to go all out with a full pastel kitchen or simply sprinkle in subtle accents, the timeless appeal of these hues will bring a touch of charm and sophistication to your home. So why not let pastels be the guiding light in your next kitchen design project?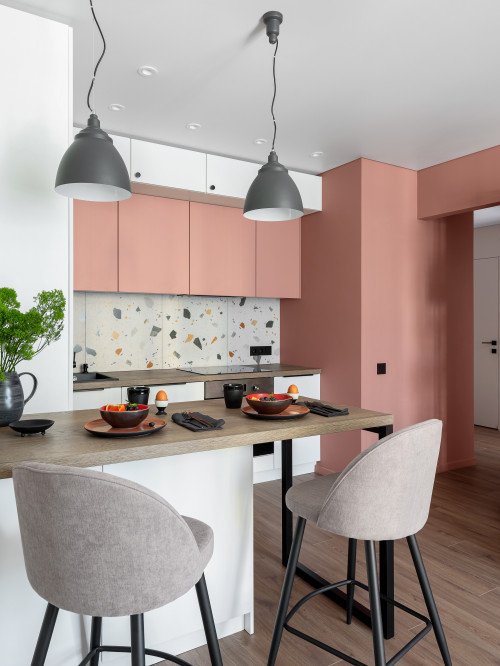 ID# 161801 | Houzz.com – Credit | © Maxim Maximov
---
Pastel Kitchen Ideas with Terrazzo Backsplash
The Scandinavian kitchen features a clean and minimalist design with white base cabinets that provide a bright and fresh backdrop for the space! The upper cabinets and wall paint are adorned in a soft pastel pink color, adding a touch of warmth and playfulness to the kitchen. The wood countertops add a natural element to the design, providing warmth and texture to the overall aesthetic. The terrazzo backsplash, with its speckled pattern and unique texture, adds a trendy and contemporary element to the space while also contributing to the Scandinavian style. The white peninsula is accompanied by gray chairs, creating a cozy and inviting dining area for casual meals. Above the peninsula, pendant lights in a soft gray color add a subtle and modern touch to the kitchen, providing both functionality and style.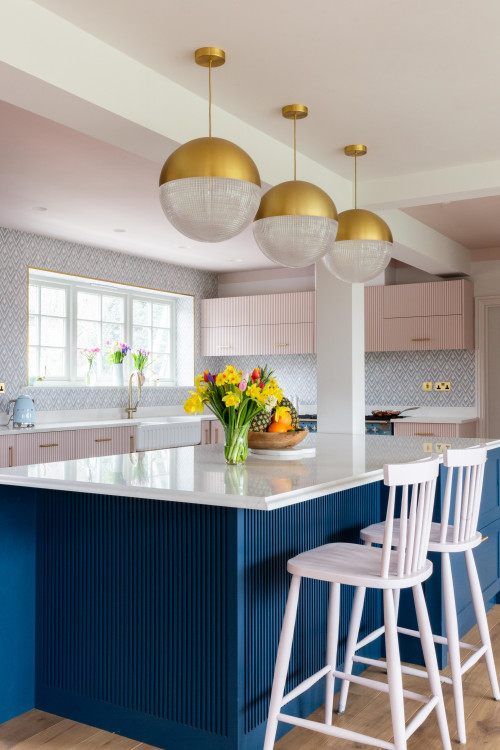 ID# 161802 | Houzz.com – Credit | © Randell Design Group
---
Pink Kitchen Cabinets with Blue Island and Globe Pendant Lights
The beautiful pink and blue fluted kitchen features pink cabinets with paneled doors and a blue island, creating a unique and eye-catching space. The white countertops provide a clean backdrop for the vibrant colors, while globe crystal pendant lights with gold details above the island add a touch of glamour. The combination of the fluted paneled cabinet doors, pink and blue color scheme, white countertops, and elegant pendant lights creates a harmonious and visually stunning kitchen. This kitchen is perfect for those who appreciate bold and distinctive design choices, with its playful yet sophisticated aesthetic.
How to create a pastel kitchen?
Pick bold pastel shades to build statement-making cabinets, and use neutral colors and natural materials. To have a deluxe effect in your kitchen, use rich materials like copper and granite. For a timeless pastel kitchen, combine cabinets in two different pastel colors, or choose opposite tones on the walls using simple tiles and paint. You need to balance the color and material combinations. Otherwise, you have a chaotic and uneasy kitchen rather than a stylish and luxurious one. Besides combining two colors, you can choose one primary color and one contrasting tone. These pastel kitchens help you to highlight different features of the kitchen such as a kitchen island.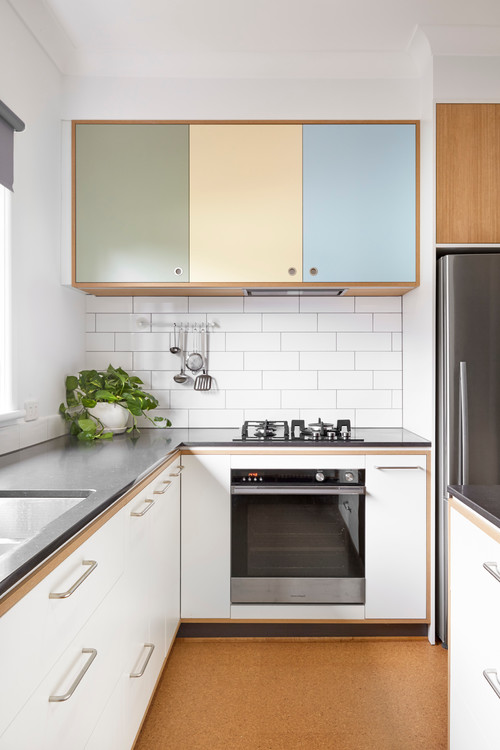 ID# 161803 | Houzz.com – Credit | © smarterBATHROOMS+
---
Small Scandinavian Kitchen with Colorful Cabinet Doors
The small Scandinavian kitchen features white base cabinets that provide a clean and fresh backdrop for the space! The upper cabinet doors are in pastel colors, including green, yellow, and blue, which add a playful and vibrant touch to the kitchen. The white subway tile backsplash adds a classic and timeless element to the design while the black countertop creates a sleek and modern contrast. The combination of the white base cabinets, pastel upper cabinet doors, subway tile backsplash, and black countertops creates a chic and contemporary Scandinavian kitchen with a pop of color.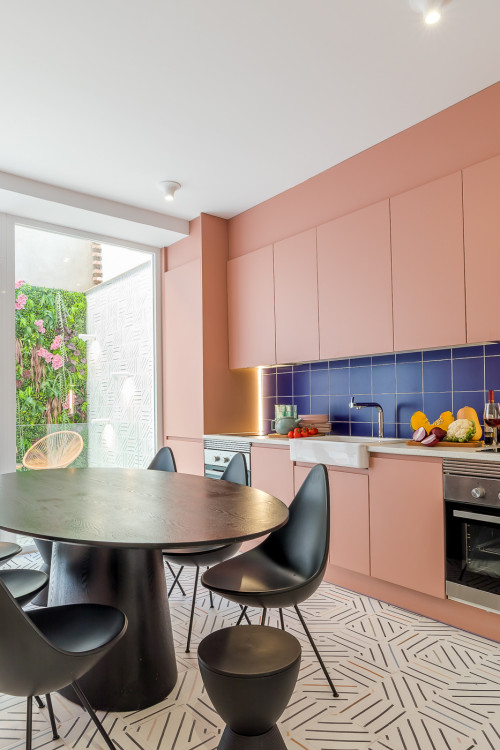 ID# 161804 | Houzz.com – Credit | © Amezkua
---
Pink Flat-Panel Cabinets with Blue Square Tile Backsplash
The pastel kitchen features pink flat panel cabinets that add a soft and charming touch to the atmosphere! The blue square tile backsplash with white grout creates a beautiful contrast against the pink cabinets and adds a touch of visual interest. The white countertop provides a clean and timeless look, while the farmhouse sink adds a rustic and nostalgic vibe to the design. The black dining table and chairs create a bold and modern contrast against the pastel cabinets and add a touch of sophistication. The patterned floor tiles add a playful and whimsical element to the kitchen.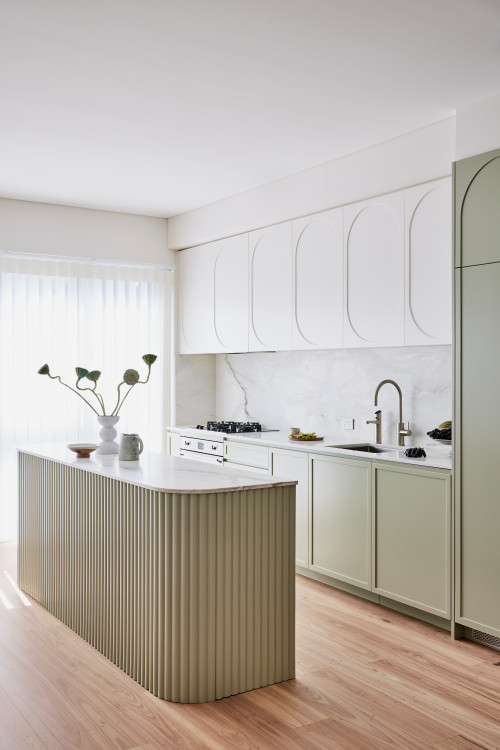 ID# 161805 | Houzz.com – Credit | © Blue Tea Kitchens and Bathrooms
---
Pastel Kitchen Ideas with Wood Flooring
The contemporary kitchen features white upper cabinets with unique curved frames, adding a touch of elegance and sophistication to the design!! The sage green base cabinets create a bold and refreshing contrast against the white upper cabinets, adding a pop of color to the space. The white quartz backsplash and countertops provide a sleek and modern look while also offering durability and ease of maintenance. The ribbed and curved soft green kitchen island adds a unique and eye-catching focal point to the kitchen, serving as both a functional workspace and a stylish design element. The wood floor adds warmth and natural texture to the space, creating a welcoming and inviting atmosphere.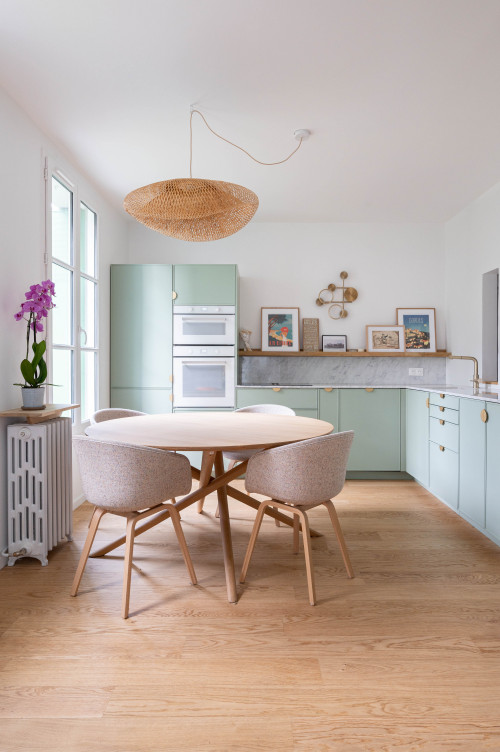 ID# 161806 | Houzz.com – Credit | © Jouhanny Virginie – Interior & Graphic Design
---
Pastel Green Cabinets with Marble Backsplash and Countertop
Step into this kitchen and bask in the soothing and refreshing atmosphere created by the pastel green cabinets. The luxurious marble countertop and backsplash elevate this kitchen to new heights of elegance, offering a striking visual contrast against the soft green tones. A unique feature of this kitchen is the wood floating shelf, adorned with framed artworks that add a personalized touch and a sense of warmth to the space. The wood hardware on the cabinets adds a natural and organic feel, bringing the beauty of the outdoors inside. Take a seat at the cozy circular dining table with gray chairs and savor your meal, happily surrounded by the inviting ambiance. Above the table, a rattan pendant light softly illuminates the space, adding a touch of natural texture and contributing to the kitchen's overall contemporary and stylish vibe.
What pastel colors are good for kitchens?
Kitchen designs can be greatly enhanced with the use of pale hues, imparting a peaceful and soothing environment! Mint green, when combined with white cabinets and natural wood accents, provides a refreshing and breezy sensation. Pale blue generates a calming effect, which blends well with both modern and classic styles. Blush pink imparts a touch of refinement, nicely accenting light gray or white cabinets. Lavender introduces a romantic and enchanting quality, particularly when combined with lighter-colored cabinets. Soft yellow generates feelings of warmth and happiness, incredibly suitable for establishing a warm and friendly ambiance.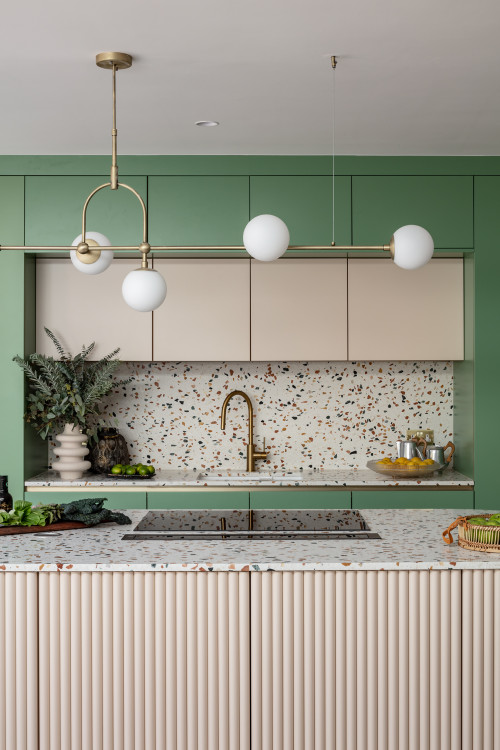 ID# 161807 | Houzz.com – Credit | © Diespeker Terrazzo & Marble
---
Charming Pink and Green Cabinets with Terrazzo Details
As you step into the modern kitchen, you are greeted with a refreshing pastel color scheme, featuring charming pink and green cabinets that inject a playful and personalized touch into the space. The beautifully paneled kitchen island immediately captures your attention with its captivating visual appeal, lending a uniquely stylish look to the kitchen. The terrazzo backsplash and countertops provide a delightful addition of texture and pattern, imbuing the kitchen with a trendy and contemporary atmosphere. To further elevate the space, sleek brass lighting fixtures with minimalist lines lend a sophisticated and warm ambiance, exuding luxuriousness and comfort all at once.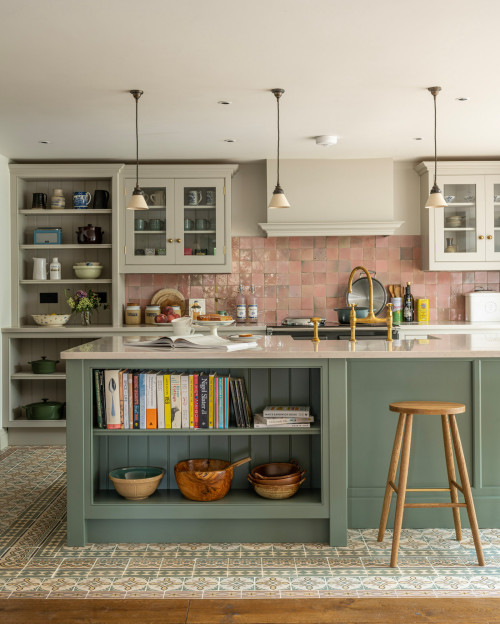 ID# 161808 | Houzz.com – Credit | © Gemma Dudgeon Interiors
---
Colorful Kitchen Design with Pink Backsplash and Patterned Floor Tiles
The colorful kitchen design features two-tone kitchen cabinets in soft green and off-white, with a green island as a focal point. The gray quartz countertops provide a sleek surface while the glossy pink handmade tile backsplash adds vibrancy. One standout feature is the antique flooring, redesigned to fit around the island, adding history and character to the space.
Different Pastel Shades for Kitchens
Using pastel kitchen colors will soon transform the space into a paradise. With a multitude of color schemes to choose from, dazzling spaces are created. While the versatile appeal of safe white kitchens will remain, pastel hues create unique spaces with their beautiful energy. They provide a fun, positive, serene feeling of emotion!
Colors set the tone for a space and create a story. Beautiful combinations can be achieved by combining bold new paint colors with neutral tones. When it comes to pastel hues, beautiful spaces are created with various combinations such as pinks, blues, greens, yellows, interesting oranges, feel-good lilacs and a soft wood tone.
Pastel Pink Kitchen Ideas
Today, pink is becoming the new neutral color. And it provides great effects with a wide range of colors, from soft blush tones to neon pink and terracotta, a mix of pink and terracotta. Looking at the latest design trends, pink is no longer just used for the nursery. Although it undoubtedly provides magnificent effects in the bedroom, one of the rooms, where pink is used in the most fun way, is the kitchen. The pink color choice is surprisingly a versatile color for home design. In addition to adding energy and beauty to your kitchen, pink can also make you feel calmer.
As one of the most used areas in a house is the kitchen, it deserves to feel special and full of life. Whether you want a bold move with pink cabinets or a single accent wall, you can choose to start slower. There are endless options to spice up your kitchen. Magnificent kitchens designed in different ways show pink in different effects. Whether you think your home is already filled with colorful designs or more in neutral tones, you can use these spaces as inspiration for your kitchen makeover.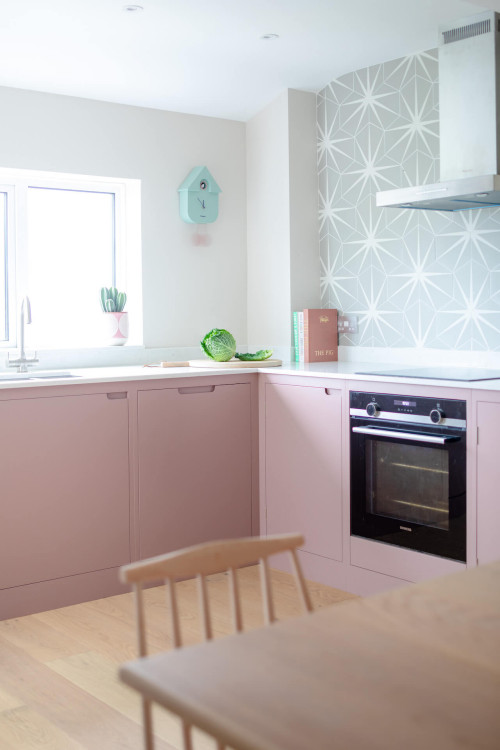 ID# 161809 | Houzz.com – Credit | © Sustainable Kitchens
---
Pink Kitchen Design with Gray Backsplash and White Countertop
Step into a cozy pastel dream with this kitchen design. The delightful pale pink cabinets are modern and sleek with their flat-panel and handleless qualities. The gray hexagon backsplash is adorned with a starburst pattern that makes for an eye-catching and stylish addition to the space. The white countertop blends effortlessly with the gentle pastel tones bringing fresh and inviting energies into the room. Shining stainless steel appliances provide an air of sophistication and carry the practicality required for any kitchen. Enjoy the perfect blend of style and function in this charming little kitchen.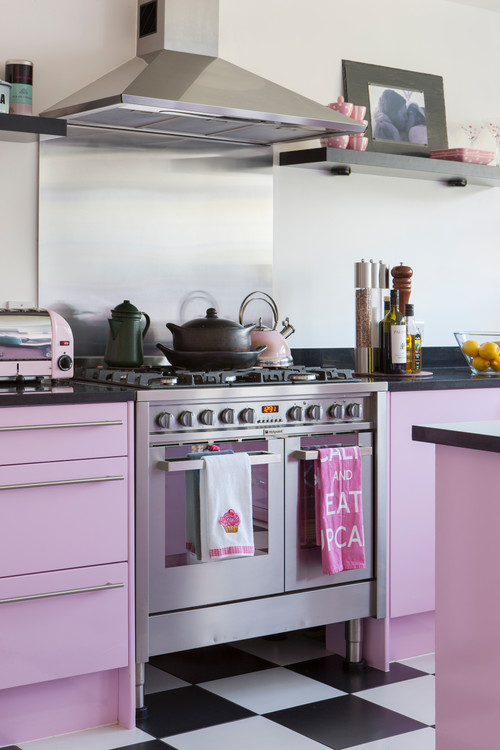 ID# 161811 | Houzz.com – Credit | © David Giles Photography
---
Pastel Pink Cabinetry with Metal Sheet Backsplash
Those pink cabinets are so delightful and they give the space a playful and modern vibe! The black countertop and floating shelves are the perfect sleek and contrasting backdrop to those vibrant pink cabinets, creating a visually striking look that really grabs the eye. The stainless steel appliances look super modern and sophisticated. And have you seen the metal sheet backsplash behind the stove? It adds an industrial-inspired element to the design that's totally unique and just gives it so much texture and visual interest. Plus, the checkered floor tiles provide such a classic and timeless pattern that adds a touch of elegance to the overall contemporary design. It's truly a work of art!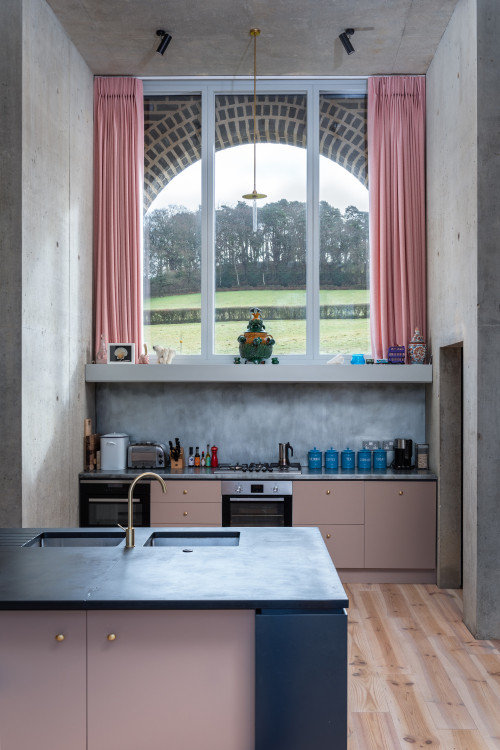 ID# 161812 | Houzz.com – Credit | © Unique Homestays
---
High Ceiling Pastel Kitchen Ideas with Pink Cabinets
When you enter the cozy little kitchen, your eyes are immediately drawn to the pastel pink cabinets that exude a soft and charming vibe! The gray granite countertops and backsplash, on the other hand, provide a contrasting yet sophisticated backdrop that perfectly complements the pink cabinets. The brass fixtures add a touch of warmth and elegance to the design. Meanwhile, the large window above the cabinets allows the sun's natural light to flood the space. Lastly, the pink curtains provide a pop of color and a playful element to the design, making you feel lighthearted and cheery.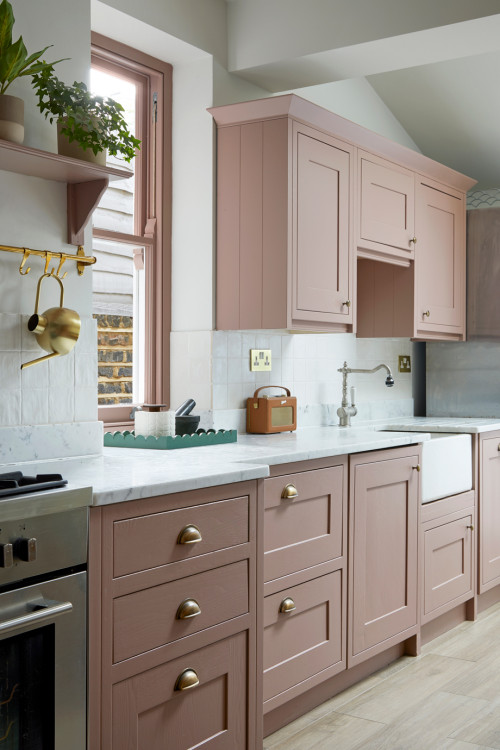 ID# 161813 | Houzz.com – Credit | © Born & Bred Studio
---
Traditional Kitchen with Marble Countertop and White Tile Backsplash
As you step into the kitchen, you'll be transported to a place where tradition meets boldness. The classic pink shaker cabinets, marble countertops and white square tile backsplash provide an everlasting foundation for a feast of colors and patterns. The pink cabinets showcase playfulness, adding life and vitality to the space; they are the stars of the show. Meanwhile, the marble provides a touch of elegance and luxury, catching your eye with its cool sleekness. The white square tiles form a crisp backdrop, highlighting the pink cabinets and marble in a clean and fresh way. The farmhouse sink adds a touch of rustic charm, grounding the space in a sense of history and authenticity. The brass hardware adds warmth and character, creating an inviting and welcoming feel.
Pastel Green Kitchen Ideas
Homeowners are increasingly drawn to pastel green kitchen ideas due to the calming and refreshing properties of this color. Green is often associated with nature and is symbolic of balance, growth, renewal and harmony, which can evoke feelings of serenity and balance. Whether it's forest green, emerald green, olive or sage, this versatile color is finding a place in contemporary and traditional kitchen designs!
What's interesting about green is that it has become a new neutral tone, which blends well with a variety of other hues. It also pairs nicely with colors like white, gray, pink and black. This makes it easy to apply green to many different components of a kitchen, from cabinets to wall space and even certain kitchen tools.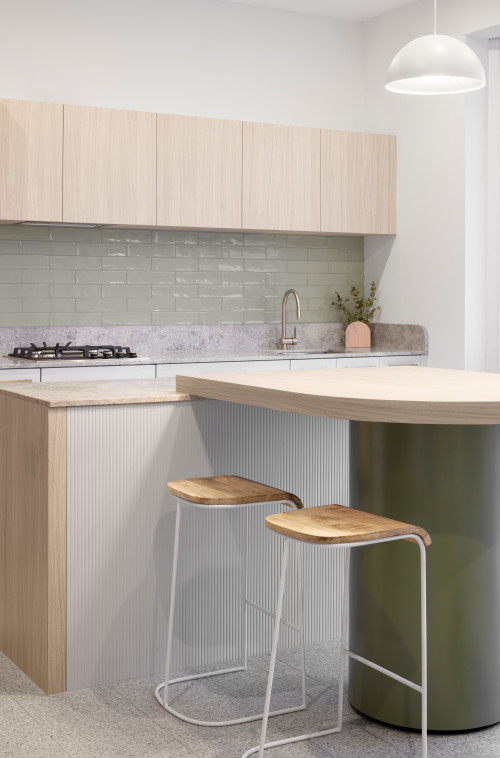 ID# 161814 | Houzz.com – Credit | © smarterBATHROOMS+
---
Beach Style Pastel Kitchen Ideas with Sage Green Subway Tiles
The beach style kitchen features a fresh and airy design with a combination of white base cabinets and wood upper cabinets, creating a coastal vibe! The marble countertop adds a touch of elegance and sophistication to the space, while the sage green subway tile backsplash adds a pop of color and brings in a subtle hint of natural elements. The white kitchen island serves as a focal point, with an extension that doubles as a dining table and provides a convenient and functional space for family gatherings and entertaining guests. The island also adds extra storage and workspace, making it a practical addition to the kitchen.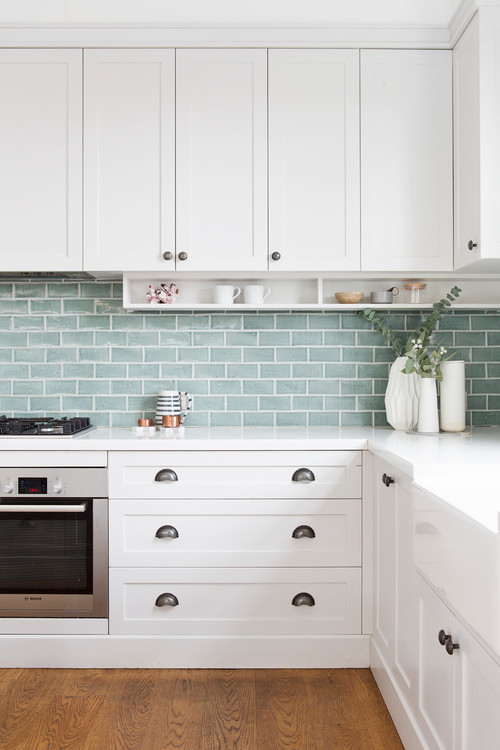 ID# 161816 | Houzz.com – Credit | © Cloth + Stone Designs
---
White Shaker Cabinets with Green Subway Tile Backsplash
The kitchen features classic white shaker cabinets that exude a timeless and elegant vibe! The shaker style doors add a touch of traditional charm to the space while providing functional storage. The green subway tile backsplash with white grout adds a pop of color and creates a focal point in the kitchen. The metallic hardware on the cabinets adds a modern touch and complements the overall aesthetic. The pure white countertop provides a clean and crisp look, contrasting nicely with the green subway tile. The farmhouse sink adds a touch of rustic charm and functionality to the kitchen design. The wood floor adds warmth and natural texture to the space, creating a cozy and inviting ambiance.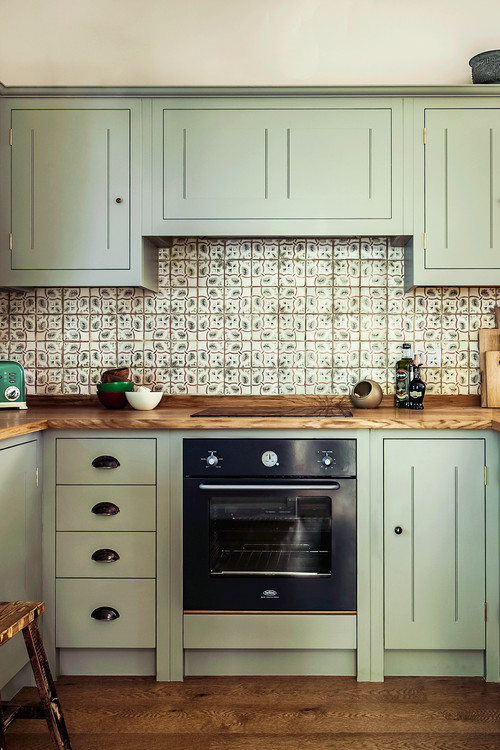 ID# 161817 | Houzz.com – Credit | © British Standard by Plain English
---
Transitional Pastel Kitchen Ideas with Wood Countertop
In this transitional kitchen, the soft green shade gives it a warm and fresh ambiance. The natural wood countertop offers a rustic touch and complements the light green cabinets splendidly. You'll be captivated by the green patterned backsplash tiles that add a pop of color and visual interest to the kitchen. And, the bronze hardware brings in a touch of elegance and complements the pastel-green cabinets exquisitely.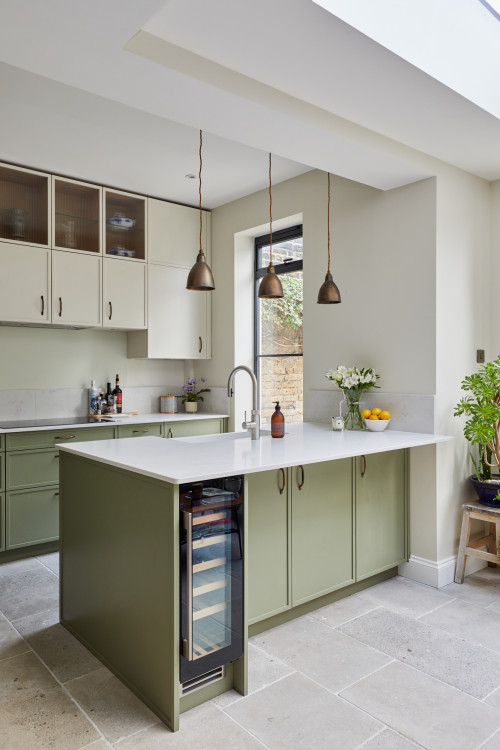 ID# 161818 | Houzz.com – Credit | © piqu
---
Two Tone Kitchen Cabinetry with Bronze Hardware and Pendants
In this inviting kitchen, the pastel green peninsula and base cabinets add a pop of color, complementing the sleek off-white upper cabinets that create a bright and airy ambiance. The bronze hardware and pendant lights exude warmth and elegance, invoking a sophisticated atmosphere in the space. It's a perfect blend of simplicity and sophistication, offering a sense of comfort and luxury at the same time.
Pastel Blue Kitchen Ideas
Imagine walking into a kitchen that instantly soothes and refreshes your senses. Pastel blue kitchens have that transformative power. With its soft and gentle hue, pastel blue can create a tranquil and inviting atmosphere that radiates calmness and brightness. Whether you prefer modern, coastal, farmhouse, or Scandinavian styles, incorporating pastel blue cabinets, walls, and decor can provide your kitchen with a touch of uniqueness and charm. From appliances to accessories, pastel blue has the ability to elevate your kitchen to a personalized haven of serenity and style that you'll never want to leave.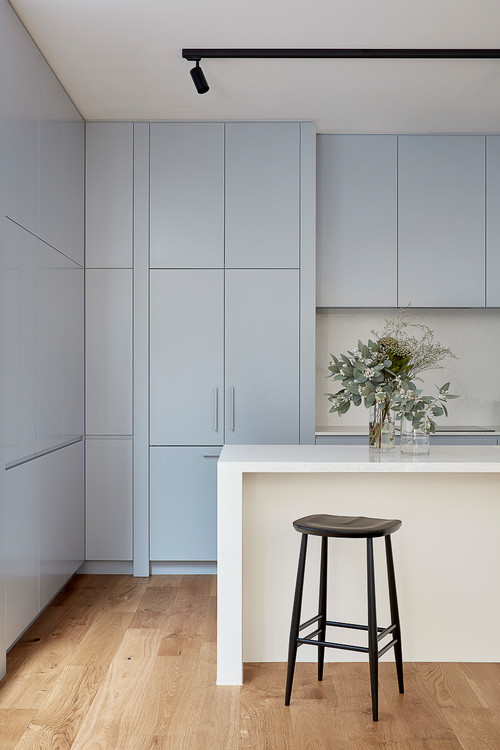 ID# 161819 | Houzz.com – Credit | © Dimpat
---
Full-height Pastel Blue Cabinets with White Waterfall Island
The modern kitchen is a sight to behold! You'll be captivated by the stunning pastel blue cabinets, reaching all the way up to the ceiling with flat panel doors, forming a sleek and contemporary look. The cabinets' pop of color injects fresh life and creates an ambiance that's inviting and exciting. Then there's the white waterfall island – it exudes sophistication, with clean lines and a modern aesthetic that's just irresistible. The white backsplash complements the cabinets and island perfectly, creating a harmonious look that's pleasing to the eye. Lastly, the wood floor adds a new dimension to the space by bringing warmth and natural texture that perfectly balances out the cool tones of the pastel blue cabinets.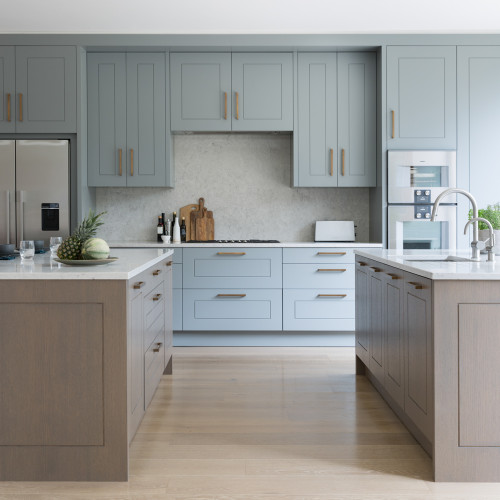 ID# 161820 | Houzz.com – Credit | © Mowlem & Co
---
Pastel Kitchen Ideas with Marble Backsplash and Dual Islands
In this exquisite transitional kitchen, a magnificent gray
marble slab backsplash
steals the show, imbuing the space with a refined and chic ambiance. The seamless and ultra-luxurious look of the gray marble slab is perfectly complemented by the tough and practical white quartz countertops. Two gray islands featuring bronze hardware stand out in the design, serving as an eye-catching centerpiece while providing ample countertop space for meal preparation and gatherings. Against the stunning gray and white backdrop, the splendid bronze hardware adds warmth and richness to the space, creating an alluring and inviting environment.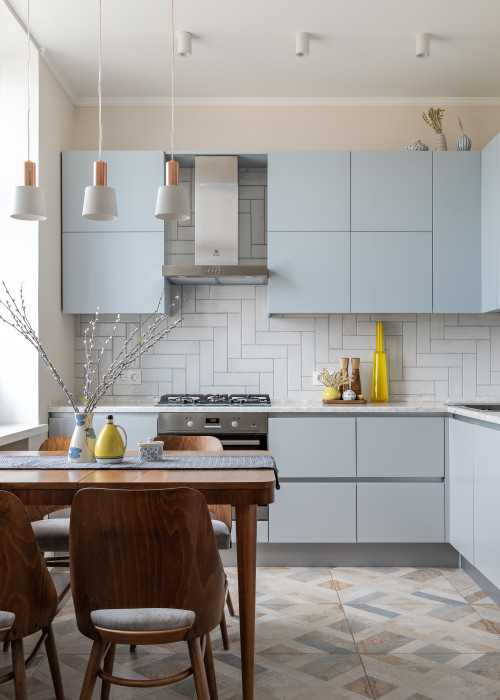 ID# 161821 | Houzz.com – Credit | © Maxim Maximov
---
Eat-in Kitchen with Blue Cabinets and Herringbone Backsplash
The contemporary eat-in kitchen boasts sleek blue flat panel cabinets that add a pop of color and modern flair. The white herringbone backsplash adds a touch of visual interest and texture, creating a stunning focal point against the blue cabinets. The white marble countertop provides a luxurious and elegant surface for food preparation and adds a touch of sophistication to the overall design. Stainless steel appliances offer a sleek and polished look. The multicolored floor tiles in pastel tones add a playful and whimsical touch to the space. A wood dining table and chairs complete the eat-in area and offer a warm and inviting space for family meals and entertaining.
What are the trending kitchen colors for 2023?
This year, kitchens are blooming with a fresh and lively color palette. The most beloved shades are vibrant greens, sunny yellows, cozy warm grays, soothing earthy tones, and cheerful yellows. Among these hues, green stands out as the hot favorite. Homeowners are drawn to green as it brings them closer to nature, exuding a vibe of peace, tranquility, and rejuvenation. With these invigorating colors, cooking and entertaining in the kitchen is sure to become a joyful and delightful experience.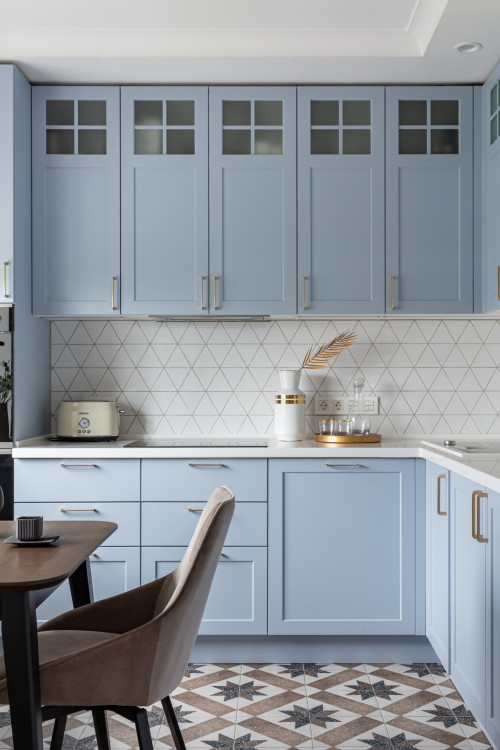 ID# 161822 | Houzz.com – Credit | © Миксон — мебель на заказ
---
White Triangle Backsplash Tiles with White Countertop
The transitional kitchen features timeless blue shaker cabinets that offer a perfect blend of traditional and modern styles! The white triangle backsplash adds a geometric pattern that adds visual interest and complements the blue cabinets beautifully. The white countertop provides a clean and crisp surface for food preparation while the chrome hardware adds a touch of elegance and sophistication. The multicolored floor tiles add a playful and eclectic touch to the space, bringing in a pop of color and personality.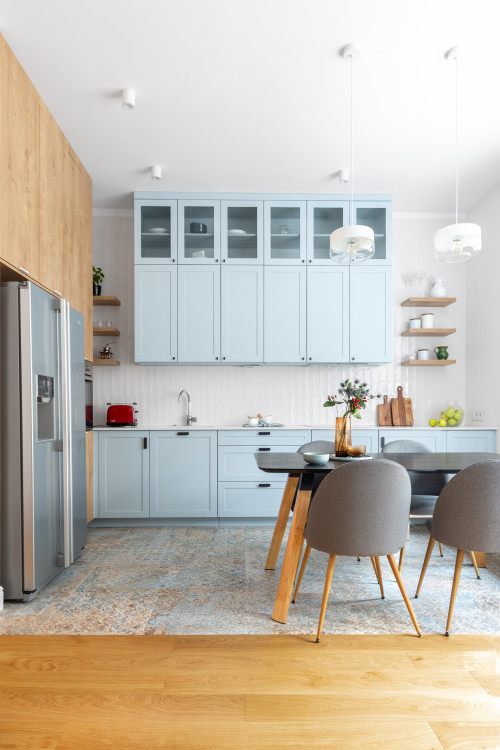 ID# 161823 | Houzz.com – Credit | © EMC&partners
---
Spacious Kitchen with Pastel Shades and Wood Textures
This contemporary kitchen offers a sense of freshness and warmth envelopes you. The baby blue cabinets, with their serene and charming hue, exude a calming effect while the white backsplash tiles provide a clean and sleek backdrop that beautifully complements the blue cabinets. On the other side, the tall wooden cabinets add a touch of rustic textures and a natural feel. And let's not forget the playful and artistic patterned floor tiles, which resemble a rug and add character to the kitchen!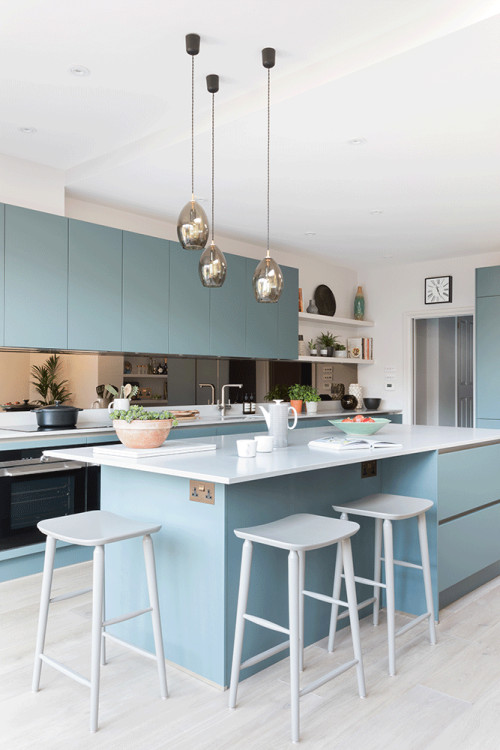 ID# 161824 | Houzz.com – Credit | © NJC Kitchens
---
Modern Kitchen with Mirror Backsplash
The modern kitchen features a sleek and minimalist design with a touch of glamour. The mirror backsplash creates a striking visual effect, reflecting light and adding a sense of depth to the space. The pastel blue cabinets offer a soft and refreshing color choice, creating a serene and calming atmosphere. The large kitchen island with a white countertop provides ample space for meal preparation and serves as a functional and stylish focal point of the kitchen. The metallic pendant lights above the island add a touch of sophistication and modernity, providing both ambient and task lighting.
Pastel Yellow Kitchen Ideas
Yellow always brings sunshine into our homes. Its shades have a bright and cheery effect. So, if your kitchen needs an uplifting effect, pastel yellow kitchen ideas are just for you. You can use pastel-yellow kitchen ideas in so many ways. You can paint your cabinets pastel yellow, or you can use pastel yellow splashback. Another pastel yellow kitchen idea is painting your kitchen walls. It creates a warm and soft look. Pastel yellow is an amazing shade that brings warmth and coziness to the space. So, do not hesitate to paint all four of your kitchen walls or the ceiling. Also, you can use pastel yellow on the floors. Using pastel yellow kitchen ideas for floors is also a genius way to bring color into the kitchen without overshadowing the other parts of the kitchen.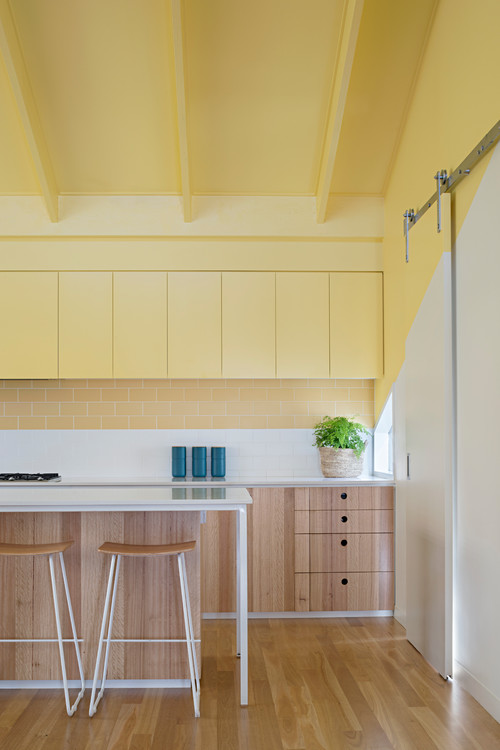 ID# 161825 | Houzz.com – Credit | © Mihaly Slocombe
---
Pastel Yellow Kitchen Ideas with Subway Tile Backsplash
With its pastel yellow features, this contemporary kitchen offers a unique appeal! The wood base cabinets and white subway tile backsplash create a classic and timeless appeal for this kitchen. On the other hand, the yellow color dominates the upper parts and instantly elevates this otherwise ordinary design. The yellow subway tiles, upper cabinets, and wall paint create a continuous look and add visual interest.