18+ Backsplash for Yellow Kitchen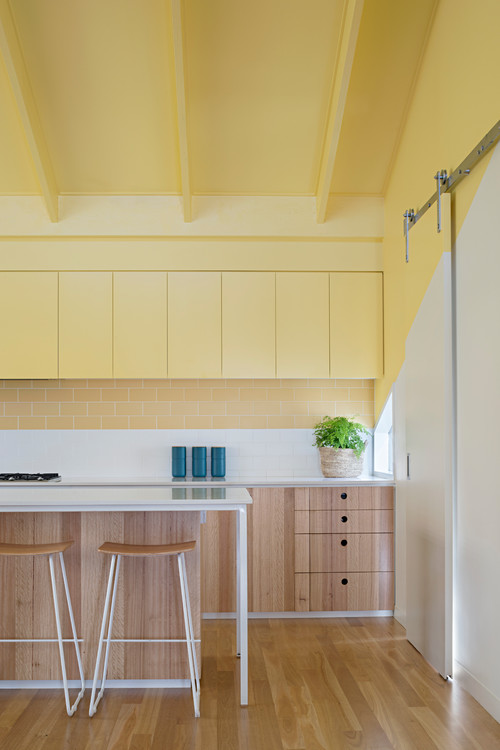 ID# 162401 | Houzz.com – Credit | © Mihaly Slocombe
---
Subway Tile Backsplash for Yellow Kitchen
This kitchen is a remarkable example of a flawless balance between coziness and liveliness. The light wood cabinets and island provide an inviting touch of warmth. The subway tile backsplash, featuring an unconventional blend of yellow and white tiles, takes the spotlight as an exciting focal point. The yellow tiles and upper cabinets generate a vibrant pop of color, leading to a bright and cheerful ambiance. To culminate the seamless design, the yellow ceiling completes the look and unifies all the elements into a cohesive whole.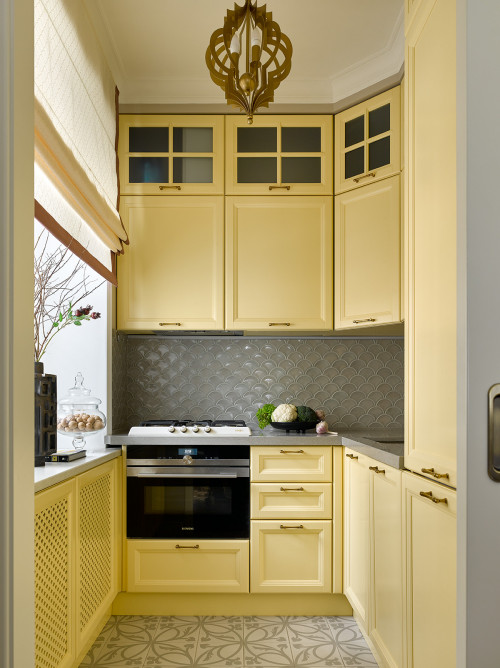 ID# 162415 | Houzz.com – Credit | © MARKINA DESIGN
---
Gray Tile Backsplash for Yellow Kitchen Cabinets and Gray Countertop
The space is infused with warmth and brightness thanks to the light yellow shaker cabinets! The kitchen's standout feature is the gray fish scale tile backsplash, which provides a visually stunning and one-of-a-kind focal point while also adding texture to the space. This backsplash pairs perfectly with the gray countertops which offer a sophisticated and polished surface for meal preparation and dining. Additionally, the playful and lively patterned floor tiles add personality and character to the kitchen, bringing the entire design scheme together.
Backsplash for Yellow Kitchen
Yellow is a color that you can bring joy, energy, calm, warm, and luxurious feel to your kitchens according to the color hue of the yellow. The bright tones of the yellow can create sunny summer vibes with vibrant energy, or darker and matter hues of the yellow can create the serenity of the fall, a calm, and warm atmosphere. From gold to mustard there are a large plethora of yellow hues for yellow kitchens. If you decided to use this color, you will find yourself combining the other design elements of the kitchens such as cabinets, countertops, walls, and floors. For cabinetry one of the most important complementing design elements is the backsplash. With a backsplash for yellow kitchens, the atmosphere can change from calming and natural to welcoming and vibrant.
When coupled with white, concrete gray, punchy pastels, and smooth slab doors, various colors of yellow may be utilized to create a variety of kitchen color ideas and effects for a fresh, modern finish. Alternately, reduce the intensity to a soft hue to provide warmth and improve the calming ambiance of a classic kitchen. When applied on walls or tiles, a middle ground provides a modern artisan spirit and lots of distinctive character. A backsplash for yellow kitchens can increase the energy of the interior and add a stylish look with a pop of color.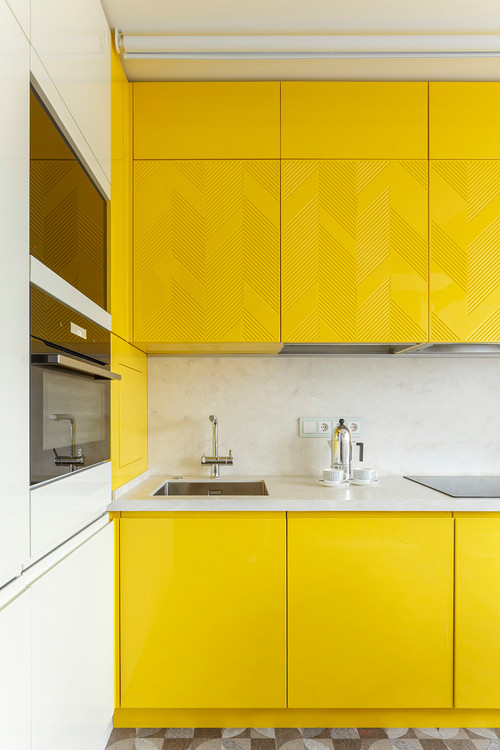 ID# 162402 | Houzz.com – Credit | © Студия "Атаманенко, Архитектура и Интерьеры"
---
Contemporary Kitchen with White Quartz Countertop
The yellow cabinets steal the show in this contemporary kitchen, injecting a burst of color and personality! The geometrical pattern on the upper cabinets adds a touch of modern flair and visual interest. The white quartz countertop and backsplash perfectly complement and contrast with the bold cabinetry, exuding unparalleled elegance and sophistication. The smooth and glossy surfaces of the quartz reflect light and bring an open and airy feel. The appliances have been cleverly integrated, creating a seamless appearance and a streamlined, uncluttered look.
What colors go well with a yellow kitchen?
When it comes to color compatibility, yellow works nicely with dark, neutral and certain dramatic hues like lavender, emerald or navy. You may choose between a melancholy black kitchen with yellow cabinets, an open-concept white room with the same, or a modern two-color kitchen with suspended yellow and dark cabinets. However, for an airy and fresh look, you can accentuate the yellow kitchen with white details and it is possible to use wooden surfaces that have yellow undertones and darker tones to increase the warmth of the atmosphere.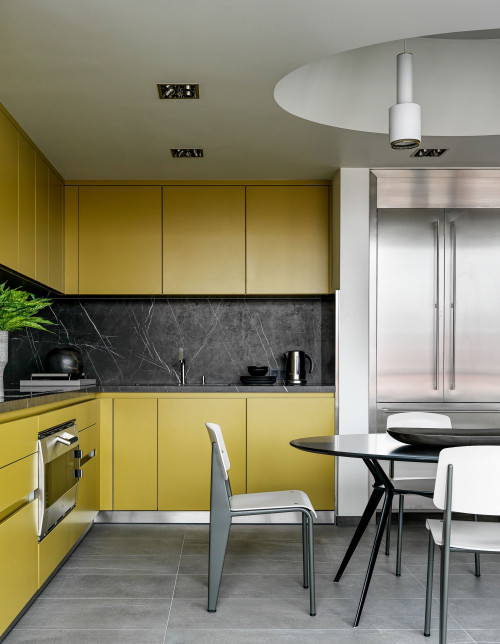 ID# 162403 | Houzz.com – Credit | © Красюк Сергей
---
Open Concept Kitchen with Black Soapstone Slabs
The bright and cheerful yellow kitchen cabinets serve as the focal point of this open-concept kitchen, giving it a lively and upbeat vibe. Complementing the yellow cabinets, the soapstone countertop and backsplash in black exude luxury and elegance, while also providing a durable and easy-to-clean surface for cooking. To create a modern feel, grey floor tiles ground the space with a cool and neutral tone. The stainless steel appliances complete the contemporary look of the kitchen, adding a touch of practicality and style.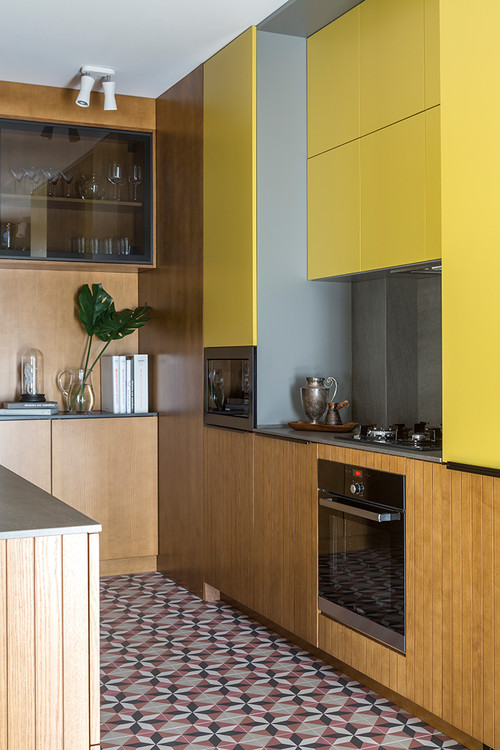 ID# 162404 | Houzz.com – Credit | © Make Interiors
---
Two-Tone Kitchen Cabinetry with Multicolored Floor Tiles
Welcome to this charming kitchen design that exudes creativity and personality! The standout feature of this eclectic space is the two-tone cabinetry, perfectly blending warm and inviting wood base cabinets with vibrantly painted upper cabinets in a playful yellow hue. The display cabinets on the left not only showcase treasured items but also adds charm to the kitchen. Complementing the bold cabinetry, the gray backsplash offers a neutral backdrop that highlights the other design elements. The multicolored floor tiles bring a touch of energy and character to the kitchen and create a lively and dynamic atmosphere.
Backsplash Color Options for Yellow Kitchen
Yellow is a joyful color that will quickly make you feel peaceful and content. It is bright and summery. Regardless of the size of your kitchen, it looks excellent and is the ideal color for one. Smaller kitchens might consider this option since it will provide brightness to the space and help to open it up and make it appear larger. To complement the yellow design you will need to decide on the backsplash color options for yellow kitchens, or countertops, floors, and walls, of course. The backsplash that you will choose for a yellow kitchen design can brighten up your design or create a calm atmosphere.
In today's world, backsplashes are not only for the prevent splashes and moisture but are for the design aesthetic also. If you will use this beautiful color, you need to search for the backsplash color options for yellow kitchens to create your very own dreamy kitchen design. There can be a white backsplash or a yellow one, even you can try out a colorful backsplash. The trick is to combine the right materials and color hues.
White Backsplash for Yellow Kitchen
The yellow and white color! The beautiful combination of the sun and environment, energy and clean freshness! If you will go with a yellow kitchen design, probably, the first idea is to use a white backsplash for yellow kitchens. Because white color is the most timeless and risqué free color option for almost every design element in the interior design. The clean and fresh appeal can brighten up the dark hues of the yellow, or it can create energetic vibes with bright tones.
A stunning focal point may be produced and the entire appearance of the yellow kitchens can be quickly improved with a superb white backsplash. When deciding on a backsplash color, white gives a timeless, elegant, and traditional look. At all times, white backsplashes are among the most favored and often used backsplash colors. There are several methods to incorporate a white backsplash into your white kitchen, regardless of your taste, which can range from shiny white subway tiles to unusual herringbone tiles. Scroll down to see some of the beautiful examples of a white backsplash for yellow kitchens and get inspired!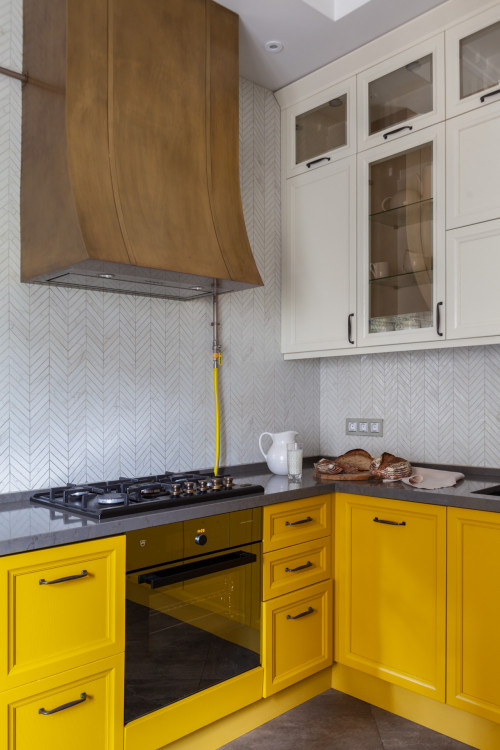 ID# 162405 | Houzz.com – Credit | © Ната Волкова
---
Full-Height Chevron Backsplash for Yellow Kitchen Cabinets
Thanks to the eye-catching mustard yellow base cabinets, this stunning traditional kitchen boasts a warm and vibrant atmosphere!! The classic contrast of the white upper cabinets adds elegance to the overall aesthetic. The sleek and durable gray granite countertops provide the perfect surface for meal preparation while the refined and sophisticated black hardware accents the space. The wood range hood steals the show with its intricate details and rustic charm. The full-height chevron backsplash serves as a stunning backdrop, offering visual interest and texture. Also, the marble texture of the stone tile backsplash adds a dose of luxury to the space.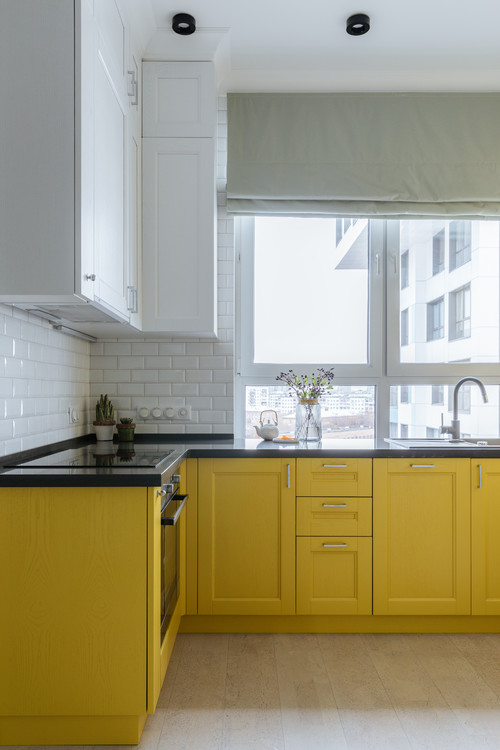 ID# 162406 | Houzz.com – Credit | © Tatiana Fursova
---
Transitional Kitchen with White Beveled Subway Tiles
This kitchen is the perfect blend of freshness and sophistication! The yellow and white cabinets create an inviting and vibrant atmosphere while the black quartz countertop adds a sleek and stylish element. The white beveled subway tile backsplash adds texture and interest, keeping things visually appealing. Shiny chrome hardware adds a polished touch of elegance. Natural light floods through the large window behind the sink, crafting an open and airy feel. For a cozy final touch, a gray curtain sits atop the window.
How can I make my yellow kitchen look good?
Whether you go for a two-tone style with yellow units and contrasting wall color, yellow kitchen walls and units may look fantastic together. Even better, use brighter yellow wall cabinets and darker yellow base cabinets to create an ombre effect. This is a great way to explore the various tones that one color offers while also opening up your area.
A Scandinavian-inspired aesthetic may be achieved by pairing yellow kitchen cabinets with unfinished wood. For a style that seems unified, choose mustard yellow base units with wooden countertops and wall units. The wooden components offer further depth to an already bright and vibrant color scheme.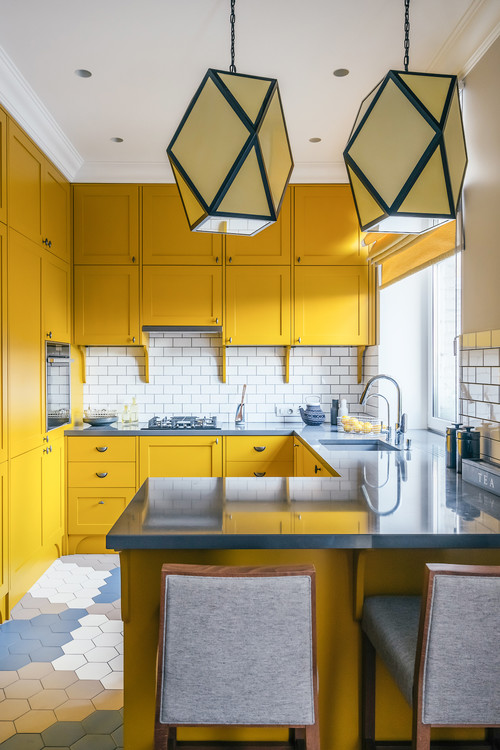 ID# 162407 | Houzz.com – Credit | © Студия Enjoy Home
---
Contemporary Kitchen Design with Hexagon Floor Tiles
The modern appeal of this updated kitchen showcases the spotlight-grabbing mustard yellow cabinets that inject the area with vitality and character. The classic white subway tile backsplash for yellow kitchen adds a timeless touch, alongside a gray countertop that provides a polished contrast. The stylish peninsula with streamlined gray chairs welcomes feasting and bonding, enhanced by broad pendant lights overhead. For a playful twist, multi-colored hexagonal floor tiles inject a sense of whimsy and appeal!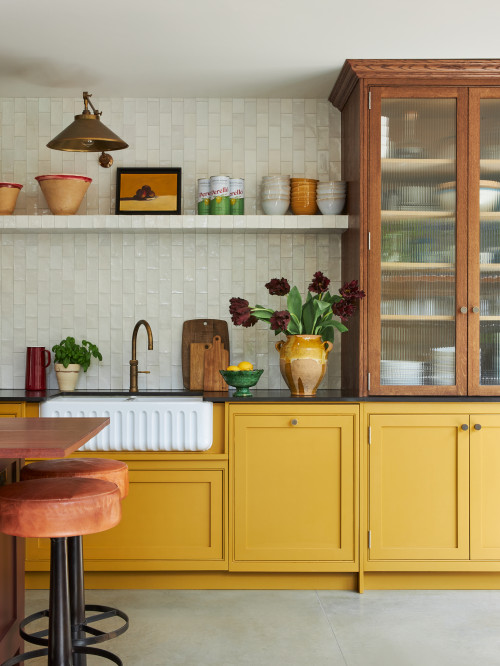 ID# 162408 | Houzz.com – Credit | © Boffe Design
---
Vertical Subway Tile Backsplash for Yellow Kitchen
This transitional kitchen exudes warmth and character with its mustard yellow base cabinets, creating a beautiful contrast against the sleek black countertop. Vintage charm is added with the white farmhouse sink, while a vertical subway tile backsplash creates a unique focal point. The practical and stylish display area provided by the tiled shelf in the same pattern as the backsplash adds to the overall aesthetic. Using a vertical layout for the backsplash creates an illusion and makes the space feel higher. Combining elegance with functionality, the wood glass front cabinets further enhance the transitional theme. The refined look of the kitchen is completed by the addition of bronze fixtures providing a subtle hint of luxury.
Is yellow a good colour for kitchen?
Are you a cheerful optimist? Or do you simply wish you could channel that energy? Yellow, which is associated with enthusiasm, exuberance, and optimism, is a fantastic color option for the kitchen. Because yellow reflects a high amount of visible light when compared to other colors, it's best to keep stronger shades of this eye-catching hue to limited doses and materials that truly stand out.
Yellow is a bright and sunny color that is instantly uplifting and will make you feel relaxed and joyful. It's the ideal kitchen color and looks excellent regardless of the size of your kitchen. It will provide brightness to the area, making it a wonderful choice for smaller kitchens because it will assist to open up the space and make it feel larger.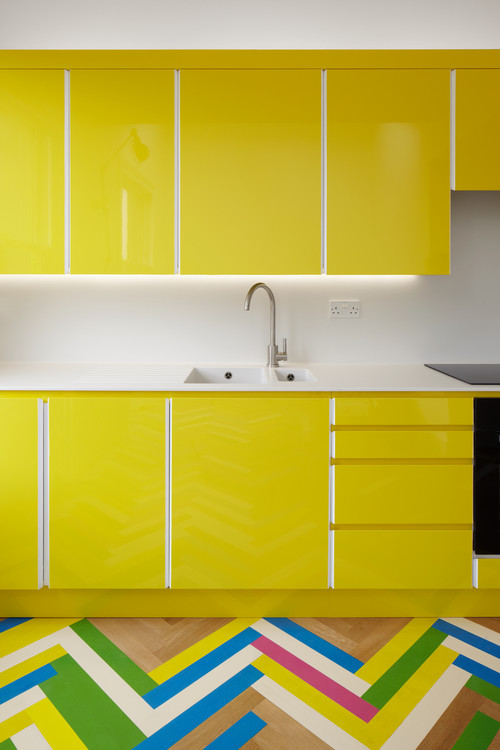 ID# 162409 | Houzz.com – Credit | © Alma-nac
---
High Glossy Kitchen Cabinets with Colorful Herringbone Floor
This modern kitchen is invigorated with energy and personality thanks to the eye-catching yellow cabinets boasting a glossy finish! The white backsplash and countertop create a clean and sharp backdrop, allowing the yellow cabinetry to take center stage. A playful addition to the design is the statement-making colorful herringbone floor tiles, with their intricate pattern and vibrant shades adding a dynamic visual element that enhances the overall appeal of the space.
Yellow Backsplash for Yellow Kitchen
Yellow kitchens are already a beautiful choice for people who wants energetic and sunny vibes in their kitchens. This lovely color can combine with a yellow backsplash and if you will think that a yellow backsplash for yellow kitchens is too overwhelming, you may be wrong! Like every design element, if yellow backsplash ideas for yellow kitchens are created and used wisely the result will surprise you!
Cooking, eating, and resting seems to go hand in hand with sunshine yellow, so perhaps our kitchens have always been the ideal place to welcome in this color scheme. More than ever, we need a little sunlight in our life right now, and the brighter and more outspoken the better. A prominent shape or a piece of furniture can be enough to maximize the benefits of yellow without painting every wall in the space or a yellow backsplash for yellow kitchens combination can increase the energetic vibes of the environment. Yellow offers us an instant jolt of happiness, giving our kitchens the buttercup under the chin impression of a sunny summer day.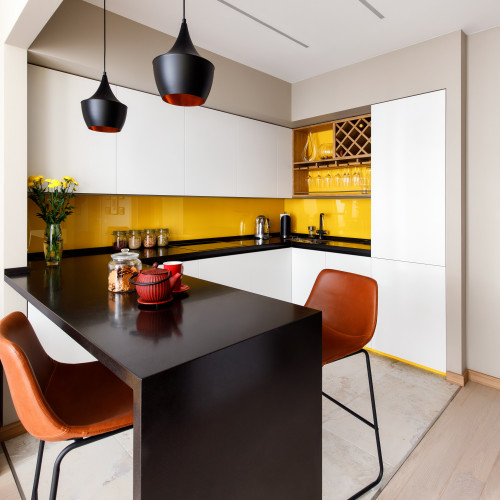 ID# 162410 | Houzz.com – Credit | © Hamiltoun
---
White Flat-Panel Cabinets with Yellow Backsplash
In this modern kitchen, the plain white cabinets make the space appear very simple, while the black countertop contributes a sense of elegance and diversity. The countertop stretches effortlessly to produce a tasteful peninsula, giving more room for cooking and informal dining. Partnered with elegant leather chairs, the peninsula highlights the spot for socialization and chats! Injecting a lively burst of color, the yellow glass sheet that serves as a backsplash brings a cozy and quirky appeal to the area.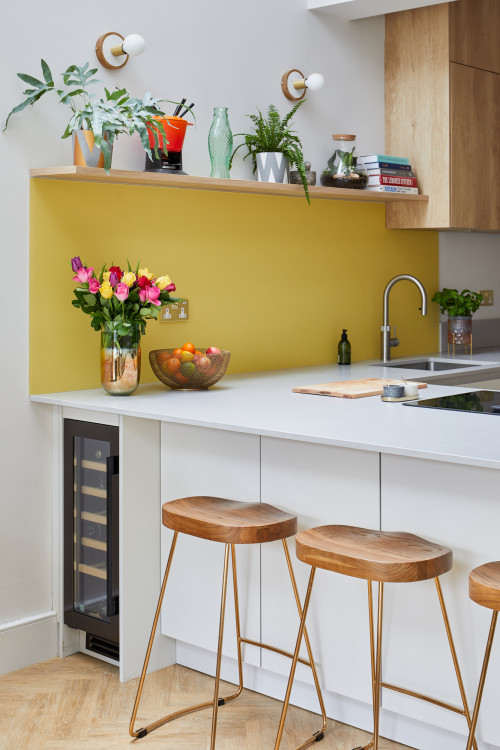 ID# 162411 | Houzz.com – Credit | © piqu
---
Modern Joyful Kitchen with Yellow Wall Paint
The white cabinets and countertops establish the basis for a spotless and refreshing appearance, establishing a background for the remaining elements to excel. An impressive characteristic is a peninsula featuring a practical beverage cooler and fashionable wooden stools, creating an ideal informal dining and hosting setting. The room sparks with vitality from the yellow wall coloring that splendidly emphasizes the backsplash zone. A chic wood floating shelf offers a functional exhibit zone atop the yellow paint for your preferred kitchen essentials or ornamental items.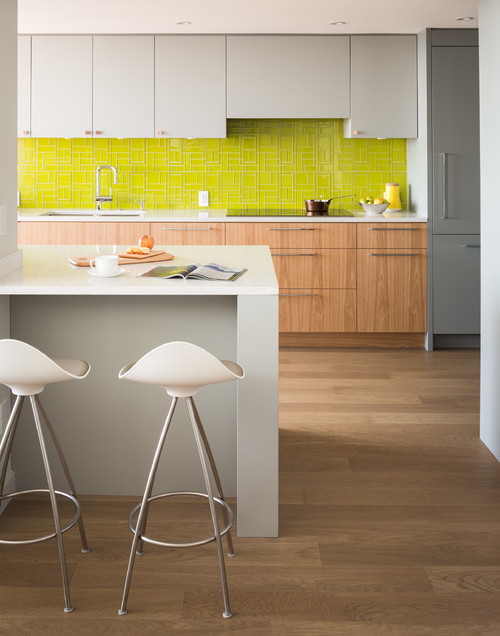 ID# 162412 | Houzz.com – Credit | © Moosehead Contracting Inc.
---
Yellow Glass Backsplash with Gray and Wood Cabinets
Welcome to a contemporary kitchen that strikes the perfect balance between warmth and sophistication! The wooden lower cabinets harmonize with the smooth upper gray cabinets and peninsula, providing an eye-catching juxtaposition. The star of the space, however, is the glass yellow kitchen backsplash tiles that offer a striking setting with their vivid color and artistic finesse. Amid this alluring background, the white countertop delivers an immaculate and ageless surface to cook and display food items. To tie everything together and create a modern vibe, the chrome hardware embellishes the cabinets.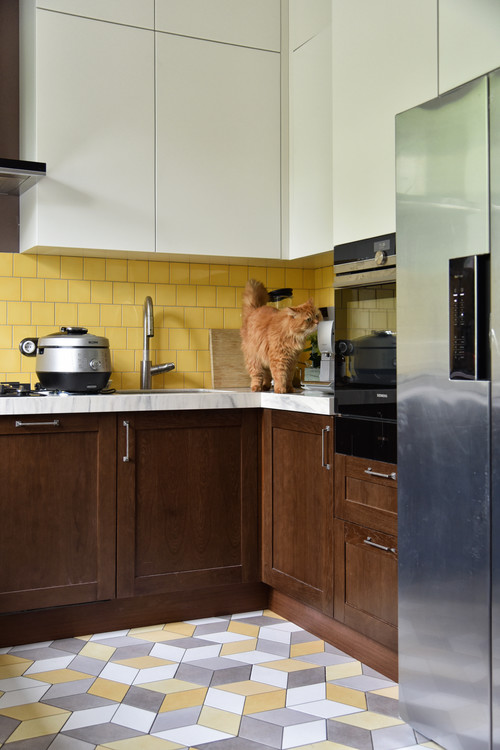 ID# 162413 | Houzz.com – Credit | © TB.Design
---
White and Wood Cabinets with Colorful Floor Tiles
The combination of the neutral colors and a pop of yellow offers a warm and welcoming kitchen space! The white flat panel upper cabinets exude a clean and sleek aesthetic, perfectly complemented by the dark wood shaker base cabinets that bring a sense of richness and depth. The white marble countertop adds a luxurious element to the space, while the yellow subway tile backsplash steals the show with its burst of energy and personality. Its sunny hue enlivens the kitchen and serves as a striking backdrop for culinary adventures. The multicolored pastel floor tiles add a playful touch, completing the space with charm and creating a cheerful atmosphere.
Colorful Backsplash for Yellow Kitchen
Choosing a color scheme can be joyful when you have a kitchen to design. In general, white, black, and gray colors come to mind at first, however, you should give a chance to a yellow kitchen design. Yellow is the color of the sun that represents life, energy, and light, then comes the summer vibes, fall calmness, and serenity. A yellow kitchen needs a backsplash as well as the walls, floors, and countertops, and you may be confused to choose a backsplash color for yellow kitchens. If you do not have anything in your mind you can go with a colorful backsplash for yellow kitchens. The pop of colors and the harmony may be a little contrasting, which can fill the yellow kitchens with a stylish look.
Since the tile industry and today's technology can provide many many alternatives for users to choose from, to make a difference you can have a colorful backsplash for yellow kitchens. It is possible to use porcelain, mosaic, ceramic, or glass tiles for your backsplashes to complement your very own yellow kitchen design. Let's scroll down to see some of the gorgeous examples of colorful backsplash for yellow kitchens.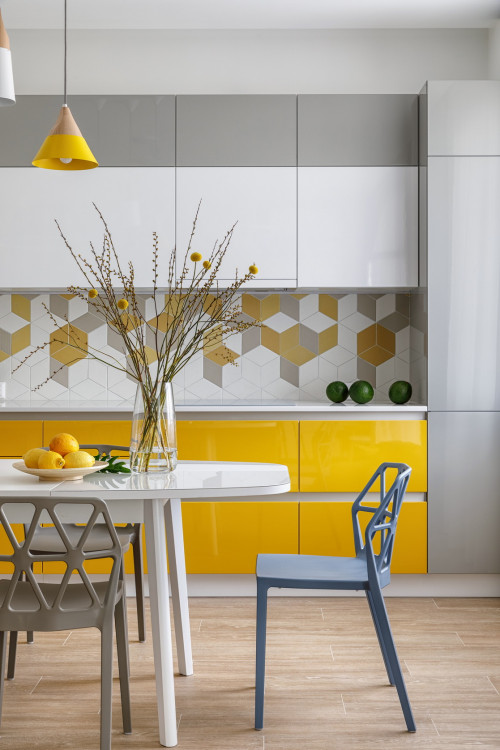 ID# 162414 | Houzz.com – Credit | © iPozdnyakov Studio
---
Scandinavian Kitchen with Multicolored Backsplash Tiles
A seamless fusion of yellow, white, and gray cabinets in this space demonstrates the Scandinavian design principles of simplicity and minimalism! The backsplash tiles also in geometric shapes and matching shades reinforce the color scheme while injecting a touch of contemporary playfulness. The white dining table commands attention as the focal point, complemented by an eclectic mix of colorful chairs that introduce personality and energy into the area. Additionally, the wood-look floor tiles project warmth and bring a natural texture to the surroundings, furnishing a snug ambiance to the setting.
Backsplash for Light Yellow Kitchen
One of the most cherished and often used rooms in the house is the kitchen, so why not make it the centerpiece of the house by painting it yellow? The newest style to dominate interior design is a yellow kitchen. However, even yellow has dark and light hues, and light colors may be the ideal complement to your kitchen because bright yellow may not be for everyone. To enhance the gentleness of the yellow tones, combine it with marble and various shades of white and use a white backsplash for light yellow kitchen designs. The goal is to make the light yellow color the centerpiece while keeping the rest of the design in harmony.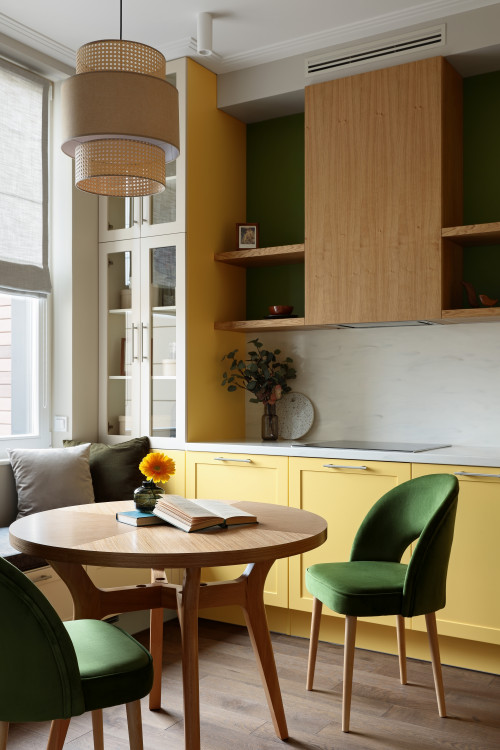 ID# 162416 | Houzz.com – Credit | © Maxim Maximov
---
Contemporary Kitchen with Breakfast Nook
This contemporary cuisine boasts light yellow cabinets that emanate a warm and welcoming atmosphere into the room. The cabinets beautifully blend with a spotless white backsplash for yellow kitchen, generating an unblemished and ageless background. To impart a hint of natural grace, a wooden range hood and open shelving serve both as utilitarian and decorative elements. Additionally, there is a snug breakfast nook situated in the corner. It comprises a built-in bench, round dining table and delightful green chairs, furnishing a relaxed space for convivial meals.
Backsplash for Mustard Yellow Kitchen
Color changes the game. It has been demonstrated that cheerful, upbeat colors may have an elevating impact, therefore when it comes to kitchen ideas, yellow is the ideal option if your dreary kitchen needs a boost. Yellow immediately conjures up images of sunlight. Therefore, introducing bright yellow will enliven the room and offer a natural vitality and warmth to north-facing kitchens that are deficient in natural light. Although using yellow wall to wall in a kitchen is a bold decision, adding just a splash of yellow may also improve kitchen space. It contributes to mood-lifting and gives off a laid-back, bright atmosphere. However, if you may not want bright and energetic hues of the yellow then you can use mustard yellow in the kitchen. With a stylish backsplash for mustard yellow kitchens, you can increase the warm and welcoming appeal of the interior.
With a sleek backsplash for mustard yellow kitchens, be strong and direct while maintaining a masculine aesthetic. The goal is to have a bold color take center stage while maintaining a macho vibe. For the greatest results, use it with a monochromatic color scheme. There are many ways to create a combination of a backsplash for mustard yellow kitchens and let's scroll down to see to get inspired!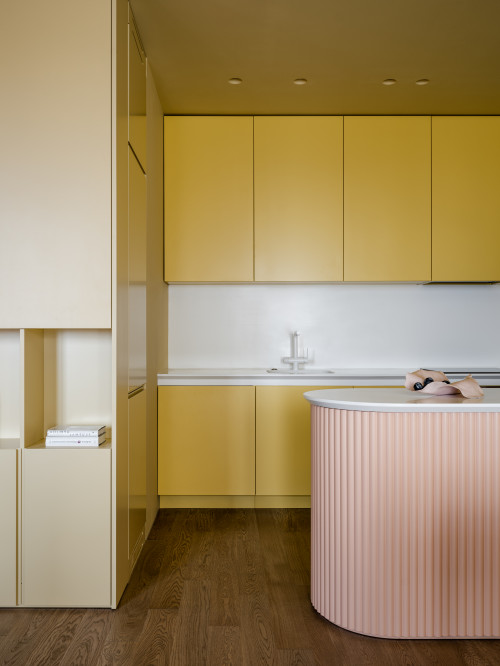 ID# 162417 | Houzz.com – Credit | © Salmon Lair
---
White Backsplash for Yellow Kitchen and Pink Island
This modern kitchen showcases the striking mustard yellow cabinets as the main attraction, evoking a lively and inviting ambiance! The white tiled backsplash for the yellow kitchen seamlessly harmonizes with the cabinets and offers an immaculate and sophisticated setting. An adorable pink-paneled island is a standout feature, injecting a fun and whimsical vibe into the area. The white countertops are a classic and multipurpose work surface for cooking. The wooden flooring imparts a natural and cozy feel, with a touch of texture.
Are yellow kitchens out?
You'll notice that all the homes you've visited recently have no yellow in their kitchen, which can make you wonder, "Are yellow kitchens outdated"? Furthermore, because of the prominence of neutral and dark hues in the kitchen, bright colors like yellow are overlooked. However, this does not imply that yellow kitchens are out of date. Yellow kitchens aren't out of style as long as you know how to mix yellow with other colors to fit your style and give your kitchen a trendy modern appeal!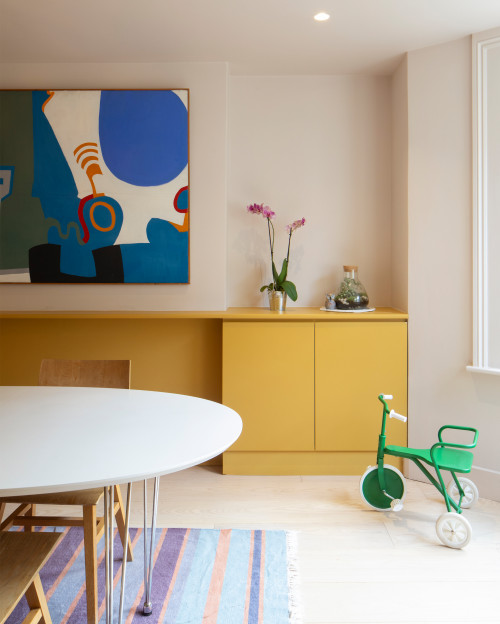 ID# 162418 | Houzz.com – Credit | © Emilie Fournet Interiors
---
Basement Kitchen Design with Pastel Pink Walls
Welcome to the contemporary basement kitchen that exudes a vibrant and joyful atmosphere! The vibrant mustard yellow cabinets serve as an instant attention-grabber, infusing the space with energy and warmth. The soft and welcoming pastel pink walls add a playful touch to the ambiance, making it more inviting. Eye-catching oversized artwork hanging above the cabinets creates an artistic charm and captures the focus of anyone who enters.