26+ Glass Kitchen Cabinets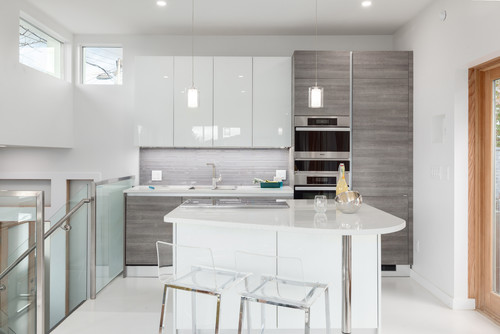 ID# 104707 | Houzz.com – Credit | © Lanefab Design/Build
---
Contemporary White Kitchen Cabinets With White Countertops
This stylish kitchen combined with bright white creates a work of art. Who wouldn't want to be in such a stylish kitchen? White quartz countertop, white glass cabinets become even more elegant with the touch of light brown tones. It's obvious that the chairs are particularly placed in this minimal touch kitchen!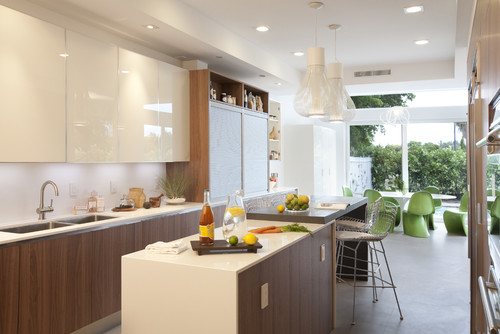 ID# 104720 | Houzz.com – Credit | © Dkor Interiors Inc.- Interior Designers Miami, FL
---
Modern Kitchen with Brown and White Cabinets
We loved these shades of brown and white! Using flat-panel cabinets in this way has perceived more space in the kitchen. Soft tones and smooth transitions with the gray floor have been transformed into a wonderful modern kitchen.
Elegance, Minimalist and Modern Kitchen Cabinets with Minimal Touch!
It's a good idea to use glass cabinets to keep kitchen areas large and spacious. You can reach the kitchen you want with the stylish, harmonious and warm structure of glass. Check out our glass kitchen cabinets ideas and decide what design to use.
Complete your natural tones with glass
Glass cabinet does not mean one type of cabinet. You can find the style you are looking for with many different cabinet combinations. All-glass cabinets, cabinets used with a single tone, glass cabinets designed with multiple colors. Glass cabinets that you can apply to any kind of kitchen you are looking for are available in the examples below. Test some of our ideas and decide which style you want in your home.
Wood, blue, white cabinets are just some of the ideas suitable for glass cabinets.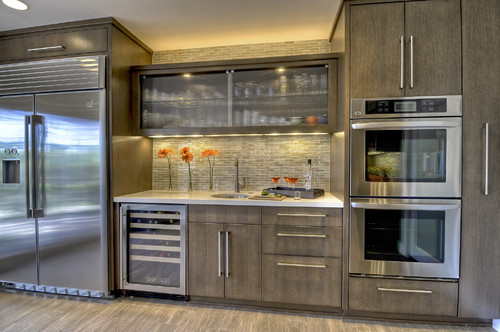 ID# 104701 | Houzz.com – Credit | © Kristin Lam Interiors
---
Modern Kitchen Upper Kitchen Cabinets With Glass Doors
We loved this brown tone kitchen. The floor, cabinets and backsplash are all in harmony with each other. Upper cabinets which are glass saved the kitchen from being a completely dark, and besides this, it provides an integrity with metals.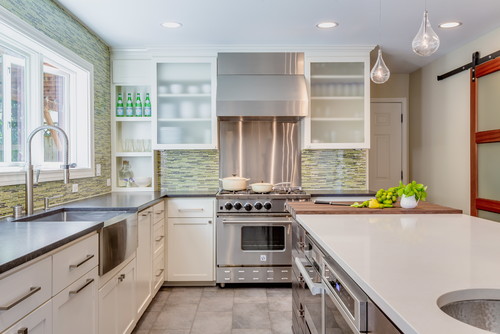 ID# 104703 | Houzz.com – Credit | © Design Harmony
---
White Cabinets and Green Mosaic Backsplash Tile
This beautiful light-colored kitchen caught our eyes too. Modern white cabinets are designed with open shelves and glass doors. The matchstick tile backsplash adds color to the kitchen and enlivens the simplicity of white. The use of black and white countertop created a contrast in the kitchen. The countertop lights seem to invite you to cook.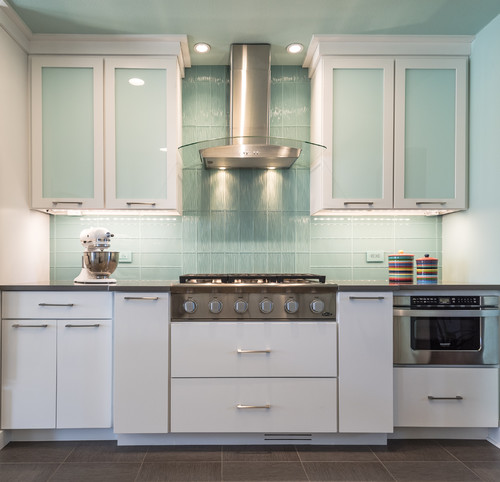 ID# 104706 | Houzz.com – Credit | © Next Project Studio
---
Modern White Cabinets with Light Blue Glass Backsplash
The light glass backsplash, which makes these beautiful white cabinets stand out even more, also tied the glass cabinets. Quartz black countertop provides contrast with white, while cupboards refer to stainless steel appliances. You can imagine a happy family cooking in this minimalist kitchen!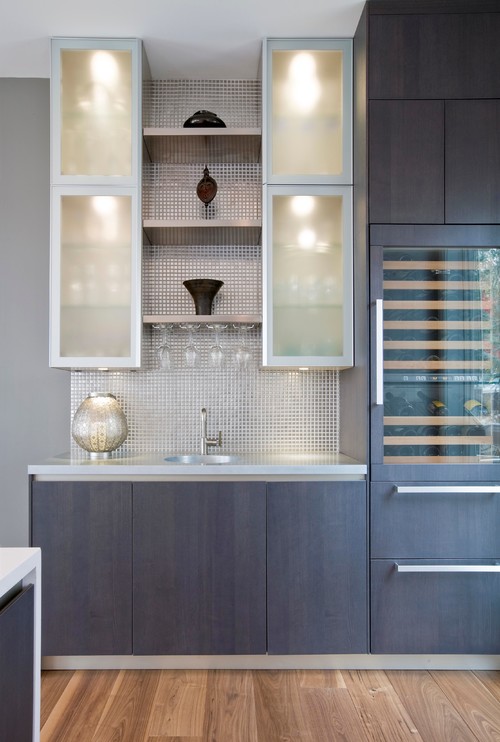 ID# 104708 | Houzz.com – Credit | © Erin Paige Pitts Interiors
---
Dark Wood Cabinets with Gray Mosaic Tile Backsplash
What happens if you design dark wood cabinets with glass doors? You get such a stylish look. By illuminating your glass cabinets, you will both add a general atmosphere to your kitchen and make your gray kitchen cabinets look more stylish. Complete with wood floor, this kitchen is in perfect harmony with mosaic tile backsplash cabinets.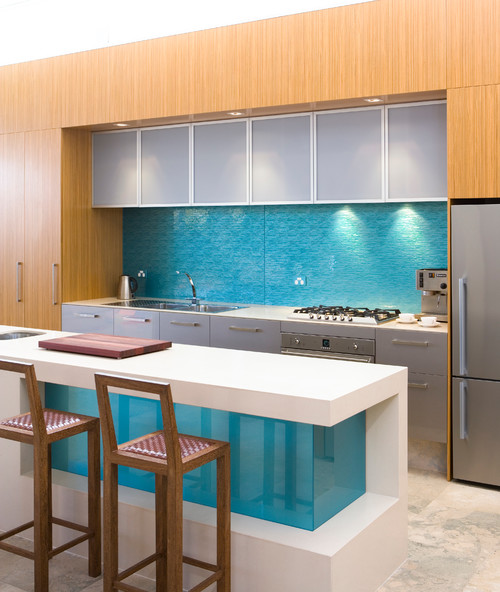 ID# 104709 | Houzz.com – Credit | © Arkopanel
---
Blue Backsplash with White Glass Cabinets
We loved the blue details in this kitchen! Blue cabinets on the island with a blue backsplash can't think of anything other than glass cabinets. Glass cabinets add elegance to the kitchen without getting ahead of the blue. Wood cabinets, on the other hand, have positioned the kitchen as if it draws a border, thus increasing the effect of blue and glass.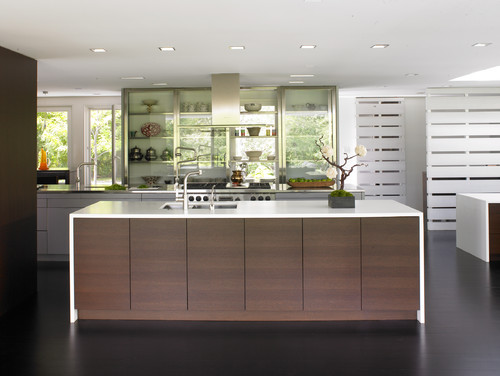 ID# 104710 | Houzz.com – Credit | © Streeter Custom Builder
---
Modern Kitchen with Glass Front Cabinets
We loved the modern touch in this kitchen! The elegance of the combination of brown cabinets with white countertop has been in perfect harmony with the glass front cabinets on the wall. Glass cabinets have provided the kitchen with industrial-style touches. This is the biggest feature that separates the kitchen from classical modern kitchens.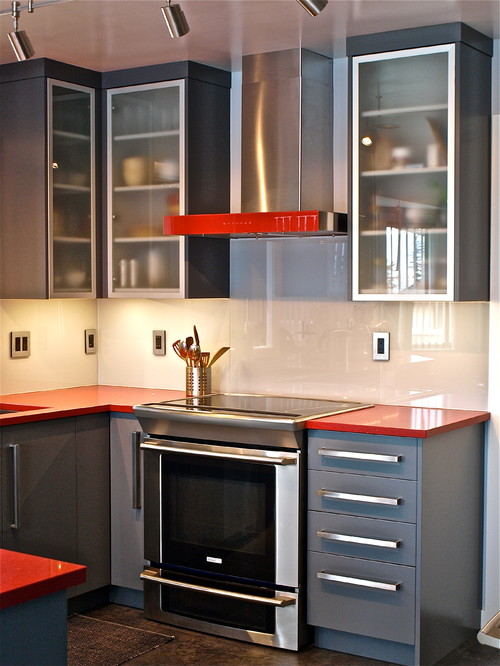 ID# 104711 | Houzz.com – Credit | © Ceanesse Kitchens Ltd.
---
Quartz Countertops with Gray and Glass Cabinets
This U-shaped kitchen can inspire you. We loved using the gray glass cabinet! The bright red quartz countertop goes very well with gray cabinets. Glass cabinets on the top are a great design idea that you can design according to your own taste. Using it together with the gray cabinet in this kitchen has added elegance to the kitchen.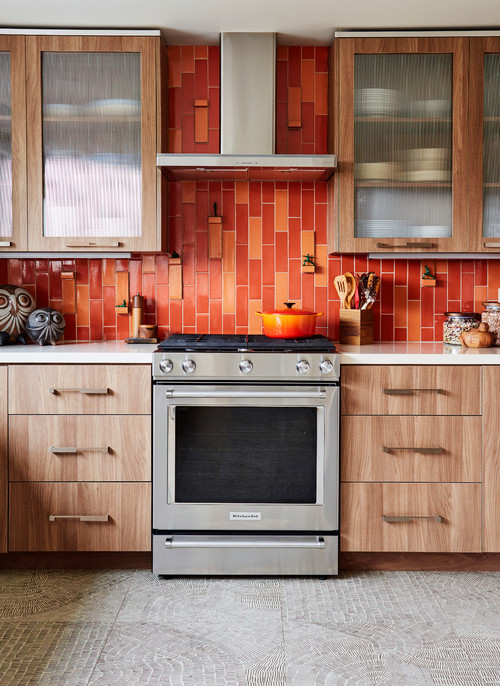 ID# 104712 | Houzz.com – Credit | © Modern Nest
---
Eclectic Kitchen with Glass Cabinets
If you have sharp styles, you will love this kitchen design. This fun, red tile backsplash and gray floor will make your kitchen stand out of the ordinary. The use of all these extraordinary details with the wood cabinets we are used to has revealed the harmony of the contrasts. Glass doors soften the wooden cabinets and harmonize them with the kitchen.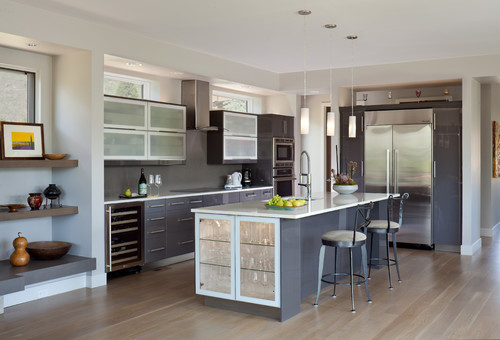 ID# 104713 | Houzz.com – Credit | © Tkp Architects
---
Gray Cabinets with Glass Front Kitchen Cabinets
Gray tones are used predominantly in this modern kitchen. White-framed glass cabinets are paired with the glass cabinet on the island. The heavy use of gray with the granite white countertop is a bit broken and gives the kitchen a modern look. The wood floor and wood accessory details in the kitchen complete with modern accessories are among the features that will make the kitchen love.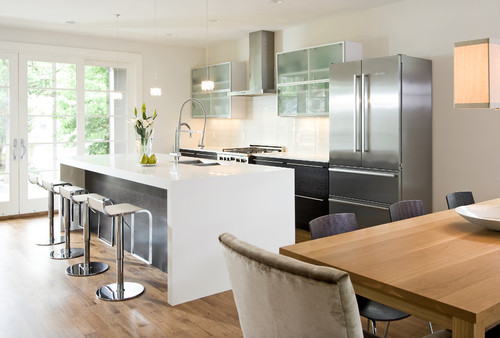 ID# 104714 | Houzz.com – Credit | © W.B. builders
---
Modern Monochrome Kitchen with White Backsplash
We love the harmony of black and white! That's why we loved the details in this kitchen. The idea of using black in cabinets and making the whole island white is great. By making the upper cabinets glass, the whole kitchen is not overwhelmed with black. Metal chairs are matched with stainless steel appliances to achieve a beautiful harmony.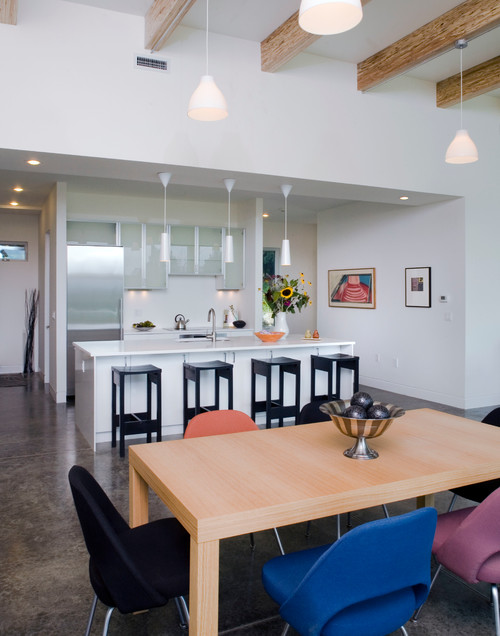 ID# 104716 | Houzz.com – Credit | © Verdisian LLC
---
Open Concept Kitchen with Glass Cabinets
It is very smart to use glass cabinets in the open concept kitchen. While providing a stylish touch to your kitchen, it provides the use of cabinets without overwhelming your space and narrowing other areas. In this completely white kitchen, the black chairs harmonize well with the white island. Combined with the lighting, this kitchen is a great example of modern kitchen.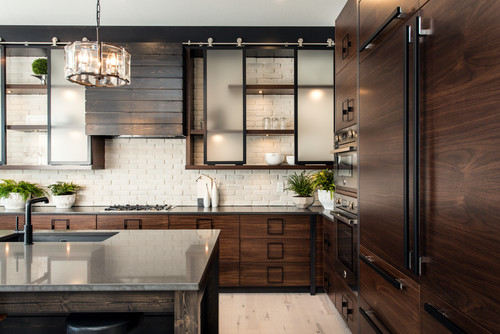 ID# 104717 | Houzz.com – Credit | © Royalty Construction
---
Dark Wood Cabinets with White Brick Backsplash and Light Wood Floor
If you want glass cabinets in your kitchen, you should check out this magnificent kitchen. The eye-catching dark wood cabinets, black kitchen countertop  and white brick backsplash are in perfect harmony. Black-framed glass doors contributed to the industrial atmosphere of the kitchen and matched with black handles. The light wood floor, which softens the dark atmosphere of the kitchen, is very well thought out.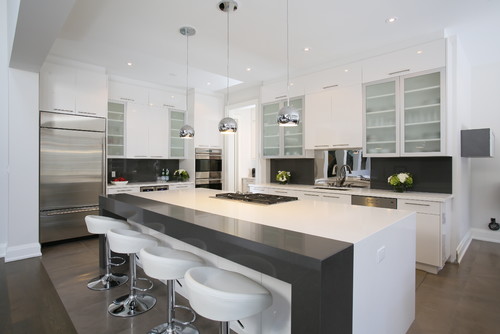 ID# 104718 | Houzz.com – Credit | © Coe Mudford Interior Design
---
Contemporary Kitchen with White Glass Kitchen Cabinets
We loved the metal chandeliers and the contemporary air in this white-dominated kitchen! We can say that the modernized kitchen with the contrast created by black has attained a complete modern kitchen look with glass cabinets. This kitchen can set a great example for you if you want to use white in your kitchen.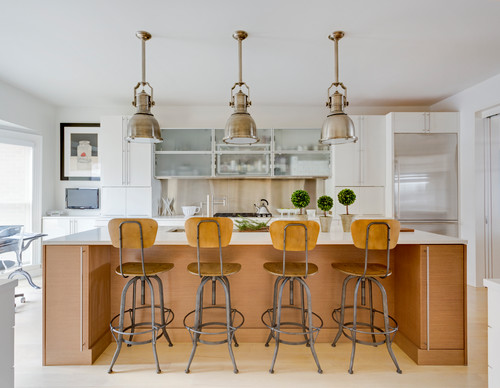 ID# 104719 | Houzz.com – Credit | © Norcross and Scott
---
Light Wood Cabinets with Frosted Glass Kitchen Cabinet Doors
This minimalist modern kitchen has a rustic feel to it. The chandeliers, wood cabinets and chairs provide this. White glass cabinets and metal backsplash that fit all these elements have contributed to the creation of an extraordinary kitchen.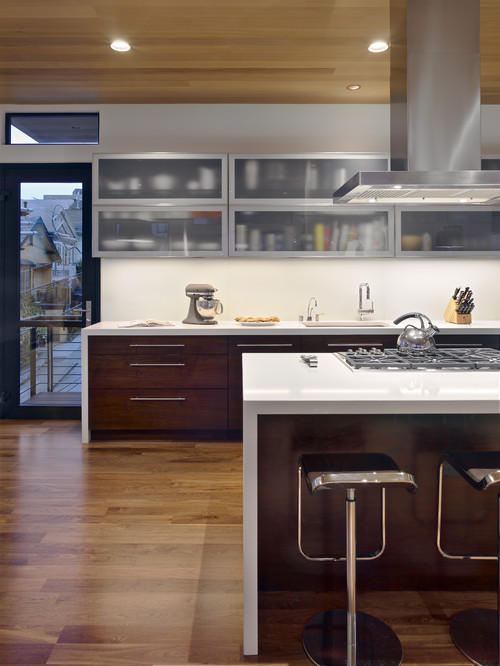 ID# 104721 | Houzz.com – Credit | © Bruce Wright
---
Dark Wood Cabinets with Glass Front Cabinets
We saw that dark wood cabinets are frequently used. Its use with metal frame and glass front cabinets is very stylish. Metals and dark woods that provide the cozy atmosphere captured in this kitchen complement each other and create a warm environment. We loved this kitchen with minimalist touches!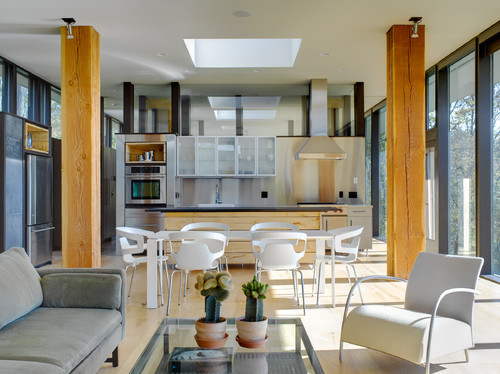 ID# 104723 | Houzz.com – Credit | © Jose Garcia Design
---
Minimalist Kitchen with Glass Cabinets
The kitchens where it is best to use glass cabinets are minimalist kitchens. In this beautiful minimalist kitchen, wood is used in its purest appearance, with an approach towards minimalism. The steel countertop used together with the metallic backsplash proved that the philosophy of using all the materials used in this kitchen was adopted.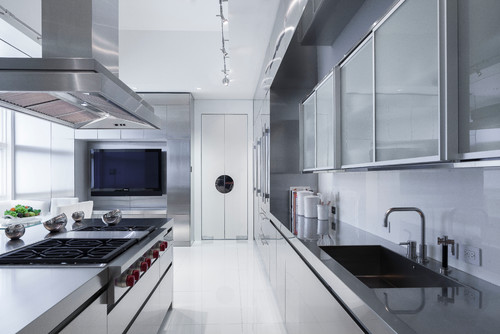 ID# 104724 | Houzz.com – Credit | © Hausscape
---
Stainless Steel Kitchen with Glass Cabinets
Designing a kitchen made entirely of stainless steel is a bold move. The design that this great idea came up with is just as great. It was unthinkable to use anything other than glass cabinets in the modern kitchen made of steel. This kitchen complete with light colors can be a great source of inspiration for you!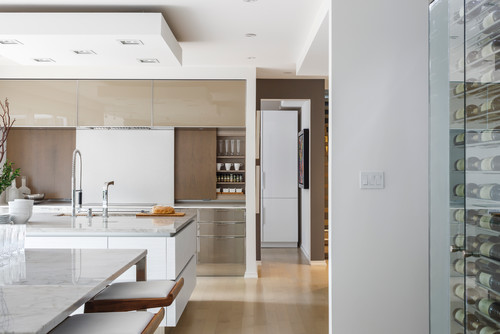 ID# 104725 | Houzz.com – Credit | © Astro Design Centre | Doublespace
---
Modern Kitchen with White Marble Countertops
Everything you could want from a stylish kitchen is available in this kitchen. There are well thought out design ideas behind the minimal touches. It's a great idea to use with glossy cabinets with marble countertop.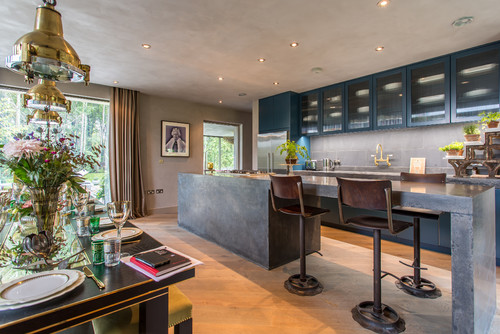 ID# 104726 | Houzz.com – Credit | © Mr & Mrs Smith
---
Industrial Kitchen with Concrete Countertop and Glass-Front Cabinets
We loved the idea of an all-concrete island! The gray backsplash and blue cabinets used to complement this wonderful design add a stylish atmosphere to the kitchen. We can see the beauty of the Glass-Front cabinet in this kitchen. Complementing the elegance of concrete, blue and steel with glass is a great touch.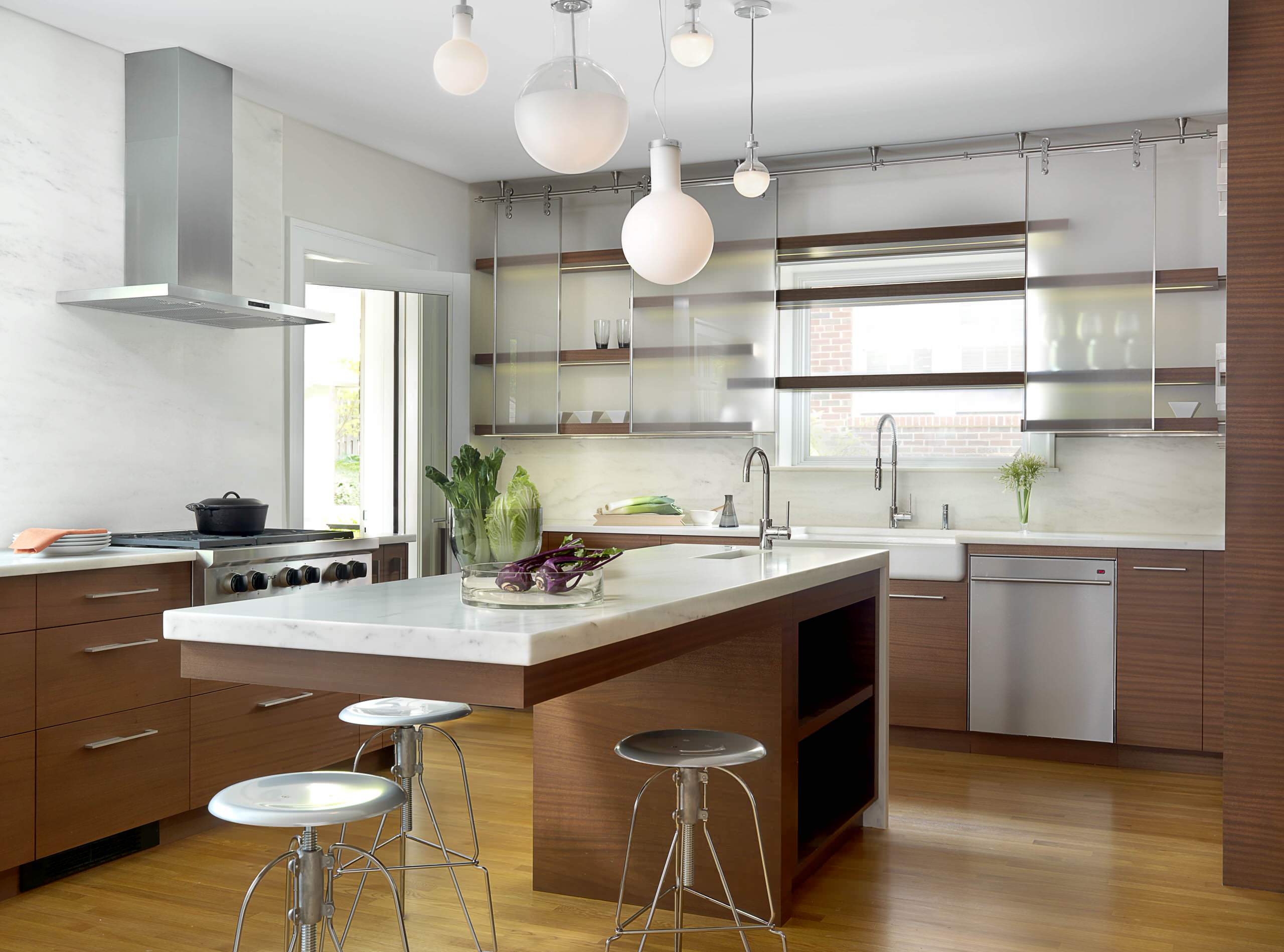 ID# 104702
---
Marble Countertop with Wood Cabinets and Farmhouse Sink
This may be the most beautiful form of glass cabinets! The design of the cabinet doors is thoughtfully thought out. These stylish glass doors combined with brown shelves create a wonderful view from the outside. When the doors are closed, thanks to the glass, the visible shelves have achieved harmony with the remaining cabinets. Farmhouse sink and marble countertop have adapted to the frosted state of glass.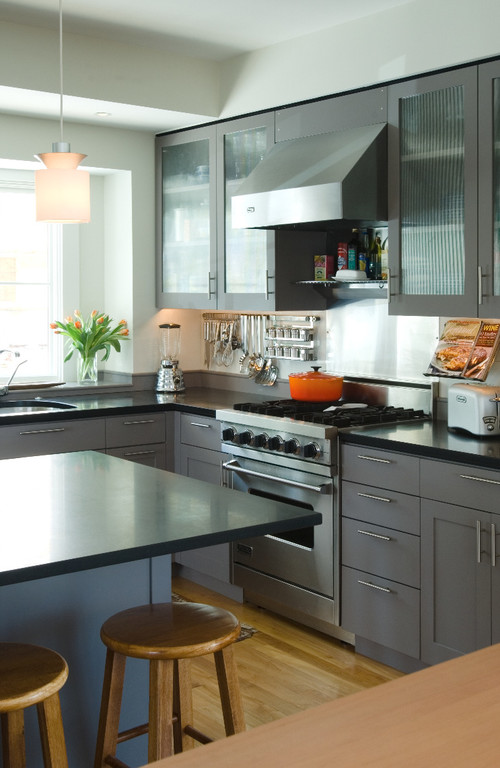 ID# 104704
---
L-Shaped Kitchen with Gray Shaker Cabinets
The most striking thing in this modern small kitchen was the elegance of gray with glass cabinets. Gray cabinets completed with black countertop which are supported with wooden details. In this kitchen, where all the tones are furnished enough and tastefully, the lighting is also elegant enough to suit the nobility of black.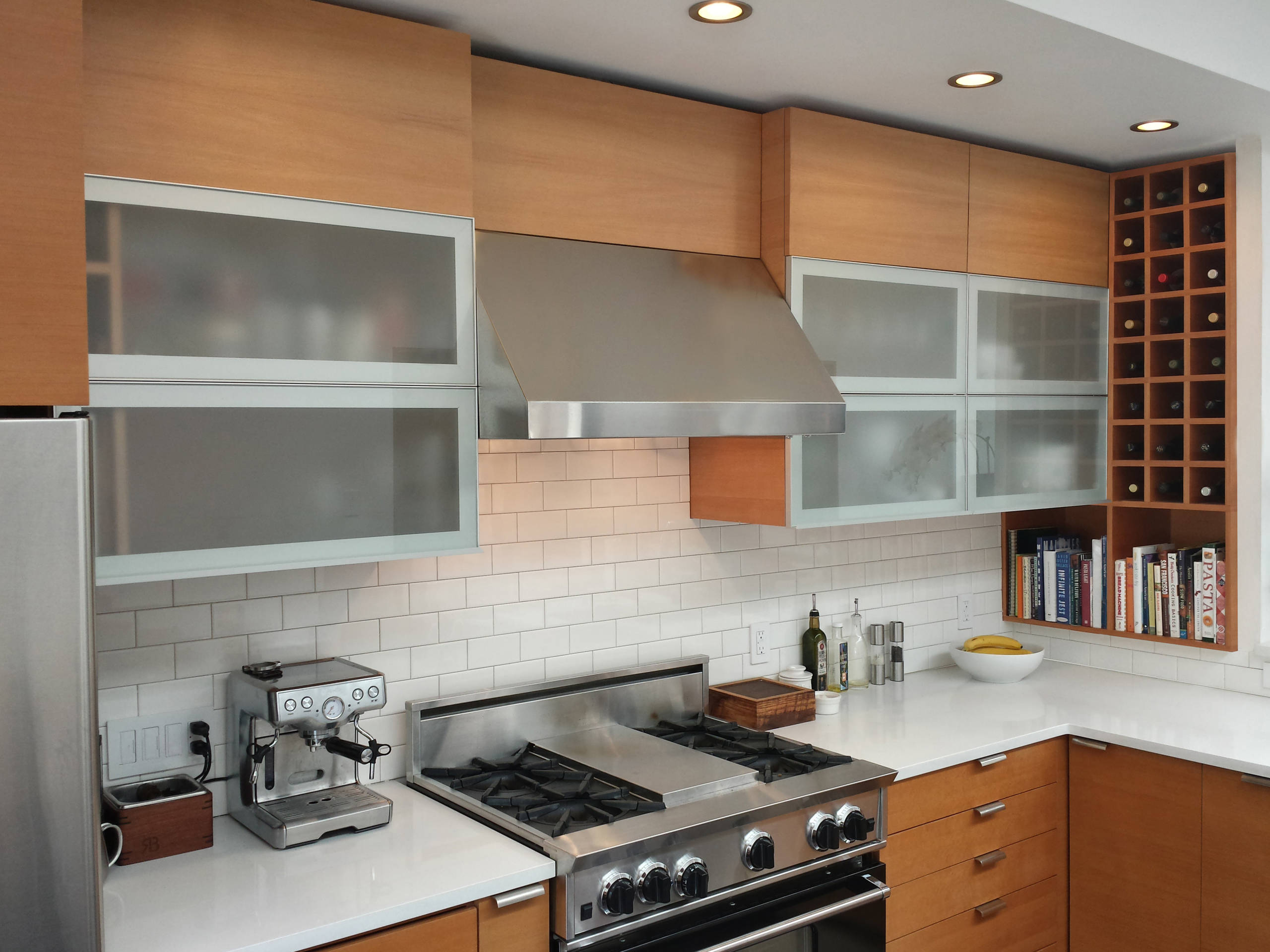 ID# 104715
---
Subway Tile Backsplash with Light Wood and Glass Cabinets
If you want wood cabinets in your entire kitchen, this kitchen will inspire you. Softening the wood with white and using glass will also reduce the density of the wood and make the wood your star without taking all the attention. We loved the idea of turning books and bottles into accessories using open shelves!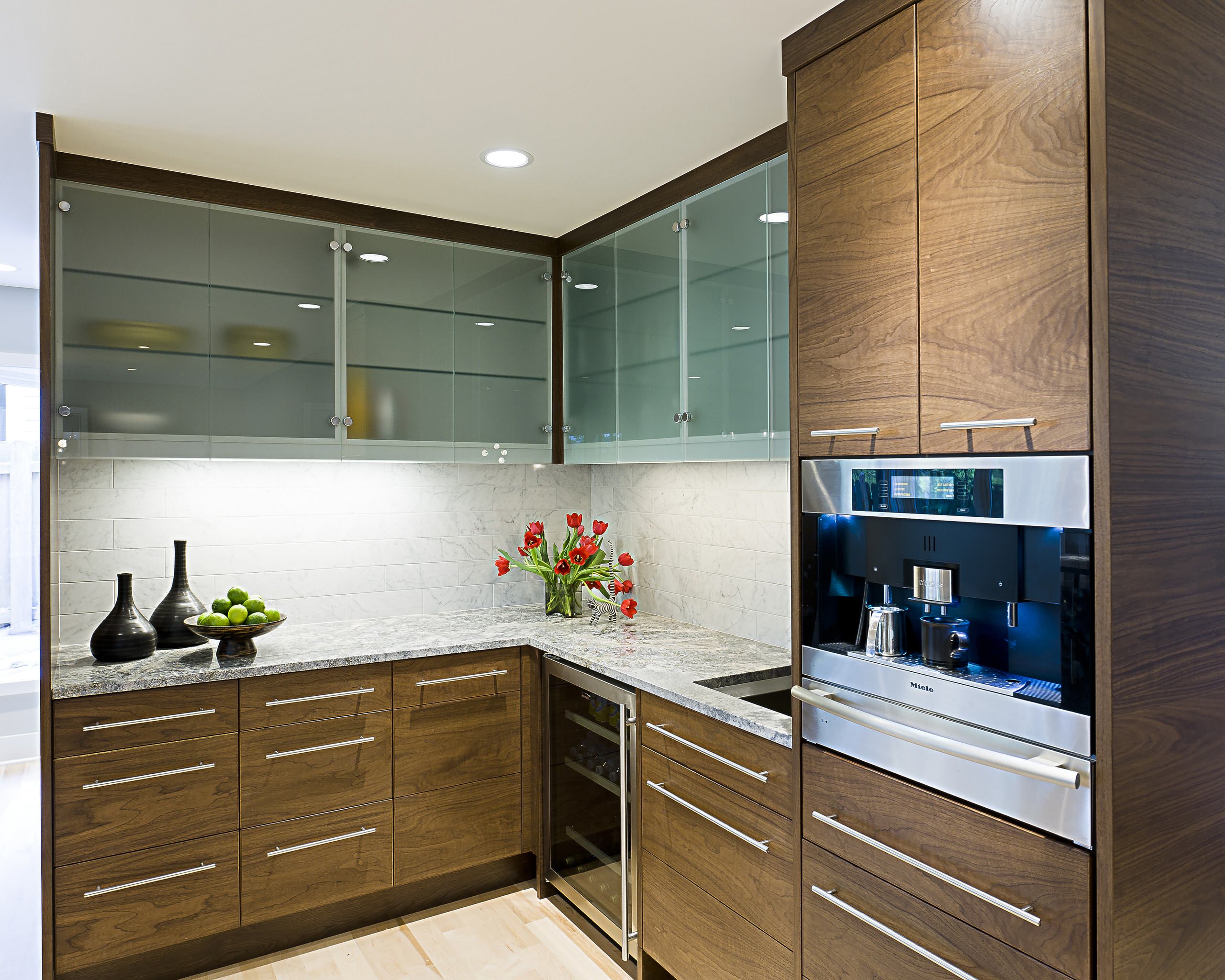 ID# 104722
---
Granite Countertop with Wood and Glass Front Cabinets
Dark wood cabinets are used in this modern L-shaped kitchen. The combination of granite countertop and wood has done an excellent job. Glass front cabinets have achieved a harmony as if they are the common point of granite and wooden cabinets.