33+ Backsplash for Blue Cabinets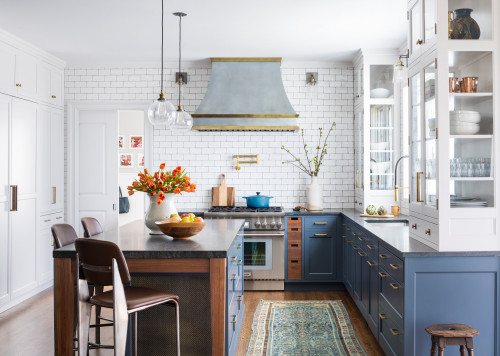 ID# 133701 | Houzz.com – Credit | © Studio Dearborn
---
White Subway Tile Backsplash for Blue Cabinets and Black Countertops
Thanks to their sleek and minimal beauty, white subway tiles can be a good company for different colored cabinets. And if you are using navy blue cabinets, this combination will create a timeless appeal for your kitchen! In this transitional kitchen, the harmony of wooden textures and blue color shades is indisputably eye-catching. The gold hardware used for the blue-colored shaker cabinets, on the other hand, completes this harmony and offers a stylish look. Blue-colored shaker cabinets, which integrate with gray granite countertops, bring the design to its final form with white upper cabinets and a white subway tile backsplash. In this kitchen, which has a bright appearance, the natural look of white cabinets blended with wooden textures and blue color gives a warm atmosphere.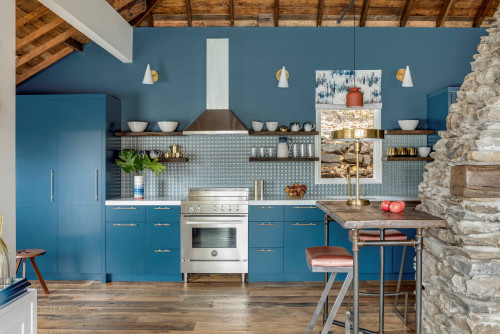 ID# 133722 | Houzz.com – Credit | © JN Interior Spaces
---
Rustic Kitchen Design with Blue Furniture
The original architectural elements such as the ceiling preserve the character, personality, and history! The blue kitchen features make a modern touch against the rustic structure to prevent the space from feeling dark & too rustic! This use of saturated color was strategically placed throughout by the blue cabinets, blue backsplash, and blue wall paint. The white countertop brings a bright look while the dark wood open shelving complements the rustic flair of the room.
Backsplash for Blue Cabinets
Blue is associated with the sky and ocean which has a tranquil feel. We see this color in bathrooms, nurseries, laundry rooms, bedrooms, and of course kitchen cabinets! Blue kitchen cabinets are the hottest design trend right now! You can catch a sophisticated feel with navy blue cabinets or add a romantic flair with the light blue shades. Whatever your choice is, these cabinets will never fail you down. But, how to finalize these beauties? A kitchen backsplash is a key element that brings the overall look together and to create your dream kitchen, you need to find the right backsplash for blue cabinets! Here, we rounded up stylish kitchen backsplash ideas that will be a stunning company with your blue cabinetry!
The main aspect of a kitchen backsplash is functional. However, it is also an important element as much as the cabinets that define the overall look. That's why, when designing a kitchen, you need to consider the different backsplash options to find the right one which is suited for your design. If you decided to go with blue kitchen cabinets, it is time to find your backsplash. From classic white subway tiles to luxurious marbles, there are plenty of different materials, colors, and style options. To help you to select the best backsplash for your blue cabinets, we are serving up 37 of the best backsplash options!
What backsplash goes well with blue cabinets?
You can use plenty of color options for your backsplash. However, if you want to find the most timeless and failsafe option, using a white backsplash for blue cabinets will be the best choice. On the other hand, you can use gray, blue, beige, or black tiles.
Backsplash Colors for Blue Cabinets
In today's market, kitchen backsplashes come in an endless variety of color options from pure whites to sophisticated blacks. Among all these alternatives, it might be overwhelming to choose the right one for your design. But don't worry. If you decide to go with blue cabinets, you are narrowing down the options. Whether you are using lighter blue shades or go with bold dark blue cabinets, white, gray, and blue are the best three options that can suit the tranquil feel of the blue!
White Backsplash for Blue Cabinets
Whether it is a classic white subway tile or a white stone slab, white is the most popular backsplash color for all kitchen types. And if you want to create a timeless appeal with your blue cabinets, a white backsplash will be the most failsafe option. Also, with a white backsplash, for blue cabinets, you can create a contrasting look which is an important point for interior design projects.
What shade of blue is good for kitchen cabinets?
There is a shade of blue paint for everyone's taste from cyan to azure. When it comes to kitchen cabinets, navy blue is the most popular blue shade for many homeowners and interior designers. Navy-blue kitchen cabinets offer a sophisticated and dramatic appeal that serves an elegant look. Besides the navy, there are also plenty of different dark blue hues such as azure, cobalt, indigo, or midnight blue. On the other hand, if you want to create a brighter look, lighter and softer shades will be a better option for your kitchen.
Gray Backsplash for Blue Cabinets
With its sleek elegance, gray is one of the most versatile colors that can be a great addition to kitchens. Also, thanks to its endless shades and hues, gray can work with different color schemes. When selecting the shade of your gray backsplash, you can consider the shade of your blue cabinets. If you are working with dark blue hues, lighter gray tiles will be better to create a contrasting look. On the other hand, darker gray can be good company with light blue cabinetry.
Blue Backsplash for Blue Cabinets
If you are carving the beautiful appeal of the blue and using this color on your cabinets is not enough, a blue backsplash can be a perfect option to fill your design with blue shades! You might think that using blue on both cabinets and backsplash might be overwhelming but with the right approach, you can create visually pleasing kitchens. To add more visual interest you can try different shades of blue on your cabinets and backsplash.
Shades of Blue Cabinets
From very light blues to bold navy, blue kitchen cabinets come in a wide range of hue options that serve different appeals. According to your taste and the size of your kitchen, you can find the right shade! Darker shades like navy, azure, cobalt, or midnight offer bold and dramatic appeals for kitchens which can instantly lend sophistication to the space. Lighter shades like cyan, turquoise, sky, or baby blue are better to create a more bright and spacious atmosphere. Keep reading and find these different alternatives!
Backsplash for Navy-Blue Cabinets
Navy is the most popular shade of blue which is used for kitchen designs. With its crisp and sophisticated look, navy blue can instantly add a wow factor to your kitchen! If you want your navy-blue cabinets to be the star of your kitchen, for the backsplash, you can go with softer and lighter shades such as white or light gray. The other beautiful option is using a blue backsplash. This way you can emphasize the impact of the blue!
Are blue kitchen cabinets still in?
Yes, they are definitely still in, and also, blue cabinets are one of the hottest trends of 2023 and they'll still be just as in-demand as they are today!
Backsplash for Light Blue Cabinets
Unlike the darker shades, light blue cabinets are perfect to create brighter and softer kitchen designs. Lighter shades of blue are perfect to add a splash of color without dominating the space! Especially, if you are working on a small space, lighter shades are perfect to make the space feel larger. To complete this spacious atmosphere you can use a white backsplash for blue cabinets. On the other hand, darker backsplash color will create a contrasting look and add depth to the space!
Backsplash for Dark Blue Cabinets
If you want to create a bold and eye-catching look with a dramatic feel, dark blue cabinets will be your solution. Navy, azure, royal, cobalt, or indigo. There are plenty of different dark blue hues. But what backsplash can work with these bold colors? Just for all other cabinet colors, a white backsplash is also the most popular and failsafe option for dark blue cabinetry. You can create a timeless appeal by using a white backsplash for dark blue cabinets. Also, this combination offers a strong contrast which gives a luxurious feel! If your kitchen has large dimensions, you can also pair your dark cabinets with a dark-colored backsplash such as dark gray or even black!