33+ Standout Kitchen Backsplash Ideas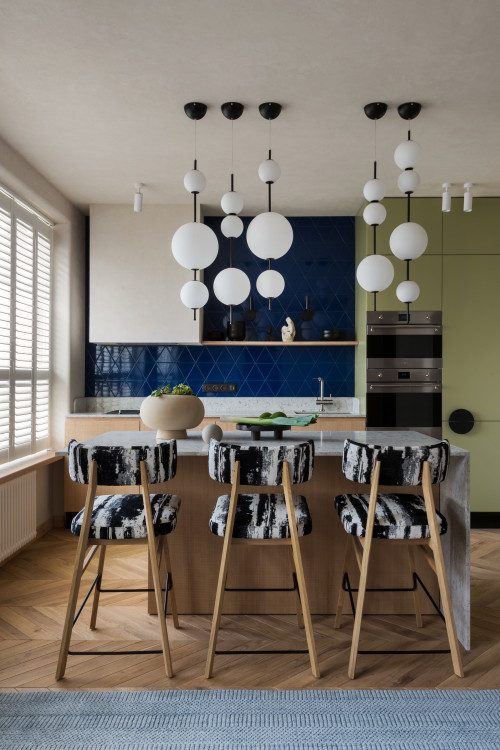 ID# 153404 | Houzz.com – Credit | © WP – INTERIOR DESIGN
---
Blue Triangle Tile Backsplash with Three-Tone Joinery
The overarching narrative of this contemporary kitchen is built on colors introduced by not only the backsplash but also the cabinets. The timber, green, and white cabinets provide a complementary contrast to the blue geometric tile backsplash. The triangles or larger diamonds, depending on how you see them, bring a surge of energy. The zebra-patterned stools and lighting fixture reminiscent of abacuses pair perfectly with the half-waterfall island. The wood accents such as a linear floating shelf and legs of stools soften this rather—chaotic-looking kitchen design. Even though they look irrelevant at first sight, over time, the kitchen ensures that each element harmonizes beautifully. And what's better, in doing so, each design element preserves its individuality.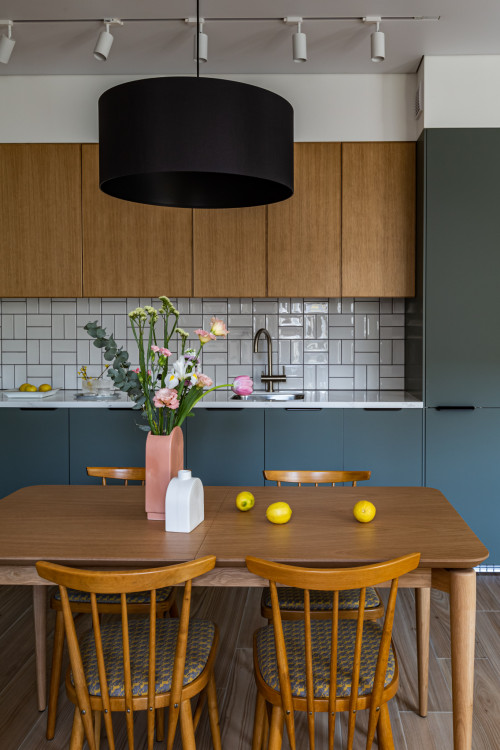 ID# 153420 | Houzz.com – Credit | © Zarkua Anastasia
---
Standout Kitchen Backsplash Ideas with Wood Cabinets and White Countertops
Basketweave patterns of subway tiles make an effortless statement in this kitchen. Coming in white shades with gray grout, it delivers instant brightness. The polished finish on this backsplash also supports it, creating a more reflective surface and thus adding more depth to the background. In the rest, the wood and green cabinets add warmth and color, respectively. The wood dining table with book-matching stools further the intimacy offered by the wood. Overhead, the oversized black drum pendant lighting makes for an eye-catching addition.
Standout Kitchen Backsplash Ideas
One step into a kitchen brings you into dialogue with the kitchen backsplash right away since it is installed at eye level. As this is the case, if you are going to make something stand out, it should be a backsplash. From bold colors to patterned tiles, dramatic natural stones, glossy tiles, and ceiling-height backsplashes, standout kitchen backsplash ideas are very comprehensive. They offer a wide range of design options that suit those who are more adventurous and those looking for subtle and calm designs.
Here we have gathered standout kitchen backsplash ideas for you to explore. Ranging from colorful options that apply color-blocking techniques to the more relaxed and glossy tiles, this list gives many design cues. Take a closer look at them to get some ideas you can apply to your own kitchen.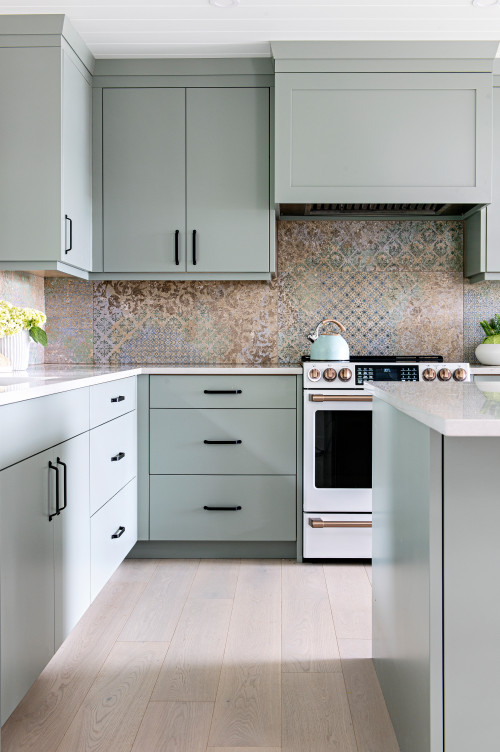 ID# 153401 | Houzz.com – Credit | © Michelle Berwick Design
---
Standout Kitchen Backsplash Ideas with Blue Cabinets and Black Hardware
This standout kitchen backsplash speaks volumes with its faded-looking colors that give the backdrop an aged feel. And its curvy patterns come as little silhouettes yet feel solid enough to make a statement. To accompany it, the muted blue cabinets and white quartz countertops provide a sleek and contemporary setup. The engineered light wood flooring resonates with the backsplash, while black cabinet pulls bring a touch of drama.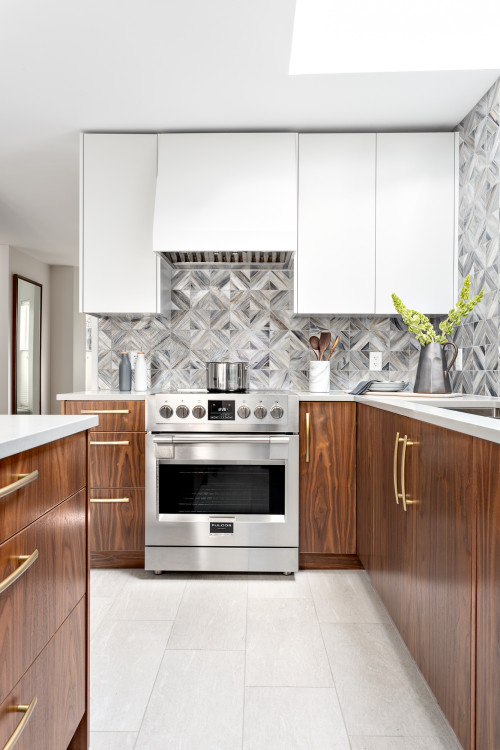 ID# 153402 | Houzz.com – Credit | © Simply Home Decorating
---
Walnut Cabinets with Brass Accents and Square Tile Backsplash
What stands out in this contemporary kitchen between walnut and off-white cabinets is diamond-looking patterns. Yet they are actually diagonally lined square tiles brought together so skillfully that they form an unconventional diamond pattern. Since each square tile is different, so are the resulting diamond patterns. So, this kitchen gives the idea of how to create intriguing patterns in a very untraditional way. In the rest of the room, the eccentric brass cabinet handles add extra charm and glam. And light fills this kitchen through a skylight, keeping the room welcoming.
What kind of kitchen backsplash is in style 2023?
Dramatic natural stones, bold patterns and colors, patterned tiles, glossy tiles, and textured backsplashes are in style 2023. So, this year will be a visual feast in terms of colors and patterns that fill the kitchen with energy. But for people, who prefer it rather calm and soft, natural color palettes are also on-trend. With organic textures and patterns, homeowners can stimulate a dialogue between indoors and outdoors. Additionally, terrazzo kitchen backsplashes that have soared in recent years preserve their popularity in 2023 as well. Likewise, ceiling-height splash-backs are ready to ditch the overhead cabinets to create more open space in kitchens.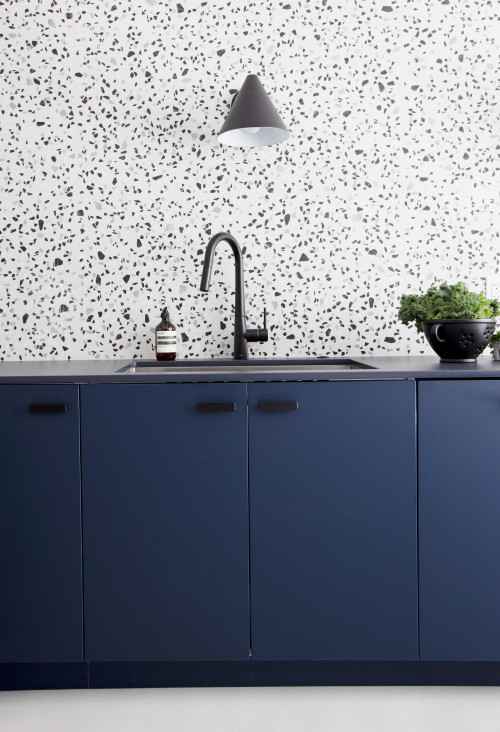 ID# 153403 | Houzz.com – Credit | © Kube/Lunell
---
Dark Blue Cabinets with Ceiling-Height Backsplash and Black Hardware
Ditching upper cabinets for the sake of a ceiling-height backsplash and more open space continues to be on-trend in 2023, too. Here, to turn this breathing swath of wall into something mesmerizing, this contemporary kitchen goes with a terrazzo backsplash. Taking color cues from the terrazzo chips, it uses dark blue cabinets and black countertops to keep each element resonant with the others. The black hardware, faucet, and wall sconce round up the overall design aesthetic. Overall, this kitchen showcases that the terrazzo trend is still with us, bringing a contemporary voice to our kitchens.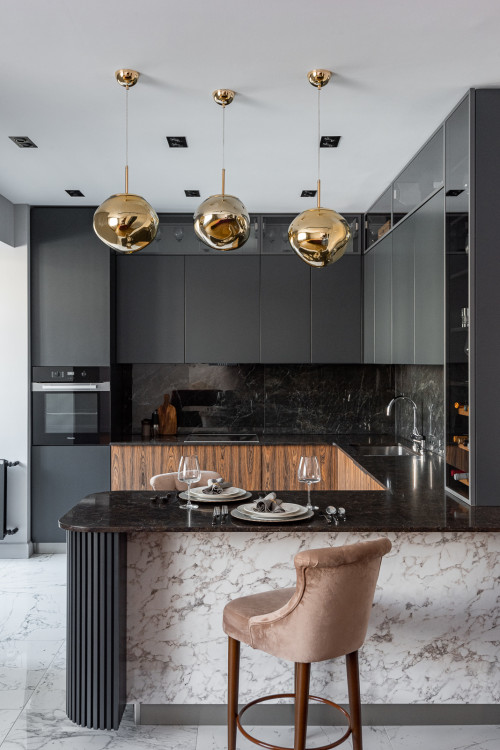 ID# 153405 | Houzz.com – Credit | © Анастасия Габдрахимова
---
Standout Kitchen Backsplash Ideas with Black Marble and Gold Globe Lighting Fixtures
Using a "counter-splash" technique- in which the backsplash is made from the same material as the countertops-, this contemporary kitchen creates a continuous look, maintaining visual integrity. As the protagonists of this technique, the black marble backsplash and countertops with gentle white veining ooze elegance and quirkiness. And their gloss finish makes a counterpoint to the matte wood veneer and black cabinets that complement them. And of course, to further the luxe feel, the gold globular pendants put the peninsula in the spotlight.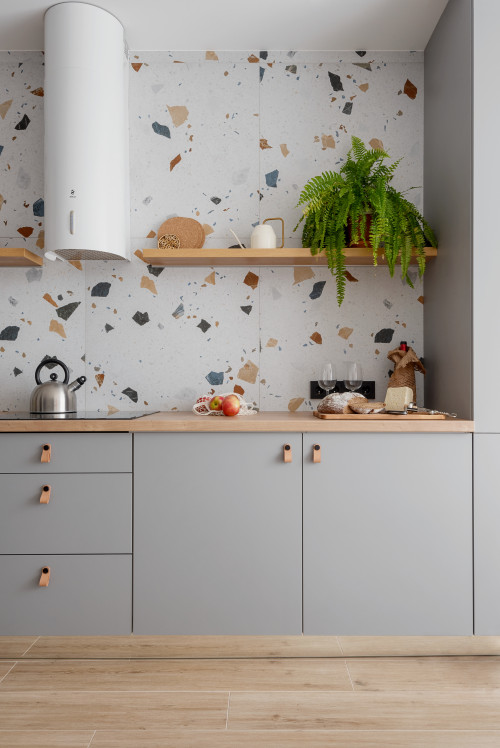 ID# 153406 | Houzz.com – Credit | © KEIS_project
---
Terrazzo Backsplash with Butcher Block Countertops and Muted Gray Cabinets
Sometimes all that a kitchen needs is a single bold touch that elevates the entire room. A case in point is this kitchen with a terrazzo backsplash that features colorful and variously sized chips that deliver instant interest. And to champion its participation in the design, the kitchen takes it up to the ceiling and forgoes upper cabinetry. Complementing it are the muted gray cabinets, butcher block countertops, and a white rounded range hood. All together they bring subtle and visually light elements for a sense of balance.
What Is the Most Popular Backsplash For 2023?
Natural stone backsplashes, especially marble, are the most popular backsplash in 2023. Thanks to their dramatic veining, they are effortless statement makers. Additionally, as another engineered material consisting of natural stones, terrazzo seems to be making a big comeback in kitchens as backsplashes.
Patterned Tiles
To make your kitchen design more dynamic, go with patterned tiles. Even if they come in shades of white, they can make a drastic change and feel very effective. Especially geometric patterns pick up in popularity in contemporary kitchens. So, if you are looking for standout kitchen backsplash ideas, patterned tiles will be a great addition to your kitchen!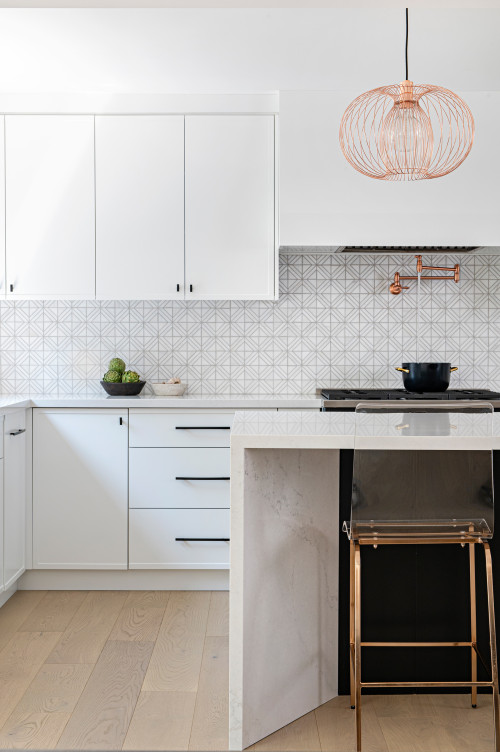 ID# 153407 | Houzz.com – Credit | © Alair Homes Waterloo
---
Monochromatic Kitchen with Patterned Tiles and White Cabinets
All-white kitchens, despite their monochromatic color palette, can still look interesting. One of the best ways to achieve that is to go with a patterned tile backsplash- as showcased by this kitchen. Here, the triangle-patterned white backsplash creates an impactful background for this all-white room. The white flat-front cabinets are also punctuated by black cabinet handles for extra interest. The copper pot filler and lighting fixture gives the design a metallic finish while adding a touch of color and nostalgia.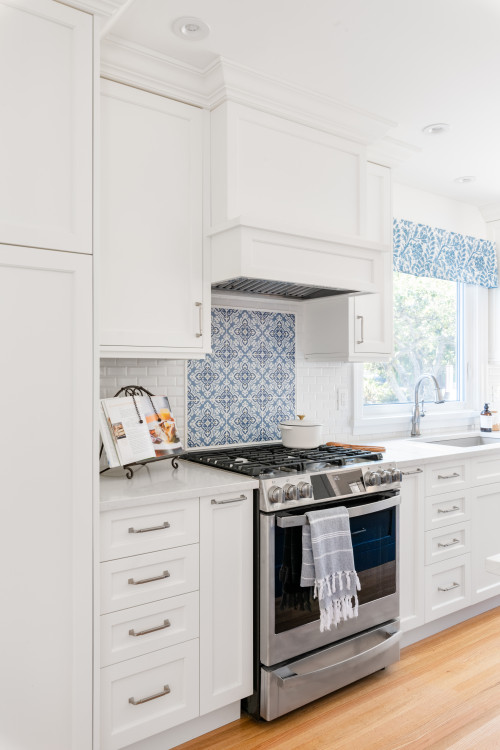 ID# 153408 | Houzz.com – Credit | © MAC Renovations LTD.
---
Blue Standout Kitchen Backsplash Ideas for White Cabinets and White Countertops
To spice up its otherwise all-white look, this traditional kitchen employs blue Mediterranean-inspired tiles for the stove backsplash. So, on one side, homeowners enjoy the brightness and lightness brought in by white cabinets and countertops. And on the other side, they find peacefulness and serenity via the blue patterned tile backsplash. Put into dialogue with the window shade, this backsplash feels anchored to the design. And nickel cabinet handles complement the white-and-blue color palette perfectly.
What backsplash is out of style?
Standard size-4-inch- backsplashes and ornate design splash-backs that feel overwhelming over time are considered out of style. A backsplash that stretches from the counter to the cabinets is much easier to keep clean and has a more stylish appeall.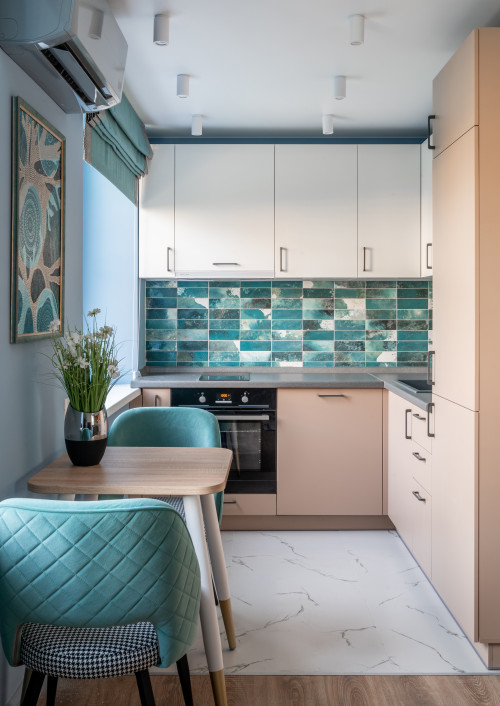 ID# 153409 | Houzz.com – Credit | © Ирина Карасева, дизайнер интерьера
---
Blue Subway Tile Backsplash with Gray Quartz Countertops and Two-Tone Cabinetry
When designing a kitchen, first, decide on the color palette to develop a better sense of a design theme. You can use your favorite color as your reference, for example. And to integrate into a harmonious whole, you can utilize it throughout through different pieces of furniture. In this modern kitchen, for example, the directing color stands out to be vibrant blue which energizes the kitchen right away. The combination of muted pink and white cabinets with gray countertops offset the dynamic blue shades, bringing the design to balance.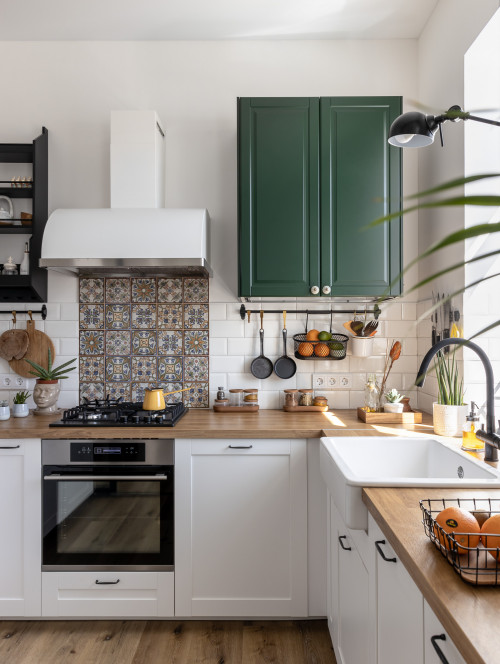 ID# 153410 | Houzz.com – Credit | © Сафина Светлана
---
Scandinavian Kitchen with Patterned Tiles and Butcher Block Countertops
Though known for their neutral and calm palettes, Scandinavian kitchens don't shy away from colors. Patterns and pops of greens and browns that refer to nature take part in Scandinavian designs. And here, utilizing a brown patterned stove backsplash and a green cabinet, this kitchen levels up its dynamism. By contrast, the butcher block countertops and white cabinets formulate a calm and natural kitchen setup. The black cabinet hardware, open shelving, and wall sconce help the space come together.
ID# 153411 | Houzz.com – Credit | © Ирина Чернейкина
---
Star-Patterned Backsplash with Gray Countertops and Red Lighting Fixture
Make your design pop with a star-patterned backsplash and use its color scheme to create a cohesive look! You can complement it with gray and white cabinets and gray quartz countertops. It gives you a neutral color scheme- as showcased here. This kitchen, for example, uses a red cherry lighting fixture that adds a fun twist to the overall aesthetic.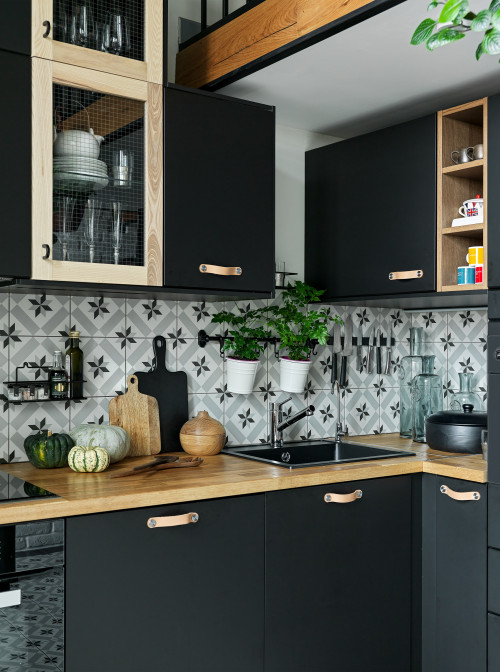 ID# 153412 | Houzz.com – Credit | © Totaste.studio | Виктор Штефан
---
Floral Patterned Backsplash with Butcher Block Countertops and Black Cabinets
If you want to bring spring into your kitchen, a floral-patterned backsplash is a route to go. In this kitchen, the butcher block countertops, open cabinet shelves, and wood accents perfectly complement the joyful appeal of the patterned tiles. It, in turn, creates a harmonious whole that feels organic, pattern-rich, and colorful. The black cabinets, to complement them, bring a touch of drama. And the copper cabinet hardware adds a metallic accent that offsets the black cabinets.
Ceiling Height Backsplash
Give up on overhead cabinets and trade them for ceiling-height backsplashes! It is one of the best ways to open up the space and leave more room for your statement backsplash. Marble and terrazzo are some of the popular materials preferred for ceiling-height backsplashes. But given that they are not very cost-effective, you can get marble-look quartz or marble-finish porcelain tiles.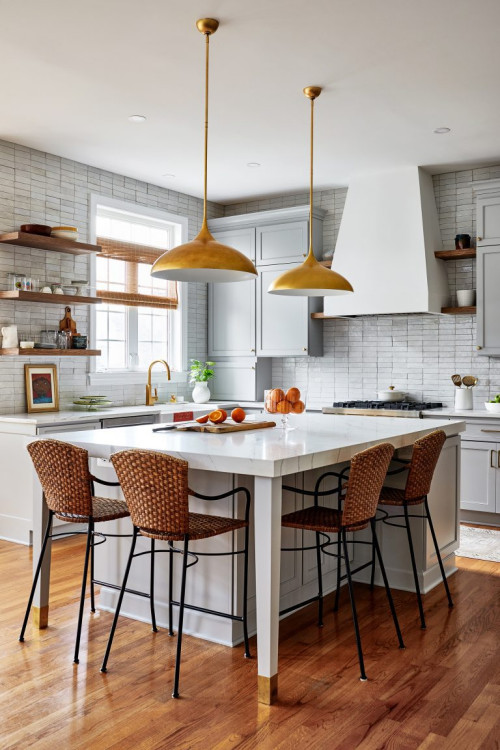 ID# 153413 | Houzz.com – Credit | © Case Design/Remodeling Halifax
---
Ceiling-Height Backsplash with Off-White Cabinets and Wood Floating Shelves
Stacked horizontally, the Zellige tile backsplash goes up to the ceiling, peeking out behind the wood floating shelves. Its soft white shade makes a perfect pair with the off-white cabinets with warm undertones. The timber shelves also add extra depth and dimension to the protruding and uneven edges of handmade backsplash tiles. And in the heart of the kitchen sits a kitchen island coupled with wicker stools and yellow pendants. Bringing extra charm and color, the fixtures inject a dose of personality. Plus, the gold tapware and cabinet handles synchronize with the yellow pendants, making the design look more purposeful.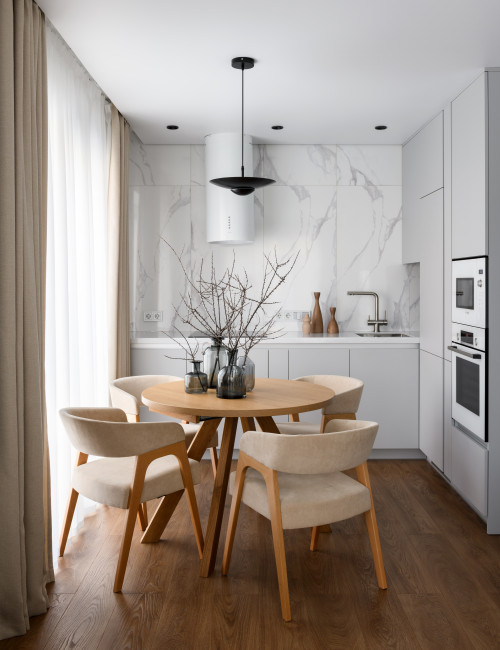 ID# 153414 | Houzz.com – Credit | © Валерия Кошеутова
---
Contemporary Kitchen with Marble Effect Backsplash and Off-White Cabinets
To elevate your kitchen's appeal, a marble-effect porcelain tile backsplash adds aesthetic value and comes as a practical backsplash material. Easy to clean and maintain, unlike natural stones, porcelain tiles are almost pore-free. They are also as durable as marble as they are fired at higher temperatures. And with a marble finish, they can easily add sophistication to any design- as showcased here. Complementing them with off-white cabinets and white countertops, the kitchen creates a soft and neutral background. The wood table and stools also come in to bring warmth and texture.
What is the most popular kitchen backsplash tile?
Affordable and highly customizable, ceramic and porcelain tiles are the most popular kitchen backsplash material. In addition to their limitless design possibilities, they also provide durable and easy -to-maintain surfaces. That's why they stand out as practical and convenient options for homeowners. And their budget-friendly options just make them more popular.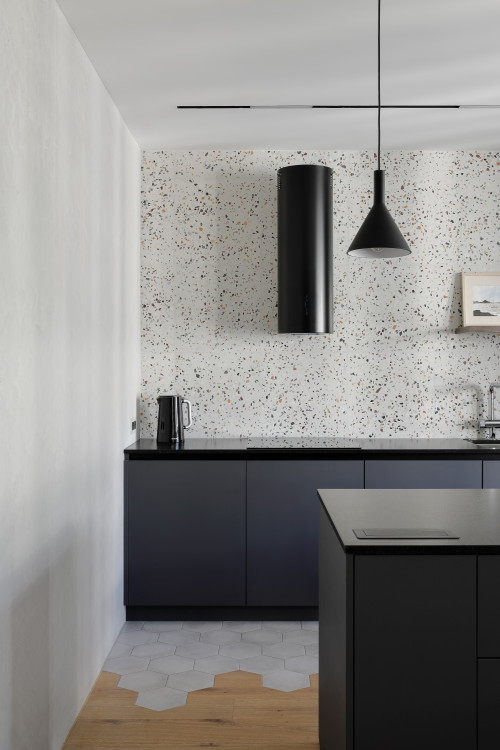 ID# 153415 | Houzz.com – Credit | © ointerior
---
Terrazzo Backsplash with Black Countertops and Hexagon Floor Tiles
To create a true statement moment in your kitchen, go with a terrazzo backsplash. Here, taken up to the ceiling, the white terrazzo splash-back dotted with small black chips draws all attention. The polished black countertops and matte gray cabinets complement it color-wise, anchoring it to the design. Additionally, the polished black range hood accentuates this beautiful terrazzo. The gray hexagon tiles on the wood flooring bring extra interest, introducing a biomorphic pattern.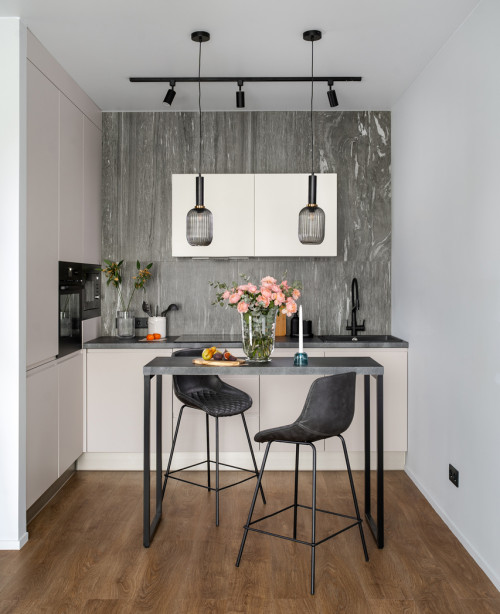 ID# 153416 | Houzz.com – Credit | © TU.ROOM
---
Gray Ceiling-Height Backsplash with Gray Countertops and Cream Cabinets
Warm up the gray countertops and backsplash with light cream cabinets as displayed in this kitchen! Here, the gray solid stone splash-back taken up to the ceiling makes for a chic and sophisticated background. Configured in an L-shaped layout, cream cabinets with built-in sleek appliances layer the interior with warmth. Their sleek and clean lines keep the design in line with contemporary looks. Black tracking spotlights, luxurious pendants, and a cozy eating space mingle with the rest, creating a social hub for homeowners.
Glossy Tiles
Coming with a beautiful sheen, gloss tiles lighten up the interior, giving the illusion of a larger kitchen. Also, thanks to their reflective surface, they add depth and dimension to the background. So, the light gets a chance to bounce around the room. Especially, if you want to have dark backsplashes but don't want them to create a darkening effect, a gloss finish is the key. Treating a dark backsplash with a gloss finish can ooze opulence, quirkiness, and elegance. Plus, glossy tiles are also great at achieving a clean and smooth look, providing an easy-to-clean surface.
Should the backsplash be lighter or darker than the countertop?
What you need in a kitchen design is a well-balanced color scheme of light and dark shades. And to achieve that, you need to make color coordination among the main bones of the kitchen. For example, when you have light countertops and light cabinets, you can go with a darker backsplash. This way, you add more depth to the background by making the backdrop feel more recessed.
However, if you have dark countertops and cabinets, a light-colored backsplash can bring a breath of fresh air. Surely, going with a monochromatic color palette-all-white or all-dark-color- is also welcome in kitchen designs.
In short, a backsplash can be lighter or darker than the countertop. There is no general rule of thumb regarding that. As long as you have an efficient food preparation space that is well-lit and well-organized, you can arrange the rest as you wish.
Should kitchen backsplash be matte or glossy?
Choosing the backsplash finish is as important as deciding on the color, material, and tile style. Available in matte/ honed or glossy/polished finishes, natural stones and tile backsplashes can create different impacts. For example, while the glossy finish makes for a smooth and clean look, the matte finish looks more natural. Thus, while chic and luxury kitchen designs prefer glossy finishes, rustic and nature-inspired designs go with matte finish backsplashes.
Another way to decide which finish is better for you is to consider functionality. Matte finishes, for example, are harder to clean. But they are better at concealing water splashes and fingerprints. By contrast, glossy finishes are easier to clean thanks to their smooth surface. But they are not good at hiding fingerprints, thus requiring regular cleaning.
Additionally, if you have a small kitchen, you can prioritize a gloss finish backsplash. It is mainly because polished finishes give the illusion of spaciousness and brightness.
Bold Colors
If you want your backsplash to stand out, use it to introduce a bold and dominant color. What matters as much as tile formats and styles are also the color tiles. Vibrant blues, greens, pinks, yellows, and blacks could elevate your kitchen scheme easily.
How do you pick a backsplash color?
The size of the room and how much sunlight it gets during the day are the first two important points that you need to consider when choosing a backsplash color. For instance, for a small kitchen with a low ceiling, a light-colored backsplash would be a better option. If you want to spice up your kitchen, go with something more colorful and even multi-colored. Cabinet and countertop colors are the other consideration point.
Mix and Match
You don't always need to stick to a single backsplash. Feel free to combine different colors and patterns to add accents. For example, transitional and traditional kitchens tend to accentuate the stove zone, defining it with a more patterned backsplash. And for the rest, they generally use white ceramic subway tiles to create a blank canvas of sorts.
Another way to do some mix and match is to divide the backsplash wall into sections of top and bottom. For instance, you can line the bottom part- that stretches from the countertop to the range hood- in white subway tiles. And for the next section, you can use wallpaper, paint it an eye-catching color, or tile it in a different pattern or color. Bohemian, eclectic, and contemporary kitchens especially love mixing and matching. All you need to do is to fire up your imagination and experiment with tiles and patterns.
Natural Stone
Natural stones such as quartzite, onyx, soapstone, and marble with dramatic veining or vibrant hues continue to be showstoppers in kitchen designs. Upscale and elegant, they incorporate a luxe feel. Plus, these backsplash materials are very suitable for "counter-splash-ing." You can extend natural stone backsplashes onto the countertops and even range hoods for a cohesive look.