27+ Small Kitchen Shelf Ideas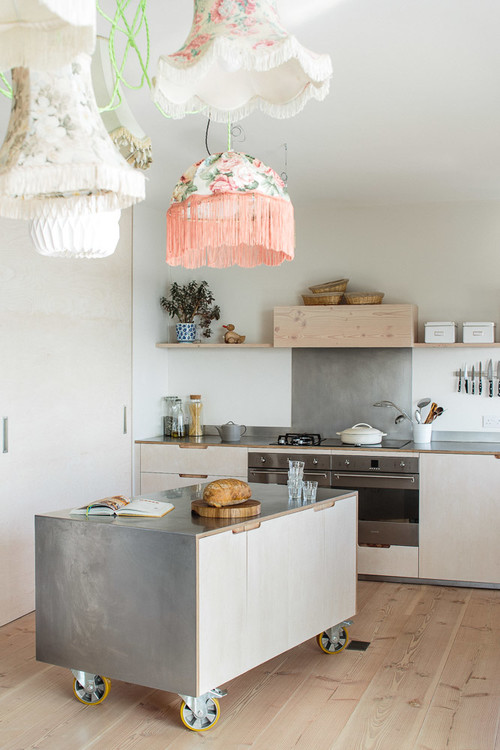 ID# 164911 | Houzz.com – Credit | © Sustainable Kitchens
---
Light Wood Cabinets with Metal Backsplash and Countertops
This kitchen's natural wood cabinets embody the key characteristics of Scandinavian design: simplicity, utility and clean lines. The cold colors of metal utilized for the backsplash and countertops provide a dramatic contrast against the warm wood backdrop. The moveable island which provides for maximum flexibility and mobility, is one of the kitchen's most outstanding features. Furthermore, the chandelier's vivid elements offer a splash of color and inventiveness to the otherwise monochrome surroundings!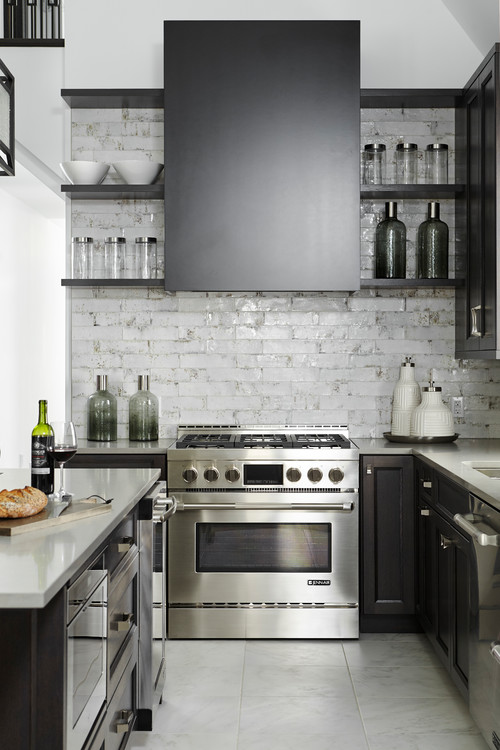 ID# 164914 | Houzz.com – Credit | © Kenmore Homes
---
Black and White Transitional Kitchen with Stainless Steel Appliances
This transitional kitchen serves a rustic flair with its white brick backsplash! The glossy finish of the brick tiles creates contrast with the matte black kitchen cabinets and range hood and bring an open and airy feel to the room. The black range hood is accentuated with sleek floating shelves which complete the modern lines of the furniture. For a final touch, the stainless steel appliances enhance the contemporary feel while adding a dazzling shine.
Small Kitchen Shelf Ideas
What saves small kitchens from looking cluttered is a couple of space-organizing tricks to use the available space efficiently and make everything look in order. Small kitchen shelf ideas are very beneficial at such moments. From cabinet shelves to floating, corner, and counter shelves, there are multiple ways of organizing your kitchen according to your needs. Since these display shelves expose the kitchenware and utensils, they help navigate the kitchen and offer convenient access to the most-used items.
More importantly, the shelves don't only have functional benefits but also add aesthetic value to kitchen designs. You can style them in many different ways and even use them to emphasize the character of the kitchen. For example, shabby chic kitchens love wall-mounted plate racks that you can also use in farmhouse-style kitchens, while industrial kitchens go with metallic shelves to suggest the industrial look. Of course, there is a lot more to learn about these shelves! In this blog, we compiled over 30 small kitchen shelf ideas you can glean from, which will introduce you to the different forms of kitchen shelves and how they are integrated seamlessly as part of the existing narrative of kitchens.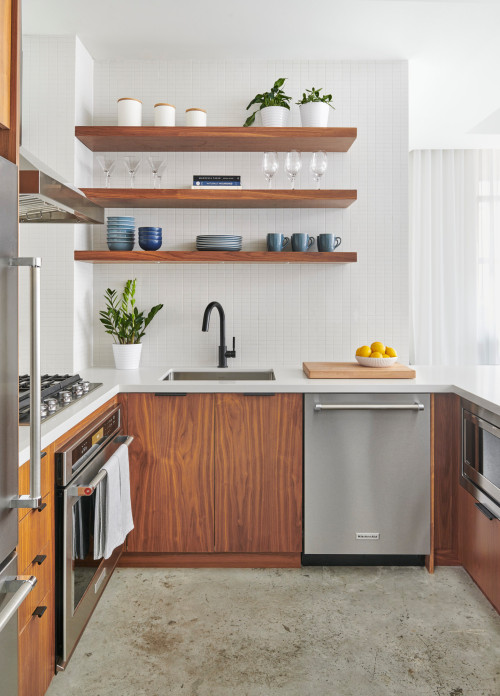 ID# 164901 | Houzz.com – Credit | © FOHR DESIGN STUDIO INC.
---
Small Kitchen Shelf Ideas with White Full-Height Backsplash
If you are designing a small kitchen, using floating shelves instead of upper cabinets can enhance the spaciousness of the room. In this Midcentury kitchen, the wood floating shelves create a visual feast with the beautiful kitchenware and potted plants on it. The white stacked tile full-height backsplash provides a clean and sleek backdrop for the shelves while adding a slight textural look. The white quartz countertop of the wood cabinets completes this bright appeal.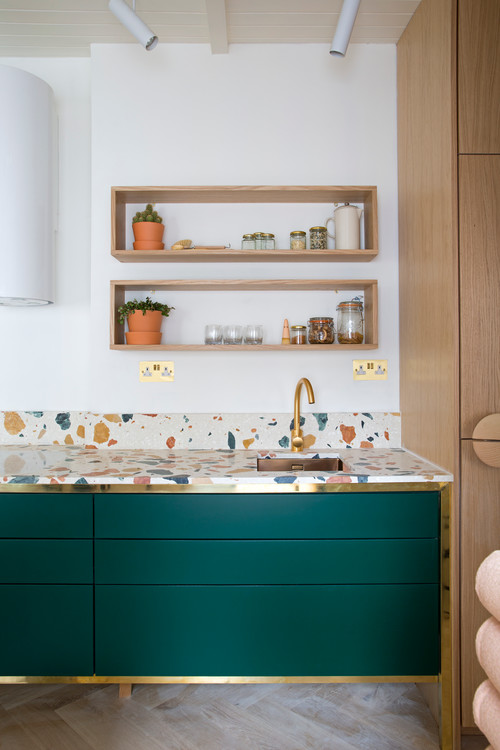 ID# 164902 | Houzz.com – Credit | © Play Associates
---
Terrazzo Backsplash and Countertop with Dark Green Cabinetry
Don't allow a lack of room to prevent you from building your dream kitchen. Even with a 4 inch kitchen backsplash height, you can make a significant impression with your materials! Consider this stunning Scandinavian kitchen, where the terrazzo countertop and matching 4-inch backsplash offer a whimsical yet sophisticated touch. The bright terrazzo stands out against the deep green cabinets. Not to mention the gold embellishments which provide just the proper amount of glitter to the area.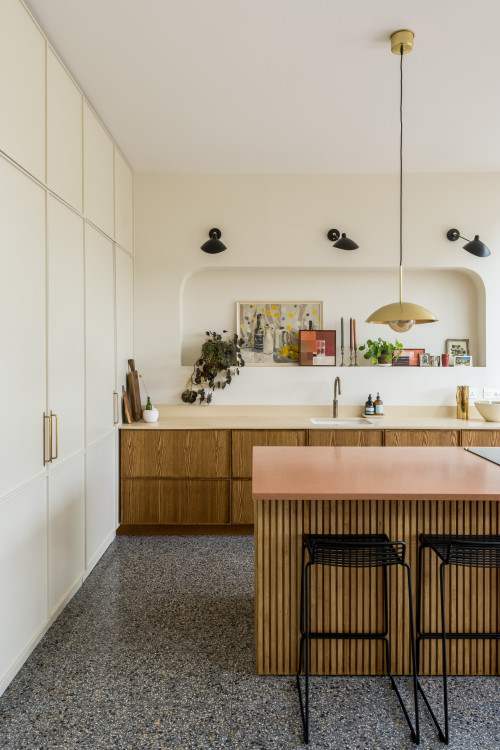 ID# 164903 | Houzz.com – Credit | © Matthew Giles Architects
---
Contemporary Kitchen Design with Neutral Color Scheme
If a shelving system is not suitable for your style, you can try built-in niches for your kitchen. In this contemporary kitchen, the built-in niche with curved edges creates an accent wall by acting as a piece of art with paintings and decorations in it. The black sconces above the niche highlight this area and add visual interest. The soft neutral color palette of this design also offers a warm and welcoming atmosphere with wooden kitchen cabinets and beige countertops! On the left side, the off-white tall cabinets maximize the storage space.
How to install a small shelf in the kitchen?
By installing small shelves, you can easily upgrade your kitchen's overall look and inject your personality into the design. But if you are worried about how to mount one, installing a small shelf is much easier when compared to the larger ones. So, you can easily install one by yourself without any need for professional help.
But how to start?
Generally, it is required to, locate the wall studs with a stud finder and mark it with a pencil or tape, and ideally, two studs are enough to stabilize the shelves and support the weight of the exhibited items. But with a small shelf, you can just skip this step and just mount them directly to any part of your kitchen walls using anchors.
Before installing, just mark the installation spot and ensure that display shelves are mounted at around eye level (1.5-1.8 m high). This way, you provide easy access and make them the visual focal point of the design. Also, if you are going to install more than one shelf, do the measurement accordingly and pay attention to leave 12-18 inches between the shelves. You can also use your level to make sure that the shelves are even.
While mounting, you can use a floating shelf mount (if you don't want to see any hardware) or brackets for better support. For the former one, drill your mounting holes and check if the bracket bars fit them perfectly. Drill mounts should be mounted to the back of the shelves with two screws. Then mount the bracket to the wall by sliding the bracket into the pre-drilled holes, which will give you a secured floating shelf with no hardware visible.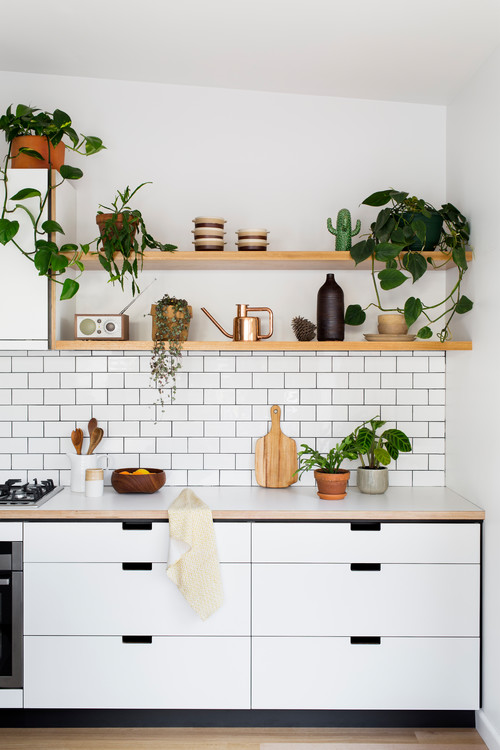 ID# 164904 | Houzz.com – Credit
---
White Subway Tile Backsplash with White Cabinets
The combination of white cabinetry, backsplash and wood elements exemplifies the Scandinavian aesthetic's austere elegance! While the white kitchen cabinets and countertop have a clean and straightforward appearance, the white subway tile backsplash provides timeless beauty and a lovely tactile element. The wood floating shelves break up the white dominance and provide warmth to the space.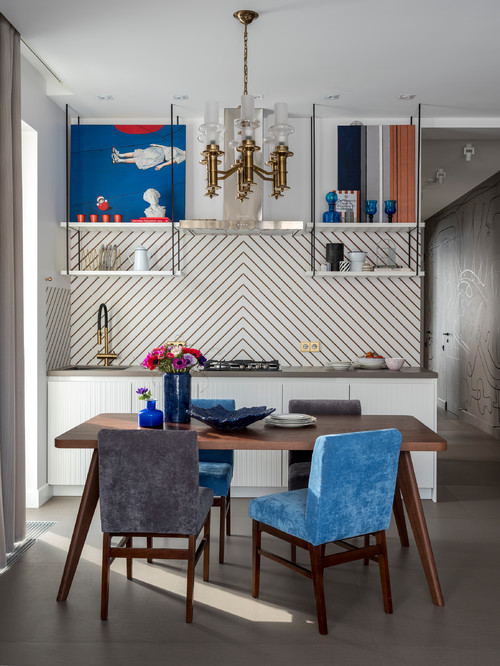 ID# 164905 | Houzz.com – Credit | © Студия Татьяны Архиповой
---
Colorful Kitchen Design with Black and White Backsplash
A white and gray color scheme with illuminates of lively colors might be just what you need to add a bit of excitement and cheer to your kitchen! This cheerful kitchen has sleek white cabinets and a modern gray countertop with plenty of space for all of your kitchen basics. Open shelves above the countertop allow you to easily access your most-used products. For a final touch, the black and white geometrical backsplash adds a fun element to the room.
How to decorate a small kitchen shelf?
Different textures and materials always create a well-curated composition when they come together on exposed floating shelves. So, use items of various sizes to add more dimension and throw in some personal pieces to project your personality. Also, avoid making them look too much in order. Rather, try to capture purposeful randomness. This way, you can help things look more natural and encourage objects to do the speaking for themselves.
Cookbooks, kitchen plants, and beautiful vases could be great additions to enrich your small kitchen shelf repertoire. You can lay the books flat rather than vertical or do both for a better visual composition. If you like vintage stuff, you can pay a visit to thrift stores and flea markets to find some eccentric decorative pieces. But don't try to fill every single space or gap on the shelf. You wouldn't want the shelf to look messy or overcrowded.
Apart from those, another strategy you can employ is to continue decorating the counters as well. For example, cutting boards, a cute toaster, spices, a bowl of fruit, a basket of lemons, and jars could be kept on the counters to make the kitchen livelier. Also, pay attention to installing the shelves symmetrically to ease your eyes.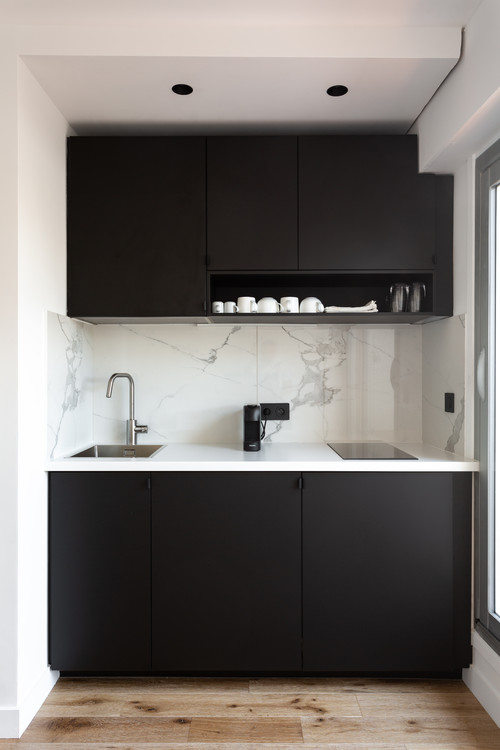 ID# 164906 | Houzz.com – Credit | © Mon Concept Habitation – London
---
Very Small Kitchen with Black Cabinets and Quartz Backsplash
The black cabinets dominate the space and create a sleek and elegant appeal that will never go out of style!! The small open shelves provide a display unit for the glassware which enhances the visual interest. Between the deep black colors, the white quartz backsplash and countertop bring a bright and fresh look to the room, adding a dose of luxury with their marble-look texture.
Small Kitchen Floating Shelf Ideas
Highly customizable, floating shelves can be given any form through different materials, from stainless steel to brass, glass and wood. They are also extremely versatile that can easily adapt to any design aesthetics. These shelving systems offer creative storage solutions for kitchens, especially for small ones! Using floating shelves instead of upper cabinets is a perfect way to create an open and airy feel for your kitchen!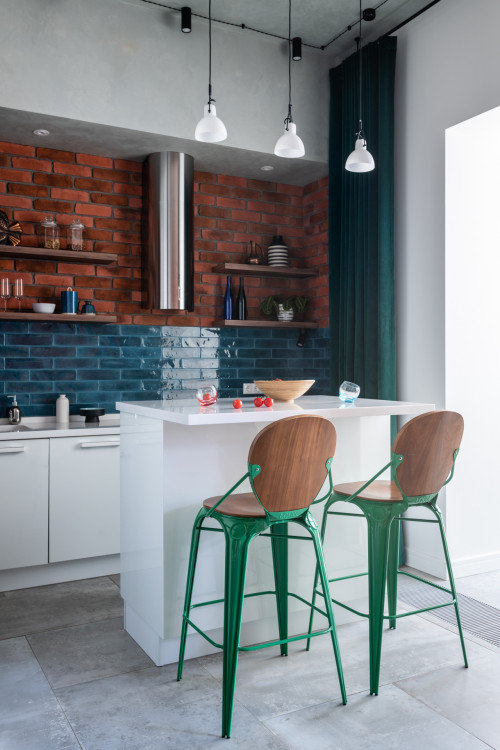 ID# 164907 | Houzz.com – Credit | © Князева Вероника /студия "ProIntDesign"
---
Small Kitchen Shelf Ideas with Blue Subway Tiles
The stunning high-gloss subway tiles and textured red brick backsplash directly demand your attention! The bright and cohesive feel of the kitchen thank's to its white countertops and flat panels, will also put your mind at ease allowing you to focus on your culinary creations without distractions. And when you reach the little white peninsula, your heart will flutter with excitement as you take in the elegant and warm tones of the green and wood benches.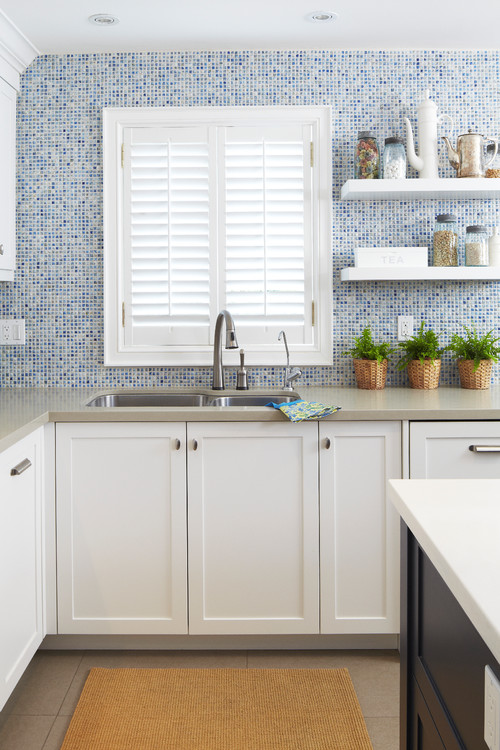 ID# 164908 | Houzz.com – Credit | © Sealy Design Inc.
---
White Shaker Cabinetry with Gray Countertops
If you want to create a calm and relaxing atmosphere for your kitchen, opt for serene blue shades! In this contemporary kitchen, the blue mosaic tile backsplash does this job and brings a coastal feel. The white shaker cabinets and the gray laminate countertop create a classic and timeless appeal while using floating shelves instead of upper cabinets enhances the impact of the lovely mosaic tiles.
Are floating shelves outdated?
On the contrary, floating shelves have been preserving their popularity for a very long time for their ease of use and installation along with economic benefits. Especially small kitchens always need extra storage that doesn't take up much space and doesn't make the space feel enclosed. In that sense, floating shelves help the small kitchens feel more open and airier. As such they are transformative pieces that can be thought of as wall decorations, which explains their popularity.
If you have a busy-pattern wall and want to create a visual break, you can add floating shelves that will provide some breathing space. Plus, if you get bored with how they look, you can easily upgrade them with a few small touches. Even if you have a minimalist kitchen, a floating shelf still works well. Just keep it long and in the same material as the backsplash and install it right above where the backsplash ends. You can also complement it with a couple of minimalist decorative pieces.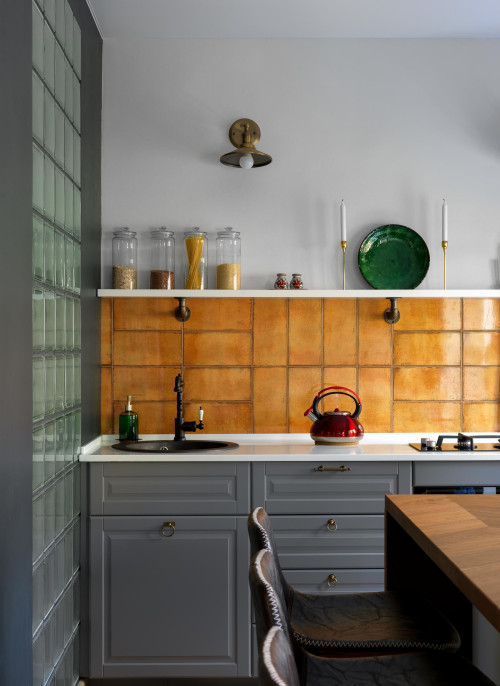 ID# 164909 | Houzz.com – Credit | © Daria Nazarenko
---
Gray Raised-Panel Cabinets with Yellow Backsplash Tiles
Thanks to the wide range of color and pattern options, ceramic tiles allow you to make a strong statement with your backsplash! In this Eclectic kitchen design, the yellow backsplash tiles directly draw the attention and create a striking focal point. The white floating shelf and quartz countertop provide a clean and sleek frame for the tiles and highlight the backsplash area. The gray raised-panel cabinets and the light gray wall paint create a cohesive look with the mustard yellow shade.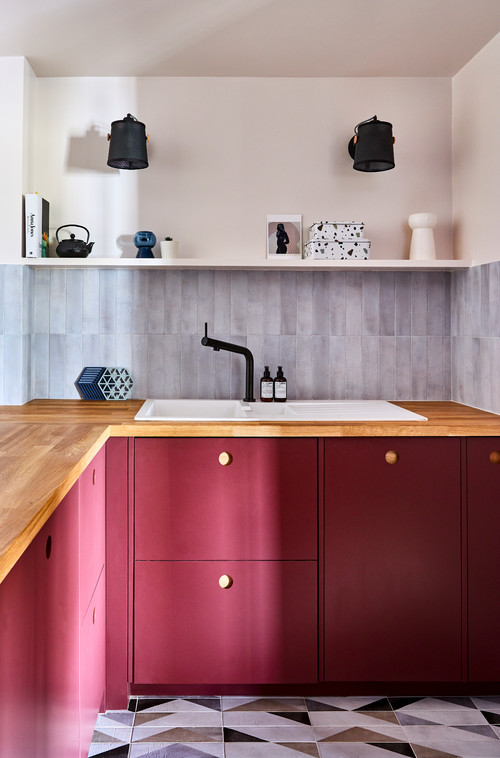 ID# 164910 | Houzz.com – Credit | © Inside Her Home
---
Burgundy Cabinets with Butcher Block Countertop
The Burgundy cabinets offer a sophisticated appeal to add depth to the space! The butcher block countertop completes the warm sense of this red shade. For the upper parts, the gray stacked tile backsplash creates a cohesive look with the cabinetry. The single white floating shelf makes a minimalist final touch and enhances visual interest with the decorations on it.
Are floating shelves in the kitchen practical?
Floating shelves are very practical additions to your kitchen, helping you to make efficient use of space while also decorating your walls. You can keep your most-used items on those shelves for convenient access and use them to highlight your backsplash. Plus, they are even practical in aesthetic terms. Not only that they are highly customizable but also, they suit every kitchen style. By making small changes in the color and material palette of the shelves, you can create different looks. For example, in industrial-style kitchens, you can use metallic and stainless-steel shelves, while wooden floating shelves suit farmhouse and rustic kitchens more. But if you want a more delicate and stylish touch, glass floating shelves will befriend your kitchen effortlessly.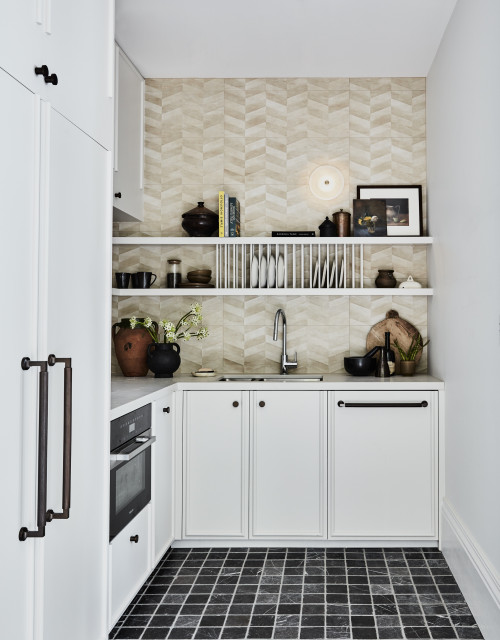 ID# 164912 | Houzz.com – Credit | © Kate Nixon
---
Small Kitchen Shelf Ideas with Full-Height Marble Backsplash
The gorgeous marble chevron backsplash instantly creates an eye-catching appeal and elevates this otherwise ordinary small kitchen. The simple and clean look of the white kitchen cabinets and floating shelves allow the backsplash to be the star of the room. The black floor tiles, hardware, and appliances contrast against the white cabinets to add visual interest. The white grout of the black floor tiles highlights the grid pattern that adds a retro vibe!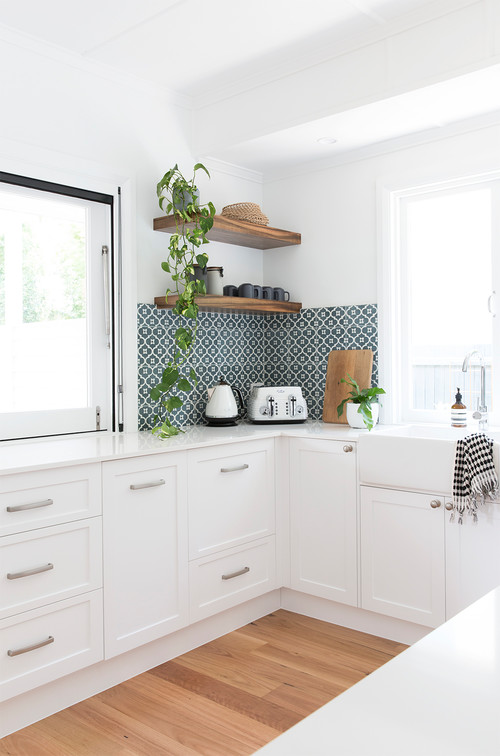 ID# 164913 | Houzz.com – Credit | © The Design Villa
---
White Beach Style Kitchen with Black and White Tiles
Do you want to add some wow factor to your white kitchen? Consider using patterned backsplash tiles! The black and white backsplash tiles directly pop the eye and create a striking focal point between the white cabinets and countertops. The small wood floating shelves above the backsplash complement the wood flooring and bring joy with the help of the potted plants.
Small Kitchen Corner Shelf Ideas
Corner shelves help small spaces stretch and extend, creating the feel of a bigger space. Especially if you mount them near the windows, you can expand the impact of the natural lights penetrating through the windows, which will come back as extra brightness and airiness within the kitchen.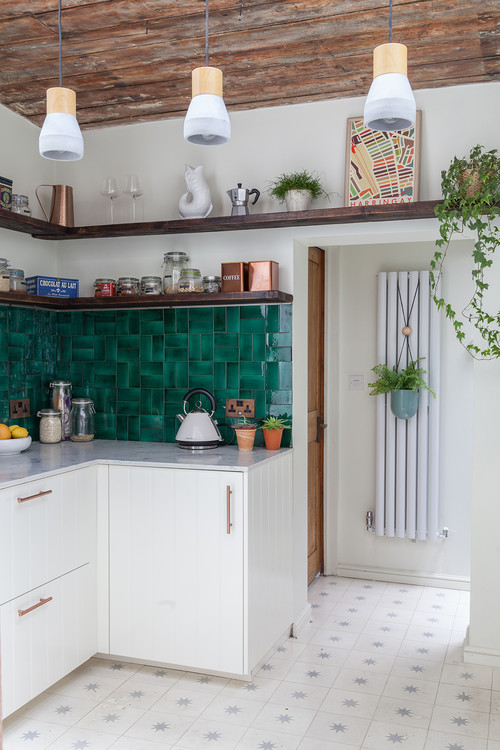 ID# 164915 | Houzz.com – Credit | © Emilie Fournet Interiors
---
Green Basketweave Tile Backsplash with Marble Countertop
The basketweave tile backsplash instantly catches the eye with its glamorous green shade and provides a relaxing atmosphere. The clean and sleek appeal of the crisp white cabinets allows the backsplash to be the star of the design. The gray marble countertop adds a sense of luxury to the room while the star-patterned floor tiles add another layer of texture that enhance the overall look!! The dark wood floating shelves enhance the storage space and complement the rustic appeal of the wood ceiling.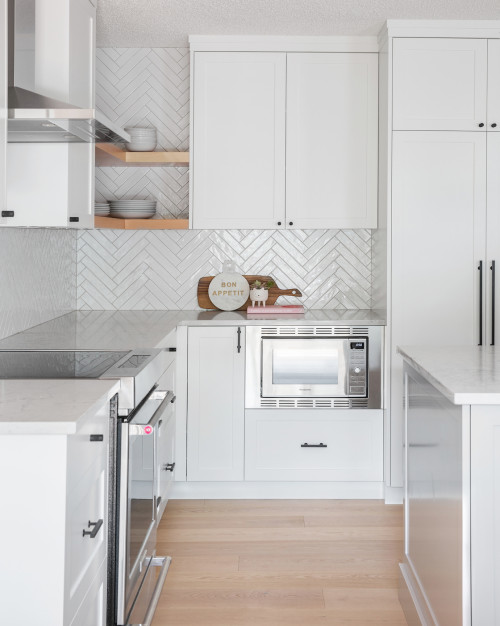 ID# 164916 | Houzz.com – Credit | © Reena Sotropa In House Design Group
---
All-White Kitchen with Light Wood Accents
The combination of the white shaker cabinet space, herringbone backsplash and quartz countertops serve a classic and timeless appeal! The stainless steel appliances are a perfect match for this elegance which adds a dose of shine. On the other hand, the wood corner shelves and flooring break this white domination, adding visual interest.
How do I add more storage to my small kitchen?
To maintain an unencumbered look in your kitchen, the best solution is to add more storage. But how do so? If you have run out of space on the walls, you can consider getting counter shelves for your countertops or cabinet shelves you can install right under the overhead cabinets. For example, windowsills are excellent additional storage space if you have them. Likewise, pegboards can hold up a lot of stuff, including pots, pans, canisters, and utensils. Your backsplash can serve as storage as well, with a couple of wall-hung rails.
Besides those, a freestanding shelf can add not only extra storage but also bring charm to your kitchen. Especially the woven ones bring in nice textures. But if you have a contemporary sleek kitchen, black metal freestanding shelves would suit your kitchen better.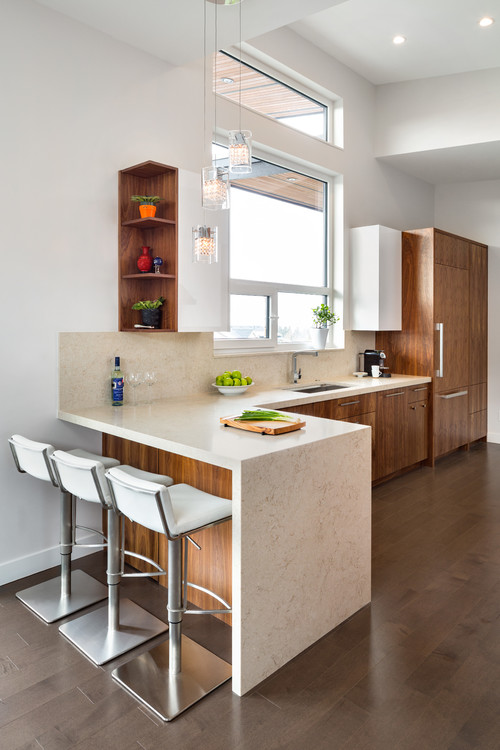 ID# 164917 | Houzz.com – Credit | © Troico
---
Walnut Cabinetry with Beige Granite Backsplash and Countertop
This contemporary kitchen features book-matched walnut cabinets, paired with white upper ones to add a touch of light to the kitchen!! The beige granite backsplash and countertop surround the cabinetry and create a cohesive look with the warm sense of the wood. The corner open shelf of the upper cabinetry adds visual interest to the space while the brushed nickel hardware completes the contemporary lines.
Small Kitchen Shelf Rack Ideas
Small kitchen shelf racks are almost mandatory in any design since they help to keep the space decluttered and tidy. To optimize the effect of their aesthetic benefits, install them on accent wall features or statement finish ceiling-height backsplashes like marble or quartz.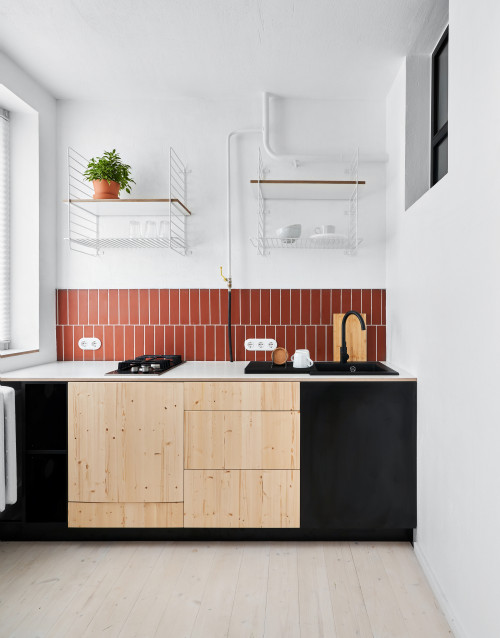 ID# 164918 | Houzz.com – Credit | © Line Design Studio
---
Small Kitchen Shelf Ideas with Black and Wood Cabinets
The smoothness of black cabinets is perfectly mixed with the natural warmth of wood accents in this magnificent kitchen design. The white countertop provides a luminous and sanitary surface for meal preparation and cooking while a striking red backsplash with a vertical arrangement adds vitality and color to the space. The open white shelving serves as a useful yet appealing storage and display option.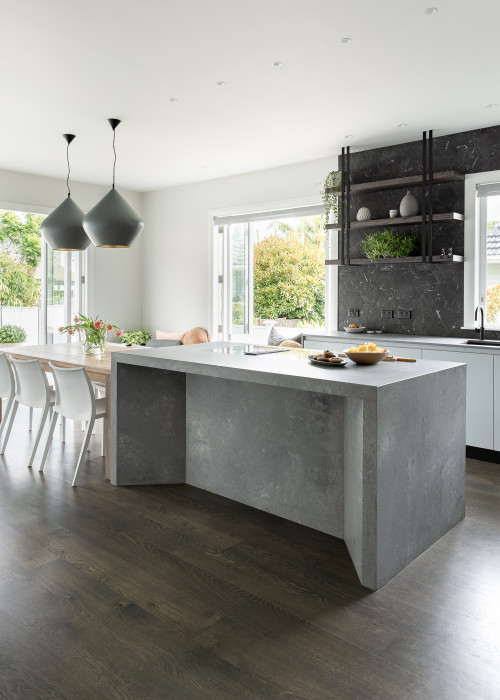 ID# 164919 | Houzz.com – Credit | © Du Bois Design Ltd
---
Concrete Kitchen Island with Dark Wood Floor
The beautiful greenery peeking behind the window brings enough color to the kitchen to allow for a monochromatic interior space under the hegemony of gray and black. The rest is built upon the gray and black palette that evokes infinity and versatility. Gray flat-front cabinets are in complete unity with the gray countertops, while the lightly veined black hexagon backsplash tiles almost seem to have lost their edges and are well-connected with each other, tricking you to believe that the backsplash is a single piece. The gray waterfall island features unique anatomy and coexists with a light wood table. By starting at a lower level, the wood table adds a layered look and distinguishes itself.
What should I show on my kitchen shelf?
Kitchen shelves are one of the best ways to project your personality into a kitchen. That's why they can be used to exhibit some personal items, which could be a framed print, an inexpensive artwork, a favored mug or a vase, a family photograph, cooking books, a clock, and more. To put it differently, it is important to know that just because it is a kitchen shelf, you don't necessarily have to place kitchenware or plates on the shelves. Instead, you can mix them with other personal items to make the shelves look more intriguing and make them narrate something.
Secondly, it is better to place the most-used glasses and plates to save your time and effort. This way, without any need to open and close the cabinets, you can easily reach your essentials.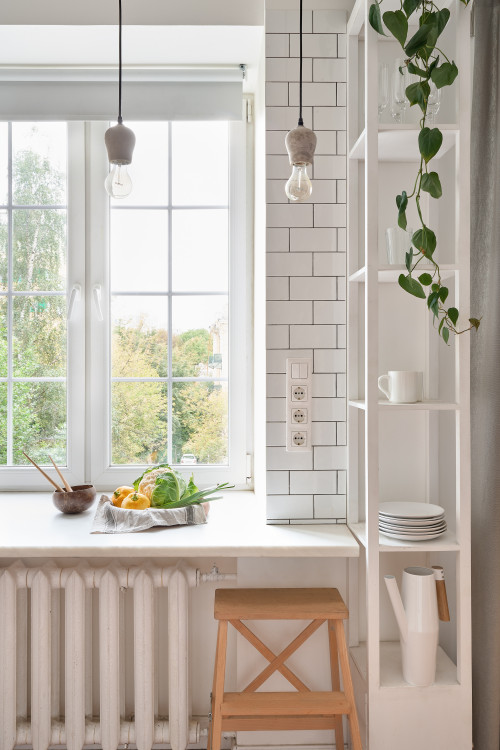 ID# 164920 | Houzz.com – Credit | © Natalie Vershinina
---
Vertical Small Kitchen Shelf Ideas with White Subway Wall Tiles
If the horizontal shelving does not suit your taste, try vertical placement! In this contemporary kitchen, the white vertical storage system fits perfectly the unused area between the peninsula and wall and it provides an additional storage space without breaking the flow of the overall design. The white subway tile backsplash offers a clean and timeless backdrop with its classic running bond pattern.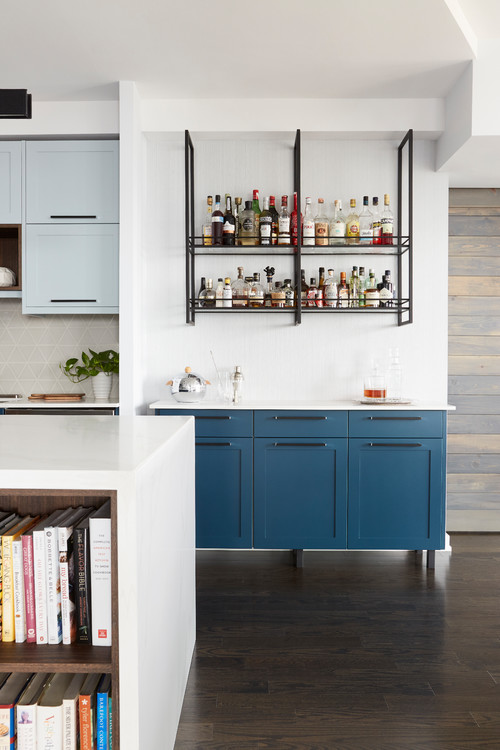 ID# 164921 | Houzz.com – Credit | © Ashton Renovations
---
Modern Kitchen Bar with Blue Shaker Cabinets
If you designing a home bar, open shelves are excellent additions to display your bottle collection! The black shelving system creates a visual feast with the colorful bottles on it to add visual interest to the space. On the other hand, the blue shaker cabinet doors and white quartz countertop provide a sleek and elegant appeal that will never go out of style. The black cabinet hardware make a cohesive final touch and completes the modern elegance.
Small Kitchen Cabinet Shelf Ideas
If you are not fond of floating shelves, you can consider another alternative, which is something both open and a cabinet. If you wish you can have them right under the overhead cabinets. This way, you can also keep them closer to you for convenient access. Or better, you can just have a vertical row of them for visual treatment. Also, by playing with the color and material of these cabinet shelves, you can enrich the aesthetic value of the kitchen or use them to break up the uniform look. For example, if you have an all-white kitchen and want to spice it up, a wooden cabinet shelf will do what you need.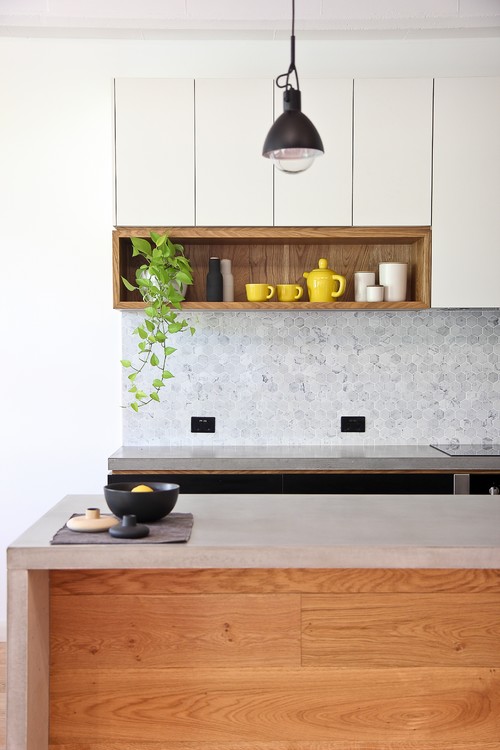 ID# 164922 | Houzz.com – Credit | © Greener Kitchens
---
Marble Hexagon Backsplash with White Cabinets
Industrial-style kitchens may incorporate natural elements, as shown in this kitchen design. The grain of the wood and the foliage blend beautifully with the concrete counters and gray hexagon tile backsplash. The backsplash and countertops' matte finishes let the natural texture stand out.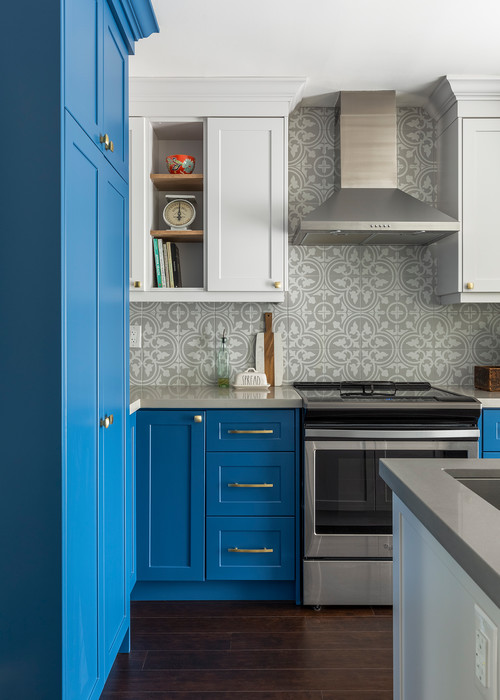 ID# 164923 | Houzz.com – Credit | © Urbanest Construction
---
Two Tone Cabinetry with Small Kitchen Shelf Ideas
When designing a kitchen, bringing the colors in the right way is important. In this transitional kitchen, the gray patterned statement backsplash asserts its provocative presence thanks to the vibrant blue cabinets. If it weren't for these shaker cabinets, the backsplash tiles would stay subtle. But the design feels immersive and memorable, complemented with gray quartz countertops and gold hardware. Altogether they curate a neutral yet colorful design all at once!!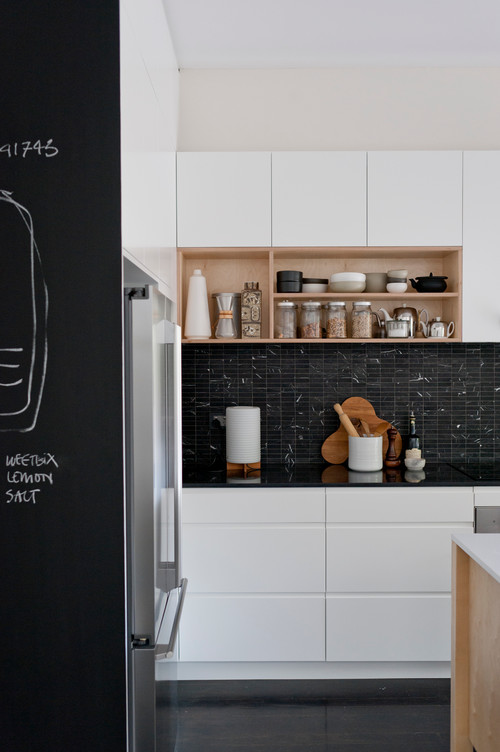 ID# 164924 | Houzz.com – Credit | © ANNA CARIN Design
---
Small Kitchen Shelf Ideas with Black Marble Backsplash Tiles
If you are a coffee lover and want to create a coffee station in your kitchen, open shelves will be your best companion!! Using open-shelf cabinets is a great way to display your ceramic mugs or vintage coffee machine and create a visual feast. In this Scandinavian kitchen, the wood-open cabinets create a focal point between the sleek and plain look of the white flat-panel cabinets. Another statement-maker feature in this kitchen is the black marble backsplash! It contrasts with the white cabinetry and adds a dose of luxury.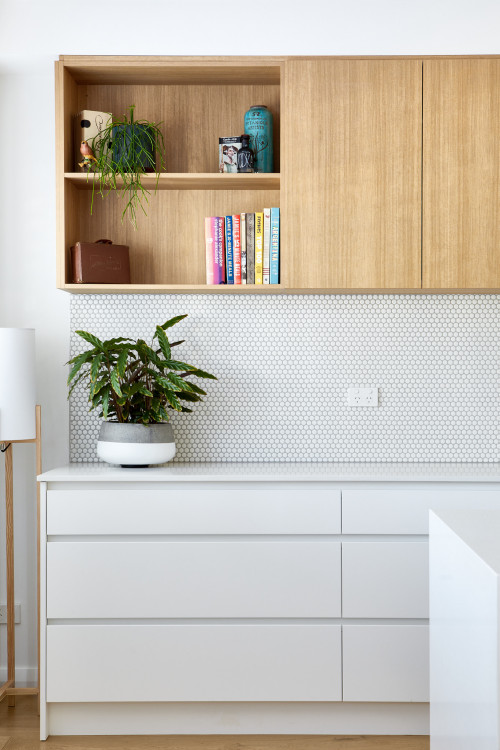 ID# 164925 | Houzz.com – Credit | © Absolute Carpentry & Cabinetry
---
Small Kitchen Shelf Ideas with Penny Round Tiles
There is no doubt that the classic elegance of the penny tiles can look beautiful in any kitchen design! The white penny tile backsplash creates a nice textural look between the two-tone cabinets. While the white base cabinets complete the bright and fresh look of the penny round tiles, the wood upper cabinets bring warmth to the atmosphere and add another layer of texture.
Are open kitchen shelves still in style?
Open kitchen shelves are still popular for many reasons. They are budget-friendly, highly customizable, easy to install, and very practical. Plus, they fit any style whether traditional, transitional, or modern. As a result, coming with both aesthetic and functional benefits, these small kitchen storage ideas seem to be on-trend in the long term as well.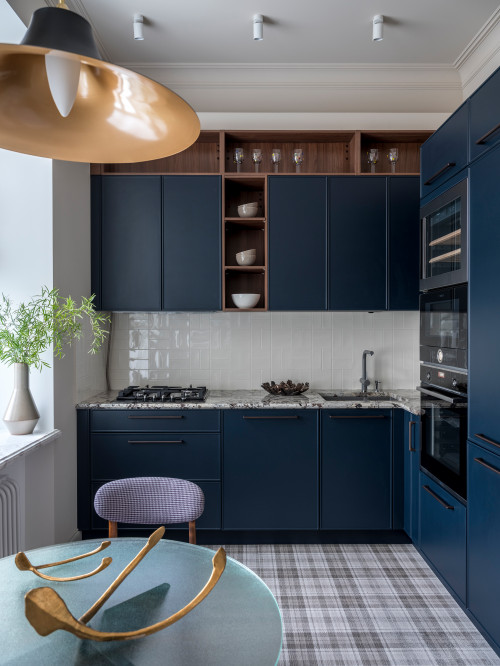 ID# 164926 | Houzz.com – Credit | © Анна Кларк
---
Dark Blue Kitchen Cabinets with Natural Wood Accents
This transitional kitchen design evokes feelings of elegance and sophistication with its beaded-inset blue cabinets. The timeless beauty of the white marble-like countertops is enhanced by the crisp contrast from the white basketweave backsplash. For a warmer, inviting feel, open wooden cabinetry details are among the blue upper cabinets, providing a nice visual break and easy access to items stored for more convenience.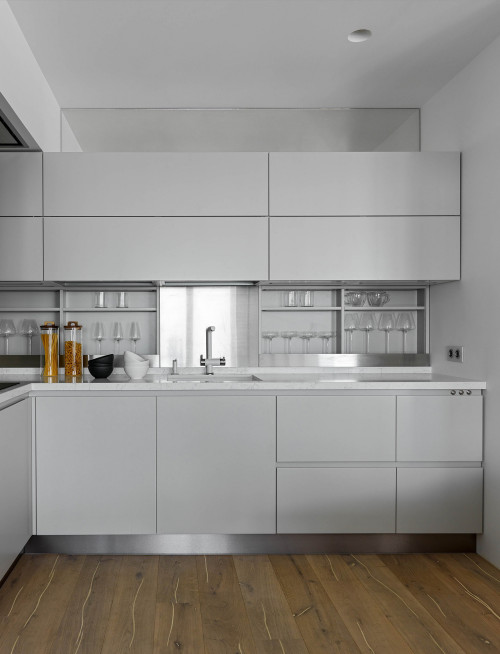 ID# 164927 | Houzz.com – Credit | © Красюк Сергей
---
Small Kitchen Shelf Ideas with Light Gray Cabinetry
Are you looking for something different detail that elevates your kitchen? What about using a shelving system for the backsplash area? It sounds a little bit like a crazy idea but as you see in this kitchen, it works! Here, the sleek open shelving system between the light gray cabinets creates a visual feast with artlike glassware in it. The metal backsplash behind the sink completes the contemporary aesthetic of the overall design that adds a dose of glam.