33+ Kitchen with Stainless Steel Appliances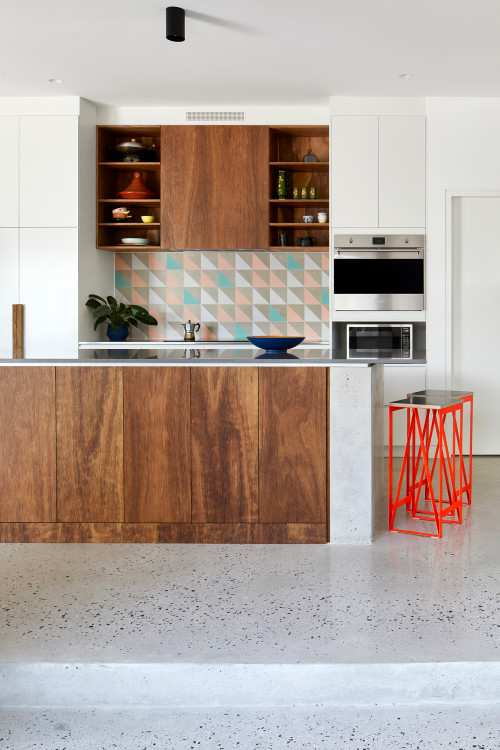 ID# 148102 | Houzz.com – Credit | © Poly Studio
---
White and Wood Flat-Panel Cabinets with a Colorful Cement Backsplash
The flat-panel cabinets in white and the medium-tone wood work well together to create a light, airy harmony. The white countertops provide a balance with this harmony. The simple appearance of the kitchen cabinets is brightened and given movement by the colorful cement backsplash tiles.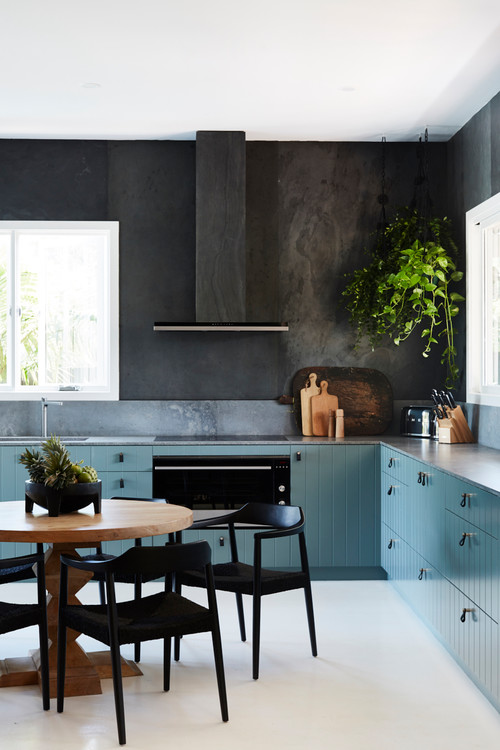 ID# 148120 | Houzz.com – Credit | © The Designory
---
Blue Kitchen with Stainless Steel Appliances and a Matte Stone Backsplash
While the black hardware provides a stylish contrast with the blue kitchen cabinets, the dark gray stone countertops and short backsplash complement their contrast with a balancing touch. The black slate backsplash wall draws attention and has a stunning harmony with the greenery on the counter corner. The white ceiling and flooring enlighten the color palette of the kitchen!
Kitchen with Stainless Steel Appliances
The kitchen is probably one of the areas in your house that gets the greatest usage and traffic. Your kitchen appliances may make life simpler for you or excessively tough if you choose the incorrect ones. Appliances made of stainless steel are always a good choice. Today, though, we're going to focus on design concepts for kitchens with stainless steel appliances.
In 1913, stainless steel was created as a corrosion-resistant material for use in rifle barrels. Stainless steel was utilized to make tools, surgical scalpels, and cutlery in the 1920s. The first stainless steel kitchen was installed on board the SS Queen Mary, the flagship of the renowned Cunard line when it was inaugurated in 1934. Due to it being strong, lighter than steel, and simple to clean because of its impermeable surface, stainless rapidly rose to the top of the food preparation standards for commercial kitchens on land. Even though the internet was still in its infancy and many people were still using dial-up in the 2000s, Americans still believed in the beneficial power of technology. The emergence of social media and cell phones signaled the start of a technological paradise.
This idea and look were taken into the kitchen with sleek, metallic equipment. From those days to today, we have been seeing kitchens with stainless steel appliances thanks to clever designers!
What Is So Great About Stainless Steel Appliances?
If you're searching for new kitchen equipment, make sure to put stainless steel at the top of your list! Wondering what makes stainless steel appliances so amazing? Well, not only do they boast an elegant design that can upgrade any kitchen but they also come with a range of other benefits. Stainless steel appliances provide a neutral look that can perfectly match any kitchen design, making them incredibly versatile. Plus, they're durable, long-lasting and easy to clean and sanitize, so you won't have to worry about any wear and tear. Don't miss out on the unbeatable benefits of stainless steel appliances for your home!!
White Kitchen with Stainless Steel Appliances
The less-than-favorable terms that may come to mind when you think of all-white kitchens are dull, blasé, blank, and uninteresting. White kitchens don't get the chance to realize their full potential, though. They are undiscovered stylistic masterworks that serve as excellent blank slates for creating a place suitable for all of your cooking, entertaining, and late-night munching requirements. There are several ways to accentuate your stylish white kitchens, and one of them is a white kitchen with stainless steel appliances.
A white kitchen may be lovely and ethereal or crisp, clean, and contemporary—whatever you want it to be. Without losing the home's character, a white kitchen may modernize and freshen up a historic house or a rustic farmhouse. A white kitchen may blend into the background in a contemporary townhouse or city apartment, enabling other interior components to dominate. You may combine different eras and styles while still maintaining a coherent aesthetic by using a white kitchen with stainless steel appliances. A white kitchen may be a flexible canvas that can be changed with little adjustments, enhanced with wood or metallic finishes, or contrasted with black for a timeless, elegant style.
Is stainless steel good for kitchen appliances?
Stainless steel appliances are like superheroes of the kitchen, tough and resilient through any challenge that comes their way. No need to worry about rust, water damage, or even scorching heat – these appliances can handle it all! They're like an indestructible shield that stands firm against any kind of wear and tear. Plus, they not only perform exceptionally, but they also look amazing and are incredibly satisfying to clean. It's clear why stainless steel has become a popular choice for kitchen appliances – it exudes a sense of dependability and durability that you can rely on in your home.
Gray Kitchen with Stainless Steel Appliances
A color gray is a great option if you don't like the harsh white appearance of kitchens and don't want to incorporate black into your decor. While milder shades of gray complement the brightness of the white, darker shades have a significant effect on your kitchens, adding warmth and refinement. A gray kitchen with stainless steel appliances is a great option if you have an all-white kitchen and want to renovate it on a budget. Whether your design is modern or traditional, you may utilize stainless steel equipment in a gray kitchen to transition colors and create a bold statement!
Gray is a color that complements every kind of home and comes in a wide variety of tones. Warmer hues have lately been more popular due to the misuse of harsh, unimaginative gray interiors, but gray is still a timeless color that can be as lively as you want it to be depending on how you utilize it. This is true even if it occasionally gets criticized for being a boring, safe option. A gray kitchen with stainless steel appliances, however, is evidence that you can use it in your kitchens without difficulty! Since it may add a contemporary touch to modern kitchen designs while maintaining a warm, comfortable appeal in country kitchens.
What color do cabinets go well with stainless appliances?
Despite the addition of sleek black, brilliant white, cobalt blue, and fiery orange to the variety of appliance hues, stainless steel is still a classic choice that works well in every kitchen. Stainless steel appliances are here to stay because of their easy-to-clean shiny appearance, which makes getting rid of fingerprints and smudges a snap. It also goes well with just about every design aesthetic. However, if you want to freshen things up a bit, think about painting your cabinets a different color.
Any color you pick will look stunning with stainless steel appliances, from traditional white to striking purple. Here are a few of our favorite color combinations, though, if you are having some difficulty deciding. Gray, white, blue, green, black, and even red are perfect with stainless steel appliances!

Black Kitchen with Stainless Steel Appliances
Kitchens with color, white or light color kitchens are really popular right now. However, if you want to use a neutral color to create a stylish statement, think about using black. There are several ways to incorporate the inky tone into your kitchen from cabinets to backsplashes. Having a kitchen with stainless steel appliances will help you to complement your design!
One of the few colors that don't degrade with time is black and a black kitchen with stainless steel appliances will make your design sophisticated with a modern touch. This makes a black kitchen with stainless steel appliances ideal for kitchen designs where food preparation tools are frequently used. Black is a fantastic option for kitchens that require frequent cleaning since it resists stains well. Why not go all out and select a stronger tone like black if you want your kitchen to stand out from the crowd?
What countertops go with stainless steel appliances?
Gray accent colors help to create a unified and straightforward kitchen design since stainless steel has gray undertones. Create a chic, international kitchen by combining stainless steel equipment with slate or gray-tone granite worktops. However, you may choose white or black countertops to create a monochrome design.
Blue Kitchen with Stainless Steel Appliances
In recent years, blue kitchens have evolved into a modern classic. A low-risk option to integrate color into the kitchen without making a big investment is to use various tones of blue. This calming, upbeat color may be utilized as a living modern accent on anything from the backsplash in the kitchen to the cabinetry, or it can be combined with whites and wood tones for a casual seaside effect. You can keep up with the contemporary vibes with a blue kitchen with stainless steel appliances.
This color gives any kitchen a relaxed feel when used on cabinets, walls, kitchen accessories, and other surfaces, or with stainless steel appliances. You'll be motivated to use this timeless hue in your own house by these lovely blue kitchens with stainless steel appliances design ideas.
What backsplash goes with stainless steel appliances?
Given the variety of colors available, choosing kitchen colors that fit with stainless steel appliances may be a fun home improvement undertaking. There aren't many accent colors that clash with stainless steel because of the silvery color's versatility and modern style. You may design an area, such as a backsplash, that wonderfully complements your stainless steel appliances by considering other components in your kitchen, such as themes, flooring, cabinets, furniture, fabrics, and accessories.
You can go with brown hues for a backsplash, the natural beauty, and coziness of brown contrasts wonderfully with the stainless steel equipment's colder silver and gray tones. If you want a warm, inviting atmosphere in your kitchen, go with dark brown hues. If you prefer a brighter kitchen design, go with light brown tones like mocha or taupe. Except for the brown backsplash, white, gray, blue, and black backsplashes go with stainless steel appliances, too.

Kitchen with Black Stainless Steel Appliances
Although the vogue for a kitchen with black stainless steel appliances may have peaked a few years ago, it is still taking its time to fade. Black stainless steel is still widely used in home design, in contrast to certain fads that come and go. This is for good reason—black stainless steel has a classic look that endures.
The only difference between a standard kitchen with silver shiny stainless steel and a kitchen with black stainless steel is just one. Both are constructed using a special alloy of iron, chromium, silicon, nickel, and carbon that transforms corrosive steel into a rust-proof substance. The distinction is that black stainless steel has a layer of extremely robust, shielding, polymer-based black paint.
When matte and black are combined, commonplace ranges and washers become works of home art, amplifying their cool impact. Matte finishes are not only functional but also fashionable since they make fingerprints and other small stains vanish or be less noticeable on flat surfaces.
Additionally, some kitchen designers choose to combine black and silver stainless steel appliances, which can complement accent pieces or silver appliances with black trim or control panels. Black is a neutral hue that works with all variations of fashion. Although it does have modest ups and downs in design trends, it is probably the most timeless hue available. Black may be used as a backdrop for other colors or as a standout statement color. According to these, you can consider a kitchen with black stainless steel appliances.
Brass Kitchen Hardware with Stainless Steel Appliances
One of the most crucial elements of any kitchen design is the hardware. It must be both useful and attractive because it is the tool you use to engage with your kitchen. Also, modernizing your hardware is one of the best, most practical, and least expensive ways to update your kitchen. Your kitchen may appear completely different and feel brand-new with fresh hardware. But, how about brass kitchen hardware with stainless steel appliances? If you have stainless steel appliances, you may want to learn how mixing these two materials will affect your general view of the kitchen.
In your kitchen, you may combine items in a variety of ways. The most common option in the past has been to remain with various stainless steel finishes without adding anything more. However, other mixtures function just as well, if not better! Because they both have a classic vibe, stainless steel and brass are attractive material pairings for kitchens. When combined with stainless steel's luster, brass' exquisite patina will appear stunning! Additionally, it brilliantly accents copper fixtures, making your kitchen one of the most fashionable ones out there. Stainless steel and a little brass go a long way in making your kitchen the one you've always wanted. Let's scroll down and see some of the gorgeous examples of brass kitchen hardware with stainless steel appliances!
What color do faucets go with stainless steel appliances?
Similar to how a stainless steel faucet would, a brushed or satin nickel faucet will blend in with a stainless steel sink. They often don't exhibit water stains as readily as stainless steel and typically have a more subdued appearance.
Modern Kitchen with Stainless Steel Appliances
Modern kitchen design can transform your area into the kitchen of your dreams, whether you're decorating up a rental, giving an '80s room a facelift or doing a full overhaul. Sleek and modern décor works best with sleek, tidy kitchens. It need not be very straightforward either: Your area may get a personality with a few special touches of design, such as a modern kitchen with stainless steel appliances whether they be Scandi minimalism or Southern farmhouse charm!
The most popular home improvement projects are still all kitchen renovations. And when it comes to modernizing appliances, stainless steel's durability and adaptability are unmatched. Even though it provides a kitchen with a classic appearance stainless steel equipment continues to be the preferred option. 74% of U.S. families still choose stainless steel appliances above all other types. It is not a surprise to see a modern kitchen with stainless steel appliances. The sleekness and shine will add a strong statement to your modern kitchens.
What is the most popular appliance color for 2023?
Home appliances play a crucial role, but home décor has always been a popular issue. In addition to their capabilities, appliances play a significant role in the overall decoration's aesthetic appeal. When purchasing kitchen equipment, it's important to think about how they will fit in with the décor as well as how they will improve your cooking.
In 2023, white appliances will only be returning. Major appliance manufacturers have reverted to providing modern, elegant white equipment during the past few years. Additionally, black and stainless steel appliances are still at the top of the list in 2022, too.

Farmhouse Kitchen with Stainless Steel Appliances
With exposed wood, cozier accents, and mismatched furniture, the typical farmhouse style is a little more rustic. The traditional farmhouse style is probably what comes to mind when you shut your eyes and imagine a practical kitchen on a rural property. However, we are now in modern times that have modern solutions! So, we can call a farmhouse kitchen with stainless steel appliances a modern farmhouse! For a wonderfully balanced look, a farmhouse kitchen with stainless steel appliances takes the coziness of farmhouse kitchens with the elegant sensibility of modern kitchens.
Stainless steel is the best material for your "modern" farmhouse kitchen equipment since it should be both fashionable and functional. Your faucet, refrigerator, oven, and range hood can serve as the "modern" component of a farmhouse or the "chic" component of shabby chic. Farmhouse kitchens are designed to seem lived in, and these appliances guarantee a durable finish for a farmhouse kitchen with stainless steel appliances that gets a lot of usages.