40+ Ceramic Tile Backsplash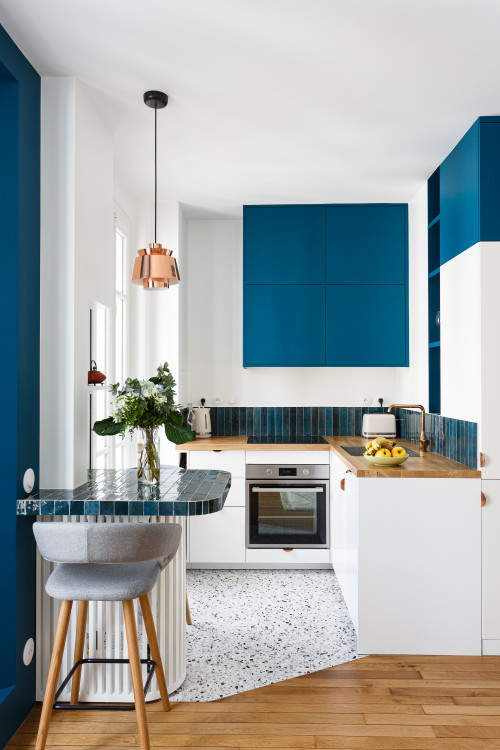 ID# 125404 | Houzz.com – Credit | © Emilie Melin architecte DPLG
---
Blue and White Kitchen with Wood Accents
In this small trendy kitchen, the blue accents stand out between the white cabinets and offer a fun and stylish look. White perimeter cabinets are paired with reclaimed wood countertop which adds a warm touch to the atmosphere. The blue ceramic tile backsplash adds visual interest to the design with its beautiful shades while the top of the dining table complements the backsplash. Terrazzo floor tiles add another layer of texture and complete the natural feel of the wood countertop.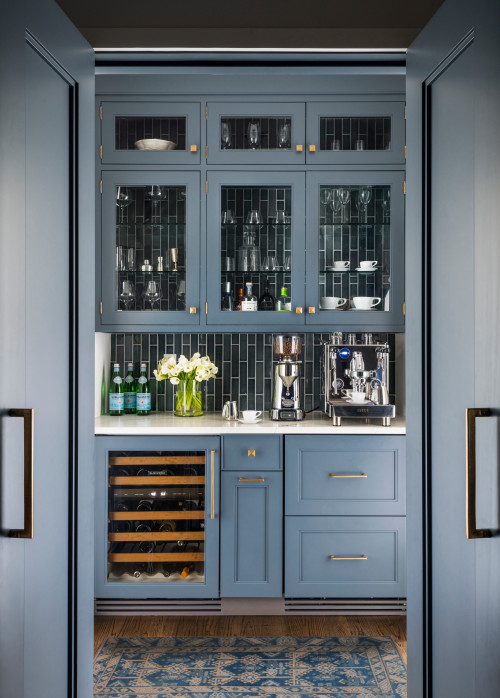 ID# 125436 | Houzz.com – Credit | Studio Dearborn| © Adam Macchia
---
Transitional Home Bar with Gray Cabinets and Black Subway Tiles
In this small transitional home bar, the black subway tile backsplash makes a big difference and adds a dramatic effect to the atmosphere. The black tiles continuous through the back of the glass-fronted upper cabinets emphasize the impact. The shaker cabinets are painted with Benjamin Moore's Light Pewter which completes the sophisticated look of the black. The white countertop makes a fresh touch while the brass hardware finalizes the design.
Ceramic Tile Backsplash
Durable, affordable, easy to install, and come in an endless array of color, style, and texture options! With their functionality and beautiful appeals, ceramic tile backsplashes are the most common option for homeowners and interior designers. From ceiling tile to bathroom backsplash, kitchen backsplash to flooring, there is a wide range of installation areas. If you are looking for more information about a ceramic tile backsplash, scroll down and find the best and stylish kitchen designs that will inspire you!
Choosing backsplash tile might be tricky. A kitchen backsplash needs to provide both style and functionality and there is no better option than a ceramic tile backsplash for these expectations. With its almost infinite range of color, pattern, style, shape, and texture options, a ceramic tile kitchen backsplash helps you to add a personality to your design. You can go with a classic subway tile look to create a timeless appeal or install small ceramic tiles to create a mosaic appeal that adds a striking focal point. So, whatever your choice is, a ceramic tile backsplash will be a perfect addition to your kitchen! Installing a ceramic tile kitchen backsplash not only adds visual interest to your kitchen but also protects your walls against water and food spills.
Also, this durable tile material provides easy-to-clean surfaces which makes it a perfect choice as a backsplash. With all these benefits, there is no reason not to use ceramic backsplash tiles in your kitchen! Dive in our ceramic backsplash ideas to find the best alternative for your design!
How to install ceramic tile backsplash?
The installation of the ceramic tiles is similar to the other materials. Before the installation process, first, you need to prepare your walls. Sand the roughness and patch the holes on the wall and clean it with an all-purpose cleaner. Define the boundaries of the backsplash with painter's tape, and remove the electrical outlets.
Whether your tiles come with a mesh or individual pieces, it is important to prepare the layout of your tiles before applying them to the wall. This way you can avoid the unmatching pieces or blanks between the tiles. Depending on the shape and pattern of your tiles, you might need to cut some tiles. For this process, you can use a wet saw to the best outcome.
Now, you are ready for installation. Apply the mortar with a V-notch trowel in small sections. Then stick the tile on the mortar. Do these steps until cover the all backsplash area. Wait at least over a night, and after it dries, wipe down the tiles with a cloth and cleaner. Apply the grout with a float at a 45-degree angle. Wait until all grouts dry and wipe the tiles with a wet sponge.
Ceramic Tile Backsplash Types
Ceramic tiles are the materials that come with the most shape options. From classic rectangular tiles to tiny penny tiles, there are plenty of options to incorporate a ceramic tile backsplash into kitchens. And depending on the shape and style, these tiles can be suitable for different design aesthetics like modern, contemporary, traditional, rustic, and more.
Ceramic Subway Tile Backsplash
With their effortless beauty, subway tiles are classic for kitchen backsplashes and these tiles are proof that even a simple rectangular shape can create an eye-catching appeal. Using a ceramic material allows you to customize your subway tile backsplash with an endless array of color options! And also, the traditional subway tiles are made of glazed ceramic. So, if you want to keep the feel of these tiles a ceramic subway tile backsplash is the way to go.
Ceramic Mosaic Tile Backsplash
Thanks to its wide range of color and texture options, ceramic is a perfect material to create a mosaic appeal for kitchen backsplash. The perfect blend of the different colored small ceramic tiles can add visual interest to any kitchen and become the centerpiece of the design.
Arabesque Ceramic Tile Backsplash
If you are looking something for traditional, there is no better option than an arabesque tile backsplash which has a unique and beautiful appeal. And using a ceramic material for this pattern adds functionality to the backsplash. An arabesque ceramic tile backsplash shapes up the character and turns out one of the essentials of the kitchen!
Ceramic Hexagon Tile Backsplash
With their geometrical shapes, hexagon or honeycomb tiles offer a sleek and modern appeal for kitchen designs and ceramic provides a perfect opportunity to play with different colors and textures. You can complete your modern cabinets with a ceramic hex tile backsplash or make a modern twist against t your traditional style kitchen!
Ceramic Tile Backsplash Colors
White, blue, red, black, gray, and more! Ceramic tiles come in a limitless color option that can be suitable for different styles and color schemes. You can find below beautiful color options for ceramic tile backsplashes.
Can you paint ceramic tile backsplash?
Yes, you can paint your ceramic tile backsplash and painting is the cheapest and easiest way to give a clean and fresh look to the old backsplash tiles. Before painting, you need to clean the tiles from dirt, grease, and mold. You can use a slightly abrasive commercial tile cleaner. If there is a mold bleach or hydrogen peroxide will do the job. Because o the finishing layer, you also need to sand the tiles to grab hold of the paint well. After the sanding, make sure to clean tiles and remove all the dust. And for the last step before painting, you need to apply a good primer to enhance the durability of the paint.
Now, you can apply the paint that you choose. Oil-based paint takes longer to dry but they provide more durable surfaces. it is important to applying paint with several thin coats to create clean and smooth surfaces. Before adding the next coat, wait for each layer to dry completely. Once you finish the painting, wait at least two or three days to dry. For a final touch, apply a top coat to protect the paint from scratches and moisture.
White Ceramic Tile Backsplash
White is the original color of the ceramic tiles and when the pureness of the white meets with the durability of the ceramic, the result is stylish! And with the rising of all-white kitchens, white backsplashes have become more popular. So, you can add a nice texture with a white ceramic tile backsplash to your all-white kitchen or make a fresh touch to your dark cabinets or complete the natural look of the wooden cabinets. Thanks to its clean, fresh, and minimal look, whatever the style and color scheme of the kitchen, a white ceramic tile backsplash will make a perfect final touch to your design.
Blue Ceramic Tile Backsplash
If you want to add color to your design, blue is one of the most popular color choices for kitchen backsplashes. The calm and relaxing feel of the blue will instantly elevate your design! Whether it's a subway or hex tile, herringbone or mosaic tile, a blue ceramic tile backsplash will be the focal point of your kitchen.
Beige Ceramic Tile Backsplash
You might think that the beige color is boring. But, with the right approach, it can be a perfect addition for kitchens. A beige ceramic tile backsplash can complete the warm and cozy look of your wood cabinets or softens the sharp look of your black kitchens. In any case, you won't believe how beautiful the beige color can look!
How to clean ceramic tile backsplash?
Ceramic tiles are one of the most easy-to-clean materials. Just wipe it off with a sponge, dish soap, and warm water after cooking. If you do these steps for everyday cleaning, you can easily maintain the look of your ceramic backsplash as fresh as new. If you are struggling with tough stains, mix the baking soda with some water and apply the paste with a toothbrush to the stain and clean it with a wet sponge.
Red Ceramic Tile Backsplash
Red is a sexy and ambitious color that can instantly change the atmosphere of any room. From light coral to sophisticated burgundy, red comes in a wide range of shades and hues. According to the color scheme of your kitchen, you choose one of these beautiful shades and create an eye-catching red ceramic tile backsplash.
Black Ceramic Tile Backsplash
Bold, strong, and elegant! Black is one of the most timeless colors that can lend sophistication to any design. Whatever its style and texture are, a black ceramic tile backsplash offers a bold and characteristic look that can easily become the centerpiece of your kitchen!
Gray Ceramic Tile Backsplash
With its endless shades and hues, gray is a versatile color that can fit any design from modern to traditional. A gray ceramic tile backsplash can create a sleek backdrop for your kitchen and add an elegant feel. Also, thanks to its versatility, gray can be suitable for different color schemes.
How to cut ceramic backsplash tile?
Cutting the tiles allow you to fit pieces at the corners and around the electrical switches. But for this process, you need o use a specialized cutting tool for the material. For ceramic tiles, you can use manual cutters which are sufficient for ceramic tiles. Manual cutters are cheaper and require less skill. But if you want to use some professional tool, a wet saw will do the job.
Do you need to seal the ceramic tile backsplash?
Just like the porcelain tile and glass tile, you do not need to seal the surfaces of most ceramic but some tiles might require a light application. If needed, you can seal all unglazed tiles before grouting. This will protect your tiles against water and oil-based stains.