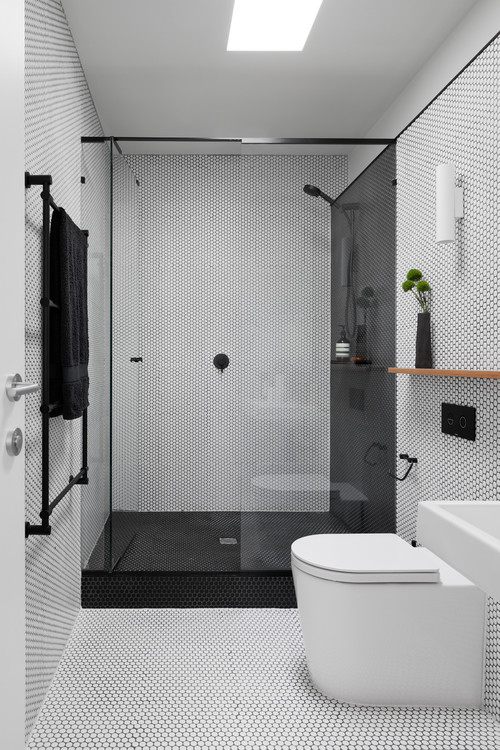 ID# 162001 | Houzz.com – Credit | © Andrew Child Architecture
---
Black and White Penny Tile Bathroom with Walk-in Shower
White tiles grace both walls and floor to infuse purity and freshness while the strategic placement of black tiles within the shower lends a sophisticated layer of depth. The black grout, artfully applied to the white tiles, not only emphasizes the pattern but also introduces an eye-catching element that elevates the visual intrigue!! As the final touches, a white toilet and black fixtures harmoniously round out the modern lines, culminating in a design that effortlessly balances chic aesthetics with timeless functionality.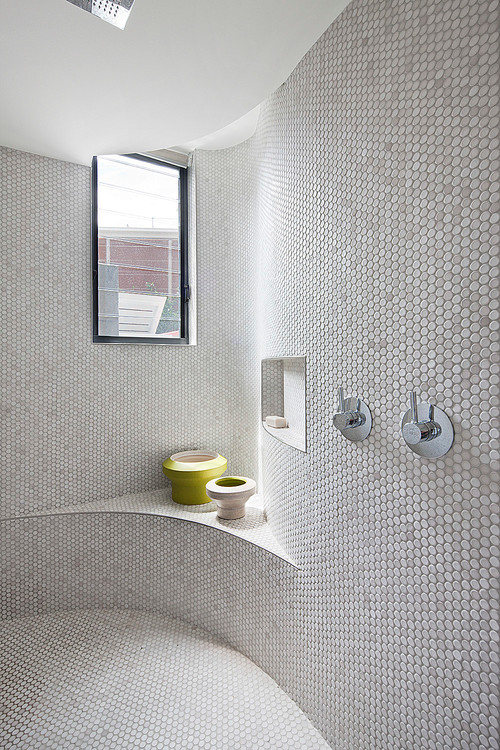 ID# 162028 | Houzz.com – Credit | © bg architecture
---
Modern Walk-in Shower Design with Penny Round Tiles
The organic design quickly gives your bathroom a fresh atmosphere thanks to its modern and elegant appearance. As gray penny tiles cover every surface, including the walls and the floor, the atmosphere is seamless and unified. The thoughtfully integrated built-in bench and nook offer more than just convenience for showering. For individuals who value a pristine and unadorned aesthetic, this shower's simple design and use of a monochromatic color palette are great.
Penny Tile Bathroom
Nowadays, returning to the old interior design trends is becoming popular. One of the most preferred interior design elements of the 1900s is penny tiles that are for classic and adorable kitchen, or bathroom spaces These tiny circular tiles are timeless and provide classic yet stylish appeals for bathrooms. They are cheap and easy to install. Penny tile bathroom has various materials such as porcelain, glass, stone, and metal, but the most popular material is porcelain. In this article, we gather different penny tile bathroom ideas that will inspire you for your new project!
Even though the penny tile bathroom is for a classic black and white look, it has lots of different color and pattern options. In the contemporary interior design world, the most preferred penny tile bathroom colors are white, black, gray and blue. These colors add fabulousness and texture to the bathroom spaces. Also, multicolored penny tile options give a bold statement to the bathrooms. The most advantageous feature of penny tile bathrooms is penny tiles provide non-slip surfaces. Thus, you can install the penny tile on the floor, or in the shower area. Thanks to its features, penny tile is one of the best choices for stylish bathrooms.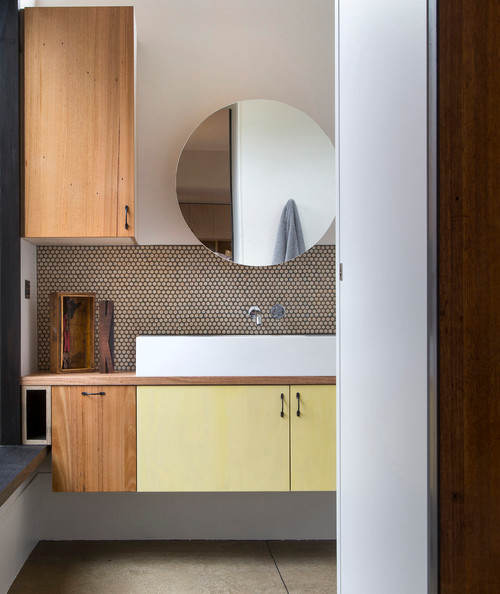 ID# 162002 | Houzz.com – Credit | © Breathe Architecture
---
Wood Floating Vanity with Beige Penny Tile Backsplash
This contemporary bathroom exudes warmth and style with its natural wood bathroom vanity and beige penny tile backsplash! The wood vanity features sleek, modern lines and provides ample storage for bathroom essentials. The beige penny tile backsplash adds texture and interest while the frameless circular mirror above the tiles creates a chic and seamless look.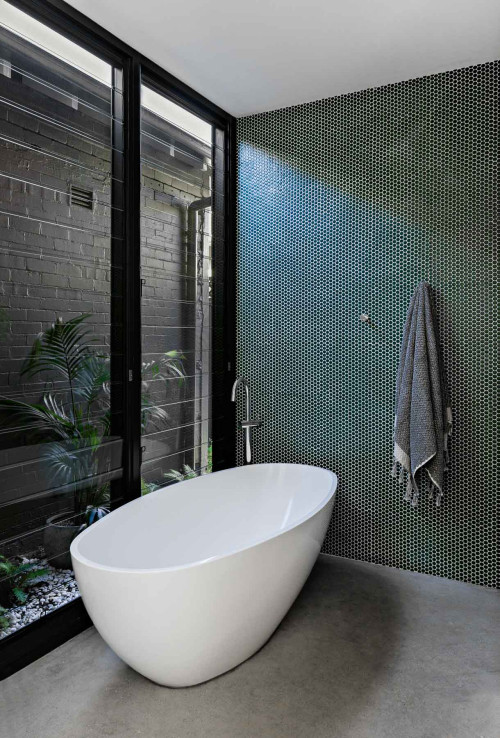 ID# 162003 | Houzz.com – Credit | © Amrish Maharaj Architecture
---
Minimalist Bathroom Design with Black Accent Wall
This minimalist bathroom unfolds a mesmerizing design centered around a striking black penny-tiled accent wall! Set against this dramatic backdrop, a sleek and modern white freestanding bathtub takes center stage and creates a captivating contrast that's further softened by the tub's organic form.
Is penny tile good for the bathroom floor?
Penny tile stands out as an excellent flooring option for the bathroom because it offers a lovely combination of texture and modern flare! Depending on the material chosen, these tiny circular tiles also provide non-slip surfaces which is useful. Because of this, they are the ideal choice for the shower floor, where safety and style dwell side by side.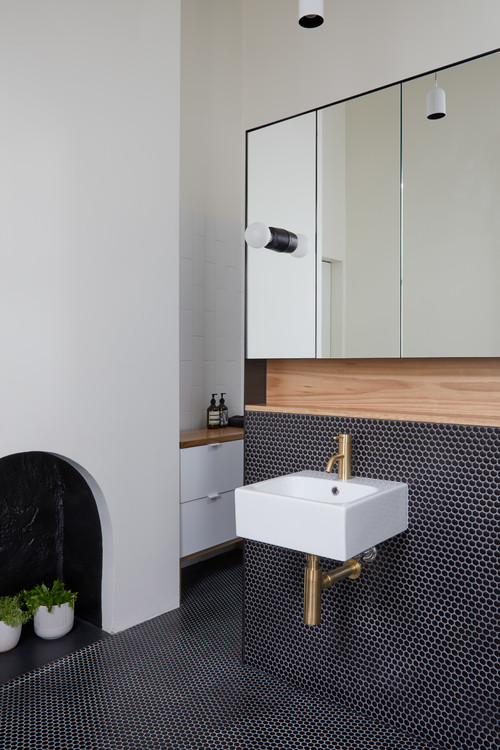 ID# 162004 | Houzz.com – Credit | © Andrew Child Architecture
---
Black Penny Tile Bathroom with Wall-Mounted Sink
The alluring black penny tiles that adorn the walls and floor highlight the sleek and contemporary style!! These tiles' interaction, delicately contrasted by the white grout, emits a sophisticated charm. A sleek white wall-mounted sink and mirrored top cabinets add to the clean design by demonstrating the ideal balance of form and function while also offering a practical storage option and maintaining a spacious, uncluttered atmosphere.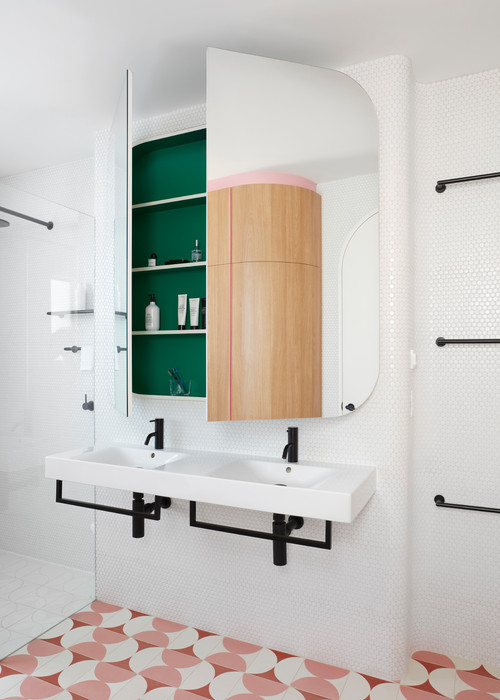 ID# 162005 | Houzz.com – Credit | © Winwood Mckenzie Architecture
---
Scandinavian Bathroom with Pink Patterned Floor Tiles
In this Scandinavian bathroom, a clean and bright atmosphere is achieved through the use of white penny wall tiles and natural light. The double sink is fitted with sleek black faucets, complementing the monochromatic color scheme. Mirrored upper cabinets add to the spacious feeling while providing ample storage. A pop of color is introduced through the use of vibrant green paint inside the cabinets which contrasts beautifully with the playful pink patterned floor tiles!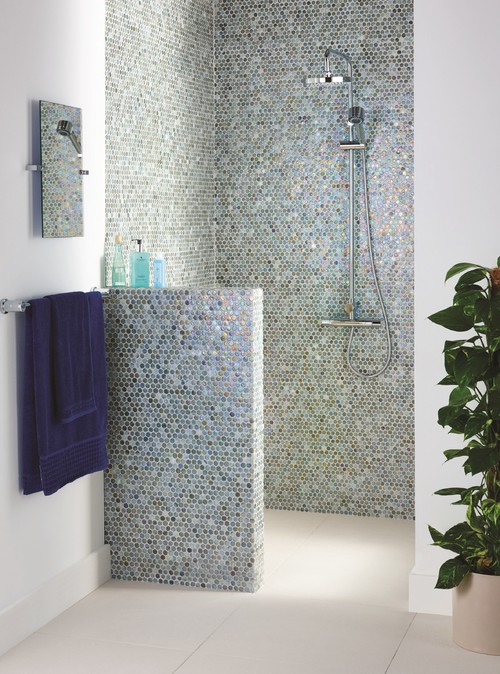 ID# 162006 | Houzz.com – Credit | © Original Style
---
Stunning Walk-in Shower Design with Glass Penny Round Mosaics
These lovely glass penny round mosaics that adorn the shower provide a touch of refinement to the area. These mosaics are available in gentle, neutral hues that appear to shine and reflect the hues around them and foster a tranquil and calming ambiance that is ideal for unwinding after a long day. With this shower design, you're in for a treat; it's incredibly alluring and entrancing!
Color Options for Penny Tile Bathroom
The color palette and the bathroom's tile selection greatly influence its atmosphere. Penny tile comes in a range of hues, from green to red. However, white, black, grey, blue and marble are the most common choices for penny tile bathrooms!! Bathrooms with penny tile come in a variety of colors and makes interior design simple and enjoyable. With the proper hue of penny tile, you may design gorgeous bathrooms.
White Penny Tile Bathroom
White is the most popular color for penny tile bathroom designs. These tiny white tiles provide a bright and airy space which is perfect for especially small spaces. Combining white penny tiles with shiny materials makes the bathroom look bigger. Also, white penny tile is the most preferred option to create a classic or vintage bathroom look. Blending the white penny tile with other colored bathroom tiles, or pastel-colored bathroom vanities for a contemporary bathroom style.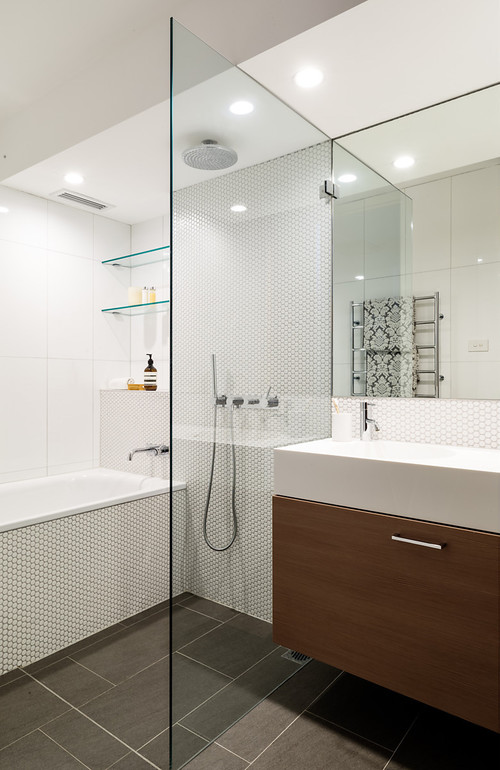 ID# 162007 | Houzz.com – Credit | © LEENDERS COTTIER architects
---
Modern Bathroom with Wood Floating Vanity
Delicately adorned with small white penny tiles, the walls and tub surround create a quietly elegant backdrop that speaks volumes. The floating wood vanity cleverly combines form and function. An airy ambience is further enhanced by the presence of a glass shower division, which imparts an open and inviting atmosphere.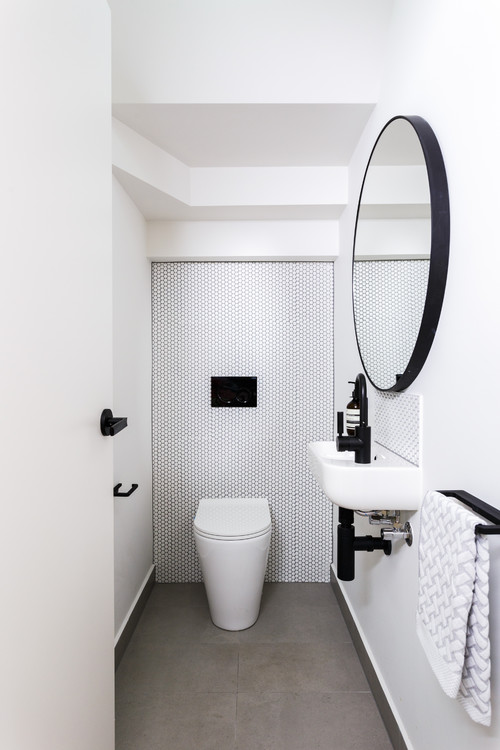 ID# 162008 | Houzz.com – Credit | © smarterBATHROOMS+
---
Small White Powder Room Design with Black Accents
A seamless continuation of the white theme is effortlessly achieved through the furniture, creating a unified and refreshingly pristine ambiance. Well-placed black accents, including the mirror and towel holder, introduce a tasteful contrast that exudes both refinement and sophistication.
Is penny tile good for bathroom walls?
No question!! Bathroom floors and walls can both benefit from penny round tiles. Penny tiles will never fail you down, whether you want to use them to make a focal point behind your bathroom vanity or cover the walls of your bathroom to give it a clean, modern look.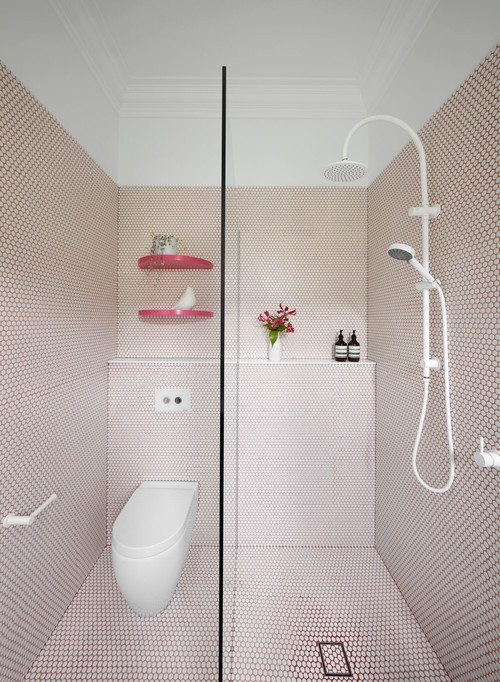 ID# 162009 | Houzz.com – Credit | © smarterBATHROOMS+
---
White Penny Tile Bathroom Design with Pink Grout
This is a charming midcentury-inspired bathroom with white penny tiles covering all the walls and floors! White, black and gray grout are the most popular options for penny tiles but if you want to be unique, try pink grout! The white fixtures harmonize with the whole design, and the pink grout gives it a whimsical touch. The pink floating shelves give the space vibrancy and more storage.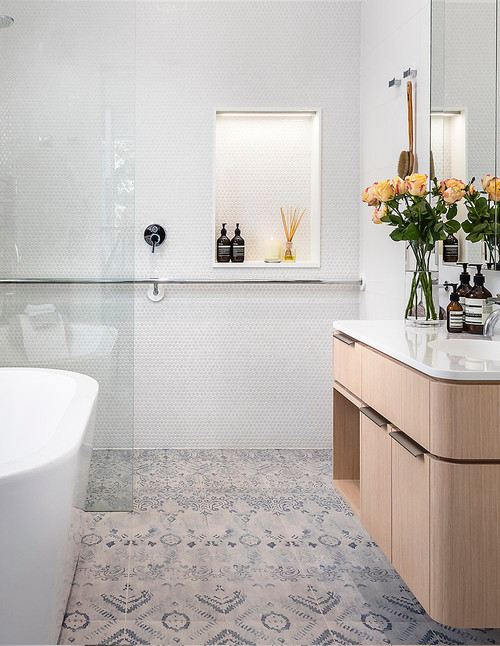 ID# 162010 | Houzz.com – Credit | © Mcmahon and Nerlich
---
Modern Bathroom with Light Wood Floating Vanity
The light wood vanity adds a warm welcome and a beautiful touch of nature to the space! The white freestanding tub adds a touch of luxury to the contemporary style. A clean and minimalist air is readily accomplished with white penny tiles gracing the shower, contributing to a sense of peace.
Gray Penny Tile Bathroom
Gray penny tiles are a perfect choice for homeowners who want to create contemporary, industrial or traditional bathroom looks! Blending gray penny tiles with gray bathroom vanity and chrome or chopper faucet provides an industrial-styled bathroom. Use gray penny tiles as a flooring material and blend them with wood bathroom vanities for the perfect traditional bathroom look.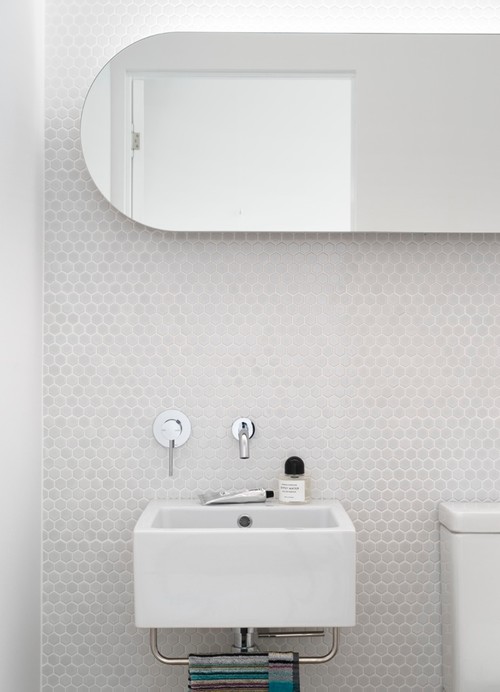 ID# 162011 | Houzz.com – Credit | © Campbell Architecture
---
Gray Penny Tile Bathroom Backsplash with Frameless Mirror
In this contemporary powder room, the light gray penny tile backsplash provides a clean and sleek backdrop. The white wall-mounted sink creates a cohesive look with the gray tiles while the frameless mirror softens the overall look with its rounded edges!!
Blue Penny Tile Bathroom
A blue penny tile bathroom is the best choice to bring the seaside effect into the bathroom space. Combining blue penny tile with other colors helps homeowners to bring any style to their bathrooms. For a modern look, use a blue penny tile with white subway-style walls and white bathroom vanities. Also, you can use blue penny tiles in the shower area to create an ocean vibe in the space. Blend the blue penny tiles with a wooden bathroom vanity to have a romantic style. So, a blue penny tile bathroom gives homeowners multiple bathroom styles, and it is easy to work with in the interior design world.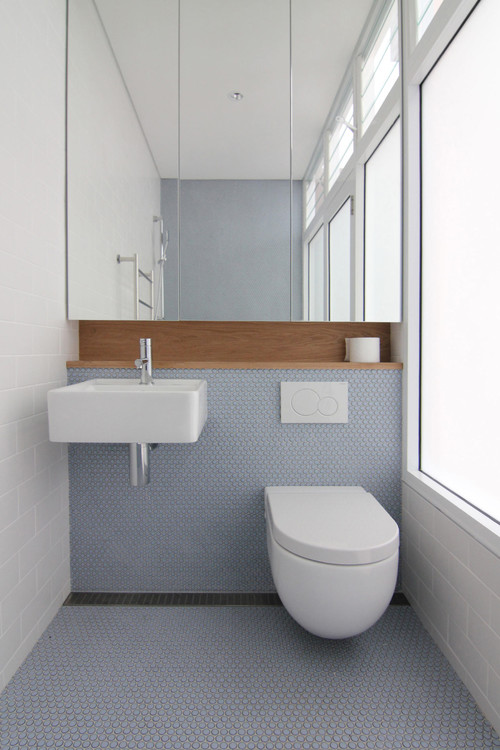 ID# 162012 | Houzz.com – Credit | © RAW Architects
---
Light Blue Wall and Floor Tiles with Wood Niche
The delicate light blue penny tiles bestow a tasteful and understated texture that elevates the room's appeal! Stretching towards the ceiling, mirrored upper cabinets serve not only as a practical storage solution but also reflect natural light, creating an illusion of spaciousness that gracefully expands the room.
Is penny tile outdated?
Although originally popular in the 1900s, penny tile has made a remarkable comeback in today's design landscape. Embracing a renewed popularity, penny tiles effortlessly transcend eras, seamlessly integrating into a variety of settings. Far from being outmoded, penny tiles remain a versatile and chic option to meet your bathroom decor aspirations.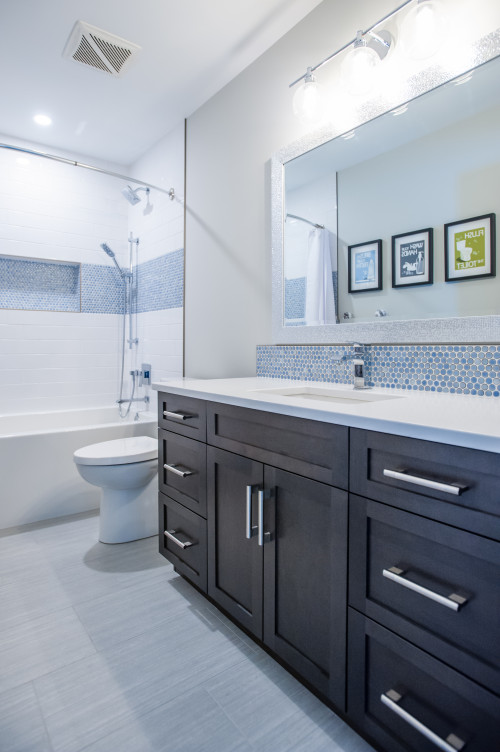 ID# 162013 | Houzz.com – Credit | © Revolving Rooms Interior Design Inc.
---
Traditional Bathroom with Wood Vanity and Blue Backsplash
Looking for a bathroom design that stands the test of time while exuding a touch of sophistication? Feast your eyes on this captivating classic bathroom, featuring a shaker vanity crafted from rich dark wood, generously accommodating all your bathroom essentials!! The vanity's allure is taken up a notch by a mesmerizing blue penny tile backsplash and infuse the space with both texture and a delightful pop of color.
Black Penny Tile Bathroom
Black penny tile bathrooms are trending among minimalist and modern design enthusiasts. The versatility of black penny tiles makes them an easy choice since they complement any color scheme. You may pair these tiles with a wooden vanity to create a cozy and welcoming ambiance. Alternatively, use them in a monochromatic white bathroom for a timeless and classic look. The possibilities are endless with black penny tiles, so unleash your creativity and transform your bathroom!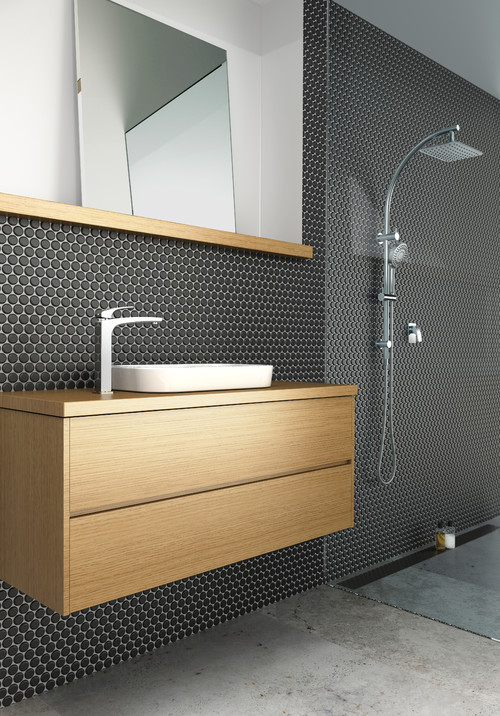 ID# 162014 | Houzz.com – Credit | © Phoenix Tapware
---
Black Penny Tile Bathroom with Wood Vanity
The dramatic black penny tile backsplash in this modern bathroom gives a distinctive touch to the decor! The white grout contrasts with the tiles and draws attention to the eye-catching design. The floating wood vanity adds warmth to the space while the huge frameless mirror reflects light and dramatically enlarges the room. The gray floor unifies the appearance and provides a refreshing contrast to the dark walls.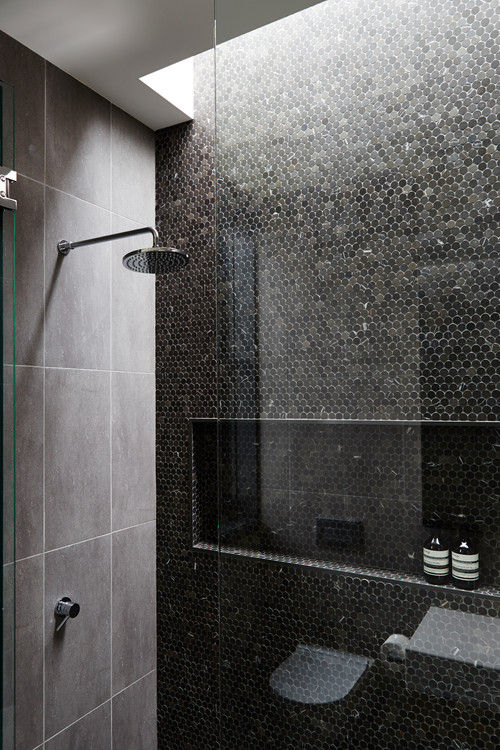 ID# 162015 | Houzz.com – Credit | © Project 12 Architecture
---
Black Shower Design with Built-in Niche
If you're looking to add a touch of sophistication and drama to your bathroom, a contemporary walk-in shower with black marble penny rounds might be just what you need! The same tiles are used in the built-in niche which provides practical storage space for shower essentials. Chrome fixtures complement the modern look of the shower and provide a sleek finish.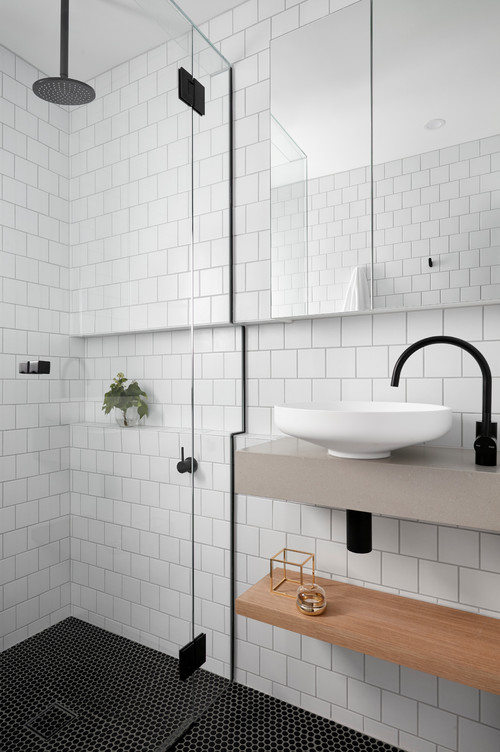 ID# 162016 | Houzz.com – Credit | © smarterBATHROOMS+
---
Scandinavian Bathroom with White Square Subway Tiles
Crisp white square subway tiles grace the walls, harmonizing with the striking black penny round tiles underfoot. Amidst this monochromatic symphony, a dance of contrasts emerges – black fixtures and a concrete top boasting a wooden shelf on the vanity. This cleverly designed undershelf not only offers additional storage but seamlessly integrates within the overall flow. A white vessel sink adds an understated touch of elegance and simplicity, completing a space where each detail intertwines to create a serene and effortlessly stylish oasis.
Design tip: If you are using open shelves in your bathroom, decorative baskets are the perfect storage units that can hide the clutter.
Black and White Penny Tile Bathroom
Pairing black and white together is the secret to having an elegant and stylish bathroom. To blend black and white together, you can use black and white penny rounds for flooring. In this way, you prevent a chaotic look, and you give your bathroom an aesthetic look. Black and white penny tile bathrooms add different patterns to the bathroom. You can design the flooring or wall patterns the way you want. So, they give character and a unique look to the bathroom space!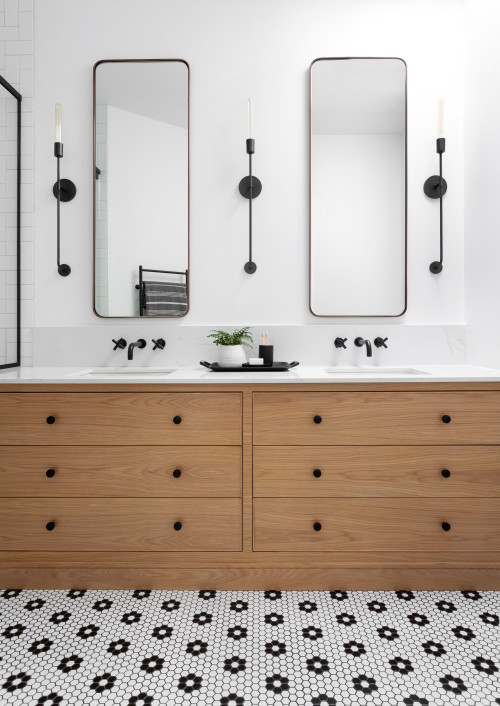 ID# 162017 | Houzz.com – Credit | © Hibou Design & Co.
---
Kid's Bathroom Design with Unique Black and White Floor Tiles
A distinctively designed white oak vanity with stunning black accents serves as the kids bathroom's focal point and has ample capacity for all the necessities a youngster would want. A humorous yet classic pattern develops against a background of black and white penny floor tiles, while whimsy floral designs on some of the tiles provide a touch of amusing charm. The contemporary black sconces, which offer adequate lighting and add to the bathroom's overall visual appeal, are intelligently positioned between the mirrors.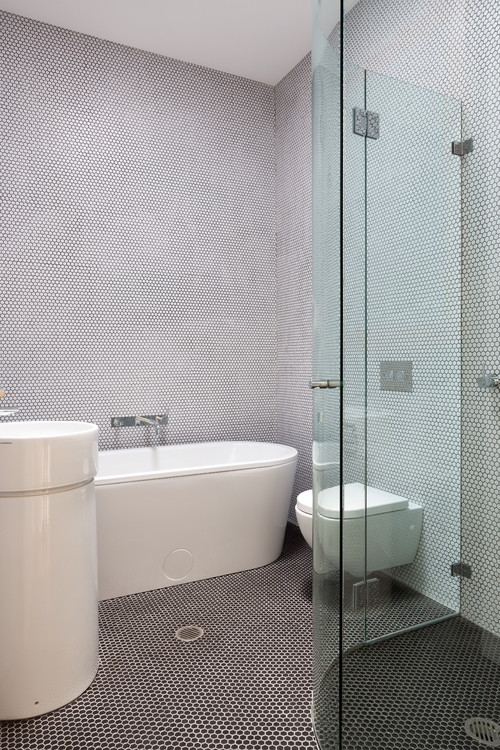 ID# 162018 | Houzz.com – Credit | © CAPITAL BUILDING
---
Black and White Penny Tile Bathroom with Contrasting Grout
Black floor tiles and white penny wall tiles work beautifully together to create a stunning aesthetic! The beautiful design of the penny tiles is emphasized with contrast-colored grout, which boosts their visual appeal. The area has a contemporary air thanks to the installation of the white bathroom furniture, which has a streamlined and organic form that is given life by simple and clean lines.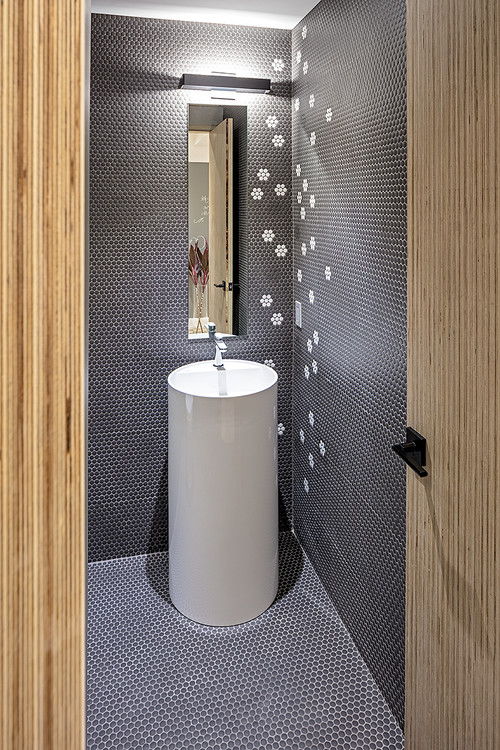 ID# 162019 | Houzz.com – Credit | © Peter A. Sellar – Architectural
---
Small Powder Room with White Freestanding Sink
With its predominately black penny tiles that line the walls and floor, this powder room exudes a stunningly elegant and daring ambiance. It's noteworthy the delicate flower pattern created from tiny white penny tiles that gives this tiny area a lively and whimsical touch. The unquestionably stylish and modern white freestanding sink makes optimal use of the small space while striking a pleasing contrast with the dark tiles.
Is Penny tile hard to keep clean?
Maintaining the appearance of penny tile is crucial, just like any other tile. But, due to the small grout lines, it requires a bit more effort when it comes to cleaning. Dirt and grime can stubbornly get trapped in the crevices, making routine cleaning less effective. Preventing staining by using grout sealer is a smart move, and will help lessen the time and expense required for cleaning. Gentle cleansers coupled with a soft-bristled brush will also aid you in keeping your penny tiles sparkling, without causing damage to the surface.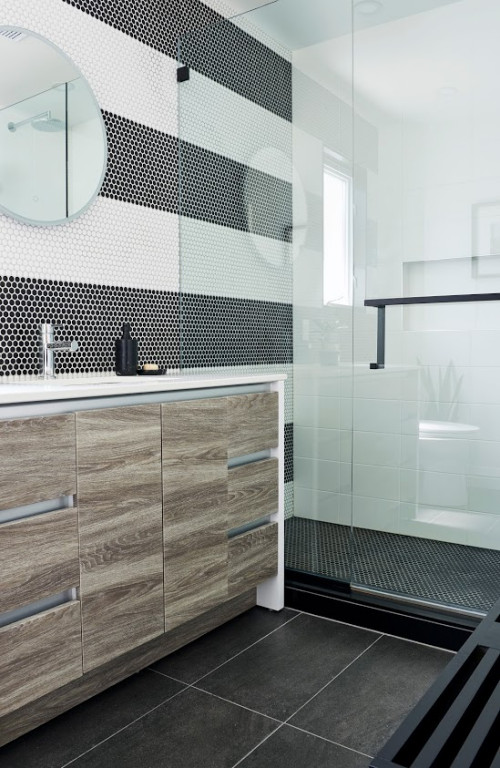 ID# 162020 | Houzz.com – Credit | © Julie Taylor Interiors
---
Beach Style Bathroom with Rustic Wood Vanity
Searching for a modern beach-style bathroom that boasts a captivating focal point? Your quest ends here!!! Feast your eyes on a striking black and white penny tile backsplash that injects a distinct and captivating essence into the space. Harmonizing with the beachy ambiance, a wood vanity takes center stage, its rustic charm seamlessly aligning with the room's coastal allure while infusing a welcoming warmth.
Marble Penny Tile Bathroom
The marble penny tile is the star of the bathrooms. It can easily add shine and elegance to the space. These lovely marble tiles are an ideal choice for contemporary and industrial-styled bathrooms. If you want to have a soft look in your bathroom space, you can use the marble penny tile on the floor and combine it with pastel bathroom vanities. Also, it looks amazing with a black shower cabin to contrast.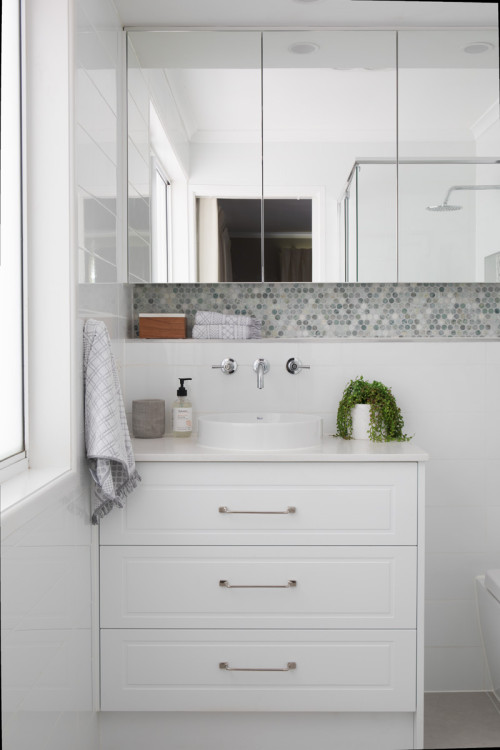 ID# 162021 | Houzz.com – Credit | © Elska Interiors
---
White Transitional Bathroom with Marble Tiles
A magnificent white vanity with a roomy white top and plenty of space to keep your bathroom essentials is located in the center of the space! Penny tiles made of pricey marble are included in a lovely built-in nook above it and adds a sense of elegance to the decor. Sleek mirrored upper cabinets with accents of polished chrome hardware give a room a modern minimalist feel while also adding more storage space.
How do you clean penny tiles in the shower?
Using a steam mop is the best and easiest way to clean penny tiles in the shower area. Steam helps to remove dirt. Also, you can pour vinegar into the area and clean it with the help of a brush.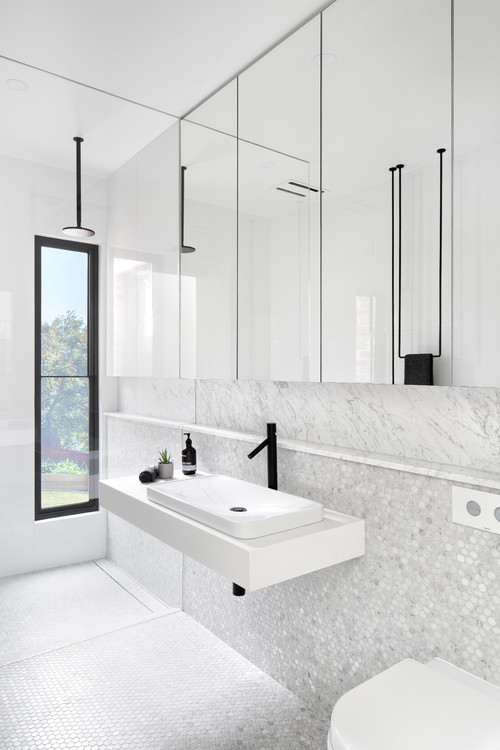 ID# 162022 | Houzz.com – Credit | © GIA Bathrooms & Kitchens
---
Minimalist Marble Bathroom Design with Black Accents
The walls and floor of the area are covered in exquisite marble penny tiles, giving it a unified, sumptuous aspect. In the middle of the bathroom is a white floating vanity with a modern, sleek design that blends in with the space's overall style. A recessed nook above the vanity offers the ideal place to display decorative items or keep everyday necessities. Upper cabinets with mirrors border the nook and reflect light and giving the space a feeling of openness.
Penny Tile Bathroom Floor
The flooring is very important for the look of the bathroom. Thanks to the penny tile bathroom floor, you can have a beautiful and trendy bathroom. Also, these classic tiles are affordable and easy to install!! Thus, it is very popular in the interior design world. You can style your bathroom by using penny tile flooring without being limited because it is customizable. For instance, you can use a marble penny tile on the floor to have a stunning and classic bathroom look. So, the penny tile bathroom floor provides a stylish and charming bathroom space through its harmony with other shapes and materials!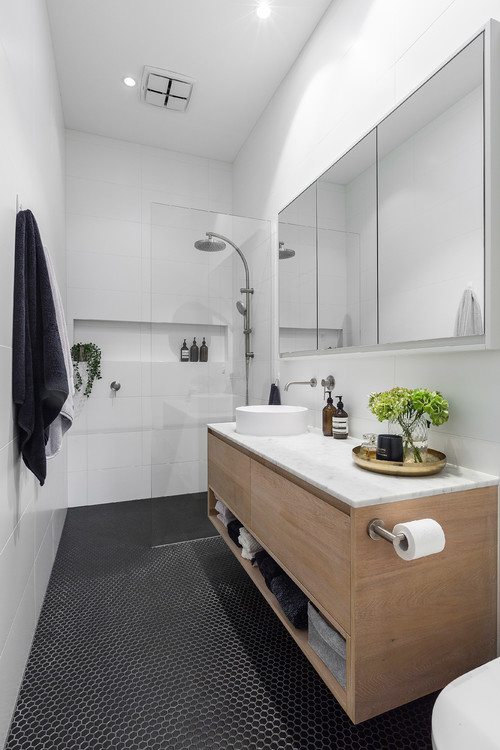 ID# 162023 | Houzz.com – Credit | © First Avenue Homes
---
Black Penny Tile Bathroom Floor with Wood Vanity
Anchored by a striking wood bathroom vanity that commands attention as the focal point. White countertops elegantly complement the natural wood hues, fostering a warm and inviting atmosphere, further heightened by the presence of a graceful white vessel sink atop the vanity. Expansive white porcelain wall tiles adorning the walls infuse the room with a sense of brightness and airiness, while the contrasting black penny tile floor delivers a modern and captivating visual juxtaposition.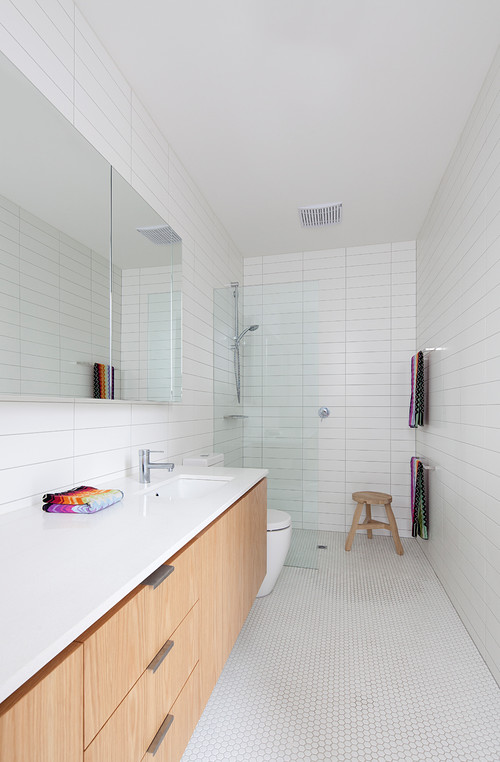 ID# 162024 | Houzz.com – Credit | © Prebuilt
---
Midcentury Bathroom with Large White Porcelain Wall Tiles
A wooden vanity harmoniously complements the walls adorned with a generously sized white subway tile backsplash, encapsulating an understated elegance. The white penny tiles that grace the floor introduce a discreet yet captivating texture and infuse the area with a sense of depth that evokes timeless allure.
Are penny tiles a fad?
Penny tiles have been a popular choice for bathrooms, kitchens and appealing accent walls for well over a century. Trends in design come and go, but penny tiles? They're like that reliable friend that always has your back, delivering both beauty and utility! Penny tiles are a dependable option that never goes out of style, whether you're a designer or a homeowner.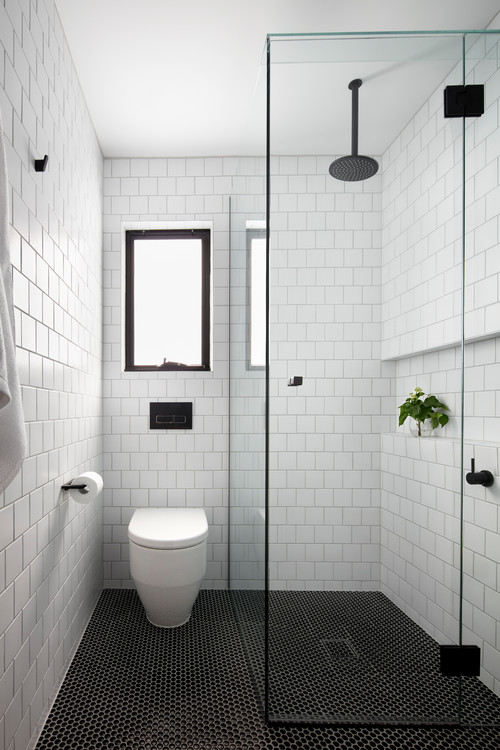 ID# 162025 | Houzz.com – Credit | © smarterBATHROOMS+
---
Black and White Bathroom Design with Square Subway Tile
Clean white square subway tiles fill the walls in this black and white Scandinavian bathroom, adding brightness and depth to the area. The black penny tile bathroom floor adds a bold contrast and a contemporary touch to the overall design! The walk-in shower is surrounded by glass doors that allow light to flow throughout the room.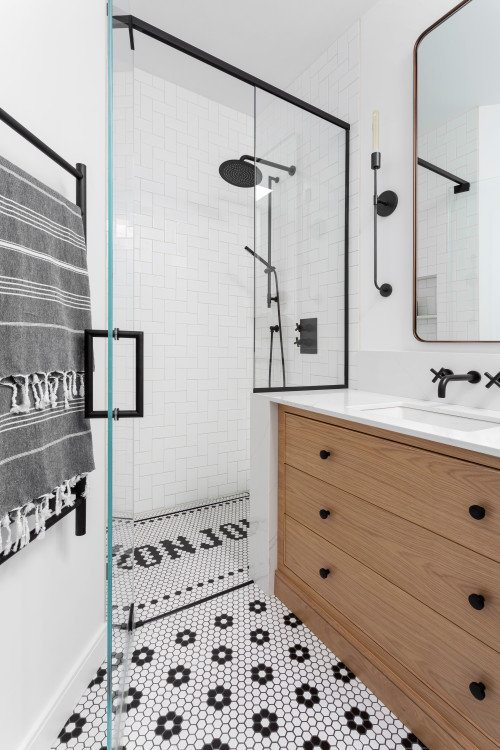 ID# 162026 | Houzz.com – Credit | © Hibou Design & Co.
---
Black and White Penny Tile Bathroom Floor with Wood Vanity
Look at those eye-catching black and white penny floor tiles that go so well with the wooden vanities!! Those vanities offer a warm touch while the black fixtures add a beautiful touch of simplicity that just oozes elegance!
Penny Tile Bathroom Walls
Wall materials are crucial in creating a nice bathroom. A poor pick may give the bathroom a claustrophobic appearance. But don't panic; penny tiles are available and are the simplest way to create a trendy bathroom. Penny tiles come in a variety of colors, sizes, and shapes. They are ideal for any style. Installing penny tiles on the bathroom walls is one of the greatest methods to use them. Penny tile bathroom walls completely transform the space and provide numerous design alternatives. For example, to provide a unique look to your bathroom, blend two different colored penny tiles on the walls. Or you can use them as a bathroom backsplash to create a stylish and functional wall space for your vanity. Also, metallic, or white penny tile bathroom walls are phenomenal options to have a contemporary bathroom space.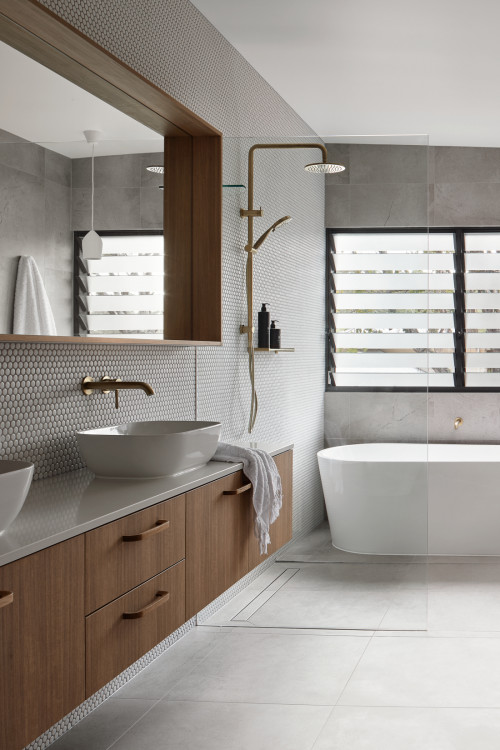 ID# 162027 | Houzz.com – Credit | © Maytree Studios
---
White Penny Tile Bathroom Walls for Beach Style Design
This modern beach style bathroom seamlessly blends coastal elements with contemporary design! The centerpiece of the space is a beautiful wood floating vanity with a sleek white countertop that features two white vessel sinks!! The wood hardware on the vanity adds warmth and texture while the brass fixtures provide a touch of elegance. The walls of the bathroom are adorned with white penny tiles which add texture and depth to the space. A white freestanding tub stands out against the white walls, offering a relaxing place to unwind after a long day.
How to install a penny tile bathroom?
Installing penny tile in a bathroom can be a fun and rewarding DIY project. Here are some general steps to guide you through the process:
Measure the bathroom floor or wall to determine the amount of penny tile needed.
Make sure that the surface is clean, smooth and dry.
Plan the layout of the penny tile, considering any cuts or custom designs.
Apply thin-set mortar to a small section of the surface with a notched trowel.
Press the penny tile sheets onto the thin-set mortar, starting at one corner and working outward.
Use tile spacers to ensure consistent spacing between the tiles.
Continue applying mortar and laying tile until the entire surface is covered.
Allow the thin-set mortar to dry according to manufacturer instructions.
Remove the tile spacers and use a wet saw or tile nippers to make any necessary cuts.
Apply grout between the penny tiles using a grout float, removing any excess with a damp sponge.
Allow the grout to dry for 24 hours and then apply a sealer to protect the penny tile from moisture and staining.
Remember to always follow manufacturer instructions for the specific products you are using, and if you're unsure about any step, don't hesitate to seek professional help.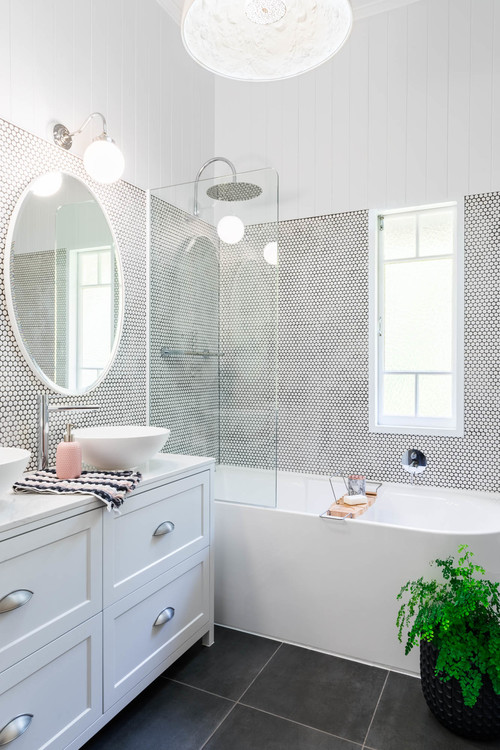 ID# 162029 | Houzz.com – Credit | © Bearcanvas Interiors
---
White Transitional Bathroom With Shaker Double Vanity
This transitional bathroom has a clean and classy style with its white shaker vanity, white top, and white vessel sinks. The solitary bathtub adds a beautiful and soothing element to the room! By striking a striking contrast with the black floor tiles, the white penny tile bathroom walls with black grout add depth and character to the space.