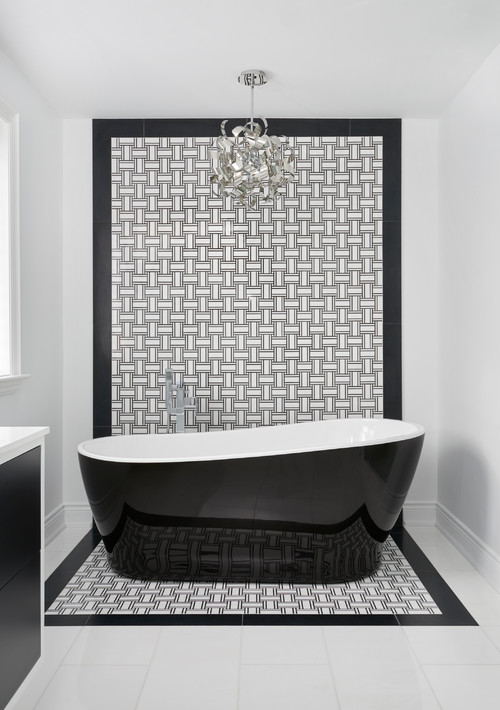 ID# 165503 | Houzz.com – Credit | © Jodie Rosen Design
---
Black and White Transitional Bathroom with Eye-catching Accent Wall
With its eye-catching wall and floor tiles, as well as the freestanding bathtub, this bathroom has a visually appealing appeal that will be a talking point for many years! The striking basketweave design of the black and white tiles provides an accent wall and draws attention to the tub area! The black freestanding tub, on the other hand, complements the tiles and adds a visual focal point.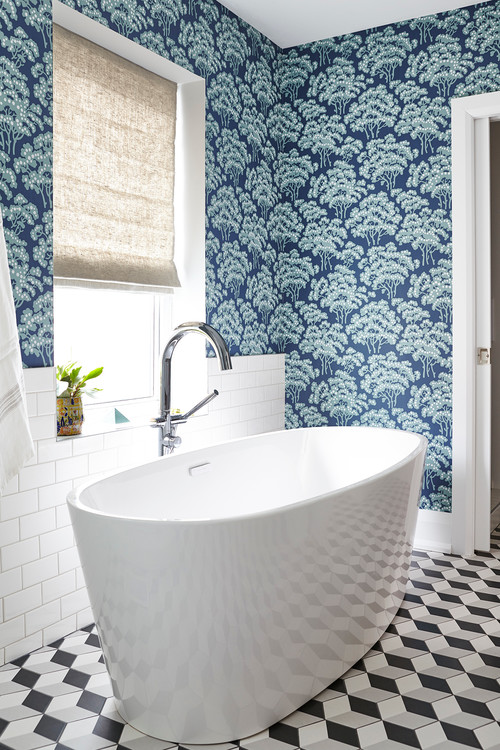 ID# 165529 | Houzz.com – Credit
---
Blue Bathroom Wallpaper Design with White Subway Tiles
The blue wallpaper design dominates the space with its eye-catching pattern and adds visual appeal. White freestanding tub in the bathroom's center provides a refuge of peace and luxury while black and white bathroom floor tiles lend a traditional touch and a vintage appeal. White subway tile on the wall provides a tidy and crisp surface behind the tub!
Bathroom Floor Tiles
One of the most significant rooms in our houses is the bathroom. Not just when it comes to selling your home since a bathroom with high-quality and attractive tiles will draw the attention of more purchasers. But it's also vital to take care of ourselves and treat ourselves once in a while. A nicely-decorated bathroom floor tiles imply that we will spend hours relaxing in our bathtub, feeling calmer and more serene and full of satisfaction. For this reason, when planning your bathroom makeover, bathroom floor tile ideas should be at the top of your priority list. When it comes to bathroom flooring, there are several options. Of course, bathroom floor tiles must be both durable and simple to clean, especially in busy family bathrooms, but that doesn't mean they can't also be fashionable.
Durable yet Stylish Bathroom Floor Tile Ideas
To furnish your ideal bathroom decor, you'll want to strike a balance between utility and design. Then, go on to the exciting part: updating your tiling and décor. Bathroom floor tiles may come in a variety of forms, from typical square tiles to hexagons and circles, and depending on the color palette and size, your floor tiles can have a significant influence on aesthetics. The bathroom floor tiles that you choose might help to create a unified aesthetic that connects the room's four walls.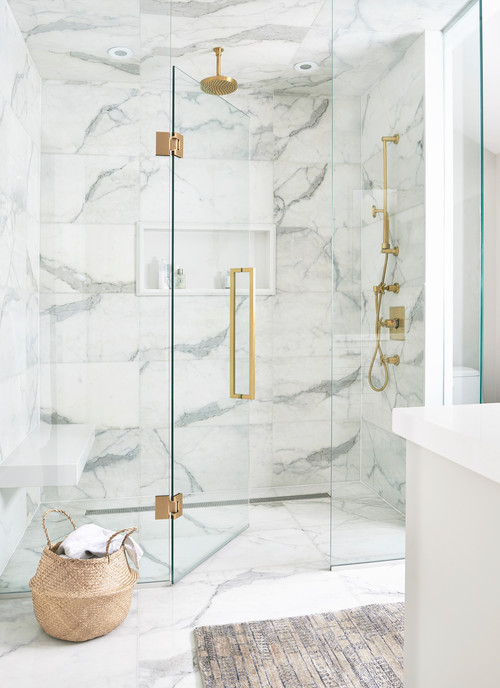 ID# 165501 | Houzz.com – Credit | © Shirley Meisels
---
Contemporary Walk-in Shower with Large Marble Tiles
Marble is one of the most precious materials that exudes a luxurious sense and if you want to incorprate this sophisticated material into your bathroom, you will love this contemporary design!! Here, marble tiles surround all the surfaces and create a relaxing spa-like retreat with a sense of luxury. On the other hand, the frameless glass doors of the walk-in shower lend an open and airy feel. For a final touch, the brass fixtures add a touch of glamour, complementing the marble tiles.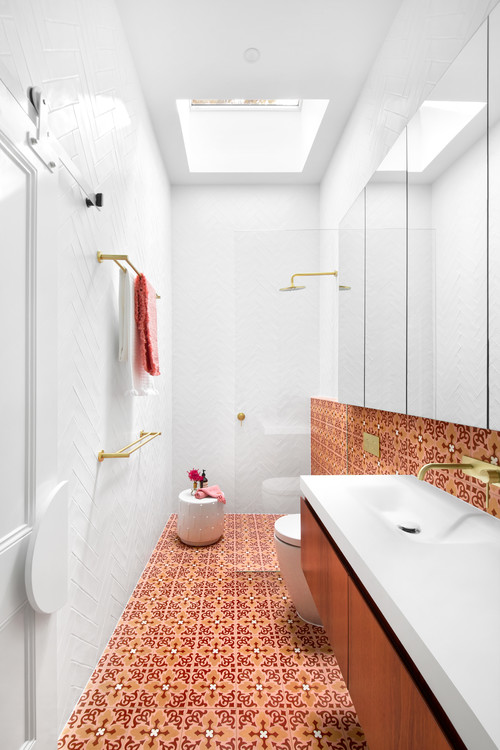 ID# 165502 | Houzz.com – Credit | © GIA Bathrooms & Kitchens
---
Colorful Design with Scandinavian Design Style and Flat-Panels
When the word "bathroom floor tiles" comes to mind you may think of all-white and marble designs, however, there are beautiful and bold designs that you can achieve, as in this bathroom. The red tile pattern of the bathroom floor is complemented with the same tiles with one wall that is used as a backsplash also. The wooden flat-panel cabinets and the white countertops keep the minimalistic and simple appeal. The white ceilings and the white walls brighten up the kitchen and blow up the red tiles of the floors and the backsplash wall.
Which type of tile is best for the bathroom floor?
When selecting bathroom tiles, consider elements such as look, strength, and cost. Ceramic and porcelain tiles are the most often used tiling materials for bathroom floors because they are inexpensive, long-lasting, scratch-resistant, maintenance-free and non-porous. Another benefit is that these tiles come in a wide range of colors, textures, forms, finishes, and patterns. Both ceramic and porcelain tiles are formed of clay, but porcelain tiles are created with finer clay and are exposed to greater temperatures and pressures. Porcelain tiles become denser, stronger, and more desirable as a result of this technique. Germ-free tiles with an antibacterial finish are also available to hinder the growth of germs and other diseases.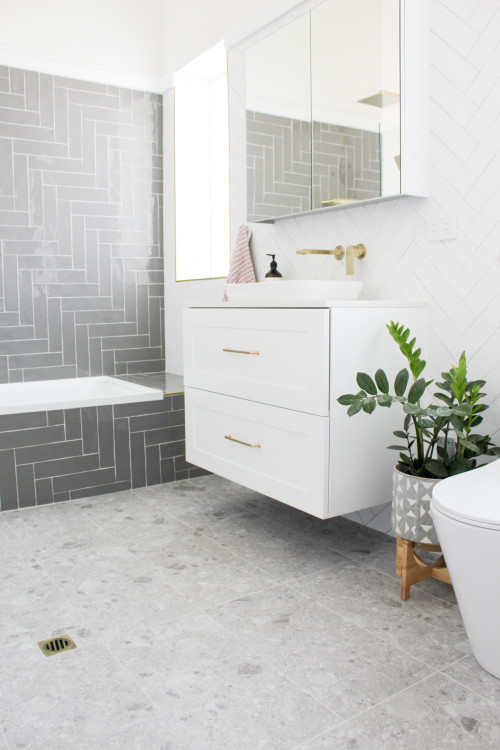 ID# 165504 | Houzz.com – Credit | © On The Ball Bathrooms
---
Light Gray Terrazzo Bathroom Floor Tiles with White Vanity
Gray is one of the most flexible hues, which is why utilizing gray bathroom floor tiles is a great approach to create a sleek and beautiful foundation for your area!! In this modern bathroom, the light gray terrazzo floor tiles provide a nice contrast against the white floating vanity and the white herringbone wall tiles. In the shower area, the dark gray herringbone tiling dominates the walls and tub surround to create a focal point.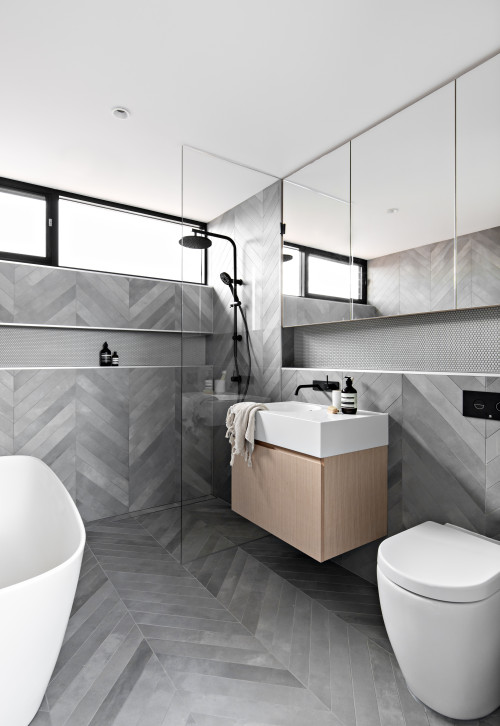 ID# 165505 | Houzz.com – Credit | © Renotech Building Pty Ltd
---
Modern Kitchen with Large Gray Chevron Tiles
The overpowering presence of huge gray chevron tiles on the walls and floor create a visually powerful and aesthetically beautiful atmosphere in this modern bathroom design. The light wood finish of the single sink floating vanity provides a sense of warmth to the whole area. Recessed niches with white penny tiles are ideal for efficient storage of bathroom supplies while also providing subtle texture to the design, enhancing both practicality and elegance. Mirrored top cabinets above the vanity contribute to the room's openness and spaciousness as a final touch!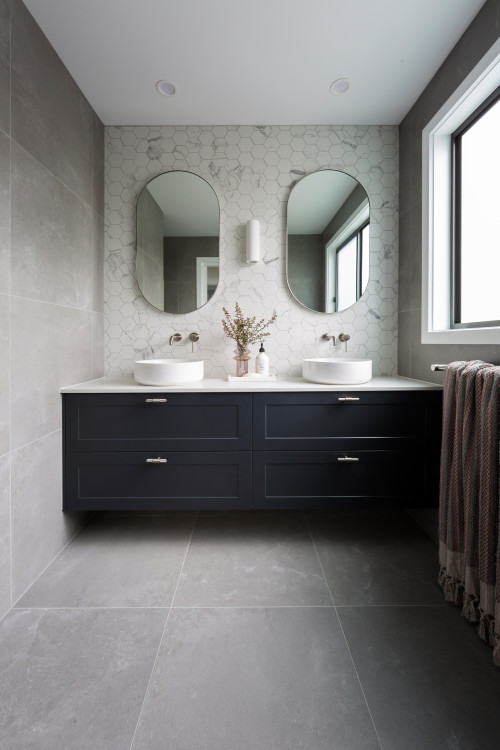 ID# 165506 | Houzz.com – Credit | © Studio Black Interiors
---
Dark Navy Blue Vanity with Marble Hexagon Backsplash Tiles
This modern bathroom emits a sleek and sophisticated ambience with its intriguing blend of dark navy, gray, and white tones!! The navy blue double sink vanity steals the show as the room's stunning focal point. This focal point is enhanced by a backdrop of marble hexagon backsplash tiles, which not only give a clean and fresh design but also provide a sumptuous touch with their marble feel.
Color Options for Bathroom Floor Tiles
The bathroom is a vital area in every home. It's a tranquil haven where we primp, brush our teeth, bathe, and conduct other vital tasks. However, for an important space design, décor, and the colors gain importance since they can affect your mood and your house's style. What are the ideal color options for bathroom floor tiles? There are a plethora of intriguing color possibilities whether you pick ceramic tile, wood, or natural stone flooring.
Bringing Mood and Style to the Bathroom with Colors
Choosing the proper color options for bathroom floor tiles is simple after you've decided on the perfect color family for your bathroom walls and fixtures. Consider if you want your bathroom to be dominated by cold or warm tones, and become acquainted with the color palettes of various flooring materials. Understand that what is feasible with wood flooring in your bathroom is not the same as what is achievable with glass tile, ceramic, vinyl, or natural stone flooring.
A decent rule of thumb is to keep the flooring darker than the walls and ceiling but feel free to deviate from this norm. Go ahead and install lighter-hued flooring or mix and match a vividly colored tile with a tough wall treatment. Your house should be a reflection of your individuality, so listen to your heart, spend sensibly on excellent flooring, and let home décor standards serve as a guide rather than inflexible dogma.
White Bathroom Floor Tiles
White bathroom floor tiles may be utilized to create a crisp, clean, and timeless room plan or as a neutral backdrop to brightly colored or patterned elements. They go with almost everything, making a space feel lighter and brighter, and last longer than a richly ornamented design. White bathroom floor tiles are clean, modern and entirely in style. White bathroom floor tiles are the ideal canvas for any design, color, or texture you choose. For a bohemian atmosphere, layer a vivid Persian rug over small hexagon tiles, or keep it simple with matte black fixtures and minimal décor. Classic subway tiles may be arranged in a creative pattern like herringbone or alternated with other hues like gray or sage to create a real one-of-a-kind design.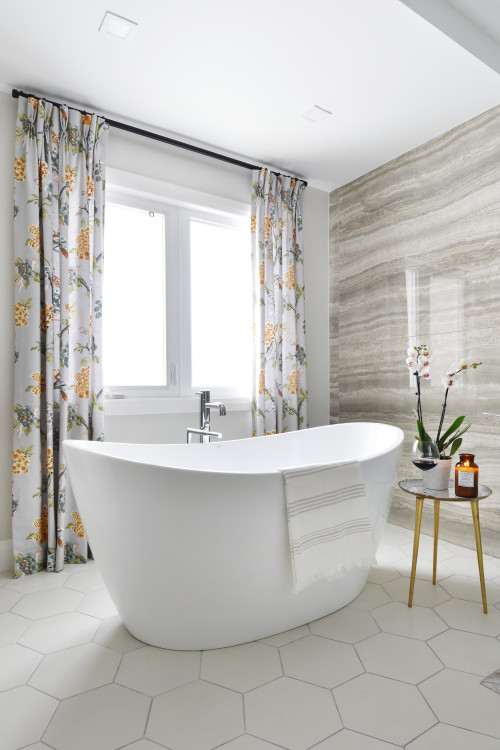 ID# 165507 | Houzz.com – Credit | © Sprague Interiors
---
White Freestanding Tub with Large Hexagon Bathroom Floor Tiles
Because of the utilization of different materials and patterns, this transitional bathroom emanates individuality. The white free-standing bathtub takes center stage and exudes sophistication with its curved form. The large hexagon floor tiles give texture while complementing the tub's clean and fresh appearance. The granite slab makes an accent wall in the rear. As a joyful final touch, the flowery design of the window shades brightens the space.
Design tip: Using larger tiles is a great way to reduce grout lines and create easier-to-maintain surfaces for your bathroom floor!
What size tile is best for the bathroom floor?
Traditional 12-inch by 12-inch tile is commonly used on bathroom floors because it is simple to cut with wet tile saws and rail tile cutters. A tile of this size also implies that even in the tiniest bathroom, you'll have a good number of full-size tiles. Keeping this in mind, 4-inch by 4-inch tile also looks great in small bathrooms and powder rooms. If you want to use big format tile in your bathroom, first determine the square footage of the space. This will help you figure out how many full-size tiles you'll need. A decent plan for large format tile in a tiny bathroom would be four tiles down the length of the bathroom and three across the breadth. Less than three tiles across the width might appear strange, especially if you need to chop any of these tiles down.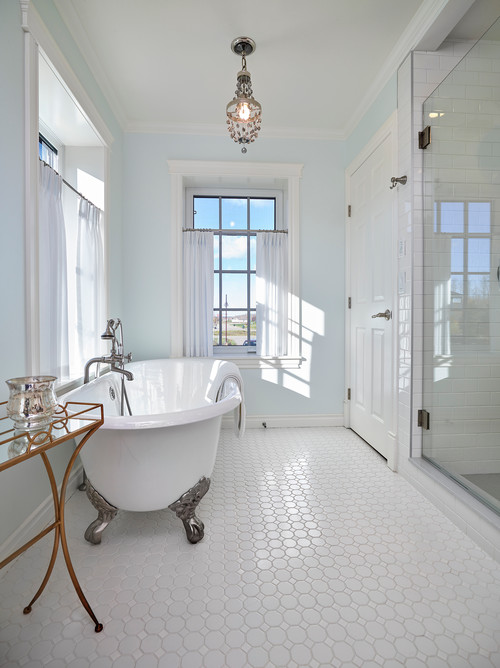 ID# 165508 | Houzz.com – Credit
---
Clawfoot Bathtub with Light Blue Wall Paint
The well-chosen details in this transitional bathroom reflect the Victorian era's timeless elegance and sophistication!! The gorgeous clawfoot bathtub takes the stage as a focal point of the design, allowing luxurious atmosphere. The light blue wall paint creates a serene and relaxing feel while complementing the overall design. Beneath your feet, the white hexagon floor tiles provide a clean and fresh base with a dose of texture.
Gray Bathroom Floor Tiles
Gray has been a great favorite in our interior life for many years now, and it's simple to understand why gray bathroom floor tiles are on our inspiration wishlist as well. For starters, gray comes in a wide range of shades, making it incredibly versatile – from barely there to charcoal – the spectrum is broad. It's also a great neutral since it goes with almost every other hue and looks great when textured. Gray tile is a great choice for the bathroom floors since it goes with almost everything. There are several alternatives available, ranging from low-cost picks to high-end splurges. However, because there are so many alternatives, these two aspects make it tough to choose the ideal gray bathroom floor tiles.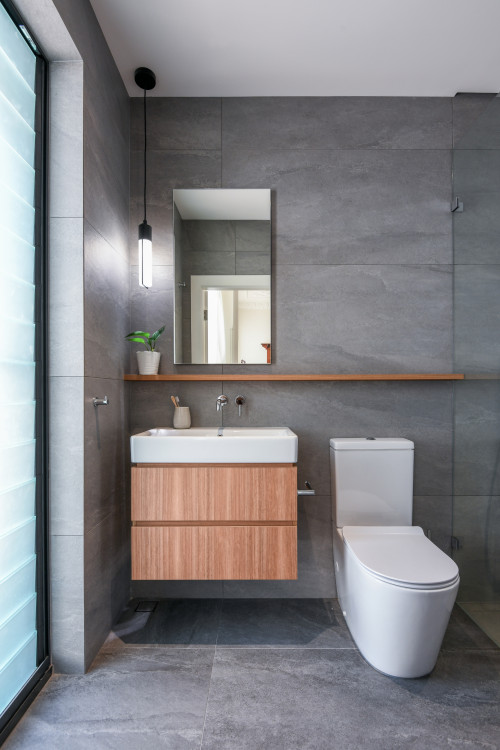 ID# 165509 | Houzz.com – Credit | © Improva
---
Gray Bathroom Floor Tiles with Wood Flat-Panel Vanity
The gray ceramic tiles for the walls and the floors complement each other creating a serene atmosphere for the powder room. The flat-panel wood vanity and the wood shelf bring a focal point in front of the gray canvas. Thanks to the frameless mirror the bathroom has a simple and sleek appeal. The white console sink and the two-piece toilet add a bright and clean look.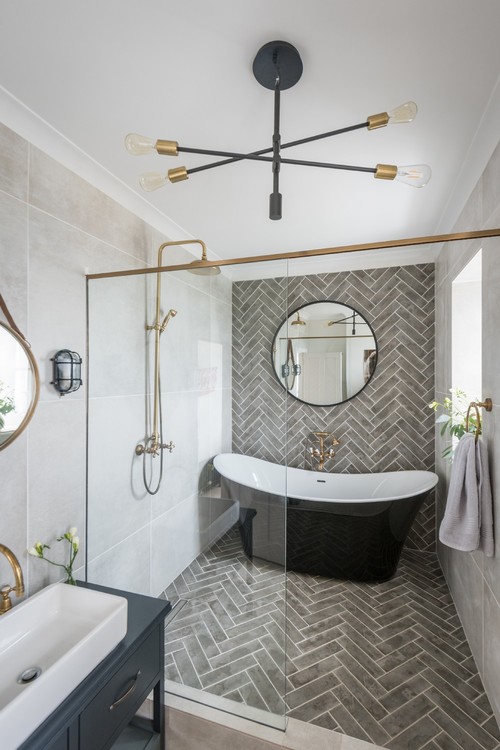 ID# 165510 | Houzz.com – Credit | © Unique Homestays
---
industrial Bathroom with Stone-Look Herringbone Tiles
In this stylish industrial bathroom, the stone-look herringbone tiles in the shower become a captivating focal point, adding a touch of texture and industrial charm!! The black freestanding tub creates a cohesive look with the stone tiles while creating a sense of modern luxury in the space. Above the tub, the circular bathroom mirror reflects the industrial elements and enhances the visual appeal. Throughout the bathroom, the brass details make a perfect final touch that add a warm feel.
How much does it cost to tile a small bathroom floor?
A bathroom floor tile costs roughly $17 per square foot on average. Cheap tile installation starts at about $10 per square foot, while luxury tile installation can cost up to $22 per square foot. The tile, supplies, and labor are all included in the price.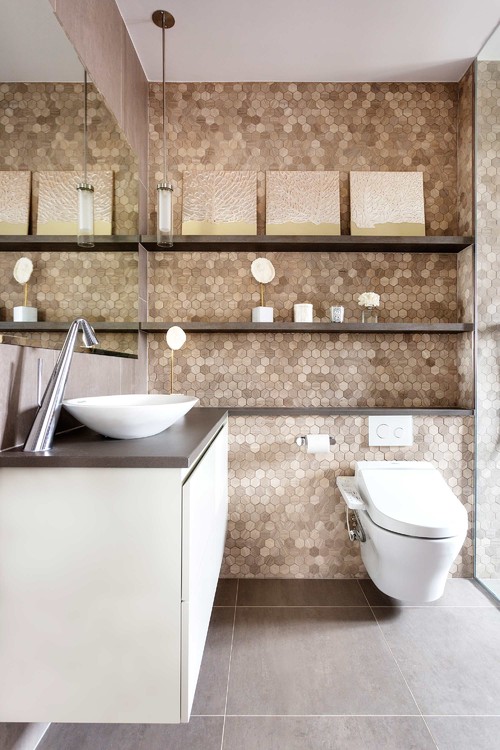 ID# 165511 | Houzz.com – Credit | © Zulufish
---
Wood-Look Porcelain Bathroom Floor Tiles with Hexagon Tiled Accent Wall
Thanks to the wide variety of style options, tiles allow you to create one-of-a-kind appeals for your bathroom walls. With their wood-look texture and eye-catching geometrical pattern, the beige hexagon tiles create a striking focal point in this contemporary bathroom. The wood floating shelves and decorations on them highlight the hex-tiled accent walls and enhance visual interest. For a cohesive final touch, the wood-look porcelain floor tile completes the neutral color scheme and bring depth to the space!
Black Bathroom Floor Tiles
Choosing black bathroom floor tiles might be difficult if you don't have any assistance. Are you looking for a sleek modern style or a darker feel for the decor of your home? Regardless, we are fascinated as well, and we have explored this issue and have some fantastic ideas to share with you. Black may appear to be a contentious color to employ in interiors, but it is unquestionably striking; the great dramatic impact of black mesmerizes our eyes and produces the most elegant environments ever!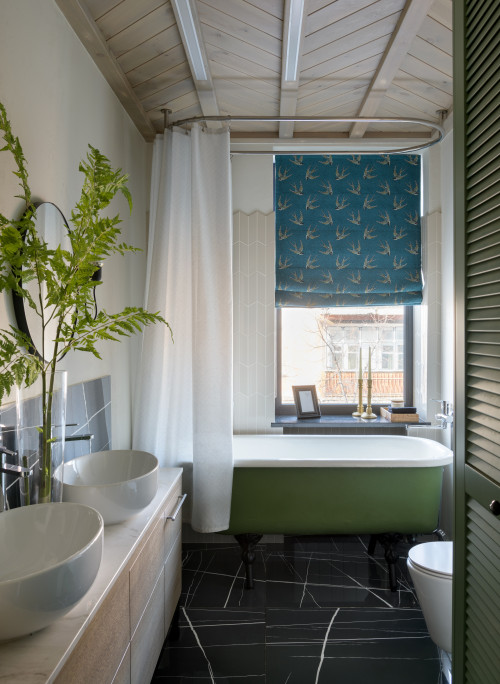 ID# 165512 | Houzz.com – Credit | © Alexandra Protasova
---
Green Clawfoot Tub with Blue Patterned Window Treatment
Wow!! Each detail in this contemporary bathroom acts as a piece of art and offers a one-of-a-kind appeal together. The green clawfoot tub directly draws attention to this space, creating a joyful focal point. The blue patterned window treatment complements this creative design. The wood double sink vanity and unique wood ceiling design enhance the warm feel. On the other hand, the black marble floor tiles make an unexpected twist and bring a sense of luxury to the room.
How to tile a bathroom floor?
Bathroom tile is one of the most durable, moisture-resistant, and visually appealing floor coverings available. Installing bathroom tiles yourself is a mid-level job with a moderate skill curve that most homeowners can do. The end product is stunning, with greater performance for years to come. To tile a bathroom there are several things that you can do;
Make the Subfloor
The subfloor in the bathroom should be flat, level, and free of damage. Water damage near the shower/tub, toilet, and sink may be discovered when rebuilding an old bathroom. Replace any damaged subfloor with similar material. Use 3/4-inch tongue-and-groove plywood for rebuilding the whole subfloor. If the subfloor does not need to be replaced but has low places or slight dips, mix and pour a floor leveling compound on such areas before allowing it to dry completely.
Place the Uncoupling Tile Membrane in place.
Transfer the size of the bathroom floor to the off-site uncoupling tile membrane with a tape measure, marking the membrane with an indelible marker. Remove the membrane. Skim out any unaltered thin-set grout from the subfloor, then press the membrane into the still-wet thinset. To seat the membrane, press firmly. Allow 24 hours for the membrane and thin-set to bind.
Create a tile layout.
There are various tile designs to pick from, depending on the size and style of the bathroom, as well as the tile itself. Grid, brickwork, and diagonal are just a few examples. Using the vertical line feature of the chalk snap line or laser level, draw a line along the middle of the room. Determine the middle point with the tape measure.
Layout the Tiles Dry-Fit
Dry-fit your tile, starting from the center line and working your way out. Experiment with various positions. Ideally, full-size, uncut tiles should be used in the most prominent areas.
Remove the door jambs.
If you leave the door jambs in place, set a tile on top of a thin cardboard spacer. Make a pencil mark on the door jambs. Remove the tile and spacer, then use the multi-tool to cut the door jambs.
Fill the Cavities in the Tile Membrane
In a bucket, combine the thin-set (if using a dry mix). Fill the tile membrane voids with thin-set mortar using the straight, unnotched side of the trowel.
Thinset should be used to install the tiles.
Spread thin-set mortar across a small part of the floor, roughly 2 feet by 2 feet, with the notched side of the trowel. Thin-set should also be used to butter the back of a tile. Firmly press the tile into the floor. As you progress to adjacent tiles, insert tile spacers.
The tile should be cut.
As you work your way through the installation, trim the tile to size as you go. A rail (or snap) tile cutter or a wet tile saw can be used to cut edge tiles. A tile nipper can be used to make cutouts for field tiles (specifically, for the toilet).
Use Tile Grout.
Mix the tile grout and apply it with the rubber grout float after the tile has fully cured (approximately 24 to 48 hours). Pull the float diagonally across the tiles toward you.
Get Rid of the Grout Haze.
After the grout has been set, mix grout haze remover with cold water in a bucket. With the tile sponge, remove the grout haze from the tile surface.
Grout should be sealed.
Apply grout sealer once the tile has cured. Water will not be able to percolate through the tile joints or under the tiles as a result of this.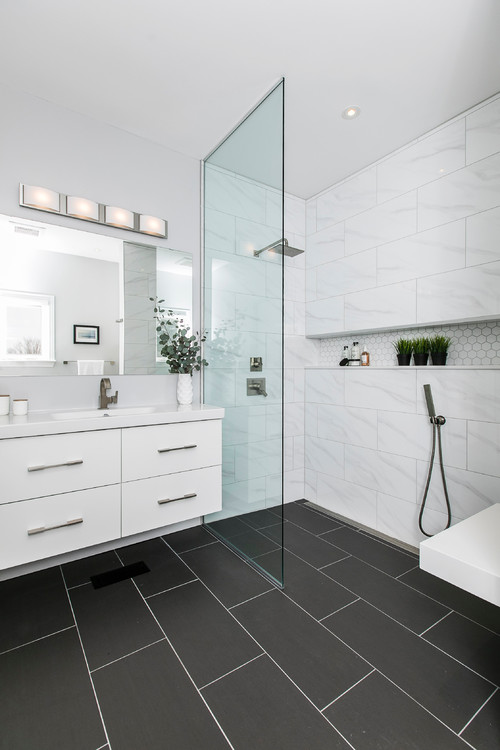 ID# 165513 | Houzz.com – Credit | © Jen Robinson Design
---
Large Black Bathroom Floor Tiles with Marble-Look Wall Tiles
If you're creating an all-white bathroom, consider installing black floor tiles to add visual appeal by creating a sharp contrast! The large black floor tiles in this modern bathroom contrast against the white components such as the vanity and wall tiles, adding depth and beauty to the area. The natural marble texture of the white porcelain shower wall tiles wonderfully compliments the elegant appeal of the black. Even though it appears to be a little detail, the white hexagon tiled niche not only gives a space for bathroom necessities but also adds a layer of texture.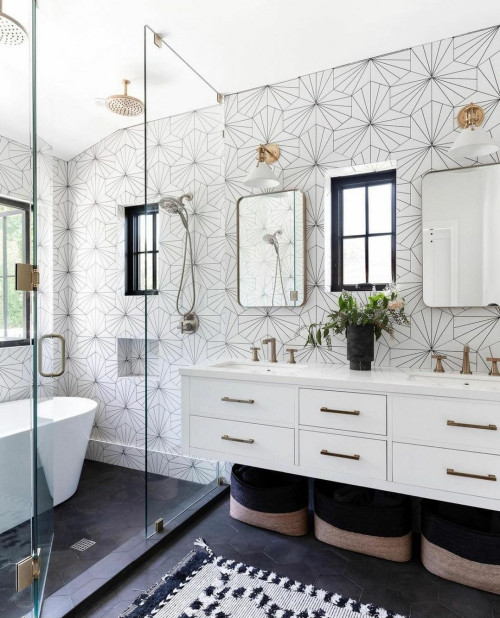 ID# 165514 | Houzz.com – Credit
---
White Floating Vanity with Black and White Wall Tiles
Have you ever seen floral designs that are more geometric in shape? That's why this modern bathroom provides us with. These huge format white patterned tiles that reach from floor to ceiling add visual interest. They are joined by smaller-sized black hexagon floor tiles to accommodate more fractions. Additionally, the fashionable runner provides additional warmth and comfort for a user-friendly design. A floating vanity also frees up more space on the floor, which may be measured by the positioning of baskets with wicker bottoms. The white and black contrast color scheme is broken up by the warmth of the brushed brass hardware.
Patterned Bathroom Floor Tiles
The options for patterned bathroom floor tiles are truly limitless, and like with many interior design decisions, attempting to choose the ideal tile for your space may be daunting. But don't worry, we've done the legwork for you and picked together some of the beautiful, patterned bathroom floor tiles ideas. Everyone can find a bathroom design that they like. With so many beautiful, patterned bathroom floor tiles to choose from, it might be difficult to limit your selections. However, to simplify this procedure, examine how the tile's scale will affect the space. For example, if you have a large bathroom, large format tiles are a wonderful choice since you'll need less of them, they'll be easier to install, and you'll save money on labor. Choose mid-sized, white-dominated patterned bathroom floor tiles for tiny bathrooms to provide light and create the sense of a larger area.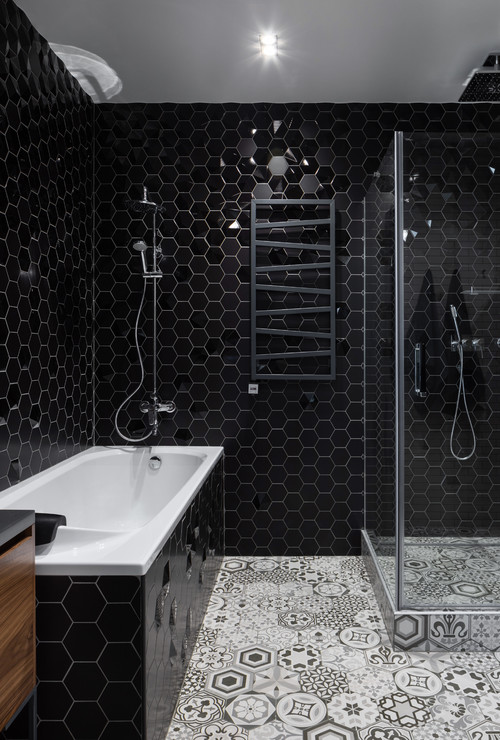 ID# 165515 | Houzz.com – Credit | © Дарья Ельникова
---
Patterned Bathroom Floor Tiles with Black Hexagon Tiles for a Contemporary Bathroom
With its black hexagon wall tiles, this contemporary black guest bathroom design is eye-catching. The patterned floor tiles soften the austere appearance. The light-colored and patterned floor tiles add spontaneous movement to the otherwise dark setting. The gray patterns on the floors brighten and contrast with the black walls.
How to clean bathroom floor tiles?
Tile flooring may last a lifetime if properly cared for. Fortunately, when compared to other forms of flooring, tile is relatively low-maintenance. Fill a bucket halfway with boiling water, 1/2 cup vinegar, and 1/2 tablespoon dish soap. If you use too much soap, the soapy residue may diminish the appearance of your flooring. Before mopping, rinse the mop head under hot running water to eliminate any residue from the last time it was used. Soapy water should be used to clean the tile flooring.
Shape Options For Bathroom Floor Tiles
When it comes to bathroom tile ideas, the good news is that there is a plethora of styles, colors, and shape options for bathroom floor tiles to choose from. There are also lots of beautiful tiles for those on a low budget. The most effective bathrooms make use of the numerous alternatives presently available. Bathroom tiles are available in an almost limitless variety of materials, finishes, and pricing ranges, so there is a bathroom tile design for everyone, regardless of style. Once you decide on the other things such as the style of the bathroom or the color of the combinations, the shape options for bathroom floor tiles step forward. And again, you can find yourself in an endless variety of shape options for bathroom floor tiles. There are hexagon floor tiles that you can create a contemporary appeal or penny floor tiles that you can bring a minimalistic touch.
Hexagon Bathroom Floor Tiles
Shapes improve the appearance of any area. The hexagon tile, with its evocative six-sided design, may radically remodel any bathroom. It makes no difference whether it's an en-suite, a family bathroom, or a courtesy bathroom. Using a feature tile, such as the hexagon, is a proven way to upgrade your bathroom. Depending on the tile size, color, and pattern, the hexagon shape lends itself to a wide range of décor styles. The hexagon bathroom floor tiles provide a foundation for the remainder of the bathroom's décor, conveying the bathroom's style. Different sizes of tiles, as well as finishes, are more or less acceptable depending on the proportions of the bathroom.
Are porcelain tiles good for bathroom floors?
Porcelain, which is made from a better clay blend than ceramic, goes through a laborious kiln fire procedure before being ornamented with a glossy finish or retaining its natural, unglazed attractiveness. Glazed porcelain tile flooring are an unbeatable choice due to their exceptional longevity and sturdy structure. Porcelain has a very low absorption rate, making it an excellent moisture barrier. Its capacity to withstand water and humidity makes it a genuine champion of perseverance. Not only that, but porcelain is less porous than ceramic, fighting off any scratches and chips with exquisite elegance.
Penny Bathroom Floor Tiles
The simple penny tile, like the humble penny coin for which it is called, is nearly negligible on its own. However, when combined with other penny tiles, it creates a dynamic, eye-catching bathroom tile design choice. Penny tiles can be used for a bathroom backsplash or a floor, and they can be all one color, a rainbow of colors, or a skillfully designed pattern of only one or two colors. Penny bathroom floor tiles can even be real coins at times.
Do you tile the bathroom floor or wall first?
While you can tile either one first, common opinion and experience suggest that if you are tiling both in a room, it is easier to tile the walls first and then the floor. This keeps the floor tiles cleaner because you won't be performing as much work around them once they're placed.
Material Options for Bathroom Floor Tiles
When it comes to bathroom flooring, most homeowners are concerned with picking appealing, long-lasting material options for bathroom floor tiles that complement their style. However, there is one significant distinction between bathroom flooring and another room flooring: bathroom surfaces must be waterproof. Choosing a floor that fits that need should be priority number one. Consider how the flooring will function under stress when selecting material options for bathroom floor tiles. And in this situation, the stressful event involves a lot of water. Water is so common in restrooms that it is no longer an aberration. Water is all over the place: on the walls, the ceiling, and the floor. Moisture will quickly deteriorate the incorrect flooring.
To make matters even more difficult, you must finally bring those additional considerations into the conversation. If moisture were the only consideration, sheet vinyl or ceramic tile would almost certainly win every time. However, additional aspects lias durability, beauty, cost, and convenience of installation must also be addressed.
Marble Bathroom Floor Tiles
Marble tiles, made from nature's masterpiece combine ageless beauty with unrivaled durability. As your feet hit the smooth and beautiful patterns of marble, each stride becomes a touch of luxury. Whether you like traditional luxury or modern sophistication, marble bathroom floor tiles may bring a touch of grandeur to your area, transforming it into a sanctuary of sophisticated enjoyment!!
Ceramic Bathroom Floor Tiles
Ceramic bathroom floor tiles are a popular choice for the bathroom floor. They are water-resistant, stain-resistant, and won't absorb bacteria or smells. They are an excellent choice for a high-traffic bathroom. Ceramic tile is available in a variety of colors and styles for a sleek, opulent appearance. Tile sizes range from microscopic mosaic to huge format, and they are available in almost every design conceivable. Choose from practically any installation pattern and accent ornamental components with trim pieces, borders, and inlays. For visual intrigue, mix and match colors and sizes, or use the same styles on the walls, countertop, and shower for a unified design.
Porcelain Bathroom Floor Tiles
Because of its waterproof nature, affordability, and aesthetic value, porcelain tile is one of the best options for bathroom flooring!! This tile has a stone-like appearance that is rich, rough, and substantial. It is also weatherproof, similar to vinyl, and has a lovely aesthetic, similar to wood flooring. Thanks to the huge number of style options, you can easily develop any desired design in your home, ranging from a soothing spa style to a grandiose and luxurious bathroom plan. Another advantage of porcelain tiles is their adaptability and resilience, which results in a long-lasting floor surface.
How to grout bathroom floor tile?
Grouting is one of the most basic aspects of DIY tiling. There is no secret to learning how to grout tiles; you simply need to be willing to put in some effort. Before you begin, make sure your glue is completely dry. Continue reading to find out how to grout tiles step by step.
Step 1: Prepare the Grout
To achieve a thorough mix with no lumps, add the water first, followed by the powder. Follow the directions on the package to get a thick paste-like consistency.
Step 2: Put on the Grout
Push the grout into the joints and compress them by wiping over the joints at an angle. Grout should not be applied to the corners where walls meet floors or where two walls meet. You'll need to use silicone here. View images of how to grout wall tiles.
Step 3: Scrub the Tiles
Allow time for the grout to cure and a film to form on the face of the tiles. The length of time it takes to dry depends on the weather. The extra grout should then be removed. Use a slightly moist sponge to clean up. Don't wash or get the floor too damp. The difficulty here is to remove the film away from the tiles without soaking the grouted seam. Continue rinsing your sponge as you go and changing your water as needed.
Step 4: It's time to dry buff!
After you've cleaned most of the grout off the tiles, go over them again with the moist sponge. When the grout is dry, use a clean, dry cloth or sponge to buff over the tiles. If dry grout remains, a cement residue remover may be required. We recommend using a grout sealant when the grout has dried fully after 48 hours.