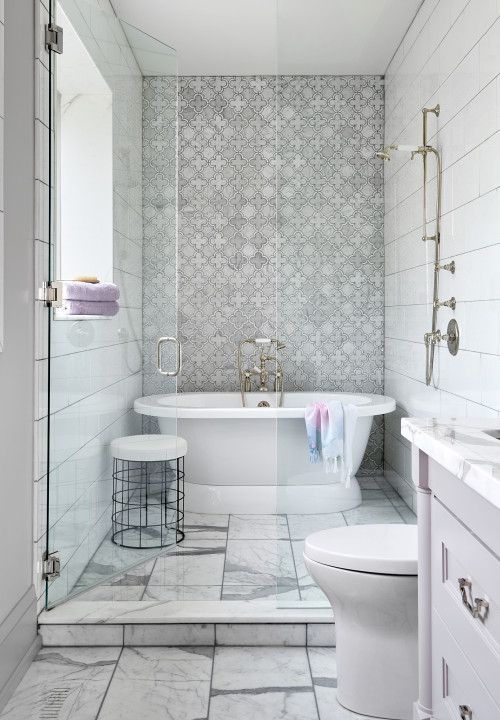 ID# 162607 | Houzz.com – Credit | © Homekin
---
Traditional Bathroom with White Freestanding Bathtub
Wow, this traditional bathroom exudes elegance with its stunning marble features! The focal point of the space is a gorgeous white freestanding tub that effortlessly captures your attention. Glossy white tiles cover the walls, providing a clean and fresh aesthetic. The accent wall located behind the tub is adorned with breathtaking arabesque marble tiles that add texture and captivate the eye. Lastly, the marble-look floor tiles infuse an undeniable sense of luxury into the overall ambiance of the room.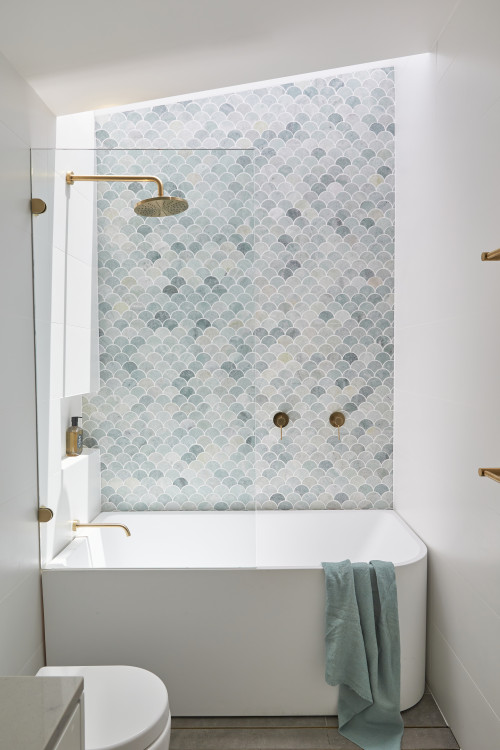 ID# 162625 | Houzz.com – Credit | © Annie Bowen Design
---
Fish Scale Tiled Accent Wall with White Bathtub
The bathroom features marble fish scale tiles on the shower walls, creating an eye-catching focal point in the space. The pristine white bathtub creates a clean and fresh appeal while the modern frameless glass partition allows the tiles to stand out. The gold accents, seen in the shower head and other fixtures, add a touch of glamour and sophistication to the room.
Marble Tile Shower
Marble tile showers are a popular choice for bathrooms due to their elegant and luxurious look. These tiles come in a range of colors, patterns and finishes, allowing for versatility in design. Some popular options for marble tile showers include Carrara marble, Calacatta marble, and Crema Marfil marble. Marble tiles can be used on the shower walls, floor, and even ceiling, creating a cohesive and sophisticated look! So, if you want to incorporate this natural beauty in your bathroom, scroll down and check out these stunning marble tile shower ideas!
Marble tiles can transform any bathroom into a luxurious and elegant space. But to maintain the beauty of marble, regular upkeep is necessary. It's vital to seal the tile and grout as marble is an absorbent stone to prevent any unwanted water or stains from penetrating the surface. One of the biggest disadvantages of these tiles is their high price tags. Yes, it might be a little more expensive than other tiles such as ceramic but this investment definitely worth it! But, if you are on a budget, you may consider also marble-look tiles such as porcelain.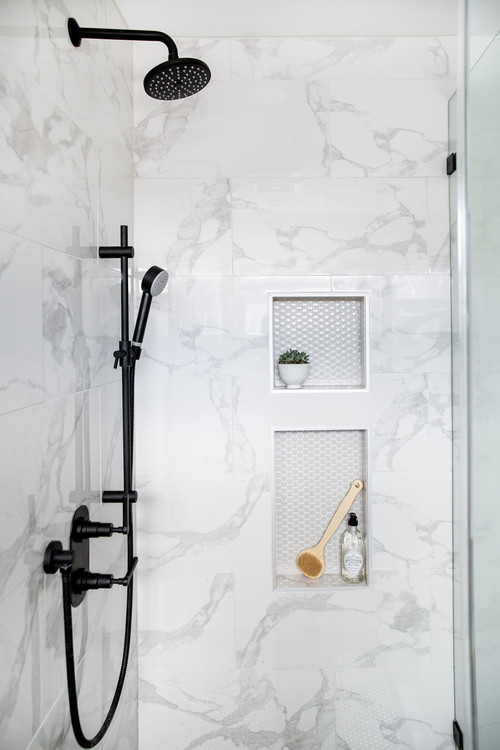 ID# 162601 | Houzz.com – Credit | © Neelam Interiors
---
White Transitional Shower Design with Black Fixtures
A transitional shower with a sleek and sophisticated design! The shower walls are covered in beautiful white marble-look tiles, adding a touch of elegance to the space. A white penny tile niche in the shower provides storage for shower essentials while also adding visual interest. The black shower head creates a striking contrast against the white tiles, adding a modern touch to the overall design. This shower is the perfect blend of classic and contemporary styles.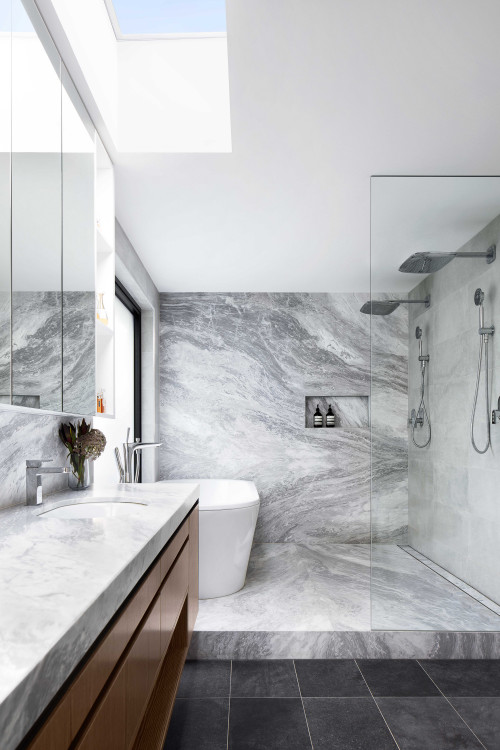 ID# 162602 | Houzz.com – Credit | © C. Kairouz Architects
---
Luxurious Master Bathroom with Marble Slabs and Wood Vanity
If you're looking to incorporate elegance and sophistication into your master bedroom, this luxurious bathroom design is the perfect fit! The walk-in shower is sure to catch your eye, with stunning gray marble slabs that create a gorgeous backdrop. Indulge in the elegant ambiance by soaking in the white freestanding tub nestled within the shower. The wood double vanity adds warmth and a natural touch to the design while also providing ample storage space and a sleek countertop for getting ready in the morning. Moreover, the charcoal gray floor tiles beautifully complement the overall color scheme and offer a contemporary feel to the space!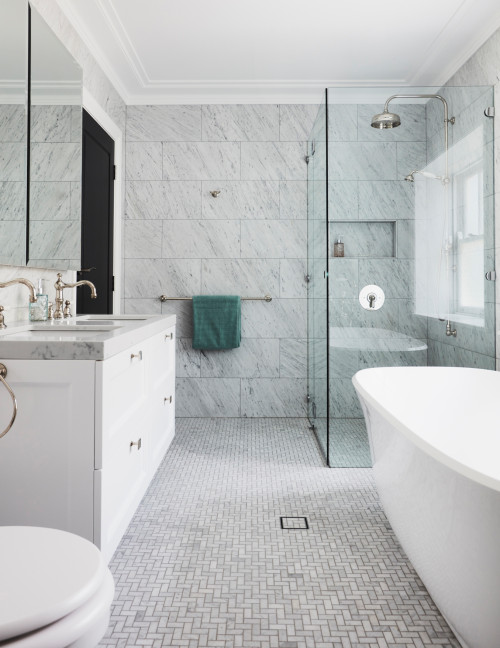 ID# 162603 | Houzz.com – Credit | © Horton & Co
---
Traditional Bathroom with Luxurious Marble Look
A traditional bathroom offers elegance and luxury with its large marble wall tiles that provide a timeless appeal. The bathroom features a spacious walk-in shower enclosed by glass doors, creating a sense of openness and comfort. The shower is equipped with chrome fixtures and a white floating vanity with a marble top, providing ample storage space for all your essentials. The marble herringbone floor tiles add a touch of texture and pattern to the space while complementing the overall aesthetic of the room.
Is marble tile good for a shower?
Marble is an excellent choice for showers and bathrooms since its light surface goes well with white sanitaryware and its fine grey veining transforms a place from drab to opulent. It's no surprise that it's having a moment in terms of bathroom fashion. While marble appears exquisite in the shower, it requires careful upkeep and handling. Shower tiles may also be kept clean for a long time by simply washing or mopping them with water.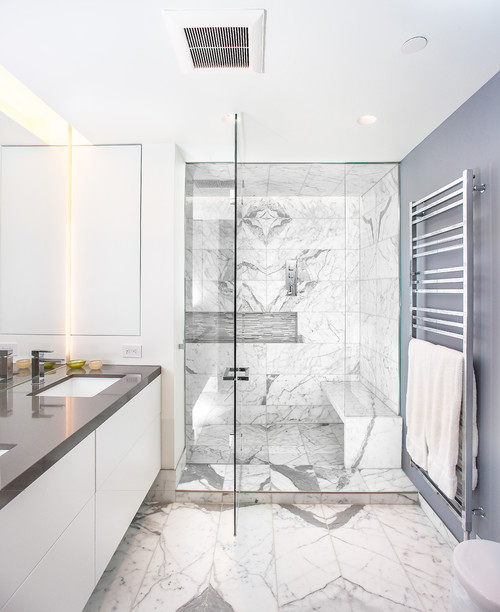 ID# 162604 | Houzz.com – Credit | © Jennifer Turner Architect
---
Bookmatched Marble Tile Shower with Gray Wall Paint
Step into a contemporary bathroom and be greeted by a stunning and chic space that will indulge your senses! Feast your eyes on the bookmatched marble shower tiles that create a breathtaking and unparalleled pattern. The tiles extend to the floor, giving the room a consistent and harmonious feel. The white vanity with a gray countertop is both practical and stylish, providing adequate storage for your bathroom essentials and adding a touch of modern charm. The gray wall paint delivers elegance and complements the marble tiles perfectly.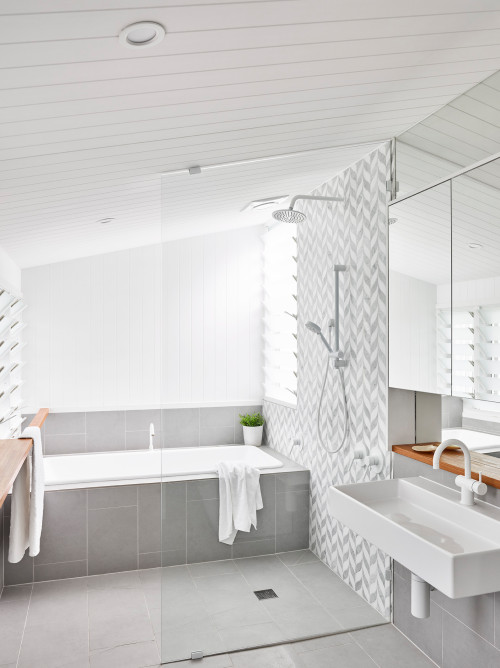 ID# 162605 | Houzz.com – Credit | © Shane Marsh Architects
---
Contemporary Bathroom with Alcove Bathtub and Chevron Tiles
This stunning bathroom design is the epitome of modern elegance, boasting a sleek gray and white color scheme that exudes an air of purity and simplicity. The star of the show is undoubtedly the alcove bathtub, ideal for unwinding after a stressful day! The flooring features beautiful gray tiles that contrast perfectly with the pristine white walls. Meanwhile, the luxurious marble chevron tiles in the shower lend a sense of opulence to the space. The minimalist sink is a perfect balance of form and function while the mirrored cabinets above it serve a dual purpose by providing extra storage and the illusion of more space. The shiplap ceiling offers both textural intrigue and a sense of spaciousness to the room. Overall, this contemporary bathroom is a vision of sophistication and tranquility.
Does marble tile in a shower need to be sealed?
It's important to seal marble tiles in a shower to keep moisture from getting in and causing damage or staining! Since marble is porous, it can easily absorb oils and other substances that can leave a mark on its surface. Sealing the tile forms a protective barrier that keeps unwanted substances from penetrating the marble. The frequency of sealing depends on factors like the type of marble, its finish, and how often the shower gets used. Typically, it's recommended to seal the tiles every 6-12 months to keep them looking their best.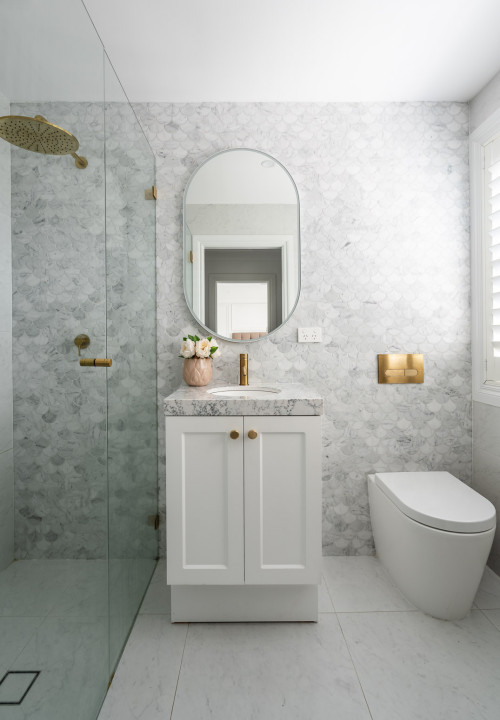 ID# 162606 | Houzz.com – Credit | © Coastal Hamptons Design Studio
---
Beach Style Bathroom with Scallop Wall Tiles and Brass Accents
This stunning bathroom design beautifully showcases scallop marble tiles that add a playful and unique flair to the space! The tiles serve as an accent wall, creating a bold statement that commands attention and elevates the room's interest factor. To complement the luxurious feel of the tiles, a small white vanity with a marble top provides practical storage while maintaining an elegant aesthetic. Large porcelain floor tiles encase the walk-in shower with clear glass walls, creating a harmonious and seamless look. To add warmth and sophistication, brass accents such as shower fixtures and hardware have been tastefully incorporated while also imparting a touch of vintage charm.
Marble Tile Shapes for Shower
A bathroom is a place where we go to relax and recover. After a long day at work, relaxing in a hot bubble bath or a steaming walk-in shower is made easier by having a quiet design that is calming, neutral, and tranquil. Marble flooring, tiling, and furniture create a harmonized environment that is both fashionable and ageless in appearance. You may wonder on the internet about the marble tile shapes for showers to have a calming, neutral, and tranquil environment with a luxurious feeling. You can find out there are several marble tiles shapes for showers such as marble subway tiles, herringbones, hexagons, or even large marble tiles.
Marble's appeal in bathroom design originates from its association with elegance and grandeur — imagine opulent spas and opulent hotel rooms. Once you decide on your marble tile shape for the shower you can enrich your bathroom with an opulent look. Because marble is such a flexible material, it also has a lot of practical benefits: it's extremely durable, it adds value to your property, and it goes with a variety of color schemes with different marble tile shapes for showers. By replacing your old brown tiles and remodeling your alcove shower with marble tiles, you can quickly transform your bathroom into something that everyone will admire. Scroll down to see what can be done with marble tile shapes for showers!
Marble Subway Tile Shower
Marble subway tile remains a top choice for shower walls due to its timeless and sophisticated appearance! The classic rectangular shape of the tile provides a clean and timeless pattern that can complement different design styles. The smooth surface of the marble makes it easy to clean and maintain, thus adding practicality to its elegance! Marble subway tiles come in a variety of colors, ranging from classic white and grey to daring green and blue, granting bathroom design a personalized touch. Combining these tiles with a contrasting grout color can produce a striking visual impact.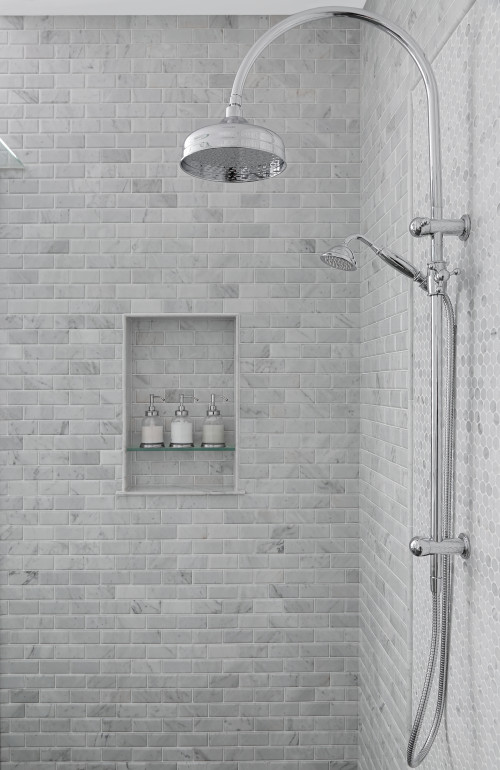 ID# 162608 | Houzz.com – Credit | © SX Constructions
---
Carrara Marble Tile Shower with Built-in Niche
This contemporary bathroom with a sleek and elegant look features beveled edged Carrara marble subway tiles which create a classic and timeless appeal. The shower area showcases a built-in niche that provides convenient storage for shower essentials and adds visual interest to the space. A chrome shower head complements the luxurious look of the marble tiles and adds a touch of modernity to the design. The simple yet stylish color scheme of white and gray creates a serene and relaxing atmosphere and makes this bathroom the perfect place to unwind after a long day!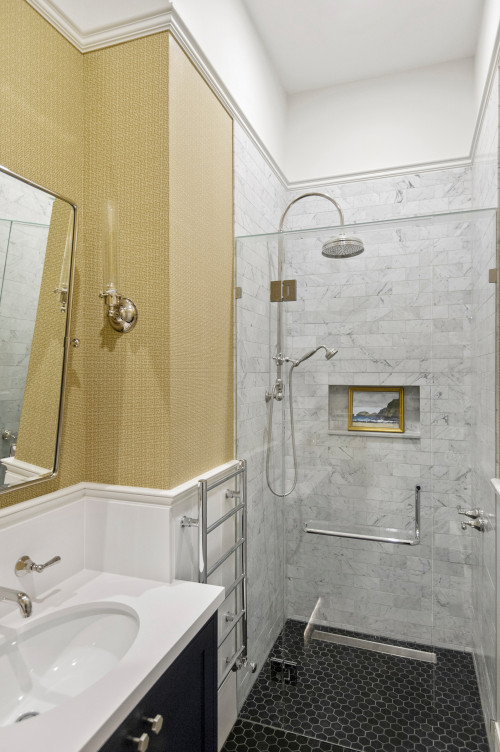 ID# 162609 | Houzz.com – Credit | © Architest Pty Ltd
---
Guest Powder Room with Black Vanity and Yellow Wallpaper
This guest powder room with shower boasts a chic and sophisticated design with a perfect balance of black, white and yellow elements. The shower features elegant marble subway tiles, creating a clean and sleek look. The black hexagon floor tiles add a touch of modernity to the space while the black vanity with its clean lines and chrome hardware provides ample storage. The white wainscoting adds a classic touch and complements the overall design while the yellow wallpaper above the vanity adds a pop of color and interest to the space!
Marble Herringbone Tile Shower
A splash of marble in the bathroom is the way to go if you want a trendy new appearance that's right on style. To go one step further you can try out the marble herringbone tile shower and be amazed by its view! Herringbone tile is making a reappearance as one of the trendiest bathroom design ideas. The angular style of this classic pattern is inspired by the shape and bone structure of herring fish.
Herringbone tile designs are made by laying a series of rectangular-shaped tiles diagonally to make an interlocking pattern. Any rectangular tile of sufficient size may be used to create the look. Subway tiles, as well as extended subway tiles and smaller rectangular-shaped mosaic tiles, are ideal for creating a herringbone pattern. The stunning look of the marble herringbone tile shower can change the atmosphere of your bathroom with elegance. When rectangular subway tiles are laid in a herringbone pattern instead of straight, the impression is radically different. The angles create a touch of directional drama that draws the eye in. It is possible to create a powerful character in your bathroom with a marble herringbone tile shower design!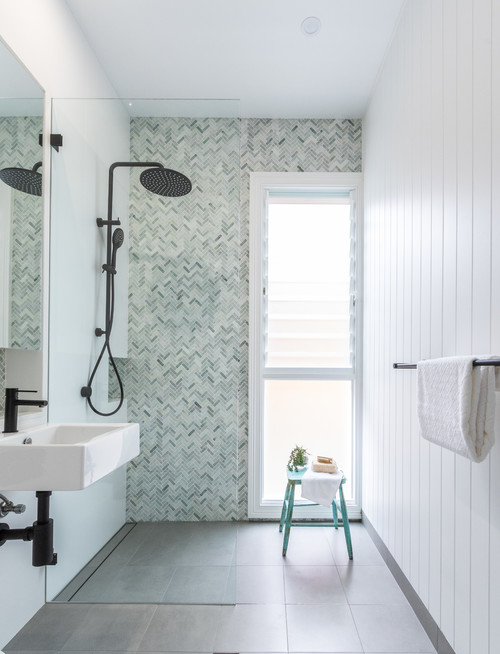 ID# 162610 | Houzz.com – Credit | © Nimmo Nielsen Collective
---
Herringbone Marble Tile Shower with Gray Floor Tiles
This contemporary bathroom offers a sleek and elegant look with its minimalist design. The focal point is a stunning accent wall made of marble herringbone tiles which adds texture and visual interest to the space! The gray floor tiles create a perfect backdrop and the white sink mounted on the wall further adds to the minimalist aesthetic. The matte black shower head is a striking contrast against the white tiles and provides a modern touch. The white shiplap walls enhance the light and airy atmosphere of the bathroom.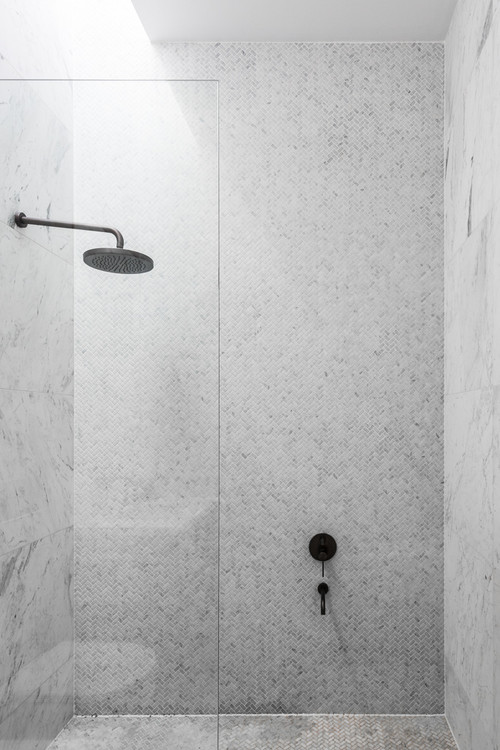 ID# 162611 | Houzz.com – Credit | © mayphotography.com.au
---
Modern Minimalist Shower Design with Black Fixtures
Experience contemporary luxury with a minimalist shower design that boasts tiny marble herringbone tiles adorning the walls and floor, achieving a seamless and refined aesthetic! The shower fixtures sport an alluring matte black finish, injecting a contemporary flair into the overall design. And to accentuate its elegance even more, the shower is complemented by a skylight that floods the space with natural light.
Marble Hexagon Tile Shower
The beauty of hexagonal designs is simply irresistible. The angular shape adds character to a space while remaining versatile. You can spot hexagons in various nooks and crannies, including kitchens, bathrooms, and even modern living areas. There's no denying that marble hexagon tile showers are in demand these days. These tiles exude a chic vibe and can either complement a minimalist style or add an unexpected twist to a contemporary look. Plus, having a contrasting grout color is a trendy way to spice things up. No matter the design, the hexagon mosaic pattern is a surefire way to stand out!
For a timeless look, consider installing a striking marble hexagon tile shower. Monochromatic black and white hexagon mosaics are great for achieving a mid-century modern feel while marble hexagon tiles can help you complete a sophisticated yet unique look. Gray hexagon tile is another popular option for those who want to add a touch of modern Scandinavian influence to their space. Trust us, incorporating hexagonal designs is an excellent way to upgrade your home's aesthetic.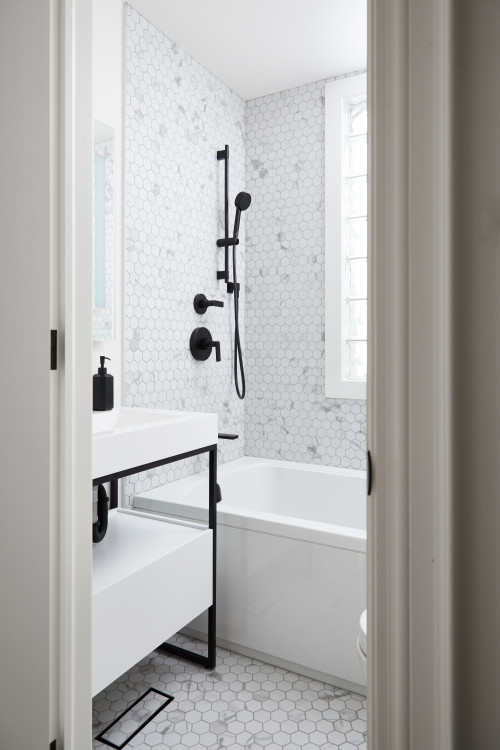 ID# 162612 | Houzz.com – Credit | © Eurodale Developments Inc
---
Hexagon Marble Tile Shower with Black Details
This exceptional small white bathroom showcases how to achieve a sleek and refined appearance! The floors and walls boast exquisite marble hexagon tiles, lending a subtle texture and a lavish ambiance. A pristine white bathtub is positioned on one side of the room, beneath a sizeable window that floods the space with natural ligh. The opposite side welcomes a white vanity with generous storage capacity and a captivating black countertop mounted against the wall. The opulent black fixtures, including the showerhead and faucet, infuse a chic element into the overall design, elevating it effortlessly.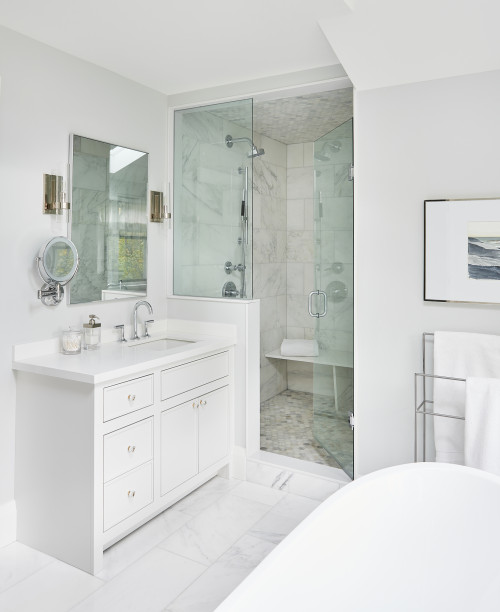 ID# 162613 | Houzz.com – Credit | © Erin Interiors
---
Transitional White Bathroom with White Vanity
In this bathroom, glamour and sophistication are effortlessly achieved with the addition of a white vanity boasting crystal knobs. The sleek and polished aesthetic of the marble floor tiles complements the vanity perfectly. The large Italian marble shower walls fitted with chrome fixtures exude luxury and refinement. The marble hexagon tiles on the shower floor create an eye-catching and unique element in the overall design.
Large Marble Tile Shower
Creating a significant impact in compact areas is achievable, particularly when designing spacious marble tile showers in bathrooms. Large marble tile showers feature fewer grout lines, creating a seamless and continuous stone appearance that elevates your bathroom's overall aesthetic. Fewer grout lines also create the illusion of a larger surface area, making it appear more expansive than it actually is. Take a look at these chic examples of large marble tile showers to see how you can create a luxurious and spacious atmosphere in your bathroom!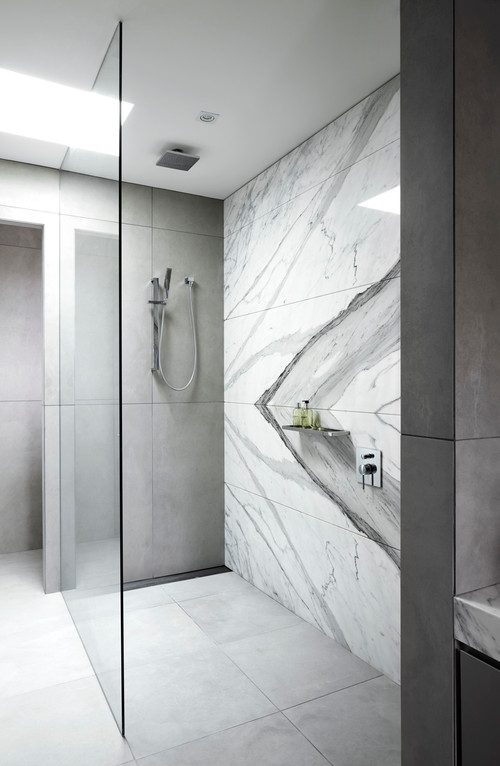 ID# 162614 | Houzz.com – Credit
---
Contemporary Walk-in Shower Design with Bookmatched Marble Slabs
The contemporary walk-in shower offers a sleek and elegant appeal that is both luxurious and functional! The highlight of the shower is the stunning bookmatched marble slabs that adorn one of the walls, creating a beautiful accent that instantly draws the eye. The shower also features large gray wall and floor tiles that complement the marble and provide a cohesive look. A frameless glass division separates the shower from the rest of the bathroom, adding to the modern feel of the space.
Does marble in the shower stain easily?
Marble, a porous stone, is produced from limestone through specific temperatures and pressure. It tends to absorb everything that comes in contact with it, including soap, color, and shampoo, making it prone to staining. To prevent stains, it is advisable to seal the tile after installation and repeat the process annually. In case of any spillages, immediate cleaning is crucial to avoid permanent stains!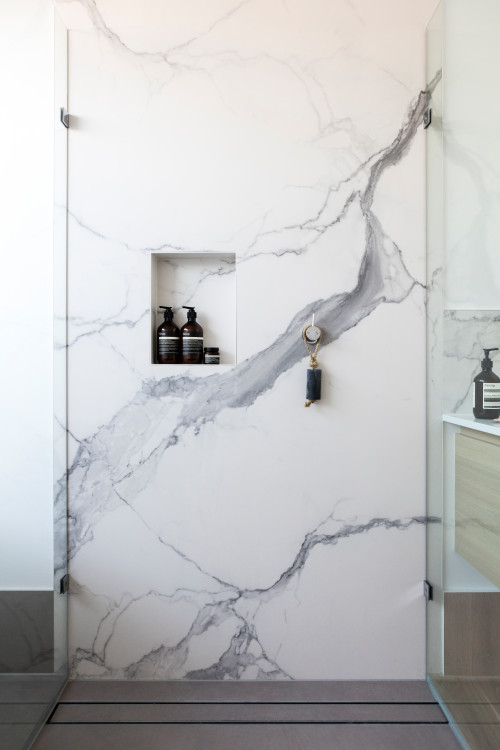 ID# 162615 | Houzz.com – Credit | © Nick Hayes Constructions
---
Modern Minimalist Marble Tile Shower with Built-in Niche
Introduce an exquisite touch of contemporary style in your bathroom by adding a sleek walk-in shower with a minimalist design! This must-have feature boasts a large marble-look porcelain slab as the backdrop, exuding a luxurious and refined ambiance. Its built-in niche adds to the shower's functionality and style, enabling you to keep all shower essentials within reach. For a striking and cohesive look, the shower floor flaunts eye-catching gray tiles that complement the marble slab beautifully.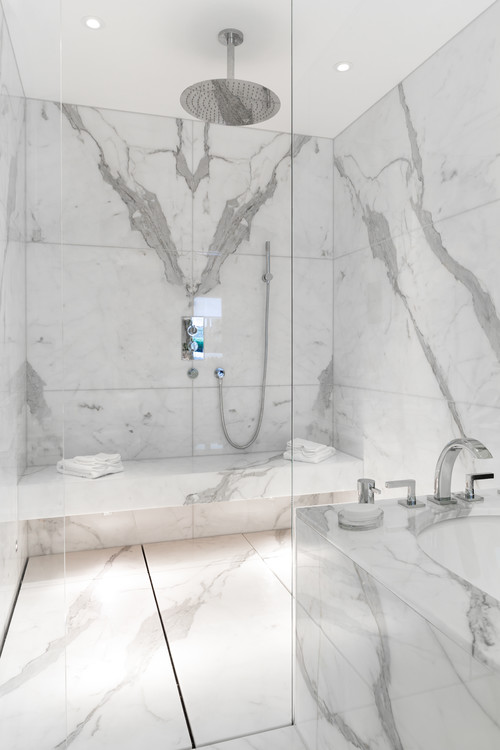 ID# 162616 | Houzz.com – Credit | © Koliqi Marble Ltd
---
Bookmatched Marble Tile Shower with Chrome Fixtures
A modern bathroom with a luxurious feel is characterized by large bookmatched marble tiles covering the walls and floor! The chrome fixtures on the sink and shower complement the marble tiles and add a sleek and modern touch to the space. The large format tiles reduce the number of grout lines, creating a clean and polished look.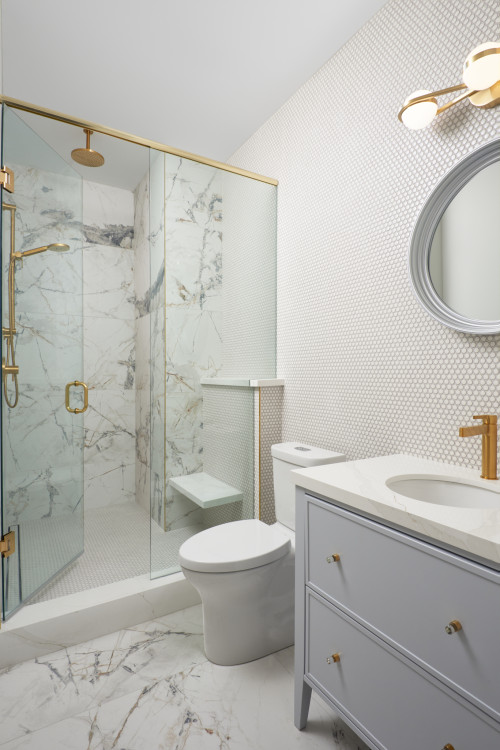 ID# 162617 | Houzz.com – Credit | © Julia Bewcyk
---
Light Gray Vanity with White Penny Tile Backsplash and Brass Hardware
The transitional bathroom is a beautiful blend of classic and contemporary styles. The light gray vanity adds a touch of modernity to the space while the white penny tile bathroom backsplash lends a traditional touch. The shower features luxurious marble look porcelain tile on the walls and floor, creating a sleek and elegant look. The brass accents complement the marble's natural beauty and add a touch of sophistication to the space. Whether you're getting ready for the day or winding down at night, this marble tile shower offers a tranquil and inviting atmosphere!
What happens if you don't seal marble?
Marble lovers, listen up! Neglecting to seal your precious marble can leave it defenseless against staining and etching. Being a permeable material, cloaked in its natural beauty, marble is more susceptible to soaking up liquids and other substances if not securely sealed. The aftermath can be unsightly; discolored or dark patches like scars on once perfect stone. The acidity level of things like vinegar or lemon juice has the potential to eat through the surface of the marble, resulting in dreary spots and loss of shine. Don't let that happen to your marble! Safeguard it by sealing the surface to ward off potential threats.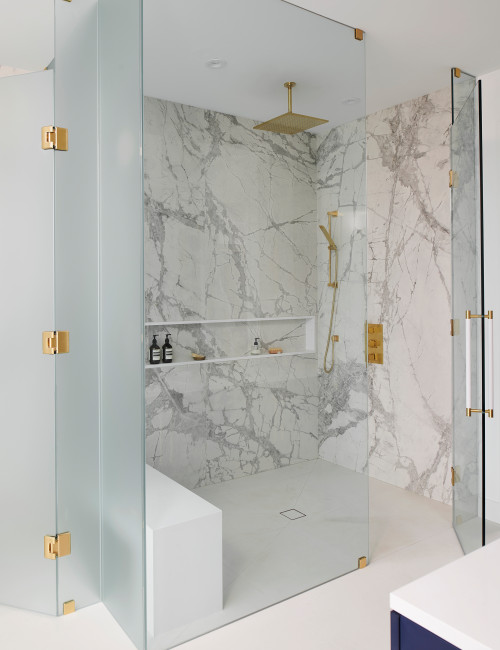 ID# 162618 | Houzz.com – Credit | © avenue design inc
---
Luxurious Marble Tile Shower with Built-in Niche and Bench
Step into the lap of luxury with this breathtaking marble tile shower! The grey veins running through the walls are simply mesmerizing, creating an unforgettable visual impact. It's not just about the aesthetics though; this shower is built for comfort and convenience with a built-in niche and bench. The white floor tiles complement the walls and make the entire space look like a work of art. The glass shower door encloses the space with a touch of sophistication while the gold fixtures add a hint of glamour.
Marble Tile Colors and Materials for Shower
Marble tiles offer a vast range of colors and patterns that can create an impressive shower design. The timeless and widely chosen white marble presents a clean and sophisticated appearance, whereas grey marble with varying patterns presents depth and texture to the shower. On the other hand, beige and cream-colored marble tiles deliver a cozy and welcoming ambiance, while black marble can provide a luxurious and exquisite touch. For those daring to experiment, popular marble tile colors for showers also include green, pink, and blue. Ultimately, the marble tile color selection for a shower depends on one's bathroom design scheme and personal taste!
White Marble Shower Tile
White marble mansions are experiencing a rebirth; in fact, their appeal dates back to ancient Greece and Rome, so you might argue that they've never gone out of style! From a dazzling Calacatta Gold backsplash to a bright white marble shower tile, white marble is the must-have for imparting a sense of luxury in today's home upgrades and new build trends. It's natural to desire white marble tiles to cover the whole shower, including the walls, niche, bench, and floor. They are, after all, naturally gorgeous and allow you to create a magnificent spa shower in your own house!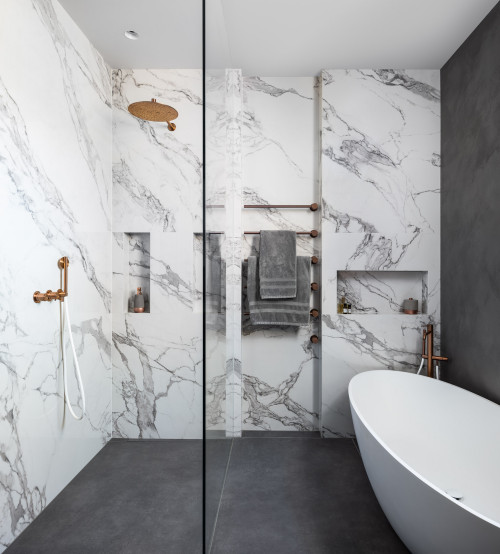 ID# 162619 | Houzz.com – Credit | © Jo Cowen Architects
---
Gray and White Bathroom with Concrete Floor
This stunning gray and white bathroom is lavishly decorated with beautiful marble wall tiles that make a striking impact! The white tiles feature natural veins and patterns, adding to the allure of the space. The dark gray concrete floor contrasts beautifully with the tiles, making a bold statement. Catch your eye on the white freestanding tub with a gorgeous curved shape, standing out as the centerpiece of luxury elegance. Recessed niches in the shower provide ample storage for toiletries and other essentials. Enjoy the brass fixtures that exude sophistication and graceful style. And, don't miss the conveniently placed towel rack in the shower area – the final touch of ease and comfort in this exquisite space.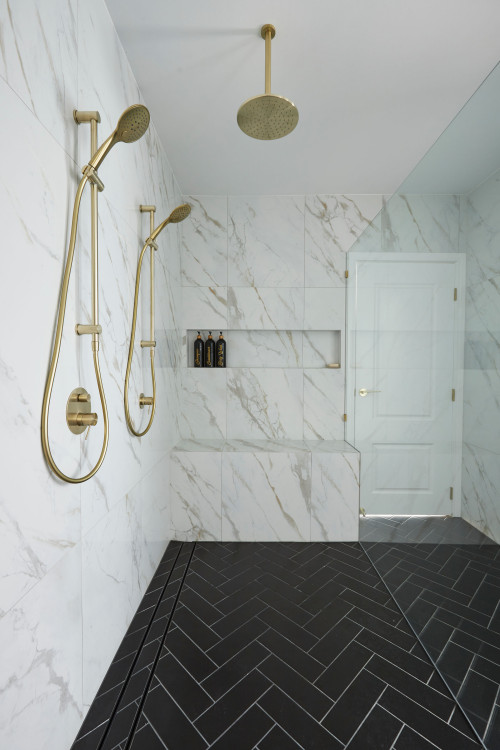 ID# 162620 | Houzz.com – Credit | © Symcorp Design & Build
---
Luxurious Walk-in Shower Design with Black Herringbone Floor Tiles
Immerse yourself in luxury with this transitional walk-in shower that boasts a timeless and chic appeal! The large marble wall tiles add an exquisite touch to the sophisticated design. The black herringbone floor tiles elevate the aesthetics with their contrasting effect. The white grout highlights the beautiful fishbone pattern. Plus, brass shower fixtures bring an impressive touch of elegance and warmth to the space. The built-in niche and marble bench serve not just as practical features but also amplify the comfort and storage of the shower area.
Are marble bathrooms out of style?
For decades, marble has been a bathroom mainstay, frequently linked with luxury and featured in the most opulent settings. Marble is having a fresh rebirth as the material of choice in traditional and modern bathroom designs, despite its enduring appeal.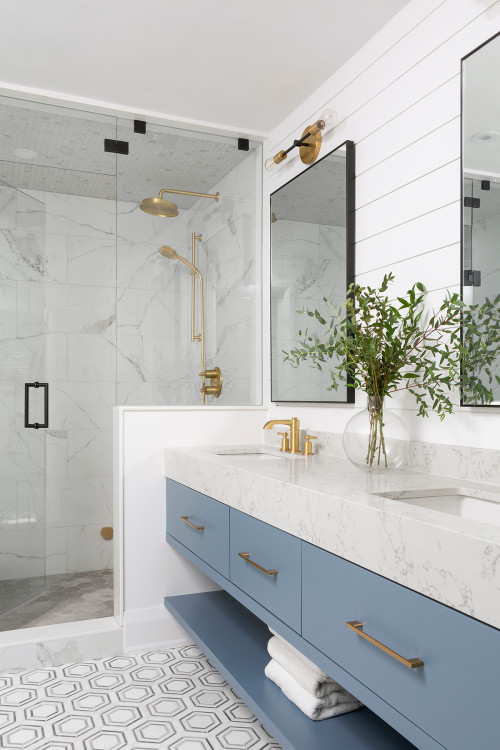 ID# 162621 | Houzz.com – Credit | © AMANDA SHIELDS INTERIORS
---
Blue Bathroom Vanity with Thick Marble Countertop
The blue double vanity with a thick marble top adds a pop of color and luxury to the space! The white shiplap walls create a clean and classic look while the black framed mirrors add a touch of modernity. The hexagon floor tiles add texture and interest to the space. The marble tile shower with glass doors complements the vanity and floor tiles, creating a cohesive and stylish bathroom.
Carrara Marble Shower Tile
Marble is an excellent choice for bathrooms and showers! This lovely stone is inherently water-resistant and gives any place a luxurious refined atmosphere. For millennia, marble has been utilized in architecture; the Romans even built public baths out of it! Since marble tiles have enormous alternative colors and types, you may wonder which one to use for your bathroom. Well, you can try out Carrara marble shower tile! Carrara marble tiles are often white or bluish-gray. It's frequently used in sculpting and may also be found in various tiles and decorations. Carrara marble tile is frequently striking in texture and richness due to its linear veins. It is one of the most prevalent varieties of marble seen in houses and private dwellings and its perfect whiteness makes it ideal for bathrooms and showers.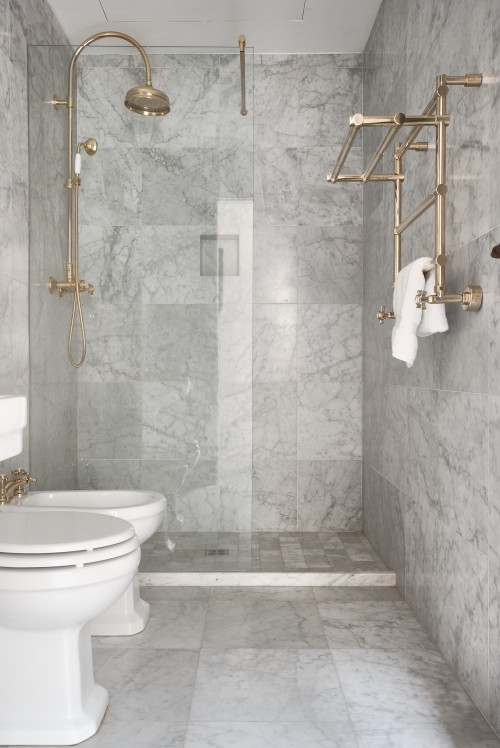 ID# 162622 | Houzz.com – Credit | © Galleria delle Idee
---
Gray and White Transitional Bathroom with Timeless Marble Elegance
Enter this luxurious transitional bathroom and you'll be greeted by the stunning elegance of Carrara marble! The walls and floors are adorned with large, polished tiles that gleam under the warm glow of the soft lighting. The natural veining of the marble adds depth and texture to the space while the white color scheme creates an airy and spacious atmosphere. The polished brass fixtures such as the shower head and towel rack add a touch of classic glamour to the space.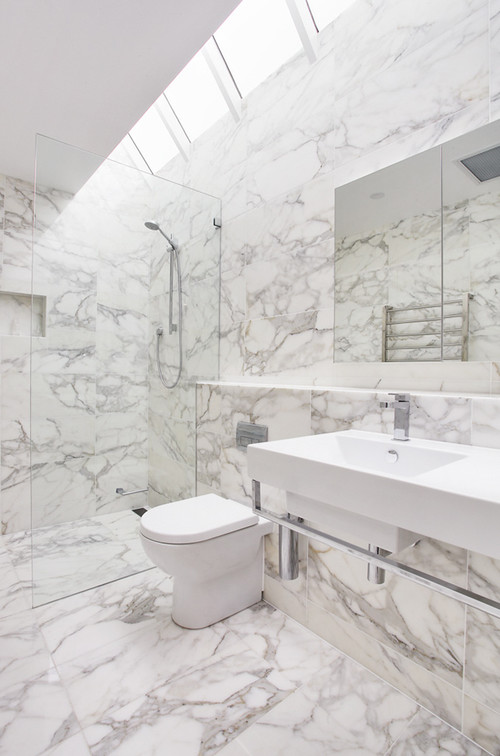 ID# 162623 | Houzz.com – Credit | © Design Tiles
---
Modern Marble Bathroom with White Color Scheme
What a stunning modern marble bathroom where classiness and luminosity intertwine! The combination of a white-painted scheme and Carrara marble tiles produces a bright and breezy feel. Exuding exclusivity, marble tiles cover every corner, spanning from the floor to the ceiling. To ensure enough space for storage, the white wall-mounted sink and mirrored upper cabinets maintain the room's spaciousness. Moreover, the skylight amplifies the serene, soothing ambiance by letting in natural light and intensifying the brightness all around the area.
How to clean a marble tile shower?
When cleaning your gorgeous marble tile shower, it's important to take the right precautions to ensure its longevity and stunning appearance. Firstly, use a gentle-bristled brush or cloth to remove any surface dirt and debris. Next, prepare a mild cleaning solution by mixing warm water with a pH-neutral cleaner designed specifically for marble surfaces. Avoid harsh, acidic or abrasive cleaners that may harm the marble. You can also use baking soda! Apply the cleaning solution section by section, using a soft sponge or cloth. Then, rinse the tiles thoroughly with clean water and dry them off with a gentle towel to prevent water stains. After each use, make sure to dry the tiles completely, even opting for a squeegee to remove excess water from the shower walls and floor. As an added precaution, consider sealing your marble tiles regularly to protect them from water damage and pesky stains.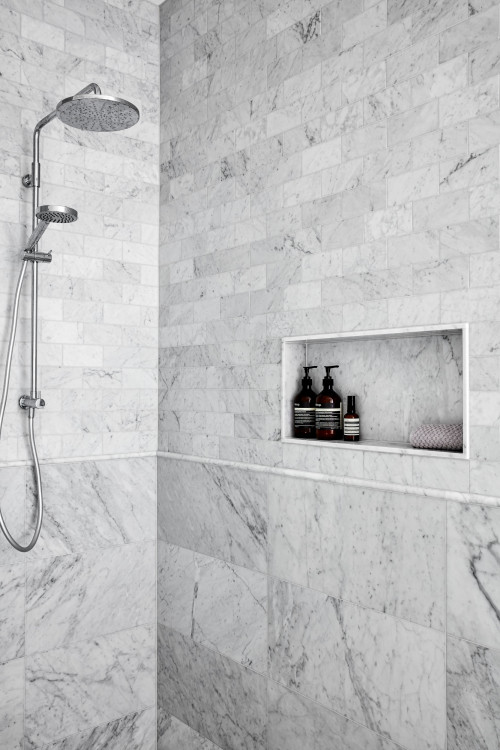 ID# 162624 | Houzz.com – Credit | © March Twice Interiors
---
Carrara Marble Tile Shower with Chrome Shower Head
This marble tile shower features a classic yet modern design that effortlessly combines stylish elements!! The upper part of the wall is adorned with Carrara marble subway tiles while the lower part features large honed marble tiles that add a touch of grandeur to the space. A built-in niche is available to store your shower essentials. The sleek chrome shower head delivers a refreshing and invigorating water flow.
Cultured Marble Tile Shower
Cultured marble has been a favorite pick for homes constructed from the 1960s through the 1980s and even today, especially in new home building. It is not the same as genuine marble, however. Cultured marble was among the first types of "engineered stone" countertops and was perceived as a significant upgrade over the laminate counters during its time. Are you considering a cultured marble tile shower design, but not sure if it's okay? Absolutely! Crushed marble (or engineered calcium carbonate) is mixed with polyester resin, colors, and a catalyst to create cultured marble. This blend is then poured into molds to create anything from countertops with integrated sinks and backsplashes to shower pans, walls, tiles, bathtubs, or any other shape necessary.
Since cultured marble is also an engineered stone, it is undoubtedly suitable for use in your shower or bathroom designs. Engineered stone, like cultured marble tiles showers, is a trendy option because it is sturdy and water-resistant. It also features scratch and heat resistance. Unlike natural stone, cultured marble tiles shower can provide a non-porous specialty.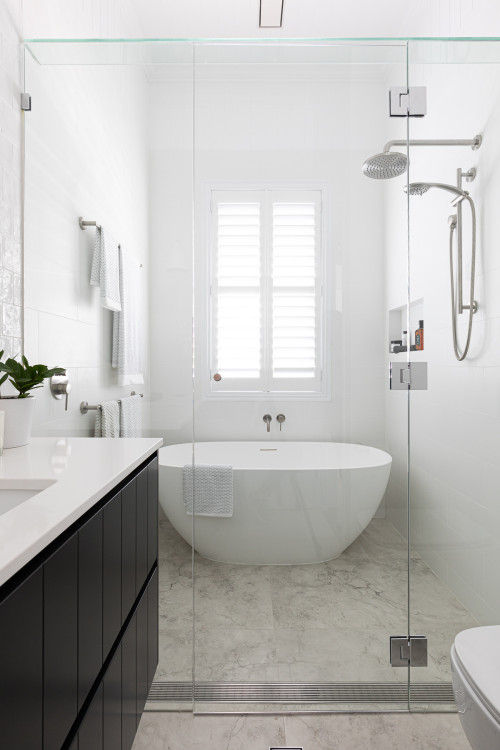 ID# 162626 | Houzz.com – Credit | © Wendourie Constructions
---
Contemporary Walk-in Shower with White Tub and Marble Floor Tiles
Undoubtedly, the exquisite walk-in shower with a lavish white tub steals the spotlight in this area. The bathroom marble floors add refinement while the chrome accents create a polished and contemporary aura. Additionally, the striking black vanity stands out as it contrasts against the light color palette. It also brings a bold highlight to the surroundings.
How to seal marble tile shower?
To ensure your marble tile shower is well-protected from moisture and stains, sealing is a crucial step you shouldn't overlook. Before you kick off the sealing process, however it's imperative to clean and dry the shower tiles. Once you have that out of the way, selecting a high-quality marble tile sealer that works best for your specific marble type is essential. As you apply the sealer evenly to all the surfaces, ensure to follow the manufacturer's instructions. After application, give the sealer ample time to dry before using the shower. To preserve the protection of your marble shower tiles, it's advisable to reseal every 1-2 years. Speaking of maintenance, remember to clean up spills or stains immediately to prevent tile damage!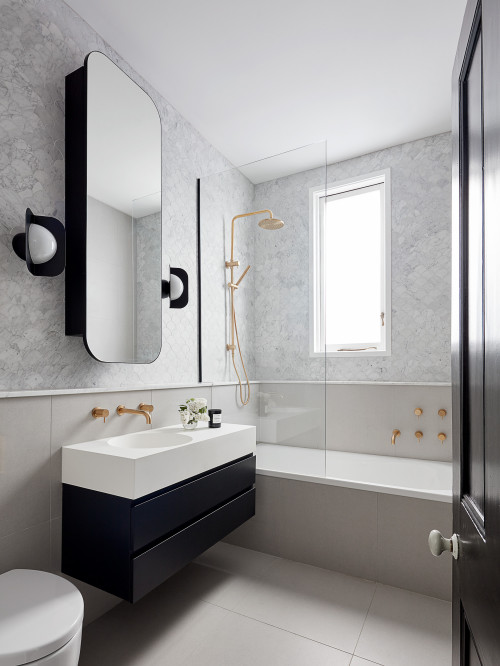 ID# 162627 | Houzz.com – Credit | © Bryant Alsop Architects
---
Cultured Marble Tile Shower with Black Floating Vanity
This contemporary bathroom boasts a sleek and stylish design with a black, gray and white color scheme! The centerpiece of the room is the black floating vanity, featuring a thick countertop. Mirrored upper cabinets with curved edges add a touch of sophistication while providing ample storage space for all your bathroom essentials. The lower parts of the walls, floor, and tub surround are adorned with light gray tiles, providing a subtle contrast to the darker vanity. The upper parts of the walls feature cultured marble tiles in a trendy fish scale pattern. These eye-catching patterns add a unique focal point to the room.
Ceramic or Porcelain Marble Tile Shower
You'll want to use materials that add value and are durable whether you're designing a classic style bathroom for your enjoyment or resale. While marble appears to be luxury, it is more expensive and takes more upkeep than other materials. If you don't want to break the bank, go for a true-to-life marble aesthetic instead. With its marble look, ceramic or porcelain marble tile showers can help you in your bathroom design. These gorgeous materials are so convincing that you'll forget they're not genuine marble!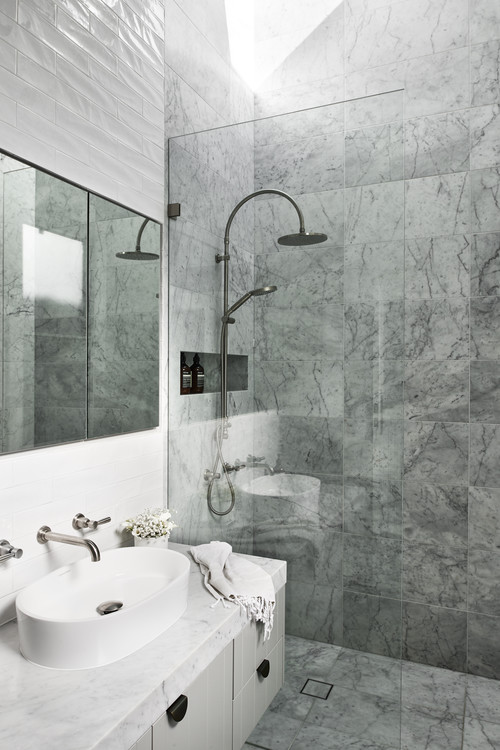 ID# 162628 | Houzz.com – Credit | © March Twice Interiors
---
Contemporary Bathroom with White Subway Tile Backsplash and Gray Vanity
This contemporary bathroom boasts a sleek and modern design, with a beautiful gray ceramic marble tile shower as its centerpiece! Adjacent to the shower, a light gray vanity with a marble top and vessel sink provide ample storage and counter space for all your bathroom essentials. A classic white subway tile backsplash lines the walls behind the vanity. It also adds a subtle touch of texture and contrast to the overall design.
How to install marble tile on shower walls?
To install marble tile on the shower let's check the materials that you will need.
–Marble tiles
–Sanded-grout
–Thin-set mortar
–Unsanded grout
–Screws
–Fixtures
–Wet saw
–Level
–Notched trowel
–Tape measure
–Spacers
–Electric screwdriver
–Sanding block
–Pencil
–Rubber grout float
–Mask
–Sponge
–Broom
–Safety glasses
–Tile nippers
–Buckets
Now let's see the steps;
Before you begin, though, it's important to prepare the surface by removing any existing tiles, cleaning the walls meticulously, and making any necessary repairs. Applying a waterproofing membrane to the walls is the next crucial step to prevent any potential water damage. Measurement is key when installing marble tiles. Ensure that you measure the walls accurately and calculate the necessary amount of tile needed, accounting for a 10% overage for any cuts or waste.
Begin installation from the bottom row and work your way upwards. It's important to use a notched trowel to apply thin-set mortar to the back of each tile and onto the wall. Spacers will ensure even spacing between tiles and a level will help assure that the tiles are straight. If you require any tile cutting, use a wet saw for precision. Once the tiles have been set, use a rubber float to apply grout and then clean off any excess with a damp sponge. Finally, seal the tiles to prevent damage from stains. Good luck with your project!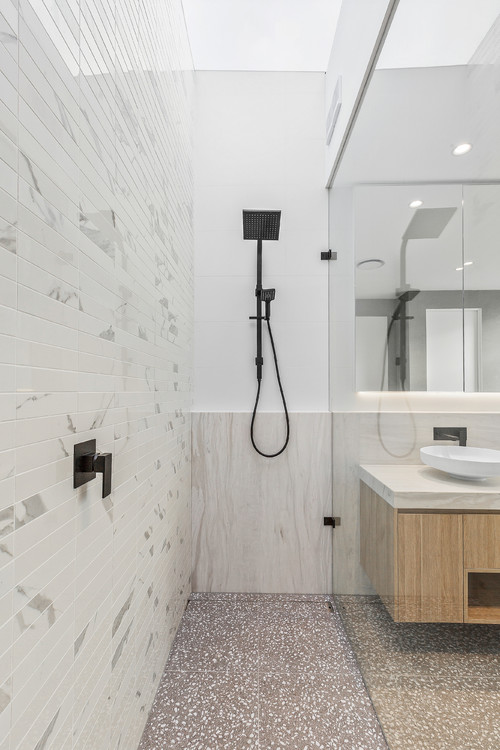 ID# 162629 | Houzz.com – Credit | © First Avenue Homes
---
Porcelain Marble Tile Shower with Gray and White Floor
Step inside this contemporary bathroom and you'll be swept away by its minimalist aesthetic! Wrapped in a sleek glass door, the shower boasts white marble-look porcelain tiles that exude a sense of luxury and refinement. Adding a subtle yet striking contrast to the overall bright white space are the gray and white floor tiles. And let's not forget the floating vanity made of warm wood! It infuses the space with natural elements and ensures that this space is both stylish and inviting.