27+ Hexagon Tile Bathroom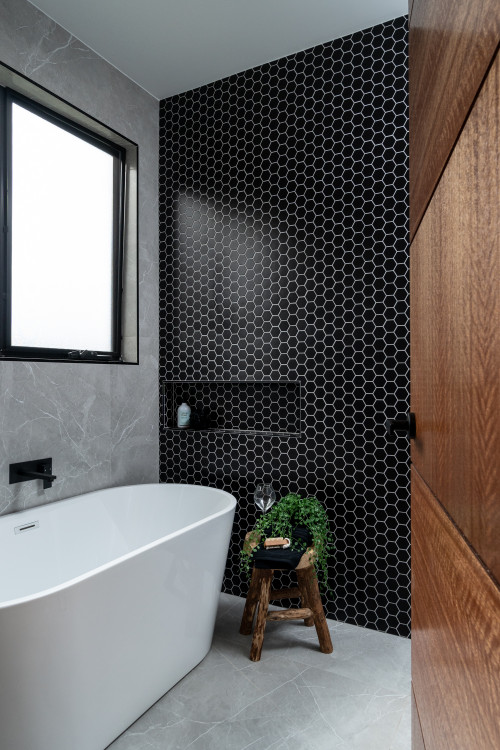 ID# 140421 | Houzz.com – Credit | © HBC Homes
---
Contemporary Black Hexagon Tile Bathroom with Simple and Sleek Appeal
The less is more idea is explained clearly in this contemporary bathroom design! The black hexagon tile walls with the white grout are designed in small patterns that create movement and an eye-catchy look. The light gray floor tiles and the wood texture complement the design look with a natural touch.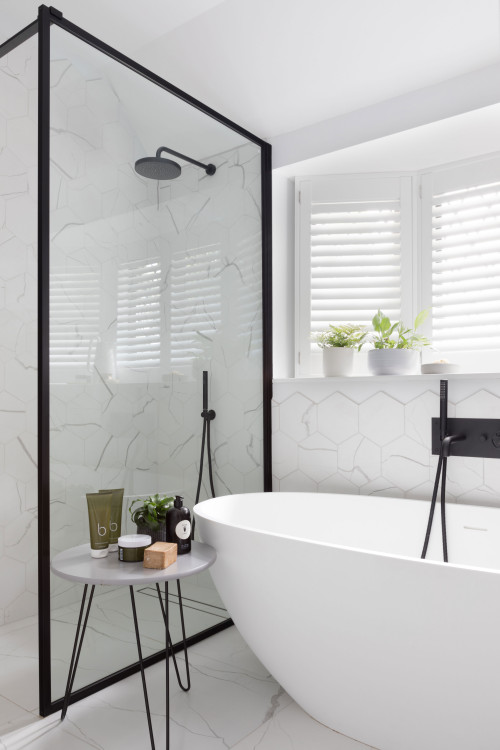 ID# 140429 | Houzz.com – Credit | © West One Bathrooms Ltd
---
Clean Lines with a Marble Hexagon Tile Bathroom
This luxurious look of the bathroom comes from the marble hexagon tiles, of course! The black frame of the shower and accessories provide a striking and minimalistic contrast to the white environment. Thanks to the modern design of the white hexagon tiles and the marble surface, there are both a natural atmosphere and an organic flow in the bathroom.
Hexagon Tile Bathroom
If you want a quick change in your bathrooms that makes a big statement hexagon tile bathroom is a great option. It is a preferred pick in the design field because of its adaptability. Hexagons can be any 6-sided shape, but most people are familiar with an equilateral hexagon, which has all six sides the same length and all angles at 120 degrees, making it look like a honeycomb.
The Geometric and Sleek Design of a Hexagon Tile Bathroom Looks Great in a Variety of Settings
Because hexagon tile tends to reflect its surroundings, it works well with a variety of design styles, including classic, farmhouse, modern, traditional, bohemian, minimalist, and more. With a wide range of sizes, materials, and patterns, hexagon tiles will become a permanent fixture in your bathrooms. A beautiful hexagon tile bathroom is possible. Any style or size of hexagon tile can be used to create a magnificent bathroom. White hexagon tiles are a terrific choice for a bright and fresh aesthetic, and they'll never go out of style. Any color, however, adds style; bright colors appear strong, while gray and beige appear more relaxing. And the contrast between black and white is always striking.
To create a smooth flow in a hexagon tile bathroom, tiles can be used on the floor and up the walls. Alternatively, use various sizes on the wall and the floor. Small tiles evoke historical bathrooms and showers while also fostering a clean and fresh atmosphere. Larger tiles are more noticeable and quite fashionable right now. For a clean and modern design, use solid colors in ceramic and porcelain. A polished and formal tone is set by natural stone with texture and marbling.
Is hexagon tile too trendy?
Hexagon tiles are currently among the most often used tiles. They are excellent choices for a variety of places because they are versatile and essentially appealing. Hexagon tile is now popular, but merchants are just recently receiving a wide choice of tiles in stock. Thus, hexagonal tiles will continue to be fashionable and well-liked for a long time. Hexagons are a naturally occurring form, thus they will always be fashionable.
How do you arrange a hexagon tile?
Planning the arrangement is another crucial step before placing a hexagonal tile. Over the underlayment, install the tiles and arrange them as you choose. You might choose to dry-fit the tiles over the complete surface area of the floor in addition to preparing the arrangement. Tiles should be spaced equally while doing this. Additionally, tiles can be trimmed to size if necessary.
Color Options for Hexagon Tiles
In the realm of interior design, hexagon tile designs and color options for hexagon tiles are all the rage. While square or diamond-shaped tiles are conventional, hexagonal tiles (also known as hex tiles) have a timeless character all their own. They also can transcend trends, giving any space in your house a new look. The hexagon form and color mix can create unexpected contrasts in the bathroom. From basic black and white to avant-garde metallics and more creative bright colors, there's something for everyone. Color options for hexagon tiles can help you to bring the most unique looks to your interiors. You will have fun when you enter the color options for the hexagon tiles world and be able to create stylish interiors with them.
Decorating the remainder of the space in light, neutral colors and adding a contrasting black hexagon floor tile is one of the simplest ways to style a hexagon tile pattern in your bathroom. If you're feeling very daring, throw in a loud or clashing color! You may even experiment with different color options for hexagon tiles to create a more complex wall or floor pattern. Buy a selection of hexagon tiles and mix and match them on your wall to create a patchwork effect.
White Hexagon Tile Bathroom
Hexagon tile is one of the most popular tile patterns, as well as one of our personal favorites. The secret to the popularity of hexagon tiles is that they combine the best of both worlds. Hexagons are both retro and modern design staples that are influenced by nature. This honeycomb tile design is a cross of two styles with a universal appeal. If you like to use these playful and stylish tiles for your bathroom and want a timeless look, you can go with a white hexagon tile bathroom design. Since the white color can accord itself with other colors easily it is possible to create endless design options with other color options. Such as a white hexagon tile bathroom with black accents or wood furniture. You can create striking contrasts, too thanks to the black grout! Let's see what can be done in a white hexagon tile bathroom.
What goes with hex tile?
The most common design option is to paint a bathroom in muted tones and then add a floor made of contrasting hex tiles in navy, black, dark grey, or any other color. You can also emphasize the tiles by using grout that contrasts with them.
What size hexagon tile for the bathroom floor?
Because it is a perfect size—not too little, not too big—for hexagon floor tile, bathrooms, and other applications, 6″ tiles are quite popular. It also fits into any design style without any issues.
Black Hexagon Tile Bathroom
You can see the hexagon tiles mostly in modern or contemporary designs, and minimalistic looks. It is possible to have them in other design approaches, of course. Black color is one of the timeless colors and it is a bold choice for the interior. However, if you have any hesitations about using black hexagon tile bathrooms, here is the good news! Black tiles, especially on the floors, are becoming increasingly trendy in bathrooms. A black hexagon tile bathroom floor with white grout defines the geometry of the tiles while also adding texture to the space. Larger black hexagon tiles on the walls with white grout provide a dramatic and attractive design statement. In both glossy and matt finishes, a black hexagon tile bathroom creates a striking appearance.
Do hexagon tiles make the bathroom look smaller?
The floor's smaller tiles give the impression that the room is larger. Hexagonal tiles are a fantastic choice! giving the area a unique finish while maintaining its cheerful appearance. Hexagonal tiles of a small size give texture, pattern, and even a hint of glitz. Their more rounded sibling, penny tiles, can provide a comparable result. However, if your room is small then you can try to use larger tiles to have a simple and seamless design look.
Gray Hexagon Tile Bathroom
Bathroom remodelers frequently seek ways to give their bathrooms a fresh, contemporary design. Tile in the bathroom is a terrific way to add a touch of subtle refinement without detracting from the rest of your home's décor. Any bathroom redesign or design would benefit from a gray hexagon tile bathroom. This six-sided, neutral-toned tile cut exudes sophistication. Adding it to a bathroom may transform the space, and the delicate design will complement any muted decor. Gray hexagon tile, and hexagon tile in general, can benefit every area in the house, but kitchens and bathrooms benefit the most. Scroll down to see inspirations for a gray hexagon tile bathroom.
Blue Hexagon Tile Bathroom
For homeowners wishing to add some unique character to their bathroom or kitchen, or to replicate the beauty of nature within their property, tiles in this unconventional shape are a popular choice. By using this popular choice you can create a new twist with the retro blue hexagon tile bathroom and make difference. Blue hexagon tiles are naturally charismatic and will have a big impact on the overall aesthetic of any bathroom interior. These flexible tiles have a classic finish that blends in with both subtle and bold bathrooms, making them a popular walling and flooring solution for a variety of interior spaces.
Hexagon tiles in blue tones have a tranquil and luxurious feel, which is why many modern homes have adopted the blue motif. Blue hexagon tile bathrooms with colored grout lines create intensity and mood. To bring out the shape, use contrasting colors, or match hues for a sleeker, more subtle look. A lighter blue hexagon tile bathroom, for example, looks delicate and traditional when coupled with light grout lines. You may achieve a more vintage look by using darker grouting with the same tile color.
How do you lay a hexagon tile in a bathroom?
Another essential step before installing a hexagonal tile is planning the layout. Install the tiles over the underlayment in the desired pattern. In addition to planning the layout, you may decide to dry-fit the tiles across the whole floor surface. As you do this, be sure that the tile spacing is uniform. In case it's necessary, tiles can also be cut to size.
Marble Hexagon Tile Bathroom
The eye-catching design of hexagon tile can bring a spark of individuality to the floors, walls, or backsplash walls of your bathrooms. This tried-and-true shape has earned a spot among the most popular interior design ideas of today. And you can blow up this gorgeous design idea with marble! Marble hexagon tile bathrooms can add luxurious looks and enrich the interior design easily. Because of its longevity, marble hexagon tile is a popular choice for bathrooms. It's either utilized as a shower surround or as a floor.
Marble hexagon tile is a high-end product that is heavier and of greater quality. Marble tiles are similar to solid rock and marble hexagon tiles are available in a wide range of colors, too. You can bring both luxurious and colorful design alternatives to your house with a marble hexagon tile bathroom.
Are hexagon tiles expensive?
Hex tiles may also be more expensive, so you should also factor in those extra costs if you require expert assistance. However, because they are low-maintenance and incredibly durable, tiles are generally one of the most affordable solutions.
Hexagon Tile Sizes and Shapes
Whatever your source of inspiration, geometric form tiles have been in high demand in recent years, with 'hex tiles' coming out on top! Since the 1800s, this classic geometric pattern has adorned bathrooms and shows no signs of stopping in popularity. We know why: hex tiles can be simple, complex, modern, or retro depending on how they're accentuated. You can find many alternatives for hexagon tile sizes and shapes since it has a long history to improve size and shape.
No matter how strong or subtle you want your bathroom design to be, hexagon tiles offer an exceptionally adaptable shape! Tile makers have expanded into new hexagon tile sizes and shapes, dimensions, colors, and materials since they first gained popularity as tiny white hexagons. There are small hexagon tiles, large ones, and even elongated hexagon tiles. We'll show you how to incorporate hexagon tiles into your home decor, as well as some design inspiration behind this popular bathroom trend.
Small Hexagon Tile Bathroom
Hexagon tiles have six sides and neatly fit together to form a design. In the 1920s and 1930s, these tiles were popular in bungalow-style homes, and many historic homes still have their valued original tile. Back then one of the most popular designs was the rose pattern, which included solid white hexagon tiles mixed with black hexagon circles that resembled flowers. Hexagonal tiles can be used in a variety of ways in the bathroom nowadays. You can use a small hexagon tile bathroom for the sense of the vintage and new twist with the modern design style in your house.
In the early 1900s, hexagon tiles made a significant comeback in house decor. Small tiles in the 1″ size were mostly utilized for bathroom floors. White hexagon tiles were chosen to provide the impression of a sterilized and clean space. Little tiles make a great impact in small spaces. Use white hexagon tiles for a clean, understated design, which is always a good preference. By designing a small hexagon tile bathroom you can have stylish look and an energetic sleekness. For ease of installation, the small sizes are sold with mesh backing. These make a room feel bright and lively. They can also be used in mosaics and border designs. The most classic and cost-effective tile is the small white hexagon tile. However, it is possible to use other colors. You can make bold designs and create a stylish small hexagon tile bathroom.
Large Hexagon Tile Bathroom
Hexagon tiles are a simple and timeless bathroom design. This nature-inspired geometric shape adds a trendy yet timeless design accent to your bathroom, with unlimited customization options. It might be difficult to decide which size of hexagon floor is best for your bathroom with so many options and design possibilities. If you like contemporary aesthetics you can design a large hexagon tile bathroom. The larger the size the more attention the design takes. Large size tile with a geometric shape and a variety of colors that may brighten up any bathroom design. The tile's smooth, flowing theme brings a delicate touch of energy to the bathroom, counteracting the strong contour.
Although the increased grout lines in smaller hexagon sizes give more slide resistance, you should keep in mind that those grout lines will require more care. Consider using a neutral or dark grout line to help cover stains and keep your floors looking their best. If the thought of cleaning a lot of grout lines makes you nervous, go with a large hexagon tile bathroom design.
Is hexagon tile harder to lay?
Hex tiles' main drawback is that they are difficult to install, making them a poor choice for novice do-it-yourselfers. It is still possible, of course, but be sure to give yourself lots of time, patience, and focus.
Elongated Hexagon Tile Bathroom
Elongated hexagons are a fascinating design to make! People frequently choose elongated "honeycombs" because their peculiar shape appears unique and original even in the most basic texture and color range. Due to its modern spin on the classic equilateral shape, the elongated hexagon tile bathroom is a popular choice. The long form may be used vertically to make the space appear taller or horizontally to make the space appear broader – perfect for powder rooms and small shower areas! An elongated hexagon tile bathroom could be the best design choice for you if you want to go for a more modern, contemporary look. This enlarged form of a hex tile is eye-catching and would be ideal for floors or walls. We also like it as a substitute for subway tile.
Who said hexagon tiles had to have equal sizes? Elongating hexagon tiles gives the design an entirely new aspect while keeping the original's whimsical nature. This tile has the appearance of a stretched-out hexagon. The four side parts are long, while the two end pieces are short. Designing an elongated hexagon tile bathroom is an excellent method to create an intriguing design with soft corners and angles.