32+ Backsplash Tile Sizes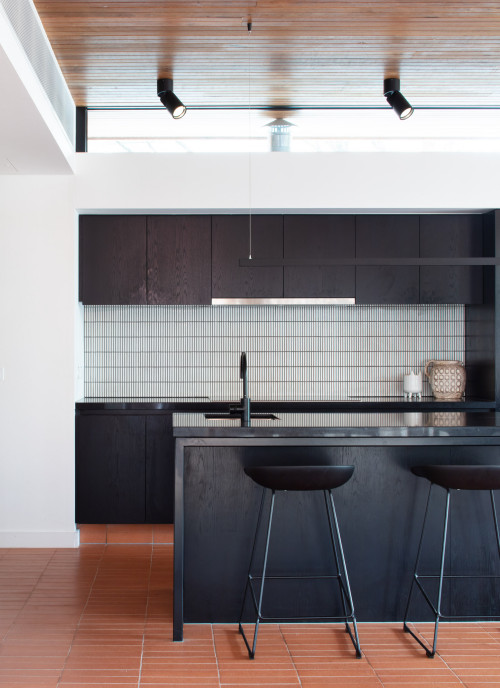 ID# 136501 | Houzz.com – Credit | © Modscape
---
Kit Kat Tile Backsplash with Black Cabinets and Black Countertops
Lover of small or large tiles? If you are fond of the former, the kit kat tile backsplashes have the perfect look for you. Modern and sophisticated, these tiles are not made of chocolate but create visually delightful designs. Here, in this contemporary kitchen, they are put into dialogue with black countertops and cabinets for a striking contrast and to keep the backsplash in the spotlight. To complement them, the terracotta brick tiles coat the floors to add an earthy feel and warming shade to the white-black color scheme.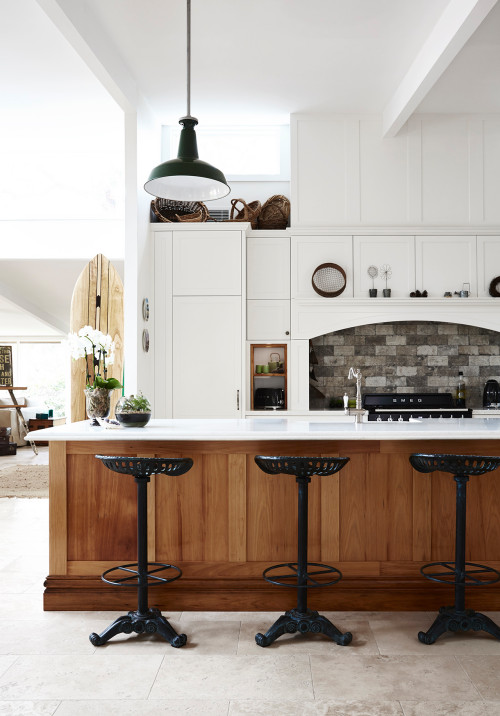 ID# 136518 | Houzz.com – Credit | © Collaroy Kitchen Centre
---
Brick Backsplash with Timber Cabinets and White Countertops
In the Sydney country house, this amazing kitchen feels larger than it is, thanks to the open-plan layout, well-proportioned contrasting color scheme, and the abundance of light directed from the hallway. The streamlined cabinetry diverts the space slightly from its ultra-modern look with a brick backsplash that creates an authentic feel. The large island with a wooden base channels a sense of warmth and increases the functionality of the kitchen with its hefty countertop. The use of white for the countertops helps easy navigation, making it easier to spot whatever is needed at the moment. On the floor, the large format travertine tiles add a cold, hard, yet authentic feel without dramatizing it.
Backsplash Tile Sizes
What is as important as the color, pattern, and design of the tiles on your kitchen walls is the backsplash tile sizes that come in a plethora of formats. Do you love slender tiles or mosaics, for example? Or is it that larger tiles that you favor? With the advancement of technology, today's market opens up endless design possibilities with variously sized tiles. But how do you choose the right one and how do they impact the overall look of the kitchens?
First of all, the key point to choose the best backsplash tile sizes for your kitchen is to consider the scale of the available space and choose accordingly. And secondly, if you want to encourage your kitchen to feel more spacious and wider, the formats of the tiles help you apply some design tricks for small and compact rooms. If you are wondering how, in this round-out, we complied over 30 design projects with a focus on backsplash tile sizes in different kitchen layouts as well as open-plan and separate kitchens. So, read on to get inspired and familiar with the tile formats and choose the right size for your kitchen walls.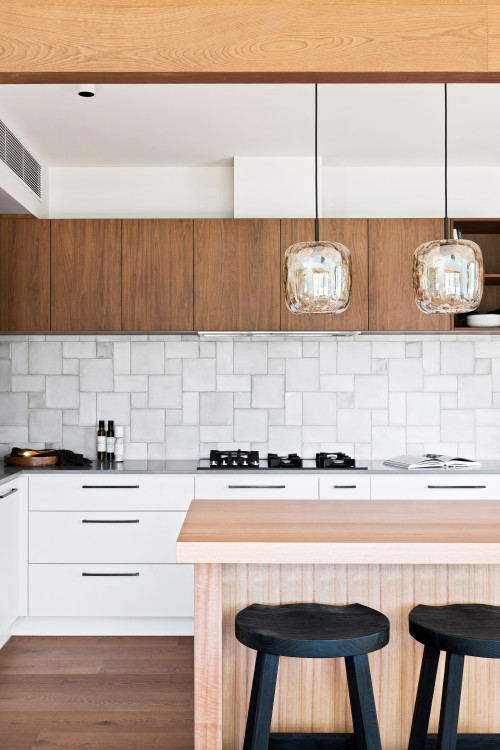 ID# 136502 | Houzz.com – Credit | © Scale Constructions
---
Basketweave Backsplash with Gray Countertops and Two-tone Cabinetry
If you don't want your backslash to feature a homogenous look, you can mix variously sized tiles to create a basketweave pattern. And taking cues from their color fluctuations, you can choose the rest of the cabinets accordingly. Here, for instance, the white and gray shades of the backsplash find resonance in gray countertops and white cabinets enriched with wooden applications to channel a sense of warmth and make the design feel more approachable.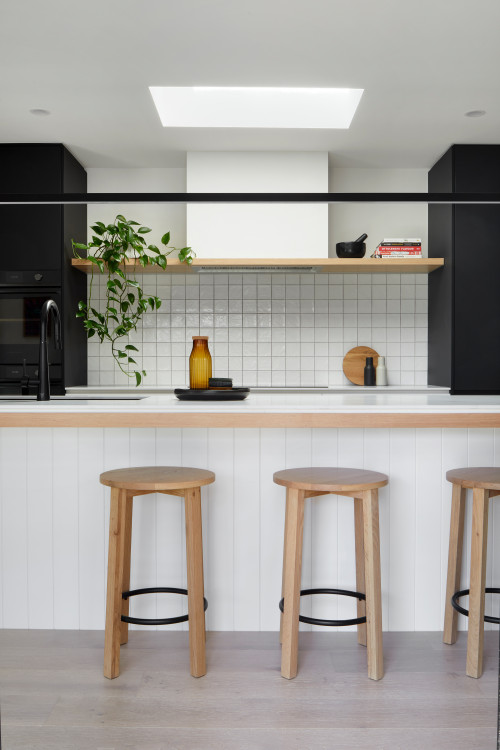 ID# 136503 | Houzz.com – Credit | © Demardi
---
Backsplash Tile Sizes with Square Tiles and Wood Accents
This kitchen realizes all the promises of a Scandinavian kitchen: a basic color palette, decluttered design, and wood accents. First, it starts by merging dark and white cabinets and pairs them with a square subway tile backsplash. Then, the wood accents and trims soften this contrasting scheme, and the kitchen plant gives a breath of life and a touch of green to the interior.
What are standard tile sizes?
3*6 and 4*4-inch are considered standard tile sizes that will give your space a standard and timeless look.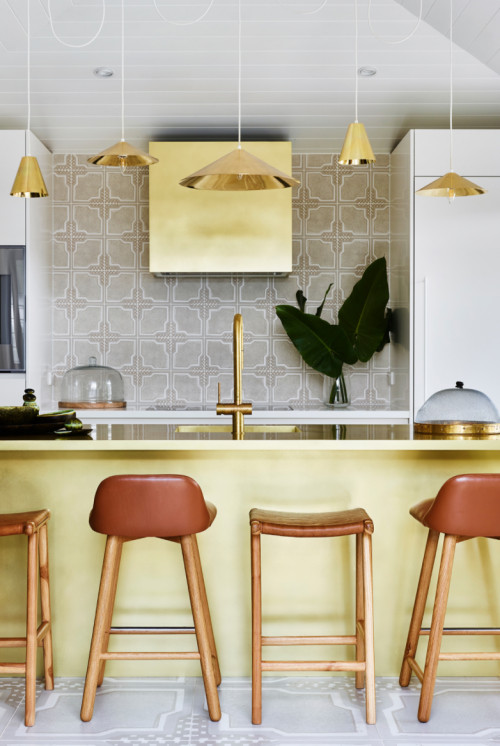 ID# 136504 | Houzz.com – Credit | © Langlois Design
---
Luxurious Kitchen Design with Brass Island and Gray Backsplash
What a memorable design this contemporary kitchen presents! From the gray encaustic cross-patterned backsplash to the all-brass kitchen island paired with brass fixtures, stools, and hood, the kitchen is awash with luxurious finishes. And they don't even end there. On the floor, the larger sizes of the backsplash tiles sheathe the ground for a continuous design. In a similar vein, a cluster of variously-sized pendants orchestrates a choreography of sorts over the island. This way, the kitchen develops a tendency to oversize the materials and tiles, executing a rhythmic design almost hard to catch up with but in a pleasurable way.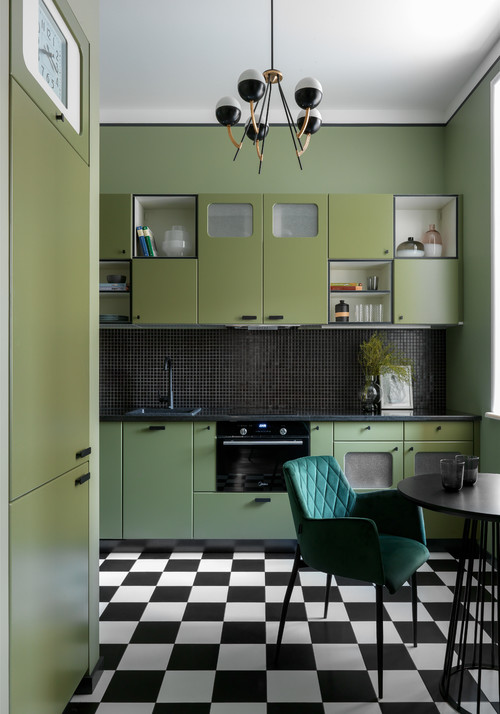 ID# 136505 | Houzz.com – Credit | © propertylab+art
---
Eclectic Kitchen with Black Mosaic Tile Backsplash and Green Cabinets
Moscow apartments always feature unexpected finishes and twists, and this eclectic kitchen is no exception. Here, focusing on the scale rigorously ensures that everything is proportionate. The miniature-like green cabinets match the black mosaic tiles. Likewise, the checkerboard flooring that is welcome in any kitchen of any era adds an exciting pattern on the floor, which is very well scaled to suit the size of the space. Overall, this modern kitchen in a Moscow apartment is treated with downsized elements to create a cozy and cute look.
What size tiles make a kitchen look bigger?
Large format tiles tend to make a kitchen look bigger since they have fewer grout lines that divide the wall into rows. Also, by taking the backsplash up to the ceiling and forgoing the upper cabinetry, you can expand the kitchen. Yet, apart from those, those who love seamless looks, the natural stone slab and glass sheet backsplashes also stand out as other alternatives to the large format tiles.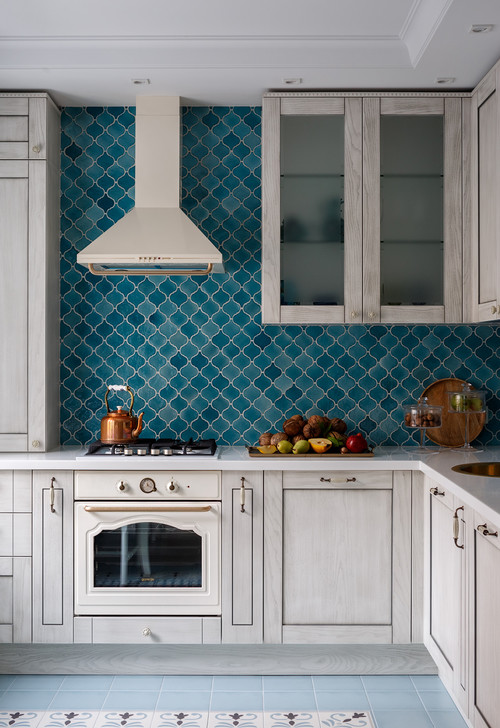 ID# 136506 | Houzz.com – Credit | © Prima Keramika
---
Backsplash Tile Sizes with Blue Arabesque Patterns and Light Wood Cabinets
This stunning backsplash is made of blue small handmade ceramic arabesque tiles that deliver a fantastic Mediterranean vibe to the kitchen. And the subtle tonal variations on the backsplash just enrich the look, making it more authentic. Paired with white-ish wood cabinets and white countertops, these amazing tiles are kept in the spotlight, well-synchronized with the light blue floor tiles.
What size tile is best for a kitchen backsplash?
The answer to this question is dependent on personal preferences and the size of the space. First of all, it is generally recommended to go with tiles that feel proportionate to your kitchen. For example, if you have a big kitchen, you can use larger tiles. But for too-small kitchens, it could be a bit tricky. Though small tiles are welcome as well, large and medium size tiles are considered better because they tend to show small spaces roomy.
Small Backsplash Tiles
Mosaics, penny round, and kit kat tile backsplashes are the most popular faces of the small backsplash tiles. Coming in the sizes of 4*4, 8*8, 6*6, and 12*12, small tiles create backgrounds with a high aesthetic value. However, the disadvantages of using small backsplash tiles are that they bring more grout lines, which makes them harder to clean. And for the same reason, it takes much more time to install them.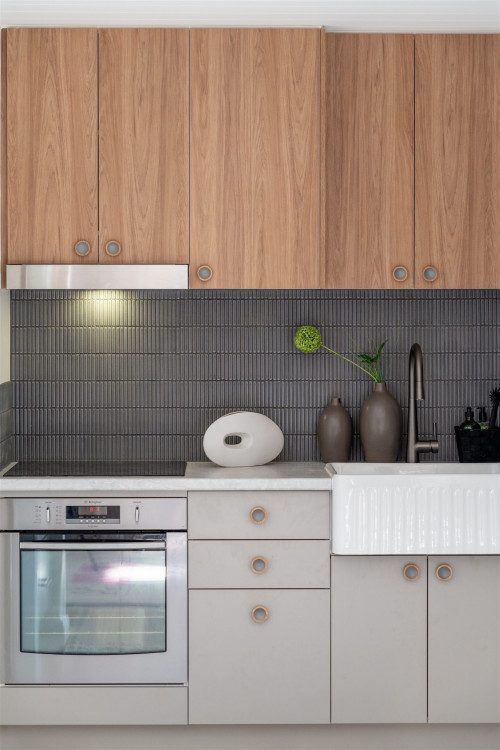 ID# 136507 | Houzz.com – Credit | © Annette Pust Design Studio
---
Scandinavian Kitchen with Kit Kat Tile Backsplash and Fluted Farmhouse Sink
This Scandinavian kitchen creates a perfect combination of shades and patterns, while the gray kit kat backsplash adds a sophisticated look in synchrony with the fluted farmhouse sink. The use of small tiles integrates a punch of character into the walls with a contemporary appeal. The greige base cabinets feel complete with timber overhead cupboards, which enmeshes cool and warm shades in one melting pot, while the sculptural decorative pieces style the white solid countertops for a sake of an artsy feel.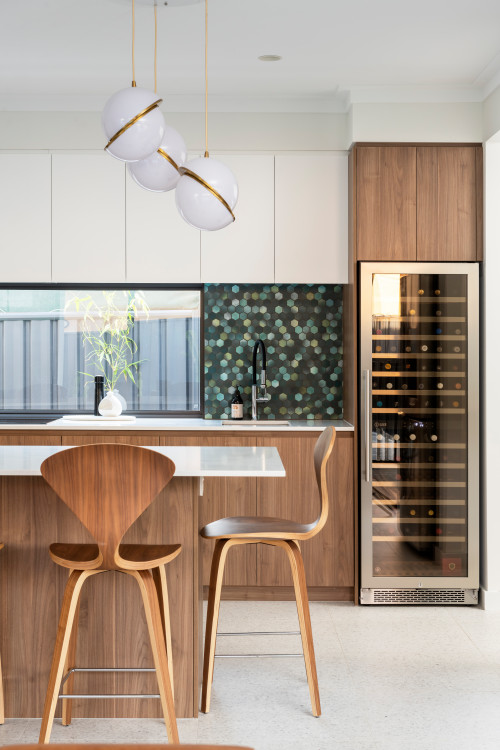 ID# 136508 | Houzz.com – Credit | © Residential Attitudes
---
Stunning Mid-Century Kitchen with Mirror and Multi-colored Backsplashes
Not one but two types of backsplashes are used in this stunning mid-century kitchen to accompany the modern walnut cabinets, and not all backsplashes have to feature tiles. Here, for example, the first backsplash comes in the form of a seamless mirror backsplash that creates a more interactive design, while the second one is wallpaper colonized by colorful polka dots in resonance with the multi-colored wine bottles exposed in the glass-front wine fridge. And what complements them are the walnut hourglass stools and a cluster of orb lighting with brass detailing that exposes kitchens users to modern nostalgia.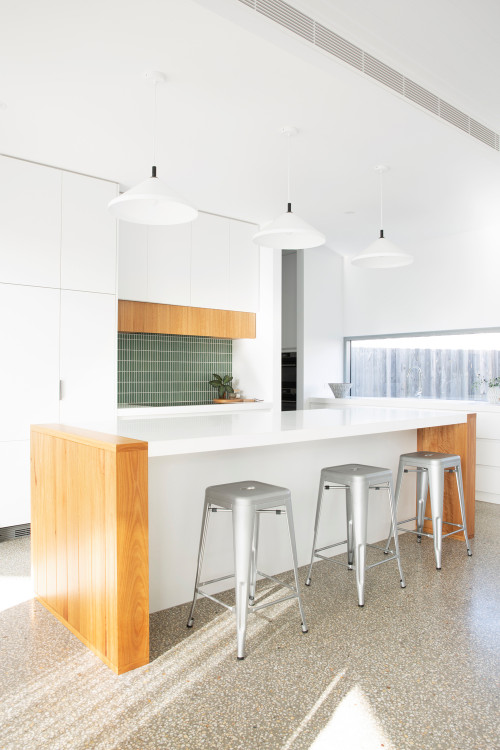 ID# 136509 | Houzz.com – Credit | © Elizabeth Schiavello Photography
---
Contemporary Kitchen with Green Small Tile Backsplash and Wood Accents
Small tile backsplashes, especially kit kat mosaic tiles, are one of the popular looks in contemporary kitchens. Here, they come in shades of green to create a biophilic design, connoting forests along with the wood accents. The white cabinets expand the impact of the streaming lights skillfully, while the speckled-finish concrete floor and industrial-style gray stools make kitchen users indulge in a more utilitarian setting. Overall, this contemporary kitchen offers the best of both worlds, enmeshing the natural vibes with an industrial flair.
What size tiles are available in the market?
In today's market, the variety of size tiles is expansive, ranging from 2*3 to 4*8, 6*12, 4*4, 1*6, 12*12, 18*18, and 18*24 inches and more. Particularly in recent years, the size of tiles has grown in width and length, allowing homeowners to truly personalize their homes. Plus, these various options help to create better visual and design tricks to play with the scale of the available spaces, making them feel larger and expanded. That's why the expansion of the size tiles opens up more design possibilities endowing customers with almost limitless freedom.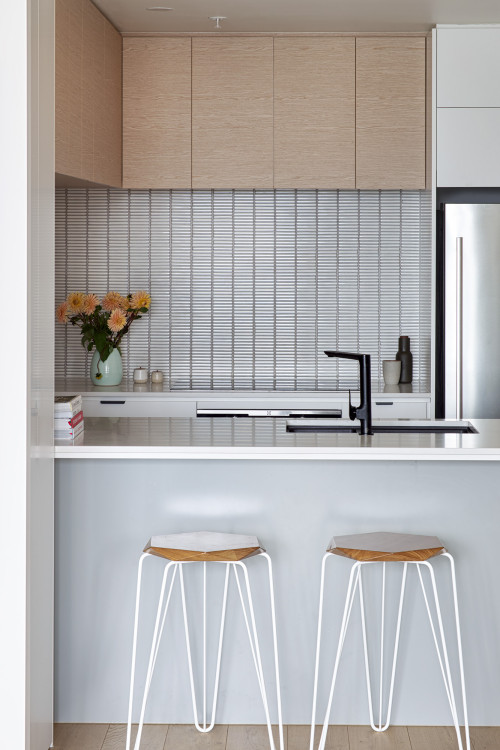 ID# 136510 | Houzz.com – Credit | © Jasmine McClelland Design
---
Monochromatic Backsplash Tile Sizes in Contemporary Kitchen with White Countertops
You don't always have to stack the kit kat tiles vertically, while the horizontally stacked versions are as impactful as the other versions. This contemporary kitchen, for example, goes with a horizontal layout and combines it with white quartz countertops and two-tone cabinetry. By doing so, it softens the monochromatic backsplash with warming shades of wood, and the stainless-steel appliances give this kitchen an upscale feel, while the black tap adds a soft contrast.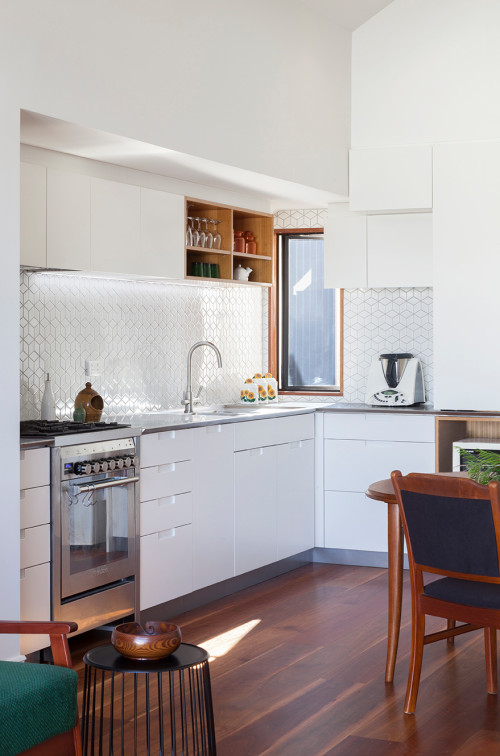 ID# 136511 | Houzz.com – Credit | © RMR Architects
---
White Escher Tile Backsplash and White Cabinets with Wood Floor
Looking for something elegant but also geometric? These small-size Escher tiles create a texture-rich and modern backsplash in this transitional kitchen, complemented with a monochromatic and adventure-free material palette. This minimalist visual scheme only comprises gray countertops topping white cabinets and medium wood-interior cabinet shelves that break up the uniform look that would otherwise look too monotonic. The wood floor finish coordinates with these wood open cabinets to pull the whole design together, while the under-cabinet lighting provides task lighting for the countertops.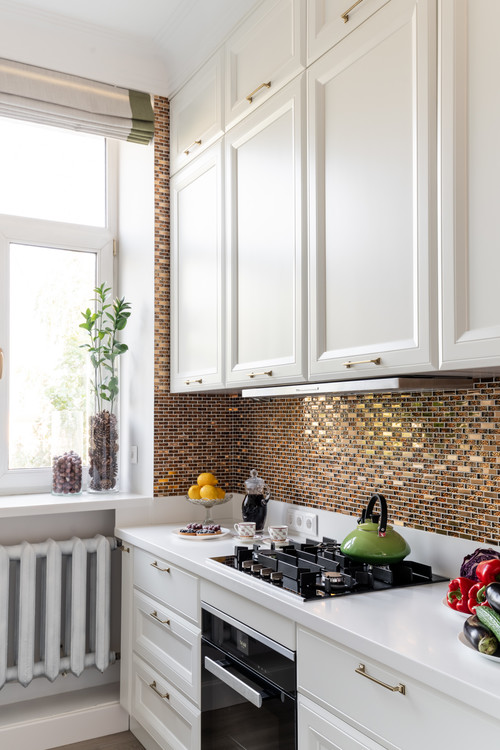 ID# 136512 | Houzz.com – Credit | © Наталья Широкорад
---
Copper Small Tile Backsplash with White Cabinets and White Quartz Countertops
This visually stunning kitchen owes its elegance to the glittering copper small tile backsplash that channels a sense of warmth. The glow of these tiles gives the kitchen a healthier look, while the white shaker cabinets and quartz countertops brighten up the kitchen and make this compact space feel larger. Additionally, the brass cabinet pulls add a gesture to the cabinets, synchronizing them with the copper backsplash.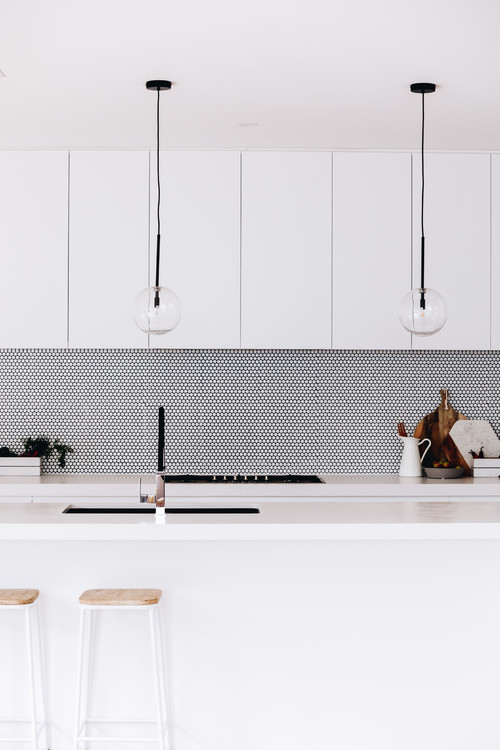 ID# 136513 | Houzz.com – Credit | © Mos Interiors
---
Penny Round Tile Backsplash with Black Grout and White Flat-front Cabinets
It is impossible not to think about penny-round tile backsplashes when discussing small tile splash-backs. Though tiny these tiles are, their impact is huge and can dominate the entire space. Here, for instance, the white flat-front cabinets topped by white countertops create a blank canvas for the penny tile backsplash to make it the statement piece, while the black grout between the tiles makes them even more pronounced. This contrast also coordinates them with other black elements in the kitchen, including a black faucet, black appliances, and black hardware of the globe-shaped glass pendants. Overall, this contemporary kitchen lays its foundation upon the white and black contrast that is well-proportioned, thus creating a weightless appeal for the kitchen.
Are large tiles more likely to crack?
Cracking could be an issue with large tiles but only when they are not installed properly. The possible causes, for example, could be the shrinkage of the mortar and uneven surfaces, and not using the right tools during the installation. That's why it is important to bear in mind that each format and material might have its special requirements regarding installation.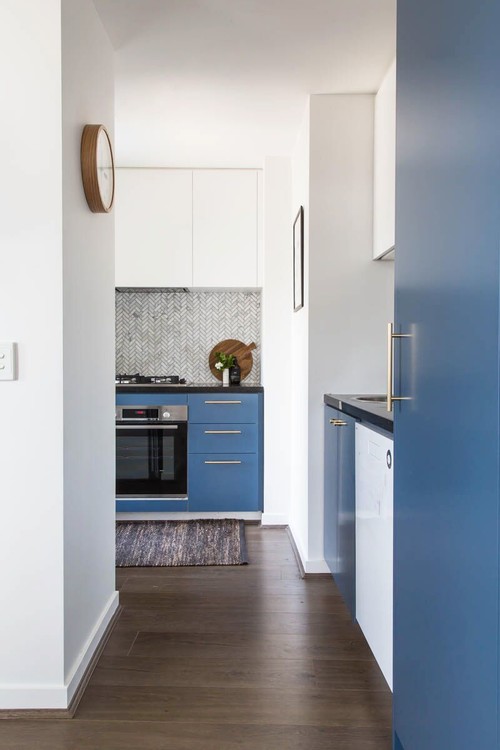 ID# 136514 | Houzz.com – Credit | © Mos Interiors
---
Chevron Tile Backsplash with Blue Cabinets and Black Countertops
Everybody loves marble slab backsplashes, but what if they come in chevron patterns? Surely they preserve their sophisticated vibe even when they feel more geometric. Here, this contemporary kitchen employs a marble chevron tile backsplash that creates a visual focal point. This eye-catching backsplash is flanked by the white wall units and blue counters, while the black countertops add a third color to anchor this dynamic kitchen design that is driven by geometric patterns and blue cabinets.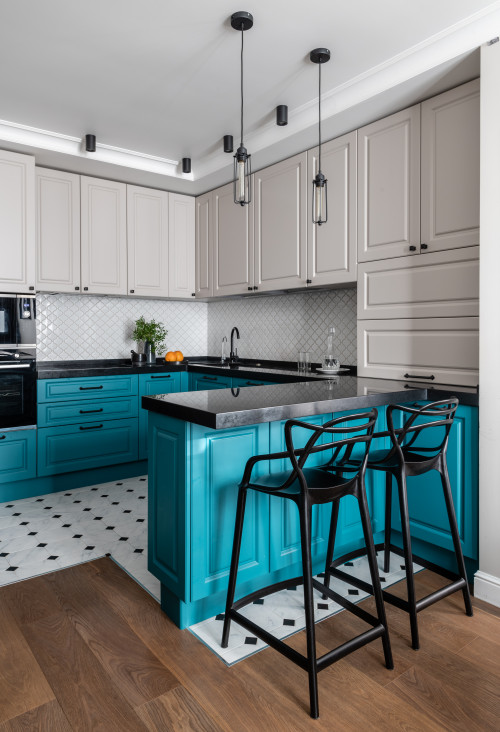 ID# 136515 | Houzz.com – Credit | © Анастасия Король
---
Arabesque Tile Backsplash with Cream Cabinets and Black Appliances
Combining a little bit of everything, this Moscow kitchen makes unrelated colors and patterns relative to each other. From the cream wall units to blue base raised-panel counters, arabesque tile backsplash, and diamond-patterned floor tiles, each element speaks for itself while also contributing to the entire kitchen theme. The white small arabesque tiles create soft transitions between the blue and cream cabinets, while the black countertops and appliances blend seamlessly. Colorful yet distant, energizing yet recessed, this contemporary kitchen creates an eye-appealing design rich in character.
Medium Backsplash Tiles
The sizes of medium backsplash tiles include rectangular tiles measuring 120*30 and 120*20 cm, while the square tiles are 60*60 and 80*80 cm. The other popular dimensions for a medium tile size also encompass 120*60, 60*30, 30*60, and 30*45 cm. You can dive into a world of endless design possibilities with these medium tiles that are a perfect fit for large and medium-sized kitchens.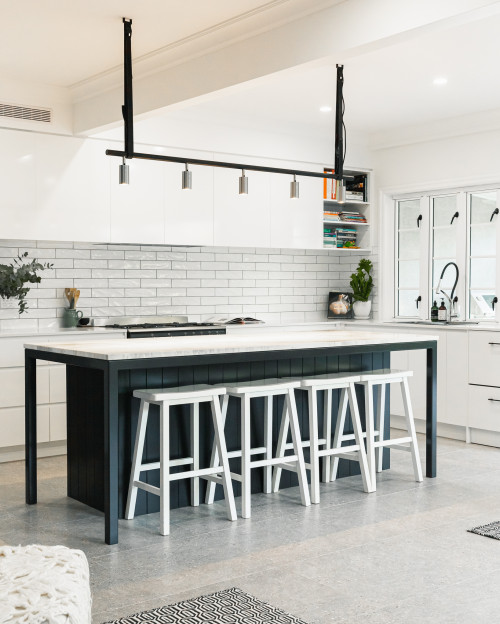 ID# 136516 | Houzz.com – Credit | © Urban Design Solutions
---
Subway Tile Backsplash with White Cabinets and Dark Green Island
This white-dominant kitchen takes a modern take on traditional looks. To start with, the all-time backsplash of the white subway tiles with slightly staggering edges brings a sense of imperfection of its own between the all-white flat-front cabinets. The choice of medium size tiles makes them feel more pronounced with a modern interpretation. And everything continues to feel modern until our eyes meet the dark green legs and beadboard cabinets of the kitchen island paired with white-painted wood stools that would perfectly suit a cottage-style kitchen. Yet, right overhead, a linear lighting fixture with steel shades adds another contemporary element to adjust it to the rest of the space.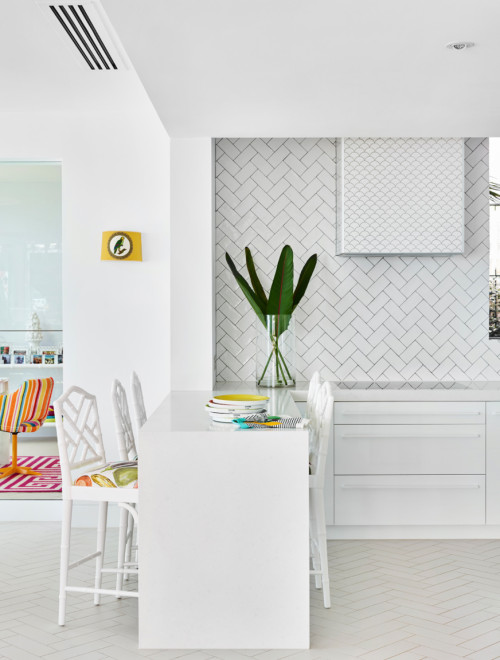 ID# 136517 | Houzz.com – Credit | © Langlois Design
---
Backsplash Tile Sizes with Herringbone Patterns in All-White Kitchen
If you can't give up on all-white looks but feel confused about how to save it from any other monochromatic standard look, this modern kitchen has the answer for you. It uses medium size subway tiles but lays them in a herringbone pattern, taking them up to the ceiling. The range hood, in contrast, is tiled with white small mermaid tiles, while the floor is clad in herringbone tiles in larger formats that coordinate with the backsplash tiles. The rest features white cabinets topped by white countertops and colorful cushions on the, again, white stools. In short, only the accessories introduce pops of colors, while the main bones of the kitchen are kept all white.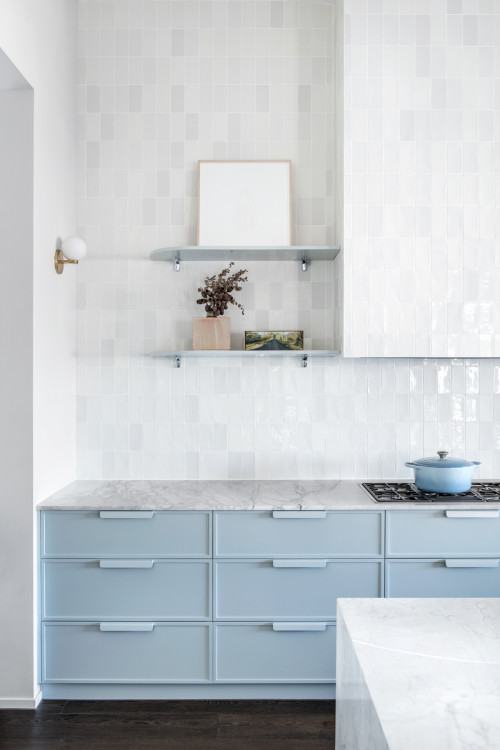 ID# 136519 | Houzz.com – Credit | © Room By Room
---
White Stacked Ceiling-Height Backsplash with Blue Cabinets and Marble Countertops
The muted blue cabinets inject a healthy dose of color into this modern kitchen that uses a ceiling-height backsplash and forgoes the upper cabinetry for the sake of enlargement of the space. These vertically stacked white ceramic tiles also continue on the range hood to retain integrity, while a duo of small floating shelves adds a gesture to the backsplash. To complement them, marble countertops and dark wood flooring radiate a sense of warmth, adding elegance and visual drama.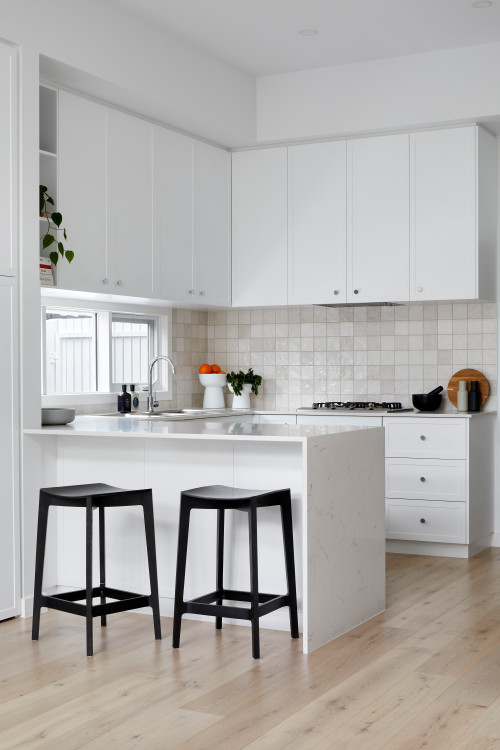 ID# 136520 | Houzz.com – Credit | © Demardi
---
Backsplash Tile Sizes for U-Shape Achromatic Contemporary Kitchen
Nestled in a small corner, this U-shape achromatic kitchen offers a compact yet self-contained design. It mainly consists of white shaker cabinets paired with a white square tile backsplash. The subtle tonal variations on the tiles evoke extra interest, while the black stools add contrast and the light wood floor finish brings warmth.
Large Backsplash Tiles
The larger the tiles, the fewer the grout lines. And fewer grout lines mean less scrubbing and less room for mildew and mold to accumulate. That's why large backsplash tiles are already ready to befriend homeowners, thanks to their easy-to-maintain properties. But what counts as a large tile? First of all, a large backsplash tile is considered to be any tile with one side longer than 15 inches. 90*90, 120*240, 100*100, 120*120, 120*60, 150*75, 900*320, and many more count as large backsplash tiles. And today, thanks to technology, we have a plethora of tile sizes available in the market, allowing homeowners to create the look they have dreamed of.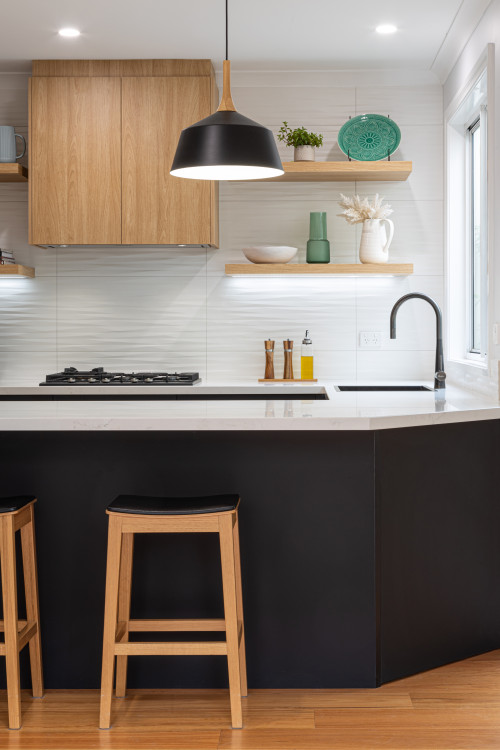 ID# 136521 | Houzz.com – Credit | © Lisa Cannon Interior Design
---
Large Backsplash Tiles with Black Cabinets and Timber Floating Shelves
Large backsplash tiles have a way of their own, turning dull walls into well-articulated surfaces. Here, this contemporary kitchen goes with white slender tiles that exude elegance. It is taken up to the ceiling and accentuated by wood range hood dressing and timber floating shelves. The black base cabinets topped by white countertops ground the look, while the diagonal turn of the kitchen builds extra interest.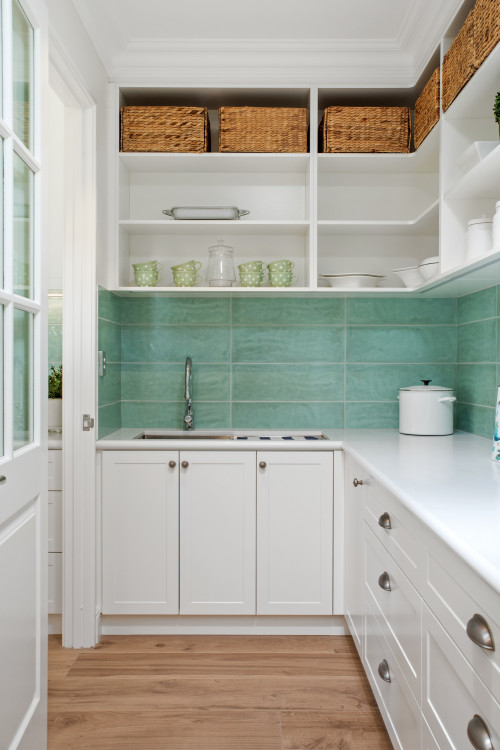 ID# 136522 | Houzz.com – Credit | © Crib Creative
---
Blue Stacked Tile Backsplash with White Shaker Cabinets and Cabinet Shelves
This transitional kitchen brings modern lines with traditional touches together, where the white shaker cabinets serve as the main bones. It feels tranquil and colored enough to encourage engagement with the space. The large blue stacked tiles enlarge the walls, while right above, the white cabinet shelves add more life to the kitchen. The wicker storage baskets aligned on the shelves add warming elements, and the brushed nickel hardware punctuates the cabinets.
How to choose the backsplash tile size?
When choosing the best backsplash tile size for your own space, the best way is to use tile formats proportioned to the size of your room. That's why it is recommended to measure the square footage by multiplying the width and length of the application area. While doing so, also consider that you will have to work around the corners and cabinets, which also helps you figure out which layouts and patterns you can use for the application area.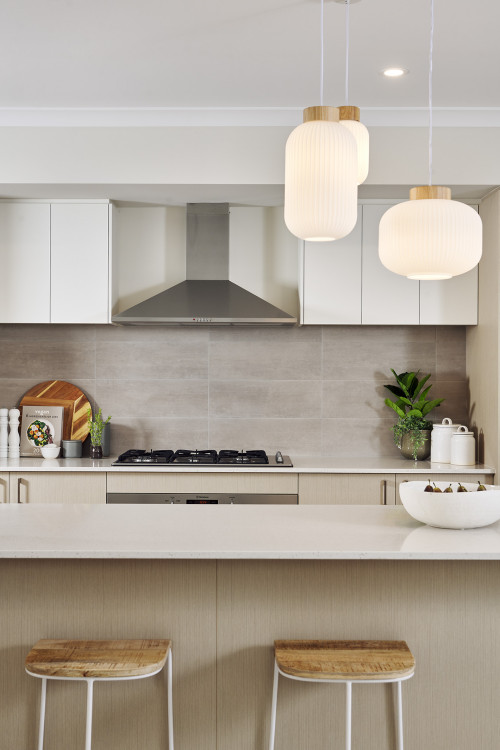 ID# 136523 | Houzz.com – Credit | © Momu
---
Backsplash Tile Sizes for Beach-Style Kitchen with Sandy Shades
This peaceful beach-style kitchen leans into the idea of using light sandy shades not to give up on warmth. The cream cabinets combined with white wall units and stainless-steel appliances form integrity awakened by a cluster of pendants that diffuse white warming lights. In the background, the large horizontally stacked porcelain rectangular tiles echo the kitchen's color scheme to make for a well-curated look. Sitting in an open conversation with the dining area and the lounge, thanks to the open-plan layout, it features a more expansive space than it is, suiting the beach-style spirit perfectly.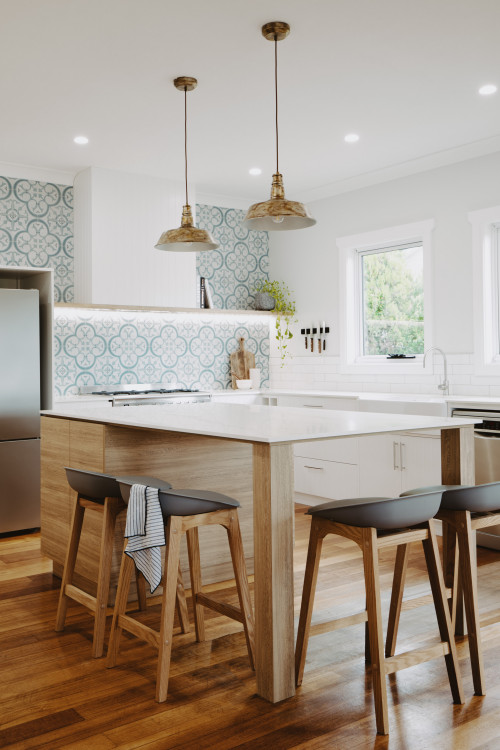 ID# 136524 | Houzz.com – Credit | © Lydia Maskiell Interiors
---
Blue Encaustic Tiles with White Cabinets and Timber Island
The blue large-format encaustic tiles and timber accents inject a sense of soul into this kitchen. And of course, when you have such a beautiful backsplash, why not highlight it? One way to do it just like this kitchen does is to use a floating shelf and install a LED strip lighting right beneath it. This way, you not only highlight the backsplash but also provide task lighting. The rest feels complete with white cabinets and a timber island that contributes to the total look with warming shades, while the light wooden floor ties the space together.
What size backsplash tile is best for a small kitchen?
In small kitchens, medium and large tile sizes are recommended since the fewer grout lines and the large-format tiles make the kitchen feel larger. And it is better to avoid mosaics as they give the kitchen a grid-like appearance, making the space feel boxed in. However, it doesn't mean that the use of small tiles is completely out of the game. If you love mosaics or small tiles, you can still integrate them to give a better definition to the stove by using them as a stove backsplash.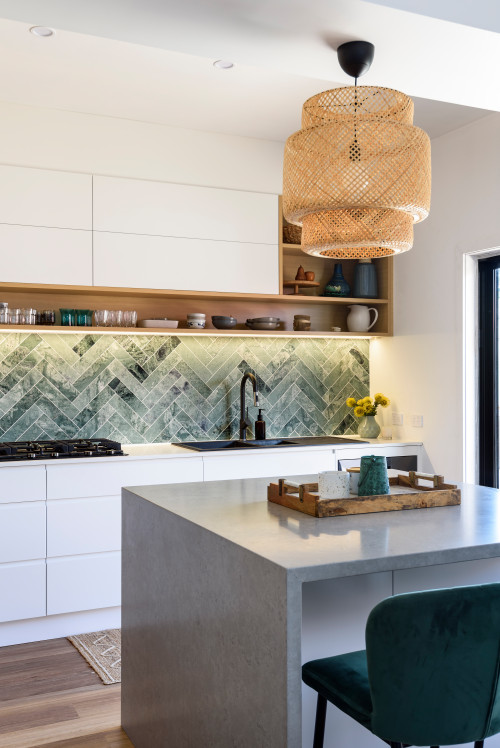 ID# 136525 | Houzz.com – Credit | © Vista Kitchens Newcastle
---
Natural Finish Modern Kitchen with Medium Backsplash Tile Sizes
In this modern kitchen defined by natural finishes, the green marble herringbone backsplash is a shy but still colorful addition. It is highlighted with the white cabinets and timber cabinet shelves. Right across sits the small island that is well-proportioned to the kitchen's size, delivering a sophisticated feel with its natural stone waterfall countertop.
Subway Tile Sizes
An all-time favorite and another form of rectangular tiles, subway tiles have kept their popularity since the 1900s when they were first introduced in the NYC subway stations. And since then, they have been used in various settings, including, public, private, indoor, outdoor, residential, and commercial spaces. Yet, over time, they have changed drastically, and today, they are available in many colors, patterns, designs, and of course, sizes.
Though the standard subway tile size is 3*6 inches, you can also find their smaller and larger versions in the market. Nowadays other popular subway tile sizes include 2 * 4, 4*6, 4*8, 6*8, 6*12, 8*12, and 12*16. Eligible for various layout profiles, these tile sizes allow homeowners to experiment with them and create intriguing patterns such as herringbone and basketweave. Plus, you can also find them as 3*3 and 4*4 inches square subway tiles that lend a more modern and graphic look.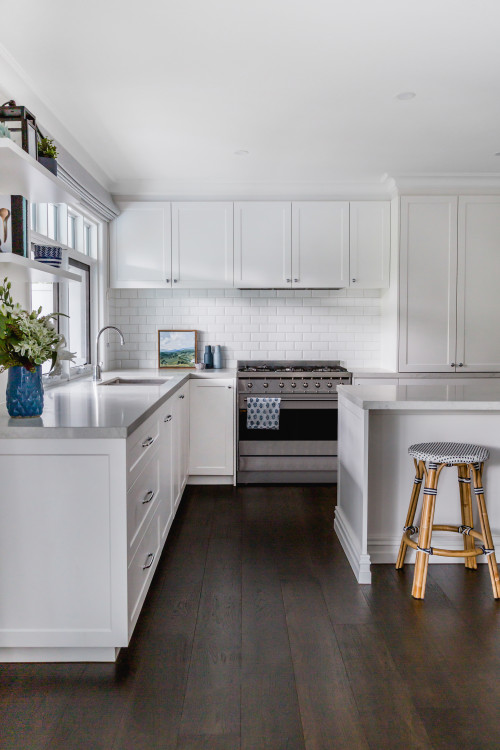 ID# 136526 | Houzz.com – Credit | © Gallerie B
---
Backsplash Tile Sizes for White Shaker Cabinets and Dark Wood Floor
This transitional kitchen proposes an achromatic kitchen design that is enriched with inspiration borrowed from the beach-style kitchens, which is most evident in the sailor-striped rattan stools. And the rest is grounded upon an all-white color scheme that feels light and airy with white shaker cabinets and standard subway tile backsplash that creates a simple look. Laid in a running-bond style, the subway tiles provide a neat and clean look; gray countertops blend seamlessly with the stainless-steel appliances. The dark wood floor finish brings much-needed warmth to the otherwise all-white kitchen.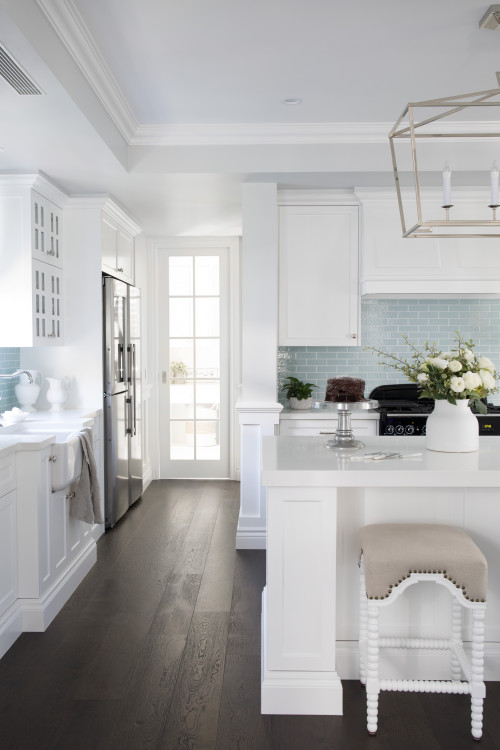 ID# 136527 | Houzz.com – Credit
---
Transitional Kitchen with Blue Subway Tiles and Cage Pendant
When you have an all-white kitchen, a subtle blue subway tile backsplash can recreate it with a subtle touch of color like in this kitchen. Consisting of white glass front cabinets, shakers, and a stylish classic-style island, this transitional kitchen has an old-world charm championed by a cast-iron cage pendant with candleholders. The white roses in the white vase also celebrate the purity of the white and blue combination, while the dark wood floor finish stages a visual drama that brings the warmth out of the white-dominant look.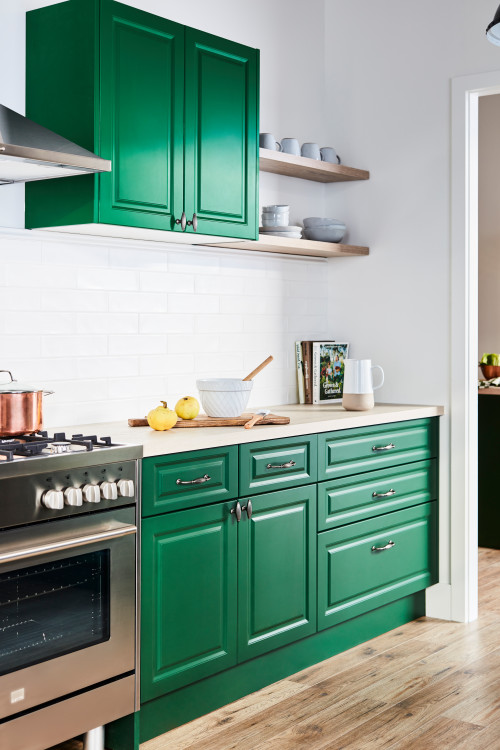 ID# 136528 | Houzz.com – Credit | © Bunnings Warehouse
---
Rustic Kitchen Design with Green Cabinets and Wooden Countertops
This rustic kitchen has a vibrant color palette. The timber countertops balance the bold green color of the cabinets. The green raised-panel cabinets, timber floating shelves, and oversized patina-developed hardware give the kitchen a classical spin. The white subway tile backsplash brightens up the kitchen, going all the way up to the ceiling and ditching upper cabinets to save more room for itself.
ID# 136529 | Houzz.com – Credit
---
Ceiling-Height Subway Tile Backsplash with Brass Accents and Concrete Floor
One of the best ways to give a different look to the subway tiles is to use an eye-popping grout color. Here, for example, this contemporary kitchen uses golden grout to make an effortless connection between the brass accents and the subway tiles. Likewise, the yellow-tinged greenish concrete floor offers a seamless look to compensate for the abundance of joints on the ceiling-height backsplash. The rest is occupied by flat-front timber cabinets that keep the design simple, minimalist, and nature-oriented.
How to use different tile sizes together for a backsplash?
You can come up with patterns like basketweave patterns for which you need to use tiles in different sizes. This, in return, brings a layered and sophisticated feel to your backsplash. Mixing triangles with squares and diamonds with hexagons (E.g., Escher tile), and mosaic diamonds with subway tiles could be another way to create versatility. This way, you can come up with intriguing geometric patterns that will modernize the kitchen instantly. But if you are wondering which tile pattern is the best to come together with its different format sizes, it is the hexagon tiles that come together as puzzle pieces. For a more futuristic look, you can mix small and big hexagon tiles. For those looking for a rustic feel, stone-look rectangles and square tiles in different formats can be combined for a more natural and organic form and feel.
But if you don't want to mix them, another way to use different tile sizes together is to divide your kitchen top into two halves. You can start by using a standard backsplash and continue with another tile pattern or the larger format of the same tiles for the other half that reaches the ceiling. Or if you have niches, you can use them as an opportunity to clad them in different tile sizes. In a similar vein, if you want to create focal points, for example, to differentiate your cooking zone, you can use different tile sizes for the stove backsplash and frame it to distinguish it from the rest.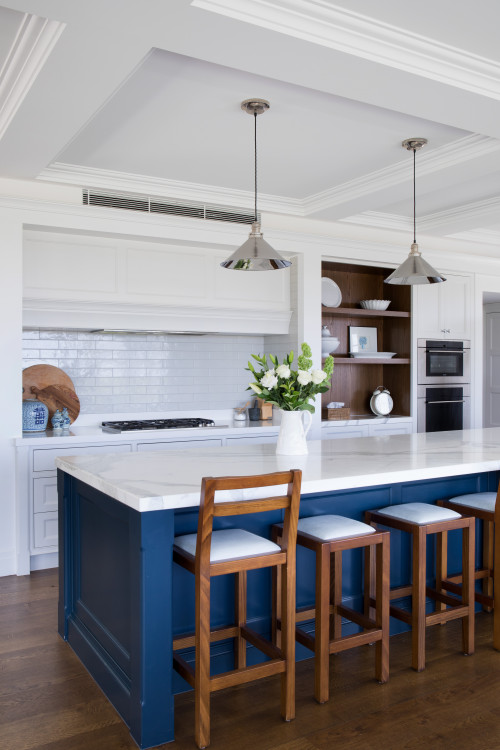 ID# 136530 | Houzz.com – Credit | © Wyer + Craw
---
Backsplash Tile Sizes for Blue Kitchen Island and Quartz Countertops
This transitional kitchen uses 2*12-inch subway tiles that have a much more slender profile. By doing so, it manages to expand the kitchen on the horizontal axis as the slimmer subway tiles can enlarge the space more when compared to the 3*6-inch standard subway tiles. To complement it, a quartz-topped island with blue base cabinets adds a pop of color, while the wood cabinet and stools help the kitchen feel cozier.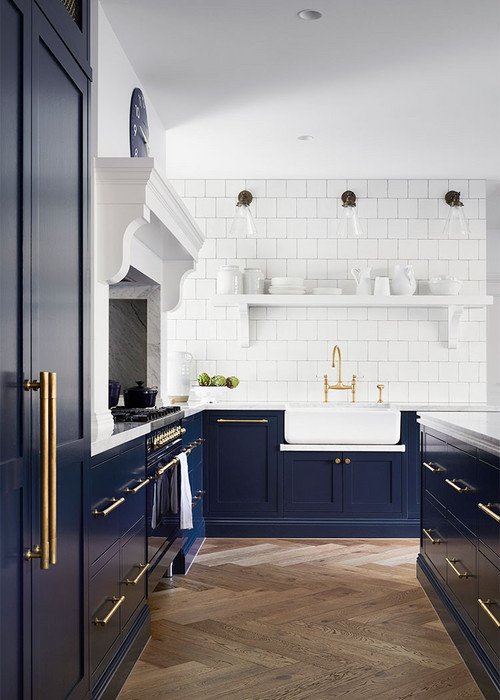 ID# 136531 | Houzz.com – Credit | © The English Tapware Company
---
Traditional Kitchen with Square Subway Tile And Blue Cabinets
In this stunning kitchen, the square subway tiles draw eyes upward to make the kitchen look grand. A white floating shelf with corbels adds volume to the backsplash, illuminated by a trio of glass wall sconces. This way, the modern and graphic look of the square subway tiles receives a classic spin to adjust to the rest of the kitchen, where the navy-blue cabinets fitted with golden hardware register a sense of elegance and richness to this traditional kitchen. Not to mention the darkish hardwood herringbone pattern flooring that seals the overall look in a sensorial manner.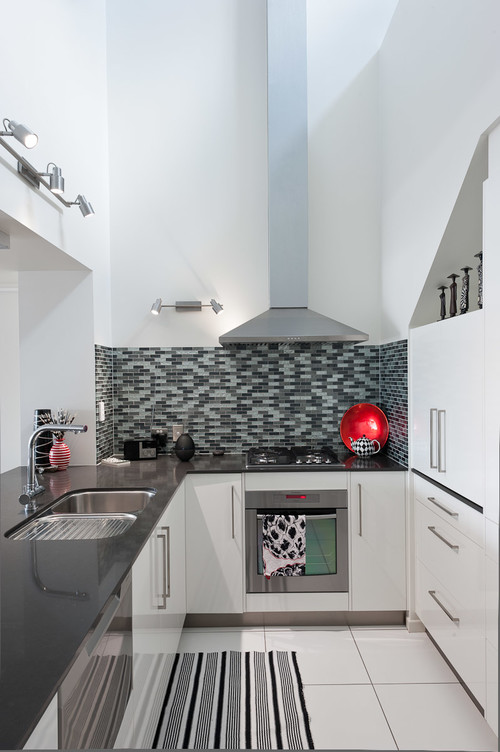 ID# 136532 | Houzz.com – Credit | © Q Kitchens & Bathrooms
---
Modern Kitchen with Small Backsplash Tile Sizes and White Cabinets
The overarching color palette of this modern kitchen finds resonance in the mosaic subway tile backsplash that is only used to define the stove zone and generate a sense of movement without overwhelming the space. To serve the same aim of keeping things calmer and more minimalist, the rest of the walls are kept white, paired with white cabinets and white large format floor tiles to enlarge the kitchen with a few design tricks.