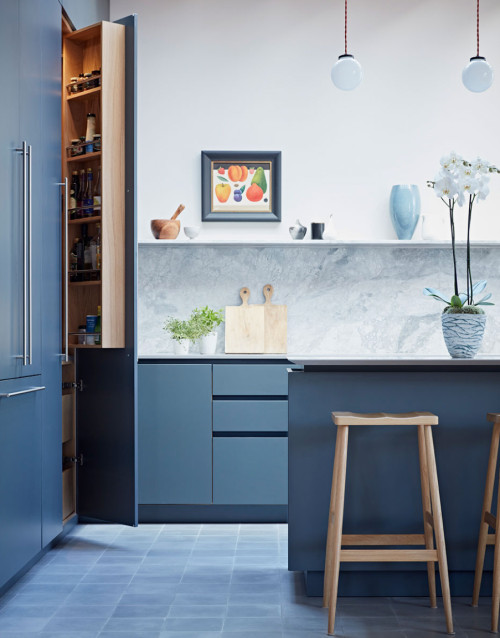 ID# 129115 | Houzz.com – Credit | © Sally Conran
---
Gray Kitchen Design with Marble Slab Backsplash and Gray Tiled Floor
The bright and airy contemporary kitchen offers an elegant look with its dark grey kitchen cabinets, marble splashback and shelf, oak stools, and soft gray tiled floor. The marble backsplash contrast with the flat-panel cabinets with its natural texture. The marble shelf both provides functionality and style! The light gray tiled floor adds a nice effect!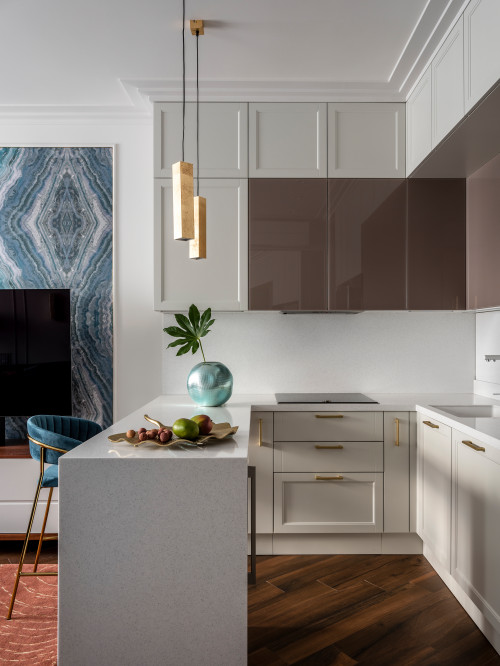 ID# 129130 | Houzz.com – Credit | © ANDdesign / Александра Дашкевич
---
Off-white Perimeter Cabinets with Lacquer Brown Upper Cabinets and Brass Hardware
The lovely color palette offers a warm and welcoming atmosphere for this transitional kitchen. The lacquer Brown upper cabinets make a modern twist against the shaker style of the off-white perimeter cabinets. The brass accents like the hardware and lighting fixtures complete the warm feel of the overall look while the white granite backsplash and countertop enhance the open and airy feel.
Slab Backsplash
When it comes to remodeling a kitchen, a backsplash is one of the most critical decisions which affect the overall look. From classic subways to modern hexagons, tiles are the most common materials for kitchen backsplashes. Yes, they look beautiful but are you ready to dive into a different idea: slab backsplash! A solid slab backsplash is a great way to add a functional element without sacrificing the visuality. So, are you looking for an outstanding alternative for a tile backsplash, check our slab backsplash gallery to find the most beautiful design ideas!
A slab backsplash is simply a backsplash that is made from a single material and it offers clean and sleek backdrops for kitchens. This type of backsplash is a luxurious design trend that is rising for not only its stunning look but also its benefits. You can use marble, granite, quartz, soapstone, or even concrete as a slab backsplash. This wide material variety allows you to be creative and find the right backsplash according to your style! Also, because these types of backsplashes have one solid surface, they are easier to clean than tiled backsplashes which is their biggest advantage of them. There is no annoying grout that can turn yellow over time! So, with these benefits and such a beautiful appeal, there is no reason to say no to these slabs. Below, you can find the different types, colors, and materials for slab backsplashes. Hopefully, they will inspire you!
How to install slab backsplash?
The installation of a slab backsplash is very similar to tiles but in this case, you will work with one single piece instead of individual pieces. Because slab backsplashes are heavy materials especially natural stones, you need to use a strong backer material that is screwed into the studs because the backer holds the adhesive so much better. Apply the construction adhesive behind the slab with a caulk gun and set the slab in place. Once the install the slab, apply silicone where the backsplash meets the countertop to provide waterproofing.
Slab Backsplash Materials
As we mentioned before, there is a wide range of material options from luxurious natural stones to sleek glass sheets. Each material has different advantages and disadvantages. Keep reading to find which material can be suitable for your kitchen.
Quartz Slab Backsplash
Quartz is a man-made stone that provides extreme durability. It is generally used for kitchen countertops but it can also be used as a backsplash. Quartz slab backsplash come in a wide range of color, pattern, and texture options and some of them perfectly gives the marble effect with their veining! But unlike the other natural stones like marble or granite, quartz is a non-porous material that provides stain resistance. You don't have to seal your quartz slabs and that means it requires less maintenance than marble.
Where to buy slab backsplash?
If you want to use the beauty of the slab in your kitchen backsplash, you can contact your local stone supplier. Also, you can contact us to find plenty of different stone slab options!
Are slab backsplashes more expensive than tile?
In general, yes. A slab backsplash probably will cost more than a classic tiled backsplash. However, these slabs have lower installation costs because they can be installed in one of two hours and they don't require grouting.
How thick are slab backsplashes?
The thickness of slabs depends on the material of course. But in general, the average thickness of a stone slab backsplash can be anywhere between 3/4″ and 1 1/4″. If you want a custom thickness for your backsplash, you can request it from your stone supplier.
Marble Slab Backsplash
Marble is always a popular material that is used for interior designs. This precious stone is perfect to add a luxurious feel to any space. And when it comes to kitchen backsplashes, marble is classic. From classic subway tiles to eye-catching herringbones, marble backsplash comes in different styles. But, if you want to purely serve the sophisticated beauty of the marble, using it as a slab will be the best option. Yes, marble slab backsplash might have a high price tag but this investment will definitely be worth it!
Does the slab backsplash have to match the countertop?
There is no certain rule that backsplash should match the countertop. But, if you want to use a slab backsplash, it is better and easier to use the same slab with your countertop. You can request your stone supplier to cut a backsplash from the same stone which you used on the counter. This way you can create a continuous look.
Porcelain Slab Backsplash
Large porcelain slabs are one of the most popular materials for seamless backsplash designs and they are growing in popularity. Because they are large solid slabs many people think that they are very expensive like marble. However, these large-format slabs cost less than comparable materials which is the most important benefit. They offer the unique appeal of marble at more affordable prices. Also, because they are only 6 to 12 mm thick, they are lighter than natural stones and this provides easier to work.
Is real stone a good slab backsplash material?
The short answer is yes, you can use a natural stone for your backsplash. Natural stones are a popular choice for kitchen backsplashes and when it is in a slab form, you can reflect the unique and sophisticated appeal of them purely. Yes, because of their porous surfaces, real stones require high maintenance than other materials. But, if you seal and clean them regularly, it is not as scary as it looks!
What material should you use for your solid slab backsplash?
As we mentioned, there are plenty of different materials that you can use as a slab backsplash. Before deciding the material, you need to know all the aspects of each material and find which material can suit your needs. If you don't have a budget and want to add a luxurious look, there is no better option than marble, quartz, or granite slabs. Porcelain slabs are more affordable materials than others. Also, glass is another beautiful alternative.
Granite Slab Backsplash
Granite is one of the most popular materials for kitchen countertops. But can you use granite also on the backsplash? You definitely can! This material is generally used as solid slabs for backsplashes. Ans a granite slab backsplash can instantly lend sophistication and create a striking focal point between the kitchen cabinets. Besides its undeniably beautiful visual impact, granite is one of the most durable materials among the other natural stones which are perfect for backsplash! Because of its porous surface, it needs to be sealed. But don't let this scare you, with the right maintenance, they will add value to your design project!
How much does a solid slab backsplash cost?
The cost of a slab backsplash will depend on the material, size, and location. The average cost of quartz and marble slab backsplashes is $45-$90 per sq. ft. You may expect to pay around $50 per sq. ft. for a granite slab backsplash. The porcelain slab backsplash is the most affordable one. The average cost of these large-format slabs is $20-$30 per square foot.
Glass Slab Backsplash
Glass tiles are stylish and common material for kitchen backsplashes, but what about glass slabs? This is a popular backsplash option for several years. Glass sheet or slab backsplash offers an endless variety of color options just like the glass tiles. Because of their clean and sleek appeal, they are generally used in modern and contemporary kitchen designs. You can use these slabs in full-height, half-height, or even just a few inches!
Is a solid slab backsplash easy to maintain?
One of the biggest advantages of slab backsplashes is they eliminate grout lines. They offer one solid surface which means they provide easy cleaning. Just like the countertops, you just need to wipe them down with a damp cloth. Of course, the maintenance depends on the material. For example, natural stones like marble or granite require more maintenance because of their porous surfaces.