26+ Kitchen Curtain Ideas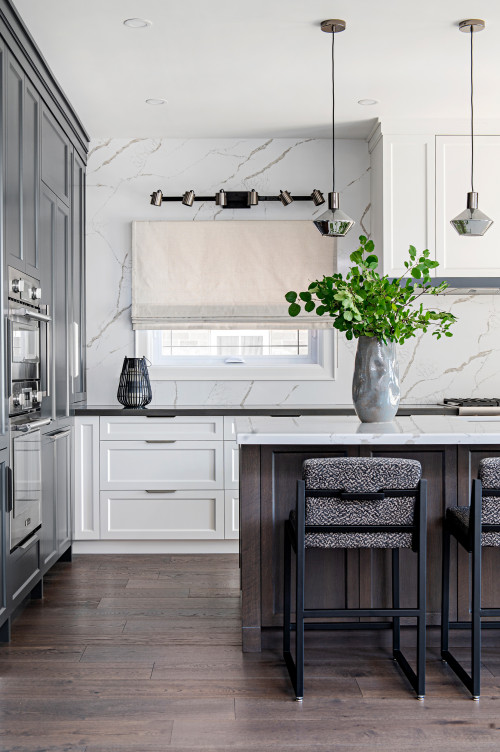 ID# 156701 | Houzz.com – Credit | © Pizzale Design Inc.
---
Kitchen Curtain Ideas with White and Black Shakers
The white and black shaker style cabinets in this transitional kitchen create a striking contrast that is both eye-catching and sophisticated! The black countertops add a touch of class to the tall cabinetry. The white marble slab backsplash creates a stunning focal point while also adding texture and interest to the space. The light beige roman shade on the window completes the look by providing a clean and crisp look. The dark wood island and flooring add warmth to the otherwise monochrome color scheme.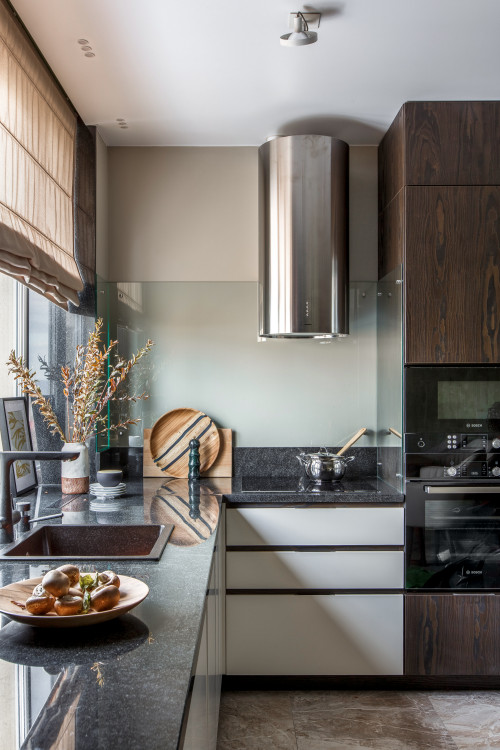 ID# 156722 | Houzz.com – Credit | © Юлия Вишнякова
---
White and Wood Flat Panels with Black Countertops and a Short Slab Backsplash
This small kitchen design flawlessly blends various materials and textures to create a stylish appearance! While the off white cabinets have a classic appearance, the black granite countertop and 4inch backsplash add visual interest by creating contrast. The curtain's linen fabric complements the natural textures of the tall wood cabinets. With its distinctive design the stainless steel range hood makes a statement.
Kitchen Curtain Ideas
Kitchen curtains are an important aspect of any kitchen's design, serving both practical and decorative purposes. Whether you're looking to add some privacy, reduce glare, or simply add a pop of color, there are plenty of options to choose from. Here are a few kitchen curtain ideas to help you find the perfect look for your space.
One popular option for kitchen curtain ideas is to use sheer curtains, which allow natural light to filter through while still providing some privacy. Sheer curtains also create a light, airy feel in your kitchen. If you want something that provides a little more coverage, consider using cafe curtains, which only cover the lower half of your kitchen window. This is a great option for those who still want to allow natural light in, but also want more privacy and coverage from prying eyes.
Add Style to Your Kitchen with Curtains
Another option for kitchen curtain ideas is to use patterned curtains, such as floral, gingham, or stripes. These curtains are great for adding a pop of color to your kitchen and can help to tie together the overall design of the space. If you're looking for something a bit more subtle, consider using solid-colored curtains. These can be made in a variety of colors, and are a great way to add a touch of color to your kitchen without being too overwhelming. For those who prefer a more traditional look, consider using lace curtains. These curtains are perfect for creating a warm, cozy feel in your kitchen, and can be made in a variety of styles, from delicate and lace-like to more rustic and country-inspired. If you want something a bit more modern, consider using geometric-patterned curtains, which are great for adding a touch of sophistication to your kitchen.
Should you put curtains in the kitchen?
Using a curtain in kitchens is not necessary. However, if you want to balance the natural light or provide some privacy, using a kitchen curtain might be a great solution!
What do you put over a kitchen window?
When it comes to covering a kitchen window, curtains or blinds are a popular option! They're great for providing privacy and controlling the amount of light in the space without sacrificing the style.
Curtain Styles for Kitchens
Kitchen curtain ideas are a great way to add style, privacy, and light control to your kitchen. With so many different styles available, it can be overwhelming to choose the right one for your kitchen. In this article we gather different kitchen curtain ideas that can inspire you for your renovation project! Scroll down and check these stunning ideas.
Semi-Sheer Shades
Semi-sheer shades are made of a light filtering fabric that allows some light to come through, but still provides a level of privacy. The view-through is not quite as much as with a sheer, and they still don't give you much privacy. So, if you want to create a layer for privacy but still want to see the outside, these shades are perfect options!
Should kitchen curtains touch the floor?
It is a matter of personal preference and design style whether kitchen curtains should touch the floor. Here are some options:
Pooling on the floor: This is where the curtains hang down and gather on the floor. It gives a luxurious and elegant look.
Breaking on the floor: This is where the curtains hang down and just barely touch the floor. It gives a clean and modern look.
Hitting above the floor: This is where the curtains hang down and end above the floor. It gives a casual and informal look.
Ultimately, the length of the kitchen curtains should complement the overall design style of the room and the windows they are covering.
Floor Length Sheers
The length of your sheer curtains can determine whether the kitchen looks stylish or dowdy. Just like their names, floor-length sheers are window treatments that reach floor to ceiling. These long and flowing curtains can add a touch of elegance and sophistication to the space, creating a chic atmosphere. By extending down to the floor, they make the windows appear taller, creating a sense of height.
Which color curtain is best for a kitchen?
The best color for kitchen curtains depends on personal preference and the decor style of the kitchen! Neutral colors such as white, beige, and gray are popular choices because they are versatile and blend well with many styles. Bright colors like yellow, red, or blue can add a pop of color to the kitchen and make it more lively.
What are the disadvantages of having curtains at a kitchen window?
There are several disadvantages to having curtains in the kitchen, including:
Maintenance: Curtains in the kitchen can easily get dirty and stained due to cooking splatters, grease, and smoke. Cleaning curtains can be a time-consuming and difficult task.
Safety hazard: Long, flowing curtains can pose a fire hazard in the kitchen if they come into contact with a stovetop or open flame.
Limited light: Curtains can block natural light from entering the kitchen, making it darker and less bright.
Accumulation of moisture: In a humid environment like a kitchen, curtains can absorb moisture and become moldy, which is not only unsightly but can also pose a health risk.
Limited ventilation: If curtains are installed on windows that are used for ventilation, they can reduce the amount of fresh air entering the kitchen.
Shutters
Shutters are an attractive and functional option for window coverings. They come in a variety of styles, from traditional plantation shutters to modern café-style ones, which cover only the lower half of a window. This variety allows for a custom look that can complement the design of a kitchen. Furthermore, shutters can be stained or painted to match the cabinetry or other wood elements in the kitchen, creating a seamless and cohesive look. Shutters can also be used in conjunction with other window treatments, such as curtains or blinds, to provide versatility and meet individual light and privacy needs.
Neutral Linen Shades
Neutral linen shades provide a soft, warm, and inviting touch to the space that can work with any kitchen style. They are also versatile in terms of light control with options for varying degrees of openness and privacy. From light beiges to dark grays, you can find different color options in the market according to your style.
Woven Shades
Woven shades are a versatile and stylish addition to any home, and they are especially well-suited for kitchens. Made from natural fibers such as bamboo, rattan, or jute, woven shades bring a touch of the outdoors inside and add warmth and texture to the space. They come in a variety of colors and patterns, so you can easily find the perfect shade to complement your kitchen's decor.
Woven shades are not only stylish, but they are also functional. They provide privacy and light control, making them ideal for kitchens where you may want to keep the sun out of your eyes while cooking or keep the space private during mealtime. They also help regulate the temperature of the room, keeping it cool in the summer and warm in the winter. Whether you're looking for a rustic, bohemian, or coastal look, woven shades are a great way to add texture and warmth to your kitchen.
Roman Shades
Roman shades are a classic and elegant window treatment option for kitchen curtain ideas and offer a range of benefits for both style and functionality. With their clean lines and tailored look, roman shades are a versatile and timeless option for kitchen windows. They come in a wide range of colors, patterns, and fabrics, making it easy to find a style that complements any kitchen design.
In addition to their aesthetic appeal, roman shades are also a practical choice for kitchens. They offer excellent light control, allowing you to control the amount of natural light that enters the room. This makes them ideal for kitchens that receive a lot of direct sunlight and can help reduce glare and heat buildup. Roman shades also provide privacy when needed, and can be raised or lowered to suit your needs.
Printed Fabrics
Window treatments are a great way to add style, personality, and function to your kitchen. Printed fabrics can make a bold statement, adding a pop of color, texture, and pattern to the space. From bright, playful patterns to bold graphics and motifs, there's no shortage of design possibilities when it comes to printed fabrics for kitchen window treatments.
Roman shades, valances, and café curtains are all great options for kitchen windows, and printed fabrics can add a new dimension to these classic styles. Whether you choose a bold graphic, a vibrant floral pattern, or a whimsical motif, printed fabrics can help to tie together the overall look and feel of your kitchen. For a cohesive look, consider matching the pattern or color of your kitchen window treatment with other elements in the space, such as accessories, backsplashes, or cabinetry. Printed fabrics are an easy and affordable way to bring new life to your kitchen, and they offer endless opportunities to express your style.