16+ Butler's Pantry Ideas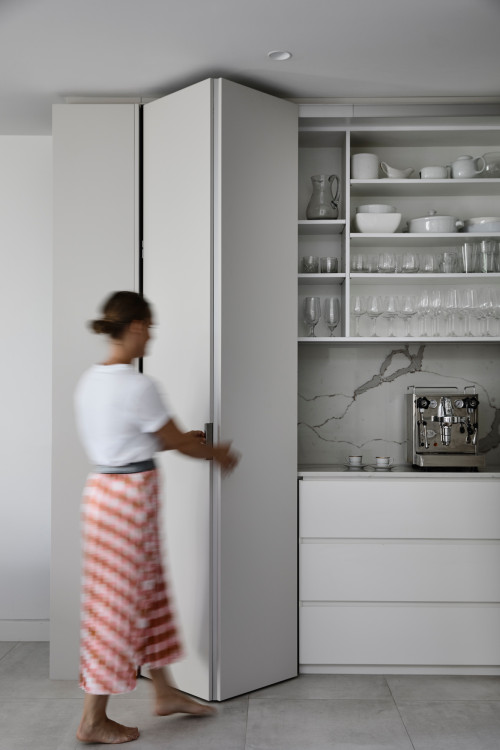 ID# 155901 | Houzz.com – Credit | © WALA
---
Butler's Pantry Ideas with White Cabinets for Contemporary Designs
This small butler's pantry is hidden behind a white foldable door and remains out of sight when not needed. Designed as a home bar, it hides gadgets and glasses aligned on the open cabinet shelves. And a white marble backsplash peeks out behind a chrome coffee machine, harmonizing with white cabinets seamlessly. The drawers replacing standard cabinets also make it easier for homeowners to easily organize their knickknacks. Additionally, the monochromatic color palette makes this compact size feel sizable and brighter while otherwise, it could have turned out to be feeling claustrophobic. Overall, everything is meticulously organized and imparts calmness to the space.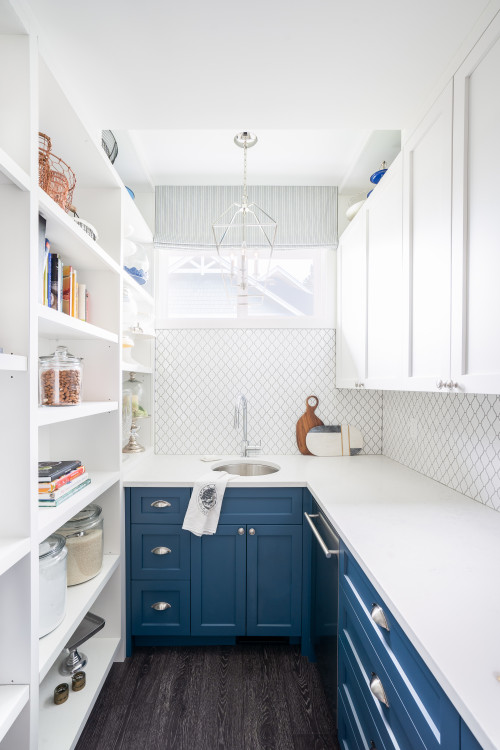 ID# 155909 | Houzz.com – Credit | © NOVERO Homes and Renovations Ltd.
---
Butler's Pantry Ideas with Blue Cabinets and Arabesque Tile Backsplash
U-shaped layouts are one of the most functional layouts, integrating negative zones such as corners into the design. Plus, they also let windows be part of the design strategically, enabling direct natural light for the countertops. Here, this transitional butlers pantry offers one of the best examples of a U-shaped layout. Accommodating two-tone cabinetry, white and blue, first, this pantry sides with a lively atmosphere. The two arms of cabinetries comprise standard base counters and open cabinets to ensure visual variety and enhance storage options. And the window is centered to direct sunlight evenly to both runs of counters.
To define the walls, a white ceramic arabesque tile backsplash adds extra intrigue and interest to the room. To round up the look, complementing them is a geometric lighting fixture that contributes to the room's modern flair. Additionally, chrome cup pulls punctuate the cabinets dramatically, asserting a touch of glam laundry room.
Butler's Pantry Ideas
No one would like to say no to more storage space. There is always a need to create more storage rooms for extra appliances, gadgets, and dishes. This is especially true and gets even more important regarding the needs of the kitchen area. From coffee machines to toasters, beverage coolers, and essential appliances, everything needs a space. And when you want to keep it all together without causing any visual clutter, a butler's pantry could provide a perfect solution. Butler's pantry ideas are abundant, creating spaces to serve as wet bars, coffee bars, storage areas for unsightly items, and food/drink preparation zones.
Plus, as of 2023, butler's pantries are trending and having a moment of their own. Once used to keep heirlooms and valuable silverware, nowadays, they are multi-purpose areas. Some are custom-designed to serve specific needs. Especially due to the rising number of kitchens inserted into living rooms, we need them more and more. Whether you need a storage area or want to follow design trends, here we offer you butler's pantry ideas. They focus on pantry cabinet styles, layout options, and popular backsplash styles. Read on to immerse yourself in inspiring looks.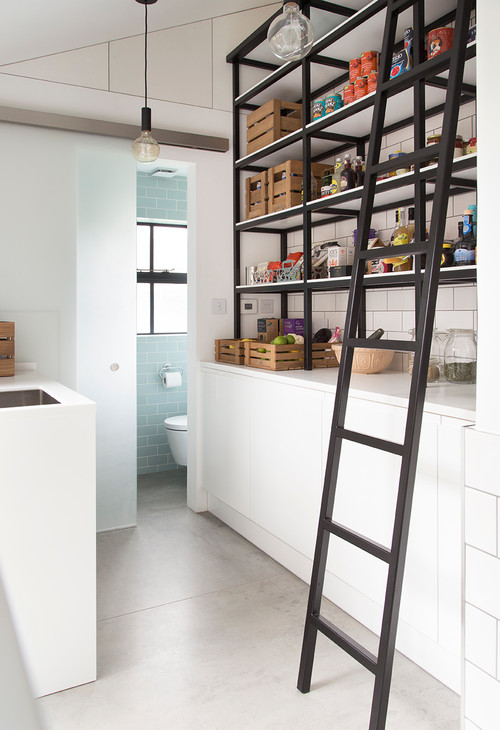 ID# 155902 | Houzz.com – Credit | © Amberth
---
Contemporary Kitchen with Subway Tile Backsplash and Floating Shelves
Crittall-style shelving as showcased by this contemporary kitchen makes a valuable addition to the kitchen. First, it makes everything visible, displaying what is where and helping with navigation. Secondly, it keeps things more organized and in order. Posing against a white ceramic subway tile backsplash, this shelving feature also makes a grounding counterpoint to the white backdrop. Also, a black ladder offers convenient access to the upper shelving that remains out of reach. Plus, it also adds a visual accent and interest to the otherwise monotonic design. Lastly, a single light bulb is more than enough to provide the ambient lighting that suits the practicality of the room.
Is a butler's pantry a good idea?
The concept of a butler's pantry introduces several functional benefits to a home. Serving as a transitional room between the kitchen and dining room, it is an area designed for storage and food prep.
Originally used to keep valuable heirlooms, including silvers spoons, crystals, and chinaware, nowadays butler's pantries have a lot more functions. They are, for example, dry bars, wet bars, food prep zones, and even coffee bars. Instead of heirlooms, in today's homes, they are packed with junk food, canned goods, spices, herbs, jars of jam, and glassware. Most importantly, they tuck appliances that create visual clutter on benchtops in kitchens. So, they help you to keep the main kitchen- the part which is the most visible to guests and you- cleaner.
Based on all those functional benefits, it is safe to say that a butler's pantry is always a good idea. It has a lot to offer in terms of functionality. First, the main kitchen stays clutter-free, presenting a tidier look. Secondly, a pantry also gives you an extra counter space to exercise your imagination and design skills and it provides extra storage space for all the bulky appliances. Wouldn't you like to take the chance to add additional space to have some more fun and design?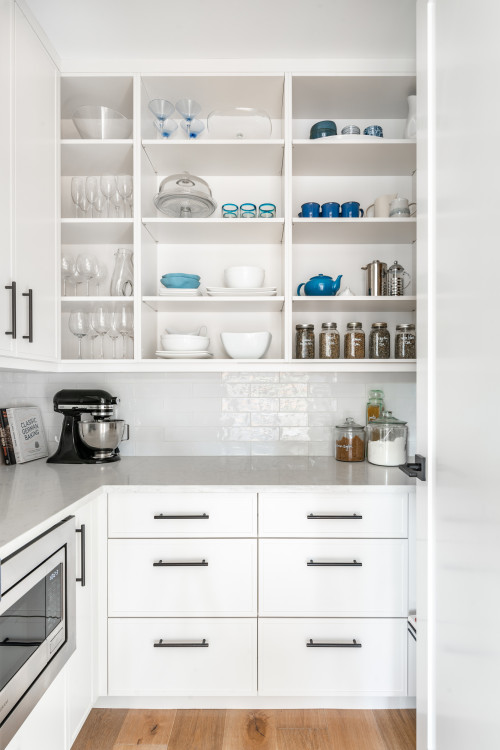 ID# 155903 | Houzz.com – Credit | © Thomas and Birch – Kitchens and Living
---
Transitional Kitchen Pantry with White Cabinets and Open Cabinet
A mixture of standard and open cabinets offers the best of both worlds in butler's pantries. Here, for example, this transitional serving pantry boasts very-well organized open upper cabinets that exhibit colorful glassware. These colorful and pure glasses inject a sense of delicacy into the room. Complemented by white flat-front cabinets, the room design feels sleek, pristine, and super-clean, which compensates for the smallness. The black hardware, appliances, and oven are all here to avoid visual clutter in the more visible section of the kitchen. On the floor, an engineered wood coating brings much-needed warmth to offsite the all-white color scheme.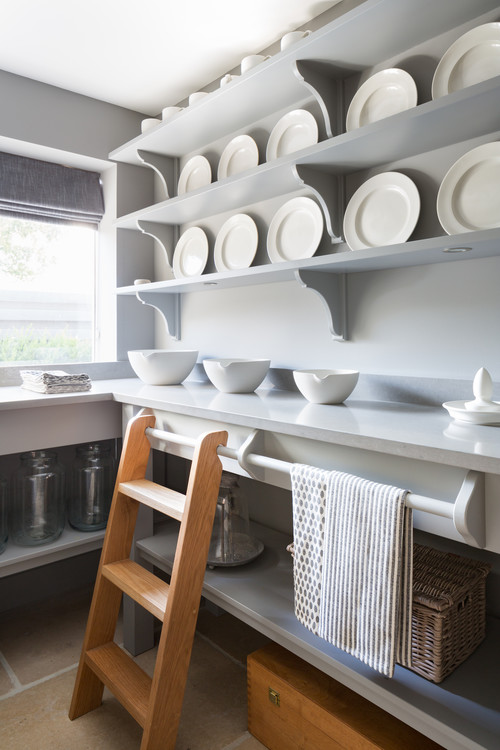 ID# 155904 | Houzz.com – Credit | © Humphrey Munson
---
Off-White Floating Shelves with Wood Ladders and Wicker Baskets
Blessed with a small picture window that is well-proportioned to the room, this butler's pantry is visually stunning despite its monochromatic palette. Designed with off-white floating shelves and benchtops, it ensures a calm look to keep the human traffic pace at a certain limit. The brackets supporting the floating shelves do more than bring functional benefits. Their curvy forms add a visual accent and an aesthetic value as well as a classical feel and provide an area for large serving dishes. The pristine white plates on the vertical space shelves also give a visual uplift to the room.
Below, the pantry, again, features open cabinets to house wicker baskets, wood chests, and super-large glass jars. For a final touch, towel rails are attached to the side of the countertops, hosting a towel and a wooden ladder. And the best part of this room is the expertise in the organization of everything while maintaining a super-sleek design. And this pantry pulls it off while keeping everything fully exposed to the human eye.
What is a Butler's Pantry
A butler's pantry is a small transitional room located between the dining area and kitchen. And its main function is to serve as a storage place. In other words, a butler's pantry is where chinaware, glassware, unused items, household appliances, and even beverages are stored. So, anything that you don't want to keep in a kitchen could be stored in this pantry.
Yet the functions of a butler's pantry are not limited to storing. Pantries also serve as a food storage and drink preparation zone. That's why they are especially helpful if you have a predilection for throwing up big house parties and inviting guests. You can hide all your mess here without your guests noticing it.
Though, back in time, butler's pantries were mainly used to keep valuable heirlooms such as chinaware, silvers, and crystals. If you have read Kazuo Ishiguro's "The Remains of the Day" or watched its film version, then you know how serious it was for butlers to keep everything in the house going smoothly and every silver fork burnished. Yet with the requirements of modern life, butler's pantries have shaped forms and functions. Nowadays, you see them serve as dry /wet bars, storage rooms, coffee bars, and food/drink preparation zones.
Butler's Pantry Cabinets
From floating shelves to open cabinets, shaker units, glass-front upper units, and crittall shelving, butler's pantry cabinet options are extensive. To make navigation easier, open cabinets and floating shelves are generally integrated. Yet the best way is probably to use a rich repertoire of different cabinet styles. A mixture of glass front cabinets, floating shelves, and base standard counters could serve the space well. If you are not comfortable with standard cabinets, get cabinets with drawers. They allow for better organization. If you love wine, also integrate wine racks to stow your beverages. And if you have a compact space and want to keep it looking sleeker, sticking to flat-front cabinet styles makes things easier. Also, instead of bulky hardware, go with sleek and slim versions.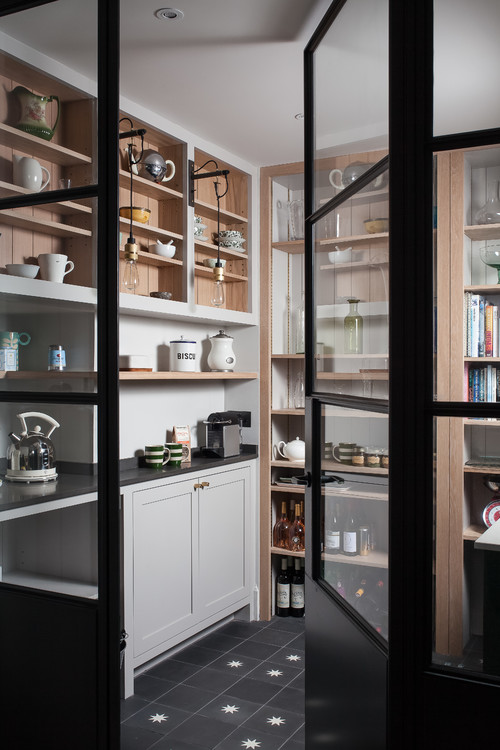 ID# 155905 | Houzz.com – Credit | © SGS Design Ltd
---
Scandinavian Butler's Pantry Ideas with Wood Shelf and White Shaker Cabinets
Led through a gridded glass door and featuring a wide range of cabinet styles, this Scandinavian butler's pantry maximizes the use of space surely. First, the white shaker cabinets serve as base counters, creating a cozy and homey vibe. Secondly, moving upwards, what catches the eye is a timber floating shelf. It provides a perfect place to stow the most used items at homeowners' fingertips. Thirdly, open cabinets taken up to the ceiling offers extra storage for the least needed items and accessories.
Featuring wood beadboard panels as the background, these cabinets bring a Scandinavian edge to the kitchen. The full-height open cabinets, likewise, enrich the cabinet repertoire, keeping beverages, books, and many more. On the floor, star-patterned dark tiles add a fun element without feeling over the top. Peeking out behind a gridded black door, this entire butler's pantry is filled with life and replete with an array of stuff.
What is the difference between a pantry and a butler's pantry?
A butler's pantry is positioned between a dining room and a kitchen, featuring a reserved spot for itself. And it is used as storage and a food/drink preparation zone. But in addition to the food, it also housed silverware, chinaware, and glassware in the past.
By contrast, a pantry, which comes from the Latin word "Panna" is originally used for storing only bread, making the main difference. And today's walk-in pantries are used to store all sorts of food, from canned goods to spices, oils, and junk food. And they do not necessarily have to be a separate room. In some modern kitchens, pantries are integrated into the room as well.
Nowadays, given that kitchens are inserted into the living rooms in most contemporary designs, homeowners demand a special place to keep some of their appliances. Thus, pantries are needed more and more as they serve as multi-purpose areas. And they are also mostly custom designed according to the needs of individuals.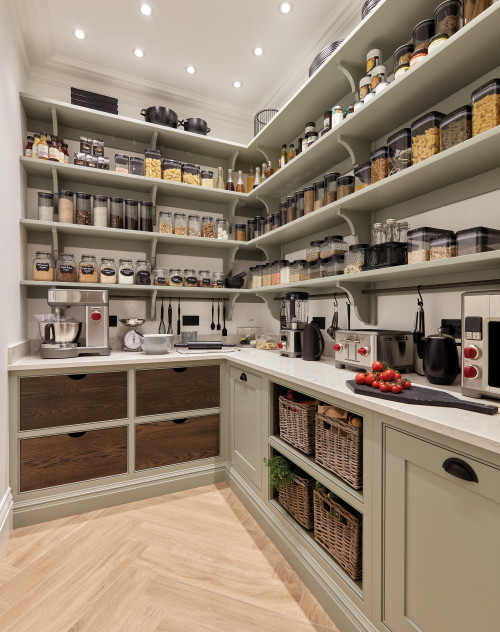 ID# 155906 | Houzz.com – Credit | © Tom Howley
---
Contemporary Kitchen Walk-in Pantry with Floating Shelves and Appliances
This contemporary walk-in pantry functions as an ultimate storage for all sorts of goods. From spices to herbs, canned goods, and bottled goods, everything is kept meticulously. Placed neatly on the floating shelves supported by brackets, all of these items are secured. And they enjoy their spots, exposing themselves fully and creating a user-friendly environment. The household appliances also find a place here, stored on the countertops. Below these benchtops is another layer of storage space. This bottom level houses wicker baskets and heavier stuff that would be harder to be carried by floating shelves. In terms of lighting, spotlights illuminate the room evenly. And the color scheme feels approachable and convenient. Overall, anyone who steps into this room, whether they are familiar with the room or not, can find anything they are looking for effortlessly. It means that this pantry is really doing its job quite well.
Should a butler's pantry have a door?
A butler's pantry doesn't necessarily need to have a door. Some, for example, are led through archways or cased openings. Plus, this way, they find a way to peek out behind and show a section of themselves. Especially if you want to keep the sense of space intact and want your pantry to sprawl out as a main kitchen, it's good to keep it door-free. This way, it can also borrow daylight from the adjacent room.
And if you want to distinguish a doorless pantry from the rest of the kitchen, you can play with design elements. You can change the floor coating, for example, or the color of the cabinets.
However, if you want to use the pantry for baking and cooking, then a door might be necessary. With a door, you can prevent food from smelling up the main kitchen. And by choosing a glass panel door, you can still keep the visual connectivity maintained.
Additionally, foldable or sliding doors are also helpful, giving homeowners the freedom to conceal them when needed.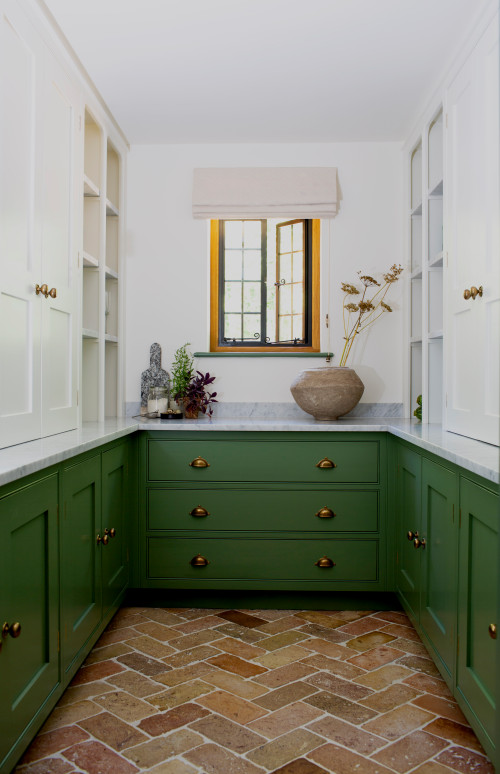 ID# 155907 | Houzz.com – Credit | © Thomas Ford & Sons
---
Green Shaker Cabinets with Gold Hardware and White Cabinet Shelves
The use of two-tone cabinetry in this L-shaped transitional pantry splits the room into two halves, giving it a better definition. Below, for example, green shaker kitchen cabinets bring in a perfect farmhouse flair, adding a winsome quality. Overhead, the white cabinets and cabinet shelves are taken up to the ceiling offer plenty of storage. And the gold hardware used on both cabinet styles pulls them together for visual integrity. Yet above all, this pantry achieves a perfect place with open and closed cabinet options. Once inside the room, it is impossible to see any item exposed from a certain distance. You only get to see the cabinet shelves when you go farther into the room. Also, the window's integration into the design helps with the organization. And it directly provides light for the cabinet shelves.
Additionally, this pantry also showcases that personal accessories suit these functional rooms as well. Here, for example, flowers and vases make a perfect addition as visual accents.
Does a butler's pantry need a window?
A window is essential for any space to keep the interior bright and fresh, diminishing the need for artificial light. This surely applies to pantries as well. Yet not every pantry is lucky enough to feature a window. If that's also the case for you, don't despair. The lack of a window can be compensated with a good lighting system.
From interior cabinet lighting to flush mounts, spotlights, and under-cabinet LED lighting systems, there are plenty of ways to lighten up a room. With two or three-layered lighting, you can make your pantry light-filled.
When deciding on the lighting system, consider for which functions you want to use your pantry. For example, if you plan to use it as a food prep zone, then you will need task lighting for countertops. And if it is only for storage, install an interior cabinet lighting system. And provide ambient lighting for the room with spotlights or a flush mount. To lessen the need for interior cabinet lighting, you can incorporate glass-front cabinets, floating shelves, and open cabinets.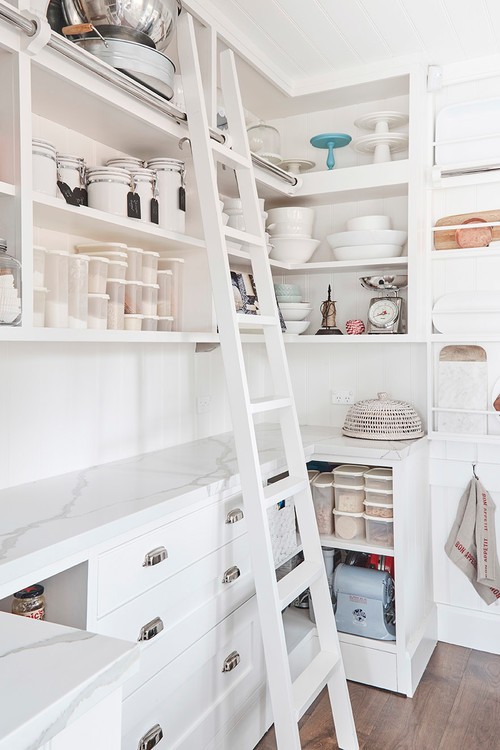 ID# 155908 | Houzz.com – Credit | © Provincial Kitchens
---
Butler's Pantry Ideas for Farmhouse Kitchens with White Cabinets
Abundant in open cabinets, this farmhouse kitchen pantry employs an all-white color scheme. This way, it encourages the room to feel more spacious and brighter. White cabinets, marble-finish quartz countertops, and open cabinet shelves blend harmoniously, forming an integrated whole. The kitchenware, plates, and dishes all brought together in intentional randomness so that they don't look too much in order, thus suggesting a lived-in feel. The white ladder also contributes to the overall design theme of the room. And the darkish wood flooring brings earthliness and drama.
Butler's Pantry Layout
Depending on the available space, a butler's pantry can be designed galley-style, I-shaped, L-shaped, and U-shaped. If you need a lot of storage, a U-shaped layout would help you maximize the storage. And when going with a U-shaped configuration of cabinets and galley-style, centering the window helps a lot- if there is one. Windows harvest natural light, providing the best task lighting. Also, while designing a U-shaped layout, don't line the entire room with full-height cabinets or upper wall units. It would create a claustrophobic room- when the room is too compact. Thus, ensure to incorporate a wide range of cabinet styles such as floating shelves and glass-front cabinets.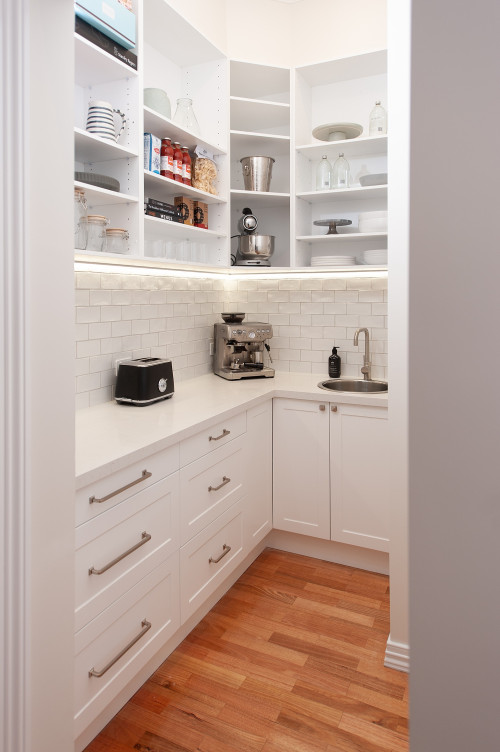 ID# 155910 | Houzz.com – Credit | © Zesta Kitchens
---
White Cabinets with Open Shelves and Subway Tile Backsplash
This cozy pantry plays it safe when it comes to its color palette and backsplash style. Featuring a white subway tile backsplash and white shaker cabinets, it creates a timeless feel. And with the brightness and visual lightness achieved with an all-white palette, the L-shaped layout feels much more homogeneous. Here, the L-shaped layout of this small space provides a good connection between the two arms of cabinetry. Especially the corner shelf ensures a smooth turn, offering a cozy spot for kitchen items.
What is included in this pantry are also a toaster, coffee machine, and sink, which load the pantry with multiple functions. As a result, you can prepare your breakfast and coffee here and do the dishwashing as well. In addition to those, nickel hardware offers convenient use of base counters without leaving any fingerprints on cabinet doors. And overhead, the open cabinets provide full transparency so that users can spot anything they need right away.
Do you need a sink in a butler's pantry?
A sink is not a necessity in a butler's pantry. But if you have a plumbing system already installed and if it is convenient to mount one, it just wouldn't hurt as well. But it might be extra logical to have it if you keep your glassware and plates there. Or perhaps you want to use it as a wet bar, then a sink would be a great addition.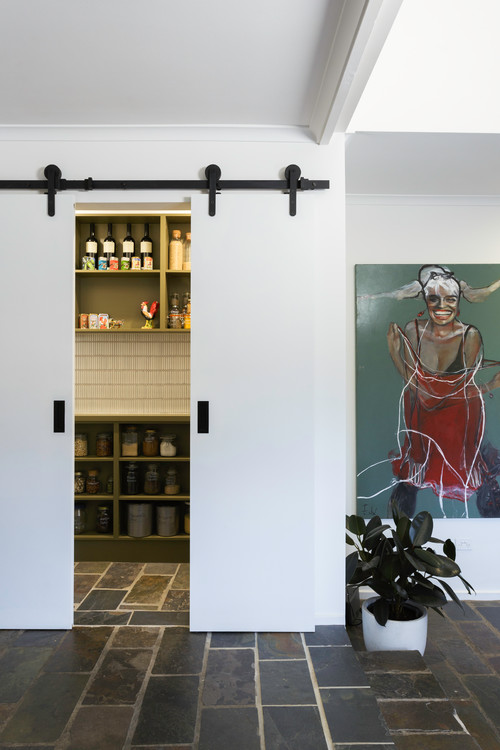 ID# 155911 | Houzz.com – Credit | © smarterBATHROOMS+
---
I-Shaped Layout with Green Cabinets and Kit Kat Tile Backsplash
Hidden behind the sliding doors, this I-shaped contemporary butler's pantry has a quite warm ambiance. The green open cabinets and green top shelving offer a colorful and vibrant space. The fact that all cabinets are open keeps the room visually integrated. Between them, a white kit kat tile backsplash creates a sophisticated background. The gray grout between the tiles also matches the gray countertops to offset the bombardment of green shades. On the floor, large format subway tiles preserve a stonier look. Especially the wide grout lines keep them more interesting and patterns more highlighted. Also, the soft color variations from green to black add extra intrigue and interest to the floor design. Apart from those, those wanting to direct more attention to this transitional space utilize artwork and an indoor plant.
Butler's Pantry Backsplash
Butler's pantry backsplashes could be anything depending on the personal preferences of homeowners. But since butler pantries are generally compact and are small rooms, it is advised to go with light color schemes. White and off-white backsplashes as well as muted blue and green splash-backs are popularly used, for example. Subway tiles of various formats and kit kat tiles are also very commonly applied. Additionally, since the pantries are small, to give the illusion of spaciousness, you can use larger tiles. They expand the visual scheme skillfully.
Apart from those, some kitchen pantries also, when possible, create accent walls with wallpapers. Or they can go with a gallery wall of artwork and plates. Such additions add more aesthetic value to these ultra-functional rooms serving as workhorses of our homes.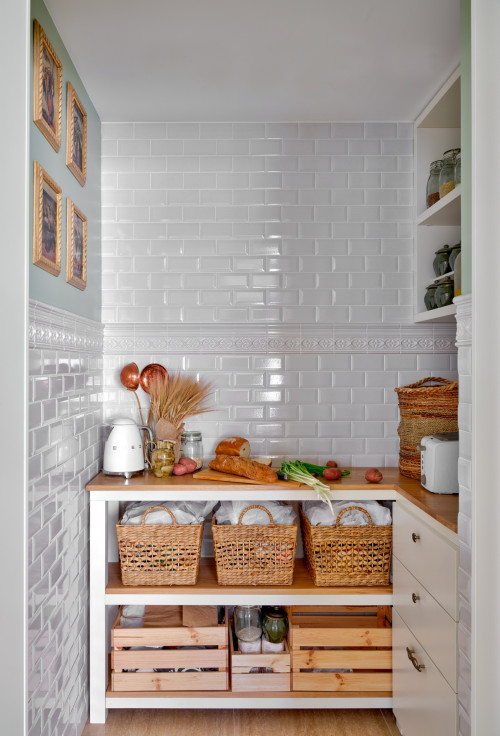 ID# 155912 | Houzz.com – Credit | © Дизайн – студия Валерии Масловой
---
Butler's Pantry Ideas with White Ceramic Subway Tile Backsplash and Gallery Wall
Just because butler's pantries are for tucking appliances, canned goods, and snacks, doesn't mean that they don't need decoration. This transitional butler's pantry, for example, prides itself on its gallery wall of artwork and a full-height subway tile backsplash. Consisting of white ceramic subway tiles, the backsplash gives the room a clean and timeless feel. These backsplash tiles laid in a running bond generate a sense of movement to add a new dynamic while decorating walls. The open cabinets, wood accents wicker baskets, and many more also take part in the design, creating a viable storage room. In the rest, butcher block countertops also bring warmth to accompany the gilded painting frames and bronze hardware.
In case you want to add more accent, hanging pots could be an alternative addition. For instance, you can hang copper kitchenware and antique silver spoons for further aesthetic value.
How big should a butler's pantry be?
Ideally, a pantry should be 1.6 meters by 2.2 meters. It gives enough space for storage, benchtops, and walking space.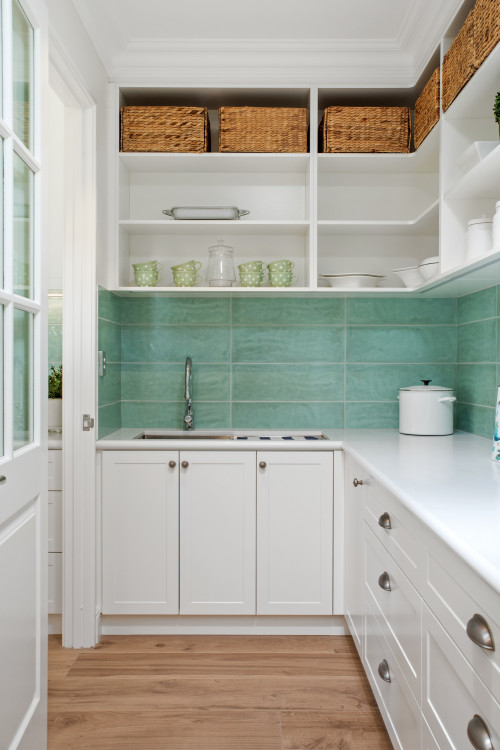 ID# 155913 | Houzz.com – Credit | © Crib Creative
---
Blue Subway Tile Backsplash with White Cabinets for Butler Pantry
This transitional butler's pantry chooses to introduce color through a blue tile backsplash. Featuring large format subway tiles, this backsplash expands the visual scheme of the room. And placed between the white shaker cabinets and white open shelves, it acts as the centerpiece. The brushed nickel hardware punctures the shaker units, while the integrated sink makes for a sleek addition. The wicker baskets placed on the top shelf assure visual consistency, adding a sense of warmth. Though featuring a door, this pantry is kept revealed too. It mimics the design of the main kitchen, thus feeling like a natural extension of it rather than a separate room.
Modern Butler's Pantry
From stacked backsplashes to flat-front cabinets, and light color schemes, there are many design features to create a modern pantry. Just focus on minimalism and keep the countertops free as much as possible. Stack the subway tiles for a cleaner look, or go with glass sheets or slab backsplashes. If you have a great view, install a window backsplash to enjoy the view and let light in. Achromatic looks or warm earthy palettes are also welcome in these pantries.
In terms of functionality, modern design pantries have a lot more functions. You can use them as a baking center. They can accommodate a sink or all your appliances if you wish. They are also generally kept larger in luxury contemporary homes. This way, they provide more opportunities and a lot more space for homeowners.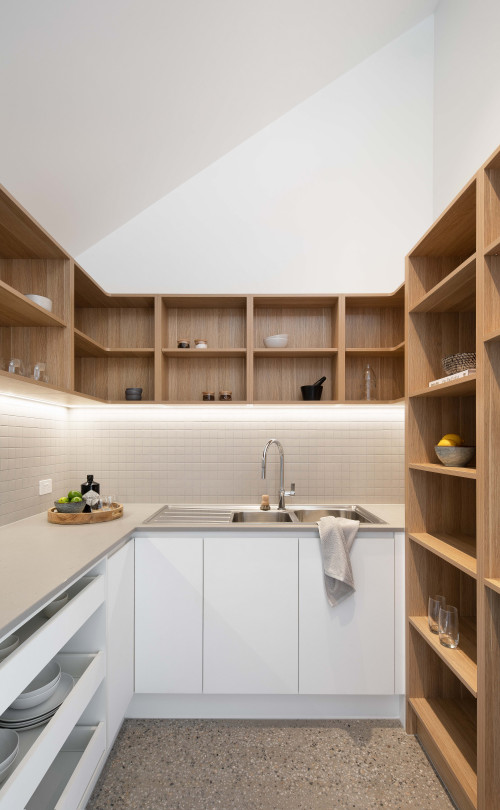 ID# 155914 | Houzz.com – Credit | © Sherbrooke Design and Construction
---
Modern Butler's Pantry Ideas with Wood Cabinets and Stacked Tile Backsplash
This functional butler's pantry has everything that a modern space could offer: a sleek profile, decluttered lines, and a stacked backsplash. Together they result in a viable kitchen design with a two-tone joinery that lends enough interest. With wood open cabinets overhead and white flat-front counters below, this modern-day butler's pantry also goes with one of the most popular modern color schemes. While wood units deliver enough warmth, white counters ensure brightness. In between, a white stacked subway tile backsplash gives a speedy contemporary upgrade. Additionally, here, the white countertops are kept free of gadgets and appliances to maintain a sleek look. And on the floor, the light gray terrazzo flooring makes a perfect final touch. It is durable, visually lightweight, and easy to maintain, making it super convenient for homeowners.
How much does it cost to build a butler's pantry?
How much it costs to build a butler's pantry depends on many factors, from the size and material of countertops and cabinets. For example, if you plan to install a sink, this might require some extra work and budget for the plumbing process. But at minimum, it costs 2000 USD to build a butler's pantry. According to the experts, by calculating 30 or 50% of your main kitchen costs, you can round up the cost for your pantry.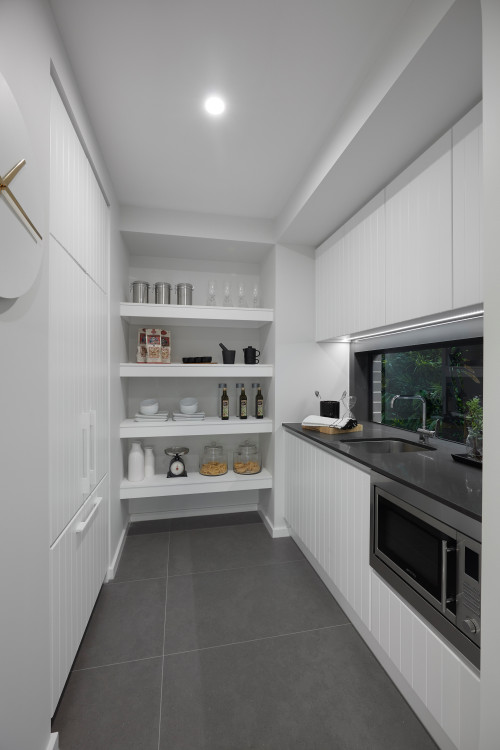 ID# 155915 | Houzz.com – Credit | © Champion Homes
---
Contemporary Walk-in Pantry with Beadboard cabinets and Window Backsplash
Blessed with a window backsplash that opens toward the views of greeneries, this contemporary walk-in pantry enjoys freshly delivered sunlight throughout the day. And the white-dominant color scheme just builds on the natural light, expanding their visual impact. Thus, the room is encouraged to feel larger and brighter. As the main components of this design, the white beadboard cabinets and floating shelves provide intriguing textures and visual interest. Especially floating shelves feed the feeling of spaciousness, free of cabinet doors or any other framing. To complement them, the black countertops add another sleek feature with built-in appliances and an integrated sink. The gray large format tiles expand the visual scheme. Overall, the final product provides ample storage, guaranteeing smooth traffic flow and beautiful views. What else could you expect from a walk-in pantry?
How to add a butler's pantry to an existing kitchen?
A pantry doesn't necessarily have to be a separate room. It is also possible to create your little own secret pantries within a kitchen. For example, a roll-out cabinet could just be fitted next to a refrigerator. Or floating shelves, a pegboard, and a lazy Suzan can be integrated into a kitchen to add extra storage. You can, for example, hang your pots and kitchen utensils on a pegboard. And a lazy Susan can store your spices or oil bottles. Or even better, if you have an alcove or small niche, you can turn this cozy spot into a pantry. And you don't even need to spend a fortune. An antique cabinet with a few floating shelves would just function as a pantry. Or if you have a full-height cabinet, you can allocate it for storing your household gadgets or unsightly items.
So, don't despair if you don't have a separate room or don't have the energy to redesign your floor plan. There are plenty of alternatives to compensate for it.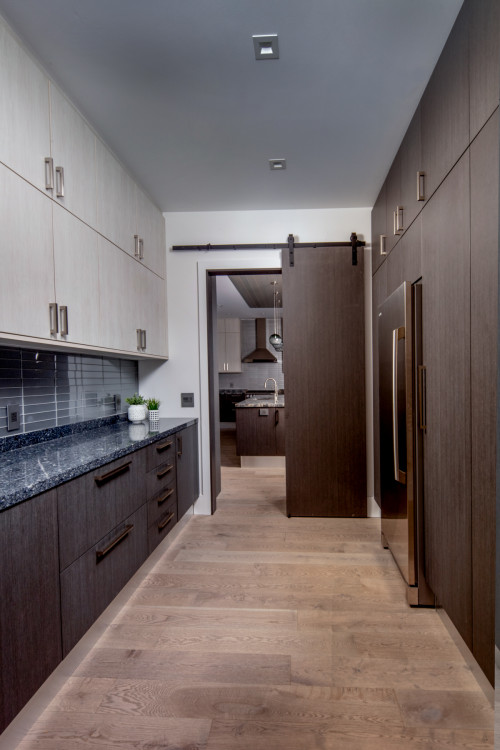 ID# 155916 | Houzz.com – Credit | © Gilbert + Burke
---
Two-tone Cabinetry with Gold Hardware and Granite Countertops
With its sizeable space, this walk-in pantry sets itself apart right from the start. Outfitted with two-tone joinery, including beige upper and dark wood base cabinets, it oozes drama and sophistication. Especially the dark cabinets feel like the epitome of opulence, grounding the entire room. The brushed gold hardware punctures them for a softening effect. And the polished stacked subway tiles with traditional granite countertops make a counterpoint to each other. Yet somehow, they also feel complementary, spicing up the entire design.
This walk-in pantry also accommodates a giant fridge, tucking some appliances. The door made of the same material as the cabinets provide a seamless transition between the kitchen and the pantry. Designed galley-style, the pantry acts almost like a kitchen, proving itself as a main zone rather than a transitional room. Also, keeping itself in line with contemporary looks, it redefines the concept of a pantry for sure.
What is a good size for a butler's pantry?
A good size for a butler's pantry is 7 to 8 feet long to be able to provide enough space for storage and smooth traffic flow. But at minimum, one needs at least a width of 5 feet by a length of 5 feet.