22+ Kit Kat Tile Backsplash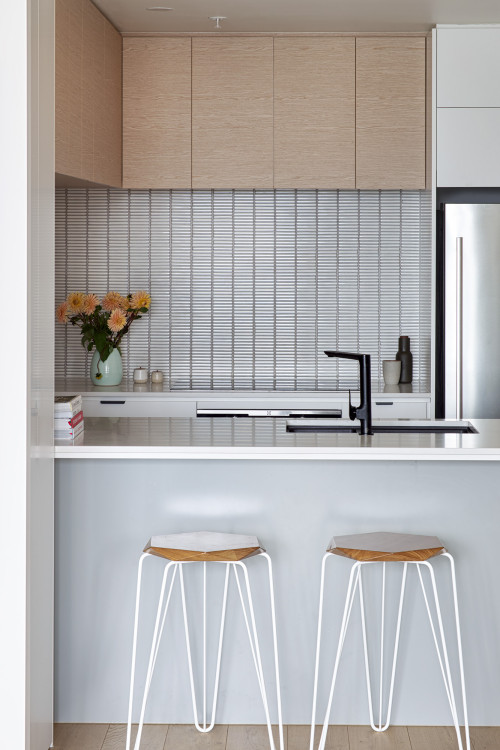 ID# 153804 | Houzz.com – Credit | © Jasmine McClelland Design
---
Galley Kitchen with Modern Backsplash and White Cabinets
This open-plan kitchen is designed in a galley style, which gives it privacy. The second arm of cabinetry that faces the lounge also serves as a kitchen island due to the lack of extra space. It not only offers an informal and laid-back seating space but also makes a space-dividing device. And the neutral color palette ensures the kitchen feels bright and spacious. The white flat-front cabinets also come hardware-free to avoid any visual distractions. Likewise, the timber wall units have no cabinet handles to preserve the kitchen's minimalist look. Between the cabinets are horizontally stacked kit kat tiles, standing out as the showstopper of the design.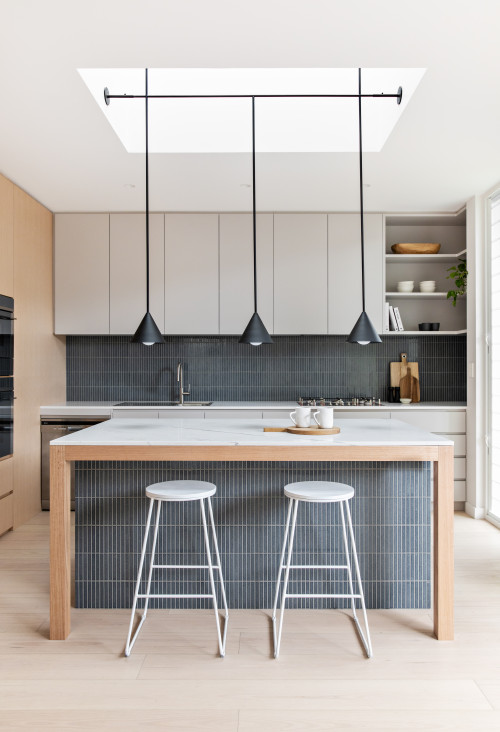 ID# 153816 | Houzz.com – Credit | © Renotech Building Pty Ltd
---
Black Kit Kat Tile Backsplash with Wood Accents and Off-White Cabinets
Tiling a kitchen island has become a phenomenon in kitchen designs, and this Scandinavian-contemporary kitchen exemplifies it perfectly. Here, for example, the black kit kat tiles clad both the wall and the island front. This way, a cohesive and dynamic interior design aesthetic becomes achieved. Coming in matte black shades, these tiles also deliver a soft contrast. Yet since the grout between the tiles is white, the background maintains its clean and light look. Placed right under the skylight, the oversized island extends to offer a seating spot. And its wooden legs match the full-height wood cabinets, promoting continuous aesthetics. The off-white cabinets, by contrast, lend brightness to fulfill the mission of a Scandinavian kitchen. The dropped-down pendants overhang the island, adding dimension to the design and matching the black finger tiles.
Kit Kat Tile Backsplash
Also known as finger tiles and considered modern variations of mosaics, kit kat tiles are thin and long sticks reminiscent of chocolates. Having garnered a lot of attention and interest in recent years, a kit kat tile backsplash is especially popular in kitchens, bathrooms, and shower designs. But here we will only be looking at how they contribute to the overall aesthetic of kitchen designs.
Available in different materials, colors, and finishes, a kit kat tile backsplash is adept to create a sophisticated and contemporary look. You can even use it to clad your island's front panel or an entire curved island to create a continuous look with the backsplash.
Ahead are over 20 designs grounded upon a kit kat tile backsplash in different colors and layouts. So, keep reading to get to know these tiles better!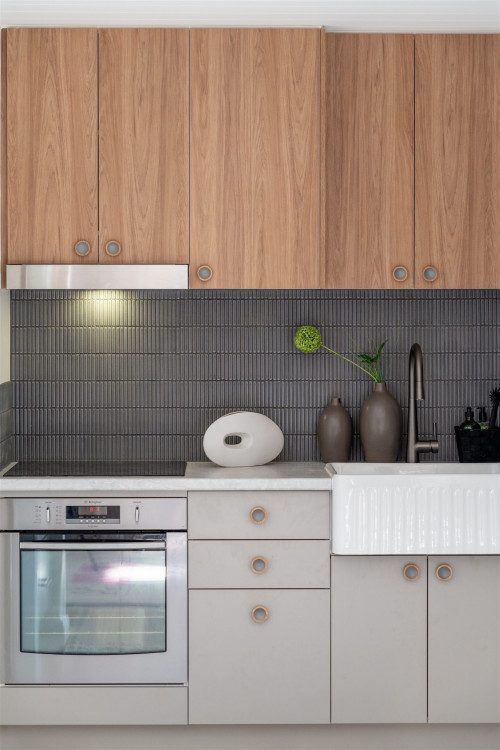 ID# 153801 | Houzz.com – Credit | © Annette Pust Design Studio
---
Scandinavian Kitchen with Kit Kat Tile Backsplash and Scalloped Butler Sink
Have you ever considered matching your kit kat tile backsplash to a butler sink? Well, that's what this Scandinavian kitchen does. It pairs a gray kit kat mosaic tile backsplash with a white scalloped butler sink skillfully. Together, they create a well-coordinated look and a song of synchrony. In the rest, the timber overhead and off-white base cabinets exemplify the Scandinavian kitchen tenets. They offer decluttered lines and a sleek style, oozing a sense of warmth. The white engineered countertops add a brightening effect. And stainless-steel appliances blend with the grayish base counters seamlessly.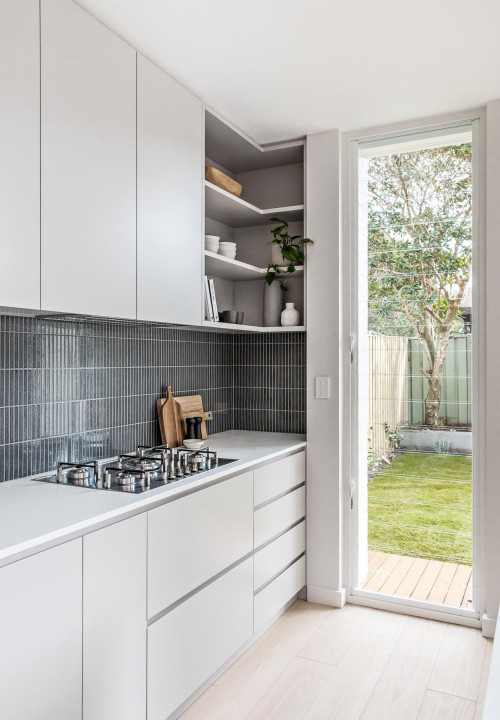 ID# 153802 | Houzz.com – Credit | © Kitty Lee Architecture
---
Black Kit Kat Tiles with White Countertops and Off-White Cabinets
Opening onto a garden view, this contemporary kitchen embraces an all-white look, letting charming greenery find a reflection indoors. The off-white flat-front cabinets create a seamless profile. The corner shelves with exhibited cookbooks and a touch of green inject a healthy dose of personality. The black kit kat tile backsplash stands out, bringing a sense of contrast. Yet, the white grout between the tiles gives the backsplash a crisp and clean look. And on the floor, a light wood floor finish brings much-needed warmth without breaking the visual integrity of the design. Rather, its barely-there light shade approaches closer to off-white cabinets.
Are Kit Kat tiles a trend?
From islands to curved column, backsplashes, and bathroom and kitchen walls, kit kat tiles are used popularly, particularly in contemporary designs. Available in a wide range of shades and materials, they add visual and tactual depth to the background. They could be considered the new and modern version of mosaic tiles. For their versatility and intriguing look, they are preferable in all kitchen designs, which keeps them on-trend.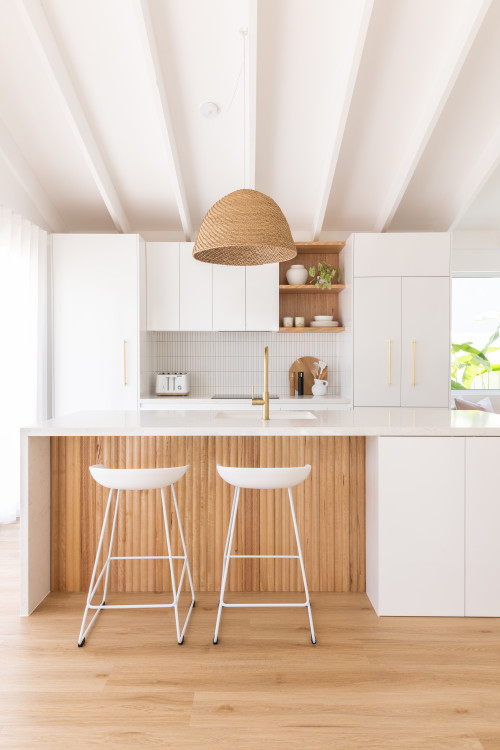 ID# 153803 | Houzz.com – Credit | © Tile Touch
---
Beach-Style Kitchen with White Cabinets and Gold Accents
Tinged with a bohemian vibe, this beach design promotes natural shades, textures, brightness, and casualness. For example, while the white flat-front cabinets deliver lightness, the wood cabinet shelves and gold accents orchestrate warmth. The kit kat tile backsplash delivers sophistication, creating a design parallel with wood screening that punctuates the otherwise all-white kitchen island. Also, the vertical layout of the backsplash tiles makes the kitchen higher. This wood-front panel connects the island to the rest of the design. And, overhead, an oversized wicker lighting fixture introduces a bonus texture and charm. Adjacent to the cooking zone is also a banquette by the picture window that enjoys this coastal design.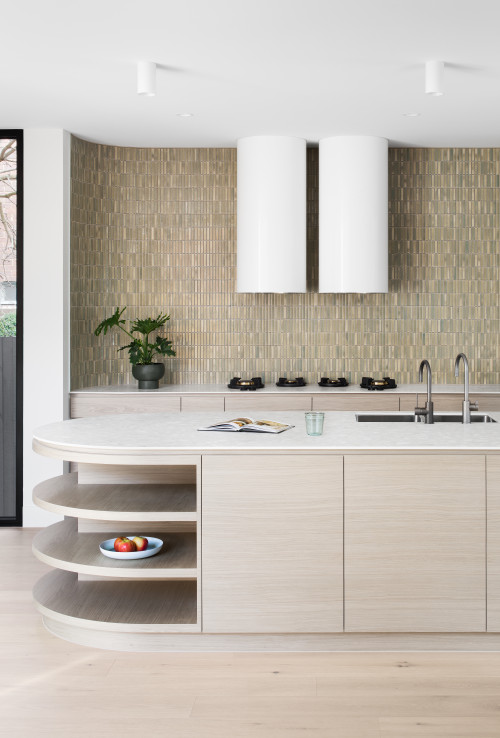 ID# 153805 | Houzz.com – Credit | © Bryant Alsop Architects
---
Ceiling-Height Kit Kat Tile Splash-back and Rounded Hoods with Curved Island
Unique to this kitchen is the curved walls that are put into dialogue with rounded hoods and a curved island. These undulating forms deepen the artistic mood of the space, coming as relaxing features for kitchen users. Plus, the light earthy shades also support it. The kit kat tiles, for example, reach up to the ceiling, bringing plenty of texture. The wood veneer cabinets, likewise, envelop the kitchen with warmth. The open shelving incorporated into the island design allows homeowners to add more personality to it. The barely there thin and white countertops soften the color transitions between counters and backsplash. Also, to create a continuous look, the cylinder-shaped lighting fixtures act as miniature versions of the range hoods. Overall, this contemporary kitchen offers plenty of open space, priding itself on its natural design.
What is the trend for backsplash in 2023?
Backsplash trends in 2023 boast natural color themes, textured tiles, organic patterns, bold designs, and natural stones. In other words, the year 2023 embraces natural designs that include dramatic natural stone backsplashes and textures. In addition to them, patterned, gloss-finish, and geometric tiles preserve their popularity in 2023 too.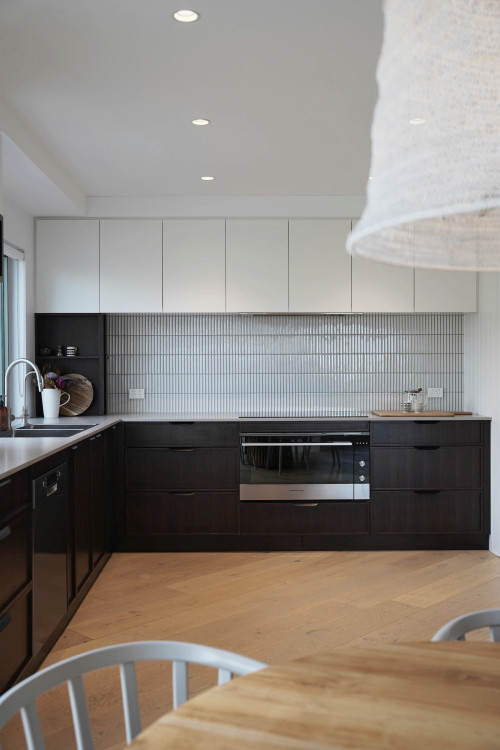 ID# 153806 | Houzz.com – Credit
---
L-Shaped Kitchen with Two-tone Joinery and Kit Kat Tile Backsplash
In this L-shaped contemporary kitchen, solid wood is traded with wood veneer cabinets that are more economical and environment-friendly. Coming in the form of dark base counters, they ground the light-colored top half of the kitchen. The white kit kat tiles and light cream cabinets make for a harmonious whole that is visually lightweight. The glaze finish of the white tiles makes the space more spacious. The L-shape configuration of cabinets incorporates negative spaces like corners into the design, making efficient use of space. The sleek appliances, including a low-profile oven, just blend with the cabinets. The hood hidden behind the cabinet also prevents any potential visual clutter.
Color Options for Kit Kat Tile Backsplash
In today's market, kit kat tile splash-backs come in a wide range of color options. Also, if you wish, you can experiment with grout color for an eye-catching outline for these tiny tiles. So, whether you want to create a clean backdrop for your kitchen or add a splash of color, there is a kit kat tile that can fit your style and elevate the overall look. Scroll down and find different color options!
White Kit Kat Tile Backsplash
Popularly used, white kit kat tiles offer a clean and crisp look. And you can easily make them pop with a contrasting grout color. Or better with contrasting cabinets. For example, using wood cabinets made of walnut creates an impressive mid-century design with a white kit kat backsplash. Or black cabinets create a contrast that asserts itself as a timeless look. Plus, for a bohemian and more nature-inspired look, again, this white backsplash creates the perfect setup. In addition to those, two-toned cabinetry lends enough interest to kitchens with a white kit kat tile backsplash. Going with a two-toned effect is one of the best ways to spice up a white backsplash.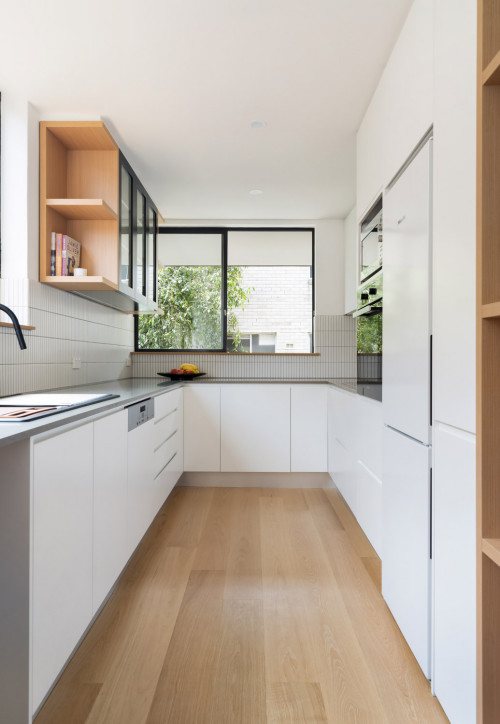 ID# 153807 | Houzz.com – Credit | © Revamper – Kitchen & Bathroom Design
---
White Kit Kat Tile Backsplash with White Cabinets and Black Accents
The white flat-front cabinets and glass-front upper units develop a sense of space for this otherwise narrow and rectilinear kitchen. Though the cabinets are configured in a U-shaped layout, thanks to their clean line profile, they inject softness and delicacy. Warmth is invited through the wood open shelving that adds bonus charm and interest. The engineered light wood flooring also supports the timber shelves, pulling the design together. And to add further interest and solidity, black accents are brought in via black tapware, window frames, and black glass cabinet fronts. Yet above all, this kitchen owes its extra charming look to the kit kat tiles reminiscent of chocolate confectionery.
How to install a kit kat tile backsplash?
As a modern variation of mosaic tiles, kit kat tiles are tiny. Thus, it might look like a daunting task to install a kit kat tile backsplash. Yet they come in mess sheets for ease of installation. So, the good news is that DIY enthusiasts don't have to deal with installing every individual tile.
And when it comes to installing a kit kat tile backsplash, start by removing all of the hardware and electrical plug outlets. Then cover the countertop and cabinet with a plastic sheet. Make sure that the backsplash wall is smooth with no damage. If it has any no detritus, dust, dirt, or cracks, use sandpaper and fill the holes. After sanding, don't forget to clean the residual dust with a soft cloth or vacuum cleaner.
When you are ready to apply the adhesive to the wall, use a notched towel. Try not to get any lumps and keep the adhesive as smooth as possible. Start installing sheets carefully. When needed, the sheets can easily be cut and smaller sheets can be placed on the edges.
Grouting
After completing the installation, for the next 24-48 hours, you need to wait for the backsplash to completely cure. Then you can come back to apply the grout. Choose your grout color. If you wish you can get a premixed one to keep things simpler or mix it yourself by following the instructions. Apply the grout with a grout float across the backsplash surface diagonally. Make sure that the joints between the tiles are filled. Wipe away any excess with a damp sponge.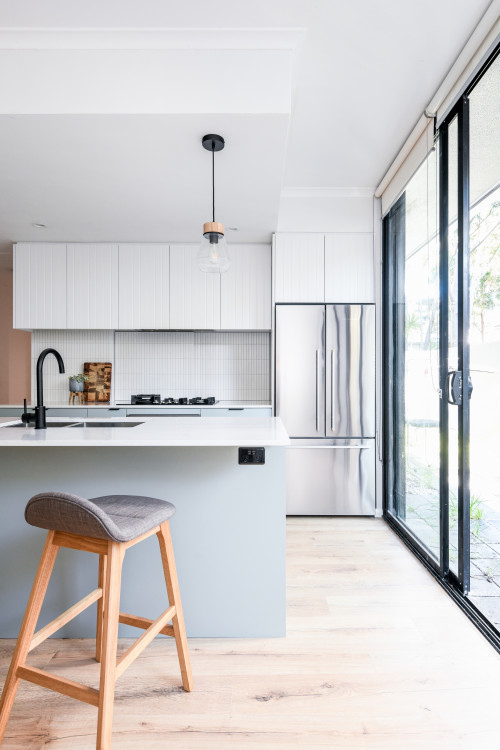 ID# 153808 | Houzz.com – Credit | © Improva
---
Bright Kitchen Design with Beadboard Cabinets and Blue Counters
Opening onto the garden through patio doors, this modern kitchen is ensured to benefit from an efficient income of streaming lights. And inside, the white and muted blue cabinets expand the impact of light flowing in. Also, the fact that they come flat-front and hardware-free minimizes any visual and physical blocking within the space. Yet this kitchen doesn't skip adding some movement. And to achieve that, it makes use of beadboard-front cabinets to make them match a white kit kat tile splash-back. This way, the vertically lined kitchen gains a sense of momentum. The black accents, likewise, add a soft contrast to puncture the design. They are introduced by black tapware, lighting fixtures, and the stove. As for the wood touches evident in the stool legs and an island shelf, they add warmth to finalize the total look.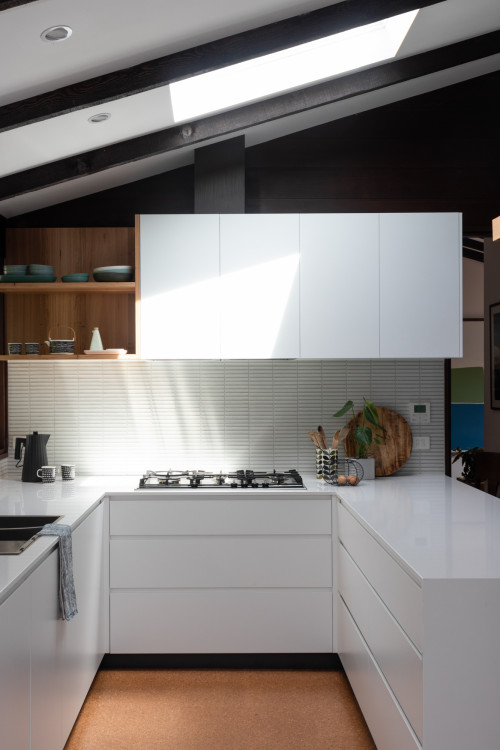 ID# 153809 | Houzz.com – Credit | © Neon White Design
---
White Kitchen Cabinets with Wood Open Shelving and White Countertops
Feeling at home under the sloping ceiling, this mid-century-inspired kitchen is cozy and warm. The black-painted walls with black-washed beams provide a solid background for the white cabinets to shine. The white engineered countertops support this clean and crisp look, along with white kit kat tiles. The white grout between these tiles also ensures that the background looks almost seamless. The wood open-shelving and engineered wood flooring bring much-needed warmth. Overhead, the skylight delivers fresh sunlight, further warming up the interior.
What is a Kit Kat tile?
Kit kat tiles, also known as finger tiles, are rectangular tiles that look like tiny sticks or kit kat chocolates. Though not edible, they serve as great backsplash patterns, creating sophisticated looks. Especially, in recent years, they have become more and more popular and are favored by contemporary designs.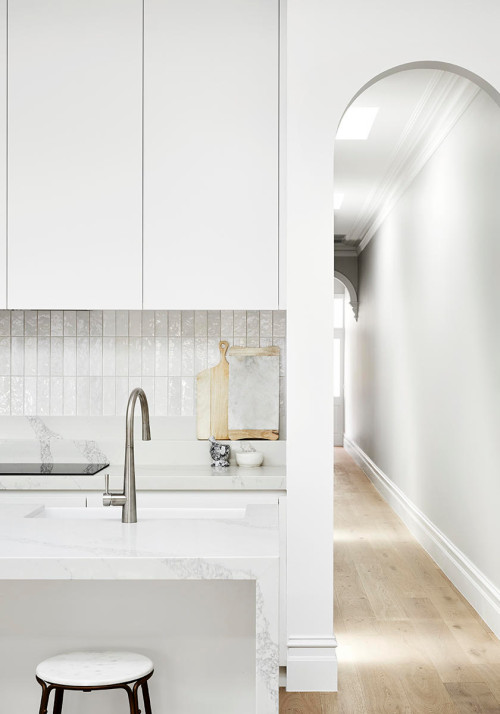 ID# 153810 | Houzz.com – Credit | © Seytim
---
Marble Effect Quartz Countertops and White Cabinets with Stacked Tile Backsplash
Led through an arched cased opening, this modern kitchen in Melbourne welcomes its users with a fresh and achromatic color scheme. The white flat-front cabinets create a blank canvas that is smooth and sleek. Marble-effect quartz countertops with light veining add a touch of movement. The white ceramic kit kat tiles, unlike what we have seen in other designs until now, come in larger formats. Stacked vertically, they mimic the elongated and thin upper cabinets. Plus, the satin finish on these tiles buillds a nice sheen. And their variegated color scheme adds a further dimension to the background. Also, what makes the background extra intriguing is the use of two backsplashes: a 4-inch quartz slab and white kit kat tiles.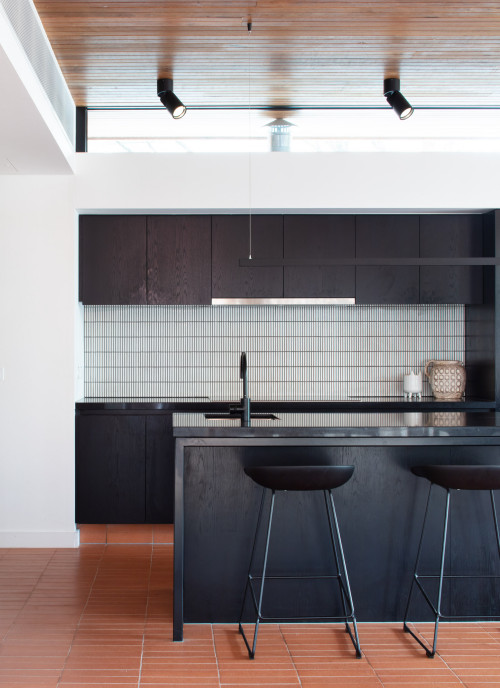 ID# 153811 | Houzz.com – Credit | © Modscape
---
Dark Cabinets with Terracotta Floor Tiles and Wood Ceiling
Sometimes using black cabinets can be tricky to integrate into a design. And white and black color schemes are not favored by some. If you are one of those, a good way to soften all-black cabinets is to treat them with warmth. This contemporary kitchen, for example, goes with wood accents and terracotta tiles. More specifically, here, the wood-clad ceiling and vertically stacked subway terracotta floor tiles add enough color and texture. The white kit kat tiles, by contrast, brighten the black cabinets up. Yet the gray grout between them coordinates kit kat tiles with the cabinets back again. The sleek appliances are skillfully hidden, feeling camouflaged behind or between the cabinets. The white-painted walls, high ceilings, and the clerestory window ensure the interior is light-filled and bright. The black tracking lighting fixtures give a contemporary vibe.
Design hint: If you want to avoid any potential visual clutter, use flush mounts instead of pendants.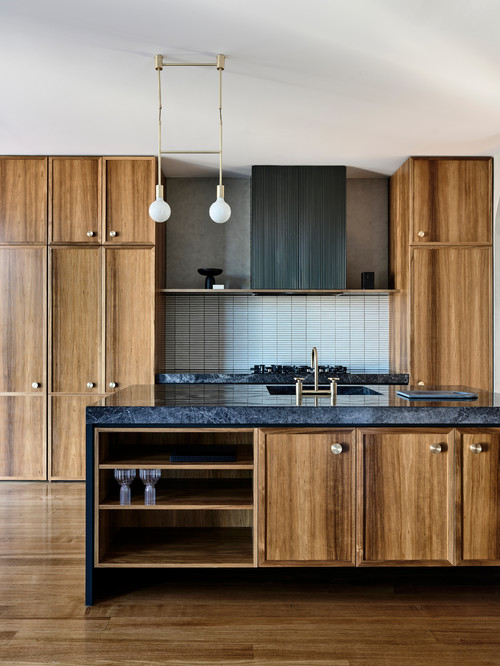 ID# 153812 | Houzz.com – Credit | © Luke Fry Architecture & Interior Design
---
Wood Cabinets with Black Marble Countertops and Gold Accents
Classical materials and aged finishes mingle with high-end natural stone countertops in this contemporary kitchen. As the main bones of the design, first, the warm wood flat-front cabinets tap into the spirit of mid-century modern looks. Secondly, they converse harmoniously with the engineered wood flooring, retaining visual integrity. The contrasting black marble countertops anchor the white kit kat tile splash-back and the minimalist light bulb pendant. Connected with rosy gold hardware, this duo of light bulbs brings in an industrial edge mixed with a contemporary flair. The rosy gold cabinet knobs also punctuate the counters. Additionally, the open shelving above the stove and forming part of the island leaves enough space for homeowners to exhibit their essentials. The final product feels rich and opulent with solid wood cabinets and rosy gold accents that pull the design together.
Gray Kit Kat Tile Backsplash
For a neutral backsplash, one of the best color options is a gray kit kat tile backsplash. It is soft and unpretentious, adding a subtle hint of color. Thus, it is particularly a great alternative when you want to avoid an all-white or all-black kitchen. In other words, sometimes you need a color that offers the best of both worlds. And that's what a gray kit kat tile backsplash promises.
You can combine it with white cabinets, gray countertops, and chrome or nickel hardware. In case you want to add a pop of color, you can incorporate colorful appliances. Additionally, bar stools and lighting fixtures can be used to make visual statements. This way, you can give the kitchen with a gray tile backsplash more life and energy. But if you want to keep it monochromatic, stick to the white and light gray shades throughout. Perhaps with a few metal touches, you can add some sparkle.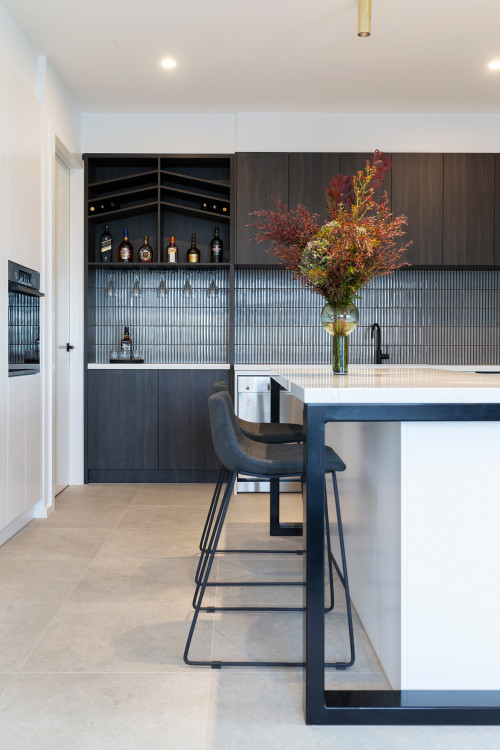 ID# 153813 | Houzz.com – Credit | © Studio Black Interiors
---
Gray Kit Kat Tile Backsplash with White Countertops and White Island
The interior design aesthetic of this kitchen is modern and elegant. It is layered with black, white, and gray finishes that orchestrate a sophisticated color scheme that feels timeless and assertive all at once. It is also the refined language of patterns that adds bonus charm to the design. For example, the vertically stacked kit kat tiles elongate the backdrop visually. And the open cabinet shelf with diagonally installed shelves creates a dynamic chevron pattern. The beverages exhibited on these shelves define the section with open shelving as a dry bar. The white quartz countertops lighten the interior up, along with the all-white island, whose black accents claim its bonding with the overall design aesthetic. Additionally, pops of brass that comes with lighting fixtures inject a small dose of warmth. And dried flowers exhibited on the island countertop bring a ripple of color as a further styling element.
What size is a Kit Kat tile?
Kit kat tiles are rectangular tiles that are stacked on each other by creating a grid pattern. Slim and elongated, these tiles come in sheets. The sheets measure 30cm x 29.6cm in general, while chip sizes are 20x145x8 for a standard kit kat tile. And the smaller versions measure 12x92x8 millimeters. The stacked layout of these tiles offers a modern appeal for kitchen backsplashes or bathroom walls.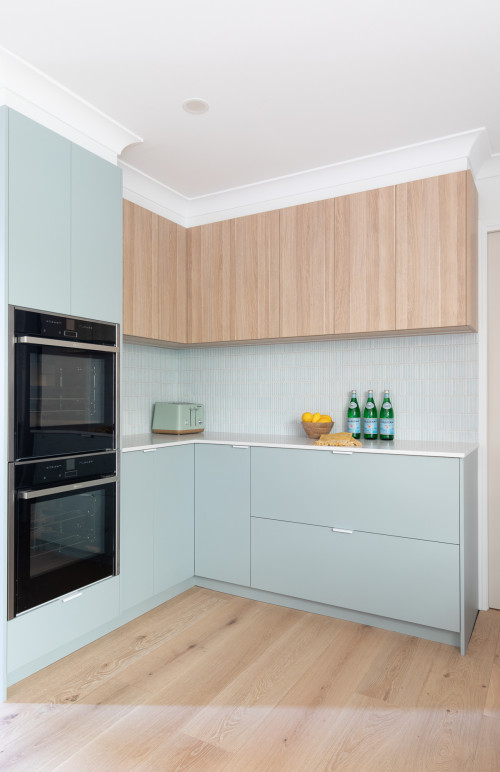 ID# 153814 | Houzz.com – Credit | © Bella Vie Interiors
---
Two-Tone Joinery with White Engineered Stone Countertops and Oak Flooring
To evoke a beach-style vibe, this kitchen utilizes two key pieces of furniture: muted blue cabinets and timber wall units. Both come as flat-front cabinets that give birth to sleek and clean-line joinery. The built-in high-end appliances accompany the cabinets in their sleek nature. By contrast, the light gray kit kat tile backsplash brings many grout joints and a visual dynamic. The white oak hardwood flooring dialogue with the timber wall units, characterizing the top and floor parts with wood.
In addition, the white engineered-stone countertops are great additions if you don't want to deal with regular sealing. Unlike natural stones, they are pore-free and much more practical. Another functional addition in this kitchen is also white lip-pull notches. If you don't want to leave any fingerprints on the cabinets and detest cabinet hardware, lip pull notches are an alternative. Their designs are minimalist and cute.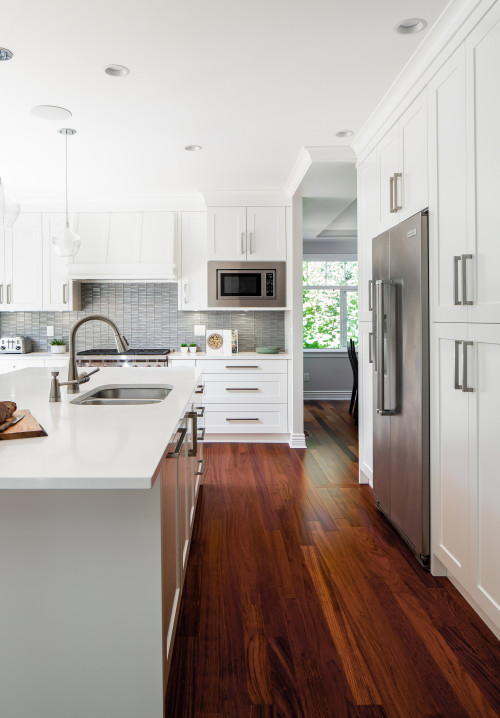 ID# 153815 | Houzz.com – Credit | © My House Design/Build/Team
---
Transitional Kitchen with Monochromatic Color Scheme and White Cabinets
To create an engaging design, you don't necessarily need to think outside the box. Sticking to a neutral color palette and a statement backsplash is sometimes more than enough. Plus, such a combination always proposes a timeless look. For example, in this transitional kitchen, white shaker cabinets bring a classical finish and traditional spin. The white engineered countertop adds a touch of human imprint, injecting optimism and wellness. Accompanying them are a gray kit kat tile splash-back and brushed stainless steel appliances.
The former makes a visual statement, serving as a focal point. It is horizontally stacked, bringing order and clarity. The latter introduces professionalism with matching cabinet pulls. Finally, the medium-tone laminated parquet flooring constitutes warmth, running across the entire open floor plan to pull the space together.
Design hint: A seamless transition from the lounge to the open kitchen or vice versa is important. Neutral color schemes of whites and grays ensure that this transition works easily.
Black Kit Kat Tile Backsplash
Black kit kat tile backsplashes have a world of their own with a sense of quirkiness. And they are filled with drama. Best at adding depth and dimension to the background, they can make the backsplash wall recede and enlarge the kitchen visually. The same, surely, goes for black kit kat tiles. They create quite sophisticated backgrounds, which can be used to build contrast in a kitchen with white cabinets.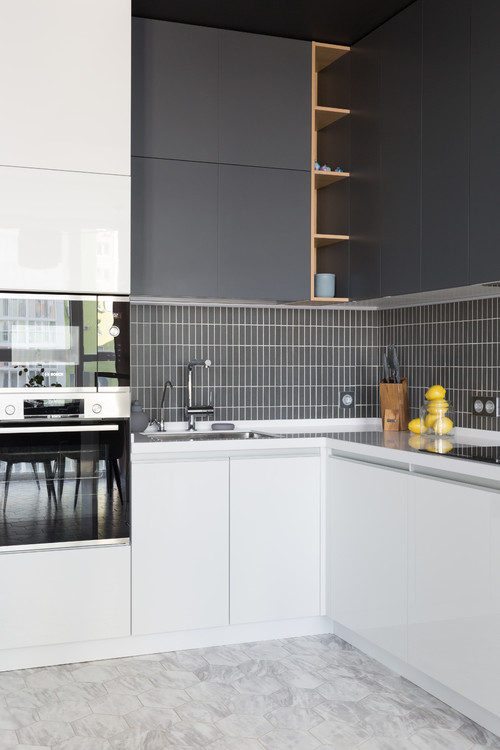 ID# 153817 | Houzz.com – Credit | © Re-PIN
---
Black Backsplash with White Grout and White Cabinets
In this Scandinavian kitchen, the black kit kat tile splash-back with white grout echoes the overall color palette. For instance, while the black tiles match the soft black wall units, the white grout synchronizes with the white cabinets and countertops. This contrasting color scheme lends personality and interest, which is supported by a white-gray marble floor coating. The brushed chrome tapware and built-in appliances complement this white and gray collaboration with a few metallic touches. Also, the smoky patterns colonizing the marble coating put an energetic spin to the calm and neutral cabinet design. Also, it is important not to leave out the contribution of the cubic cabinet shelves with wood accents. They bring character and extra spots for kitchen users to put their essentials on display.
Which way do you lay Kit Kat tiles?
Stacking kit kat tiles horizontally or vertically is the most popular layout option. But which you should lay them depends on whether you would like to extend your kitchen on the horizontal or vertical axis. And if you are looking for an allternative, you can create a custom pattern that combines different colors of kit kat tiles. For example, if you wish, you can create an ombre effect, which is perfect for accent walls.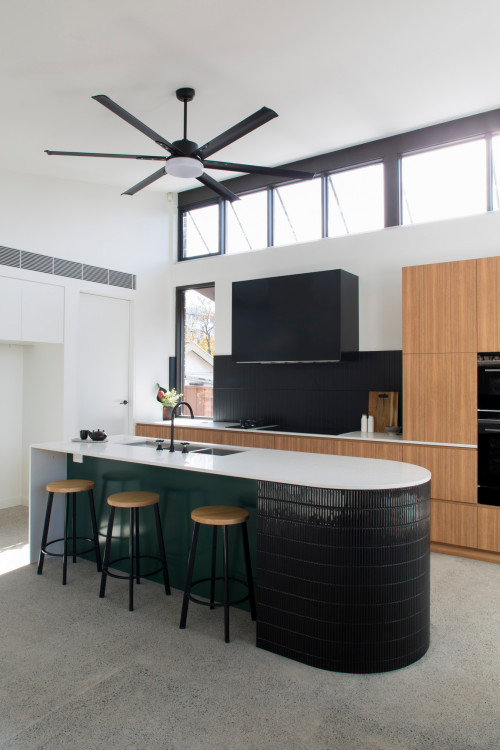 ID# 153818 | Houzz.com – Credit | © Danny Broe Architect
---
Curved Island with Black Backsplash and Wood Cabinets
Illuminated by clerestory windows, this contemporary kitchen has a very rhythmic design established by black kit kat tiles. Cladding the lyrical curved column of the island, these black tiles come with a polished finish that makes them extra eye-catching. Also, the handsome and dramatic dark green paint on the island oozes quirkiness. And as for the backsplash, the vertically stacked kit kat tiles are aligned in one row. Yet, this time, they come in a larger format and matte finish for a different visual impact. And softening this black-dominant scheme is warmth introduced by wood perimeter counters. Lastly, for the sake of rawness, the floor is finished with poured concrete that brings a subtle industrial feel. In the rest, the white-painted walls are deliberately kept minimal to make the kitchen design sparkle. The black ceiling fan brings another practical addition to this high-ceilinged kitchen.
Blue Kit Kat Tile Backsplash
To instill serenity and calmness, a blue kit kat tile backsplash is one of the best color options. Especially the light-colored ones create a calm ambiance that is perfect for beach-style kitchens. But if you are looking for a sense of drama, go with dark blue backsplashes. And complement them with chrome hardware and white cabinets to lighten the room and modernize it. For a gloomy ambiance, combine a dark blue backsplash with black cabinets. And apply black grout between the kit kat tiles for a cohesive look.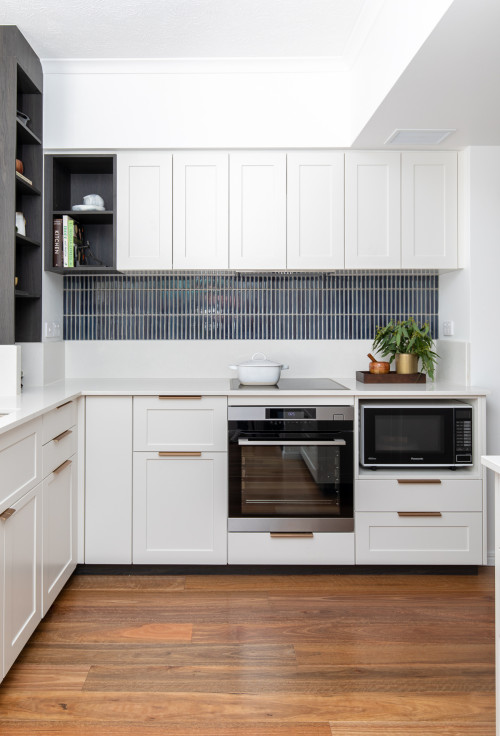 ID# 153819 | Houzz.com – Credit | © Designtank
---
White Shaker Cabinets with Blue Kit Kat Tile Backsplash and Gold Accents
This rather minimalist and transitional kitchen design boasts white shaker cabinets and a dark blue kit kat tile backsplash. Yet rather than using these finger tiles for the entire backsplash, it goes with a white quartz countertop that extends on the wall. This way, it happens to use two types of backsplashes that bring depth to the background. The cabinets also become a playground for color switches. For example, the white shaker cabinets get mixed with dark blue cabinet shelves for a sense of contrast. To offset this contrasting color scheme, gold lip-pull notches and engineered wood flooring radiate warmth.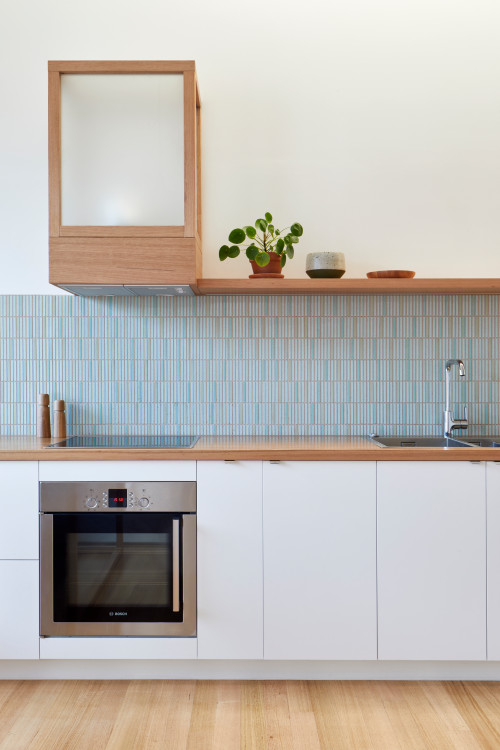 ID# 153820 | Houzz.com – Credit | © Scale Constructions
---
White Modern Cabinets with Butcher Block Countertops and Sleek Appliances
This soft and nature-inspired modern design encourages interaction with natural elements. For example, the wood countertops, a timber floating shelf, and a wood cabinet layer the design with texture and warmth. To complement them, the light blue kit kat tiles add sophistication without breaking the approachability of the design. The white flat-front cabinets play up the warming wood shades and blue touches. The integrated sink, low-profile stove, and mini-oven feel proportioned to the scale of this rather small kitchen. To preserve its smooth and clean look, the hood is concealed in the non-transparent glass-front wall unit. Overall, the final product is soothing, calm, and cohesive, featuring a carefully balanced design.
Green Kit Kat Tile Backsplash
Take inspiration from green tiles to create a nature-inspiired design. From emerald to mint, each shade can update your kitchen easily and bring the rellaxing feel of nature. You can combine the green backsplashes with wood accents, white cabinets, and brass hardware to create a stylish appeal. Also, a green kit kat tile backsplash can align your kitchen with organic modernism and contemporary or modern designs.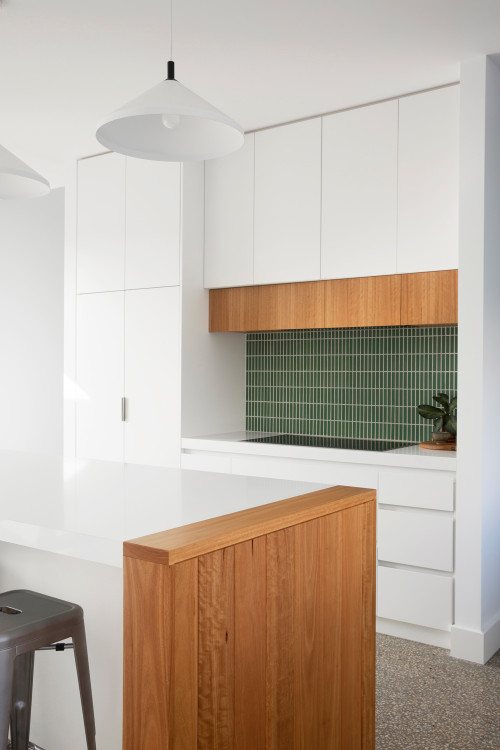 ID# 153821 | Houzz.com – Credit | © Meredith Lee
---
Green Kit Kat Tile Backsplash with Concrete Floor and Wood Accents
Visually lightweight and contemporary, this kitchen instills calmness in its users right away. And it proves skillfully the right balance of colors and textures can make a huge impact on the space. Here, for example, the white flat-front cabinets let colors and wood take the lead. While the green kit kat backsplash adds a pop of color, wood accents introduce warmth. By contrast, the speckled-finish concrete floor and industrial bar stools help create a design in which contemporary meets industrial. Yet the industrial vibes are translated into subtle and refined forms so that the kitchen doesn't sacrifice its nature-inspired look.
What color grout for Kit Kat tiles?
Depending on the taste of individuals, grout color for kit kat tiles can be anything. But the most popular grout color is white, black, and gray. It is almost the same for every tile, including kit kat tiles. However, if you are looking for something different, brown and gold are great to add extra warmth. Pink, red, and mossy green can also be used.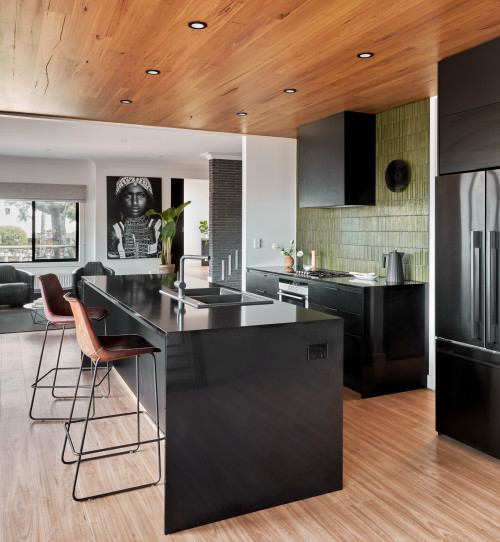 ID# 153822 | Houzz.com – Credit | © Jasmine McClelland Design
---
Black Cabinets with Green Backsplash and Wood Ceiling
When you have a statement backsplash made of kit kat tiles, there is no reason not to take them up the ceiling. Yet it is important to decide on the color you would expect these tiles to communicate. Here, this contemporary kitchen, for example, lets the green kit kat tiles take the lead to spice up the black cabinets. Coming in a flat-front design and topped by black polished countertops, the black cabinets offer a seamless look. The wood-clad ceiling and wood floor coating envelop the interior with warmth. And overhead, built-in spotlights diffuse lights, ensuring every inch is lit evenly.