24+ Backsplash for Black Cabinets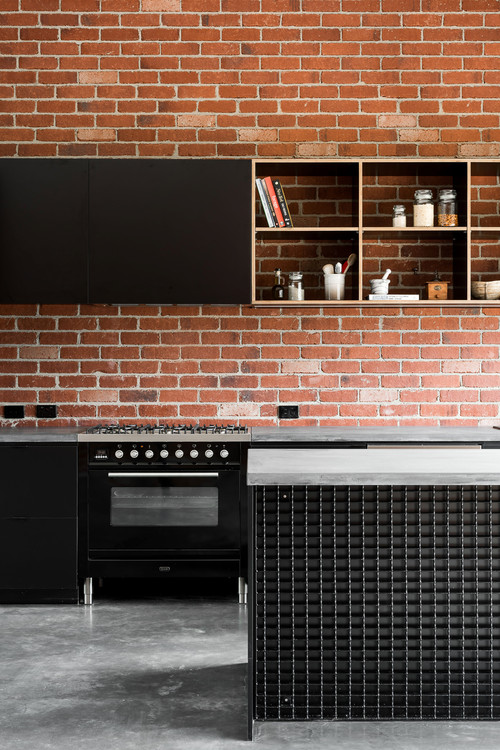 ID# 164206 | Houzz.com – Credit | © Cast Studio
---
Industrial Kitchen with Exposed Red Brick Wall and Concrete Countertops
The black hue with an eye-catching brick texture. With all of its aspects, this kitchen exudes the attractiveness of the industrial style! The black kitchen cabinets add a clean and stylish touch to this space while the gray concrete worktops and floor complement the black. The exposed brick wall is unquestionably the focal point of this kitchen. The brick wall, with its raw and unfinished appearance, gives a classic yet dramatic texture while offering a warm and welcoming area.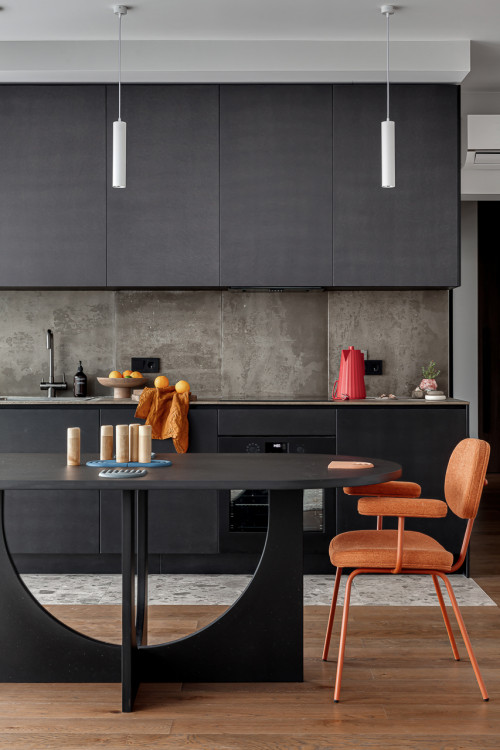 ID# 164217 | Houzz.com – Credit | © num.21
---
Contemporary Black and Gray Kitchen with Orange Chairs
When it comes to creating a kitchen with a cool vibe, the concrete texture will never fail you down. Framed by black flat-panel cabinets, this texture is used as a backsplash to create a sleek and elegant look for this kitchen!! The unique design of the black dining table brings a wow factor to the space while the orange chairs add a pop of color to the monochrome color scheme.
Backsplash for Black Cabinets
Black is one of the most significant colors in interior design and the entire palette. It's a neutral color, similar to white and gray! Black, in particular, is a strong hue that may be subtle or bold depending on the situation. The color black is associated with elegance and refinement and it may be used to create stunning cabinet designs. When using black to decorate, maintaining a sense of balance is crucial. For this reason, choosing the perfect backsplash for black cabinets might be challenging!
Complete the Elegance of Black
When it comes to kitchen cabinets, black isn't usually the first color that comes to mind. Simple, brilliant white is frequently linked with a clean cabinet aesthetic. Black, on the other hand, is worth considering for those ready to take a risk! When paired with stunning hardware, clean worktops, slick flooring, an ideal backsplash for black cabinets, and plenty of natural light, the gloomy, dramatic color may be just as elegant and fresh as traditional white. If you want to make a difference let's check what can be the perfect backsplash for black cabinets!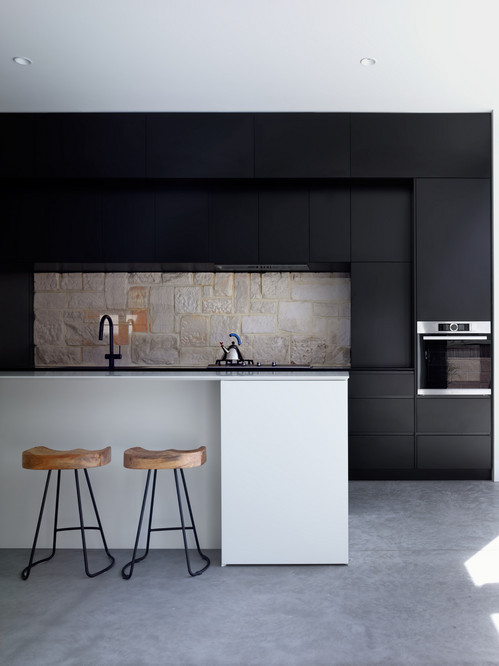 ID# 164201 | Houzz.com – Credit | © Couvaras Architects
---
Stone Backsplash for Black Cabinets and White Island
To offset the deep black tint, the matte black cabinets make a sleek backdrop, while the white island offers a bright and new aspect. The beige stone backsplash reduces the stark contrast between black and white while also adding a lovely textured element!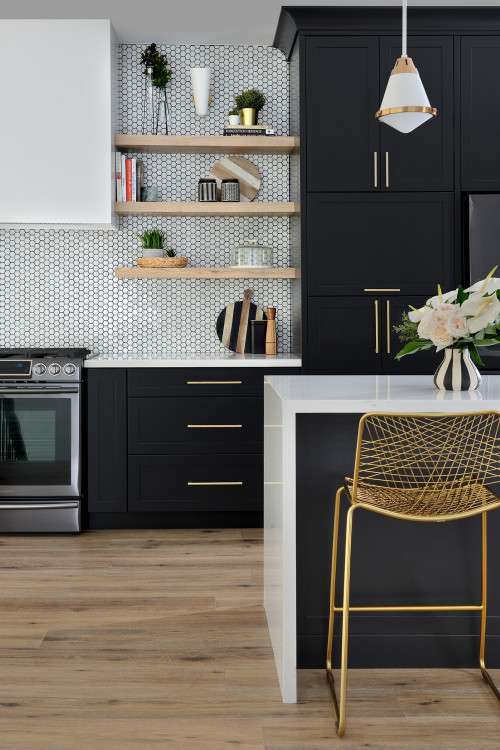 ID# 164202 | Houzz.com – Credit | © Michelle Berwick Design
---
Black and White Kitchen with Full-Height Backsplash
If you want to make a statement with your backsplash, what not extending the tiles through the ceiling? This way you can create an eye-catching accent wall and also increase the durability! In this transitional kitchen, the white hexagon tile backsplash creates a striking focal point between the black shaker cabinets. Using wood floating shelves instead of upper cabinets brings an open and airy feel to the space. For a final touch, the brass hardware adds a dose of sparkle to give a luxurious feel.
What kind of backsplash goes with black cabinets?
Because black is a classic and neutral hue, it may be stylishly used with a variety of backsplashes. Black cabinets are most commonly found in contemporary, modern, and urban designs, although they can also be found in the farmhouse and other types. Black cabinets, like white cabinets, are adaptable, meaning they may be used with a variety of hues. If you want a bright contrast in your kitchen, a white backsplash looks great with black cabinets. Slab stone backsplashes, in particular, have a basic and attractive appearance. You may utilize a backsplash if you want to go for a more dramatic look. A gray backsplash may enhance the sophistic effect of the black cabinets and create a monochrome aesthetic.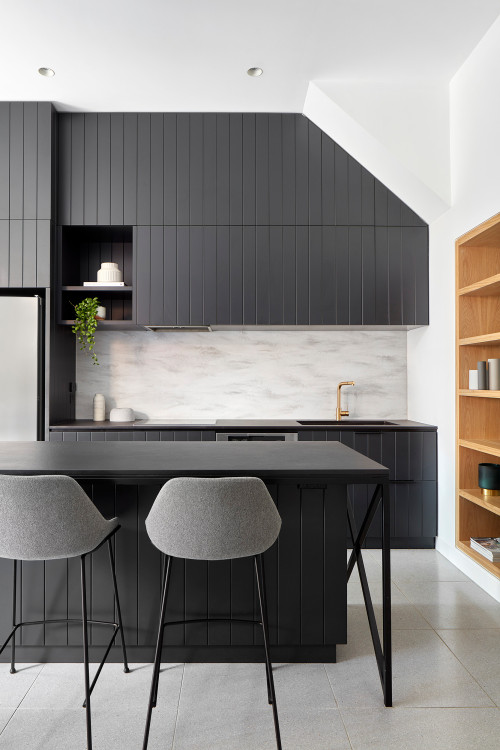 ID# 164203 | Houzz.com – Credit | © Bryant Alsop Architects
---
White Backsplash for Black Cabinets and Wood Shelves
Black and white with a touch of wood texture… If you are looking for the most failsafe color scheme for your kitchen, this combination will never fail you down! Enriched with a gray backsplash, the black cabinets dominate the space and create a sleek textural look with their beaded doors. The black countertops complete the dramatic appeal of the cabinets while the gray backsplash adds a fresh touch by creating contrast. The wooden built-in shelves on the right side break the monochrome color scheme and bring warmth to the atmosphere.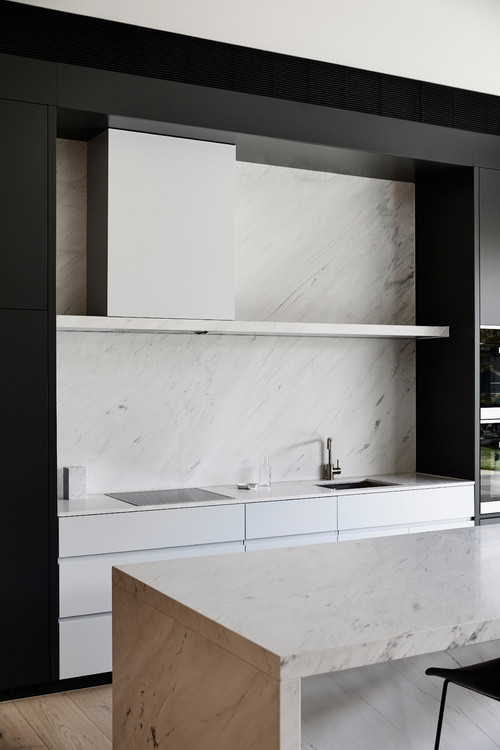 ID# 164204 | Houzz.com – Credit | © Dimpat
---
White Full-Height Backsplash with White Countertops
Awashed with the luxurious sense of marble, the combination of the black and white cabinets can easily make a striking statement in any kitchen! In this modern kitchen for instance, the deep black shade of the tall cabinets provide a sleek frame for the backsplash and white base cabinets. The eye-catching black veins of the backsplash complement the black cabinetry while the white range hood and the single floating shelf create a seamless and unifies look with the backsplash.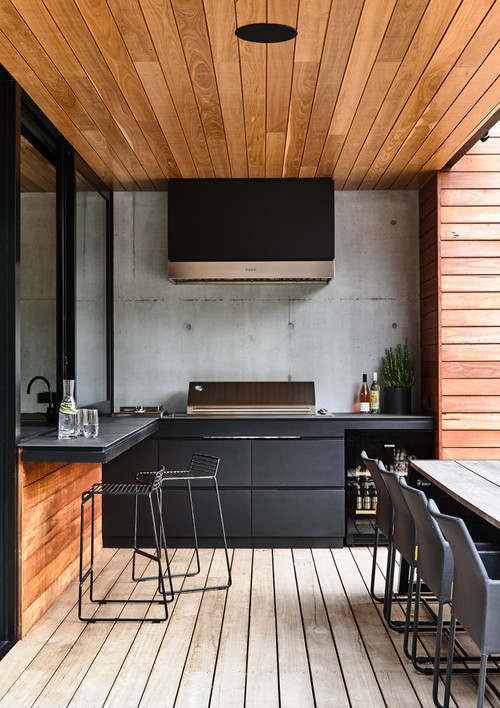 ID# 164205 | Houzz.com – Credit | © Studio Tom
---
Outdoor Kitchen Design with Concrete Backsplash and Wood Panels
Concrete-look backsplashes are ideal for outdoor kitchens, and the gray backsplash in this contemporary patio design nicely complements the earthy color palette. The black cabinetry and range hood stand out and provide depth to the area. Natural texture is added by the wooden wall and ceiling panels.
Backsplash Color Options for Black Cabinets
White cabinets are a timeless classic when it comes to kitchen decor. On the other hand, black kitchen cabinets are the way to go if you want to go bolder and push outside your comfort zone! If you decided to use black color for your kitchen design you may wonder about the backsplash color options for black cabinets. Since the tile industry has a large color and pattern alternatives, it is sometimes can be overwhelming to find the right backsplash color options for black cabinets.
We all know that black is a timeless and essential hue. Depending on cabinet types and space, we're seeing stunning designs in a variety of styles, including modern, classic, and farmhouse. When it comes to fitting the perfect backsplash color options for black cabinets, there are many ways. Pair your black cabinets with a white backsplash for a striking contrast, or go all-black for a more dramatic design. Using neutral tones like brown, gray, or tan on your backsplash is also a wonderful way to tie your black kitchen cabinets together.
White Backsplash for Black Cabinets
Black cabinets, being a neutral and stylish hue, may have a significant influence on kitchens. You might be hesitant to utilize them since they have the potential to make a room appear darker and moodier. To increase the amount of light in the room, a white backsplash for bşacl cabinets is also a good choice. White tiles may be used with black cabinets to produce a stunning contrast, which is a trendy feature. Continue reading to see beautiful kitchen ideas with a white backsplash for black cabinets if you want to learn more about these contrasting styles!
When you think about the "white backsplash" the white subway tiles and the white stone slab backsplash ideas will pop up in your mind. However, since these are the classic choices, you can go with glass tiles, cement tiles, or hexagon tiles! To brighten up the black décor, let's see the stylish designs of a white backsplash for black cabinets.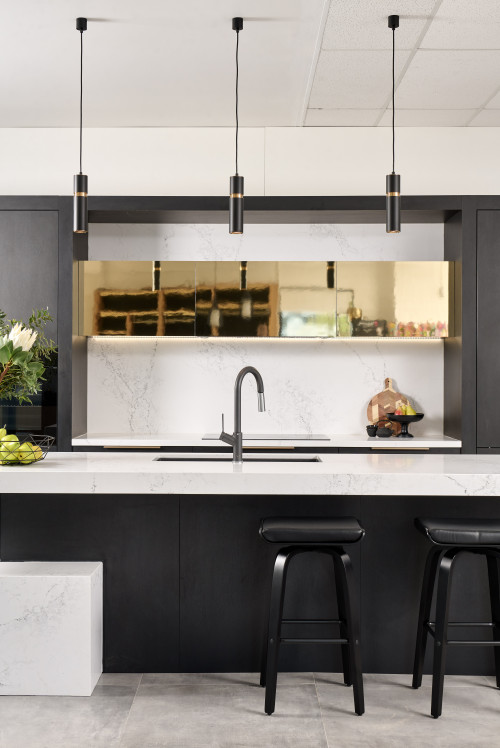 ID# 164207 | Houzz.com – Credit | © Joyce Kitchens
---
Black and White Kitchen with a Touch of Gold
Awashed with the contemporary allure, this designer kitchen showcases a chic color combination of gold, black and white that can elevate the modern aesthetic of any home. The matte black cabinetry and Caesarstone countertops instill a timeless monochromatic aura that emanates sophistication and elegance!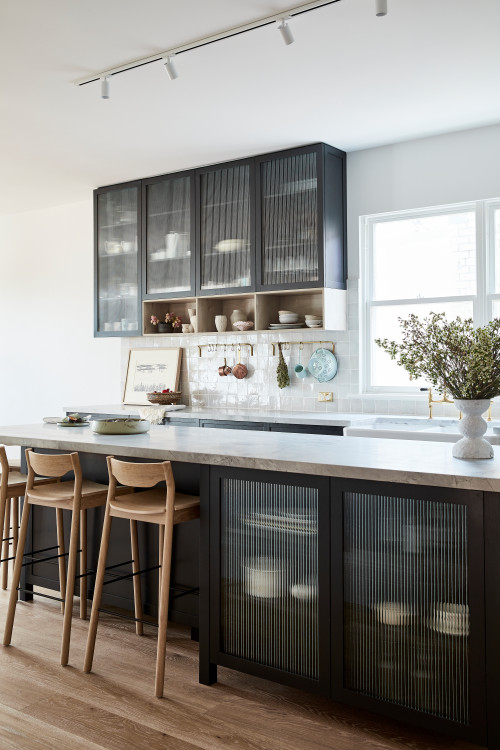 ID# 164208 | Houzz.com – Credit | © Blue Tea Kitchens and Bathrooms
---
White Zellige Tile Backsplash for Black Cabinets and Marble Countertops
The timber veneer cabinets' rich, velvety surface gives a touch of refinement to this transitional kitchen. The black cabinets' fluted glass doors allow light to dance and produce wonderful visual illusions within the area. The excellent usage of marble on the counters emanates sophistication and everlasting beauty. The handmade zellige tile backsplash offers visual intrigue as well as textural depth. Brass and black elements are deliberately placed around the area to complete the composition.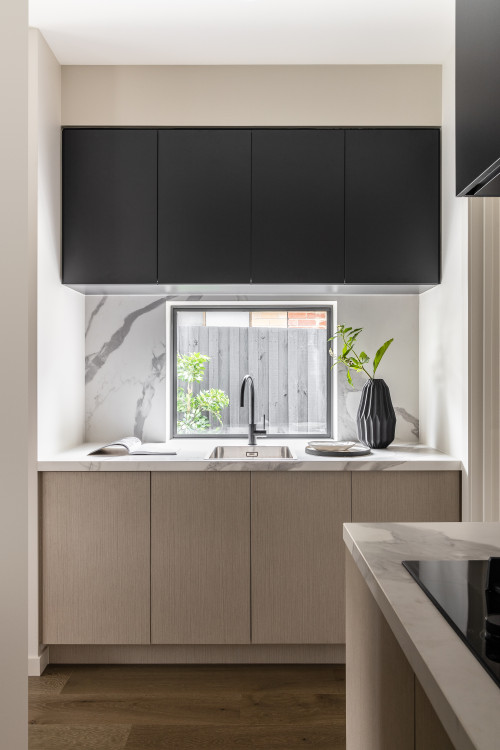 ID# 164209 | Houzz.com – Credit | © Collection by Glenvill Homes
---
Small Kitchen with Two-Tone Cabinetry
This lovely kitchen, despite its modest size, has everything you need in your daily life! The use of black and wood kitchen cabinets produces a visually stunning and useful storage solution for all of your kitchen essentials while the magnificent white quartz backsplash with a wonderful marble-look texture elevates the space. The window in the backsplash's middle increases natural light and provides an open and welcoming ambiance.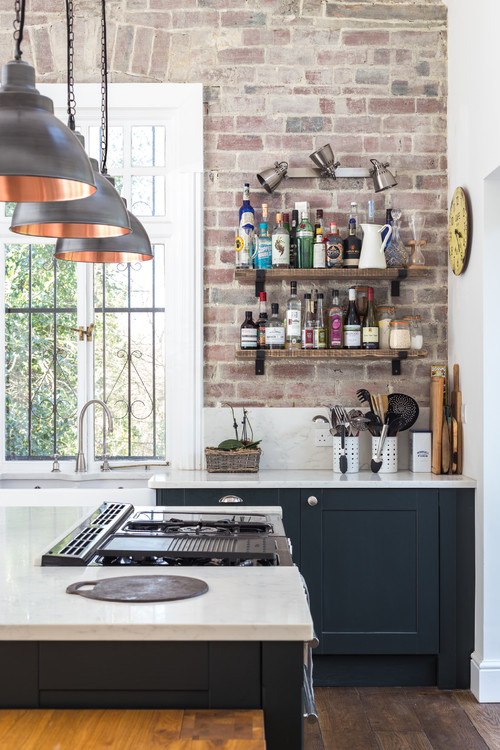 ID# 164210 | Houzz.com – Credit | © Studio Nest
---
Transitional Kitchen with Exposed Brick Wall
This transitional kitchen has an industrial atmosphere because to its exposed brick walls! The black pendant lights and the wood floating shelf with a number of drink bottles on them wonderfully complement this style. The black shaker cabinets, 4-inch marble backsplash, and countertops, on the other hand, provide a traditional and timeless appeal.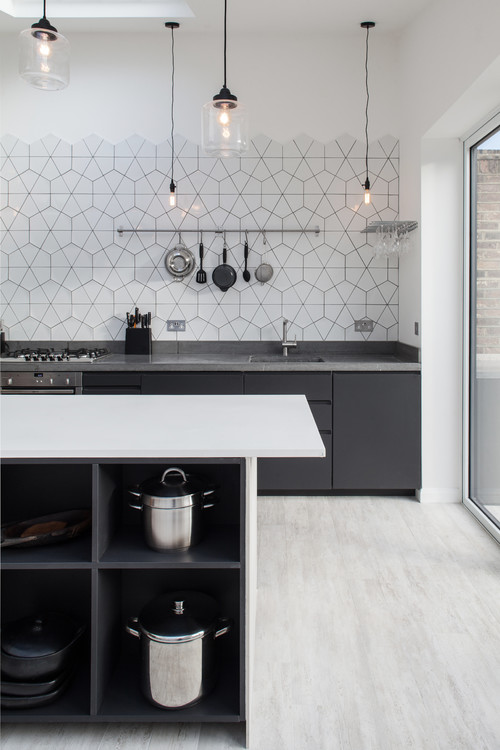 ID# 164211 | Houzz.com – Credit | © Trevor Brown Architects
---
White Geometric Tile Backsplash with Black Grout
Even if you are designing a minimalist kitchen, you can create one-of-a-kind appeals with the addition of one statement maker piece. In this case, the showstopper element is the white backsplash tiles! Although the white tiles serve a classic and simple appeal, the geometrical shapes and the black grouting enhance the backsplash design and allow it to be the star of the kitchen. The black base cabinets create a contrast with the whites and bring depth to the room while the gray granite countertops provide a smooth transition between black and white.
Black Backsplash for Black Cabinets
Black is a hue that never goes out of style due to its timeless beauty! When used as a kitchen backsplash, this dramatic color can make your space appear aggressive and elegant regardless of your color scheme or design style. For a bolder option, consider pairing a black backsplash with black cabinets to create a contemporary and stylish look that will fill the entire kitchen and create a sophisticated appeal! While minimalist Scandinavian, modern and industrial designs are some of the most popular options for using a black backsplash for black cabinets, you can also experiment with rustic, farmhouse, antique or other kitchen styles!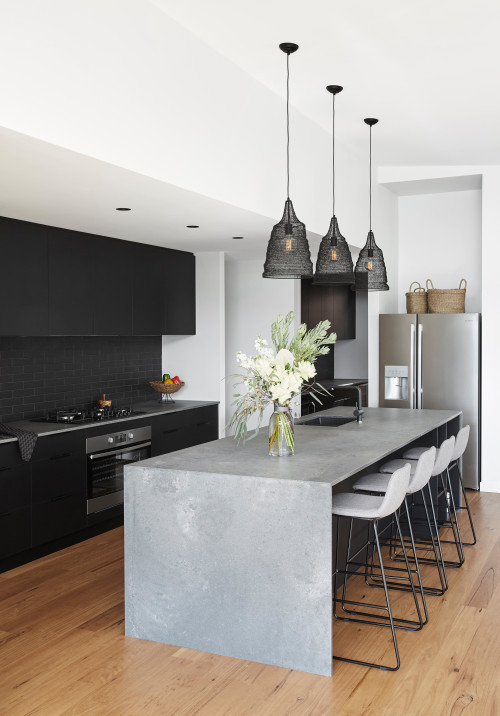 ID# 164212 | Houzz.com – Credit | © Collaroy Kitchen Centre
---
Concrete Waterfall Kitchen Island with Black Pendant Lights
Here, the black cabinets and black subway tile backsplash create a focal point at the back and add dimension to the space. The concrete waterfall kitchen island complements the neutral colors while the black pendant lights above the island enhance the dramatic feel. The wood flooring brings warmth to the room without breaking the cool aesthetic.
How do you pick a backsplash for dark cabinets?
A kitchen backsplash is an excellent spot to infuse some flair and individuality into the room. Dark cabinets do not have to restrict your selections. A good rule of thumb to follow is to choose something that complements the rest of the kitchen including the cabinets, rather than competing with it. Avoid fashionable selections as much as possible and instead, choose timeless and traditional solutions. Choose something that you won't be wary of in a few months. Here, in our article, are some options to consider for your kitchen backsplash to help you decide.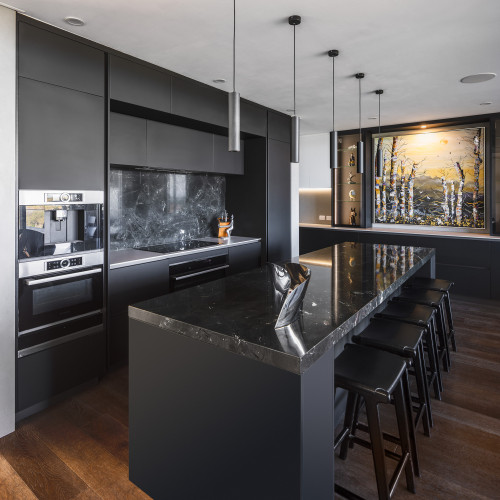 ID# 164213 | Houzz.com – Credit | © Retreat Design
---
All-Black Kitchen with Granite Countertops
Surrounded by the sophisticated feel of black, this contemporary kitchen and offers a dramatic atmosphere. The matte black kitchen cabinets create a modern look with their flat-panel door style while the black granite countertops add a sense of luxury and enhance the drama. The stainless steel appliances perfectly complement the contemporary flair. The oversized painting in the bar area adds a splash of color to this black-dominated kitchen and enhances visual interest!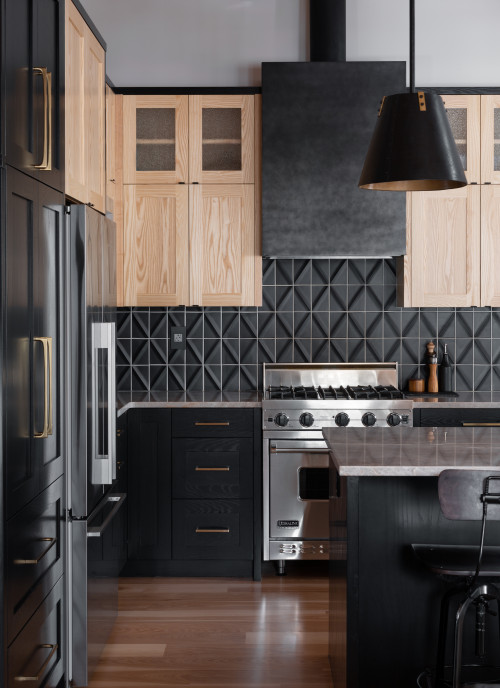 ID# 164214 | Houzz.com – Credit | © Knight Custom Homes
---
3D Backsplash for Black Cabinets and Gray Countertops
In this transitional kitchen, the combination of rustic and industrial elements creates a stylish and at the same time functional space. The 3D backsplash is the first thing that draws attention with its stunning geometrical texture. The black base cabinets and gray granite countertops create a continuous look with the backsplash. On the other hand, the wood upper cabinets bring warmth to the atmosphere to complement the neutrality of the black.
Gray Backsplash for Black Cabinets
The kitchen is the lifeblood of your home. It's a gathering place for individuals to celebrate and discuss life's changes. Rather than being antiseptic or frigid, this space should be clean and inviting. It might be challenging to establish a welcoming environment that is also simple to maintain. You shouldn't have to give up your ideal tile backsplash just because it's tough to clean. What is the answer? Utilize a gray backsplash. It's welcoming, warm, and spotless, just as a kitchen should be and when you use a gray backsplash for black cabinets in the kitchens they create an amazing view with a stylish touch.
When done incorrectly, gray may be terribly dreary and unattractive. Gray, on the other hand, may be used to accent any design, kitchen, or home when done right. With light or dark countertops and cabinets, this hue will look fantastic. There is also a myriad of hues to choose from, giving you practically endless possibilities when it comes to picking the right color for your house. Let's give a shot to a gray backsplash for black cabinets and see the stylish solutions!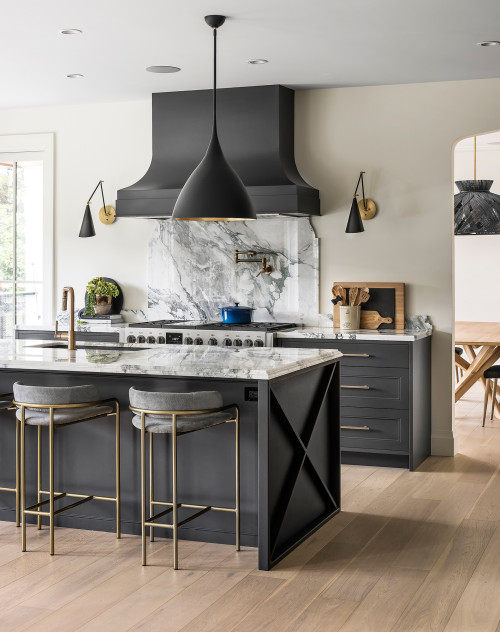 ID# 164215 | Houzz.com – Credit | © Jody Beck
---
Marble Backsplash and Countertops with Brass Fixtures
Black cabinets, marble slabs, and a dose of gold… The gray shaker cabinets create a sophisticated atmosphere while the marble backsplash and countertops add a luxurious sense to the space! The black pendant light above the island and wall sconces next to the range hood add a modern vibe while the brass hardware enhance the drama.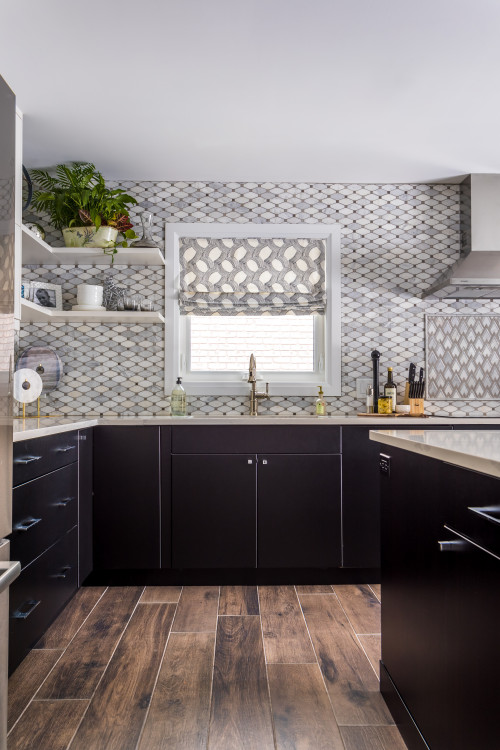 ID# 164216 | Houzz.com – Credit | © Homestyles Kitchens and Baths
---
Marble Backsplash for Black Cabinets and White Countertops
If you are looking for a backsplash material that will complete the sophistication of the black cabinets, marble always be a smart choice! The unique marble backsplash design dominates the space and offers an eye-catching focal point. The simple flat door style of the black cabinets balances the busy texture of the tiles and creates a sleek and elegant appearance. Using marble tiles in different shape behind the stove creates also a focal point and enhance the visual interest. The black and white patterned kitchen curtain and stainless steel appliances make a cohesive final touch.
How can I brighten my kitchen with dark cabinets?
If you like your dark-colored kitchen cabinets but add more light to them, there are a couple of easy ways to achieve it.
– If you have the financial resources, installing recessed lighting in your kitchen will transform the way you feel in the room. Because the recessed lights are hidden into the ceiling, they do not interfere with your vision. Install lights in front of your upper cabinets to direct all of the light downward. Consider the locations that require the greatest lighting, such as above the sink and around food preparation areas. Put lights in those key locations, and the rest of the room will fill in naturally.
– You want the light in your kitchen to bounce around. This does not imply that you must deploy mirrors everywhere. Reflective surfaces may produce the same impression. Upgrade from black to stainless steel equipment. Install a glossy tile backsplash to match the other finishes in the room. Find methods to improve light circulation in the kitchen, and the area will seem much more welcoming. Using a lighter backsplash and the countertop is another idea that you can go with.
– You want the eye to roam across the room to make the kitchen feel brighter and more open. The attention will be drawn to the accent pieces whether you have a busy countertop or an extensive mosaic backsplash. There's nothing wrong with having a focal point in the kitchen, but you should be mindful of how it affects the overall vibe of the space. In this instance, a streamlined style with few interruptions is preferable.
Countertop Color Options for Black Cabinets
Yes, selecting the best countertop colors for black cabinets can be challenging. Nonetheless, with a little creativity, black cabinets may be eye-catching, dramatic, and beautiful. Consider utilizing gray or black counters to match this bold look. White countertops, on the other hand, will help to lighten up your kitchen space.
Backsplash for Black Cabinets and Dark Countertops
You might be hesitant to choose black for your countertops, but you shouldn't. Did you know that the dark countertops may produce a warm ambiance as well as a rich aesthetic with a delicate contrast with black cabinets? Of course, it depends on the design style. The backsplash for black cabinets and dark countertops becomes more important in this situation. The materials and colors used for the backsplash have the ability to alter the entire design. Use a white backsplash and dark countertops with black cabinets to create a focal point. With black cabinets and dark countertops and a black backsplash, you may achieve a sophisticated look!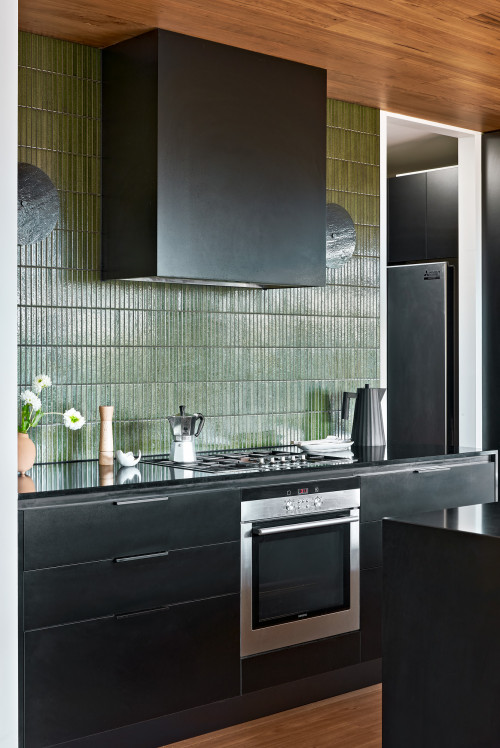 ID# 164218 | Houzz.com – Credit | © Jasmine McClelland Design
---
Green Kit Kat Tile Backsplash with Black Range Hood
This kitchen flawlessly portrays the contemporary look with its trendy black cabinets, counters, green backsplash and stainless steel appliances! The cool and delicate green color of the kit kat tile backsplash complements the black cabinets and adds to the drama of the entire aesthetic. The hardwood flooring and ceiling complement the natural feel of the green and create a comfortable ambiance!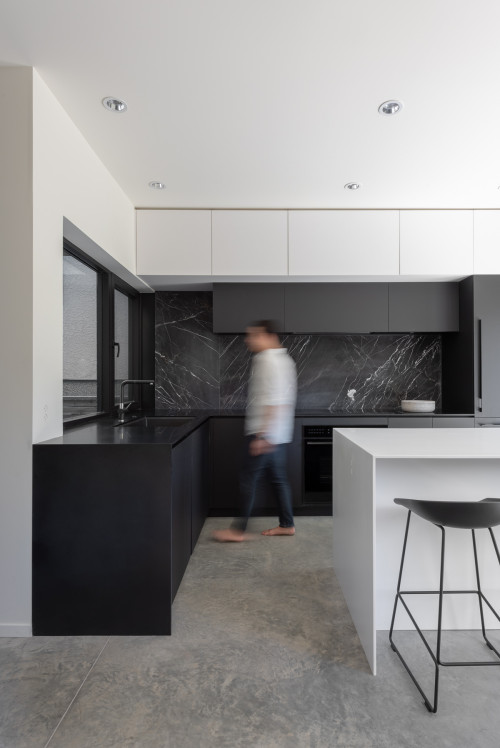 ID# 164219 | Houzz.com – Credit | © Barbara Tili
---
Black and White Contemporary Kitchen with Gray Floor
The classic combination of black and white will never go out of style and this contemporary kitchen perfectly showcases this timeless elegance!! The black cabinets and backsplash create an elegant appeal while the white upper cabinets and the kitchen island bring a bright and fresh feel by creating contrast. The gray concrete look flooring provides a smooth transition between the blacks and whites to add a nice textural look.
Is black good for kitchen cabinets?
Black kitchen cabinets are an essential component of a dark kitchen, and people who wish to create a dramatic and sophisticated appearing area like dark kitchens. Dark kitchens, on the other hand, might appear more personal and intriguing since they are less sterile than white or light-colored kitchens. Kitchen cabinets in black or dark colors do not reveal grease or smudges as quickly as light-colored kitchen cabinets. This is a big bonus if you're a tidy freak or don't have much time to clean. According to these, we can say that black is good for kitchen cabinets.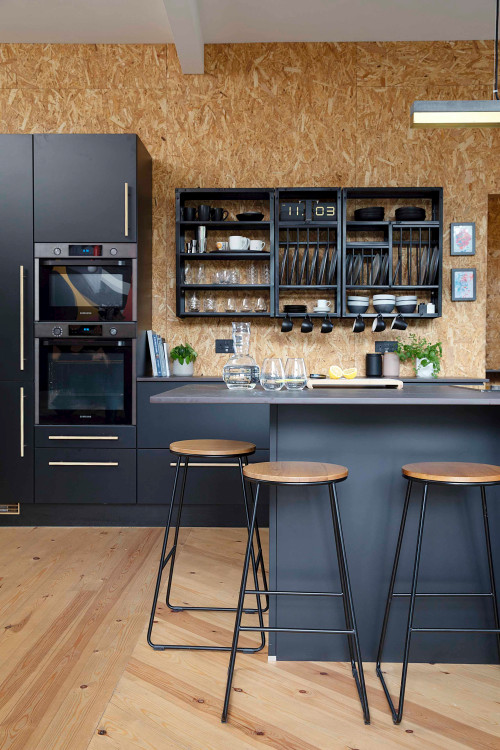 ID# 164220 | Houzz.com – Credit | © Making Spaces
---
Eclectic Kitchen Deisgn with Plywood Wall Panels
Using plywood panels as a wall covering gives a unique and organic feel to this eclectic kitchen design! The sleek and modern look of the black cabinets and countertops creates contrast with the unfinished appeal of the plywood. Also, using open cabinetry for the upper parts enhances the impact of the plywood as a backdrop.
Design tip: If you decided to use plywood as a wall covering, hard wax oil is an excellent choice for coating plywood.
Backsplash for Black Cabinets and Light Countertops
Cabinets and countertops are the most eye-catchy parts of every kitchen, and a backsplash is a finishing touch that defines the overall appearance of the design. A kitchen backsplash, like cabinets and countertops, is a vital component that provides both aesthetic and utility. Kitchen backsplashes are available in a variety of styles, colors, and materials in today's market. This limitless selection allows you to customize your design. When it comes to backsplashes, the color of your cabinets and countertops are critical factors to consider. If you will go with black cabinets and light countertops, there are endless variations of a backsplash for black cabinets and light countertops.
To get the best backsplash design, you must first choose the type of appeal you desire. Using black cabinets with light color countertops creates a striking contrast. The use of a dark-colored backsplash will complement the dramatic atmosphere generated by the black cabinets. If you want to make a statement with an eye-catching design and create a focal point between the cabinets and counters, go for it. So the possibilities are limitless. Scroll down to see a stylish backsplash for black cabinets and light countertops to get some inspiration!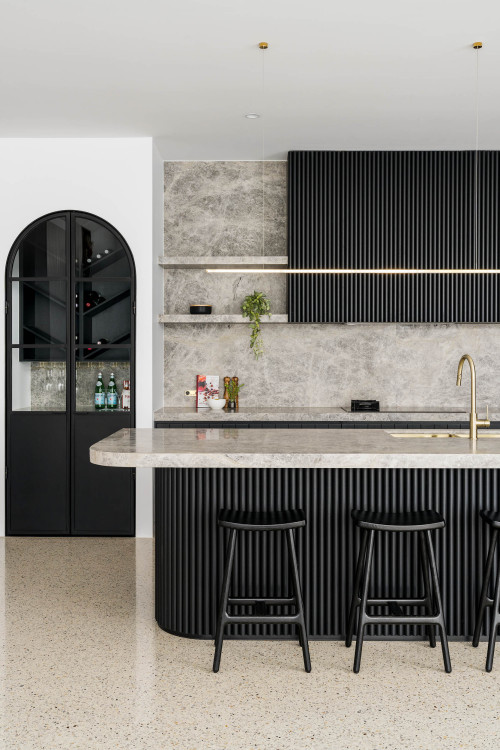 ID# 164221 | Houzz.com – Credit | © First Avenue Homes
---
Gray Marble Slabs with Black Kitchen Design
Enriched with a subtle gray shade, the stunning marble slabs dominate the spaces and offer the elegance of modern luxury!!! Tthe marble slab backsplash creates a sleek backdrop while the marble countertops provide a continuous look and enhance the impact of the material. On the other hand, the paneled design of the cabinets, island, and range hood complete the characteristic and sophisticated look of the marble perfectly. The small wine cellar on the left side of the kitchen adds visual interest with its glass-fronted cabinets while maximizing functionality.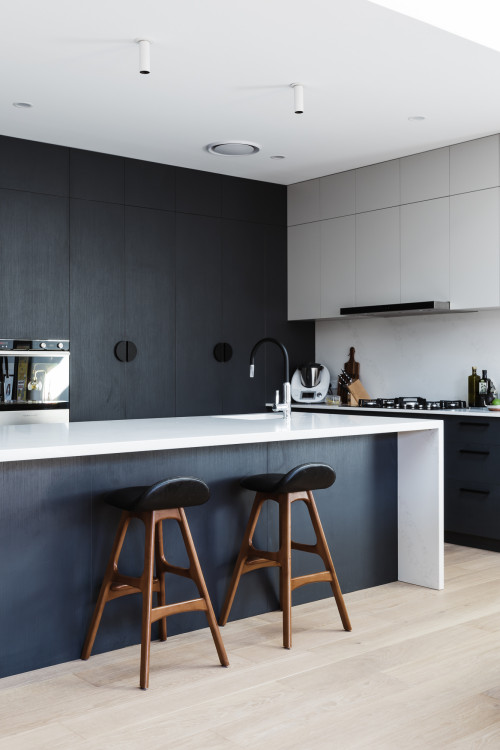 ID# 164222 | Houzz.com – Credit | © Coswick
---
Monochrome Kitchen Cabinets with Quartz Countertops
If you want to create a sleek modern look for your kitchen, flat-panel cabinet doors will help you to achieve this goal immidiately! The combination of white and black cabinets offers a stylish and timeless appeal while the white backsplash and countertops enhance the bright and fresh feel of the room. Enriched by a crisp white waterfall countertop, the large black kitchen island maximizes the fuctionality of the design by providing both additional counter space and also a dining area.
Are black kitchen cabinets timeless?
One of the most important considerations to make when selecting kitchen cabinets for your house is the color. Much's face it: no one wants to spend money on cabinets that will be tragically out of style in a few years, let alone a few months. When you purchase kitchen cabinets, you are making an investment in your house and your style. While trends, fashions, and styles change almost every month, there are a few color combinations that are sure to last.
White and black are the two most ageless hues. Nobody can deny the allure of brilliant white cabinets cascading over a kitchen; they lighten the entire space and create an airy, invigorating atmosphere. Similarly, black cabinets are ageless. Despite their contemporary appearance, they have been a favorite for many years for good reason. There are several additional advantages to having black kitchen cabinets. Guests, for example, will not see all of the oil stains that have accumulated over the years since they will blend in with the dark backdrop.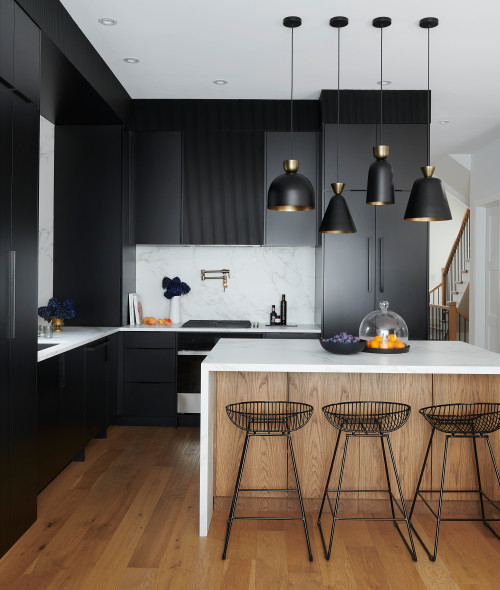 ID# 164223 | Houzz.com – Credit | © avenue design inc
---
Black Cabinetry with Wood Island and Waterfall Countertop
The striking color of the black flat panel kitchen cabinets draws attention to them! Enriched by the light gray veins, the white quartz backsplash and countertops add a monotone look while the black flat-panel kitchen cabinets contrast sharply with the white worktops and backsplash.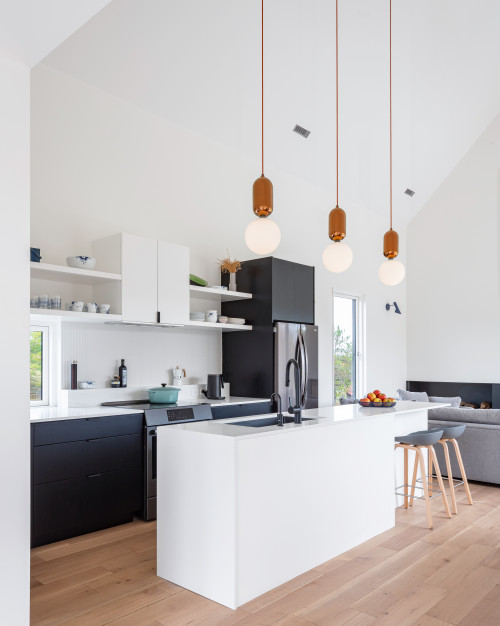 ID# 164224 | Houzz.com – Credit | © Wanda Ely Architect Inc.
---
Open Concepth Kitchen with Large Island
Presenting a contemporary design with a high-contrast theme, this white-and-black kitchen luxuriates in a fresh and bright ambiance. The vaulted ceiling and white-painted walls just fill the interior with a sense of lightness, which is preserved by the white island. Though narrow in design, this island is still packed with style. And with an integrated sink and seating extension, it offers more than countertops and storage. Plus, it also gets to enjoy an outdoor view thanks to a window cut into the white backsplash. The white floating shelves used in place of upper cabinets also open up more space in the room. And this brightness is highlighted even more by the black appliances and base counters that propose an anti-thesis. For a final touch, complementing this look are globe-shaped pendants dropped all the way down to overhang the island. With their warm accents, they jazz up the overall design.