99+ Modern Backsplash Ideas – ( Sleek / Sharp ? ) Modern Kitchens
Is making your home more modern on your to-do list? Our gallery of modern backsplash ideas will make it easy to cross that item off your checklist. You'll find any number of durable and beautiful choices here that will perfectly accent a space designed to be more modern. Browse our modern backsplash tile products.
Sleek / Sharp Modern Kitchen Backsplash Design Ideas
If you're not sure exactly what style you want beyond that, we have plenty of ideas for you. Choose from the natural beauty of stone or opt for dramatic darks created by glass. Brilliant whites, gleaming silvers, and more are all modern options. Even mosaic backsplash tiles are great options to combine the best of all the materials we have to offer.
Let us help you find modern backsplash ideas that will pair beautifully with the elements already in place in your kitchen. There's a tile out there that will complement every cabinet color and every granite color, and we can help you find it.
Glass Metal Backsplash Tile
Glass Marble Backsplash Tile
Glass Metal Backsplash Tile
Clean lines and structure for a clean aesthetic
Wondering what sets these modern backsplash apart from their contemporary competitors? They have a few features that add the finesse only found in more modern spaces. Their low-maintenance quality gives them a no-fuss label that is appealing to modern enthusiasts. Conserve your valuable time and spend it elsewhere.
Modern backsplash ideas emphasize clean lines and structure for a clean aesthetic you'll love. Stone tiles emphasize the beauty inherent to nature. Glass and metal are prime choices as well for their simple colors. Most of their materials are polished to a high-gloss, glittering finish to capture the light and your attention.
If you were looking to elevate your home into the next century with modern backsplash kitchen tiles, you've come to the right place. Our gallery of images will keep you captivated until you find the finishing touches for your own kitchen.
Cabinet Colors for Modern Backsplash
Modern Backsplash for White Kitchen Cabinet
Whether it's modern or contemporary, traditional or farmhouse, white cabinets are one of the most classic homestyle decisions that offer timeless beauty with pure elegance. From countertops to door styles, there are plenty of ways to complete this classic appeal. The sleek and clean look of the modern backsplashes is a great way to add visual interest to the white cabinets.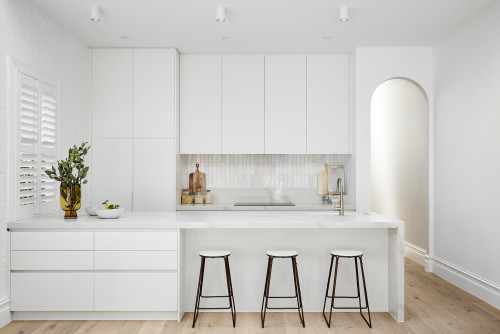 ID# 124701| Houzz.com – Credit | © Seytim
---
All White Kitchen with Stacked Subway Tile Backsplash and Quartz Countertops
The all-white color scheme offers a bright and spacious atmosphere for this modern kitchen design. The glossy finish of the white backsplash adds visual interest while bringing a texture between the flat-panel cabinets. The vertically stacked layout of the backsplash tiles complements the white cabinetry. The light wood floor breaks the white domination in the room by bringing warmth to the atmosphere.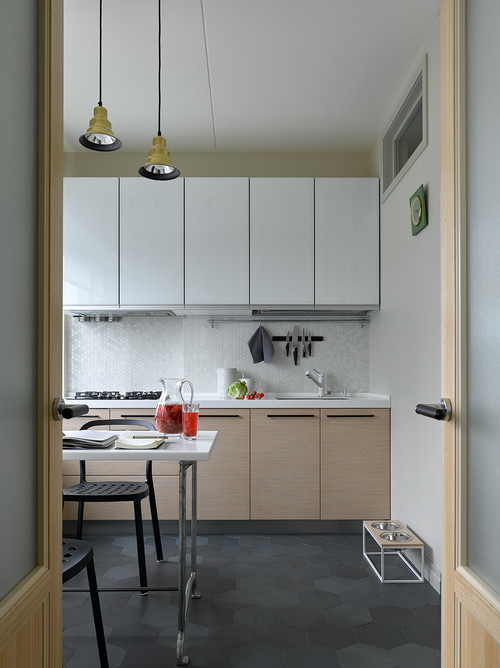 ID# 124702| Houzz.com – Credit | © Юлия Голавская
---
Two-tone Kitchen Cabinetry with Hexagon Wall and Floor Tiles
The black, white, and wood combination creates a sleek and balanced look. The mini white hex tiles add a slight texture between the white and wood flat-panel cabinets while the white countertop creates a continuous look. Using larger hex tiles on the floor brings dynamism to the design and the black color of the floor tiles nicely contrasts with the white accents to emphasize the design.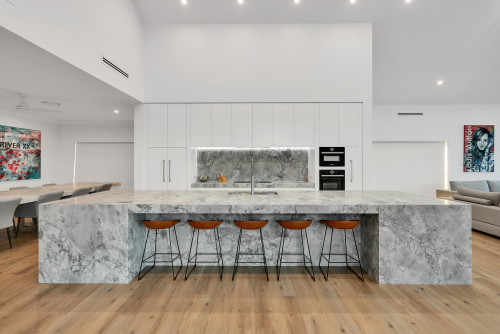 ID# 124703| Houzz.com – Credit |  © Patterson Built Pty Ltd
---
White Flat-panel Kitchen Cabinets with Gray Marble Backsplash and Island
These stunning gray marble slabs are a game changer! The marble slabs make a luxurious twist against the clean and sleek look of the modern white cabinets. The marble backsplash creates a focal point while the white cabinets provide a clean frame for the marble and allow the backsplash to stand out. The same marble is also used as a countertop and a kitchen island to emphasize the impact of this precious stone.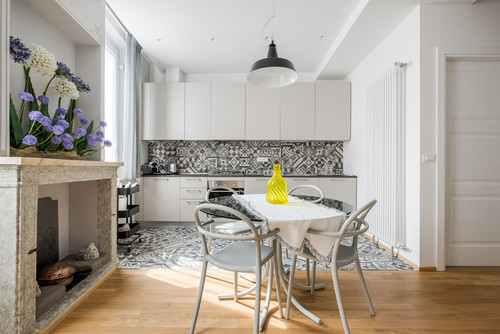 ID# 124704| Houzz.com – Credit | © RP studio
---
Black and White Kitchen with Patchwork Tile Backsplash
The stunning black and white patchwork backsplash tiles create a distinctive focal point between the white cabinetry while elevating the overall look. The black and gray patterns of the tiles are balanced with the black countertop. The same tiles are also used on the flooring to create a continuous look. Black and white dining table, white chairs, and black pendant light complete the flaw of the design.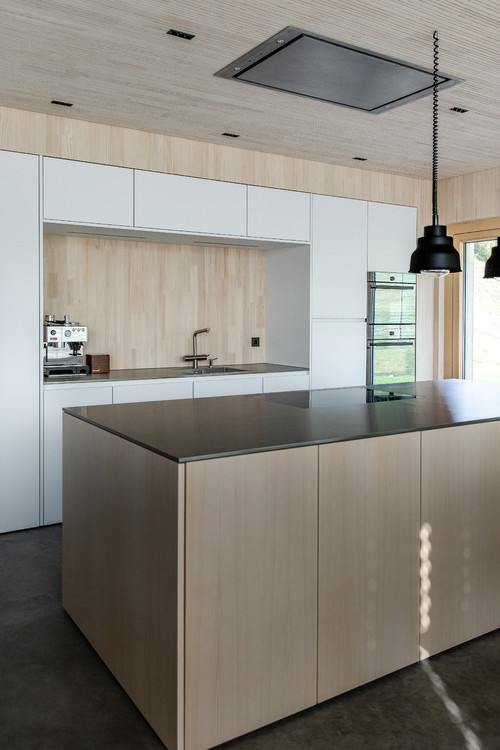 ID# 124705| Houzz.com – Credit | © SieMatic im Parktower
---
White Flat-panel Cabinets with Wooden Island and Concrete Floor
Clean, sleek, and minimal! This kitchen represents the effortless beauty of the modern style. The white flat-panel cabinets create a clean and fresh backdrop while wooden wall panels complete this sleek look. The wooden backsplash complements the kitchen island. The concrete floor and black pendant lights bring an industrial feel.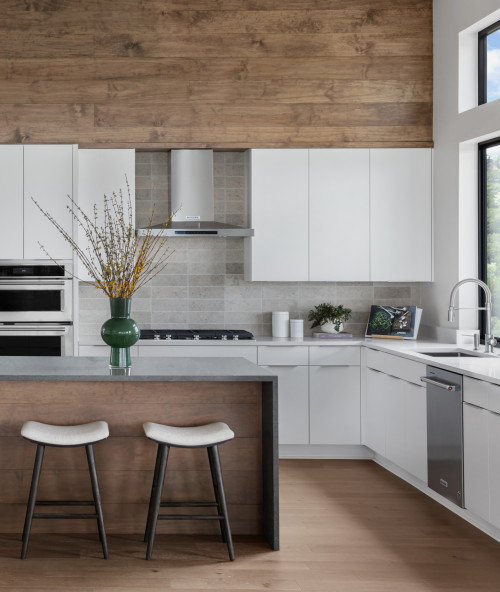 ID# 124706| Houzz.com – Credit | © Younger Homes
---
Contemporary Kitchen with Gray Modern Backsplash and White Countertop
In this contemporary kitchen, the white flat-panel cabinets and white countertops stand out between the earthy colors and bring a bright look into the room. The stacked layout of the gray subway tile backsplash completes the modern look of the cabinets. The wooden kitchen island is paired with a concrete countertop which adds a dramatic feel with its waterfall edges.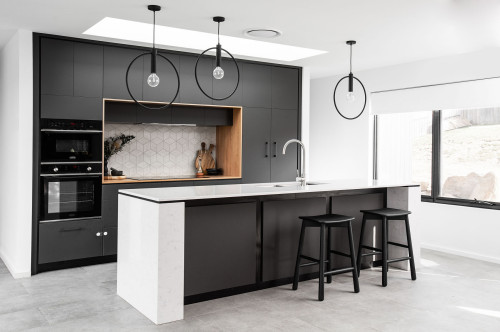 ID# 124707| Houzz.com – Credit | © Lydia Maskiell Interiors
---
Modern Kitchen with Black Flat-panel Cabinets and Wood Accents
The black flat-pale cabinets offer an ultra-modern look for this kitchen while the white hexagon backsplash complement this modernity with its geometrical shape. Also, the white color of the backsplash contrast with the cabinets to create a luxurious feel. The wooden trim of the cabinets breaks the sharp contrast which is created by the black and white combination and brings warmth to the atmosphere.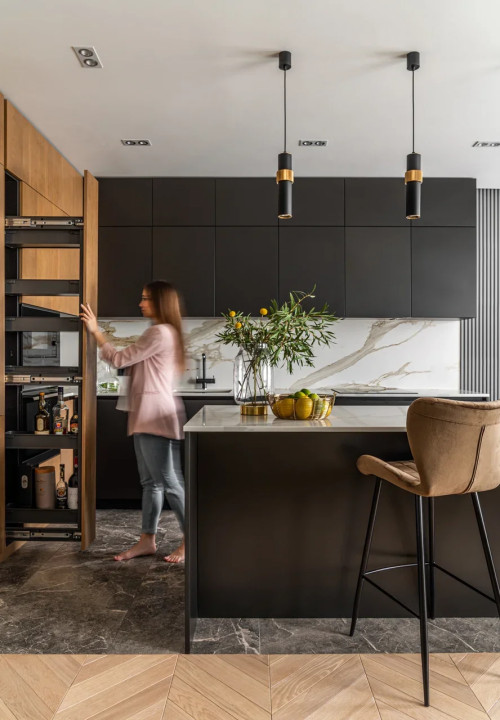 ID# 124708| Houzz.com – Credit | © FLAT modern furniture
---
Contemporary Kitchen with Luxurious Modern Backsplash
The luxurious feel of the marble instantly lends sophistication to this contemporary kitchen. The black-flat-panel cabinets create a harmonious look with the backsplash. Using another shade of marble on the floor elevates the design. Brown counter chairs complement the wooden chevron parquets and full-height cabinets.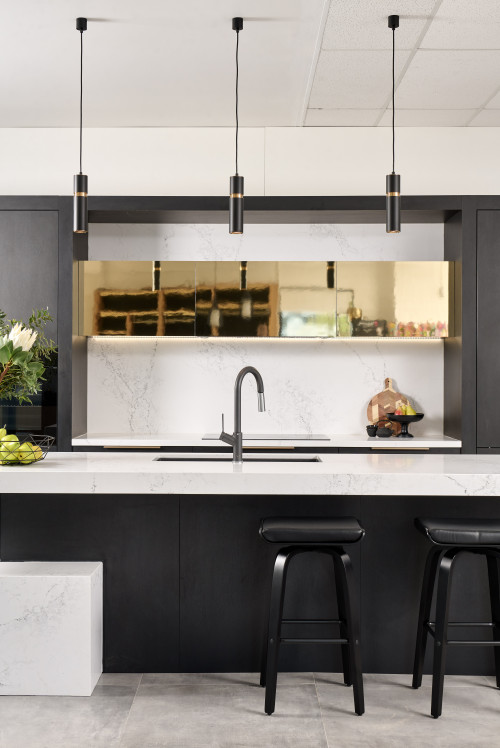 ID# 124709| Houzz.com – Credit | © Joyce Kitchens
---
Black and White Kitchen with a Touch ofGold
Modern and sleek! This modern kitchen features a black, white, and gold color scheme that can suit many contemporary styles of home. The black flat-panel cabinets and Caesarstone backsplash and countertops create a monochromatic timeless color palette that exudes style and sophistication. The gold upper cabinetry adds a dose of sparkle and glam to the design by creating a focal point.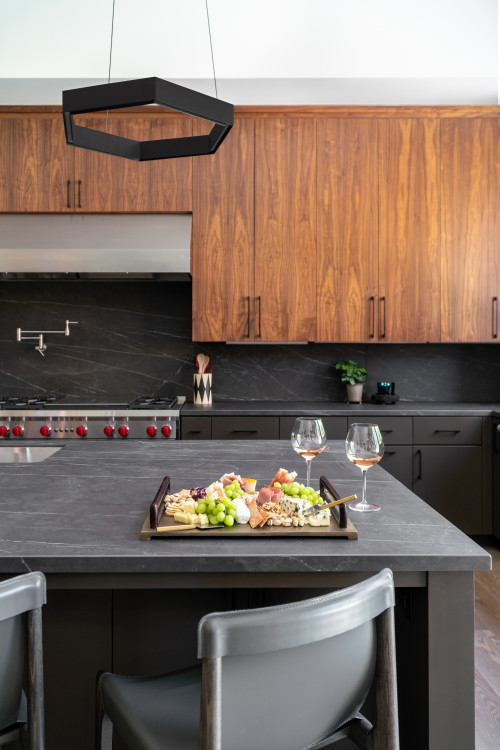 ID# 124710| Houzz.com – Credit | © JL Design
---
Wood and Black Cabinetry with Modern Backsplash and Countertop
The high-end materials make a big difference in this modern kitchen. The matte black perimeter cabinets and kitchen island are paired with black granite countertops and backsplash which add a dose of luxury. The wooden upper cabinets contrast with the bold and sharp look of the black features to create a more welcoming and warmer atmosphere. The modern backsplash complements the sleek look of the kitchen cabinetry.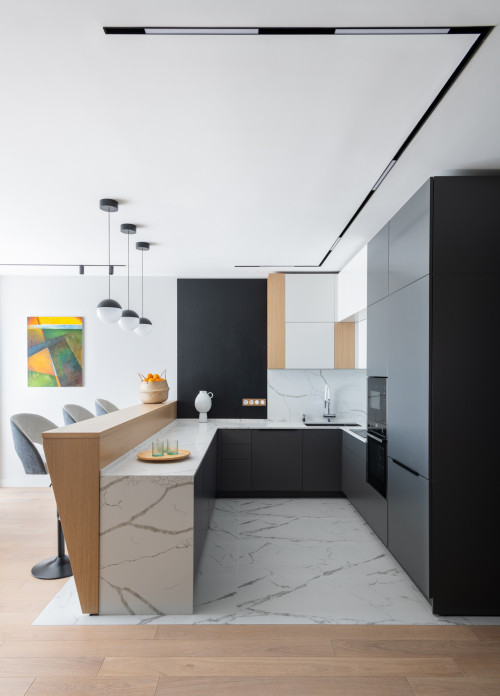 ID# 124711| Houzz.com – Credit | © Brick buro
---
Black and White Cabinets with Wood Peninsula and Bubble Pendant Lights
The clever u-shaped layout of this contemporary kitchen offers a both stylish and functional space. The black flat-panel cabinets, quartz countertop and backsplash, and white cabinets create a harmonious look. The same quartz material is also used on the flooring to determine the kitchen area. The wooden details of the upper cabinets complement the wooden kitchen peninsula. Black pendant lights soften the overall look by their circular shapes.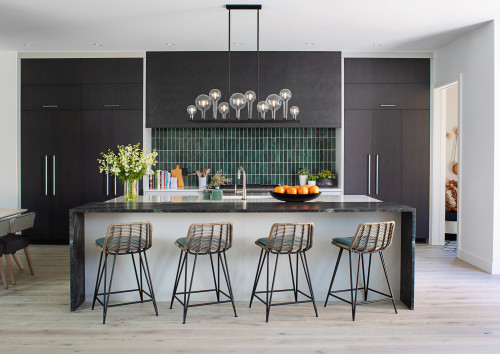 ID# 124712| Houzz.com – Credit | © Beautiful Habitat: Design & Decoration
---
Green Modern Backsplash Tiles with White Grout
This contemporary kitchen offers a modern, slightly edgy space that is still warm and inviting. The sunning green tile backsplash adds drama to the design and creates a striking focal point between the black and white cabinets. The large kitchen island is extended by using a marble countertop to create a dining area. The green cushions o the wicker counter chairs complement the backsplash while the glass lighting fixture makes a warm glow above the island.
Modern Backsplash for Gray Kitchen Cabinet
White white cabinets are timeless and black cabinets are sophisticated, gray kitchen cabinets can be just as stylish. Gray kitchen cabinets are extremely versatile that offer a perfect balance between neutrality and warmth. When the endless shades and hues of the gray meet with the sleek appeal of a modern backsplash, the result is undeniably perfect.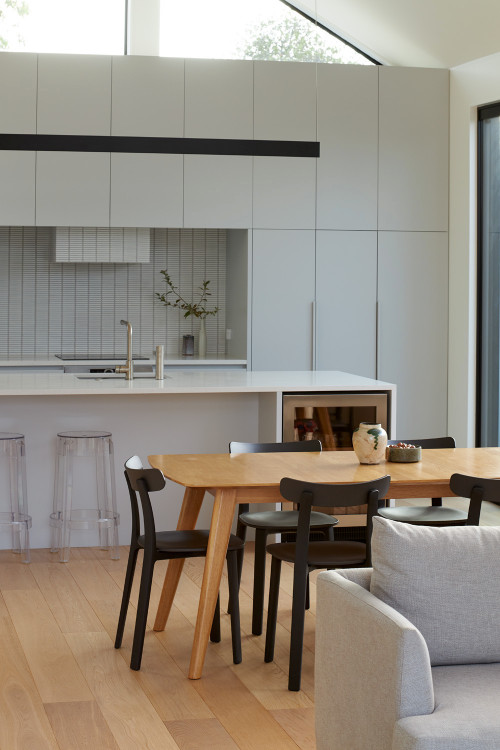 ID# 124713| Houzz.com – Credit | © Rogan Nash Architects Ltd
---
Light Gray Cabinetry with Black Lighting Fixture and Acrylic Stools
In this minimalist kitchen, the light gray cabinets offer a modern look with their flat-panel door style while the gray stacked tile backsplash beautifully completes this modern appeal. The white kitchen island and acrylic stools create a bright look. The black linear lighting fixture complements the other features with its clean lines and geometrical shape.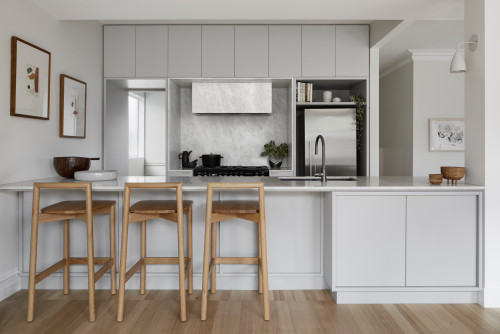 ID# 124714| Houzz.com – Credit | © Demardi Studio Esteta
---
Gray Kitchen Design with Wood and Marble Accents
The modern kitchen features light gray flat-panel cabinets, a marble backsplash and range hood, a large peninsula, stainless steel appliances, and wooden counter chairs. The gray cabinetry, marble backsplash, and range hood create a cohesive look while the natural feel of the wooden chairs contrasts with the cool shade of the gray to make a more livable and welcoming space.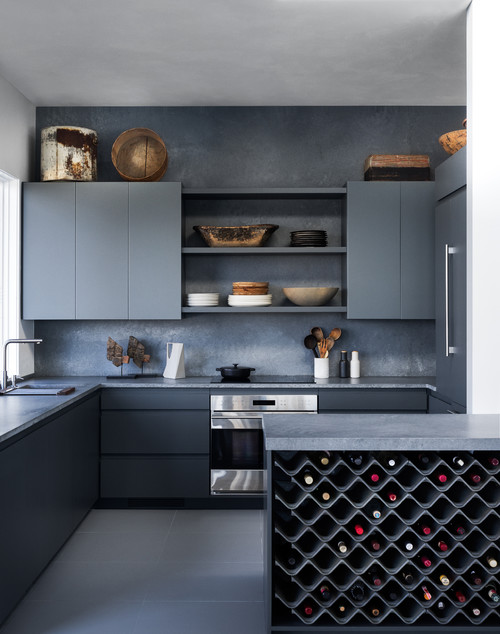 ID# 124715| Houzz.com – Credit | © Angela Inzerillo Design, LLC
---
Gray Cabinets with Concrete Countertop and Stylish Wine Racks
Striking shades of matte gray create an impactful aesthetic in this modern kitchen. Flat-panel gray cabinets are an unusual find even for concrete kitchen countertops. The modern backsplash that runs along the entire wall in gray adds texture The concrete countertop adds a raw texture to the kitchen island and stands out as a work of art with wine racks. Continuing with a gray floor, the kitchen provides a simple and elegant finish.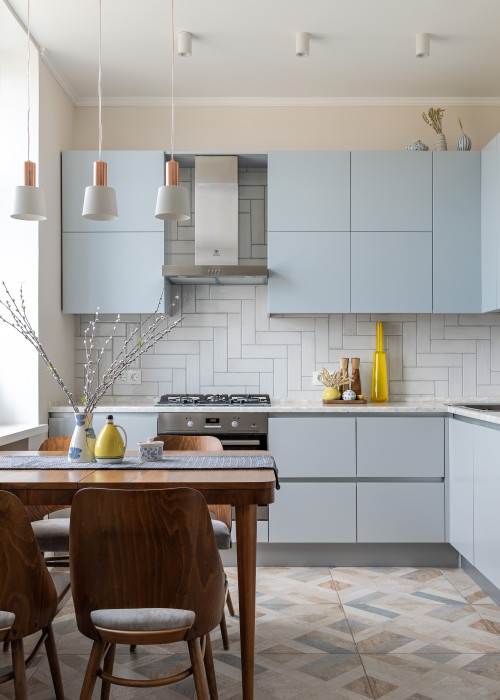 ID# 124716| Houzz.com – Credit | © Tipaev Kostenko
---
Contemporary Kitchen with Herringbone Backsplash and Multicolored Floor
This kitchen gives a warm and cozy feel! The light gray cabinets are paired with a white herringbone backsplash and marble countertop which add another layer of texture. Stainless steel appliances enhance the modern feel while wooden dining tables and chairs bring warmth by the natural texture and grains of the wood. The multicolored floor tiles compliment the wood accents.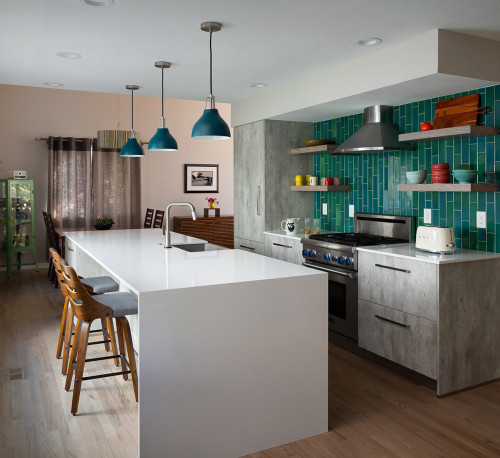 ID# 124717| Houzz.com – Credit | © Parcels Design Studio
---
Green Vertical Subway Tile Backsplash with Floating Shelves and Stainless Steel Appliances
Thanks to these stunning backsplash tiles, this kitchen has a wow factor! The bold and eye-catching green color of the vertical subway tile backsplash adds visual interest to the design while gray wood cabinets create a Shabby-chic appeal. Teal pendant lights complement the backsplash. The wooden floating shelves allow the backsplash tile to stand out.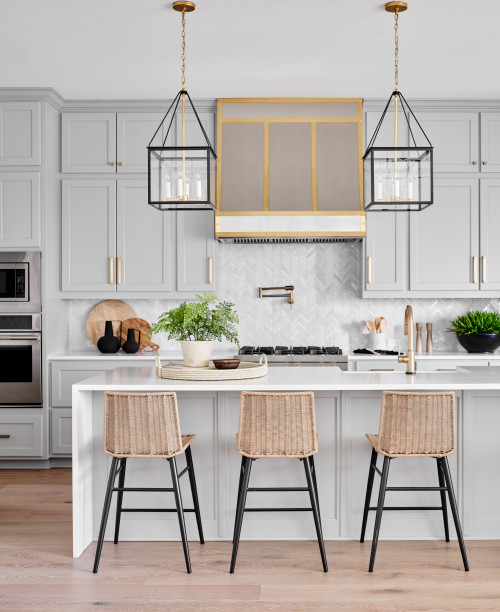 ID# 124718| Houzz.com – Credit | © Haven Design and Construction
---
Transitional Kitchen with Shaker Cabinets and Chevron Backsplash
Is there any better combination than black, gray, and gold to create a timeless and stylish kitchen? The light gray shaker cabinets offer an elegant traditional look while the white chevron backsplash brings modernity with its beautiful geometrical shape. The oversized range hood creates a focal point with its sculptural shape. Gold accents like hardware and faucets perfectly finalize the overall look.
Countertop Colors for Modern Backsplash
A good backsplash is an underutilized power for kitchens but a good countertop is as important as a backsplash. When it comes to the combination of backsplash and countertop, whether you go with contrasting or matching color, material, finish, and style are crucial points.
Modern Backsplash for White Countertop
With the rise of all-white kitchens, white countertops are also at the top of the trend lists. From marble to quartz, laminate to a solid surface, the material option is endless for white countertops. Also, using a white countertop is a great way to emphasize the clean look of the modern backsplash.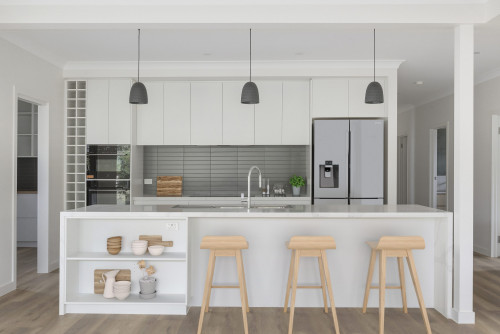 ID# 124719| Houzz.com – Credit |  © Gruen Eco Design
---
Modern Kitchen Design with Matte Gray Backsplash
This bright kitchen design gives a super modern look with its clean lines, minimalistic style, and flat surfaces. The matte gray subway tile backsplash creates a striking focal point between the white flat-panel cabinets. The stacked layout and the matte finish of the gray backsplash enhance the modern vibes of the design.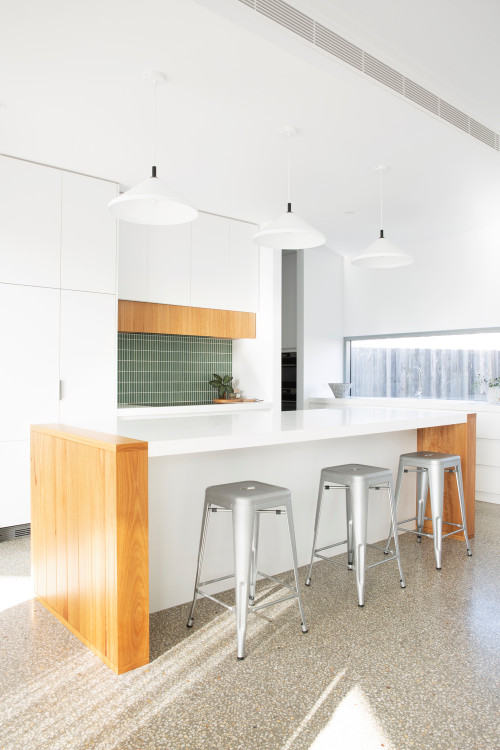 ID# 124720| Houzz.com – Credit |  © Meredith Lee
---
Modern White Kitchen with Green and Wood Details
In this white kitchen design, the green backsplash and the wood textures bring warmth to the atmosphere and elevate the design. The green Japanese tile backsplash creates an eye-catching focal point and the white grouting emphasizes the stacked pattern. The polished concrete flooring compliment the warm look of the green and wood textures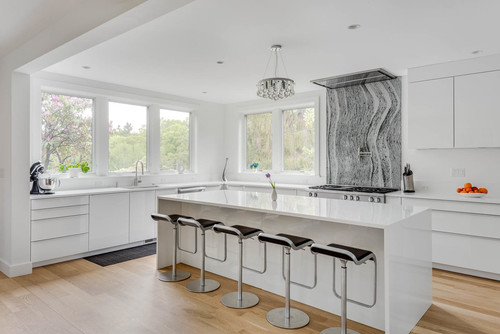 ID# 124721| Houzz.com – Credit | © Boston Counters
---
Flat-panel Cabinets with Cambria Quartz Slab and Crystal Chandelier
The black and white Cambria quartz slab behind the stove instantly gives a character to this modern kitchen and creates a distinctive focal point. White kitchen cabinets, kitchen island, and white quartz countertops make the space feel larger while the crystal chandelier complements the luxurious feel of the quartz.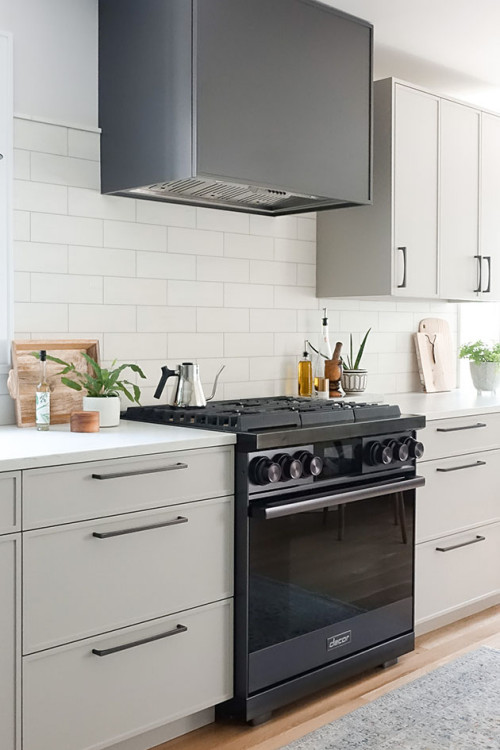 ID# 124722| Houzz.com – Credit | © Terracotta Studio
---
Minimalist Kitchen Design with Black Appliances and Handles
The simple cabinetry design and neutral color scheme define the modern aesthetic of the kitchen. The black range and hood stand out between the light gray cabinets while black handles complement the appliances. The white subway tile backsplash adds a nice texture without breaking the minimalist look of the design. The white countertop completes the clean look of the backsplash.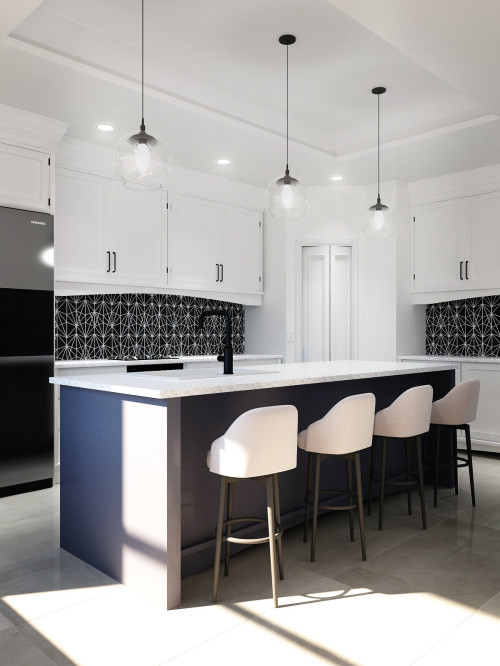 ID# 124723| Houzz.com – Credit
---
Black Hexagon Tile Backsplash with White Starburst Grouts
In this modern kitchen, the striking appeal of the black hexagon tile backsplash is emphasized by white grouts to create a focal point. The stunning pattern f the tiles add visual interest to the kitchen with white shaker cabinets, black island, marble countertops, cream counter chairs, and glass pendant lights.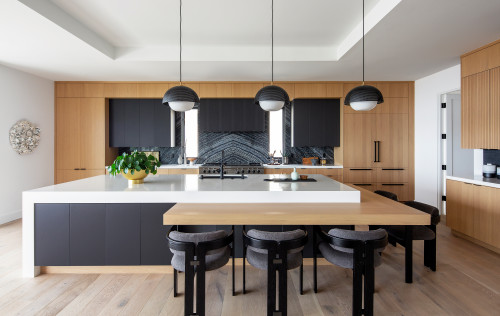 ID# 124724| Houzz.com – Credit | © Teale Architecture
---
Black and Wood Cabinets with Bookmatched Marble Slabs
The stunning bookmatched marble backsplash takes this contemporary kitchen to the next level by creating a luxurious focal point. Also, beautiful natural veining complements the earthy color scheme of the other features. Black and wood cabinets create a cohesive look with the backsplash without stealing the attention from it. White countertops add a freshness between the dark colors.
Modern Backsplash for Black Countertop
There are limitless ways to get creative with black countertops. Whether it's marble, granite, solid surface, or another black material, a black countertop can be a perfect match for a modern backsplash.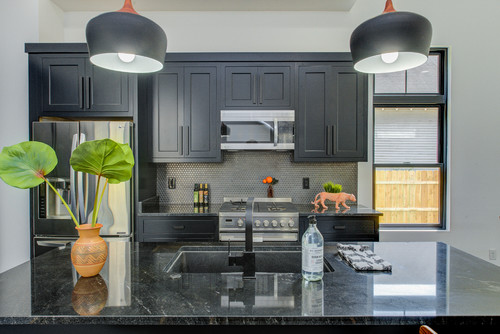 ID# 124725| Houzz.com – Credit | © James Rae Designs
---
Matte Black Cabinetry with Black Granite Countertops
The black shaker cabinets and handles create an elegant look while black granite countertops make a glamorous touch. The matte finish of the cabinetry modernizes the traditional style of the cabinets. The gray mini hex tile backsplash adds another element of texture and completes the sleek look of the cabinets.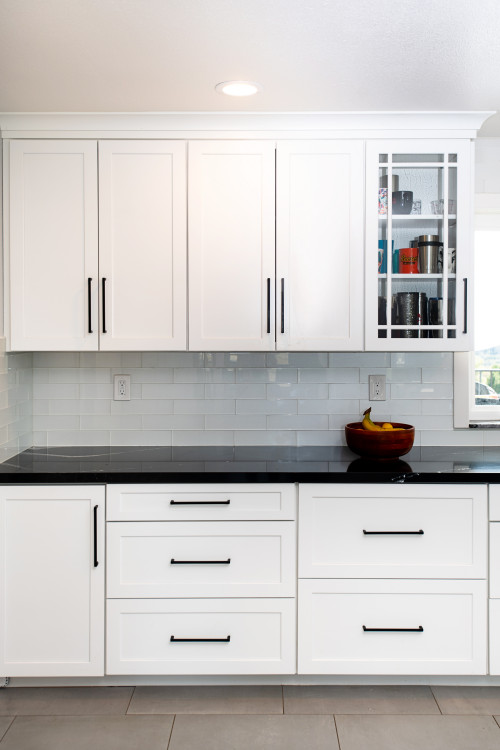 ID# 124726| Houzz.com – Credit | © Modern Mountain Cabinetry
---
Shaker Cabinets with White Glass Subway Tiles and Black Handles
The effortless beauty of the black and white color scheme offers a clean, minimal, and timeless modern kitchen design. White shaker cabinets are paired with black handles which complements the black countertop. The white glass subway tile backsplash adds a fresh look to the kitchen with its glossy surface.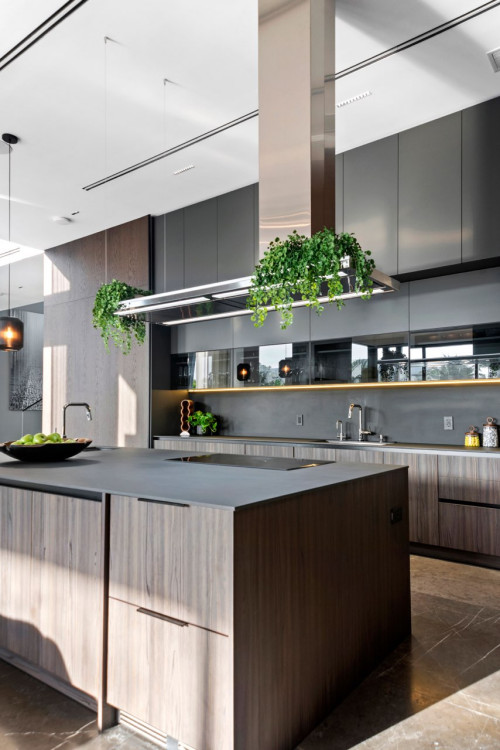 ID# 124727| Houzz.com – Credit | © Velart Custom Kitchens & Closets
---
Wood Kitchen Island with Concrete Countertop and Metal Range Hood
Black and wood kitchen cabinets create a warm yet elegant look for this modern kitchen. The concrete backsplash complements the earthy color scheme. This beautiful earthy color scheme is completed with greenery plants on the range hood.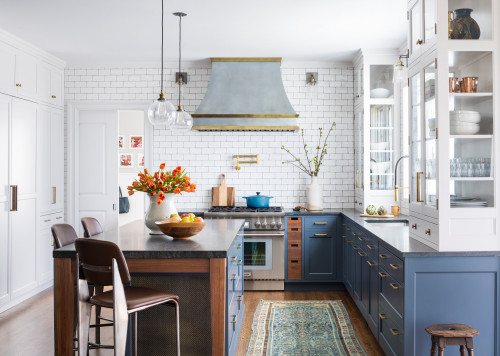 ID# 124728| Houzz.com – Credit | © Studio Dearborn
---
Blue Shaker Cabinets with Brass Handles and Black Countertop
This transitional kitchen offers a personal, family space that feels luxurious and inviting. The white subway tiles cover all the walls to create an accent wall with a metal range hood. Gray grouts of the subway tiles emphasize the modern look of the geometrical tiles. Blue shaker cabinets, brass handles, and black granite countertops inject color, texture, and personality into the kitchen while keeping it classic.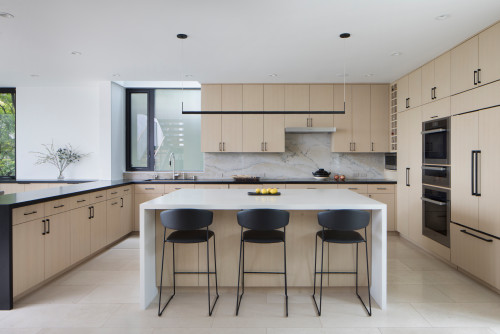 ID# 124729| Houzz.com – Credit | © ODS Architecture
---
Light Wood Cabinetry with Black Accents and Modern Backsplash
The light wood kitchen island with white quartz countertop surrounded by light wood cabinetry with contrasting dark countertops. Black handles, a linear lighting fixture and leather counter chairs complete the minimalist modern look of the cabinetry while a marble backsplash makes a luxurious twist to elevate the design.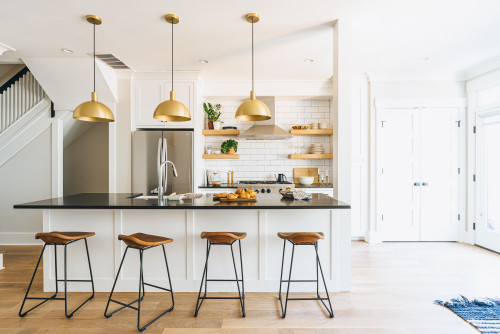 ID# 124730| Houzz.com – Credit | © StorieCollective
---
Transitional Kitchen with Open Shelving and Gold Pendant Lights
The white subway tile backsplash, wood floating shelves, and white cabinets create a cozy kitchen design. Using open shelving instead of cabinetry gives an open and airy feel. Black countertops contrast with the bright colors while gold pendant lights bring a midcentury vibe. Wooden counter chairs complement the floating shelves.
Modern Farmhouse Backsplash
With their cozy feel and warm allure, farmhouse kitchens are one of the most popular design trends. Farmhouse kitchens have a warm and inviting atmosphere that reflects country style. It is all about balance the old and new with simplicity and rustic charm and using a modern backsplash is a great way to balance the cozy and comfortable atmosphere and natural textures by giving them a fresh look.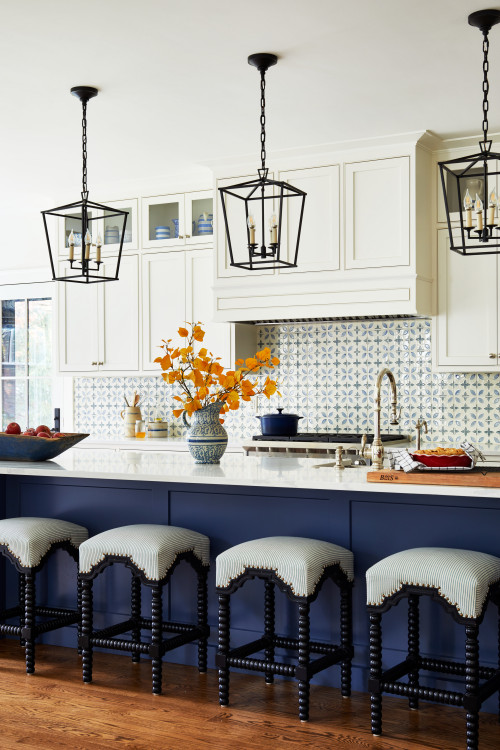 ID# 124731| Houzz.com – Credit | © Cummings Architecture + Interiors
---
Farmhouse Kitchen with Navy Blue Island and Lantern Pendant Lights
The beautiful blue pattern of the white backsplash tiles directly draws attention and creates a focal point between the white shaker cabinets. The blue color of the patterns complements the kitchen island while adding a nice texture. Black and gray stools and black lantern pendant lights bring a traditional look.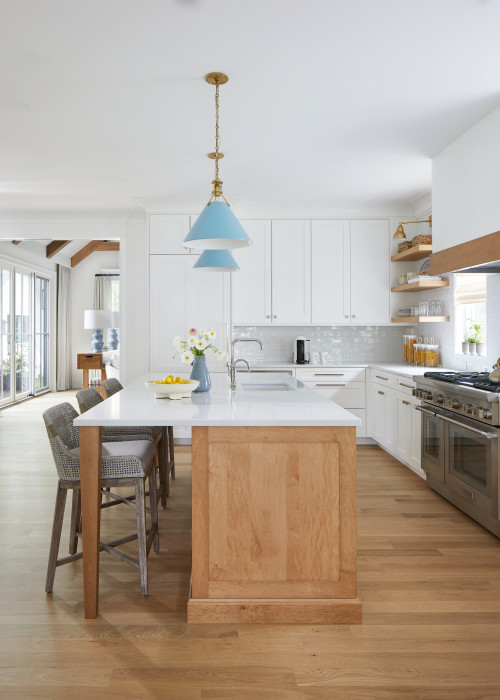 ID# 124732| Houzz.com – Credit | © Ellie Mroz Design
---
White and Wood Kitchen with Glossy Gray Modern Backsplash
Natural textures of the wooden features and crisp white color of the cabinets perfectly blend in his farmhouse kitchen and offers a balanced look. The gray backsplash makes a modern touch and adds freshness to the kitchen with its glossy finish. Blue pendant lights bring joy to the atmosphere.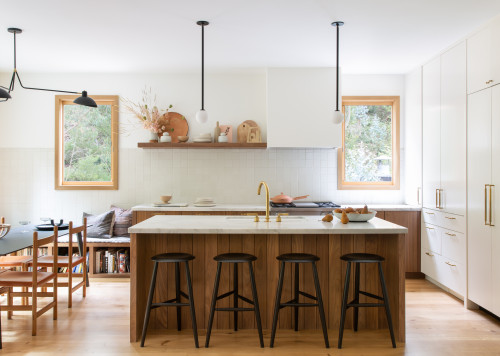 ID# 124733| Houzz.com – Credit | © Regan Baker Design Inc.
---
Natural Wood Cabinetry with Matte White Wall Tiles and Brass Accents
Natural wood cabinets are paired with Premium Natural quartz countertops which add a sense of luxury. The matte white backsplash tiles add a slight texture while the wooden floating shelf complements the cabinetry. Brass accents complement the warm look of the wooden textures.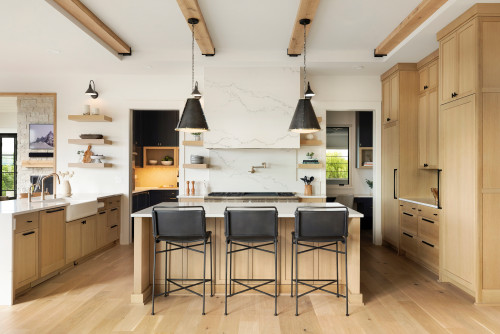 ID# 124734| Houzz.com – Credit | © Swanson Homes
---
Reclaimed Oak Cabinets with Exposed Wooden beams and Black Accents
This transitional kitchen is bedecked with reclaimed oak wood cabinets, quartz countertops, backsplash and range hood, and black accents. Black pendant lights and exposed wooden beams add a rustic touch while the luxurious look of the quartz contrast with the natural appeal of the oak cabinetry to add visual interest.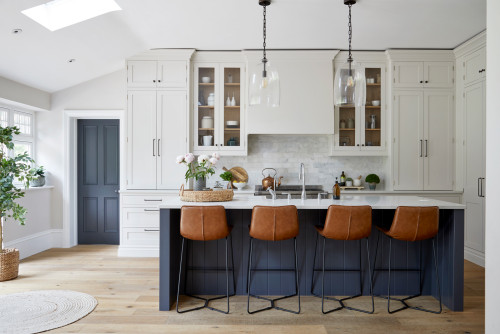 ID# 124735| Houzz.com – Credit | © Kirsty Elizabeth Interiors
---
White Cabinets with Black Island and Marble Subway Tiles
The black kitchen island with quartz countertop and leather counter chairs stands out between the white shaker cabinets and marble subway tiles. Glass-fronted upper cabinets bring an open and airy feel while glass pendant lights complete this feel. The beadboard style of the island adds a coziness to the design.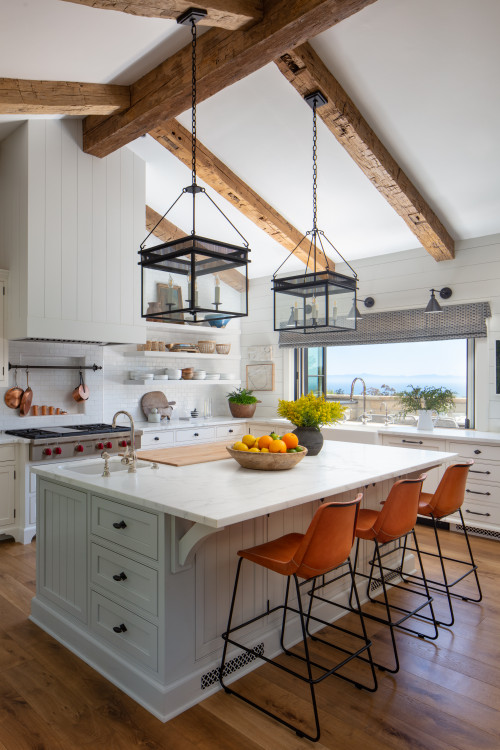 ID# 124736| Houzz.com – Credit | © DD Ford Construction
---
Small Farmhouse Kitchen with Light Gray Island and Orange Chairs
Small, cute, and functional. This farmhouse kitchen offers both style and functionality at the same time. The light gray kitchen island, white cabinets, open shelving, and modern backsplash provide a simple yet elegant design. Orange counter chairs pop against the bright color scheme while exposed wooden beams and black lantern pendants add a rustic vibe.
What is the new trend in kitchen backsplash?
In today's market, simple and chic backsplashes are on the top of the trend lists. Geometrical shapes, clean lines, and neutral color schemes are popular choices for homeowners and interior designers, Here are some of the top backsplashes trends this year.
• Marble: As usual, with its timeless sophistication, marble is one of the trendiest materials for backsplashes. From bright whites to bold blacks, marble comes in a wide range of color options that allow you to personalize your kitchen.
• Glass: With its endless color options, glass is a perfect backsplash material that provides both style and functionality. They can also be mixed with other materials like metal or stone.
• Metallic: Metallic backsplashes are on the rise. From stainless steel to copper, these backsplashes allow you to create one-of-a-kind kitchen designs. You can use metal sheet backsplashes to create a sleek modern look or incorporate patterned tiles to add a texture.
• Subway tiles: Subway tiles are classic for kitchen backsplashes and their popularity continuous also in today's market. You can go with a classic white subway tile backsplash to create a clean and fresh look or be bold by using different colors and materials for subway tiles.
• Hexagon tiles: If you are looking for something different, hex tiles might be the solution. Hexagon tiles have much more depth, character, and detail than other tile options.
Do modern kitchens have backsplash?
With their understated elegance and the clean lines and sleek style, modern kitchens are one of the most popular design trends. And just like the other styles, modern backsplashes also have a backsplash. From classic white subway tiles to, unique hex tiles, luxurious marbles to glossy glass tiles, there are plenty of ways to incorporate a backsplash into a modern kitchen. When choosing a backsplash, you just need to define your priorities. Then I is easy to find the best and right material, color, and style for your kitchen.