22+ Green Tile Backsplash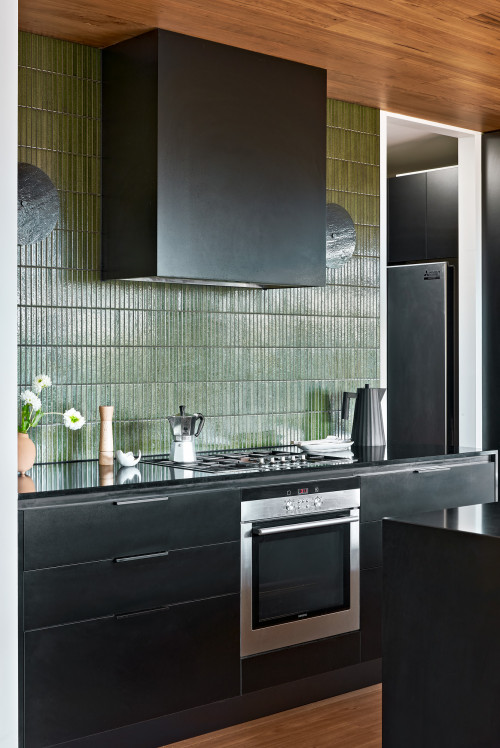 ID# 163205 | Houzz.com – Credit | © Jasmine McClelland Design
---
Black Modern Cabinets with Green Kit Kat Tile Backsplash
Blended with a classic design with modern flair, this extraordinary kitchen boasts chic black cabinets, opulent black countertops, and charming green Kit Kat tile backsplash. The pièce de résistance is undoubtedly the stunning black range hood, which commands attention and radiates an air of sophistication. With high-end stainless steel appliances, this kitchen is as functional as it is beautiful!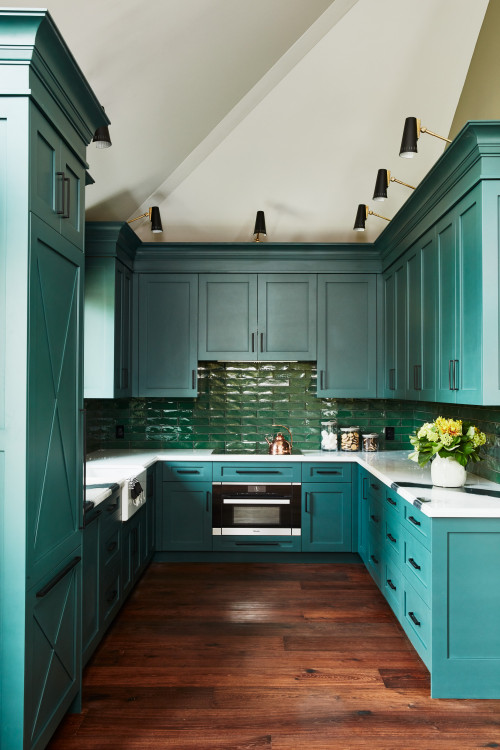 ID# 163215 | Houzz.com – Credit | © M-Squared Contracting Inc.
---
Green Shaker Kitchen Cabinets with Green Tile Backsplash and White Countertop
Imbued with an idyllic charm, this contemporary rural hideaway expertly fuses antiquity with innovation. Infused with natural elements, the green-themed color palette is a nod to the environment that envelops guests in a revitalizing and lasting encounter. The green shaker cabinets and the glossy green backsplash tiles create a dramatic and sophisticated atmosphere. On the other hand, the crisp white countertop makes a bright touch while the matte black hardware and black stainless steel appliances add a modern feel.
Green Tile Backsplash
There is no reason why your kitchen should be a basic box packed with equipment whether you own your house or even if you rent. Green is the way to go if you are searching for something a touch nostalgic yet oh-so-trendy. The hue conjures up images of optimism, health, adventure, and rejuvenation, and it's a terrific match to natural stone or marble countertops. Why not start with your kitchen backsplash if you're searching for a method to bring a little bit of greenery into your home? A green tile backsplash can improve your kitchens into a fresh-looking and intimate environment with various design styles. Whether you have contemporary or classic you will be amazed by how the green tile backsplash will increase the stylish look of your kitchen.
Incorporate the Natural Warmth of Green with Stunning Tile Designs
Since the tile industry can provide a large number of alternatives, the patterns, colors, styles, and sizes, choosing a backsplash for your kitchen can be a little bit overwhelming. However, we are sure that you will find the perfect green tile backsplash for your design idea and create a unique kitchen. There are different shades of green such as dark, light, sage, or blue-green color shades, or you can find many materials such as ceramics, glass, or cement. There are styles too, for instance, a green hexagon tile backsplash, or, as a classic, a green subway tile backsplash. Scroll down to see some of the stylish solutions for a green tile backsplash in kitchens!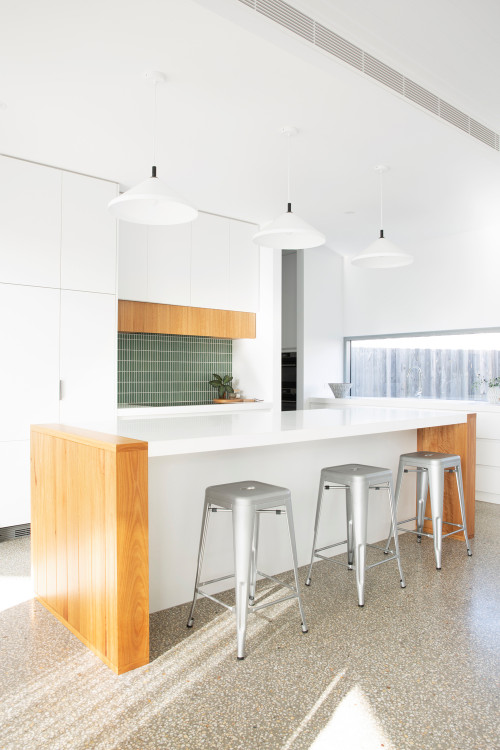 ID# 163201 | Houzz.com – Credit | © Elizabeth Schiavello
---
White Cabinets with Green Tile Backsplash and Wood Details
The green tile backsplash creates a striking focal point and adds character to the space while the white flat panel cabinets serve a clean and fresh look and allow the backsplash to stand out. The wood details perfectly complement the natural feel of the green. The metal stools make a beautiful final touch and add some industrial vibe.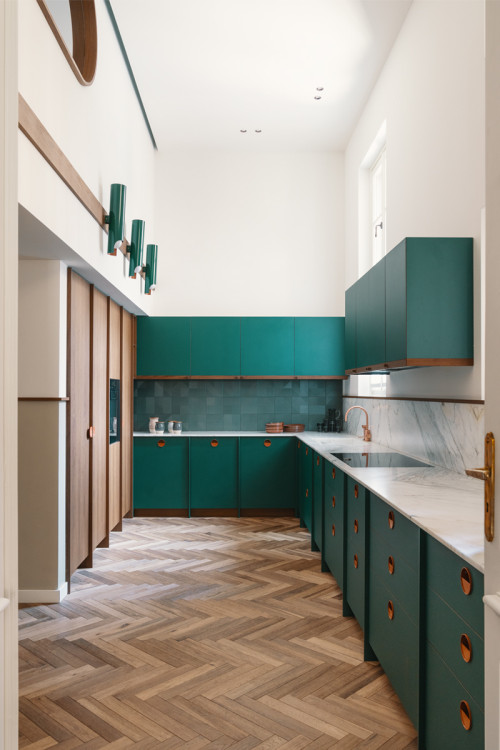 ID# 163202 | Houzz.com – Credit | © Arch. FABIO FANTOLINO Studio
---
Green Kitchen Cabinets with Wood Herringbone Floor
Embracing the enchanting allure of emerald green, this kitchen design resonates with a captivating sense of cohesion and bold visual impact! The emerald green cabinets and square tile backsplash unite harmoniously to craft a striking and unifying visual statement. Contrasting gracefully against the rich green palette, the white marble countertop and backsplash unveil a luminous brightness while the wood herringbone floor unfolds as a masterful centerpiece.
Is green backsplash good for kitchen?
The answer to the question is a big, enthusiastic YES!! Even though, you can never go wrong with classic colors such as black or white, if you want to make a statement with your backsplash, green will be a perfect color that can easily jazz up the overall design.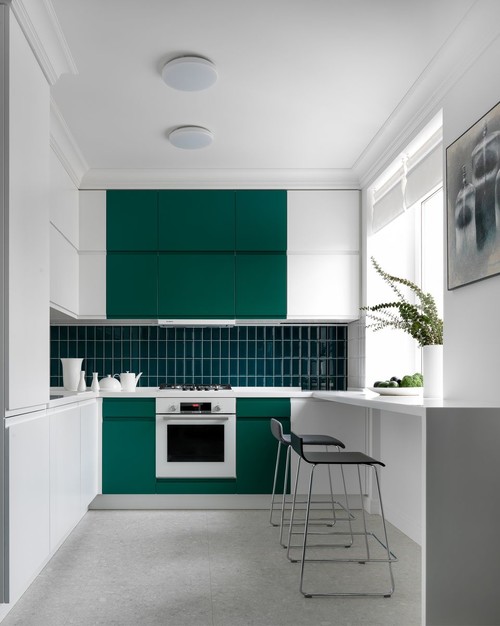 ID# 163203 | Houzz.com – Credit | © «Точка дизайна»
---
Green and White Kitchen with Light Gray Floor Tiles
The contrasting appeal of dark green and white offers a sleek and elegant contemporary kitchen look. While the white cabinets and countertops create a clean and simple look, dark green cabinets and backsplash add a wow effect. The white grout of the green tile backsplash complements the white features while highlighting the grid pattern of the tiles. The white peninsula is placed against the window, providing an additional counter space.
Different Green Shades for Kitchen Backsplash
Green is a popular hue among many people since it is highly peaceful and tranquil. Green is a natural hue with a variety of tints to choose from while decorating. Greens in pastel and subdued tones offer a soothing environment, while dark greens are ideal for melancholy interiors. Sage is a hue that everyone loves and can easily fit into any area, from glam to industrial. If you are a fan of the color green or want to discover the different green shades for kitchen backsplashes beware before the green color's striking impact.
After the long office hours the workdays, anyone may want to fresh and calm atmosphere in their houses. Since the kitchen is the heart and soul of the house, a little touch of green color can boost your mood and swipe the exhaust away. White kitchen cabinets and a dark green tile backsplash are one of the ways that you can improve your kitchens, plus you can make a contrasting look with a striking appeal. With the different green shades for kitchen backsplashes, there are many ways to provide stylish yet serene looks. Scroll down to see some of these stylish looks and inspire by the different green shades for kitchen backsplashes.
Dark Green Tile Backsplash
Dark green is a traditional hue for rustic, nature-inspired kitchens since it creates a welcoming, organic, and relaxing atmosphere. The dark green color is a sophisticated mood enhancer. A dark green tile backsplash can symbolize your personality, which respects consistency and taste, by being firm and restrained.
The dark green tile backsplash adds to the simplistic pattern, making for a wonderful sight to see. With the white countertop and the wall at a reasonable level, the backsplash creates a contrast. You can try out a dark green tile backsplash with wooden accents and create a beautiful view that brings mother nature to your kitchens!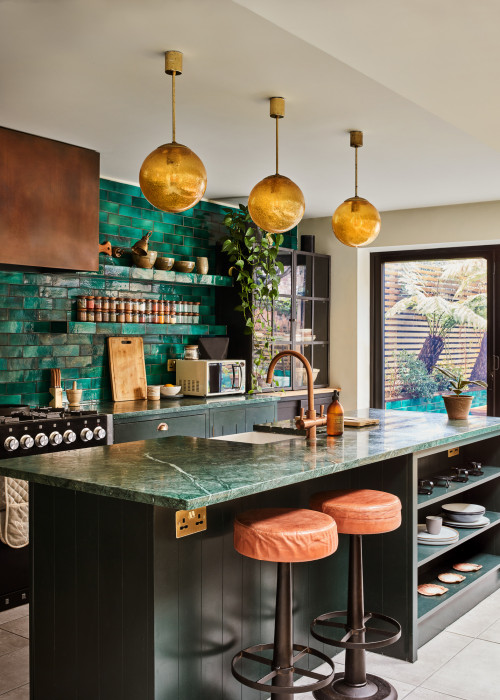 ID# 163204 | Houzz.com – Credit | © Juliet Murphy
---
Eclectic Kitchen with Black Cabinets and Granite Countertops
Enriched with a sophisticated color scheme and high-quality materials, this eclectic kitchen serves a one-of-a-kind appeal that will be a conversation piece for years! The black kitchen cabinets and island creates an elegant look while the green granite countertops add a dose of luxury. The star element of this kitchen is definitely the green subway tile backsplash! It perfectly complements the sophisticated look of the black while adding drama. The copper range hood completes the unique overall look while the yellow pendant lights above the island create contrast with the darker shades and add a warm glow.
What color cabinets go with green backsplash?
Since the white color is versatile and can combine with any color in the interior design, white cabinets are the answer! Wooden cabinetry and the white color cabinets create a beautiful harmony with the green backsplash. It is possible to go with light hues of the green-such as a light sage- or you can use light beige hues for the cabinets. However, if you do not want to take any risques and fall in love with the green backsplash, white cabinets go with the green backsplash perfectly.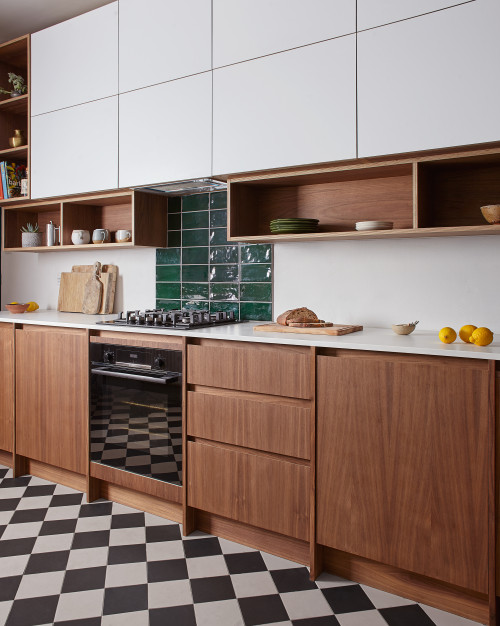 ID# 163206 | Houzz.com – Credit | © Green Bird Workshop
---
Two Tone Kitchen Cabinets with Glossy Backsplash Behind Stove
The kitchen is very stunning, with a mix of white and wood accenting the spirit of modern living! The white countertop is spotless, standing out against the two tone cabinetry and elegantly merging distinct design components. What really stands out is the eye-catching green backsplash behind the stove. The bright burst of color adds a whimsical element to the kitchen while the luscious shade lends a feeling of freshness. The stacked subway tile design gives the backsplash a contemporary, clean and visually pleasing appearance.
Light Green Tile Backsplash
The best thing about green is that it is one of the few colors that come in a variety of tints from which you may choose one that best suits your personality. Choose a bright green tile backsplash for an active and fresh kitchen environment. You can use glass tiles or ceramics, whatever the material is there is always a perfect light green shade for your kitchen backsplashes. They sometimes can be vibrant, bold, or soft.
Do you want a kitchen that "welcomes" you every day with a smile? A light green tile backsplash should be practiced. You can choose the brightest hue of light green, white cabinetry, and a little bit of wood to create a spring-like interior. This will freshen up your day and help you to be in a calm-minded mood.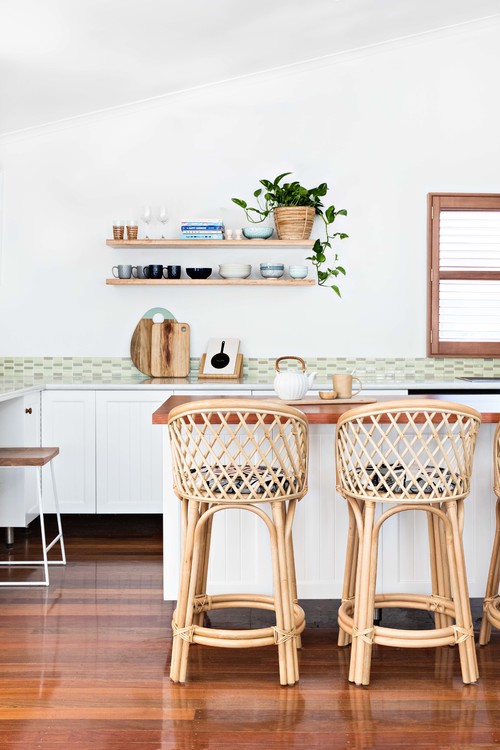 ID# 163207 | Houzz.com – Credit | © Jessi Eve
---
Contemporary White Kitchen with Natural Details
If you want to add a splash of color to your kitchen but don't like vibrant colors, lighter shades will save your design! In this beach style kitchen, the light green shaded backsplash tiles add a lovely color without overwhelming. These tiny tiles also complement the bright and clean look of the white kitchen cabinets and countertops. On the other hand, using wood floating shelves instead of upper cabinets add an open and airy feel to the room. The rattan chairs around the island perfectly complete the natural details.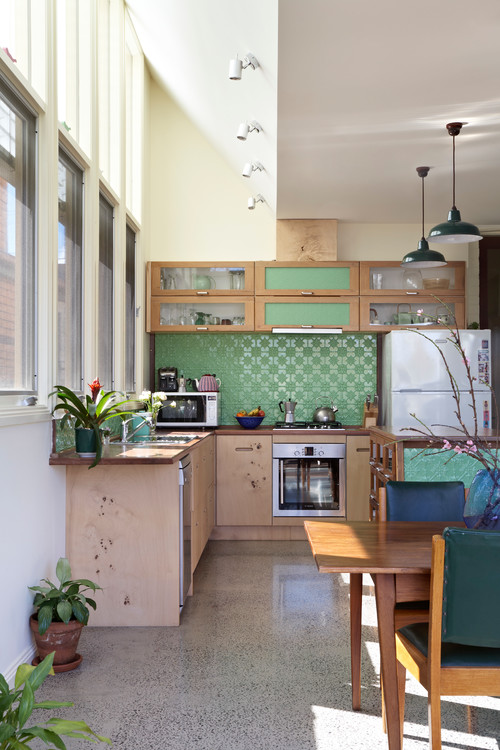 ID# 163208 | Houzz.com – Credit | © Positive Footprints Pty Ltd
---
Natural Wood Kitchen Cabinets and Countertops with Tin Backsplash
Enriched with natural wood cabinets and countertop, this contemporary kitchen serves a raw and organic beauty! The light green tin backsplash perfectly completes this natural look while adding a fresh appeal with its polished finish. Also, the durable structure of metal backsplashes is a perfect addition to maximize the functionality!
What color countertops go with green backsplash?
In today's market, you can find many materials and colors for the countertops, as well as the backsplash. Since there are many colors and materials, for a green backsplash you can go with white countertops without hesitation. It is because of the harmony between them. There are other colors such as black and green which you can prefer according to your design taste, however, white countertops are the least risky alternatives for a green backsplash.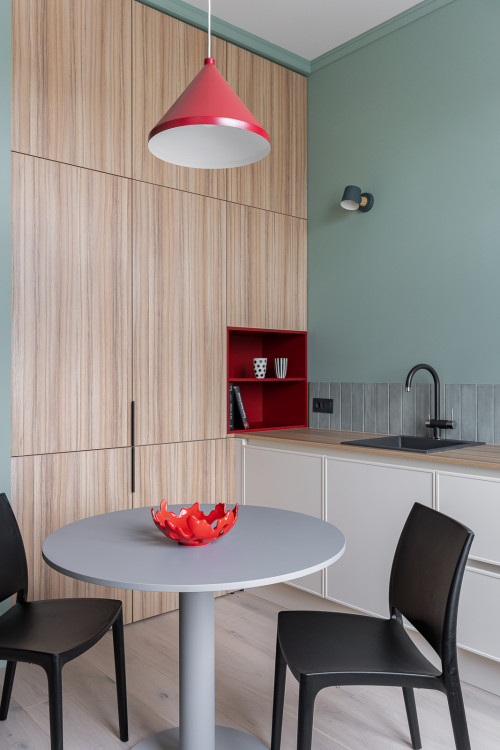 ID# 163209 | Houzz.com – Credit | © Александра Никулина
---
Small Eat-in Kitchen with White and Wood Cabinets
Creating clean and fresh appeal, the white base cabinets are topped with a wood countertop. The tall wood cabinets create a continuous look with the countertop while the green 4-inch backsplash tiles and the green wall paint perfectly complete the natural aesthetic of the wood. The white dining table and black chairs make a simple yet effective final touch to enhance the modern vibes.
Sage Green Tile Backsplash
Sage is a mellow, serene grayish-green that can infuse a kitchen with vitality while remaining calm and pleasant to live with. It's a versatile hue that goes with practically any other color or style. Sage green, unlike emerald green, has a softer appeal, and a sage green tile backsplash is a terrific way to create a focal point without being overpowering. To create a coherent aesthetic, mix it with neutral colors and a hint of wooden textures!
You may wonder if the sage green shade is suitable for different design styles. Well, you can use a sage green tile backsplash with any kind of design style, you can choose coastal or farmhouse, modern or classic, whatever the design style is a sage green tile backsplash can find a perfect place between them.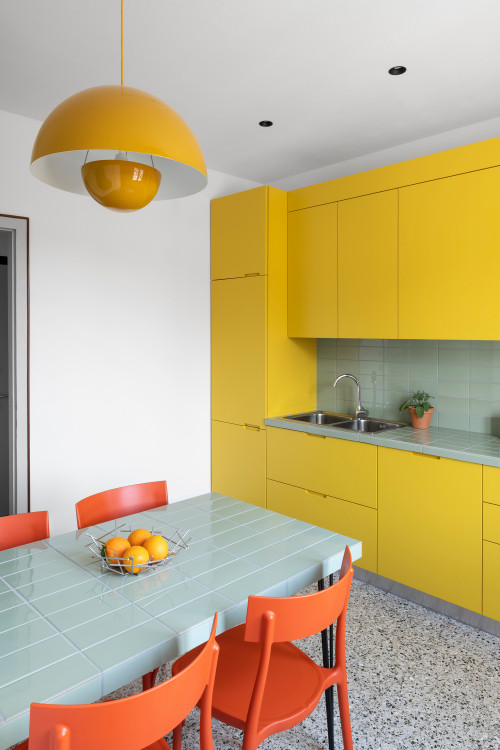 ID# 163210 | Houzz.com – Credit | © PadiglioneB
---
Yellow Kitchen Cabinets with Sage Green Tile Backsplash
Boosted by unique color choices, this contemporary kitchen offers a one-of-a-kind appeal! Here, the yellow kitchen cabinets take the stage and create a joyful atmosphere. The sage green tile backsplash and countertop create a contrast against the yellow while softening the sharp appeal. The same tiles are also used on the dining table which create a continuous look. The orange chairs add another splash of color to complete the unique retro vibe while the terrazzo floor tiles make a cohesive final touch.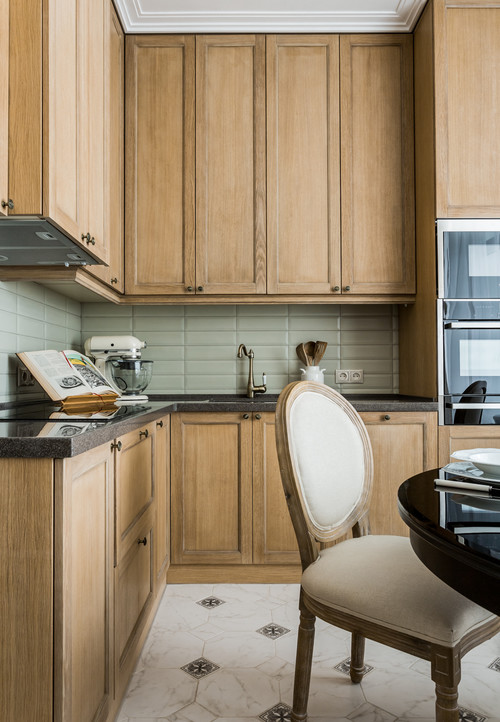 ID# 163211 | Houzz.com – Credit | © Елена Лазутина
---
Transitional Kitchen with Natural Wood Shaker Style Cabinets
Decked out with natural wood cabinets, sage green backsplash tiles and a black granite countertop, this L-shaped kitchen exudes a warm and inviting ambiance. The neutral color palette employed in this kitchen cultivates a sense of relaxation while the black granite countertop introduces a contrasting element that elevates the overall aesthetic.
Blue-Green Tile Backsplash
If you can't choose between blue and green, why not combine the two? As previously said, green comes in a variety of colors, some of which include blue overtones. Blue-green hues include turquoise, cyan, and teal. These colors are ideal for creating a lively look without sacrificing the green's relaxing effect. Aside from this, blue and green tiles can also be combined. This will give your backsplash a magnificent mosaic look, and it will be the focal point of your kitchen. You can use a blue-green tile backsplash with a contemporary or classic design kitchen. The design styles can change but the magnificent impact of the blue-green tile backsplash does not change.
If you want to make a difference you can try out a fish scale pattern for your blue-green tile backsplash. Think about complete white kitchen cabinetry with white quartz countertops with a fish scale patterned blue-green tile backsplash. The focal point will fill the entire kitchen with a fresh and stylish look.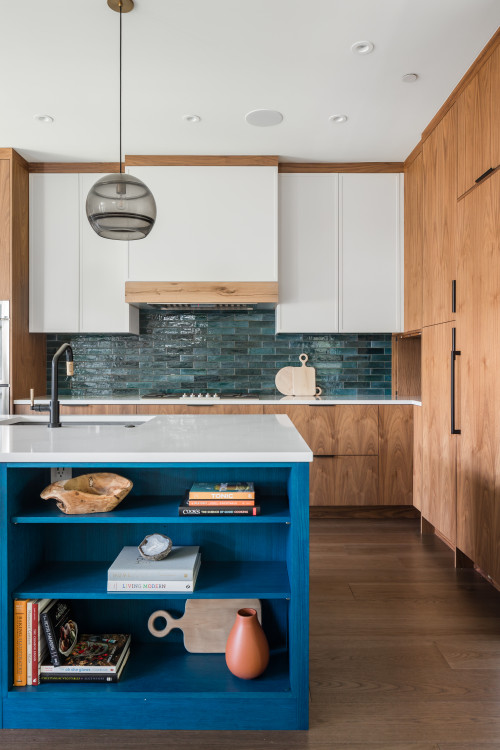 ID# 163212 | Houzz.com – Credit | © Designs by KS
---
Contemporary Kitchen with Blue-Green Tile Backsplash and White Countertop
The white and wood kitchen cabinets serve a classic yet stylish appeal with the white countertops. The blue-green tile backsplash makes an unexpected twist that creates a striking focal point! The blue kitchen island with a white top perfectly complements the blue hints of the backsplash and provides additional storage space for some decorations or recipe books.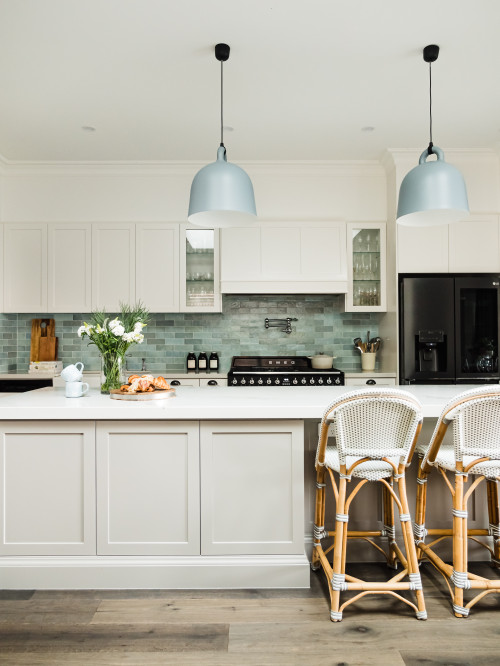 ID# 163213 | Houzz.com – Credit | © renae barrass interior design
---
Light Gray Shaker Cabinets with Subway Tiles and Blue Pendants
When you enter this transitional kitchen, the beautiful green subway tile backsplash instantly draws attention, creating a focal point. The light gray shaker cabinets provide a clean and sleek frame to the backsplash while quartz countertops complete this bright look. The baby blue pendant lights above the island complement the blue undertones of the tiles.
Green Tile Materials and Styles
Backsplashes are available in a broad range of patterns and styles today from basic subway tiles to eye-catching hexagons! Green subway tiles may be used to produce a classic look, while hex tiles can be used to bring some modernism. A green backsplash, whichever color you choose, is a terrific method to create distinctive patterns. You may want to specifically search the green tile materials and styles according to your design taste.
Contemporary or classic, bohemian or vintage, whatever the design style you choose there are always green tile materials and styles that can fit the one's design idea. You can use a green subway tile backsplash in a modern design style kitchen, or it is possible to create a minimalistic look with a green hexagon tile backsplash with flat-panel cabinetry. You may like the idea of using a green glass tile backsplash that can reflect the light and increase daylight usage in the interior of the kitchen!
Green Subway Tile Backsplash
Your kitchen should be functional, but it should also bring you joy. Subway tile is a beautiful option for almost any kitchen design, and it's a classic choice for a reason. It's inexpensive, goes with almost any color scheme, and, while it's a more classic option, there are plenty of creative ways to use subway tile. A green subway tile backsplash, for instance, can change many things in a standard white kitchen design. You can combine the white cabinetry with black hardware and put a green subway tile backsplash that increases the energetic and joyful vibes of the kitchen atmosphere.
While all aspects of your kitchen are crucial, your backsplash can make or break a stunning design. The backsplash is the finishing touch to any kitchen design, whether you choose an eye-catching pattern to dress up a basic white kitchen or keep it bold with a green subway tile backsplash. You can use whatever material you want or your budget can afford for a green subway tile backsplash. There are ceramics, glass tiles, and porcelains. Whichever material you choose a green subway tile backsplash can boost your daily energy with its familiar and intimate appeal in the kitchen while you try to start your day.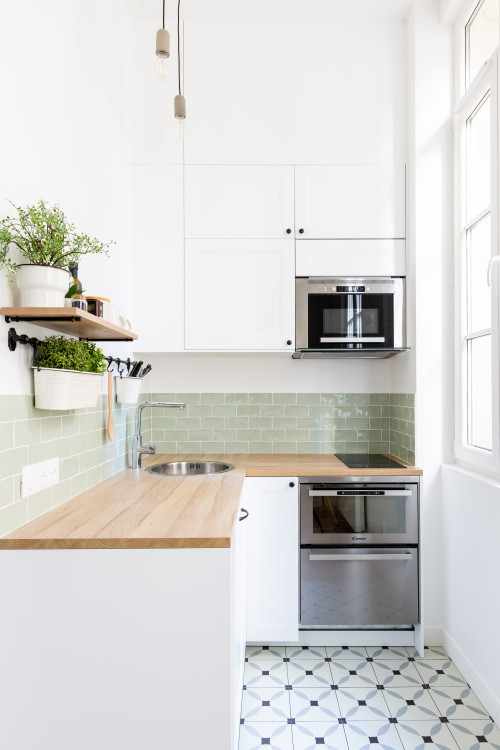 ID# 163214 | Houzz.com – Credit | © NEVA Architecture Intérieure – Interior Design
---
Small White Kitchen with Patterned Floor Tiles
With its sage green subway tile backsplash and patterned floor tiles, this otherwise ordinary kitchen offers a fun and joyful atmosphere. The wood countertop complements the natural feel of the green tiles while the black knobs enhance the modern vibes. The wood floating shelf and wall-mounted rack enhance the functionality.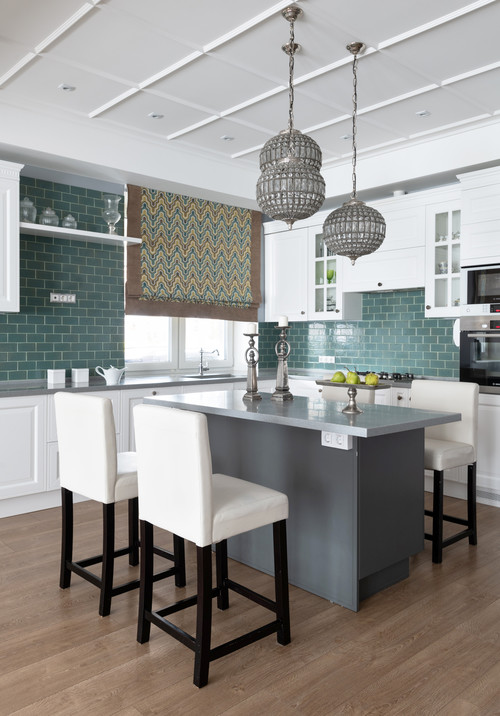 ID# 163216 | Houzz.com – Credit | © Анна Крапивко
---
Transitional Kitchen with White Raised-Panel Cabinets
In this transitional kitchen, the white raised panel cabinets create a bright and spacious atmosphere! The green subway tile backsplash breaks the white domination and adds a splash of color. The white grout emphasizes the classic running bind pattern while the colorful window curtain adds another layer of pattern.
Green Hexagon Tile Backsplash
Hexagon tiles are one of the most popular choices for homeowners and interior designers in today's market! These tiles may be utilized in a variety of settings, including the bathroom, the foyer, the shower floor and the fireplace surround. This page discusses kitchen backsplashes, which are the most common application for hexagon tiles. Since this stylish pattern of honeycombs can combine with many styles, we suggest using it as a green hexagon tile backsplash!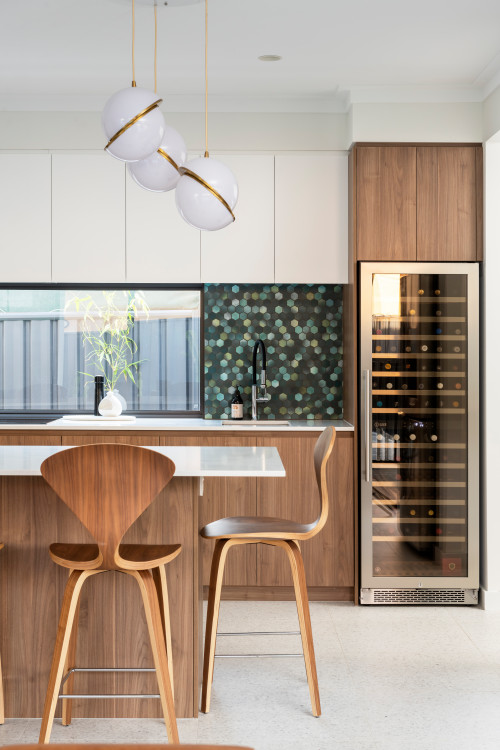 ID# 163217 | Houzz.com – Credit | © Residential Attitudes
---
Midcentury Kitchen with Colorful Hexagon Backsplash Tiles
Boosted with wooden cabinets and chairs, vibrant backsplash, and pristine white accents, this kitchen exudes the sophisticated charm of midcentury design ! he natural wood cabinets contribute a captivating texture while the white upper cabinets and countertops bring about an inviting radiance. A mesmerizing focal point is formed by the multicolored hexagon tiles that adorn the backsplash.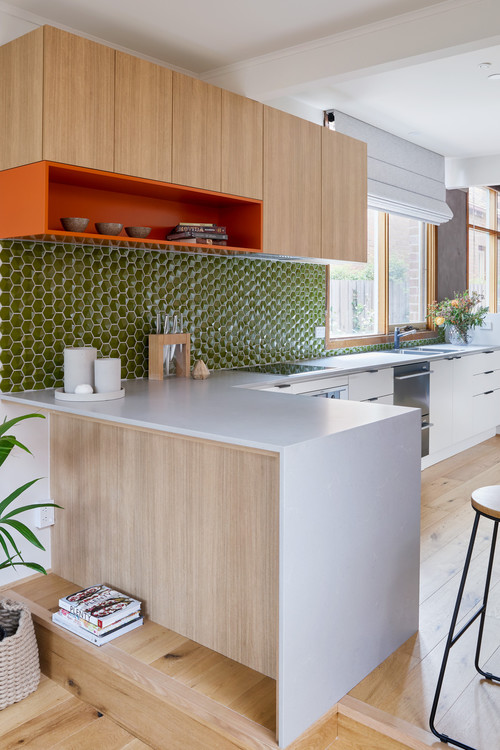 ID# 163218 | Houzz.com – Credit | © Jasmine McClelland Design
---
Contemporary Kitchen with 3D Backsplash and Peninsula
The green hexagon tile backsplash adds a wow factor to this otherwise ordinary kitchen. The glossy finish and 3D effect of the hexagon tiles enhance the impact to create a striking focal point! While the wood upper cabinets and peninsula complete the natural sense of the green, the white base cabinets and countertop create a clean and fresh look. The stainless steel appliances and white window treatment perfectly complete the contemporary style.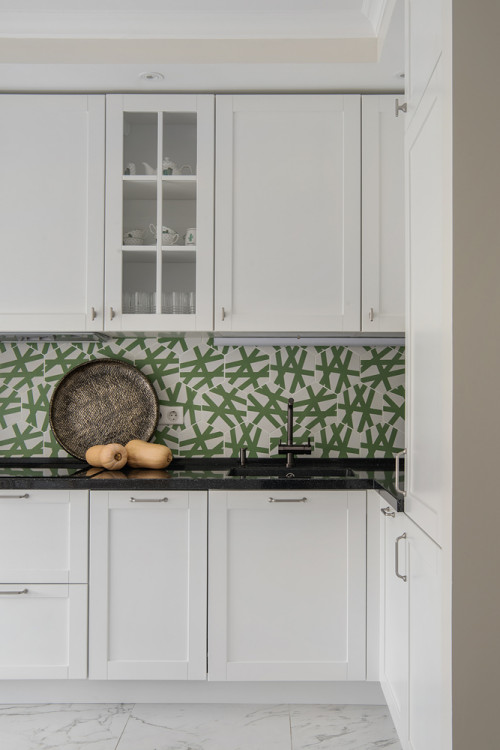 ID# 163219 | Houzz.com – Credit | © Мила Колпакова
---
Green Patterned Hexagon Tile Backsplash with Black Granite Countertop
The green patterned white hexagon tiles are true statement makers that can easily enhance any kitchen. The plain appeal of the white shaker cabinets allows the backsplash to be the star of the design. On the other hand, the black granite countertop creates contrast against the white cabinetry to add visual interest.
Green Glass Tile Backsplash
The glass's attractive beauty and long-lasting durability will never let you down! For homeowners and interior designers, glass backsplashes are a popular alternative. A green glass tile backsplash can work with numerous design styles, whether it's a glossy or matte finish and when this utilitarian material meets the adventurousness of the green, the outcome is absolutely wonderful!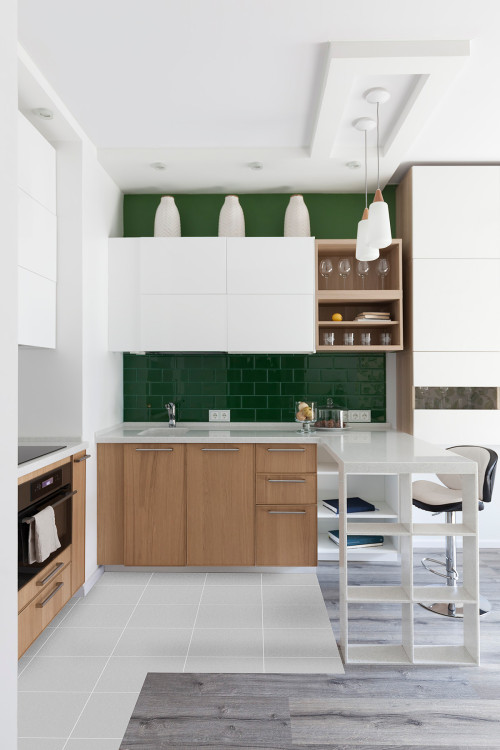 ID# 163220 | Houzz.com – Credit | © YU Dsgn Галкина Юлия и Беляева Юлия
---
Glossy Green Tile Backsplash with White Peninsula
In this contemporary kitchen, the glossy green subway tile backsplash takes the stage and transforms the dull space into a stylish kitchen! The sleek and clean look of the white and wood cabinets creates a cohesive look with the green tile backsplash. The white countertop is expanded to create a peninsula, adding an additional counter and dining space. The brushed nickel hardware and light gray floor tiles complete the contemporary design style.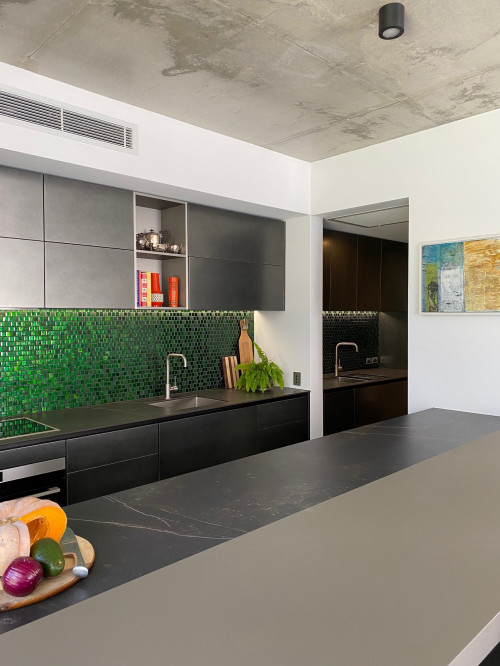 ID# 163221 | Houzz.com – Credit | © Retreat Design
---
Modern Black Cabinets with Glass Mosaic Tile Backsplash
The sleek finish and clean lines of the contemporary black cabinets exude sophistication and elegance! The eye-catching green glass mosaic tile backsplash wonderfully matches the strong cabinets and the kitchen is given a revitalizing boost of energy by its captivating focal point's brilliant color and detailed pattern.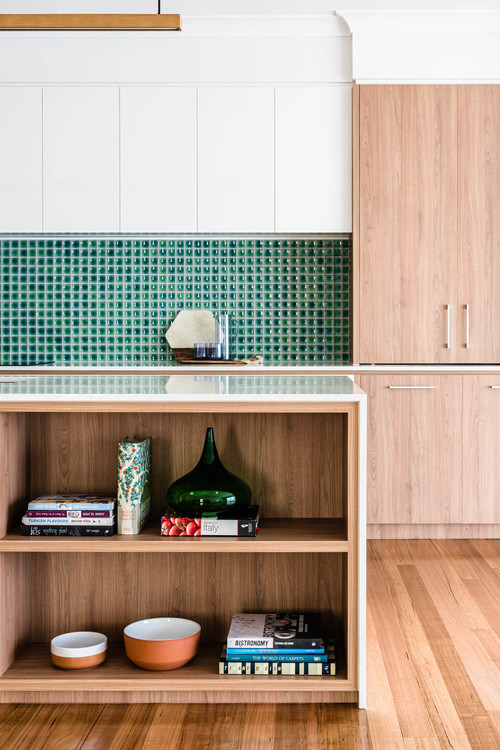 ID# 163222 | Houzz.com – Credit | © Spencer Constructions (QLD) Pty Ltd
---
Modern Kitchen with Glass Green Tile Backsplash and White Countertops
The fine wood base cabinets and island which exude warm and inviting tones and offer a touch of natural beauty, form the centerpiece of this design. The wood base cabinets contrast sharply and minimalistically with the white upper cabinets.whereas the green backsplash's glistening finish and sophisticated design seamlessly combine artistic flair with practicality!