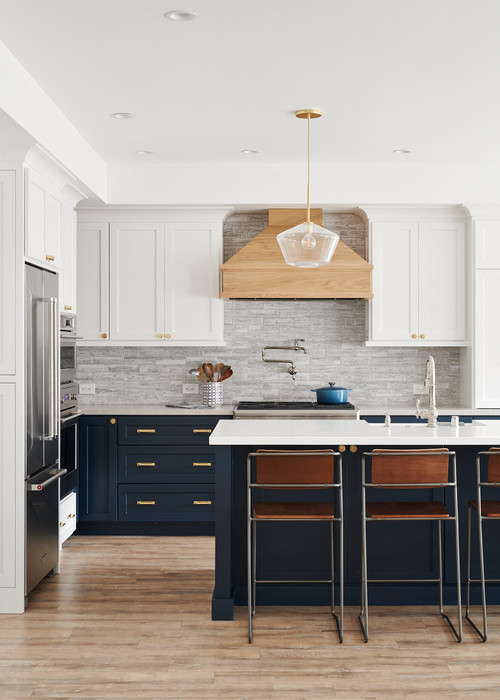 ID# 125902 | Houzz.com – Credit | © KBG Design
---
Two-tone Black and White Cabinets with Gray Kitchen Backsplash
The classy combination of black, white, and gray offers a timeless beach-style kitchen design! The black perimeter cabinets and the black kitchen island give an elegant look while the white upper cabinets make the space feel more spacious. The shaker door style of the cabinets brings a classic traditional feel while the brass knobs complete this elegancy. The white countertops complement the upper cabinets and enhance the freshness. The gray kitchen backsplash adds a nice texture and provides a smooth transition between black and white. The light wood range hood creates a focal point and brings warmth to the atmosphere with its natural texture.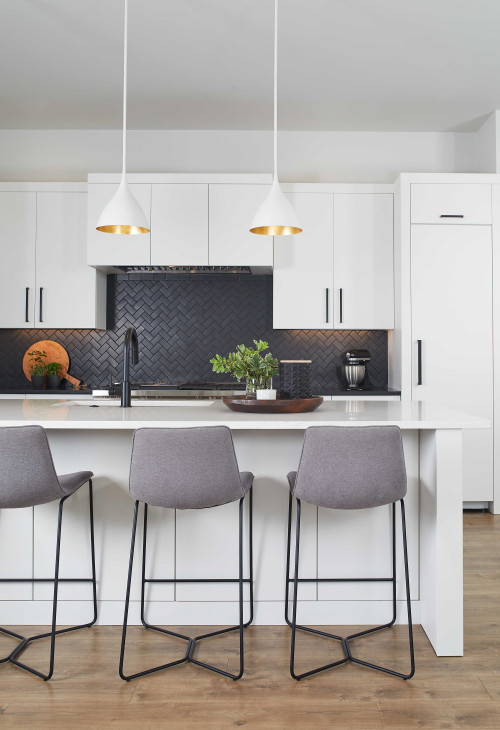 ID# 125920 | Houzz.com – Credit | © Vision Interiors
---
White Flat-panel Cabinetry with Matte Black Herringbone Tiles
In this white contemporary kitchen, the black herringbone kitchen backsplash pulls the attention and creates a striking focal point. The matte finish and the black grout of the black herringbone tiles give an ultra-modern vibe and complete the modern appeal white flat-panel cabinets. The black hardware of the cabinetry complements the backsplash while gray counter chairs soften the sharp contrast which is created by the black and white color scheme. The gold details of the white pendant lights add a dose of sparkle to the design.
Kitchen Backsplash
From color scheme to cabinet style, from appliances to lighting there's a lot to consider when designing a kitchen and these decisions can be overwhelming. One of the most important and also most fun decisions is choosing a backsplash. A kitchen backsplash might be a small detail but it is the key point that brings all the elements together and it deserves a fair amount of care and attention, too. Different materials, colors, textures, and patterns. Options are endless for a kitchen backsplash and if you are looking for the right backsplash for your kitchen, here, discover 41 stunning kitchen backsplash ideas to add a dose of statement-making style to your kitchen!
Traditionally, kitchen backsplashes were made of tile that covers the part of the wall between the perimeter and upper cabinets. However in today's market, with almost endless color, material, shape, pattern, and texture options, kitchen backsplashes have evolved to become the visual feast and it is a great way to personalized kitchens! Your backsplash can cover the entire wall, can be a pop behind the stove, or create a focal point between the countertop and upper cabinets. It can also serve as a pop of colors, textures, and patterns or it can be a simple tile that can create a cohesive look for the overall look of the kitchen. So, from glossy glass tiles to eye-catching mosaics, shiny metallics to classic ceramic tiles, there are plenty of ways to customize your kitchen walls. Scroll down and check these best stylish kitchen backsplash ideas that fit your style and budget!
Kitchen Backsplash Materials
Kitchen backsplashes are a very personal matter. Yes, the appeal is important but functionality is also important as the style. A kitchen backsplash needs to protect walls against splashes and material choice is very important to this functionality. Glass, ceramic, marble, porcelain, stone, brick, and more. Options are just about infinite when choosing a backsplash and you may need to some key decisions before you make your final choice. Here are some design tips and tricks that how to fit the stunningly beautiful styles to the backsplash area!
Glass Tile Kitchen Backsplash
Glass tile kitchen backsplashes are one of the most popular materials for homeowners and interior designers and they provide several advantages. With their endless array of color, pattern, and shape options, from classic subway tiles to eye-catching mosaic tiles, glass material can suitable for different styles. Thanks to its shiny surface, glass naturally reflects the light which offers a brighter and more spacious atmosphere for kitchens. Besides its visual impact, glass is an easy-to-clean material which makes them a perfect material as a backsplash. It is enough to wipe it off with a sponge, dish soap, and warm water after cooking!
Marble Kitchen Backsplash
Marble is one of the most precious stones that can exude luxury and elegance to any space. It is a great statement-making material for a backsplash and with its unique veinings and grains, it offers one-of-a-kind appeal. From bright whites to bold blacks marble comes in a wide range of color options. That means it can work with different design aesthetics from modern to traditional. The natural beauty and opulence of the marble create an elegant focal point that will never go out of style. The biggest concern of marble is its porous surface. It can absorb the liquids that can cause harbor and bacteria. To avoid staining, a marble kitchen backsplash needs to be sealed. With sealing, you can keep your marble backsplash as fresh as the first day which means it will be low on maintenance.
Ceramic and Porcelain Kitchen Backsplash
Ceramic and porcelain tiles are the most popular and classic options for kitchen backsplashes. Both of them feature beautiful designs, styles, colors, and finishes, and present a beautiful way to spruce up your kitchen. You can choose porcelain or ceramic tile backsplash designs with some pop-up colors and textures that become the centerpiece of your kitchen or go with a simple, white, classic tile for a safer option. Whatever your choice is a ceramic or porcelain kitchen backsplash will be a great addition to your kitchen with its beautiful appeals and functionality.
What is a kitchen backsplash?
Traditionally, a kitchen backsplash is a material that fills the walls between the countertop and upper cabinets. The purpose is the kitchen backsplash is primarily functional. It protects walls against water and food spills. However, the appearance is also important at least the functionality. Today backsplashes are rounding out the kitchen walls with interesting textures, colors, and design patterns. It can cover all walls or can be partial. Tiles are the most popular options for a kitchen backsplash. Ceramic, porcelain, glass, metal, or stone. There is a wide range of material options for tiles that can fit everyone's style. Besides the tiles, there are also different options for backsplash like wooden planks, metal sheets, or marble slabs. These options are less choosable than the tiles but if you are looking for something different, they are good and stylish alternatives.
Stone Kitchen Backsplash
Granite, slate, limestone, marble, river rock, and more. Stone backsplashes come in a wide range of material options that provide versatility. You can install a marble backsplash to make a luxurious touch or use a brick backsplash to bring a rustic appeal. Thanks to its striking and beautiful appeal, whatever your choice is, a stone kitchen backsplash will help you to create your dreamy kitchen! Besides its visual impact, stone backsplashes also provide durability that makes it a perfect material as a backsplash.
Metal Kitchen Backsplash
With their striking beauty and extreme durability, metal kitchen backsplashes offer a unique appeal for kitchens. Metal backsplashes come in various styles, colors, and finishes that can fit your personal preferences. You can use a stainless steel backsplash to give a bright and clean look or use a copper backsplash to bring a rustic appeal. On the other hand, if you are looking for something textural, hammered, or brushed metal backsplashes will be an outstanding focal element.
Wood Kitchen Backsplash
Wood is a natural material that can be used for different kitchen applications from wall cladding to cabinets. You might think that wood is not the perfect material for wet areas like backsplash but with the right approach, it can be the perfect addition. It is porous that can absorb liquids and is flammable. But, when it is properly maintained and sealed, the wood backsplash can keep its fresh look for many years. With its natural beauty, a wooden backsplash can bring an organic warmth and elevate the overall look of the kitchen.
Brick Kitchen Backsplash
Brick is a strong and durable material used to build masonry constructions and today not only for exteriors, but brick is also one of the trendiest interior design elements. Thanks to its extremely durable structure, it is also a perfect material for kitchen backsplashes. Solid bricks are more durable but require a harder installation process than other materials. That's why brick veneers are a perfect alternative that looks exactly like brick which is a type of decorative wall paneling made of thin, brick panels. These panels are also cheaper than solid brick installation. Red is the original color of the brick but if you don't want this bold appearance, you can paint your exposed brick backsplash or there are plenty of color options for brick veneers.
How to install kitchen backsplash?
The installation process of the backsplash depends on the material, shape, and size of the backsplash. For all materials, you need to prepare the walls before the installation. Sand the roughness and patch the holes on the wall and clean it with an all-purpose cleaner. Define the boundaries of the backsplash with painter's tape, and remove the electrical switches.
If you are working with tiles, it is important to prepare the layout of your tiles before applying them to the wall. This preparation avoids the unmatched corners and unfilled blanks. Generally smaller tiles come with a mesh which makes the installation process easier. Depending on the shape and pattern of your tiles, you might need to cut some tiles and you need to use specialized tools for the material.
Installation
Apply the mortar with a V-notch trowel in small sections. Then stick the tile on the mortar. Do these steps until cover the all backsplash area. Wait at least over a night, and after it dries, wipe down the tiles with a cloth and cleaner. Apply the grout with a float at a 45-degree angle. Wait until all grouts dry and wipe the tiles with a wet sponge. If you are working with stone material, you need to do also sealing. 
After the installation of the tiles, grab a soft cotton rag, damp it with a stone sealer and rub the surfaces of the tiles. After waiting 20 minutes, wipe off with a clean cloth. You can repeat this process until all the surfaces are properly sealed. If you are working with larger pieces like a marble slab or metal sheet, the installation process is done much in the same way as tiles but additionally, you need a strong backer material that is screwed into the studs.
Kitchen Backsplash Tile Types
When it comes to the backsplash, tiles are the most popular option for homeowners and interior designers. But in endless shapes, patterns, and colors, it would be unfair to call them just tiles. With the right approach, kitchen backsplash tiles can be the centerpiece of space. Just like the material, choosing the style of your backsplash is important to define the overall look. Subway, herringbone, hexagon, arabesque, and more. Possibilities are various but how do choose the right tile? When choosing the tile, you need to consider the overall style of your kitchen. If you have a modern cooking space, you can complete the modernity with hex tiles or install the subway tiles in a stacked layout. If you are looking for something more traditional, arabesque tiles will do the job!
Subway Tile Kitchen Backsplash
Whether your kitchen style is modern or traditional, contemporary, or farmhouse, subway tiles are a failsafe addition to every kitchen.
Mosaic Tile Kitchen Backsplash
A mosaic tile backsplash is a collection of smaller tiles that make one larger piece of art. Mosaic tiles are classic for kitchen backsplashes and with their wide range of color, material, and pattern options, they can be suitable for all types of kitchen designs. You can create a glamorous look with glass tiles or add a dose of luxury with marble tiles. Also, you can combine different materials like glass and metal, stone and glass to create a mosaic appeal. Whatever your choice is, a mosaic tile kitchen backsplash is a great way to add visual interest to kitchens!
Hexagon Tile Kitchen Backsplash
In today's market, hexagon or honeycomb tiles become a popular design element for interior designs, and kitchen backsplash is one of the most popular application areas for these tiles. With their sleek beauty, hex tiles can be suitable for different design styles such as modern or traditional. From marble to copper, white to black, these tiles come in a wide range of material, color and size options. You can create a mosaic appeal with different shaded hex tiles or enhance the modernity with larger tiles. Whether complete the overall look cohesively or make an unexpected twist with contrasting hex tiles, a hexagon tile kitchen backsplash is a great way to create a unique appeal for kitchens!
Kitchen Backsplash Colors
White, black, blue, gray, green, and more! There is a color for everyone that fits his or her style and taste. You can go with white to create a bright look, use black tiles to add some drama or go with other colors like green or blue to be more adventurous. It is all about your taste and the color scheme of your kitchen. If you want to highlight your backsplash you can use contrasting colors on your backsplash and cabinets like black and white but if you are looking for something more cohesive matching backsplash and cabinet colors will be a better choice for you. It seems like a small detail but the color of your kitchen backsplash will define the overall look of your kitchen!
White Kitchen Backsplash
White is the most popular color for interior designs because it can work well with every color. A kitchen backsplash is one of these areas. Whether it is a classic white subway tile or sleek white hex tile, a white kitchen backsplash is a fail-safe option for all kitchens. Also, if you are working on a small kitchen, using white is a great way to make the space feel more spacious!
Black Kitchen Backsplash
Without an argument, black is the most sophisticated color that can instantly change the atmosphere. You might think that black is too dark for the kitchen but if you want to give a bold and distinctive look to your backsplash, there is no better option than black. You can round out a moody kitchen with a black kitchen backsplash or bring a sophisticated look to a bright kitchen design.
Gray Kitchen Backsplash
With its almost endless array of shades and hues, gray is a versatile color that can work with different color schemes and styles. A gray kitchen backsplash can create a sleek backdrop for your kitchen and add an elegant feel!
How to choose kitchen backsplash?
When choosing a backsplash, you need to consider your budget, the size of your space, style, and material. A kitchen backsplash is the focal point of the kitchen and it is a perfect space to get creative. So, you need to choose a material you will be happy with. But what's your style? Backsplashes need to showcase the style and color scheme of your kitchen. They can be made from stone, glass, ceramic, porcelain, or metal that can feature everything from complex and distinctive patterns to simple designs. You can order tile samples to see what they look like and how they look with your cabinets and countertops.
Blue Kitchen Backsplash
If you want to add color to your design, blue is one of the most popular color choices for kitchen backsplashes. The calm and relaxing feel of the blue can help you to create a serene atmosphere. Whether it's a subway or hex tile, herringbone or mosaic tile, a blue ceramic tile backsplash will be the focal point of your kitchen.
Green Kitchen Backsplash
If you are bored with classic colors like black or white and if you are looking for something more adventurous, a green kitchen backsplash is a way to go! The natural look of the green is a great way to create warm and welcoming spaces!
Kitchen Backsplash Styles
Just like the kitchens, backsplashes can have different design aesthetics like modern or traditional. Their materials, patterns, textures, sizes, and shapes define this visual impact. If you want to create a more modern look, you can go with tiles that have clean lines and straight edges. If you want to give a more traditional look, you can go with more oriental shapes like arabesque tiles.
Modern Kitchen Backsplash
Modern style is known for clean lines, sharp edges, geometrical shapes, and neutral color schemes. You can complete your modern kitchen with a minimalist modern kitchen backsplash design or make a modern twist against your traditional style cabinetry.
Rustic Kitchen Backsplash
Rustic style has a warm and welcoming feel. To give this charming appeal, stone and wood backsplashes are a perfect choice. The rough textures of the wood and stone are a great way to add organic warmth to the atmosphere!