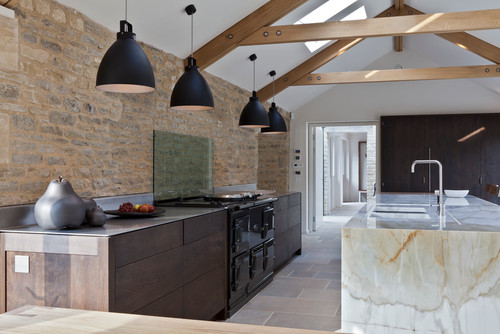 ID# 124503 | Houzz.com – Credit | © Clifton Interiors Ltd.
---
Dark wood Cabinets with Exposed Stone Wall and Black Pendant Lights
This farmhouse kitchen offers a sleek yet effective look! The dark wood cabinets create a modern look with their sharp edges and flat-panel door styles while the stainless steel countertop completes this modern appeal. The exposed stone wall provides an eye-catching backdrop and contrasts with the flat surface of the cabinets with its rough texture. A glass panel is placed behind to stove to protect the stone against heat damage. Black oversized pendant lights enhance the modernity.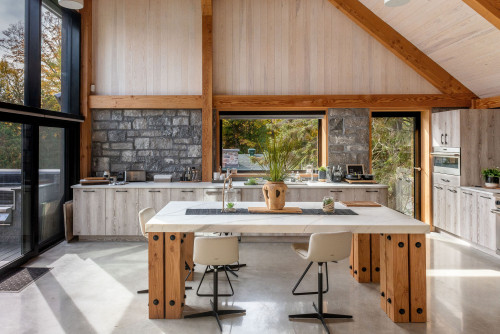 ID# 124524 | Houzz.com – Credit | © Élysée
---
Natural Stone Backsplash with Light Wood PErimeter Cabinets and White Countertop
Different earthy elements beautifully come together in this modern rustic kitchen and offer a welcoming space. The stone backsplash stands out between the timber frames and creates a characteristic backdrop while light wood perimeter cabinets create a modern look with their flat-panel door styles and white countertop. For the kitchen island, a marble countertop is fitted with wooden legs. This interesting combination provides a unique design.
Stone Backsplash
There are plenty of reasons that homeowners and interior designers are drawn to the stone backsplash. The biggest advantage of a stone backsplash is its striking and beautiful appeal.
Granite, slate, limestone, marble, river rock, and more. Stone backsplashes come in a wide range of material options that you can choose one of them according to your taste and the style of your kitchen. You can install a marble backsplash to make a luxurious touch or use a brick backsplash to bring a rustic appeal. Whatever your choice is, these backsplashes will be a fail-safe addition to your kitchen.
Besides its visual impact, stone backsplashes also provide durability that makes it a perfect material as a backsplash. And with the right approach, you can maintain their striking beauty over the years. So, if you are looking for some organic appeal, you might consider installing a stone backsplash. Take a peek at these best backsplash options to create your dream kitchen!
Stone Backsplash Materials
You might decide the style of your backsplash, but the material choice is also a very important point that you need to consider. From luxurious marbles to rustic bricks, stone backsplashes come in a wide range of material options. Also, you can combine different materials like glass or stainless steel with stone to create a more distinctive focal point. Scroll down and find more about the stone materials and the right choice of your kitchen.
Natural Stone Backsplash
Natural stone backsplash offers a timeless beauty that will lend a unique appeal to kitchens. When it comes to the natural stone backsplash, there are unlimited design options and materials. The most popular natural stone materials are granite, marble, slate, travertine, limestone, soapstone, and onyx. Marble, soapstone, and onyx backsplashes are a little pricer than the other materials but this investment never fails you down. If you are on a budget, travertine or limestone might be perfect for you.
Does stone make a good backsplash?
Yes, with the right approach and maintenance, a stone backsplash will be a good choice for kitchens. The biggest advantage of a stone backsplash is its visual impact. Whether it's marble or travertine, granite or stacked, these backsplashes have a character that is lacking in other materials. Stone backsplashes require a bit of extra care than the other materials. But it's definitely worth it.
Stone and Glass Kitchen Backsplash
If you are looking for something different than a classic tile look, mixing the materials is a great way to create a unique backsplash. When the reflective surface of the glass meets with the pattern, texture, and color of the tone, the result is undeniably perfect. With the right approach and material choice, this combination can instantly transform a solid wall surface into a visually inspiring surface.
How to install a stone backsplash?
Stone backsplashes come in a wide range of material, style, and size options. That's why different types of stone might require different installation processes.
If you are using natural stone like marble, onyx, granite, travertine, limestone, or soapstone, or stone veneers, first, you need to ensure that the back of the backsplash and walls are clean, and if there are any holes and cracks you need to patch them to create a solid surface for new tiles. Before attaching the tiles, the surface needs to be smooth. Sand the area with sandpaper to create a uniform surface. If you are working with individual tiles, you need to prepare the layout of the tiles before installing them.
Mix the tile adhesive according to manufacturer directions and spread a small part of the wall. Tile the backsplash on the adhesive, press against it with a rubber float, and repeat this procedure until covers all surfaces. Pour a stone sealer onto a soft cotton rag and rub all surfaces of the tiles or slabs. If necessary, apply the grout diagonally across tiles with a rubber float. Wait 10-15 minutes and wipe the area with a sponge and wait 24-48 hours to dry the grout.
If you are using solid stone, you need to lay stones over an existing masonry foundation. This process is more expensive and it can take days to finish. So, today many homeowners preferred stone veneers which is a cost and time-effective way.
Stone Veneer Backsplash
Installing a stone backsplash is a great way to add visual interest to kitchens. However, these backsplashes might be a little pricer and require a little more maintenance than other materials. That is why, stone veneers which provide a natural stone look with very little maintenance and more affordable prices, are very popular choices among homeowners. Natural stone veneers also come in a wide range of beautiful colors and textures which allows homeowners to get a real natural stone look with functionality.
Brick Stone Backsplash
Brick has a timeless and nostalgic appeal that provides a distressed glamour for kitchens. With its beautiful rough texture, strength, and durability, brick is a perfect material for backsplash. From classic red bricks to whitewashed bricks, there are plenty of color options for a brick backsplash. You can use the original red color of the brick to create more industrial appeal or paint your brick backsplash to soften the strong look according to your taste and the style of your kitchen.
Tumbled Stone Backsplash
Rather than polished, stones are tumbled for this finish that gives a more natural look to backsplash. This warm and rustic natural look of the tumbled stone backsplash offers a timeless and elegant look for kitchens. Whatever your kitchen style is the traditional or Tuscan kitchen, these tiles add warmth and texture to the space. Any type of stone can be tumbled but, marble, travertine, and limestone are the most common materials for tumbling.
How much does stone backsplash cost?
Stone backsplash cost depends on the material. For a natural stone backsplash like marble, onyx, travertine, limestone, soapstone, or granite backsplash, you may expect to pay $10-$100 per square foot. But these prices can change even the type of one material. For example, Carra marble costs between $10 and $20 a square foot. On the other hand, Calacatta Gold is a premium stone that costs between $30 and $80 a square foot.
Pebble Stone Backsplash
Pebblestone backsplashes are created by using many tiny pebbles that bring the earthy look of nature. These backsplashes are available in a variety of shapes, sizes, and colors and if you love DIY projects, you can install them by using real pebbles. So, if you want to add a unique look to your kitchen, you might consider installing a pebble stone backsplash.
How to clean stone backsplash?
Due to their texture, some stone backsplashes are harder to clean but do not worry. With the right approach, you can clean your stone backsplash. For everyday cleaning, all you need is warm water, dish soap, and a microfiber cloth. If you will do this process regularly, and after immediately water and food spills, you can keep your backsplash as fresh as new.
Stone Backsplash Styles
Due to the material and finish, stone backsplashes can look both modern or rustic. You just need to decide what type of look you want in your kitchen. Since stone backsplashes come in a wide range of colors, it is easy to find a material that suits your taste and style.
Rustic Stone Backsplash
Rustic décor is a very popular design element for kitchens and there is no better option than a stone backsplash to give this rustic vibe. You can pair your natural wood cabinets with a natural stone backsplash to create a completely rustic look or make a rustic twist against your modern cabinetry. Whatever your taste is, a rustic stone backsplash offers a warm and welcoming atmosphere with its rough textures.
Modern Stone Backsplash
You might think that stone backsplash is more suitable for rustic looks but that is not true! With the wide range of material options, stone backsplashes also provide a modern look. Because of their clean looks and sharp edges, stone veneers or stacked stones are more suitable to create a modern appeal. Also, you can achieve this look with marble or onyx slabs.
How to cut natural stone backsplash?
Natural stones are harder than other materials and they require specialized cutting tools. The most appropriate cutting tool for a natural stone backsplash is a wet saw with a diamond blade. This tool provides a clean cutting for all types of natural stone like marble, granite, limestone, slate, etc. When using a wet saw, the most important thing is that you need to push the tile through the saw slowly and gently. If you try to push too hard and fast, it can cause cracks on the stone. And, always wear protective clothing like gloves or goggles.
Stone Backsplash Colors
The biggest advantage of a stone backsplash is its endless array of color options from white to black. According to your overall look of the kitchen, you can create a clean and fresh look with white stones or be more dramatic with black ones.
White Stone Backsplash
If you want to create a clean and fresh look, there is no better option than a white backsplash. Marble is the most popular white stone type for kitchen backsplashes. The striking beauty of the marble can instantly lend sophistication to any space. Besides marble, limestone, onyx, travertine, quartz, soapstone, and granite are also popular materials.
Gray Stone Backsplash
Gray is a versatile color that can combine with different color schemes and materials. This versatility allows you to create your dreamy kitchen. For a gray stone backsplash, just like the white, marble, granite, soapstone, limestone, travertine, and onyx can be used.
How to seal the stone backsplash?
Stone is a porous material that needs to be sealed. Some types of the stone come already be sealed, but if it is not, you can hire a professional or easily do this process by yourself. After the installation of the tiles, grab a soft cotton rag, damp it with a stone sealer and rub the surfaces of the tiles. Wait 20 minutes for the sealer to soak into the stone, then wipe off with a clean cloth. Repeat this process until being sure all the surface is properly sealed. Besides the installation process, this material needs to be sealed regularly. Generally, you need to seal them every 12 months but it depends on the sealer and also the type of your backsplash material.
How to grout porous stone tile backsplash?
When it comes to grouting the marble tiles, the first thing that you need decides the type of grout. The cement-based, epoxy-based, furan resin-based grouts are the three main grout types on the market. After you decide, follow the manufacturer's instructions and mix the grout according to them. Apply the grout with a grout float by using a 45-degree angle and then clean with a damp sponge after you've allowed the tile to set for a bit. Repeat this process until all the spaces are covered with grout.