35+ Natural Stone Backsplash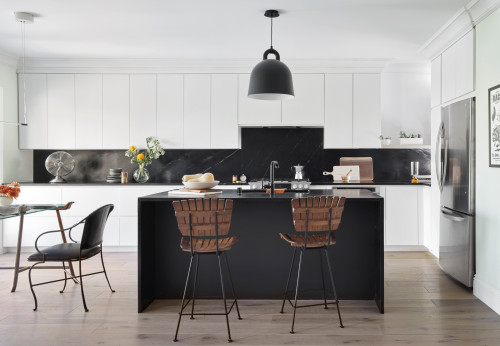 ID# 129715 | Houzz.com – Credit | © Form + Field
---
Black and White Scandinavian Kitchen with Soapstone Countertop and Backsplash
Matching the soapstone backsplash and countertop is the most popular approach for this material. This black and white kitchen offers a stylish and timeless appeal! Simple white cabinetry paired with an oiled soapstone countertop and backsplash creates a clean backdrop while the black kitchen island stands out in front of the white cabinetry. The natural veinings of the natural stone backsplash add a nice texture. The black oversized pendant light highlights the kitchen island while the wood counter chairs make a warm touch with their natural look.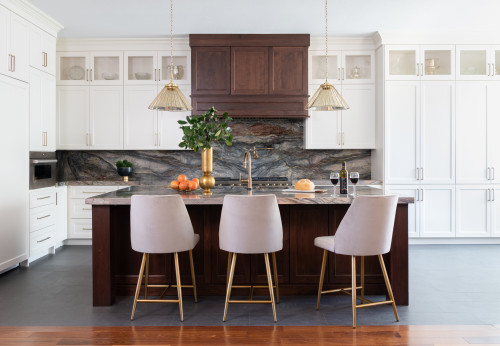 ID# 129725 | Houzz.com – Credit | © Mhm Living
---
Two-tone White and Wood Cabinetry with Granite Accents
All cabinets are white and there is a focus design element which is made by stunning brown and grey granite backsplash and countertops. Elegant island chairs add a chic aspect to the design of the kitchen. The brown backsplash and countertops create a perfect contrast with the white shaker cabinets and the brown island keeps that contrast. Grey floors and brown granite matches nicely with the help of grey patterns of the granite.
Natural Stone Backsplash
The backsplash market is an endless world. From classic ceramic subway tiles to metal sheets, there are plenty of different materials that you can use as a backsplash for your cooking space. Between all these materials, it might be overwhelming to find the right backsplash according to your taste. However, if you are looking for a beautiful and timeless appeal, you can't go wrong with a natural stone backsplash. As the name suggests, these are natural materials that are quarried from various places of the world. From rough textured stones to, sleek and luxurious ones, a natural stone backsplash comes in a wide range of material options and each of them has different aspects and appearances. If you want to learn more about these materials, scroll down and check our gallery with inspirational stone backsplash ideas!
As in the past, natural stones are a popular design element for interior design projects and kitchen backsplash is one of the most common areas of usage. Whether it is a luxurious marble slab or organic slate stone, a natural stone backsplash can easily add a ton of character to kitchens. Also, the wide range of material, color, texture, and pattern options allows natural stones to be used in kitchens of many different styles. Yes, their appeals are effortlessly beautiful, but you may concern about the maintenance of the stone backsplash. Because they are natural materials, they have porous surfaces and need to be continually sealed. Don't let that scare you, with the right approach and a little bit of maintenance, these backsplashes offer endless charm and elegance!
How to install a natural stone backsplash?
For the natural stone backsplash installation, you need a sander, sponge, painter's tape, pencil, thin-set mortar, notched trowel, spacers, level, tape measure, wet saw, grout float, non sanded grout, grout sealer, caulk, and caulk gun. Before the installation, you need to clean and sand the backsplash to create a smooth surface. Then, define the boundaries with a painter's tape.
If you are working with natural stone tiles, first lay the tiles on the counter and define the layout. This way you can find which pieces are needed to cut and avoid unmatching pieces. If you need to cut the tiles, use a wet saw with a diamond blade to prevent cracking.
Installation
Once the preparation is done, apply the thin-set mortar with a notched trowel in small sections and start to lay the tiles on the mortar. Place the spacers between the tiles to secure them and do these steps until cover all surfaces and wait at least overnight to set the tiles in place. Then, remove the spacers, if you are using a sealant, you can do so after the tiles have fully dried. Apply the grout with a grout trowel by using 45 angle motions and wait until the grout dries. Once, the grout is dried, clean the tile surfaces with a cloth to remove the haze. And for a final step, caulk the area where the backsplash meets with the counter to reduce staining.
If you are using solid slab stones, the procedure will be the same with the tiles but you will attach one piece instead of many small tiles. Because slab backsplashes are heavy materials especially natural stones, you need to use a strong backer material that is screwed into the studs because the backer holds the adhesive so much better.
Different Materials of Natural Stone
Natural stones are beautiful, but which one is the best for your kitchen? From luxurious marble and granites to organic travertine or slate stones, natural stone backsplashes come in a variety of material options. Each of them has different aspects and different looks. Before deciding the material, you need to consider all these aspects. That way you can find the right material. Keep reading and find different material alternatives!
Marble Backsplash
There is something about the marble that will never go out of style! No matter where you are, it can instantly elevate the room. This naturally beautiful stone is one of the most popular natural stone backsplash materials for many homeowners and interior designers and with its beautiful veinings and flecks, marble exudes luxury and elegance. According to its color and style, it can look both modern and traditional. Also, from giant slabs to tiny tiles, marble backsplash can be used in different forms but whatever it is, these backsplashes are statement makers! Marble has a high price tag than other natural stones. It comes in a variety of different colors, patterns, and finishes, so it has a wide range of costs. Some of the marble colors like Calacatta Gold might be much more pricer than other ones.
Travertine Backsplash
Travertine is a form of limestone which has an understated and sophisticated appeal. This natural stone comes in different colors such as cream, red, gray, white, and brown. So, whether you are looking for a refined look to pair your granite countertops or make a rustic touch to your white cabinetry, with its soft and warm appeal, a travertine backsplash can be a stunning addition to any kitchen! The average cost of a travertine tile backsplash is between $20 – $40 per square foot.
How to grout natural stone backsplash?
Grouting natural stones require more special care than other materials. Because of their porous surface, natural stones need to be sealed before applying the grout. Once all the sealant is dried, place, prepare the grout mix according to the manufacturer's direction. Apply the grout with a grout float by using at a 45-degree angle. Sweep it diagonally across the grout lines and make sure all the blanks are filled with the grout. Wait 10 minutes and wipe the tile surfaces with a damp cloth to remove the haze. After overnight, wipe the surface with a dry cloth and apply a grout sealer.
Soapstone Backsplash
Soapstone is a durable and affordable material that gains its popularity in the 1800s. Thanks to its beautiful and natural veining which looks artful, this natural stone material is a popular option for kitchens. Generally, soapstone has been used for countertops but it can also be a perfect option for a backsplash. Also, unlike marble, granite, or travertine, soapstone is a non-porous natural stone that is naturally sealed. That means you don't have to worry about staining and you can maintain its beautiful appeal for a long period without requiring sealing. The other important advantage of this stone is that has a soft nature which makes it a durable material. The average cost of a soapstone backsplash is between $45 and $85 per square foot.
Slate Backsplash
If you are looking to add some organic warmth to your kitchen, you can consider a slate backsplash. Slate is a metamorphic rock, and it's composed mostly of minerals that provide a durable surface for kitchen walls. The nature-looking ambient of a slate backsplash offers a timeless appeal for kitchens. This natural stone comes in a variety of colors from grey tones, green, red, black, and more earthy colors like beige, and brown. This wide range of variety allows you to match a slate backsplash with pretty much any kitchen style. Also, slate is an affordable material which the average cost is between $5 – $10 per square foot.
Granite Backsplash
Granite is a natural stone that is commonly used for kitchen countertops. However, you can also use granite on your kitchen backsplashes. Besides its undeniably beautiful visual impact, granite is one of the most durable materials among the other natural stones. With its wide range of color and texture options, you can incorporate a granite backsplash into different styled or colored kitchens! You may expect to pay around $35-$50 per square foot for a granite backsplash.
How to seal natural stone backsplash?
Natural stones require sealing because of their porous surfaces. Some of the natural stones come sealed and some of them need to be the seal. To find that if you need to seal it or not, you can contact your stone supplier. If you are going to apply a sealer, use a natural stone sealer and sponge. Apply the sealant to the entire tile surface and wait according to manufacturer directions to dry.
Onyx Backsplash
Are you looking for a wow-effect for your kitchen? we want to introduce you to onyx! Onyx is light and variable natural stone that has a striking beauty. With its beautiful veining, just like the marble, onyx can instantly lends luxury and sophistication to any kitchen. From creamy colors to natural greens, onyx backsplash encompasses a drastically different color palette. The beautiful solid surface of this unique material works well with glass, steel, concrete, and more. Besides its visuality, onyx is also a durable material which makes it a perfect alternative for backsplash. However, this material can cost much more than other natural stones.
Types of Natural Stone Backsplash
Natural stones are perfect materials for kitchen backsplashes and they come in different types, tiles, and slabs. Each of them has different visual impacts. Keep reading and find the aspects of the different types of natural stones.
Natural Stone Tile Backsplash
Tiles are the most popular material option for kitchen backsplashes. From ceramics to glass tiles, they come in an endless variety of material options and natural stones are one of the most beautiful of them. Whether it is a marble subway tile backsplash or slate tiles, a natural stone tile backsplash can create a strikingly beautiful appearance for kitchens.
Is natural stone good for a kitchen backsplash?
The short answer is yes. You may be concerned about the porous surfaces of natural stones. Yes, if it is not be sealed, it will stain but with regular sealing and cleaning, you can easily maintain the beautiful appeal of the natural stone backsplash. Also, with their endless variety of color, material, and style options, you can easily incorporate natural stones into different styled kitchens!
Natural Stone Slab Backsplash
If you want to create a sleek and luxurious backdrop for your kitchen, there is nothing better than a natural stone slab backsplash. Stone slabs can be more pricer than tiles but this investment is definitely worth it!