32+ Solid Kitchen Backsplash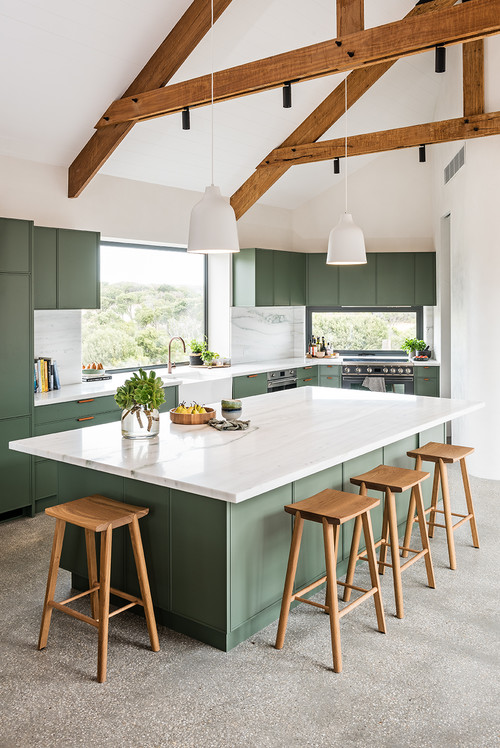 ID# 137610 | Houzz.com – Credit | © Let's Talk Kitchens & Interiors
---
Natural Design Kitchen with Green Cabinets and Wood Accents
If you love natural looks, this kitchen shows you how to create one for yourself. And if you have landscape views that open up behind your picture windows, you are lucky. Just use this view as your main reference just like this natural design kitchen does. So, the green hills and forestry translate into muted green cabinets and wood trusses on the ceiling in the kitchen, while the white quartz countertops cheer up the look with an airy feeling. To serve the same aim, the white quartz backsplashes are accompanied by picture windows that serve as another type of backsplash to remind its users of the seamless connection between the interior and exterior spaces.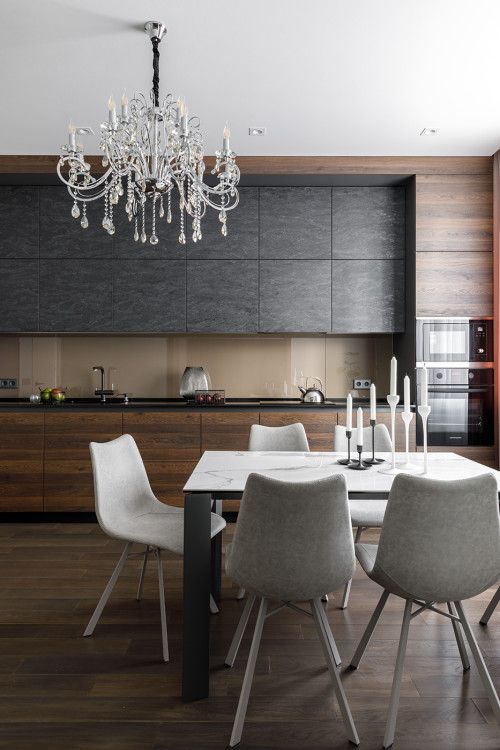 ID# 137620 | Houzz.com – Credit | © Архитектурная студия АВТОР
---
Dramatic Kitchen Design with Light Brown Glass Sheet Backsplash and Statement Chandelier
Featuring a dramatic kitchen design, this Moscow apartment combines black and wood veneer cabinets. And it spices this rather distant and serious look with a light glass sheet backsplash that lends brightness. The black countertops and built-in appliances harmonize seamlessly with the rest. And the white statement chandelier with dangling crystals gives the kitchen a classy feel without stealing anything from its modern character.
Solid Kitchen Backsplash
A backsplash is one of the key elements in kitchens. And it is not only because it serves as armor for the kitchen walls against everyday spills and water splatters but also because it is an important aesthetic piece. As they are installed at eye level and can draw attention instantly, backsplashes provide the best opportunity to make a statement and introduce materials and patterns. Yet, among all the backsplash options, a recent trend of solid kitchen backsplash stands out for its seamless and modern look. If you look for something other than tiled backsplashes and don't want to worry about the grout lines, a solid kitchen backsplash comes as an excellent alternative.
Available in glass, marble, quartz, concrete granite, and metal, a solid kitchen backsplash offers a seamless look, giving the kitchen a truly modern spin. In vast and open-plan kitchens, they are used popularly to balance a modern form with classical elements such as granite and marble. As such, they offer the best of both worlds, thus being suitable for all sorts of kitchen designs from rustic to the traditional, transitional, farmhouse, and modern. If you want to get more solid ideas, here we have over 25 kitchen designs centered around a solid kitchen backsplash that will spark your imagination for your next home improvement project.
Can a solid slab be used as a backsplash?
Solid slab backsplashes make excellent backsplashes. Available in a plethora of colors, materials, and designs, ranging from marble to quartz, glass, metal, and more, they are widely used for their seamless look and grout-free surfaces. As such, they make the cleaning process much easier, saving homeowners from worrying about the grout lines.
Material Options for Solid Kitchen Backsplash
The material options for a solid kitchen backsplash consist of marble, quartz, glass, granite, and metal. Each material comes with its unique features and functional and aesthetic benefits. Below we will take a closer look at them, so read on to get more familiar with these solid backsplash materials and see more inspiring projects.
Solid Marble Kitchen Backsplash
Available in many different shades, solid marble backsplashes lend sophistication, bringing an upscale feel to the kitchen. You can create timeless looks and ensure the longevity of the design as marble is a durable material. But it only lasts longer when cleaned and sealed regularly. In other words, like every stunning material, it has some extra demands such as cleaning products only produced for marble and yearly sealing. But as a classic material with unparalleled beauty, it is worth your time and effort.
Are solid backsplashes expensive?
Solid backsplashes are not much more expensive than tiled backsplashes unlike what is assumed. But their prices vary significantly depending on the material. For example, the average cost of quartz starts at 65 USD per square foot, while marble slab prices range from 75 to 250 USD per square foot. As for the glass sheet backsplashes, their prices run between 45 and 60 USD per square foot and are much higher when compared to glass tiles. Metal sheet backsplashes, especially stainless steel, also come at higher prices. And of course, these prices rise with the inclusion of the installation costs.
Solid Quartz Kitchen Backsplash
Unlike natural stones quarried from all around the world, quartz is an engineered product. Thus, its patterns and solid structure can be navigated easily. And for the same reason, they also come with an almost pore-free structure that doesn't require sealing, which makes them more functional and less demanding materials.
Also, available at more affordable prices, quartz kitchen backsplashes (even though they can't compete with the unique marble patterns) have their way of adding beauty to the backsplash. From the plain white versions to the speckled and marble-look ones, they have various looks, expanding the design possibilities. Overall, they give a modern appeal to kitchens, balancing neutral shades and a seamless form together.
How thick should a solid backsplash be?
It is recommended for the average thickness be between 3/4 and 1/4 inches for a solid stone slab. But it is better to get thinner ones to minimize how much it protrudes from the walls. Also, keep in mind that just to get thinner ones, don't compromise the strength of the material.
Metal Sheet Backsplash
If you love shiny materials and are looking for something other than glass, metal sheet backsplashes offer an excellent alternative. From brass to zinc, copper, silver, and stainless steel, metal steel backsplashes are available in multiple forms, shades, and materials. Inhabiting a beautiful sheen and coming in various patterns and designs thanks to the advancement of technology, these metal backsplashes create an eye-popping background.
Does a solid backsplash have to match the countertop?
When a solid backsplash matches the countertop, it provides a seamless and well-integrated look. Yet, it is not a rule of thumb but rather a personal preference. For example, some kitchens match white quartz countertops with a marble backsplash or a colorful glass sheet backsplash. Concrete countertops, likewise, can be used with black soapstone or marble countertops to ensure diversity and a sophisticated material combination. So, don't shy away from using different materials that will keep adding more interest and texture to your cooking space.
Glass Sheet Backsplash
If you have a small kitchen and are looking for ways to expand it, a glass sheet backsplash will do it for you. Thanks to today's technology, glass backsplashes feature various forms, colors, and designs, including printed versions. The patterned ones, especially, create a visual feast for those who want to turn their kitchen into a piece of artwork.
Color Options for Solid Kitchen Backsplash
Even though white, gray, and black are the main color options for solid kitchen backsplashes, colorful options are also popularly used. Especially glass sheet backsplashes come in various shades and designs. For example, light green, yellow, and red glass sheets are used commonly to create more passionate and modern looks.
White Solid Kitchen Backsplash
White marble, quartz, and glass sheet backsplashes brighten up the kitchen, providing clean aesthetics and a modern appeal. As they are adjustable to any design, you can benefit from white slab backsplashes in the modern, traditional, farmhouse, and modern cottage kitchens.
Gray Solid Kitchen Backsplash
As a winning color of all times, gray is as versatile and ambitious as other neutral colors such as black and white. Thus, it wouldn't be surprising to see that gray solid kitchen backsplashes serve as excellent backsplash options. First of all, they add sophisticated looks that ooze opulence, and second, they communicate luxury without a doubt. If you would like to emphasize their characterful nature, you can combine them with white and black cabinets and countertops.
Black Solid Kitchen Backsplash
Black is such a sophisticated color that it changes the overall look of the kitchen instantly. Whether it is a black glass sheet backsplash with a beautiful sheen, marble slab backsplash, soapstone, or honed granite backsplash you decide to go with, in every form and material, black makes a statement without encroaching on the space. Especially, if your kitchen receives enough natural light, there is no reason not to go with one of those backsplashes to deliver elegance and depth to the kitchen. Plus, you can always soften black backsplashes with warm LED-strip lighting or under-cabinet spotlights.
Colorful Solid Kitchen Backsplash
So far, we have seen many kitchen designs built upon all-white looks or black-wood contrasts. But what about the more colorful versions that will energize you right away? The glass sheet backsplashes act as game changers at this point. Coming in printed and frosted versions along with a wide range of colors, you can make ambitious designs with them and enhance the sense of space effortlessly.