32+ Solid Kitchen Backsplash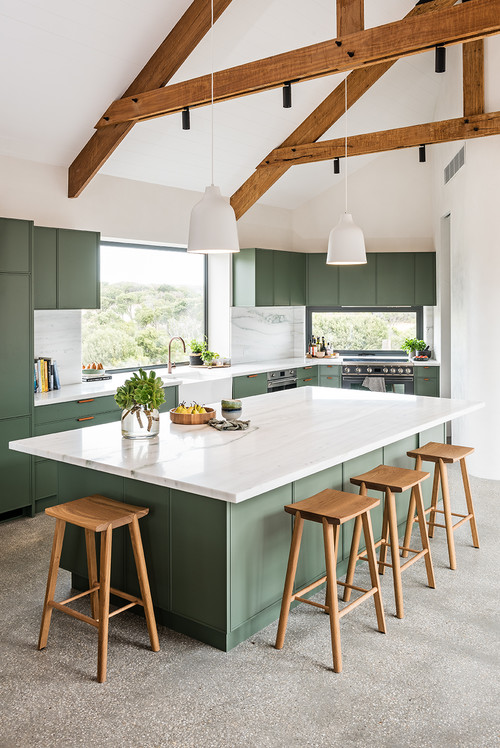 ID# 137610 | Houzz.com – Credit | © Let's Talk Kitchens & Interiors
---
Natural Design Kitchen with Green Cabinets and Wood Accents
If you love natural looks, this kitchen shows you how to create one for yourself. And if you have landscape views that open up behind your picture windows, you are lucky. Just use this view as your main reference just like this natural design kitchen does. So, the green hills and forestry translate into muted green cabinets and wood trusses on the ceiling in the kitchen, while the white quartz countertops cheer up the look with an airy feeling. To serve the same aim, the white quartz backsplashes are accompanied by picture windows that serve as another type of backsplash to remind its users of the seamless connection between the interior and exterior spaces.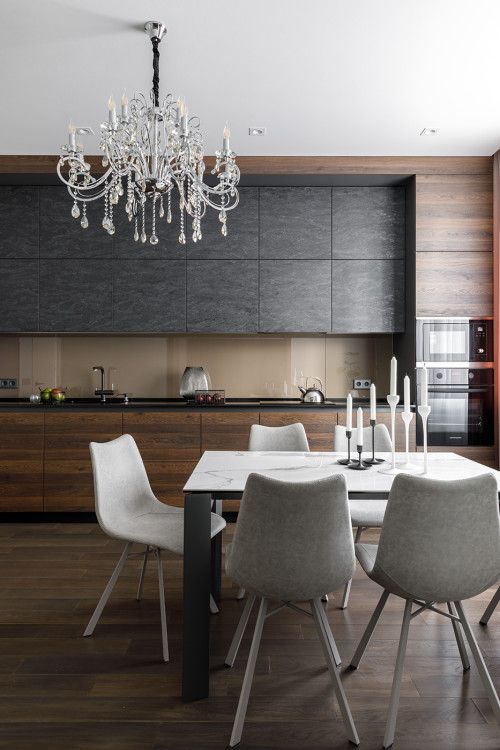 ID# 137620 | Houzz.com – Credit | © Архитектурная студия АВТОР
---
Dramatic Kitchen Design with Light Brown Glass Sheet Backsplash and Statement Chandelier
Featuring a dramatic kitchen design, this Moscow apartment combines black and wood veneer cabinets. And it spices this rather distant and serious look with a light glass sheet backsplash that lends brightness. The black countertops and built-in appliances harmonize seamlessly with the rest. And the white statement chandelier with dangling crystals gives the kitchen a classy feel without stealing anything from its modern character.
Solid Kitchen Backsplash
A backsplash is one of the key elements in kitchens. And it is not only because it serves as armor for the kitchen walls against everyday spills and water splatters but also because it is an important aesthetic piece. As they are installed at eye level and can draw attention instantly, backsplashes provide the best opportunity to make a statement and introduce materials and patterns. Yet, among all the backsplash options, a recent trend of solid kitchen backsplash stands out for its seamless and modern look. If you look for something other than tiled backsplashes and don't want to worry about the grout lines, a solid kitchen backsplash comes as an excellent alternative.
Available in glass, marble, quartz, concrete granite, and metal, a solid kitchen backsplash offers a seamless look, giving the kitchen a truly modern spin. In vast and open-plan kitchens, they are used popularly to balance a modern form with classical elements such as granite and marble. As such, they offer the best of both worlds, thus being suitable for all sorts of kitchen designs from rustic to the traditional, transitional, farmhouse, and modern. If you want to get more solid ideas, here we have over 25 kitchen designs centered around a solid kitchen backsplash that will spark your imagination for your next home improvement project.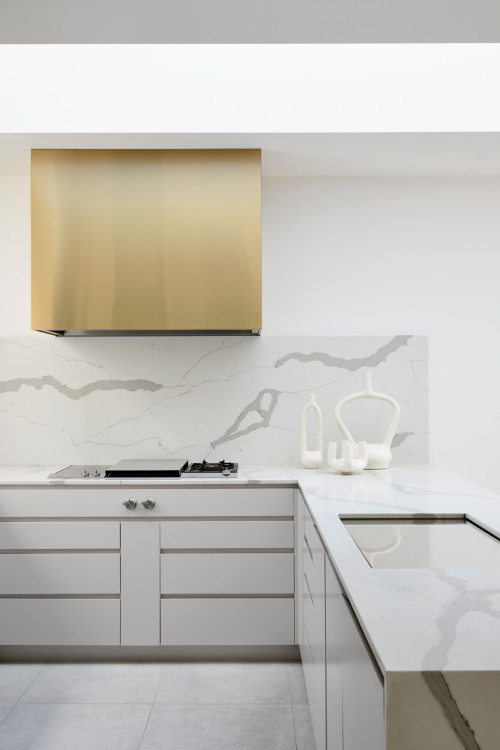 ID# 137601 | Houzz.com – Credit | © WALA
---
Solid Kitchen Backsplash with Marble look Quartz and Brass Range Hood
If you love all-white looks that celebrate solid kitchen backsplashes, this contemporary kitchen has the perfect look for you. Consisting of white flat-front cabinets and a white marble-look quartz backsplash, it executes a curated look that feels upscale and sophisticated. To complement this monochromatic look and prevent the kitchen from looking jarring and sterile, the kitchen champions the slab backsplash by treating it with a golden fixture. This brass range hood adds another sleek profile, popping up against the white background and bringing a ripple of color.
Can a solid slab be used as a backsplash?
Solid slab backsplashes make excellent backsplashes. Available in a plethora of colors, materials, and designs, ranging from marble to quartz, glass, metal, and more, they are widely used for their seamless look and grout-free surfaces. As such, they make the cleaning process much easier, saving homeowners from worrying about the grout lines.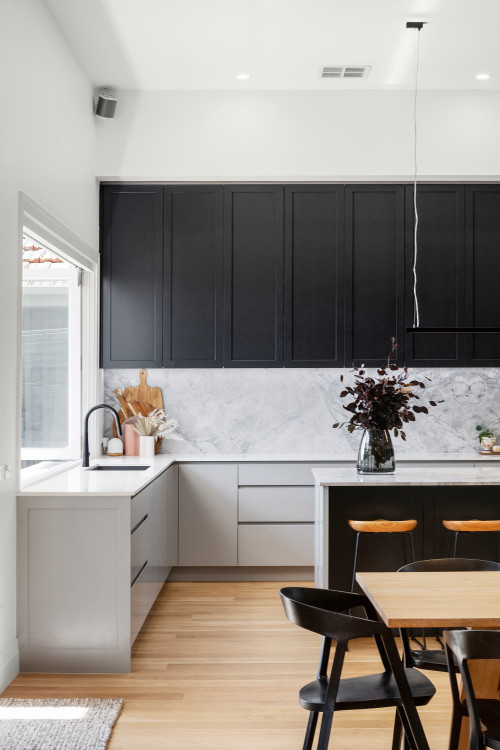 ID# 137602 | Houzz.com – Credit | © Everlong Constructions
---
White Marble Backsplash with Black Cabinets and Wood Floor
Using contrasting color schemes is a favorable and mostly employed design theme in contemporary kitchens just like in this kitchen. Here, the black and white cabinets are brought into dialogue to lend a sophisticated feel. And of course, nothing would suit this combination better than a marble slab backsplash with a white backdrop striated by gentle grayish veins. Resting against the white walls, it imposes a sense of calmness on the kitchen, and the light wood floor finish channels warmth to pull the whole design theme together.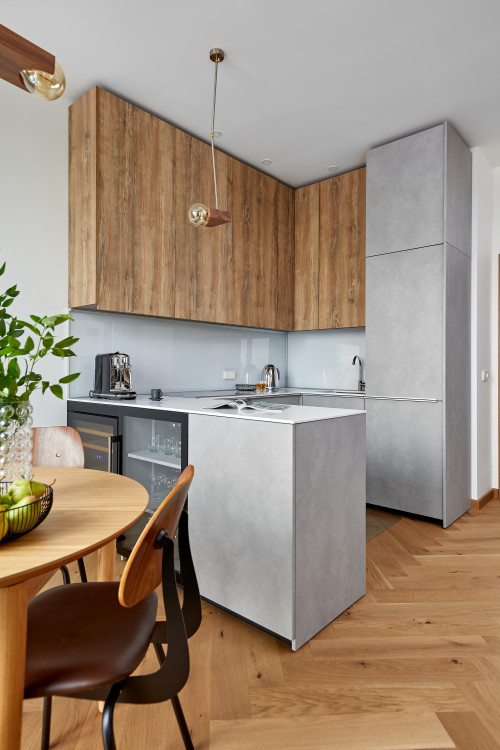 ID# 137603 | Houzz.com – Credit | © Hamiltoun
---
Small Modern Kitchen with Gray Glass Sheet Backsplash and Two-tone Cabinetry
One way to compensate for the smallness of the kitchen is to take the overhead cabinets up to the ceiling as here. This way, you create the illusion of a taller space. To support it, you can also keep the cabinets flat-front and backsplash seamless to ensure a sense of flow without any visual intervention. Here, for instance, the gray glass sheet backsplash brings the right amount of shine to give an extra charm, while the concrete look of the gray cabinets and glass and wood combination creates layered materiality for a sense of sophistication.
Material Options for Solid Kitchen Backsplash
The material options for a solid kitchen backsplash consist of marble, quartz, glass, granite, and metal. Each material comes with its unique features and functional and aesthetic benefits. Below we will take a closer look at them, so read on to get more familiar with these solid backsplash materials and see more inspiring projects.
Solid Marble Kitchen Backsplash
Available in many different shades, solid marble backsplashes lend sophistication, bringing an upscale feel to the kitchen. You can create timeless looks and ensure the longevity of the design as marble is a durable material. But it only lasts longer when cleaned and sealed regularly. In other words, like every stunning material, it has some extra demands such as cleaning products only produced for marble and yearly sealing. But as a classic material with unparalleled beauty, it is worth your time and effort.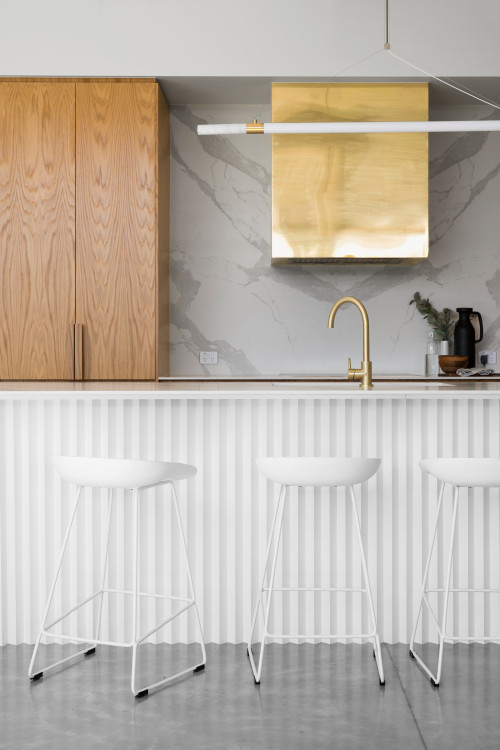 ID# 137604 | Houzz.com – Credit | © Urban Kitchens and Joinery
---
Scandinavian Kitchen with Fluted Island and Solid Marble Kitchen Backsplash
Just because Scandinavian kitchens stay true to the "less is more aesthetics" doesn't mean that they can't be bold. Here, the materials and textured designs propose well-articulated forms without compromising the clutter-free nature of the Nordic kitchens. On close inspection, from the brass range hood to the marble solid backsplash and fluted design of the island, each bold design and material do the speaking for themselves, merging in harmonious integrity. The full-height timber cabinets include nature, and modern curvy forms of the stools bring in biomorphic forms. The poured concrete exposes the kitchen to an outdoor feel that draws attention to the parallel lives of Nordic indoor kitchens and outdoor spaces. Overall, natural references get incorporated skillfully, while the natural stone marble backsplash plays a major role.
Natural Stone Mosaic Tiles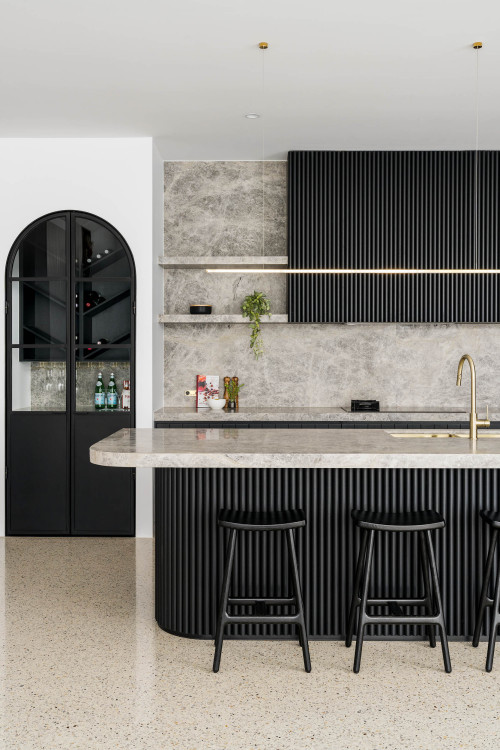 ID# 137605 | Houzz.com – Credit | © First Avenue Homes
---
Rounded Island with Gray Marble Backsplash and Countertops
Marble is an excellent way of bringing luxury and texture into a kitchen, and this contemporary kitchen is up for it. Going all the way up the ceiling, the gray marble backsplash and countertops create an effortless beauty that can last for years as long as it is well-maintained. And the rest is not less stunning than the backsplash. The ribbed black island and the range hood are in resonance with each other to create a continuous look. The rounded edge of the island adds soft aesthetics, paired with the arched display cabinet that serves as a dry home bar in its private spot. The speckled light color rubber floor runs throughout the space, offering easy-to-maintain flooring and suiting the upscale feel of the kitchen.
Are solid backsplashes expensive?
Solid backsplashes are not much more expensive than tiled backsplashes unlike what is assumed. But their prices vary significantly depending on the material. For example, the average cost of quartz starts at 65 USD per square foot, while marble slab prices range from 75 to 250 USD per square foot. As for the glass sheet backsplashes, their prices run between 45 and 60 USD per square foot and are much higher when compared to glass tiles. Metal sheet backsplashes, especially stainless steel, also come at higher prices. And of course, these prices rise with the inclusion of the installation costs.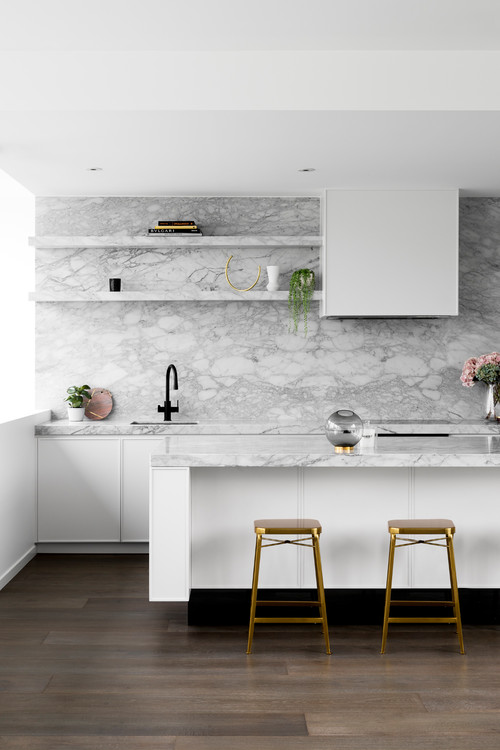 ID# 137606 | Houzz.com – Credit | © GIA Bathrooms & Kitchens
---
Ceiling-height Marble Backsplash with White Cabinets and Brass Stools
This modern kitchen blends clean aesthetics with natural textures, keeping openness as the key focus of the design. To achieve that, it exposes the ceiling-height marble backsplash completely which is kept free of a run of wall units completely. Instead, the custom-designed marble floating shelves come in for more dimension and a white range hood dressing to maintain a uniform look. And the rest is fitted with white flat-front cabinets, and the kitchen island is elevated on a black platform to create an illusion of a floating island unit to emphasize the design's weightless and ethereal appeal. The brass stools and a few black fixtures with engineered wood flooring are used to define the rest of the space to add contrast and warmth for a fully-fledged cooking experience.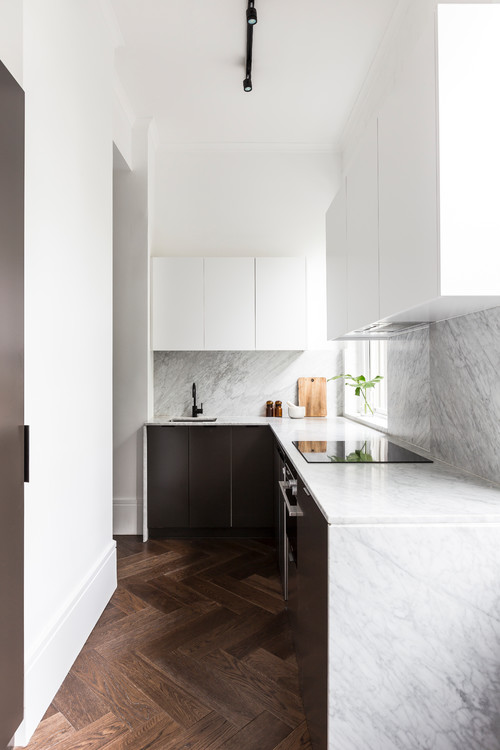 ID# 137607 | Houzz.com – Credit
---
Contemporary Kitchen with Black Cabinets and Solid Kitchen Backsplash
Solid kitchen backsplashes are true statement pieces, serving as space-enhancing factors at the same time. Here, for instance, the white-gray marble backsplash creates a seamless look between the white and black cabinets. Situated between these two contrasting shades that belong to two different worlds, it offers a smooth transition. And for a sense of camouflage, the marble countertops fall over the edges of the last black units, creating a waterfall effect. To soften this cool design, the herringbone pattern dark hardwood floor constitutes visual drama, radiating warmth underfoot.
Solid Quartz Kitchen Backsplash
Unlike natural stones quarried from all around the world, quartz is an engineered product. Thus, its patterns and solid structure can be navigated easily. And for the same reason, they also come with an almost pore-free structure that doesn't require sealing, which makes them more functional and less demanding materials.
Also, available at more affordable prices, quartz kitchen backsplashes (even though they can't compete with the unique marble patterns) have their way of adding beauty to the backsplash. From the plain white versions to the speckled and marble-look ones, they have various looks, expanding the design possibilities. Overall, they give a modern appeal to kitchens, balancing neutral shades and a seamless form together.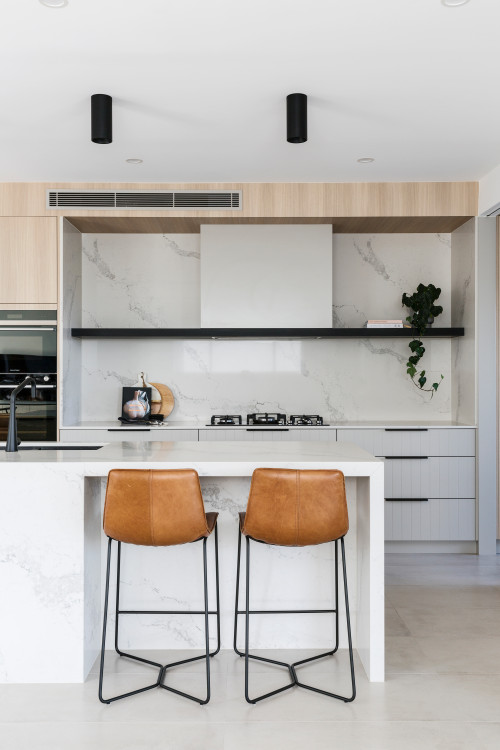 ID# 137608 | Houzz.com – Credit | © Timpelle Kitchens
---
Timber Veneer Cabinets with Solid Quartz Kitchen Backsplash and Black Floating Shelf
This modern kitchen uses solid quartz as a backsplash and carves out a kitchen island. By coordinating them, it creates a serene atmosphere of its own in an open-plan room. The gentle flowing striations on quartz add movement to the kitchen along with the beaded-board cabinetry. The black floating shelf brings depth to the back wall, also supporting the range hood and including it as part of a design choreography. The brown faux leather counter stools add a light pop of color, bringing just the right amount of shade to warm the kitchen up.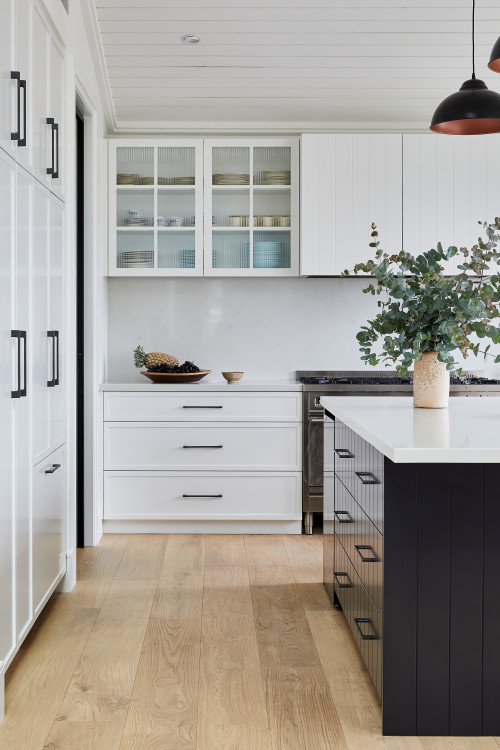 ID# 137609 | Houzz.com – Credit | © Blue Tea Kitchens and Bathrooms
---
Tongue and Groove Cabinetry with Solid Kitchen Backsplash and Statement Island
In this country kitchen, the modern vibes are felt throughout the space while the cottage feel is still preserved skillfully. To start with, the kitchen goes with V-groove shaker cabinets and reeded glass upper wall units to add enough interest and emphasize the cottage flair. Yet while doing so, it chooses to go with a solid quartz backsplash not to overload the space with the grout lines. This way, it maintains its sleek and modern appeal. And lastly, to bring a colorful element, it goes with a dark blue and V-groove statement island that makes an instant change, staging a dramatic and intimate relationship with the rest of the space.
How thick should a solid backsplash be?
It is recommended for the average thickness be between 3/4 and 1/4 inches for a solid stone slab. But it is better to get thinner ones to minimize how much it protrudes from the walls. Also, keep in mind that just to get thinner ones, don't compromise the strength of the material.
Metal Sheet Backsplash
If you love shiny materials and are looking for something other than glass, metal sheet backsplashes offer an excellent alternative. From brass to zinc, copper, silver, and stainless steel, metal steel backsplashes are available in multiple forms, shades, and materials. Inhabiting a beautiful sheen and coming in various patterns and designs thanks to the advancement of technology, these metal backsplashes create an eye-popping background.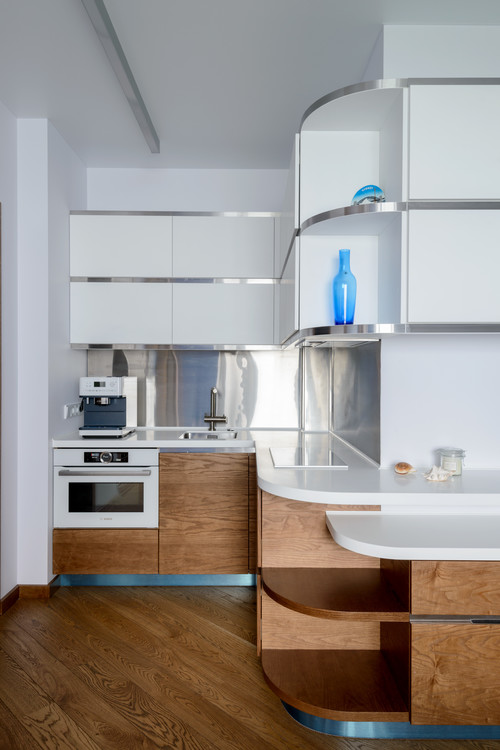 ID# 137611 | Houzz.com – Credit | © Ellite
---
Curved Corner Cabinets with Stainless Steel Metal Backsplash and White Countertops
In compact kitchens like this one, using curved corner shelves and cabinets is a smart idea to create softer edges as a precaution, especially if you have children running around. And in aesthetic terms, mirror finish stainless-steel metal sheet backsplashes serve as a space-enhancing factor, offering unparalleled durability and anti-bacterial nature that ensures the longevity of the design. Dotted with wooden base and white upper cabinets, this custom-designed kitchen offers you both of the best worlds (metal and wood). The curved cabinets and steel backsplash create a unique look together. The cabinets also receive special treatment with steel accents that compose a well-integrated look.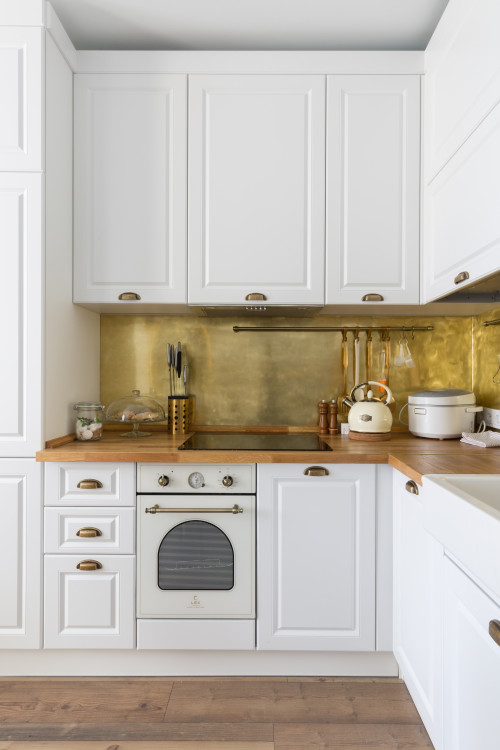 ID# 137612 | Houzz.com – Credit | © Шакирова Елена
---
Stunning Brass Backsplash with Wooden Countertops and White Cabinets
Mixing colors, textures, and materials never disappoint, which is also proven by this eclectic kitchen. Combining wooden countertops with antique brass sheet backsplash, it creates an intriguing and lived-in look that feels warm, well-curated, and luxurious. The white cabinets provide a canvas-like setting for these statement elements to come together and harmonize seamlessly. The oil-rubbed brass cabinet handles, barely-there appliances, and rustic wood flooring add nuanced details that dress the rest of the space.
Does a solid backsplash have to match the countertop?
When a solid backsplash matches the countertop, it provides a seamless and well-integrated look. Yet, it is not a rule of thumb but rather a personal preference. For example, some kitchens match white quartz countertops with a marble backsplash or a colorful glass sheet backsplash. Concrete countertops, likewise, can be used with black soapstone or marble countertops to ensure diversity and a sophisticated material combination. So, don't shy away from using different materials that will keep adding more interest and texture to your cooking space.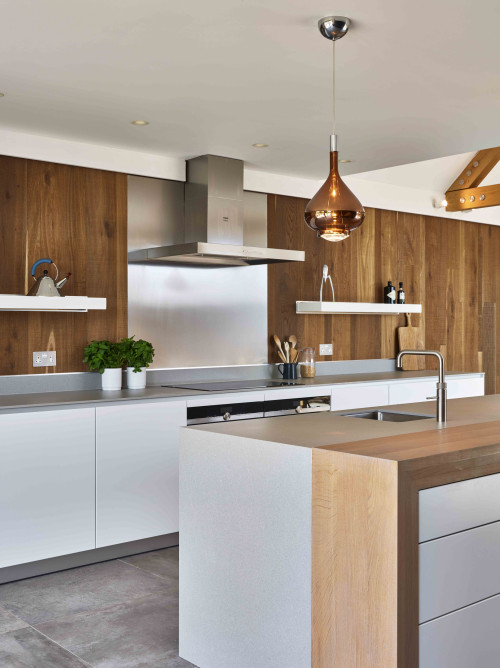 ID# 137613 | Houzz.com – Credit
---
Modern Industrial Kitchen with Wood-Paneled Wall and Stainless Steel Backsplash
Directly opening onto the garden, this modern-industrial kitchen uses a natural material palette that is strikingly contrasted with a stainless-steel metal sheet backsplash. In other words, the wood-paneled walls, white cabinets, and wood finishes when combined with metal touches give this contemporary kitchen an eclectic and industrial feel. The symmetrically installed white floating shelves expose the charm of the wood panels, setting the top half of the kitchen walls free. Right across the perimeter counters, the breakfast bar sits with an oak extension to define the shaded eating space that benefits from cross-ventilation thanks to the full-glazed patio doors on both sides of the kitchen.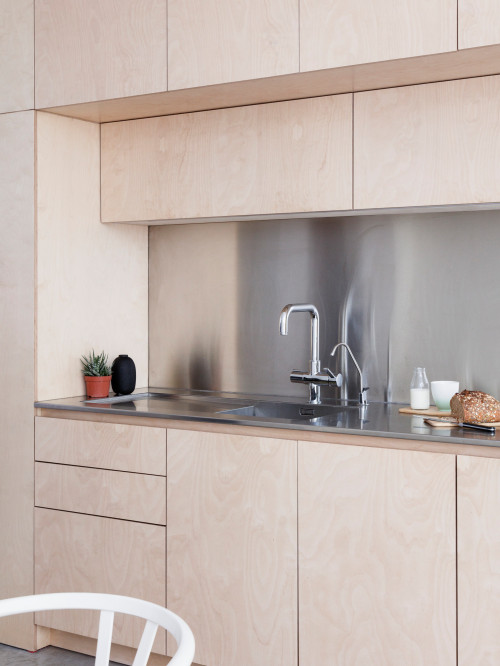 ID# 137614 | Houzz.com – Credit | © Larissa Johnston Architects
---
Solid Kitchen Backsplash with Timber Cabinets and Concrete Floor
Another modern kitchen that utilizes industrial materials to create an outdoor feel! But it does so by breaking up the utilitarian concept of the space and making it more human and nature-centered with light shades and light timber cabinets that add a Scandi feel to the atmosphere. The rest comes in the poured concrete on the floor and as a stainless-steel metal backsplash and countertops that determine the rest of the material vocabulary. This way, the kitchen gains strongly contrasting elements that feel harmonious altogether, creating a hygienic cooking space with a long lifespan and extreme durability.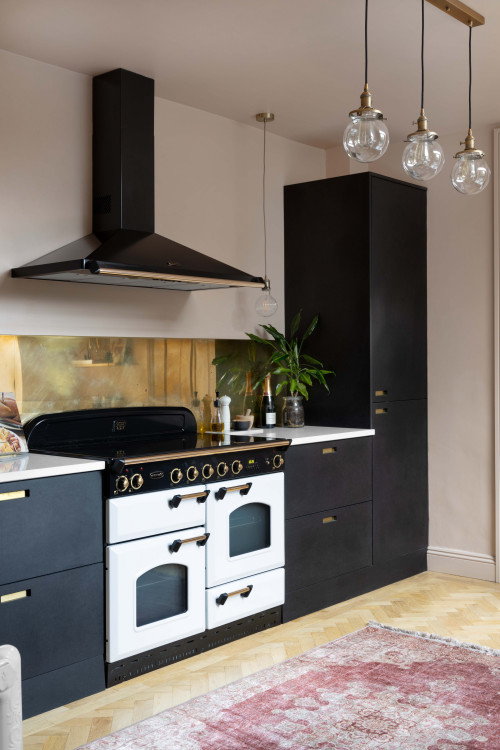 ID# 137615 | Houzz.com – Credit | © Danielle Lancaster Interiors
---
Mid-Century Kitchen with Dark Cabinets and Brass Backsplash
Even though mid-century kitchens are known for their abundant use of wood, this doesn't always have to be the case. This one, for example, goes with dark blue cabinets and a sleek black range hood to create a visual focal point. Right below the hood, the brass metal sheet backsplash paired with white quartz countertops add a splash of color and glow, lightening up the dark cabinets. The herringbone pattern light wood floor gets partially coated with traditional carpet for a retro feel, while the modernized versions of Edison light bulbs illuminate the space while staying loyal to the basics.
Glass Sheet Backsplash
If you have a small kitchen and are looking for ways to expand it, a glass sheet backsplash will do it for you. Thanks to today's technology, glass backsplashes feature various forms, colors, and designs, including printed versions. The patterned ones, especially, create a visual feast for those who want to turn their kitchen into a piece of artwork.
Color Options for Solid Kitchen Backsplash
Even though white, gray, and black are the main color options for solid kitchen backsplashes, colorful options are also popularly used. Especially glass sheet backsplashes come in various shades and designs. For example, light green, yellow, and red glass sheets are used commonly to create more passionate and modern looks.
White Solid Kitchen Backsplash
White marble, quartz, and glass sheet backsplashes brighten up the kitchen, providing clean aesthetics and a modern appeal. As they are adjustable to any design, you can benefit from white slab backsplashes in the modern, traditional, farmhouse, and modern cottage kitchens.
Gray Solid Kitchen Backsplash
As a winning color of all times, gray is as versatile and ambitious as other neutral colors such as black and white. Thus, it wouldn't be surprising to see that gray solid kitchen backsplashes serve as excellent backsplash options. First of all, they add sophisticated looks that ooze opulence, and second, they communicate luxury without a doubt. If you would like to emphasize their characterful nature, you can combine them with white and black cabinets and countertops.
Black Solid Kitchen Backsplash
Black is such a sophisticated color that it changes the overall look of the kitchen instantly. Whether it is a black glass sheet backsplash with a beautiful sheen, marble slab backsplash, soapstone, or honed granite backsplash you decide to go with, in every form and material, black makes a statement without encroaching on the space. Especially, if your kitchen receives enough natural light, there is no reason not to go with one of those backsplashes to deliver elegance and depth to the kitchen. Plus, you can always soften black backsplashes with warm LED-strip lighting or under-cabinet spotlights.
Colorful Solid Kitchen Backsplash
So far, we have seen many kitchen designs built upon all-white looks or black-wood contrasts. But what about the more colorful versions that will energize you right away? The glass sheet backsplashes act as game changers at this point. Coming in printed and frosted versions along with a wide range of colors, you can make ambitious designs with them and enhance the sense of space effortlessly.