20+ Small Breakfast Nook Ideas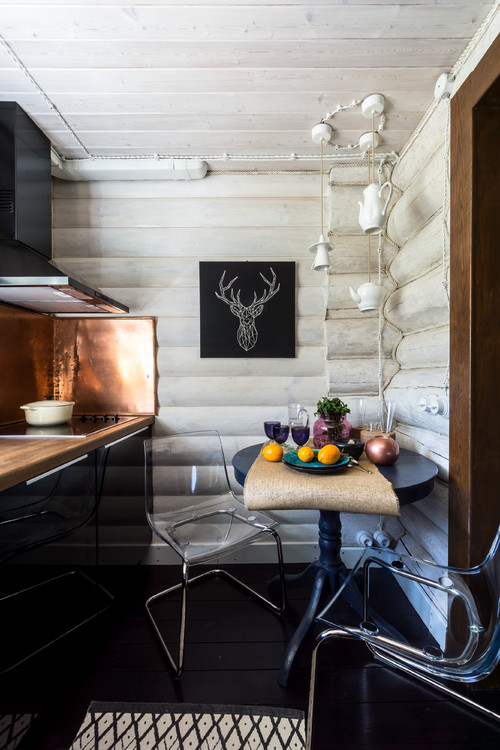 ID# 165105 | Houzz.com – Credit | © Oliya Latypova Design and Decor
---
Farmhouse Kitchen with Black Table and Acrylic Chairs
Do you know that you can even create a breakfast corner in your kitchen with a small table and two chairs? That is just perfect!! In this farmhouse kitchen, the black table and acrylic chairs fill the empty corner space and add another function to the space. Using transparent acrylic chairs is a clever way to create a spacious feel, especially in very small spaces like this one.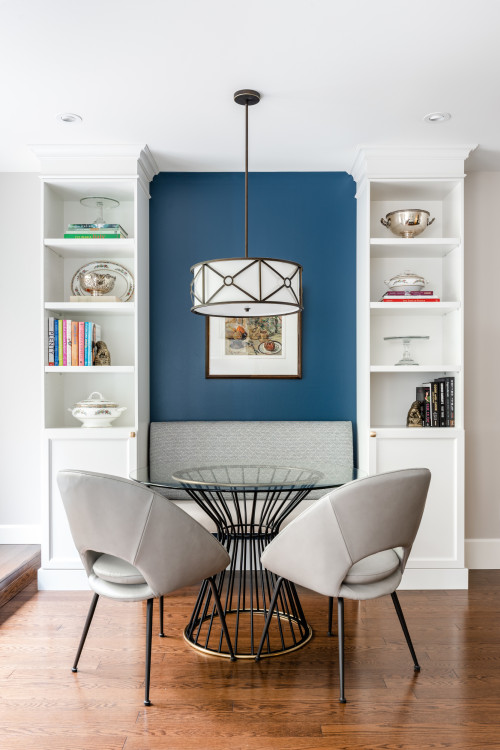 ID# 165118 | Houzz.com – Credit | © Thomas and Birch – Kitchens and Living
---
Transitional Small Breakfast Nook Ideas with Drum Pendant Light
If you want to highlight your breakfast nook and create a focal point, consider designing an accent wall with a vibrant paint color! In this contemporary design, the blue-painted wall stands out between the white built-in shelves and transforms this otherwise muted color scheme into an eye-catching design. The gray cushions of the bench create a cohesive look with this blue shade while The glass-topped table and gray chairs give the style! The drum pendant light above the table makes an appropriate final touch.
Small Breakfast Nook Ideas
While designing a kitchen, the type and color of the cabinets, the backsplash, and the material types of the countertops are carefully planned as a whole. Small breakfast nook ideas, on the other hand, are the most useful and at the same time the most sympathetic parts of kitchen designs. To add a breakfast corner to your kitchen with small touches, you can add a bench and a small table to certain places, such as an empty wall, or a secluded corner, right next to the counters. Tables that can be folded when not in use are also very practical, especially for small spaces.
Small yet Practical Breakfast Nooks
According to the general shape and size of the kitchen spaces, many alternatives can be considered, such as small breakfast areas with sofas or smaller areas. Small breakfast and coffee corners can be made with mini benches and chairs made in front of the glass. By looking at the width of the space, its location, and the details of the kitchen design, pleasant and useful corners are designed.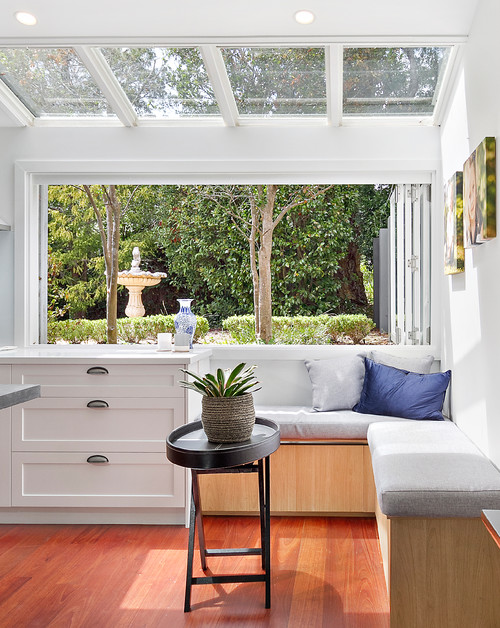 ID# 165101 | Houzz.com – Credit | © Improva
---
Small Breakfast Nook Ideas with Nature View
Imagine that you are relaxing in this cozy corner with an outstanding view after a long day. This breakfast nook is ready to make your dreams come true! With its wood built-in bench and gray comfortable cushions, this kitchen corner offers an inviting atmosphere. Thanks to the large frameless window, the beautiful nature view becomes part of the space, acting as a piece of art. On the other hand, sunlight fills the room through the skylight and enhances the spacious feel.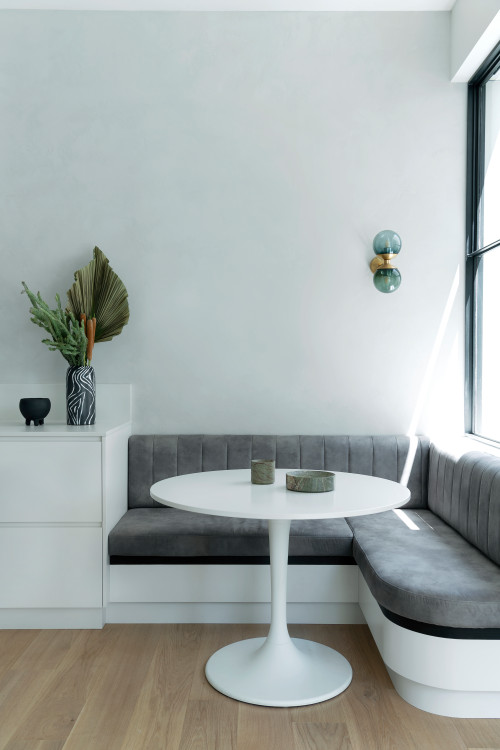 ID# 165102 | Houzz.com – Credit | © Arcologic Design
---
Monochrome Kitchen Design with Light Wood Floor
If you are looking something for timeless and stylish, a monochrome color palette will never fail you down! In this farmhouse kitchen, the small breakfast nook is perfectly attached to the white cabinets to create a continuous look. The dark gray cushions contrast against the white features and add a sense of luxury. Even if they seem small details, the glass sconce, potted plant, and ceramic vases on the table complete the modern lines of the design.
How do I set up a breakfast nook in a small kitchen?
If you want to add a breakfast corner to your kitchen with any renovation, you can add a small table by placing a bench on a suitable wall. Or it can be a corner with bistro chairs following the counter. It is shaped according to the shape, style, and width of the space.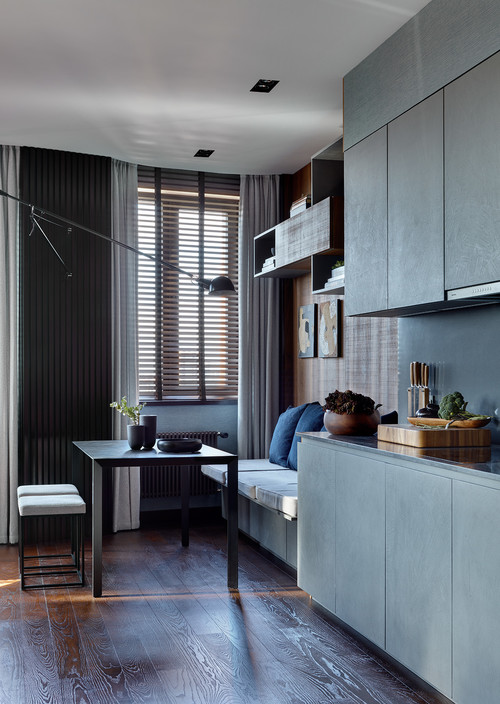 ID# 165103 | Houzz.com – Credit | © Special-style
---
Dark Kitchen Design with Gray Cabinets and Backsplash
Thanks to its dark and rich color scheme, this contemporary kitchen offers moody and sexy vibes! The matte gray finish of the flat-panel cabinets creates a sleek and elegant appeal while the quartz backsplash and countertop provide a cohesive look. Even though this kitchen has a small space, incorporating a breakfast nook maximizes functionality by adding a dining space.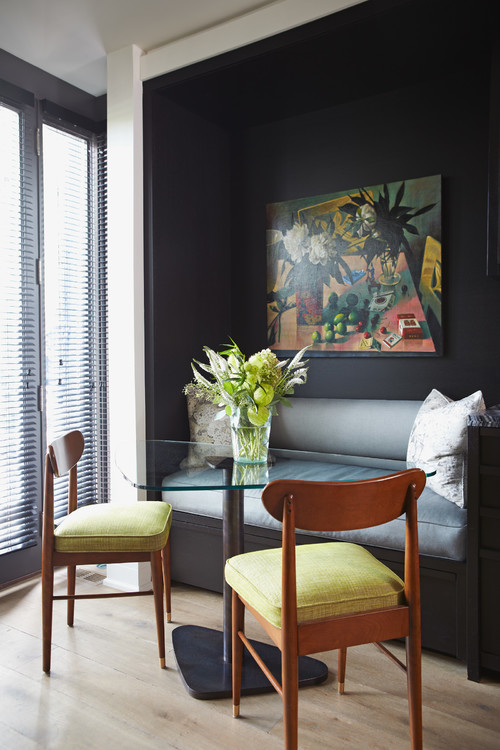 ID# 165104 | Houzz.com – Credit | © Douglas Design Studio
---
Black Small Breakfast Nook Ideas with Colorful Accents
If you are working on a limited space but still want to add a breakfast nook to your kitchen, built-in niches will help you a lot! In this contemporary design, the black built-in bench perfectly fits in the niche. The black paint of the walls creates a continuous look with the bench, adding depth to the space. The glass top of the dining table brings an open and airy feel between the dark shades. While the colorful painting creates a focal point on the black wall, the green cushions of the wood chairs complement these beautiful colors.
How small can a breakfast nook be?
A small breakfast nook can be as little as a pleasant corner or alcove with only enough space for a small table and a few chairs or it can be as large as a built-in bench. It can take up as little as 4 feet by 4 feet or less, creating a comfortable and appealing space for informal meals and meetings. A well-designed little breakfast nook may mix usefulness and appeal by imaginatively adjusting to the existing space, responding to your requirements with efficiency and flair!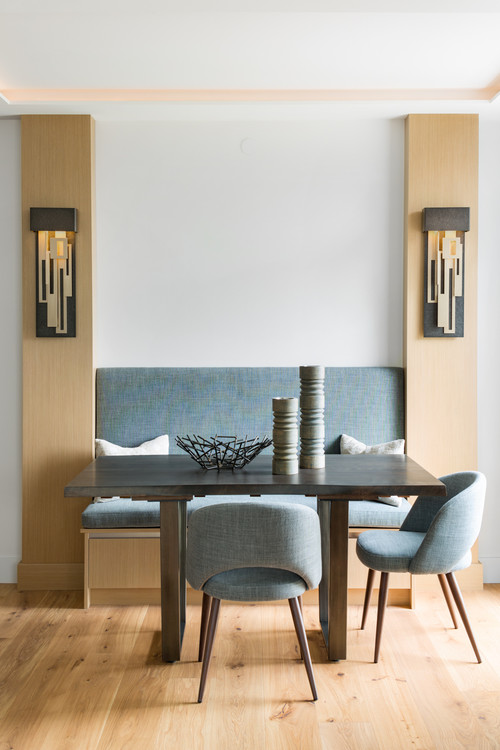 ID# 165106 | Houzz.com – Credit | © Interior Solutions Design Group Inc.
---
Modern Dining Area with Mill-work Columns
Clean, sleek, and modern!! This small breakfast nook showcases timeless elegance with its neutral color scheme and contemporary aesthetic. Here, the bench with gray cushions is fitted between the mill-work columns which define the dining area. These beautiful columns also provide an opportunity to display eye-catching metal sconces.
Small Bay Window Breakfast Nook
Small bay window breakfast corners are design forms that are located right in front of the window in the remaining parts of the space, which are more recessed. Starting the day, having breakfast in a spacious, sunny area is perfect for an energetic morning. They are the most useful and sympathetic parts of the house where they can have pleasant conversations and drink tea and coffee. If you have a small bay window breakfast corner, you are very lucky. It is a very suitable concept for sympathetic and stylish designs.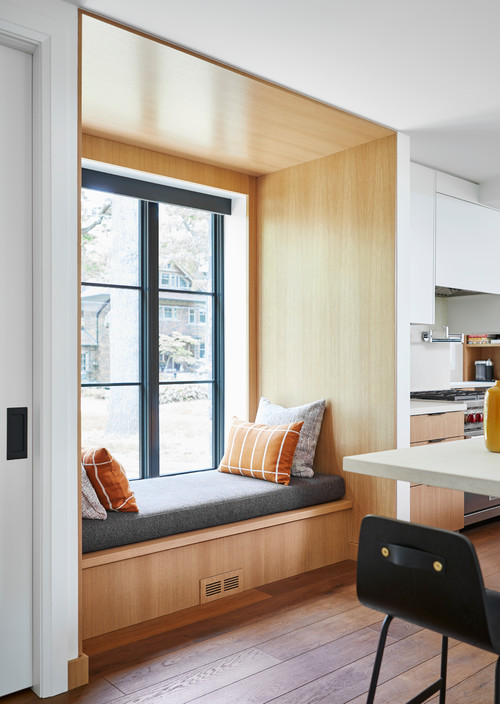 ID# 165107 | Houzz.com – Credit | © Lisa Lev Design
---
Built-in Small Breakfast Nook Ideas with Gray Cushions
Incorporating built-in benches into your space is a great way to evaluate empty and unused corners. In this contemporary kitchen design, the space between the cabinets and doorway is transformed into a stylish breakfast nook.The wooden frame emphasizes this nook area and connects the magnificent nature view behind the window to the interior!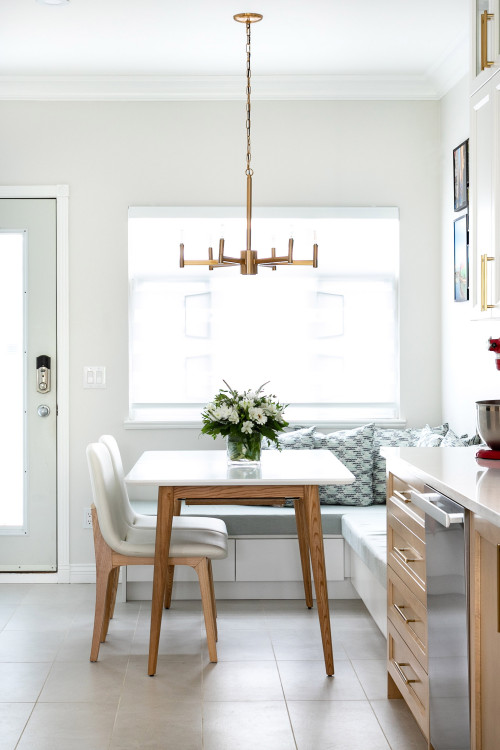 ID# 165108 | Houzz.com – Credit | © SGDI – Sarah Gallop Design Inc.
---
Beach Style Kitchen Nook with Gold Chandelier
This beach-style breakfast nook's bright and airy color choice creates a roomy and inviting ambiance!! The crisp white hues are tempered by warm wood details such as the dining table and chair legs. With its dazzling appearance, the gold chandelier over the table captures attention and creates a focus point.
What can I put in my small breakfast nook?
When designing your small breakfast nook, a mini-bookcase with cabinets, a comfortable sofa, and well-thought-out lighting should be placed based on the width and shape of the space. Because these areas are not just quick breakfast places, but small living spaces. For example, it is a space where you can have tea and coffee chats, get your laptop, and work. For this reason, a design area should be created by adding whatever the person feels comfortable and useful. Small breakfast nooks are areas that are completely shaped according to personal taste.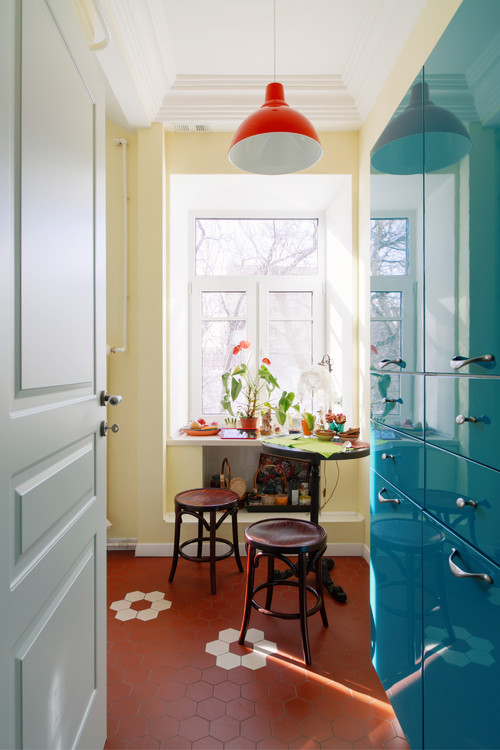 ID# 165109 | Houzz.com – Credit | © Вика Богородская
---
Tiny Kitchen Design with Terracotta Floor Tiles
This tiny apartment inspires warm and welcoming sentiments with its gorgeous color palette and customized decorations!! The pale yellow walls set a sleek and clean tone for the remainder of the space, while the terracotta floor tiles add warmth. This pleasant feeling is completed by the modest eating room with the wood table and chairs. Last but not least, the blue cabinets on the right side add an unexpected twist and contrast to the overall aesthetic.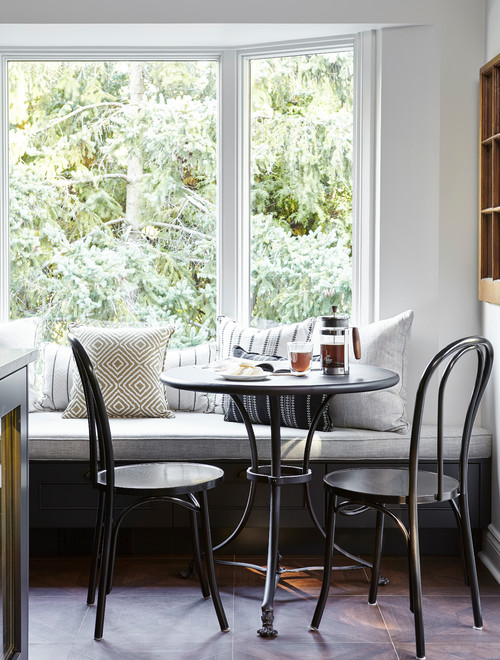 ID# 165110 | Houzz.com – Credit | © Square Footage Inc.
---
Transitional Dining Room with Wood-Look Floor Tiles
With its velvety gray cushions and pillows, the black built-in bench in this transitional dining room creates a pleasant and appealing lounging space. The black circular dining table and chairs add to the modern look by establishing a focus point. The wood-look porcelain floor tiles bring warmth and natural appeal to the area as a finishing touch.
Small Corner Breakfast Nook
In a small corner breakfast corner, having breakfast in a pleasant area at the start of the day is an energizing situation. The cozy nature of a breakfast nook prepares for making the most of a small corner space. Empty corners are often neglected and remain aimless, but when you make good use of those corners, useful and beautiful designs emerge. It is the perfect way to create a cozy and intimate space in space. Adding cushions can bring luxurious effects to a corner and make you want to spend more time in that space. It is a good space designed for nice conversations, intimate meals, and coffee pleasures.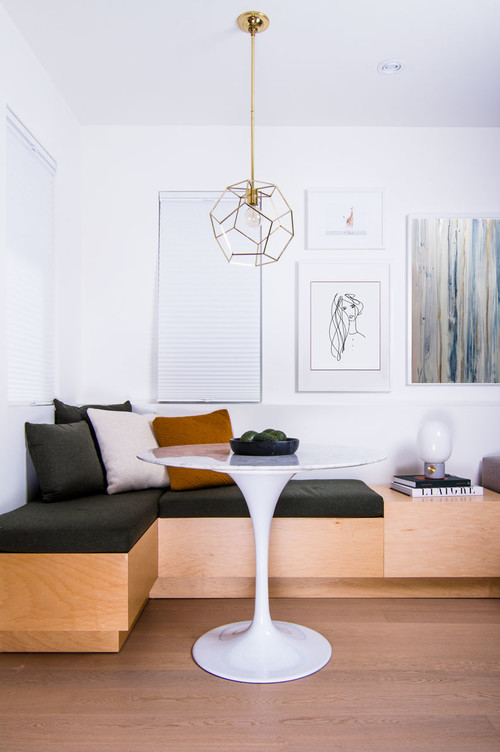 ID# 165111 | Houzz.com – Credit
---
Wood Corner Bench with Dark Green Cushions and White Table
In this contemporary corner breakfast nook, the wood built-in bench offers a cozy seating area. Adorned with dark green cushions, this corner seat provides a pop of color with elegance. The white circular table taka es the stage at the center and enhances the modern aesthetic. The gold pendant light with a geometrical shape highlights the table area, creating a focal point. Last but not least, the paintings on the wall complete the overall look.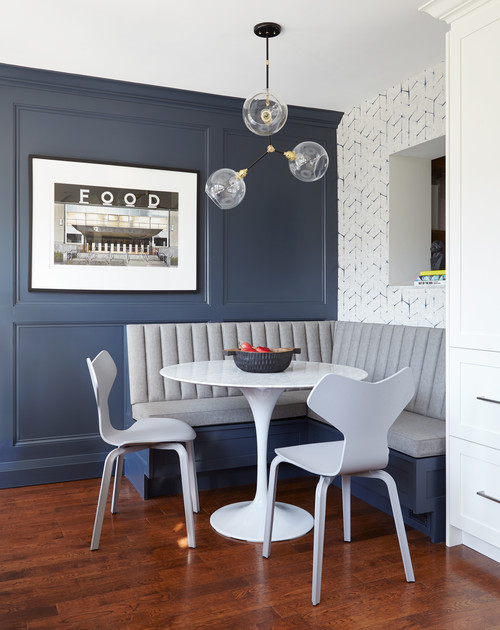 ID# 165112 | Houzz.com – Credit | © Charlie Coull Design
---
Navy-Blue Accent Wall with Glamorous Chandelier
This navy hue of blue is a wonderful choice for creating a statement making section in your kitchen! This transitional breakfast nook is dominated by navy blue and exudes timeless beauty while the geometrically patterned wallpaper on the right wall contrasts the dark tones and highlights the design's futuristic features. The gray cushions and chairs complement the blue tone to lighten the ambience. The glass lighting bulb above the white table draws attention to the nook area while also adding a touch of glitz.
Are breakfast nooks outdated?
Breakfast nooks are small, space-saving niches that serve as an eating area. This space-saving technique can help you optimize usefulness if you have enough room in your kitchen. Some people consider it antiquated, however, it all depends on personal preferences!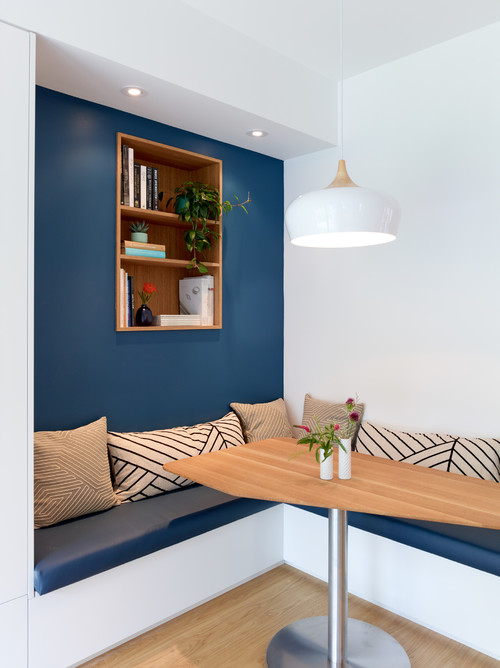 ID# 165113 | Houzz.com – Credit | © Wanda Ely Architect Inc.
---
White and Wood Corner Nook with Blue Accent Wall
The rich blue accent wall in this contemporary breakfast nook contrasts against the generally subdued color palette and makes this area an eye-catching design! The wood-inlaid shelves may be used to store books and decorations. To create a cohesive effect, the same blue hue is utilized on the leather cushion of the white built-in bench while the wood dining table and beige cushions complete the look by bringing warmth to the space.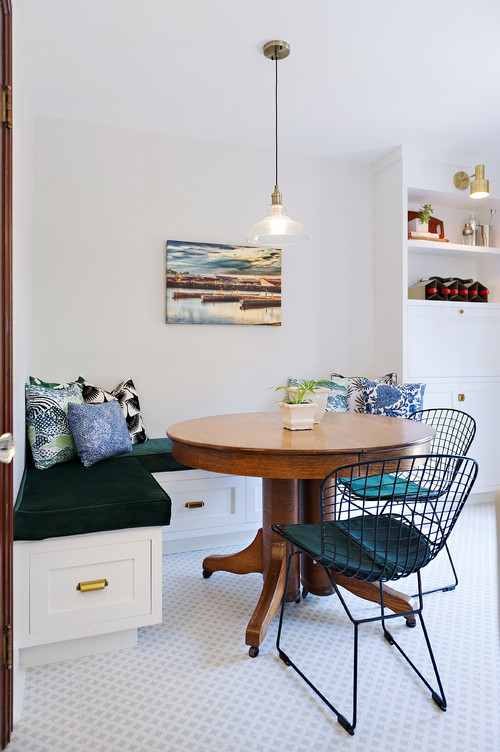 ID# 165114 | Houzz.com – Credit | © Design Factory Interiors
---
Transitional Corner Nook with Vintage Wood Table
In this transitional breakfast nook, the wood dining table takes the stage with its vintage appeal, creating a focal point!! The white built-in bench adds a sense of luxury with its green velvet cushions and brass hardware. The glass pendant light makes a warm glow above the table while black metal chairs add a modern twist.
Modern Small Breakfast Nook
Breakfast is very important in our daily lives, and incorporating a breakfast nook into your kitchen is a fashionable and efficient option, especially because a huge and formal dining table may feel too much in the morning. A breakfast nook not only adds elegance to your kitchen, but it also promotes a pleasurable dining experience!! Modern small breakfast nooks are designed with clean lines, trendy decorations, and a captivating selection of sophisticated armchairs and chairs, resulting in beautiful spaces. Several variations can be made to accommodate the width of the area, overall color scheme, and user preferences.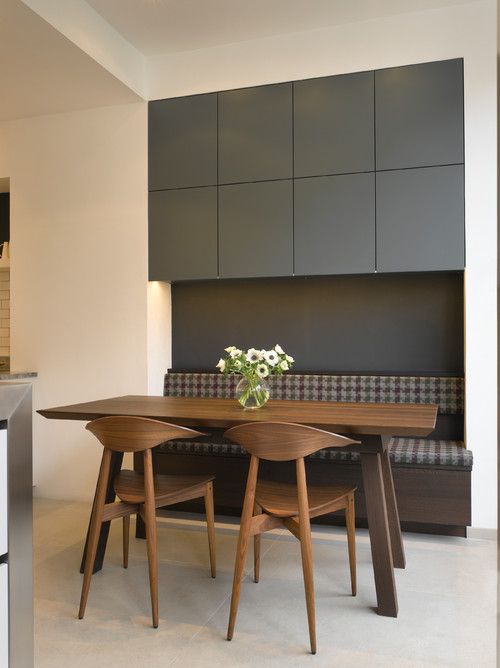 ID# 165115 | Houzz.com – Credit | © Roundhouse
---
Contemporary Small Breakfast Nook Ideas with Wood Dining Set
This sleek and small breakfast nook has trendy design elements along with a modern touch. The flat panel dark gray cabinets and dark wood furniture against beige ceramic tile flooring creates a strong contrast and highlights the area.
Small Farmhouse Breakfast Nook
You can create a charming farmhouse breakfast nook, from choosing a sunny corner, and window sills to adding movement and vitality to the wall, such as floral wallpapers. According to the size and general style of the place, a variety of small farmhouse breakfast nooks can be made.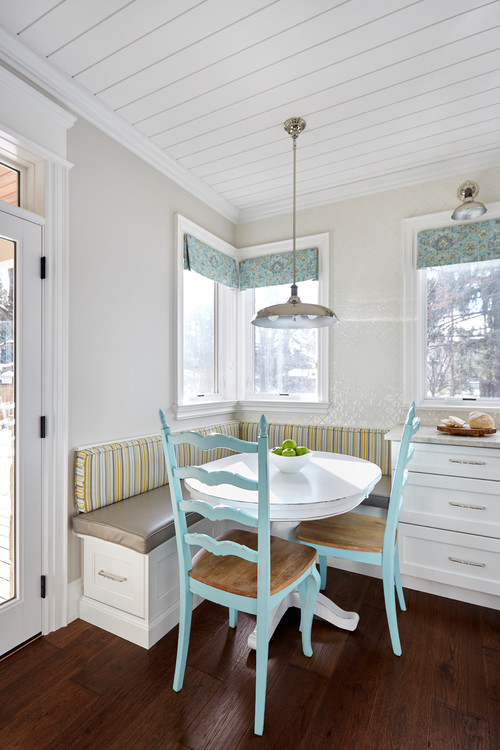 ID# 165116 | Houzz.com – Credit | © Beth Maricic Design
---
Farmhouse Small Breakfast Nook Ideas with Patterned Curtains
This modest kitchen breakfast nook exudes a charming elegance typical of a cottage aesthetic. This design displays a variety of personalities that contribute to a warm and welcoming ambiance with its blue chairs, blue window treatments and white shiplap ceiling. It also has cushions with striped patterns on them!!
Small Breakfast Nook Lighting
In spaces the most important issue as much as a design is lighting!! When it comes to lighting in small kitchen corners there are various alternatives such as wall sconces, pendant lighting and pedestal lighting, taking into account the concept of the space. With an unlimited variety of designs and stylish models, both functional and visual effects can be achieved.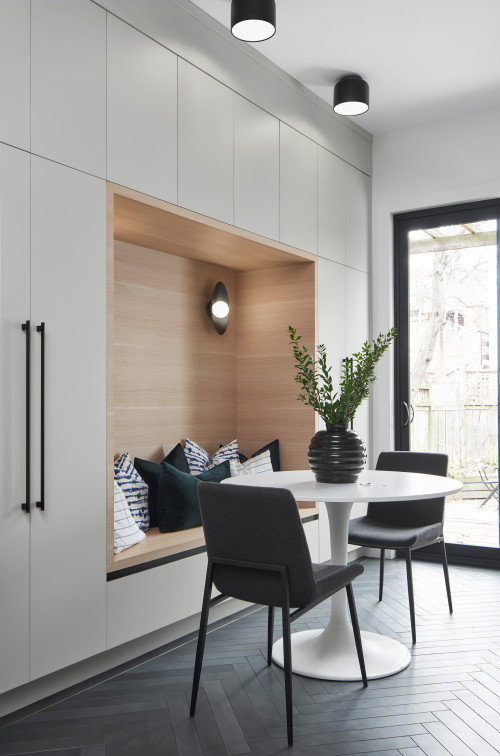 ID# 165117 | Houzz.com – Credit | © Kaza Contracting
---
Small Breakfast Nook Ideas in Modern Kitchen 
This contemporary kitchen's wood-paneled breakfast nook is tastefully positioned between the light gray cabinets to add a touch of elegance!! The white table, black chairs, and wall-mounted sconce draw emphasis to the nook area. While the kitchen's light gray cabinets are elegant and spotless, the black herringbone floor tiles give the room depth and character.
How big should a breakfast nook be?
It is advised to have proportions of at least 3 feet by 3 feet or 4 feet by 4 feet for a pleasant square breakfast nook. This comfortably seats two to four individuals. Consider making it at least 6 feet x 6 feet if you want a larger corner arrangement for added comfort.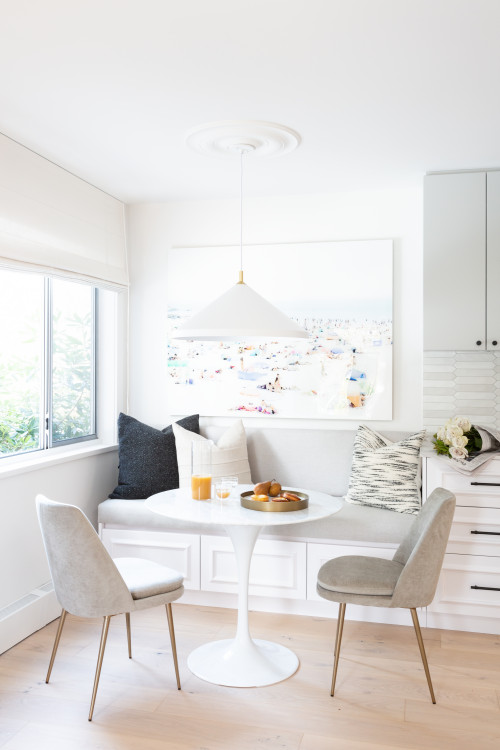 ID# 165119 | Houzz.com – Credit | © SHIFT Interiors
---
White Kitchen Design with Light Wood Flooring
The white built-in bench provides a comfortable and stylish seating area in this transitional breakfast nook. The large painting above the bench adds a pop of color to the design to enhace visual interest with an artistic flair. The large white pendant light complements the white dominance of the overall look and illuminates the area. The light wood floor breaks this white domination and brings warmth to the atmosphere.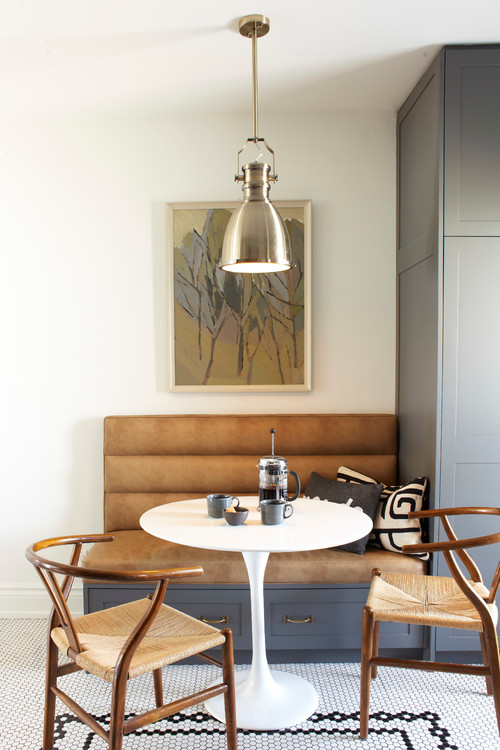 ID# 165120 | Houzz.com – Credit
---
Small Breakfast Nook Ideas with Rustic Details
While the dark blue bench serves an elegant appeal, the leather cushions and wood chairs make a rustic twist and add warmth if the natural charm. The black and white penny floor tiles reflect the timeless appeal of the classic style while the metallic pendant light and the painting above the bench perfectly complete the unique and characteristic overall look.