30+ Diamond Tile Backsplash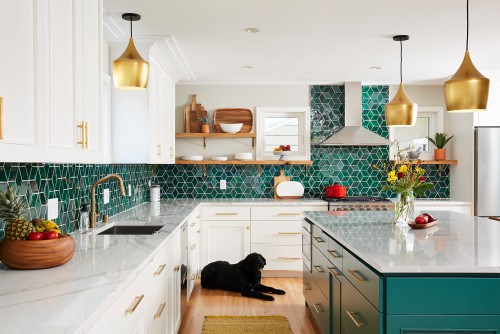 ID# 132308 | Houzz.com – Credit | © Emily Pueringer Design Studio
---
Transitional Kitchen with Gorgeous Green Diamond Tile Backsplash and Brass Accents
Don't you also admire the beautiful union of green glass diamond backsplash and brass accents? Brass plumbing, brass polished fat lighting fixtures, and cabinet handle go so well with the green backsplash in this kitchen to offer an impactful look. Despite the presence of more than one bold character, the kitchen still manages to look harmonized without causing eye-sore, thanks to the white recessed-panel cabinets and light wood floating shelf adding warmth. Exhibiting wood cutting boards and other wood items on this shelf is a smart choice to balance the bold accents with more neutral and organic elements. Also, the green island topped with a gray countertop adds another dynamic that provides a more neutral look, offering a perfect designated space for extra prep surfaces and a laid-back dinner zone.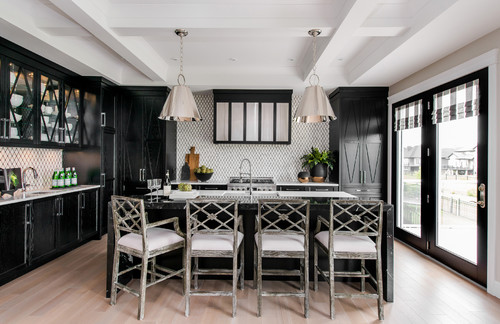 ID# 132319 | Houzz.com – Credit
---
Transitional Kitchen with Black Cabinets and White Countertops
If there is one thing that dominates this kitchen with beautiful ornamentations, it is the diamond pattern. The walls and black and glass-fronted cabinet doors gain dimension with this diamond shape. The white ceramic tile backsplash with black grout coats the walls and achieves a beautiful contrast. Especially, as the backsplash reaches the ceiling on the stove side, it brings a full impact while creating an expressive surface. Plus, it is flanked by two floor-to-ceiling black cabinets to emphasize the contrast and highlight the backsplash. The double glass door with a black frame situated on the right side creates a bright and fresh atmosphere indoors, while the black paneled island with a black marble countertop is accompanied by gray wood counter stools with diamond-shaped backs.
Diamond Tile Backsplash
If you opt for a unique look in the kitchen, a diamond tile backsplash might be what you are looking for. The fact that diamond tiles are available in different materials and colors gives you many options in today's market, ensuring to find the perfect tile that fits your kitchen wall surface wonderfully. The diamond tiles' adjustability to the different themes and styles, ranging from traditional to beach-style, mid-century modern, and contemporary kitchens is another feature that makes them unique.
Yet, there is something more special about the diamond tile backsplashes, which is that they can be combined with other geometric shapes such as hexagon and cube. This timeless pattern allows, in return, very eccentric shapes to dress your kitchen in spectacular backsplashes. Plus, they can be enriched with 3D elements to achieve unique designs. Emperador dots are one of the greatest examples that create wall jewelry with the diamond tile backsplash.
What is a diamond tile backsplash?
A diamond can be considered a square set at a 45-degree angle. But even such a small twist can achieve an interesting shape used in the floor and wall tiling.
Diamond backsplashes come in various materials: travertine, ceramic, porcelain, marble, mosaic, glass, and more. Each of them creates different impacts, elevating the overall look of the kitchen with a unique design.
Yet, what makes them more unique is that they allow for different combinations with other shapes such as hexagon and cube. For instance, the mixture of a cube and diamond can easily make a statement as a kitchen backsplash and create a playful and puzzle-like look.
Material Options for Diamond Tile Backsplash
Among the most popular materials for diamond tile backsplash, we can count ceramic, porcelain, marble, travertine, and glass. Each material features a different impact and can be adjusted to the kitchen's theme as they come in a wide range of colors, shapes, and finishes.
Glass Diamond Tile Backsplash
Considering their functional and aesthetic features, glass tiles are one of your best friends in the kitchen. They are durable, resistant to mildew and stains, eco-friendly, and visually appealing. What else can you want, right?
Glass tiles can come in various shapes, offering a natural decorative look. If you want a glimmering background that still manages to go with everything and fit into any style, white, gray, and beige glass tiles are one of the greatest options you can find in the market. Additionally, their luminous surface creates a sense of spaciousness and depth to the kitchen, which makes them highly preferable in small places. When it comes to the glass diamond tile backsplash, they make your kitchen stand out. So, without a doubt, your kitchen will look fabulous with a glass diamond tile backsplash!
Mirror Diamond Tile Backsplash
Who doesn't love mirrors? They add depth and do make rooms look bigger and wider. But here the question is if you have ever considered them as a backsplash or a part of your kitchen design.
Mirror tile backsplash comes in various patterns and shapes, enriching the look of your kitchen. You can also install just a regular mirror to cover the exact backsplash surface, but if you feel something more exciting and unique, there are many options available. A mirror diamond tile backsplash is just one of them and without a doubt, it will look like wall jewelry that adds glamor to the skin of your kitchen.
Marble Diamond Tile Backsplash
As marble backsplash is always on demand and trending, once you have it installed, you can keep it for a very long time. Their durability and ease of maintenance make things a lot easier. Plus, their design flexibility and customizability keep your options pretty wide, allowing you to achieve any effect you would expect your kitchen to have. Due to their soft inherent veins, they feature a natural decorative look, which makes them even more special.
As for the diamond tile backsplash, they serve as statement pieces for your kitchen. Diamond's dynamic shape alternates the vibes your kitchen emits, achieving an elegant and sophisticated look.
Ceramic Diamond Tile Backsplash
Ceramics are very durable, highly customizable, and easy to clean materials. In today's market, they are available in many different colors, patterns, and designs. They can be honed and polished and end up featuring different effects.
How to install a diamond tile backsplash?
First, measure the backsplash area and ensure that the surface is clean and smooth. As a second step, just to make things work smoothly, you can make a template from cardboard and lay the diamond tiles on it to make your design. Experiment with the tiles. You can start from the center. This step also allows you to see how much you need to cut to get the straight edges.
When you are done with this stage, you can start to install the precut tiles on the surface that is applied thin-set mortar with a trowel. While installing, use spacers to make sure that you leave even spaces between the tiles. Then, press tiles into the mortar to ensure that they are firmly installed. Wait for the next 24-48 hours before grouting.
How to grout diamond tile backsplash?
Now that you have installed the backsplash, it is time to apply the grout. Before starting to grout, wet the tiles and clean them. Then, spread the grout into the tiles with a grout float. If you spread too much grout, clean it as soon as possible before it dries up and gets harder to remove. When you are done, clean the tiles again with a wetted soft sponge.
Is diamond tile backsplash outdated?
Absolutely not! As diamond pattern backsplashes come in various shapes and designs, you can experiment with them freely to come up with a matching look to your kitchen's theme. You can also combine them with hexagons and cubes to achieve a unique look. For instance, ombre-style diamond-cube backsplashes are favored in contemporary and modern kitchens, particularly due to their rich color scale and intriguing geometric structure.
Travertine Diamond Tile Backsplash
Travertine is a very inspiring material especially if you want to achieve an earthy feel and look in your kitchen. It's a form of limestone, and its classic and timeless look comes from nature as it formes around the hot springs. As such, their inherent porous, imperfect, and irregular surfaces make them even more unique.
Another feature of travertine is its warming look that comes from its ivory, beige, brown, and reddish-brown color palette. They can be tumbled, polished, and honed, and each finish gives them a different look, which increases your options with travertine tiles. You can also mix different colors of it to achieve a mosaic look.
When it comes to patterns, travertine is found in different shapes such as diamond, hexagon, herringbone, square, and rectangular tiled in a running-bond style. Among them, travertine diamond tiles are very popular, especially as a backsplash in the kitchens. They give a neutral and earthy look while creating a cozy atmosphere in the meantime thanks to their soil color palette.
Where should I start my diamond tile?
You can start tiling diamond tiles from the center of the wall surface. Now the question is how you find the center of the wall surface. First, measure the distances between the vertical and horizontal edges, make a drawing of your wall surface, and note down the measurements. Let's assume that it is 4 feet to 2 feet. Then, divide them by two, which gives us 2 to 1. Then draw the vertical and horizontal lines by this outcome. The cross point will give you the center.