30+ Diamond Tile Backsplash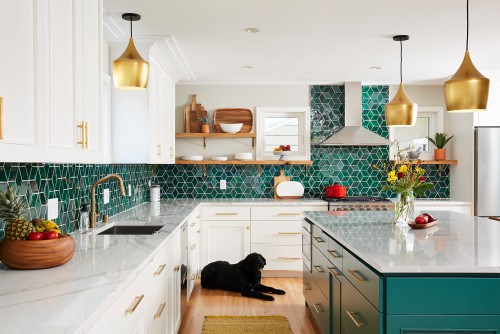 ID# 132308 | Houzz.com – Credit | © Emily Pueringer Design Studio
---
Transitional Kitchen with Gorgeous Green Diamond Tile Backsplash and Brass Accents
Don't you also admire the beautiful union of green glass diamond backsplash and brass accents? Brass plumbing, brass polished fat lighting fixtures, and cabinet handle go so well with the green backsplash in this kitchen to offer an impactful look. Despite the presence of more than one bold character, the kitchen still manages to look harmonized without causing eye-sore, thanks to the white recessed-panel cabinets and light wood floating shelf adding warmth. Exhibiting wood cutting boards and other wood items on this shelf is a smart choice to balance the bold accents with more neutral and organic elements. Also, the green island topped with a gray countertop adds another dynamic that provides a more neutral look, offering a perfect designated space for extra prep surfaces and a laid-back dinner zone.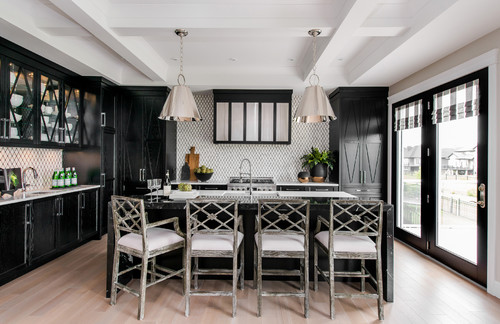 ID# 132319 | Houzz.com – Credit
---
Transitional Kitchen with Black Cabinets and White Countertops
If there is one thing that dominates this kitchen with beautiful ornamentations, it is the diamond pattern. The walls and black and glass-fronted cabinet doors gain dimension with this diamond shape. The white ceramic tile backsplash with black grout coats the walls and achieves a beautiful contrast. Especially, as the backsplash reaches the ceiling on the stove side, it brings a full impact while creating an expressive surface. Plus, it is flanked by two floor-to-ceiling black cabinets to emphasize the contrast and highlight the backsplash. The double glass door with a black frame situated on the right side creates a bright and fresh atmosphere indoors, while the black paneled island with a black marble countertop is accompanied by gray wood counter stools with diamond-shaped backs.
Diamond Tile Backsplash
If you opt for a unique look in the kitchen, a diamond tile backsplash might be what you are looking for. The fact that diamond tiles are available in different materials and colors gives you many options in today's market, ensuring to find the perfect tile that fits your kitchen wall surface wonderfully. The diamond tiles' adjustability to the different themes and styles, ranging from traditional to beach-style, mid-century modern, and contemporary kitchens is another feature that makes them unique.
Yet, there is something more special about the diamond tile backsplashes, which is that they can be combined with other geometric shapes such as hexagon and cube. This timeless pattern allows, in return, very eccentric shapes to dress your kitchen in spectacular backsplashes. Plus, they can be enriched with 3D elements to achieve unique designs. Emperador dots are one of the greatest examples that create wall jewelry with the diamond tile backsplash.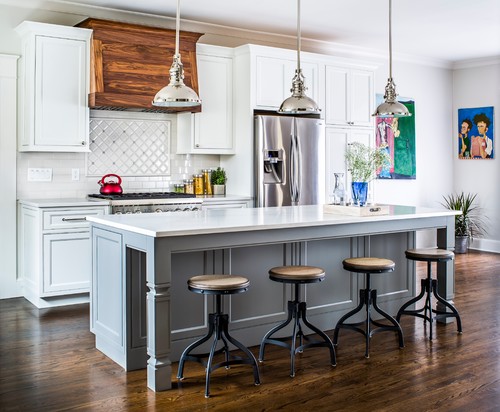 ID# 132301 | Houzz.com – Credit | © FIG + FALLOW
---
Transitional Kitchen with White Cabinets and a Wood Hood Dressing Fixture
The whole theme is grounded on the white color in this luminous kitchen. While white recessed-panel cabinets emit cool vibes, a wood range hood dressing softens the look and brings warming color and texture. This wood dressing is supported by vintage-style spinning and adjustable bar stools with wood veneer. A white island accompanies the stools, extending to shelter them, while a trio of polished nickel pendant lighting fixtures over the island brings extra shining. A white ceramic diamond tile backsplash punctuated by black dots above the stove distinguishes the cooking zone from the rest of the kitchen, surrounded by white subway tiles with white grout. Their lacquered surfaces add interest and a glossy effect to the kitchen, building upon the impact of the lighting fixtures.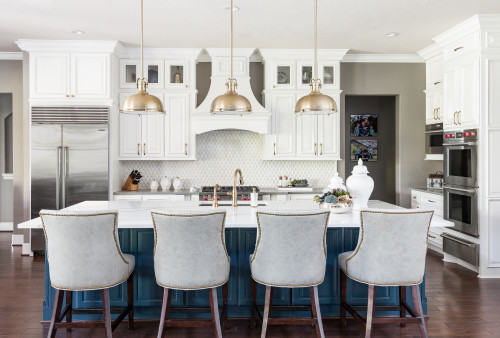 ID# 132302 | Houzz.com – Credit | © Nikole Starr Interiors
---
Transitional Kitchen with a Blue Island and White Quartz Countertops
The combination of blue and white feels just perfect in this light-filled kitchen. White cabinets reach the ceiling, making the kitchen look taller. Brass hardware endows the cabinets with charm and warmth, softening their all-white look. The white diamond pattern backsplash makes a great couple with gray countertops, achieving a harmonious blend. The blue island topped with a white quartz countertop adds a splash of color and emits cool vibes. Brass plumbing and a trio of vintage pendants with a brass finish add warmth to the cool blue effortlessly. The generously-sized island's cantilevered extension makes a room for four oversized counter stools that give a sofa comfort. Their wood tapered legs blend seamlessly with dark wood flooring that brings additional warmth to the kitchen.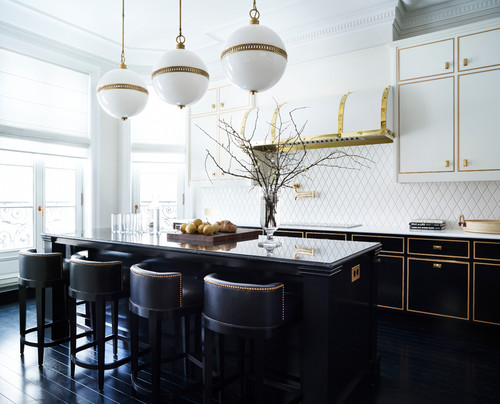 ID# 132303 | Houzz.com – Credit
---
Traditional Kitchen with Two-tone Cabinetry and Brass Accents
This traditional kitchen's theme is built on the stunning contrast between white and black that achieves a sophisticated look warmed with brass accents. Even though the combination of white and black features an implicit modern flair, brass hardware and painted frames on the cabinets add a more traditional look. In this kitchen, black evokes edgy feelings, while its combination with gold hardware suggests glamor. Black base cabinets and leather counter stools with tapered legs blend perfectly with the black flooring, while the white ceramic diamond backsplash with white grouts harmonize with white countertops and upper cabinets. The range hood with brass accents is assisted by a trio of globular pendant lighting fixtures, adding visual interest.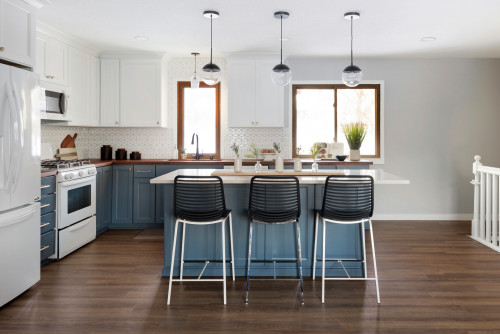 ID# 132304 | Houzz.com – Credit | © White Birch Design, LLC
---
Two-tone Cabinetry with White Rhomboid Diamond Tile Backsplash
As streaming natural lights invade the kitchen, it is hard not to fall for this beautiful scenery! The harmonious combination of wood, white, and blue achieves a refreshing feel inside. Wood window frames, countertops, and bronze hardware enriches the texture and color scheme and add a dash of warmth. The white diamond-cube backsplash with gray grout provides an eye-catching design without losing its humble look, while white appliances are a smart choice to preserve a continuous design and cohesion. Blue recessed-panel cabinets are in harmony with the blue island topped with a white countertop. Three globe-shaped pendant lighting fixtures complete the overall look of the island with a trio of black counter stools, while light wood flooring creates a soothing ambiance and adds energy flowing under the feet.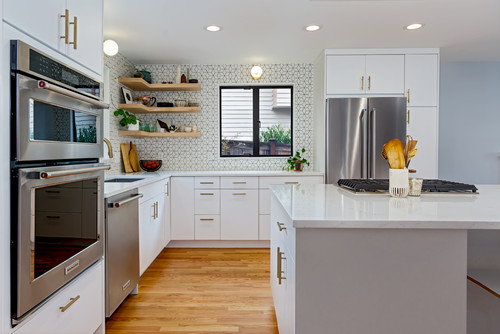 ID# 132305 | Houzz.com – Credit
---
Scandinavian Kitchen with White Flat-panel Cabinets and Brass Accents
The refreshing ambiance in this kitchen is achieved with wood corner shelves, all-white kitchen cabinetry, and wood flooring. Brass hardware attaches warmth and color to the white flat-panel cabinets, while stainless steel appliances blend in harmony. The black-framed window adds a contrast, supported by the rhomboid diamond porcelain backsplash with black grout that offers an eye-catching design. The beautiful round-shaped wall sconces and spotlights illuminate the interior space and bring allure. White Corian quartz countertops offer a sleek look that emphasizes the smooth finishes favored in Scandinavian kitchens.
What is a diamond tile backsplash?
A diamond can be considered a square set at a 45-degree angle. But even such a small twist can achieve an interesting shape used in the floor and wall tiling.
Diamond backsplashes come in various materials: travertine, ceramic, porcelain, marble, mosaic, glass, and more. Each of them creates different impacts, elevating the overall look of the kitchen with a unique design.
Yet, what makes them more unique is that they allow for different combinations with other shapes such as hexagon and cube. For instance, the mixture of a cube and diamond can easily make a statement as a kitchen backsplash and create a playful and puzzle-like look.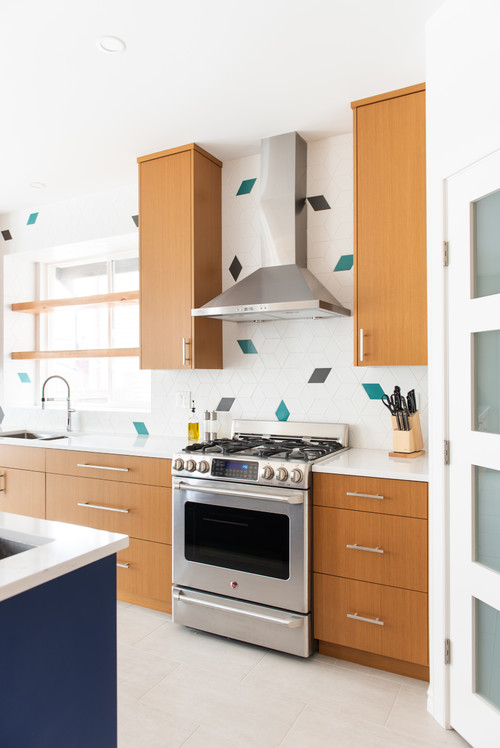 ID# 132306 | Houzz.com – Credit | © NOVERO Homes and Renovations Ltd.
---
Contemporary Kitchen with Wood Cabinets and Blue Island
This contemporary kitchen almost feels like a playground as the backsplash features multi-colored diamond patterns that seem like flying. These patterns face different directions scattered on a white backdrop of white diamond tiles to achieve this effect, while medium tone wood cabinets support this look with their warming elementary role. Additionally, this colorful backsplash with white grout achieves full impact, complemented with white countertops. The blue base island paired with a white countertop same as the perimeter counters adds a splash of color that completes the kitchen's overall look.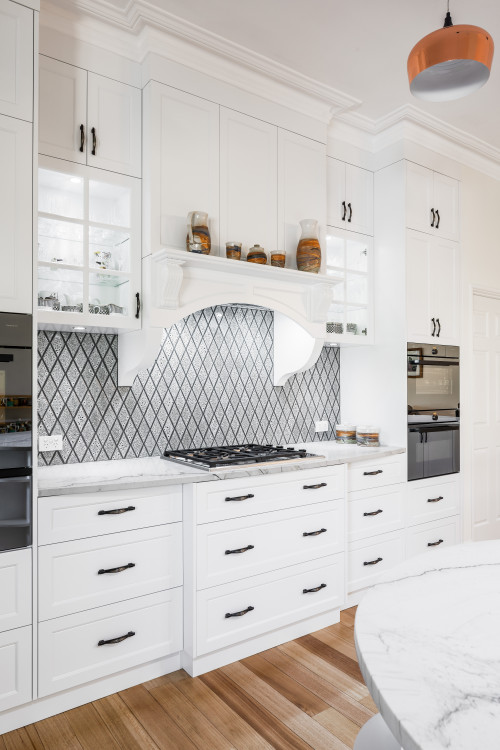 ID# 132307 | Houzz.com – Credit | © Kitchen Capital
---
White Shaker Cabinets with Gray Diamond Tile Backsplash with Black Grout
An envy-worthy gray ceramic diamond backsplash with black grout becomes the visual focal point of the kitchen. Its eye-catching presence gives the kitchen an unforgettable look, while black hardware complements the all-white shaker cabinets, portraying a striking contrast. White quartzite countertops with gray streaks blend seamlessly with the overall visual scheme, while an orange pendant lighting fixture adds an eye-catching color accent above the island. Other orange-colored decorative items exhibited on the range hood frame assist the lighting fixture and add a splash of color, evoking a sense of warmth. Glass-fronted upper cabinets flanking the hood evoke visual interest and allow homeowners to put their favorite kitchenware on display. Light tone wood flooring finalizes the overall look, creating a well-balanced atmosphere.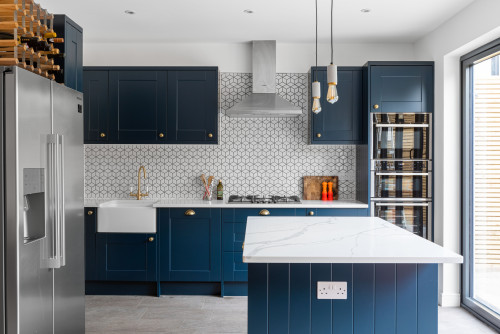 ID# 132309 | Houzz.com – Credit | © Sergiu Palii
---
Transitional Kitchen with Blue Cabinets and White Quartz Countertops
In this luminous transitional kitchen, the eye-catching white diamond backsplash with gray grout makes a statement, and the little cubes hidden within this unique pattern evoke visual interest. All-blue recessed-panel cabinets achieve a sleek look, contrasted with white Premium Natural quartz countertops chosen for their soft and gentle veining. The brass cabinet handle adds warmth and a punch of color to bring some charm, supported by a gold goose-neck faucet. The V-groove blue island base emits farmhouse vibes reinforced by a white fireclay farmhouse sink. A duo of lighting fixtures with intriguing shapes adds dimension and evokes curiosity, while the glass-fronted cabinet is cleverly placed right near the floor-to-ceiling glass window to flirt with natural lights playfully. As a final touch, gray ceramic tile flooring offers a neutral background to complete the sleek and elegant look of the kitchen.
Material Options for Diamond Tile Backsplash
Among the most popular materials for diamond tile backsplash, we can count ceramic, porcelain, marble, travertine, and glass. Each material features a different impact and can be adjusted to the kitchen's theme as they come in a wide range of colors, shapes, and finishes.
Glass Diamond Tile Backsplash
Considering their functional and aesthetic features, glass tiles are one of your best friends in the kitchen. They are durable, resistant to mildew and stains, eco-friendly, and visually appealing. What else can you want, right?
Glass tiles can come in various shapes, offering a natural decorative look. If you want a glimmering background that still manages to go with everything and fit into any style, white, gray, and beige glass tiles are one of the greatest options you can find in the market. Additionally, their luminous surface creates a sense of spaciousness and depth to the kitchen, which makes them highly preferable in small places. When it comes to the glass diamond tile backsplash, they make your kitchen stand out. So, without a doubt, your kitchen will look fabulous with a glass diamond tile backsplash!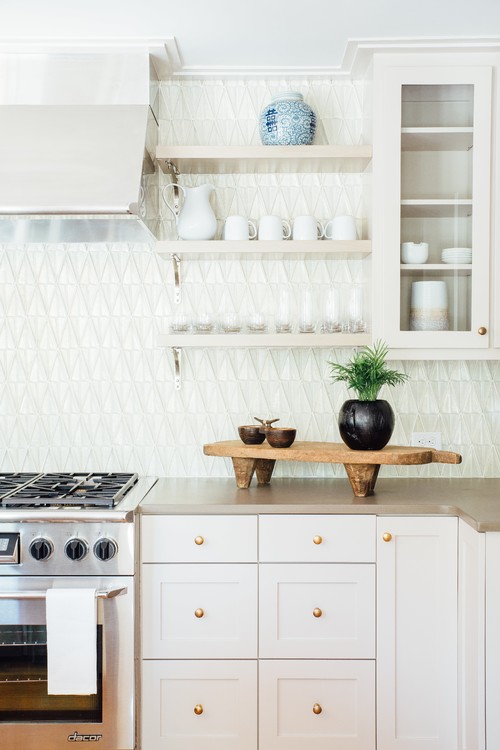 ID# 132310 | Houzz.com – Credit
---
Beach-style Kitchen with All-White Cabinets and White Diamond Tile Backsplash
Can you also feel the summer breeze and a coastal flavor in this kitchen? Its white color scheme emits the freshness and calmness that only a beach would evoke while elevating the overall look of the kitchen effortlessly in the meantime. Light-tone wood floating shelves flanking the stainless steel range hood decorate the walls beautifully, supported by glass-fronted upper display cabinets that bring visual interest. The light-brown countertops are reminiscent of sand, while the brass hardware on the off-white cabinets adds a splash of color and warmth, enriching the kitchen's color scale. Lastly, the white rhomboid backsplash features a 3D effect, creating a background evoking tactile feelings and curiosity.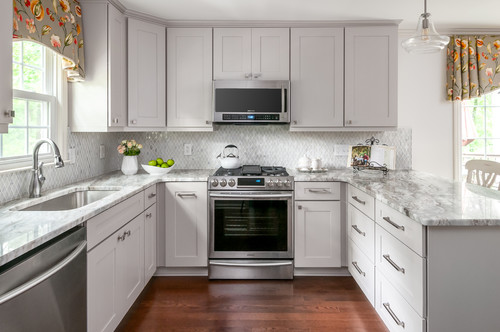 ID# 132311 | Houzz.com – Credit
---
Traditional Kitchen with Gray Cabinets and a White Countertop
In this L-shaped traditional kitchen, what attracts our attention is the white glass rhomboid backsplash that brings glamour. It is well-coordinated with light gray cabinets and countertops that offer a more neutral background to highlight the glass backsplash. Also, to cancel the full-sparkle effect, the glass tiles are combined with marble diamond pieces that compliment the marble-like quartz countertops. The monochromatic scheme of the kitchen is preserved that is only brought glimmer with shining finishes of chrome hardware and the faucet, while medium-tone wood flooring softens the white-gray palette and brings warmth and richness to the kitchen. A more traditional look comes with the orange floral designs scattered on a gray fabric dressing the windows.
Mirror Diamond Tile Backsplash
Who doesn't love mirrors? They add depth and do make rooms look bigger and wider. But here the question is if you have ever considered them as a backsplash or a part of your kitchen design.
Mirror tile backsplash comes in various patterns and shapes, enriching the look of your kitchen. You can also install just a regular mirror to cover the exact backsplash surface, but if you feel something more exciting and unique, there are many options available. A mirror diamond tile backsplash is just one of them and without a doubt, it will look like wall jewelry that adds glamor to the skin of your kitchen.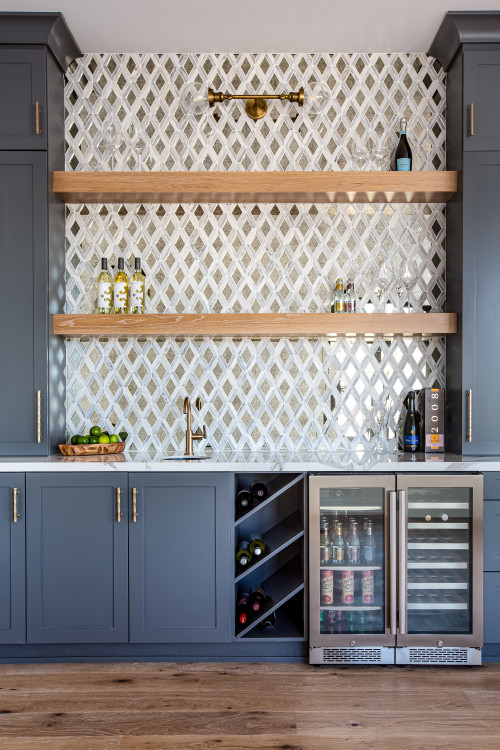 ID# 132312 | Houzz.com – Credit | © Laura Lochrin Interiors
---
Wet Home Bar with Mirror Diamond Tile Backsplash and Blue Cabinets
This mirror diamond-shaped backsplash is such a clever idea to adorn the wall of a home bar! With the help of this backsplash, the transitional wet home bar designates its space with glamour. Light-tone wood floating shelves installed on the backsplash bring an additional allure, neutralizing the shiny look of the backsplash. The brass wall sconce with two light bulbs facing opposite directions completes the brass cabinet handle that adds warmth and a splash of color to the otherwise all-blue base cabinets. The white quartz countertop adds extra brightness, punctuated by a gold faucet that assists a small round under-mount sink. An inset dual zone beverage cooler feels at home, while diagonally installed built-in wine racks evoke visual interest.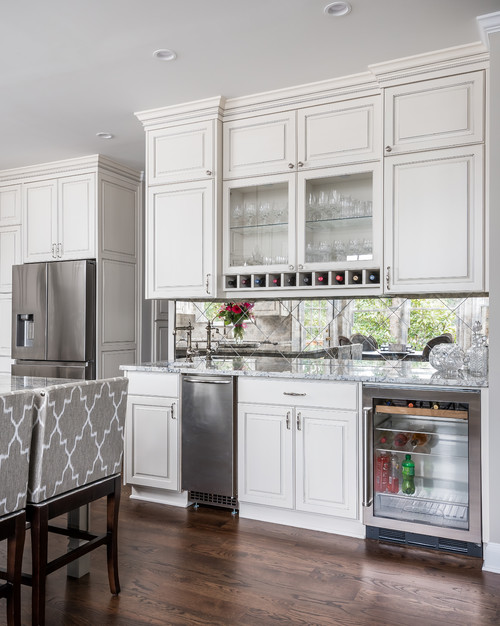 ID# 132313 | Houzz.com – Credit | © Cynthia Karegeannes, Registered Architect
---
Glamorous Home Bar with White Cabinets and Chrome Hardware
This home bar combines glamorous elements, ranging from a mirror backsplash with large format diamond patterns to chrome hardware. The mirror backsplash distinguishes the bar zone from the rest of the kitchen while making a bold statement, and it reflects the kitchen, creating a meta-reference. The glass-fronted cabinets right above the backsplash exhibit the beautiful glassware with a reserved space for wine bottles underneath. The white raised panel cabinets add a timeless classic look, topped with a white countertop with black speckles. The crowded design on this countertop enriches the visual scheme, while chrome hardware adds a shiny and luxurious look. Additionally, the high-arch faucet brings an antique look that projects a nostalgic vibe, while the beverage cooler with a stainless steel frame offers a contemporary appeal.
Marble Diamond Tile Backsplash
As marble backsplash is always on demand and trending, once you have it installed, you can keep it for a very long time. Their durability and ease of maintenance make things a lot easier. Plus, their design flexibility and customizability keep your options pretty wide, allowing you to achieve any effect you would expect your kitchen to have. Due to their soft inherent veins, they feature a natural decorative look, which makes them even more special.
As for the diamond tile backsplash, they serve as statement pieces for your kitchen. Diamond's dynamic shape alternates the vibes your kitchen emits, achieving an elegant and sophisticated look.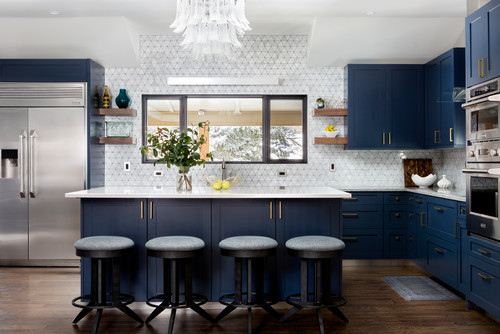 ID# 132314 | Houzz.com – Credit | © Watson & Co
---
Transitional Kitchen with Blue Cabinets and White Countertops
In this transitional kitchen, the marble backsplash stands out with its diamond pattern as its smooth and natural transitions from white to gray and vice versa add a sophisticated look. The minimal use of the upper cabinets makes a place for the backsplash to emphasize its expressive character. The floating wooden shelves that seem to be the extensions of blue shaker cabinets add warmth and a rustic flair, while lacquered white countertops with a subtle glossy effect brighten the kitchen, portraying a sharp contrast to the blue cabinets. This contrast adds more value and character to the kitchen design, which is softened by the dark wood flooring. The black-framed window across the island breathes fresh air and light into the kitchen, letting you enjoy the outside view as you do your kitchen work.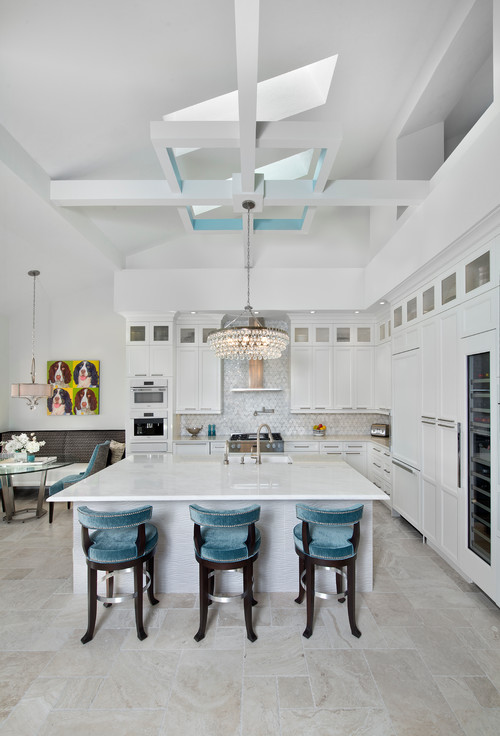 ID# 132315 | Houzz.com – Credit | © Home & Design Magazine Naples
---
All-White Luxury Kitchen with a Massive Island and Diamond Tile Backsplash
This top-to-toe white transitional kitchen houses plenty of natural light let in by two skylights on the vaulted ceiling. While all the white features of the kitchen design create a continuous design, it is the blue velvet counter stools that inject a small dose of color into this luminous kitchen. The floor level of the kitchen features minimal decorative items, while the ceiling offers a busier scene. For instance, the white-painted exposed beams serve as a ceiling décor, and the glamorous oversized chandelier communicates a sense of luxury. As the double-height apartment offers high-ceilinged and spacious rooms, the size of the furniture grows accordingly. The massive island, for instance, can be used as a work surface and a sit-down meal at the same, and its all-white look is compliant with the rest of the kitchen. As a final touch, gray-colored ceramic floor tiles seal the monochromatic look of the kitchen.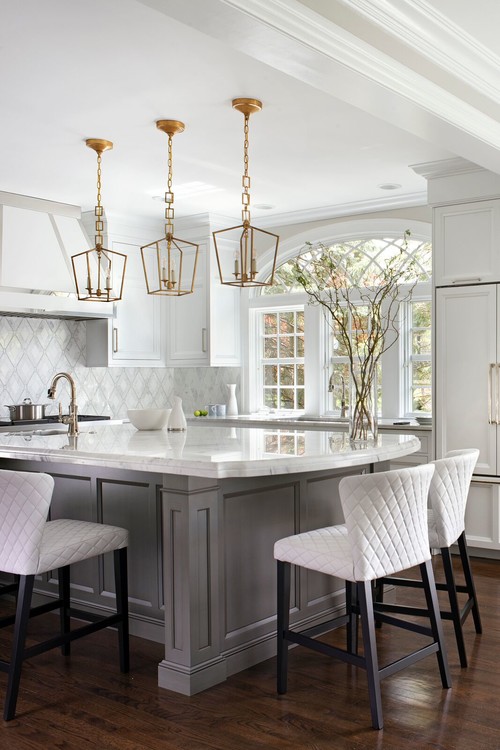 ID# 132316 | Houzz.com – Credit | © Ulrich Inc
---
White Cabinets with a Gray Island and Brass Accents
The white palette sets the tone for this transitional kitchen as clean and smooth finishes define its character. The chic natural stone backsplash, white glossy countertops, and gray island clad in panels achieve a modern-classic look that suits the transitional kitchen design. The island enriches the spatial dining options of the homeowners, assisted by white cushioned counter stools that offer sofa comfort and mimic the diamond pattern backsplash. The island also adds a dash of color with its gray base, and its extending curved edge evokes visual interest. The naked branches held together in a glass vase placed on the island mark the season of this kitchen if they have one. Brass caged pendants carry warmth and a punch of color, while dark wood flooring adds a dramatic effect to finalize the overall look of the kitchen.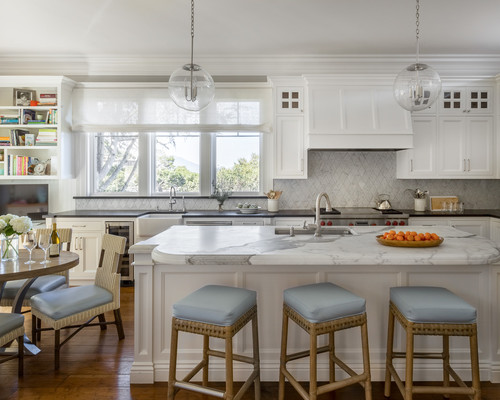 ID# 132317 | Houzz.com – Credit | © EJ Interior Design, Eugenia Jesberg
---
Transitional Kitchen with White Cabinetry and Diamond Tile Backsplash
The white-trimmed three-panel windows let natural light flow in, keeping this transitional kitchen bright and fresh, while the white recessed-panel cabinets make the kitchen look larger and create a sense of spaciousness. The marble-island top and marble rhomboid pattern backsplash bring a uniform look and soothing ambiance, thanks to the freshness of white and soft natural veinings on the marble, while black perimeter countertops add a sharp contrast with a modern appeal. This custom- design multi-purpose island can be used as a prep zone and for a sit-down meal. Its curved edge extension houses a trio of counter stools, while
the globe-shaped glass pendants with a nickel finish complete the look of the island.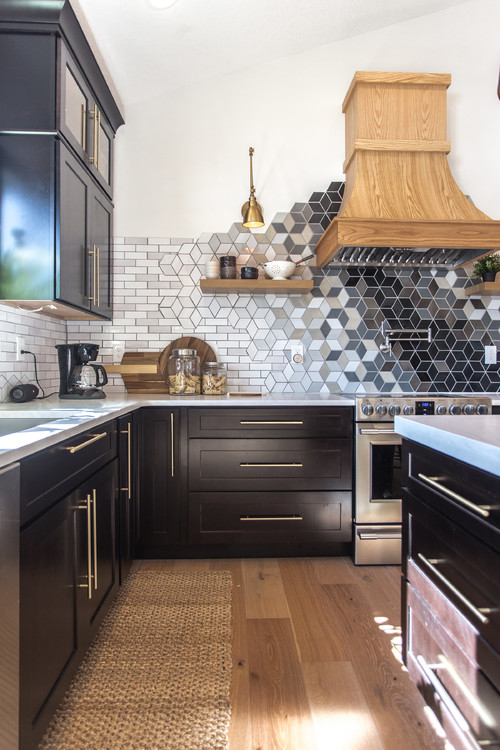 ID# 132318 | Houzz.com – Credit | © Mercury Mosaics and Tile
---
Eclectic Kitchen with Ombre Diamond Tile Backsplash and a Wood Hood
Eclectic kitchens are excellent theme-makers if you want something different that will also reflect your personality. With these kitchens, you don't have to stick to any specific design as they let you experiment with different styles with a mix-match method, and the outcomes are always satisfactory. This gorgeous eclectic kitchen, for instance, combines contemporary vibes with farmhouse flair and achieves a cozy atmosphere thanks to the wood treatments. The light wood floating shelves, range hood, and a brass finish wall sconce add a dash of warmth to the otherwise black-dominant kitchen. The ombre ceramic diamond pattern backsplash smoothly transitions into white subway tiles and serves as the wow factor, while white quartzite countertops make the kitchen more appealing.
Ceramic Diamond Tile Backsplash
Ceramics are very durable, highly customizable, and easy to clean materials. In today's market, they are available in many different colors, patterns, and designs. They can be honed and polished and end up featuring different effects.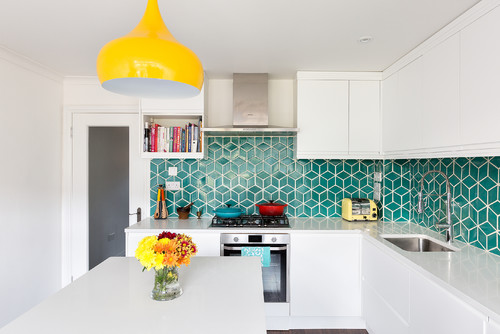 ID# 132320 | Houzz.com – Credit | © Tile Desire
---
Contemporary Kitchen with White Cabinets and Blue Backsplash
This light-filled contemporary kitchen feels fresh and welcoming thanks to the pops of the blue and yellow colors. These flat-panel cabinets with contemporary finishes come handle-free without causing any visual interruption and achieve a uniform look. The blue diamond-cube backsplash adds a dash of color. It also enlivens the kitchen with its intriguing unique geometric structure. The backsplash's white grout refers to the kitchen's white theme, maintaining an open dialogue with other elements. The relatively small island offers an extra work surface. The yellow dome-shaped pendant anchors the all-white island to the kitchen. Lastly, the open-shelving unit serves as the perfect spot to exhibit your essentials.
How to install a diamond tile backsplash?
First, measure the backsplash area and ensure that the surface is clean and smooth. As a second step, just to make things work smoothly, you can make a template from cardboard and lay the diamond tiles on it to make your design. Experiment with the tiles. You can start from the center. This step also allows you to see how much you need to cut to get the straight edges.
When you are done with this stage, you can start to install the precut tiles on the surface that is applied thin-set mortar with a trowel. While installing, use spacers to make sure that you leave even spaces between the tiles. Then, press tiles into the mortar to ensure that they are firmly installed. Wait for the next 24-48 hours before grouting.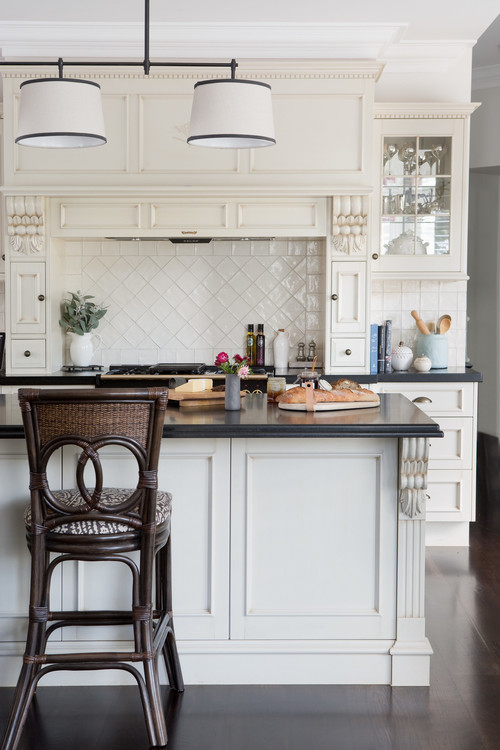 ID# 132321 | Houzz.com – Credit | © Maytain Cabinets
---
Traditional Kitchen with Black Countertops and Beige Cabinets
If you want your home to be dressed in a timeless classic look, then traditional kitchens are the best. With more elaborate cabinet door designs, bulky range hoods, and moldings, you can achieve this look easily. Here, for instance, the coordination of beige cabinets and white ceramic diamond backsplash offers an unmatchable beauty and elegance. The ornamental moldings on the range hood and the island's legs bring additional charm. The paneled surfaces add an extra dimension to achieve that classic look. Black countertops offer contrasting colors to the otherwise all-white kitchen. This contrast also supported by dark wood flooring helps bring out the charm of the white and beige elements.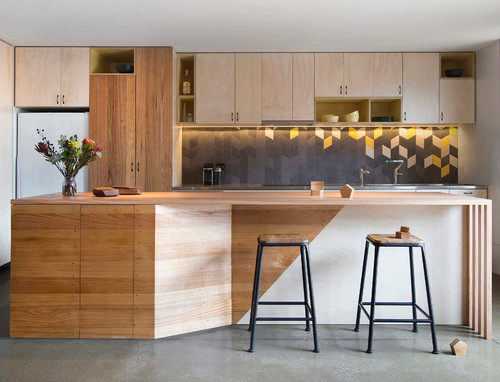 ID# 132322 | Houzz.com – Credit | © Breathe Architecture
---
Contemporary Kitchen with Wood Cabinets and Black Backsplash
In this light-filled contemporary kitchen, the custom-design sculpted wood island features excellent craftmanship and leaves you with an impression of an artwork. The ceramic backsplash's honed surface maintains the organic feel in the kitchen, while its geometric diamond pattern offers a contemporary appeal. This partially colored backsplash with scattered yellow and pink tiles on a black backdrop provides an interesting design. The variously sized display shelves and a faucet with its unique design add an interesting look. The gray concrete floor finalizes the overall look of the kitchen with an elegant touch.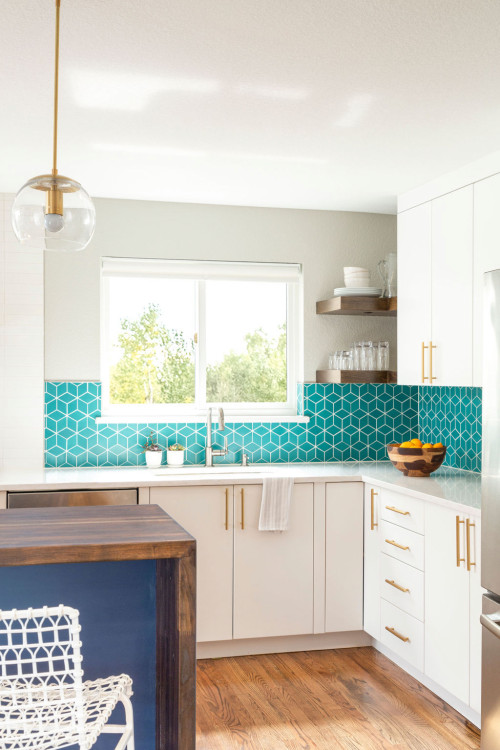 ID# 132323 | Houzz.com – Credit | © TVL Creative Ltd.
---
Beach-style Kitchen with White Cabinets and Brass Accents
In this beach-style kitchen, the blue ceramic backsplash serves the kitchen to bring a visual sea flavor and coastal delight. The white recessed-panel cabinets add freshness and a sense of brightness. Also, the beautiful greenery peeks behind the white-trimmed window letting fresh air flow in. Wood elements used in different set-ups of the kitchen bring that organic feel into the kitchen. For instance, the waterfall island topped with a dark wood countertop flowing over the edges suggests a character of the sea. The floating dark wood shelves and brass handle create cozy and natural feelings. The vertically stacked white subway tile backsplash designates the cooking zone, flanked by the blue backsplash. Its diamond-cube geometric structure makes a statement, providing a very entertaining background.
How to grout diamond tile backsplash?
Now that you have installed the backsplash, it is time to apply the grout. Before starting to grout, wet the tiles and clean them. Then, spread the grout into the tiles with a grout float. If you spread too much grout, clean it as soon as possible before it dries up and gets harder to remove. When you are done, clean the tiles again with a wetted soft sponge.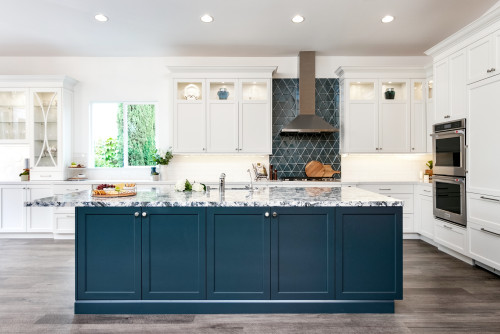 ID# 132324 | Houzz.com – Credit | © Crickett Kinser
---
Transitional Kitchen with White Cabinets and Blue Island
If you favor kitchens that merge traditional with modern lines, then this transitional kitchen will speak to you. This well-lit spacious open-plan kitchen houses white recessed-panel kitchens with white quartz countertops that provide a homogeneous look. Navy blue ceramic diamond pattern backsplash is finished with a glossy effect that adds glamor and a sense of luxury. It is well-coordinated with the navy blue island coupled with a white and blue quartz countertop. The large island's base features shaker cabinets with brass hardware and provides ample storage space. Also, its cantilevered extension can shelter a few bar stools that can easily be tucked underneath it.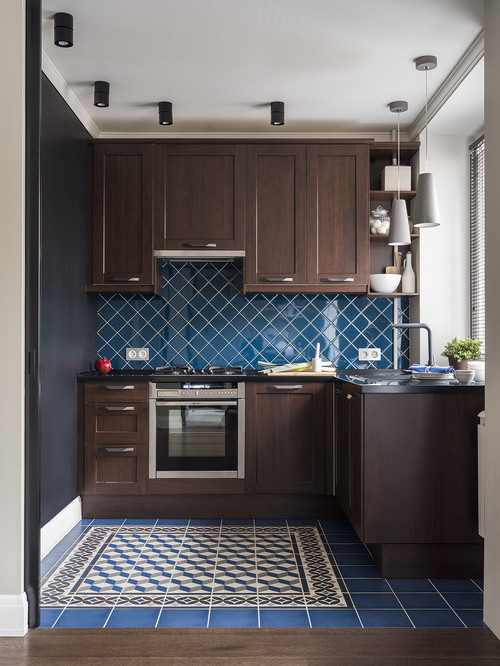 ID# 132325 | Houzz.com – Credit | © KorenevaZhadanDesign
---
Small Contemporary Kitchen with Dark Wood Cabinets and Blue Backsplash
Small kitchens might be a worry as it's more challenging to fit everything all together and benefit from the space at a maximum level. But this small kitchen achieves to keep the kitchen bright, cozy, and highly futile. This tiny L-shaped contemporary kitchen welcomes natural lights coming from an oversized window above the faucet. The espresso cabinets are contrasted with the blue ceramic diamond backsplash to create a visual trick. Preferring backsplash's polished version is another clever choice to bring some depth to the kitchen. Plus, the tile's ornamental patterns evoke local notes that add a local character to the kitchen in the meantime.
Is diamond tile backsplash outdated?
Absolutely not! As diamond pattern backsplashes come in various shapes and designs, you can experiment with them freely to come up with a matching look to your kitchen's theme. You can also combine them with hexagons and cubes to achieve a unique look. For instance, ombre-style diamond-cube backsplashes are favored in contemporary and modern kitchens, particularly due to their rich color scale and intriguing geometric structure.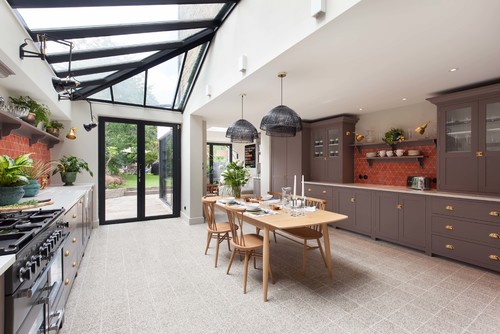 ID# 132326 | Houzz.com – Credit | © Claudia Dorsch Interior Design Ltd
---
Ravishing Mid-century Kitchen with a Glazed-Roof and Red Diamond Tile Backsplash
This mid-century kitchen could be one of the most beautiful things you have seen! The glass roof bathing the interior space in sunlight, luxurious terrazzo flooring, beautiful red diamond backsplash, and the potted plants exhibited on the purple shelves coloring the kitchen green! This used-to-be Victorian terrace closed with a glazed roof serves as a ravishing galley-style kitchen nowadays. It offers ample prep surface and a large central walkway to host a humble wood dining table. White countertops paired with purple shaker cabinets and a red backsplash achieve a harmonious blend, keeping the kitchen abound in colors. Brass handle, plumbing, and lighting fixtures bring additional charm, partnering so well with red and purple. The gray terrazzo floors provide a neutral background to create a well-balanced ambiance.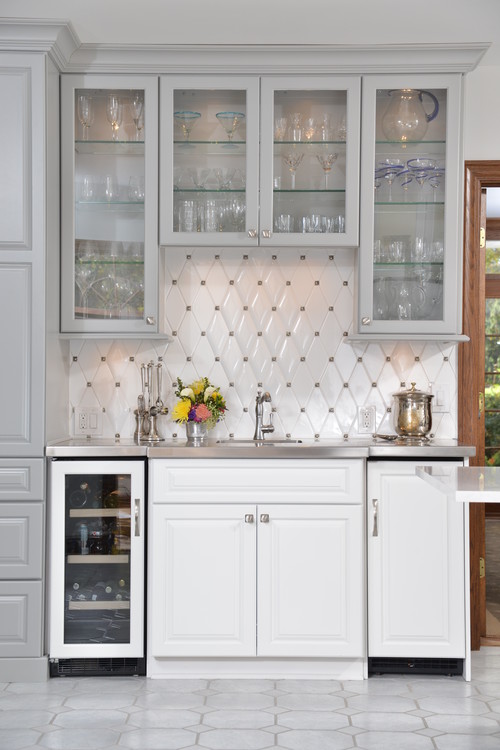 ID# 132327 | Houzz.com – Credit | © Artistic Renovations of Ohio LLC
---
Traditional Home Bar with Stainless Steel Countertops and Glass-fronted Upper Cabinets
In this traditional home bar, you have everything you need! A beverage cooler, display cabinets, and diamond backsplash as a piece of wall jewelry! White and bright recessed-panel kitchen cabinetry is well-coordinated with glass-front upper gray cabinets that show off with the gorgeous glassware. They also allow you to be more conscious while you are heading for the right glass. The easy-to-clean stainless steel countertop looks very professional, evoking industrial vibes. The bridge faucet brings a more traditional and classy look. The white bar backsplash with Emperador black dots provides an elegant background and communicates a sense of luxury.
Travertine Diamond Tile Backsplash
Travertine is a very inspiring material especially if you want to achieve an earthy feel and look in your kitchen. It's a form of limestone, and its classic and timeless look comes from nature as it formes around the hot springs. As such, their inherent porous, imperfect, and irregular surfaces make them even more unique.
Another feature of travertine is its warming look that comes from its ivory, beige, brown, and reddish-brown color palette. They can be tumbled, polished, and honed, and each finish gives them a different look, which increases your options with travertine tiles. You can also mix different colors of it to achieve a mosaic look.
When it comes to patterns, travertine is found in different shapes such as diamond, hexagon, herringbone, square, and rectangular tiled in a running-bond style. Among them, travertine diamond tiles are very popular, especially as a backsplash in the kitchens. They give a neutral and earthy look while creating a cozy atmosphere in the meantime thanks to their soil color palette.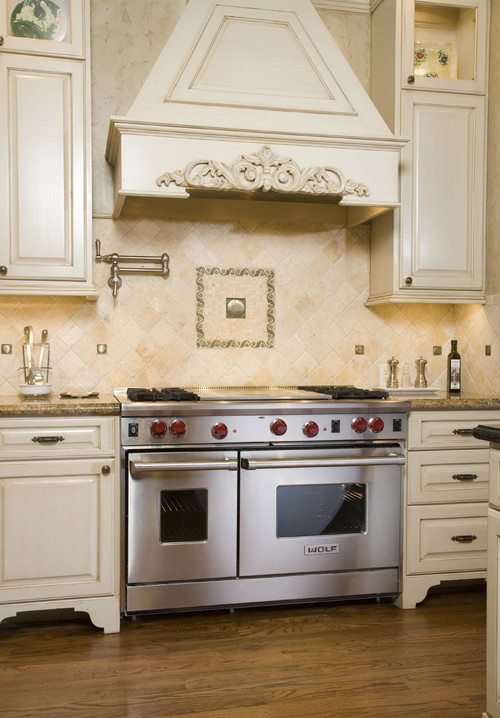 ID# 132328 | Houzz.com – Credit | © Hann Builders
---
Traditional Kitchen with Travertine Diamond Tile Backsplash and Beige Cabinets
The tumbled travertine backsplash fills this traditional kitchen with earthy feelings while setting its tone. With its warming colors, it creates a cozy atmosphere, and its diamond pattern adds visual interest. It is expertly combined with brown granite countertops. Both travertine and granite as natural stones carry nature to your kitchen and enrich the texture scheme generously. The beige-colored raised-panel cabinets bring a rustic and traditional charm to the kitchen. Black rounded hardware and bronze pot filler accentuate the surfaces. The range hood with a 3D floral molding on its brim crowns the travertine diamond backsplash to emphasize its presence. The medium-tone wood flooring attributes a dramatic effect to the kitchen.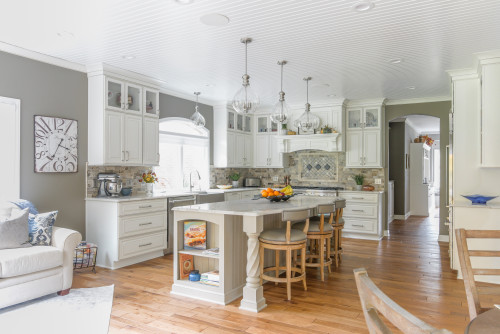 ID# 132329 | Houzz.com – Credit | © Dream Kitchens
---
Transitional Kitchen with White Raised-panel Cabinets and Polished Travertine Backsplash
In this transitional kitchen, we see a more modern combination of the travertine diamond tile backsplash. The stove zone is marked with inset diamond tiles in a rectangular frame, surrounded by a honed subway travertine backsplash that brings warmth to the kitchen. The inset backsplash is polished that matches the brightness of the white raised panel cabinets and quartz countertops. The V-groove beige island with a quartz-topping extends to house three counter stools almost tucked beneath its recessed bottom. Two pillars support this extension on both sides bringing a classic look. White-trimmed arched window merges inserts a more traditional look. The pendants' traditional look is modernized with glass and stainless steel hardware. Likewise, the apron-front farmhouse sink and V-groove paneling carry farmhouse flairs with modern touches.
Where should I start my diamond tile?
You can start tiling diamond tiles from the center of the wall surface. Now the question is how you find the center of the wall surface. First, measure the distances between the vertical and horizontal edges, make a drawing of your wall surface, and note down the measurements. Let's assume that it is 4 feet to 2 feet. Then, divide them by two, which gives us 2 to 1. Then draw the vertical and horizontal lines by this outcome. The cross point will give you the center.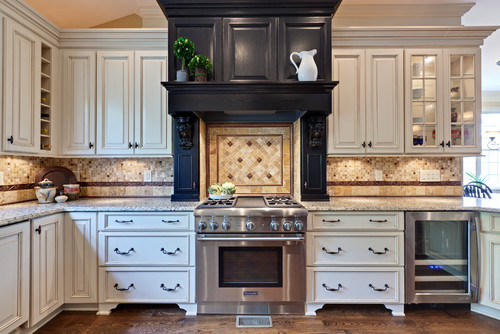 ID# 132330 | Houzz.com – Credit | © Turan Designs, Inc.
---
Traditional Kitchen with White Cabinets and Granite Countertops
This traditional kitchen feels inviting with its warm color palette and undercabinet lighting. The beige-dominant multi-colored travertine backsplash with a soil palette evokes earthy feelings. The raised-panel cabinets combined with black hardware bring a modest contrast and achieve a harmonious blend with the backsplash. The black speckled white granite countertops enrich the texture scheme while resonating with the black-white cabinetry combination. The black range hood crowns this union and exudes elegance with its colossal body. Also, its recessed-panel torso adds a contrasting movement when compared to the white raised-panel cabinetry. These small intricate details unpack the traditional character of the kitchen beautifully. Additionally, if you want to make a statement by lighting, this kitchen exemplifies how to do so expertly.