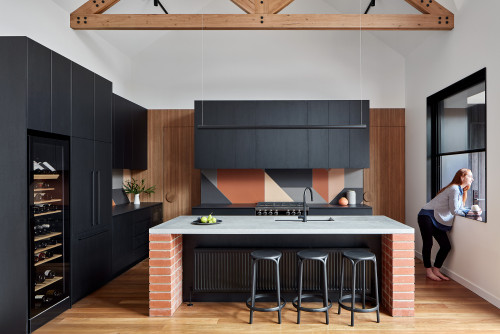 ID# 129901 | Houzz.com – Credit | © Brickworks Building Products
---
Colorful Backsplash for Black Flat-Panel Kitchen Cabinets
The most eye-catchy things in this stylish industrial kitchen design are the brick walls of the island and that colorful backsplash, of course. The industrial kitchen design style loves to have a brick in any part of the interior. Flat-panel cabinets and paneled appliances create wholeness in the design. You may hesitate to use black color for your kitchen cabinets, but, as in this kitchen, they create such a stylish and beautiful appeal. Adding colorful backsplash increase the movement in the atmosphere and put a balanced look.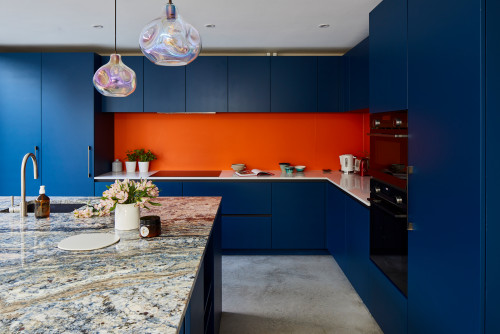 ID# 129921 | Houzz.com – Credit | © piqu
---
Bold Colors in a Stylish Kitchen Design with Quartzite Countertops
Of course, using dark colors can be frightening for you thanks to their unusual color range. But, as in this kitchen, when they are used in the correct way and style they can create perfectly stylish appeal to your kitchen design. The dark navy blue draws in the attention with the contrast of the orange glass backsplash. Using the backsplash without patterns accompanies the plain look of the cabinets. White quartzite countertops put a sweet touch and balance the bold appeal.
Colorful Backsplash
Kitchens are the most important part of the home if you love to prepare food and cook. If so, you will spend most of your time here. It gains such importance, right? You may want a spacious or tiny cute area for your delicious recipes. On the other hand, you may not like cooking but want a beautifully designed kitchen. For a kitchen design, just like the cabinets and countertops, the backsplash is one of the most important design elements. Besides its functional aspect, the backsplash is the element that brings all elements together. Also, choosing the cabinets or countertops might be overwhelming but backsplash is a perfect area where you can be more playful and reflect your personal taste! Whether your style is modern, vintage, classic, or contemporary the colorful backsplash can help you to increase both a dynamic and stylish appeal for your kitchens!
To take your kitchen one step further you may use a colorful backsplash that can keep the kitchen cabinet design with balance. They can both draw attention and put complete the design. From ceramic tiles to glossy glass ones, colorful backsplashes come in a wide range of material, color, texture, and pattern options. So, if you want to spice up your very special kitchen design with joyful tiles, let's look for the colorful kitchen backsplash ideas to find some inspirational design ideas!
Colorful Backsplash Types
The types matter! Of course, colorful backsplash types will vary depending on what kind of air you will add. Everyone has a design style that they will reflect according to their personality. So your kitchen design and backsplash type will change accordingly. With which design style you want to reflect your personality, a suitable backsplash will be waiting for you out there.
The surfaces, patterns, and textures have an influence on the design with the help of the colors. To create a warm atmosphere wooden surfaces perfect for that, to have stylish look brass hardware and blue cabinets are enough, to have a dynamic look it is a clever idea to design colorful backsplash. According to these, you may wonder what type of backsplash will be best for you. Let's see!
Colorful Mosaic Tile Backsplash
The small pieces come together and create a miracle! A set of sheets contains stylish colors and textures for your backsplash that can create the perfect look for kitchens. Thanks to their size alternatives you can use small or bigger ones to have elegance in the environment. Also, they are very useful in do-it-yourself projects that allow you to have a joyful time with yourself.
The colorful mosaic tile backsplash is one of the design elements that you can add movement with their patterns to the kitchen design. You may want to use them with your kitchen cabinets to show off your personality in your design.
Colorful Subway Tile Backsplash
Thanks to the New York subways we have those gorgeous tiles to use in our homes. If you think you can have only one color for the subway tile backsplash you are wrong! They can be in any color, or multicolored. A colorful subway tile backsplash is a beautiful and stylish choice to create elegant interiors. You may have blues, pinks, glass surfaces, or even mirrors! Did you know that you can have a cozy atmosphere with subway tiles? According to your style, it can be possible to have most of the kind of feelings that an interior will give you.
Colorful Backsplash Materials
Of course, materials are as important as styles when making a design. We have to consider the materials in your special design that will reflect your personality. Let's say you want to do something in contemporary design style, you pay attention to simplicity and elegance for the kitchen design and you want to use colorful backsplash. After deciding on the color and the types, it is necessary to pay attention to the materials. What will your colorful backsplash be like? You may choose glass, ceramic, or others. So, let's look at what can you use for your backsplash!
Colorful Glass Tile Backsplash
If you consider adding visual interest to your kitchen cabinets, glass tiles are the perfect fit for it. They are thin pieces of glass with translucency that can help a kitchen with a clinking noise. Did you know that glass tiles are eco-friendly thanks to their ability to be repurposed! They are resistant to heat, water, and stain which makes them perfect for being used as a backsplash. For all of these good opportunities, it is a clever idea to use a colorful glass tile backsplash for your kitchen design!
Colorful Ceramic Tile Backsplash
When it comes to ceramic materials you can have enormous tile opportunities such as rectangular, hexagon, printed ones, or others! They are the most popular ones for backsplash usage. Also, they allow you to have do-it-yourself projects, which is joyful when you have the interest to do your design with your hands! You may like to use a colorful ceramic tile backsplash for your kitchen cabinets and have a beautifully designed interior!
How to pick a backsplash color?
It is up to you, of course, but we can say as a recommendation if you have a busy backsplash then do not use busy countertops to do not overwhelm the design. Which one will be your focal point? The backsplash or the countertop, or the cabinets? Picking backsplash color changes according to these. They can team up with the countertops and kitchen cabinets. If you want to have a contrast then you can choose contrast colors for them according to design style. A backsplash that complements a countertop is a good idea for your kitchens.
White Kitchen with Colorful Backsplash
Whatever the design style that you will apply for your kitchen is, white kitchens are perfect for every kind of style! You can match almost every backsplash with them and have a stylish design. From contemporary to classic, you can design a white kitchen with a colorful backsplash! Thanks to this, there is a variety of chances to have stylish, elegant, warm, inviting, friendly, and fresh looks!
What color backsplash with white cabinets?
White is such a color that it can achieve harmony and elegance with almost any color. To have the soft and stylish look you can have pastel blue, powder pink, or green. Brown color shades and wooden textures can help you to have a warm and cozy look. Gray colors can add a color transition between the white cabinets. You may like to have a white backsplash with white cabinets to create integrity. If you like to have fresh appeal blue shades are the perfect fit for it. It is up to your design style, having white cabinets allows you to have such a variety of colors!
Modern Colorful Backsplash
We are in modern times which allow us to use technology with the design! You may like plain surfaces, simple looks, or cleverly designed kitchen cabinets. When the word "modern" comes to mind it reminds us that you need to use simple colors, but it is not true. You can have a modern colorful backsplash with bold colors or different patterns! It is up to your style but this backsplash style can certainly be useful for the kitchen cabinets!
What is the best color for a backsplash?
Every design style has a color chart that it mostly uses. You can be freer in modern and contemporary design styles than others, but feel free in other design styles as well because the design is a thing where people can do things with their imaginations! It is subjective but as a recommendation the best color for the backsplash is white. You can have it with every cabinet color and style thanks to its ability to harmony and blend with other colors.