33+ Colorful Kitchen Island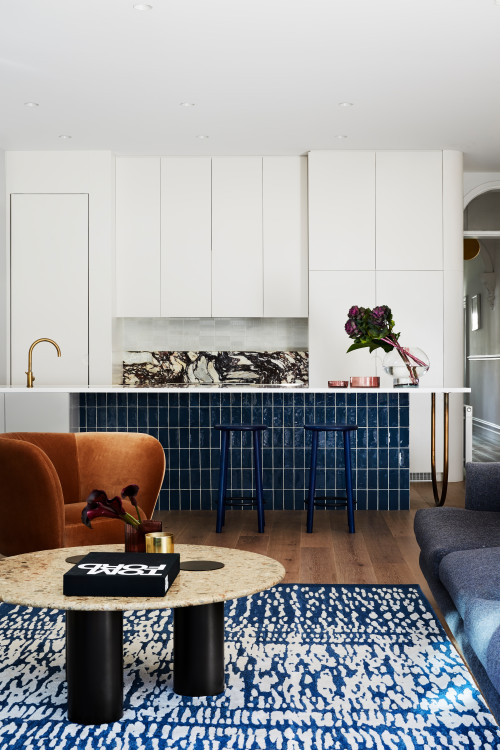 ID# 145406 | Houzz.com – Credit | © Full of Grace Interiors
---
White Flat-Panel Cabinets and Countertops with a Blue Kitchen Island
The white flat-panel kitchen cabinets provide a black canvas for the island to make the navy blue color stand out. The white countertops complement the both white cabinets and the blue kitchen island creating a fresh and balancing appeal. The marble slab backsplash and the brass accents create an opulent and luxurious look in the kitchen. Using paneled appliances is a terrific idea to keep up the integrity of the cabinetry design.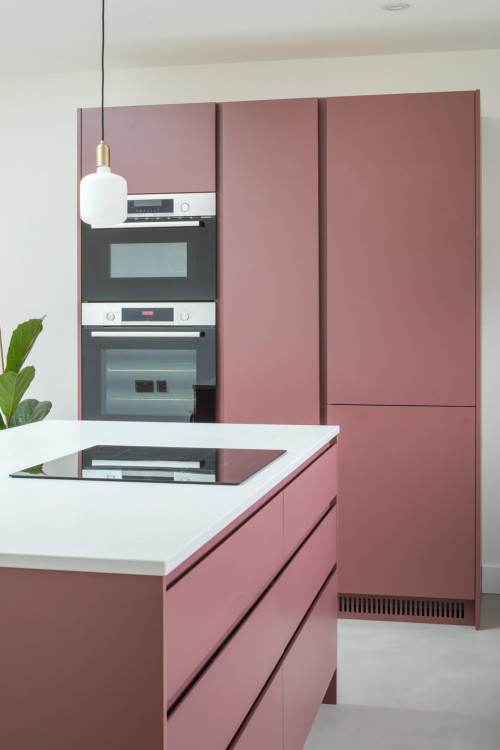 ID# 145421 | Houzz.com – Credit | © Sustainable Kitchens
---
Contemporary Handleless Flat Panels and White Countertops
The light and energetic hue of the purple greets you with a contemporary appeal in this kitchen. The handleless design of the flat-panel cabinets provides a stylish and plain design look. The white countertops, light gray floor tiles, and white environment enlighten the purple cabinetry and balance it. Thanks to the black appliances there is visual interest in the kitchen.
Colorful Kitchen Island
The heart of the home is typically the kitchen. It's where you and your family prepare for the day, make holiday memories, amuse guests, and gather with loved ones to celebrate life's significant events. The kitchen island, which sits in the middle of the area, provides more room for cooking, gathering for casual meals or coffee breaks, and even more storage. The island may serve a variety of practical purposes in addition to serving as a decorative centerpiece for the room. For instance, you may take advantage of ideas for a colorful kitchen island that may motivate you to paint or use color on the island's surfaces.
There are numerous things to consider while remodeling a home, particularly the kitchen. There are countertop designs, backsplashes, islands, and peninsulas. Floors, walls, ceiling designs, drapes, and other decorations follow these major components. One of the design options for a kitchen is to use colorful kitchen islands. Use colorful kitchen island ideas if you want to make a statement. Whether you want a pop of color or to match the colors of your backsplash, there are countless ways to use colorful kitchen islands to create a stunning focal point for your kitchen. To view some great examples of colorful kitchen island designs that will surely inspire you, scroll down!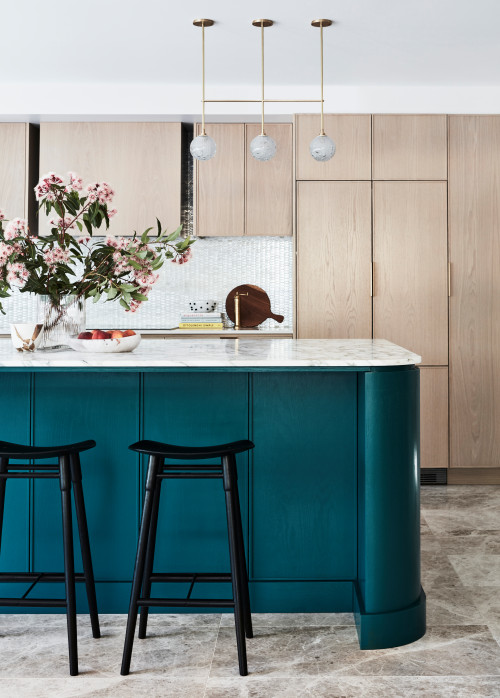 ID# 145401 | Houzz.com – Credit | © Catherine de Meur Interiors
---
Colorful Kitchen Island Idea with Wood Flat-Panel Cabinets
Using contrasting colors is one of the terrific ideas you can have in your kitchens with your island design. The light wood tones of the cabinets and the blue island provide an aesthetic contrast with a modern appeal. The white countertops and the backsplash balance the environment adding a fresh appeal to the kitchen's general view.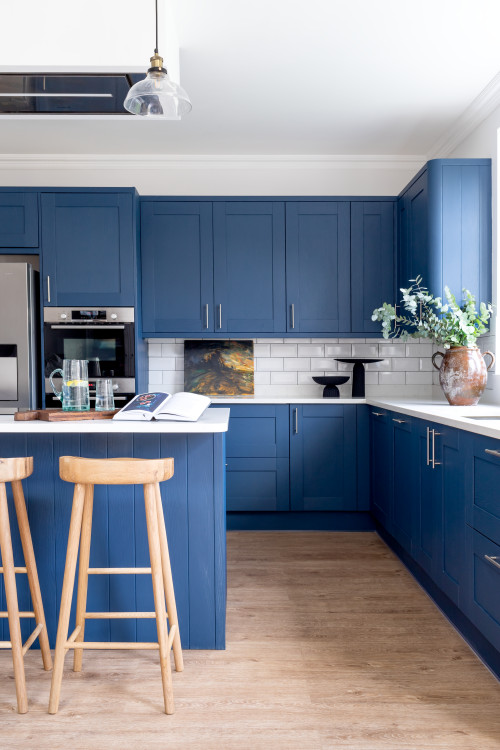 ID# 145402 | Houzz.com – Credit | © The SpaceMaker Interiors
---
Blue Shaker Cabinets and White Countertops with a Subway Tile Backsplash
The shiplap design of the blue island brings a cottage atmosphere to the kitchen! The blue shaker cabinets, white subway tile backsplash, and white countertops are the classic duos that provide a familiar and timeless look to the kitchens. The light wood island chairs and light wood kitchen floors put a lovely contrast to the blue color of the island and cabinets.
How to choose a kitchen island color?
It is possible to get amazed by the many ideas for kitchen island colors these days since the industry has endless alternatives. There are a couple of considerations you can check while choosing a kitchen island color.
– The size of the island is the first factor that will determine whether or not it would be a good idea to paint the main cabinets a different color. Is it big enough for your family to eat dinner there (8'x 5′) or is it only big enough to serve beverages and desserts (4'x 2′)? If the island isn't as big as you'd like, stick with the primary cabinet color if it's on the smaller side. You don't want to divide the room and may not want to call attention.
– Does it connect to the large cabinets?
A stand-alone or an L-shape? A bar can occasionally be treated as an island and given an accent color to provide some interest. When it is connected to the other cabinets, it might be difficult to transfer. The greatest place to introduce more color is on a separate island.
– Is granite used for the countertop? Quartz/Quartzite? Carrera or New Venetian Gold marble looks are becoming more and more popular among clientele. What accent color you pick for the island, if any at all, will be much influenced by this.
– Which shade do the main cabinets have? White, off-white, gray, or a darker shade? This will undoubtedly affect whether you add color to the island or just go with the primary color of the existing cabinets. We believe that matching the island to the cabinets will always be successful, and if you are truly suffering, you can choose to do this.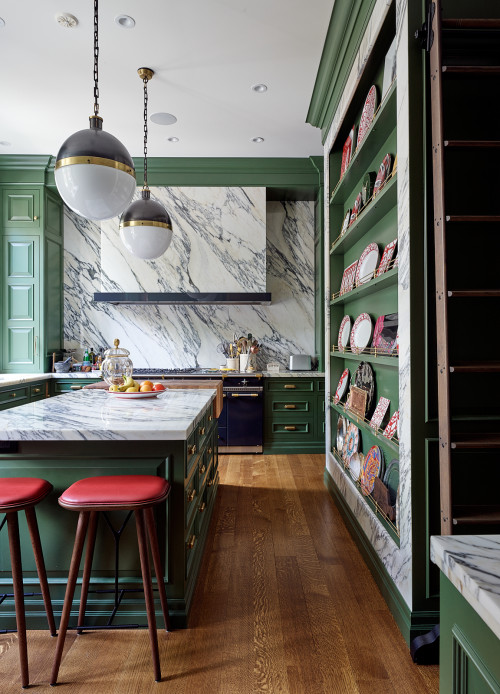 ID# 145403 | Houzz.com – Credit | © Whitehall Homes
---
Traditional Design with a Colorful Kitchen Island and Marble Countertops
The opulent appeal of the marble countertops and slab backsplash harmonizes perfectly with the green kitchen cabinets and island! The gray veins of the marble bring an organic flow to the kitchen and act as a piece of art.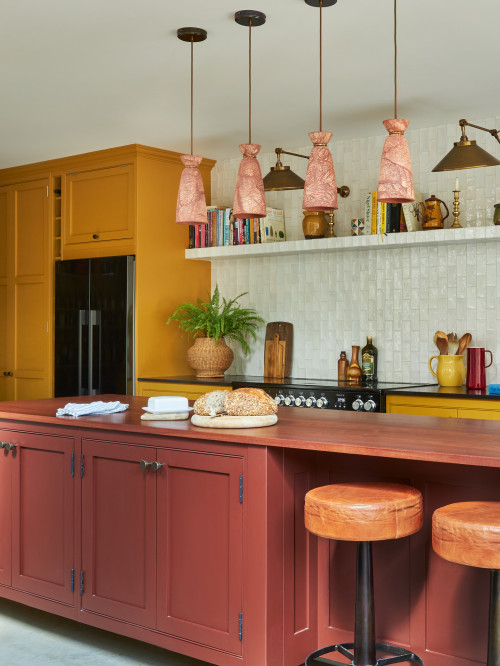 ID# 145404 | Houzz.com – Credit | © Boffe Design
---
Transitional Design Style with Yellow and Dry-Rose Shakers
The warm hue of the yellow shaker cabinets provides a familiar and welcoming atmosphere. Using unusual colors can help you to have an eye-catchy design look in your kitchen, such as the dry-rose hue of the island. These shaker cabinets and the same color countertops complement the kitchen with a warm atmosphere.
What is the most popular color for a kitchen island?
Most of the people go for timeless hues; among them, 27% pick blue, and 20% pick gray, with white and black coming in second and third. Painting your kitchen island is a terrific way to establish the mood for your kitchen, whether that's vibrant and dramatic or completely quiet, no matter what color you pick.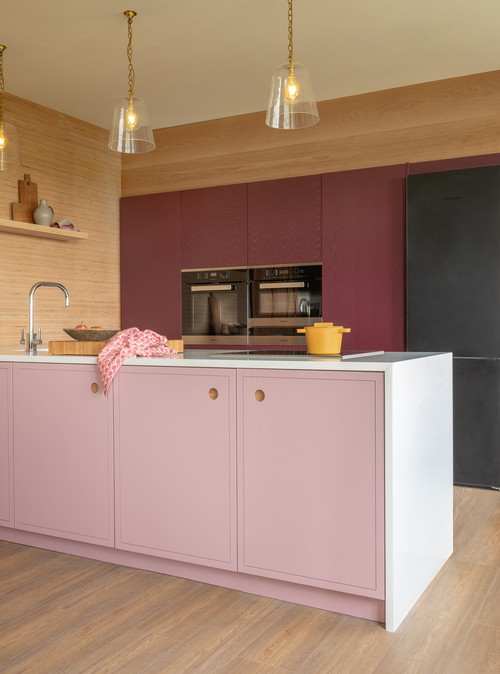 ID# 145405 | Houzz.com – Credit | © Naked Kitchens
---
Contemporary Kitchen with a Colorful Kitchen Island and White Countertops
The matte finish of the colors greets you with an energetic and warm atmosphere in this contemporary design kitchen. The pale lilac hue of the island complements the purple kitchen cabinets providing a monochromatic color transition. The light wood floors and walls increase the warm vibes with a natural touch.
Different Kitchen Island Colors
There are many factors to take into account while redesigning a home, especially a kitchen. Designs for countertops, backsplashes, islands, and peninsulas are available. These key elements are followed by the floors, walls, ceiling patterns, draperies, and other decorations. Colorful kitchen islands are one of the design possibilities for a kitchen. To create a statement, use different kitchen island colors. There are endless ways to employ different kitchen island colors to create a magnificent center point for your kitchen, ranging from exquisite blue tones to vivid purple. Scroll down to see some fantastic examples of different kitchen island color schemes that will undoubtedly inspire you!
Blue Kitchen Island
Kitchen color selection is not the simplest task. There is a lot of inspiration, but you want something ageless, contemporary, novel, and original. Where do you even begin, then? One of the largest color trends we've noticed in kitchens is blue, which is taking the place of the traditional gray tones that have predominated for so long. Although blue is thought to be calming and energizing in all of its forms, the shade you choose may elevate your kitchen to new heights. You can consider employing a blue kitchen island in your kitchens to create a fresh and calming atmosphere.
Have a peaceful morning coffee while seated on a rustic wood stool next to your powder blue kitchen island, or gather your loved ones around an island that is navy blue with gold pendant lighting. A kitchen island should reflect your personality because it serves as a gathering place as well as being convenient. Choosing the shade of blue you prefer most will now be your sole challenge. Scroll down to see some of the gorgeous examples of blue kitchen island ideas!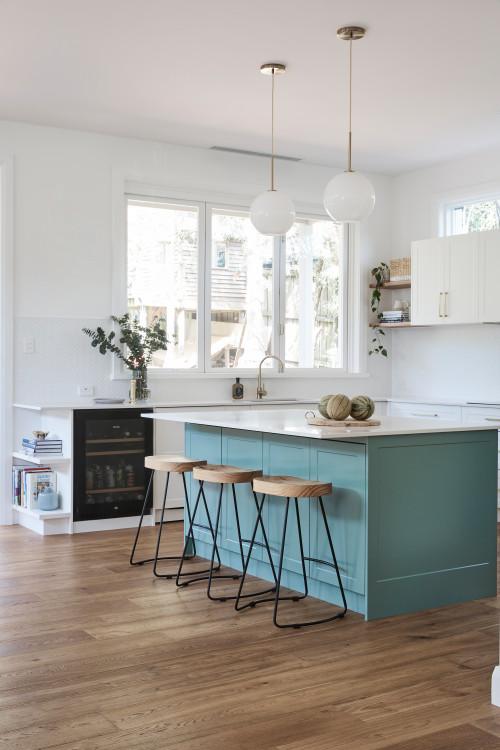 ID# 145407 | Houzz.com – Credit | © Boom Build
---
Beach Style White Shakers and White Quartz Countertops
The contrast between the medium-toned kitchen floors and the light blue kitchen island is beautiful, and the black accents add an intriguing touch of visual interest! The light blue kitchen island is especially striking against the backdrop of the white shaker cabinets, quartz countertops, and slab backsplash – it truly evokes a strong sense of admiration and appreciation.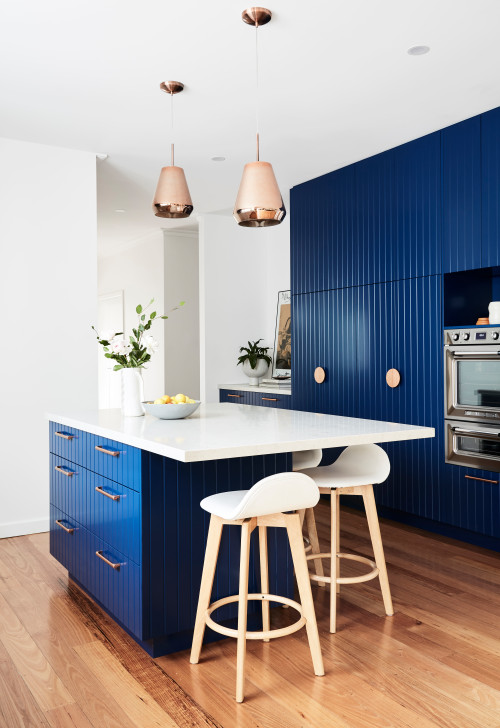 ID# 145408 | Houzz.com – Credit | © Greenstruct
---
Blue Kitchen Island with Blue Cabinets and White Stone Countertops
The vertical grooves of the navy blue kitchen cabinets and the island provide an opulent design look with the brass hardware. The brass increases the rich design look of the kitchen while the white stone countertops provide an expensive atmosphere. Thanks to the wood kitchen floors the navy blue cabinetry design and the island stand out and they enlightened with the white environment and the white stone countertops.
Can kitchen island be a different color?
Your kitchen island doesn't need to match. Although symmetry is achieved in a kitchen by matching an island's cabinets and countertops to those around it, an island may also become a stunning focal point that harmonizes with the rest of your kitchen by utilizing contrasting cabinets or different worktops. A kitchen island can be in a different color.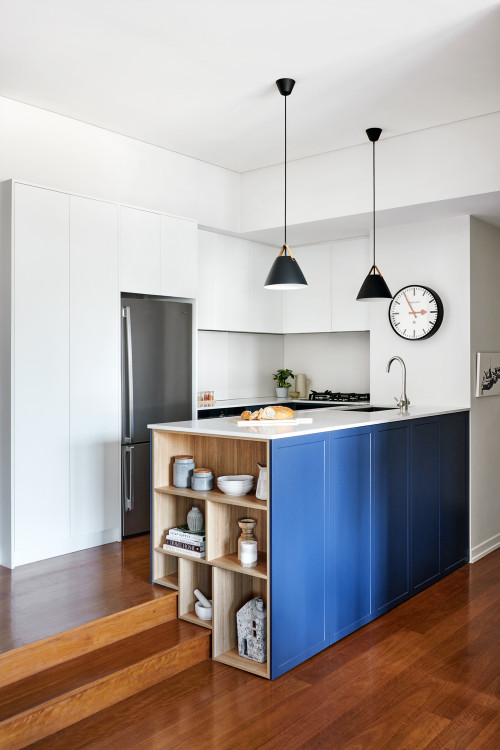 ID# 145409 | Houzz.com – Credit | © Cosentino Australia
---
Contemporary U-Shaped Open Plan Design with White Flat Panels
If you long for a kitchen with white flat-panel cabinets and a cozy atmosphere, then choosing a colorful island is an ideal way to do just that! The blue cabinetry of the island and the wooden open shelving exude a modern, stylish feel while adding plenty of warmth to the space. The white upper cabinets further stand out thanks to the black edging, creating a contemporary and striking look. The stainless steel appliances and black pendant lights make a perfect final touch.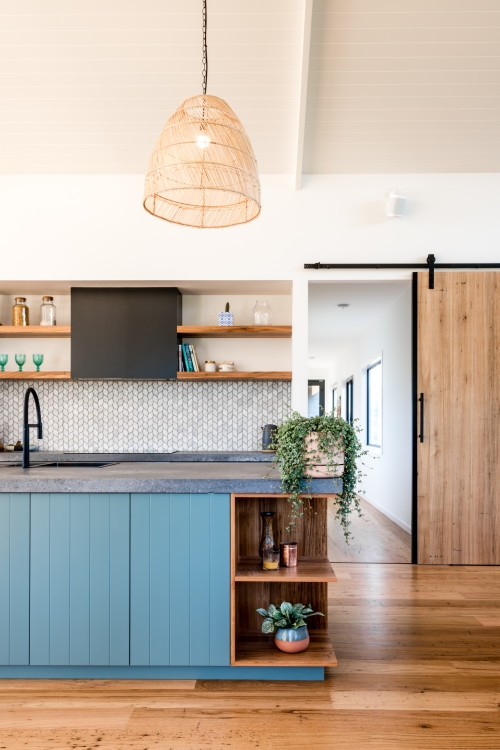 ID# 145410 | Houzz.com – Credit | © Holman Designs
---
A Blue Kitchen Island With Concrete Countertops and Wood Details
While the concrete countertops provide an industrial design touch, the blue island and its wooden details create a familiar appeal with stylish contrast. The black details complement the contrasting look and bring visual interest to the kitchen. The white hexagon tile backsplash with gray grout complements the concrete countertops adding a textural appeal.
Green Kitchen Island
Green is a common hue for kitchens because it is associated with freshness, as seen in fruits, vegetables, herbs, and other things. But there are many various shades of green paint to select from when considering an island accent, just as there are many different green-colored items to cook with and consume. Bright colors are always great to use in home decor, and a green kitchen island can instantly make your room seem better! A straightforward can of paint may help you recreate the almost magical feeling you get when you enter a room with a splash of color.
Even while a lush green island could instantly improve one's mood, not everyone will like it. Fortunately, there are many different shades of green to pick from and it is a versatile hue. A sage green island is quite aesthetically pleasing and works just as well to give some spirit to your room. As an alternative, you may think about using a sophisticated emerald green for your kitchen. Your love of color will eventually develop into a new fascination with house furnishings. With the aid of the green kitchen island ideas listed below, revitalize your area as it deserves to be!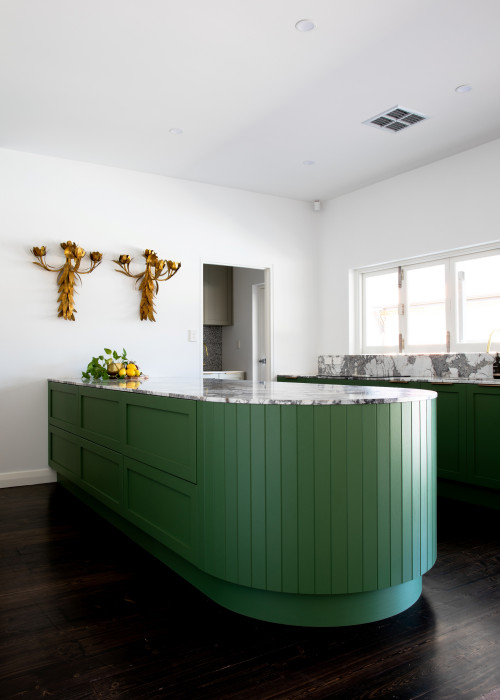 ID# 145411 | Houzz.com – Credit | © Jag Kitchens
---
Green Kitchen Island Idea with Marble Countertops and Dark Wood Floors
The dark wood kitchen floors and the green kitchen island and shaker cabinets provide a natural atmosphere in this modern-style kitchen design! The marble countertops and the backsplash enrich the kitchen with an expensive feel and touch. Thanks to the white environment the green kitchen island and shaker cabinets stand out.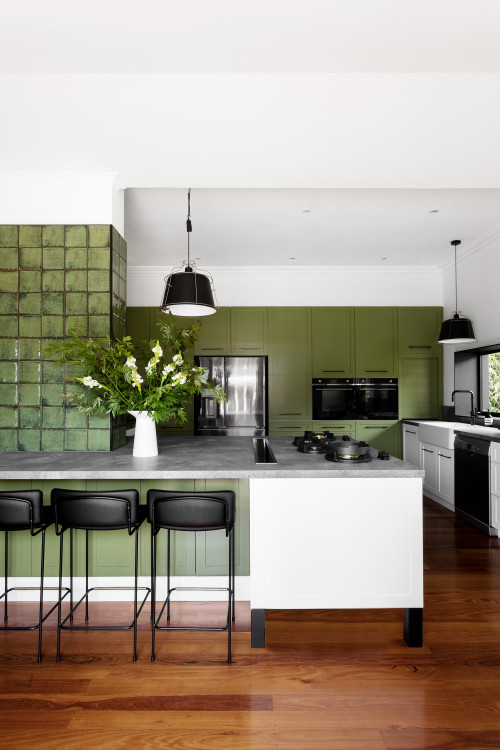 ID# 145412 | Houzz.com – Credit | © Peter Schaad Design Studio
---
Two Tone Cabinetry Design for a Modern Interior
While the gray countertops balance the environment the green and white colors of the kitchen design provide a fresh and natural environment. The white shaker cabinets enlighten the green hue of the cabinets and the island. The medium-tone wood floors complement the natural vibes of the kitchen. Thanks to the black accents there is visual interest in the kitchen.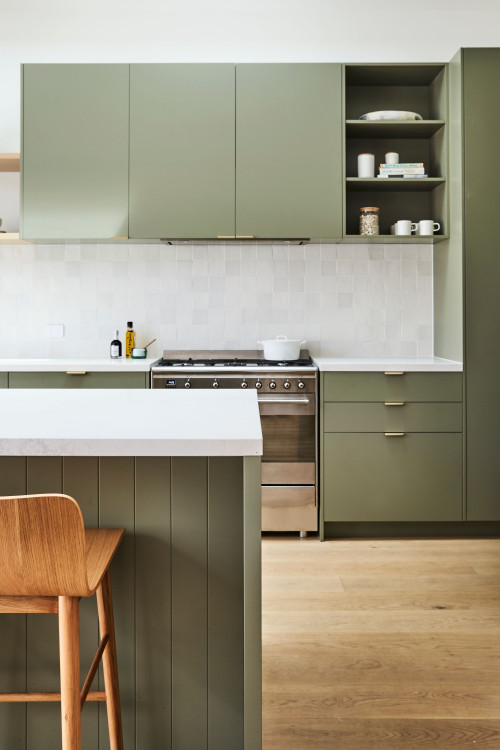 ID# 145413 | Houzz.com – Credit | © Naibu Design
---
Contemporary Design with an Olive Green Kitchen Island and Flat-Panel Cabinets
If you want to use colors for your cabinets and island design, it is a terrific idea to have a white backsplash and countertop design. By doing this you can balance the colors and enlighten them, as in this contemporary kitchen design. The olive green kitchen island complements the flat-panel cabinets. The brass hardware brings a luxurious touch.
How to change kitchen island color?
The most budget-friendly way to change your island color is by painting it. Let's see:
– Apply tape around the counters and floor and remove all hardware from any island cabinets. Cover the kitchen floor with drop cloths.
– To remove any dust and dirt, wash the island with a reliable cleaner and degreaser. Before priming, make sure the surface is completely dry.
– Scuff sand once it has dried. After applying primer, assess the adherence. Apply the first layer of paint once excellent adhesion has been formed.
– Apply a second coat if necessary after letting the initial coat completely dry.
– That's it! Enjoy your new color!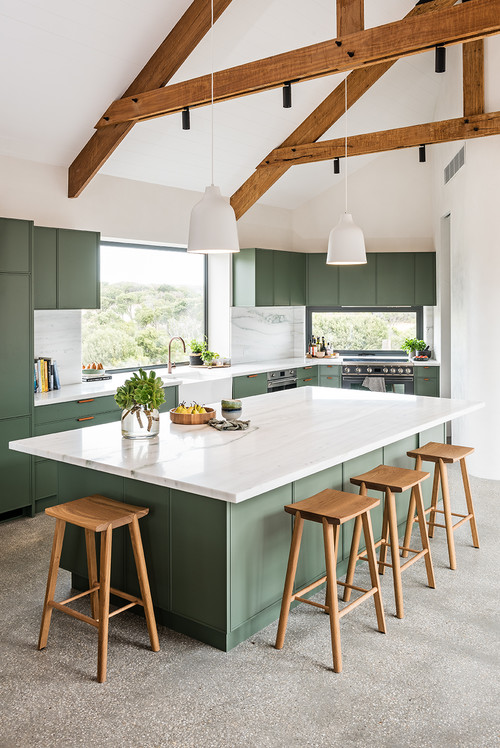 ID# 145414 | Houzz.com – Credit | © Let's Talk Kitchens & Interiors
---
Contemporary Design with a White Marble Slab Backsplash and Countertops
The vaulted ceiling and the wooden exposed beams provide an airy atmosphere to the kitchen allowing to use of color for the cabinets and the island. The white marble countertops and slab backsplash enlighten the green cabinets and green kitchen island with an expensive touch. The gray floors balance the brightness of the marble countertops and backsplash.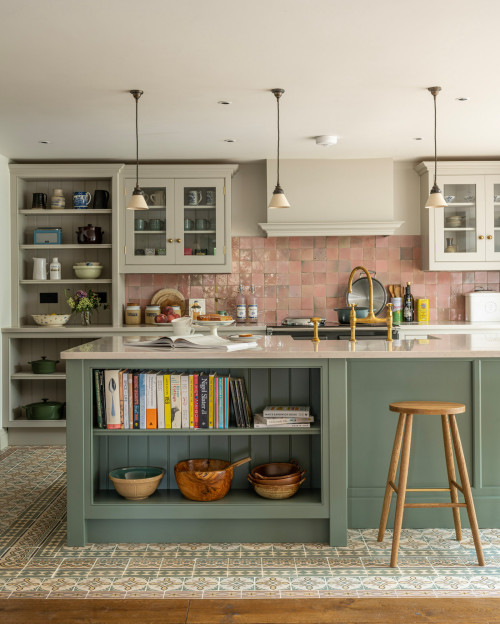 ID# 145415 | Houzz.com – Credit | © Gemma Dudgeon Interiors
---
Traditional Design with a Green Kitchen Island and White Solid Surface Countertops
The pink square tile ceramic backsplash creates a focal point in this kitchen. However, the colorful antique floor tiles around the green kitchen island provide an elegant and eye-catchy appeal. The brass details enrich the kitchen with an opulent look. The white countertops enlighten the color palette of the kitchen.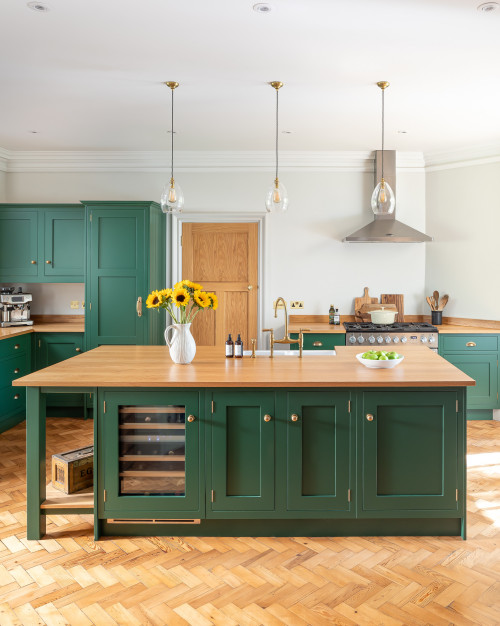 ID# 145416 | Houzz.com – Credit | © John Lewis of Hungerford
---
Wood Countertops and Brass Hardware for a Country Design
The brass hardware and details enrich the green shaker cabinets with a luxurious appeal. The wood herringbone floors and the wood countertops complement each other creating the most natural environment with the green shaker cabinets and the striking kitchen island. White walls and ceiling balance the wood and green color harmony adding a clean look.
Yellow Kitchen Island
Did you know that yellow may give your house a feeling of sunshine? A little yellow can go a long way, so sticking to the island is a fantastic way to utilize it wisely and tastefully. The kitchen is often the preferred space to employ this vibrant hue. A yellow kitchen island can alter the mood and energy of the atmosphere and boost your mood with warm vibes.
Ideas for yellow kitchen islands come in a variety of hues. When it comes to selecting the ideal yellow for your kitchen island, there are numerous subtle variants to consider, including lemon, mustard, honey, sunny, and more. Whatever your opinions on using yellow in your kitchen's décor, we've put together a few original suggestions to encourage you to embrace the cheerful hue and bring a little sunshine inside.
Purple Kitchen Island
Design-wise, purple kitchen island concepts are extremely intriguing. Kitchens of all sizes will surely benefit much from the flare that sweet lilac, aubergine, or another color for impact will unquestionably add. The bright purple kitchen concepts that were fashionable in the 1990s are making a comeback in the interior design sector. According to color psychology, purple has symbolic implications that link to royalty, grandeur, wealth, and luxury as well as to wisdom and spirituality. This color is a smart choice for the kitchen island. This color comes in a range of tones and complements many different styles.
Tea towels, a food mixer, a toaster, and a sizable portion of a lavender-colored backsplash may all have the color purple as an accent. Use a purple kitchen island instead, if you like the color. We enjoy colorful kitchen decor on many counts, and purple surprisingly goes well with a lot of other colors. Darker hues like dark cherry, raisin, and plum can look well in addition to lighter shades. You may blend both for a modern look, or you can stick to a single eye-catching hue. There are various design options available with a purple color scheme in the kitchen. Scroll down and be inspired by the purple kitchen island designs we have compiled for you for more ideas!
Multicolored Kitchen Island
Consider using a multicolored kitchen island if you want to give your room some contrast and visual intrigue. This design technique is a terrific way to add color to your kitchen while also visually expanding the room and emphasizing its positive features. Contrasting these components creates a startling visual that is genuinely eye-catching because top cabinets, bottom cabinets, and the island historically kept a uniform hue in kitchens.
While choosing a colorful kitchen island is a bold move, a multicolored kitchen island design allows you to make even bolder decisions. Bright colors or refined, deep color tones are also acceptable. See some of the beautiful and jovial examples of the multicolored kitchen island designs we have compiled for you by scrolling down!
Should kitchen island be lighter or darker than cabinets?
In rooms lacking natural light, light-shade cabinetry is the preferred choice. Creating the illusion of a larger space, opt for white or off-white tones, or other lighter hues. For the more spacious kitchen, introducing darker elements can make for a striking contrast – think of an island design of light color against a darker kitchen.
White Kitchen with Colorful Kitchen Island
A white kitchen is a classic interior design that will never go out of style. However, if you enjoy color, choosing white cabinets with color added elsewhere, such as on your kitchen island, is one way to have both. An island, which serves as the kitchen's main point, is a terrific spot to add some flare, and painting it a different color is one excellent method to accomplish so. It's not too difficult to choose a color that complements the specific tint of your white cabinetry. To examine how the two colors blend in your kitchen, start with paint samples and pay attention to undertones. A white kitchen with colorful kitchen island designs can alter your kitchen's atmosphere with a stylish appeal.
White kitchen cabinets provide a black canvas for the backsplash and countertops. If you have an island and want to create a stylish focal point, you can enrich your white kitchen with colorful kitchen island ideas. Let's scroll down and see some examples of them!
Dark Kitchen with Colorful Kitchen Island
Dark kitchens are timeless and sophisticated examples of refined, traditional interior design. Choosing dark cabinetry with color added elsewhere, such as on your kitchen island, is one way to have both, though, if you want some color. An island, which acts as the focal point of the kitchen, is a great place to add some flair, and painting it a different color is one great way to do it. Finding a hue that goes well with the precise shade of your dark cabinetry is not too difficult. Start with paint swatches and pay attention to undertones to see how the two colors mix in your kitchen. The ambiance of your kitchen may be changed with a fashionable appeal by a dark kitchen with colorful kitchen island designs.
The backsplash and counters have a black background thanks to the dark kitchen cabinetry that can make them stand out. A colorful kitchen island may brighten up a drab kitchen if you have one and want to make it the center of attention. It's advantageous to create contrasting appearances. Scroll down to see some of the dark kitchens with colorful kitchen island ideas in action!