30+ Backsplash for White Shaker Cabinets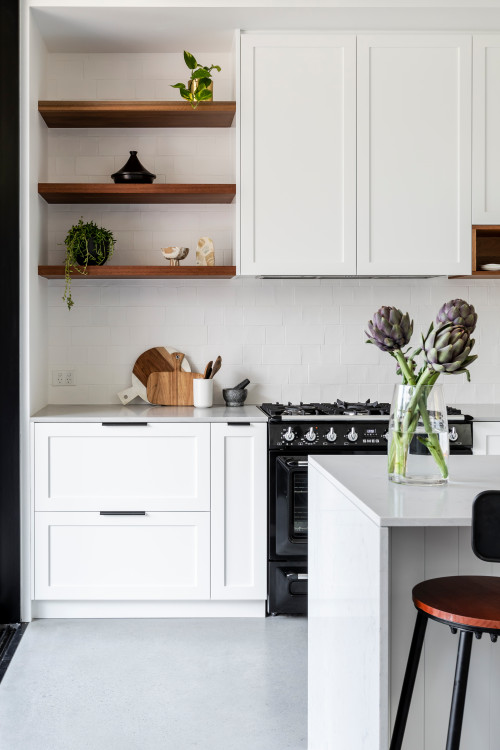 ID# 138305 | Houzz.com – Credit | © Blue Tea Kitchens and Bathrooms
---
Ceramic Handmade Subway Tile Backsplash for White Shaker Cabinets and Concrete Floor
This industrial-base kitchen receives a fresh treatment with light and understated shades. In the background, the white ceramic tiles reach the ceiling, peeking behind the timber floating shelves. Since the tiles are handmade, they feature imperfections that add depth to the background, approaching an original brick-wall look. The modernized shaker cabinets keep things clean and streamlined, supported by crisp white concrete floors that give the kitchen an industrial edge. The V-groove kitchen island brings another intriguing pattern, while wood insertions and black cabinet pulls stylize the space.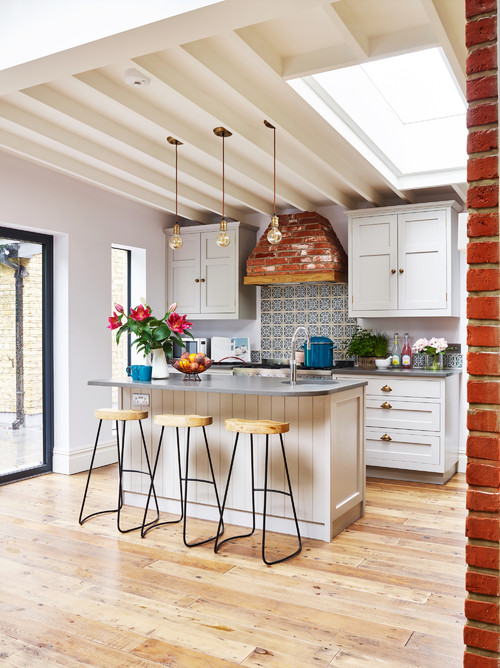 ID# 138327 | Houzz.com – Credit | © Sarah Finney Interiors
---
Multicolored Backsplash for White Shaker Cabinets and Brick Range Hood
Sitting in an open conversation with the outdoors, this contemporary kitchen has traces of Mediterranean kitchen designs embodied in the multicolored backsplash and a brick-clad range hood. The coffered ceiling, exposed brick feature wall, skylight, and wood floor add further rustic elements that result in a compelling look, while the white shaker cabinets and gray countertops remain simpler and basic. Complementing them is a V-groove island base paired with light bulbs and antique brass hardware that add extra dimension and coziness.
Backsplash for White Shaker Cabinets
If you had asked what the correspondence of subway tile backsplashes in the world of cabinets is, the answer would probably be the shaker cabinets. Versatile, practical, and flexible, the shaker cabinets are adjustable to any kitchen, coming in various finishes and colors. For the same reason, options for a backsplash for white shaker cabinets are abundant too.
From ceramics to natural stones, metal sheets, geometric patterns, whites, blacks, and oranges, a backsplash for white shaker cabinets can be any color and material. Here we compiled 20+ kitchen designs that employ white shaker cabinets as a blank canvas, pairing them with a wide range of backsplash styles. To get best kitchen backsplash ideas and borrow some inspiration for your next home renovation projects, read on and see how they just blend even in contemporary kitchens.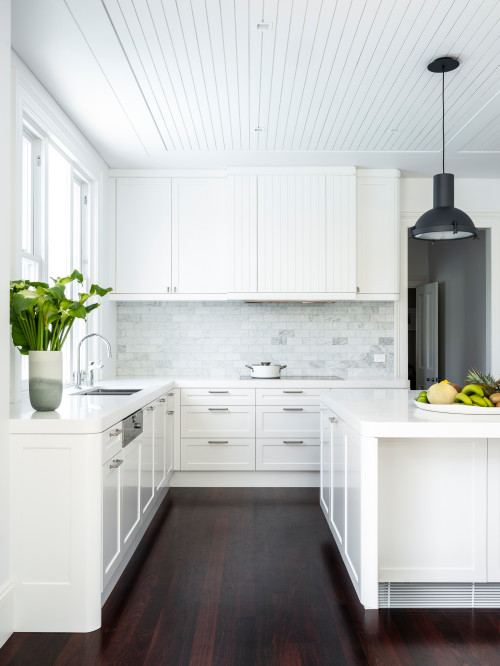 ID# 138301 | Houzz.com – Credit | © Porebski Architects
---
Marble Backsplash for White Shaker Cabinets and Quartz Countertops
This contemporary kitchen in Sydney offers a visually lightweight look with an all-white color palette. The tiled version of the marble backsplashes in the background layers the kitchen with a sense of movement and sophistication. The white quartz countertops introduce optimism and cheerfulness, offering a smooth transition between white shaker cabinets and the marble subway tile backsplash. The vertical lines on the upper cabinetry match the shiplap design ceiling to achieve consistency and integrity within the kitchen.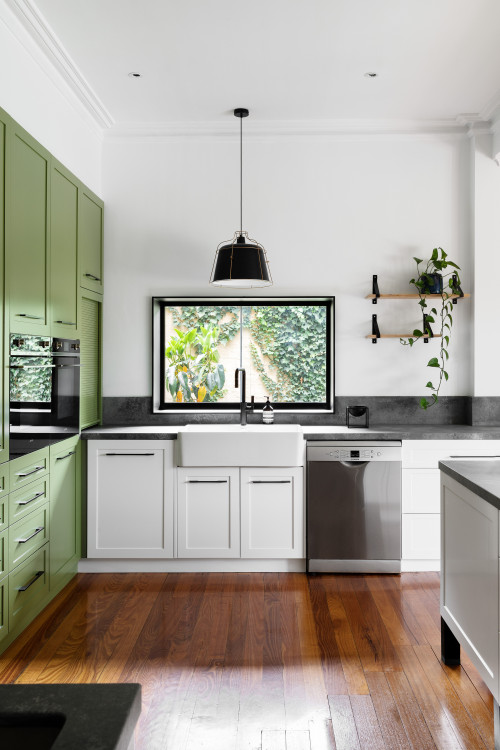 ID# 138302 | Houzz.com – Credit | © Peter Schaad Design Studio
---
Two-tone Cabinetry with Butler Sink and Gray Backsplash
This well-curated kitchen welcomes its users with an outdoor view peeking out behind the picture window. And this charming scene finds translation within the kitchen through full-height green shaker cabinets, timber floating shelves, and a kitchen plant. The rest of the design is kept minimalist and neutral with matching gray concrete-finish quartz backsplash and countertops and white shaker cabinets. The white fireclay butler sink with wooden floor adds a farmhouse flair that is modernized with clean line cabinetry and modern counter pulls. The miniature-like stainless steel dishwasher feels rigorously proportioned to the kitchen, adding a cozy vibe.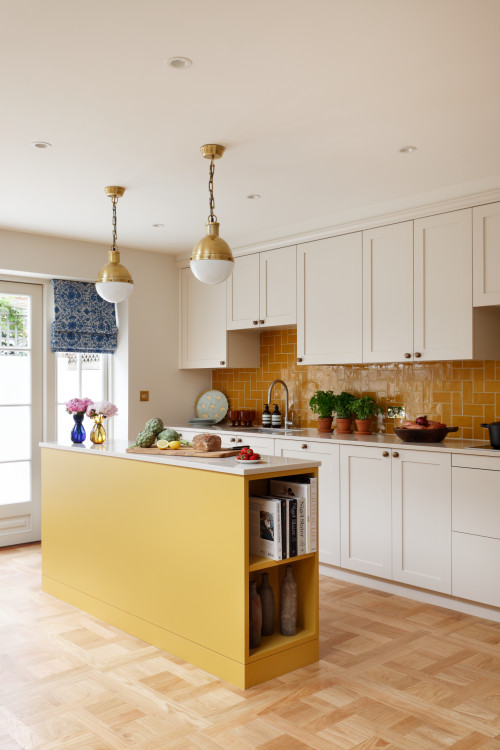 ID# 138303 | Houzz.com – Credit | © Oakley Moore Interior Design
---
Yellow Herringbone Pattern Backsplash for White Shaker Cabinets and Yellow Island
One way to energize a kitchen with white shaker cabinets is to introduce pops of colors as in this particular kitchen. This transitional design, for example, employs a yellow herringbone pattern backsplash that creates a heartwarming background immediately. And it is put into dialogue with the yellow kitchen island used for food preparation. The brass cabinet handles and orb lighting with brass hardware coordinate with the yellow insertions into the space, oozing hominess that is ready to energize its users. The wood floor finish also radiates extra warmth and softens the bright yellow shades.
Backsplash Color Options for White Shaker Cabinets
Backsplash color options for white shaker cabinets could be anything. Oranges, yellows, blues, greens, and even pinks, are popularly used to make a statement. But it would be better to be careful while using a white backsplash for white shaker cabinets. To avoid any jarring look, just remember to bring some personal touches and accessories or use a butcher block countertop or any non-white countertop.
White Backsplash for White Shaker Cabinets
White on white is surely as popular as lonely white elements. But to avoid a clinical look, it is important to add something that will jazz up the look. It could be a timber floating shelf, colorful stools, brass pendants, black appliances, or anything you could just think of -anything that will reflect you and your personality.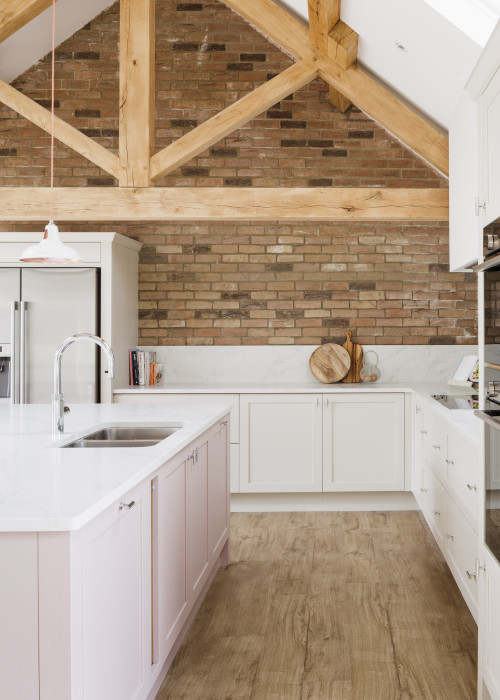 ID# 138304 | Houzz.com – Credit | © Nest Kitchens
---
Rustic Kitchen with White Shaker Cabinets and Brick Walls
Abundant in feature elements such as exposed brick walls and a roof truss, this country kitchen offers plenty of texture and depth, while contemporary shaker cabinets, marble-effect quartz backsplash, and white quartz countertops give the kitchen a modern twist. Right across the perimeter counters, the soft pastel pink island adds a slightly feminine vibe that pairs perfectly with a light wooden floor finish. The chrome hardware, chrome tap, and white lighting fixture with copper hardware add a sense of glow. Overall, this kitchen melts classic, rustic, and modern in one pot, which results in a simple yet sophisticated and delightful look.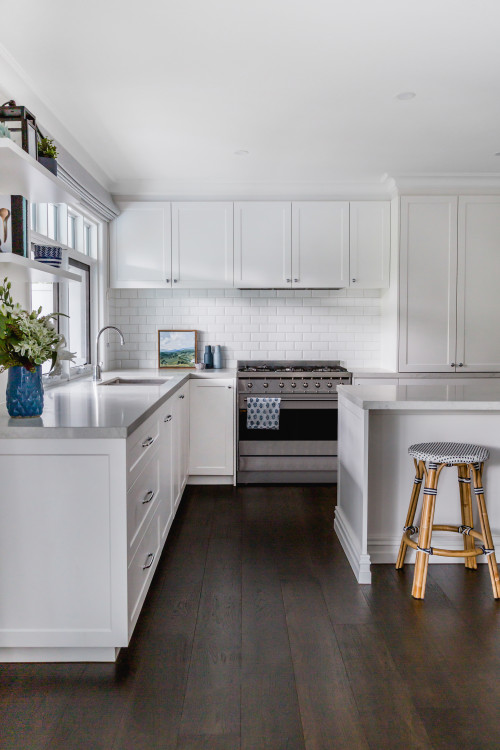 ID# 138306 | Houzz.com – Credit | © Gallerie B
---
Transitional Kitchen with White Shaker Cabinetry and Beach-Style Stools
This transitional kitchen borrows from coastal designs, which is most evident in sailor-striped beach-style rattan stools. The white shaker cabinets and white subway tile backsplash keep the kitchen light and bright, while gray countertops add a touch of edginess. The dark wood floor finish oozes a sense of visual drama, and paintings along with blue vases add stylish and personal touches to the kitchen.
What type of backsplash goes best with white cabinets?
Are you a fan of monochromatic looks or do you love contrasting colors and textures? Or would you like to go with bold hues and pops of colors? Since white cabinets tend to go with any style and color, it all depends on you and whatever you expect from your kitchen design.
From window backsplashes to wallpapers, glass sheets, porcelain tiles, and rustic backsplashes such as brick, wood, and rock, backsplashes are available in a wide array of materials and designs. And any of these options go well with white cabinets. As for the best one, it is hard to choose one as it is more of a personal choice.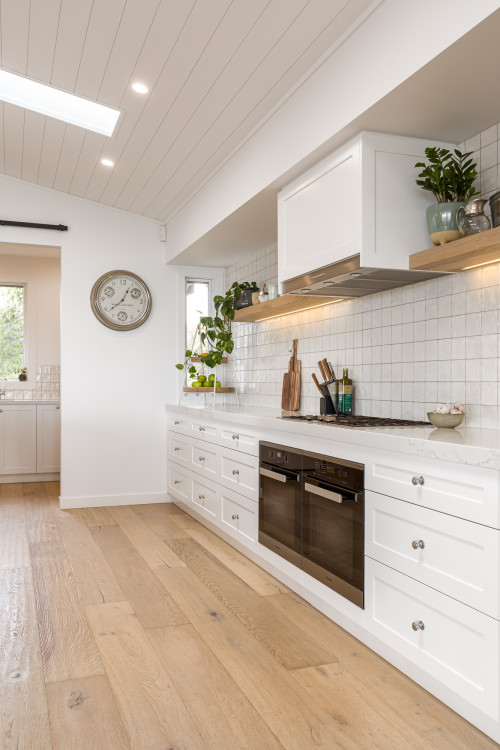 ID# 138307 | Houzz.com – Credit | © Roger Thompson Photography
---
Rustic Kitchen with Timber Floating Shelves and White Shaker Cabinets
This cozy kitchen executes a cross-pollination of Scandinavian and rustic design, borrowing inspiration from both styles to nurture a calming environment. From the white shaker cabinets to the white square tile backsplash and timber cabinets, each element works harmoniously to pull off quality and comfort-conscious space. With the kitchen plants, wood floor, and shiplap boards cladding the ceiling, the kitchen embrace nature and organic textures. The openness and clutter-free feel treat the kitchen, while the built-in spotlights, skylight, and LED-strip lighting provide a mélange of warm and cool lights to add more dimension.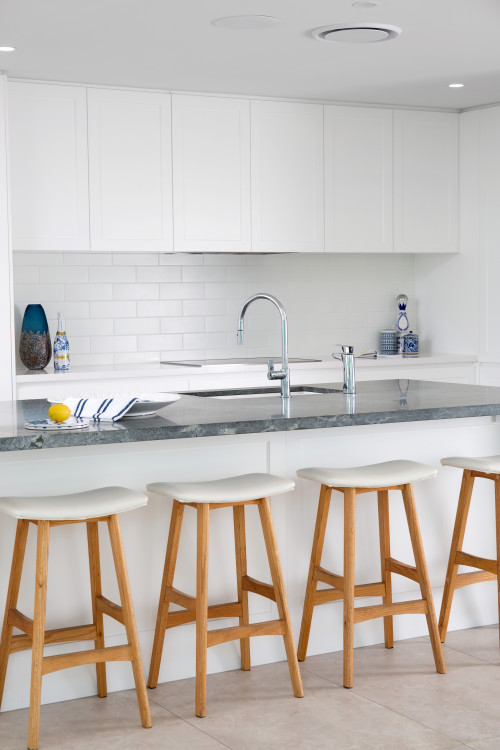 ID# 138308 | Houzz.com – Credit | © Rochele Decorating
---
White Cabinets with Statement Island and Subway Tile Backsplash
All-white looks never go out of the game but keep coming in various setups. And this kitchen exemplifies one of them. Centered around white shaker cabinets and white subway tiles, it combines timeless and all-time favorite features. But to break up this monochromatic palette, it utilizes a kitchen island topped by gray countertops, showcasing a newfound identity. The white-cushioned backless stools with wood legs provide soft aesthetics to offset the neutral color scheme, while the handle-free cabinets ensure a sense of flow throughout.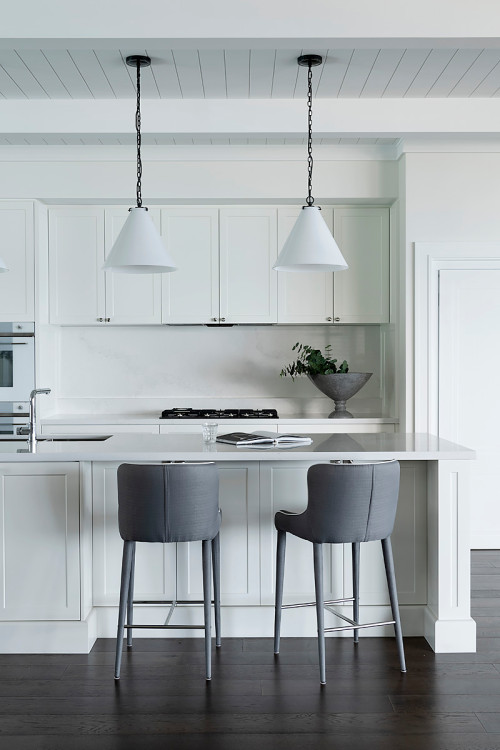 ID# 138309 | Houzz.com – Credit | © Intrim Group Pty Ltd
---
Beach-Style Kitchen with White Quartz Backsplash for White Shaker Cabinets
This beach-style kitchen feels light and airy and blends harmoniously into the open floor plan, benefiting from an interactive space. This way, the kitchen can serve as a social hub to cook together and gather around the kitchen island. And the neutral color scheme allows its users to have a calm state of mind while slowing the passage of time (sometimes that is all that we need). Here, the background is defined by a white quartz backsplash offering a seamless look between the white shaker cabinets. The kitchen island mirrors the perimeter counters, dialoguing with them. The white pendants, built-in appliances, and brushed chrome cabinet handle just bring the right amount of movement to the space without intervening in its calm status.
Gray Backsplash for White Shaker Cabinets
A flexible and neutral color itself, gray is a great match for white shaker cabinets. You can create gloomy and sophisticated looks with this couple. While treating gray with a gloss finish or by using gray glass tiles, you can also energize your kitchen. The gray backsplash and white shaker cabinetry juxtaposition are especially favored by transitional and classic kitchens that go modest in color options but bolder in forms.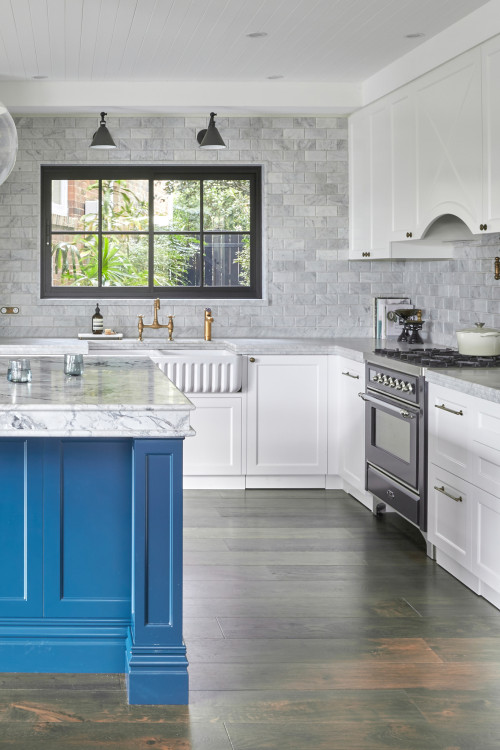 ID# 138310 | Houzz.com – Credit | © Danielle Victoria Design Studio P/L
---
Gray Marble Tile Backsplash with Blue Island and Marble Countertops
In this transitional kitchen, the gray marble subway tiles line the walls until the ceiling, letting go of the upper cabinetry for more breathable space. The oversized kitchen island in the center easily makes up for the lack of wall units, providing ample storage in its blue base. Topped by marble countertops, this island unit also serves as a true statement feature. Right at the back, the fluted farmhouse sink proposes a familiar facet of the farmhouse and traditional kitchens, while antique brass taps add a rustic charm. Below, the color fluctuations on the gray-brown wood floor finish lend warmth to the gray and blue-dominant color scheme.
Should the backsplash be lighter or darker than the cabinets?
Even though the all-dark and all-white looks are acceptable, in most kitchen designs, homeowners and designers are more focused on creating well-balanced looks. And this can be accomplished with lighter cabinets and darker countertops or vice versa.
When deciding what works better for your kitchen, consider the third element, countertops, that mediate between the cabinets and the backsplash. If the countertop has a light shade, you can match it with a light backsplash and darker cabinets. Generally, this color coordination pays off well. And if your countertops are black, you can match your countertops with your backsplash for a seamless look and team them with light cabinets. In both cases, the resulting scheme feels balanced and calm.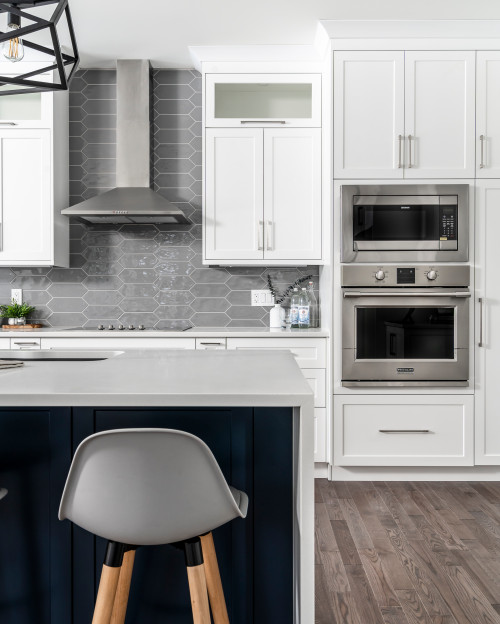 ID# 138311 | Houzz.com – Credit | © YourStyle Kitchens Ltd
---
Gray Picket Tile Backsplash with White Shaker Cabinets and Sleek Appliances
This kitchen is outfitted with white shaker cabinets, sleek stainless-steel appliances, and a satin finish picket tile backsplash. The steel coordinates with the gray background, while the white grout between the tiles put them into synchrony with white cabinets and quartz countertops. The rest of the space feels complete with a waterfall island, caged pendants, and wood flooring that reflect the gist of transitional kitchens.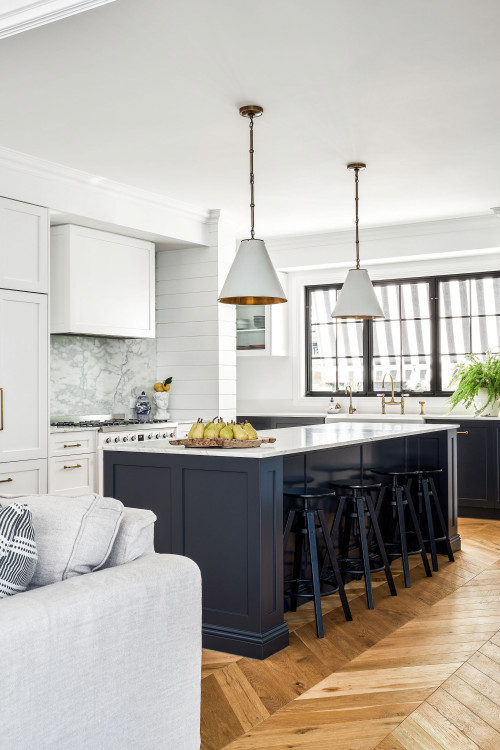 ID# 138312 | Houzz.com – Credit | © Intrim Group Pty Ltd
---
Open-Plan Kitchen with Dark Blue Island and Marble Backsplash
In this open-plan kitchen, every detail is settled and well-thought-out, resulting in a quality-conscious design. The contrasts in texture and shades provide a solid foundation for the kitchen rather than something elusive. For example, in the background, the marble backsplash with a white base and blue veins exude elegance and a sense of drama between the white shaker cabinets. The brass taps and butler sink showcase that the design is rooted in a farmhouse style but given a modern twist with sleek line cabinetry. Right across, the oversized island with a dark blue bottom pair perfectly with the chevron wood floor running across the open floor plan. The backless stools in the same shades of indigo blue rest under the recessed bottom of the island without stealing any room from the walkway.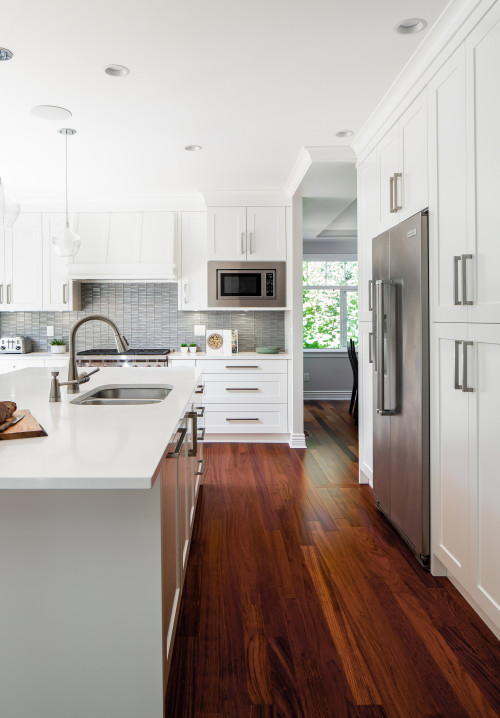 ID# 138313 | Houzz.com – Credit | © My House Design/Build/Team
---
Gray Backsplash for White Shaker Cabinets and Stainless Steel Appliances
Like many other transitional kitchens, this one is also fitted with white shaker cabinets and a gray small tile backsplash, featuring a neutral color palette and being modern and classic in its ways. Spanning a vast open-plan space, it offers an efficient and huge working space with an oversized island. But it plays modestly with a neutral color scheme that downplays its ambitious moves. And to pull the whole kitchen theme together, the stainless-steel appliances and brushed steel cabinet hardware are used in different corners of the kitchen and put into synchrony.
What backsplash goes with a white kitchen?
Since white is a neutral color that tolerates all sorts of colors, including pastel, bold, muted, and metal shades, you can go with any backsplash. For nature lovers, wood, brick, and rock backsplashes create rustic and texture-rich backdrops. Marble, ceramics, and glass sheets serve as modern touches in contemporary kitchens. Oranges, blues, greens, and yellows have a wide spectrum of shades to inject peacefulness and dynamism into the kitchens. Above all, it all depends on the impact and the mood you would like to create in the kitchen. Whatever color and material suit your mood and you as a person; you can just go with that shade since a white kitchen gives you the freedom to do so.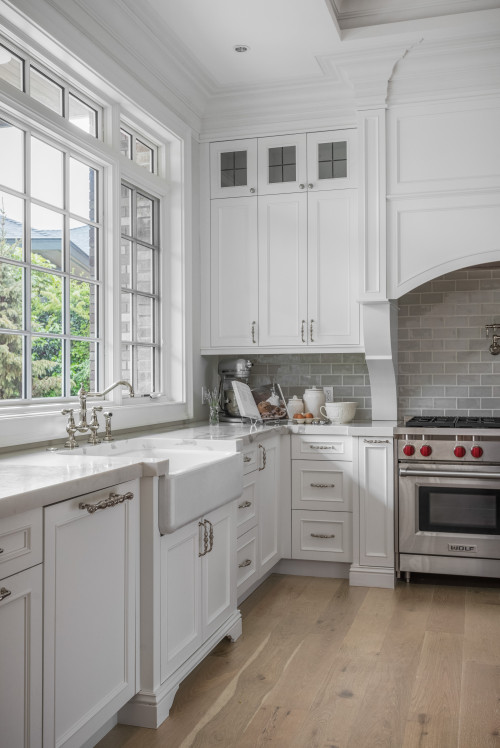 ID# 138314 | Houzz.com – Credit | © Thomas Philips Woodworking LTD.
---
All-White Traditional Kitchen with Gray Subway Tiles and Farmhouse Sink
Glass block windows frame the outdoor view into small vignettes in this transitional kitchen, while the thin custom-made shaker cabinetry makes the kitchen feel taller. Reaching the ceiling with the top glass-front cabinets, the kitchen feels much grander and more sophisticated. Likewise, the bulky range hood style with corbel supports this grandness. The farmhouse sink paired with a bridge faucet and chic cabinet handles stylizes the kitchen. The gray subway tile backsplash creates a timeless feel, mimicking a modern and neutral version of the original brick walls. Lastly, the wood flooring adds warmth to the otherwise too-monotonic kitchen.
Black Backsplash for White Shaker Cabinets
The white and black combination is one of the color couples that never go out of style. Together they execute elegance and deliver sophistication to any space. Popularly used in Scandinavian, modern, contemporary kitchens, you can use soft wooden shades to offset the striking contrast between white and black or honor this couple with chrome hardware and glass pendants.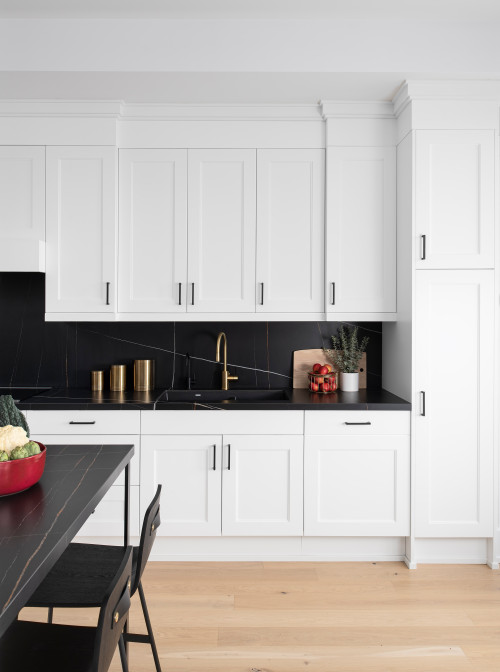 ID# 138315 | Houzz.com – Credit | © Lesley Brookes Design
---
Scandinavian Kitchen With Black Backsplash and Matching Countertops
Consisting of white shaker cabinets and a black backsplash with matching countertops, this Scandinavian kitchen proposes a contrasting yet comforting design. The brass tap and accessories bring extra allure while the dining space coordinates with the perimeter counters. The black hardware on the cabinets and veining on the backsplash and countertops generate movement for a more dynamic visual scheme.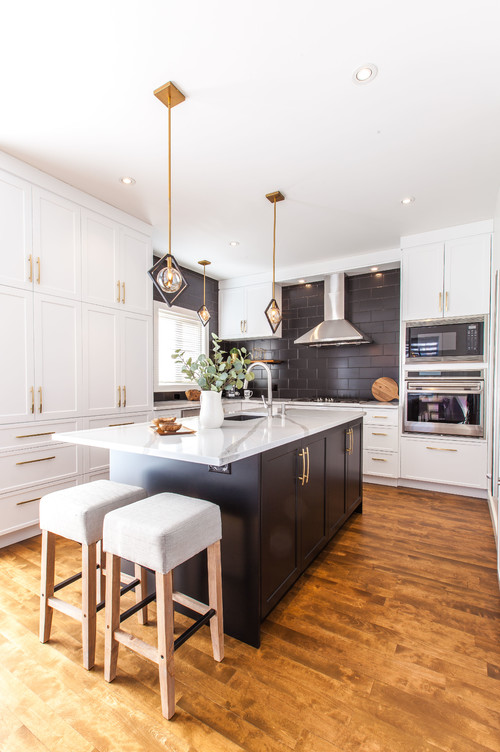 ID# 138316 | Houzz.com – Credit | © KaBé Design
---
Blue Subway Tile Backsplash for White Shaker Cabinets and Brass Hardware
The combination of blue and white is one of the staple color combinations in transitional kitchens. And this kitchen exemplifies one of those popular looks. Here, the blue subway tile backsplash is coordinated with the blue statement island, while the white shaker cabinets provide a blank canvas for the whole design to rely on. The brass hardware and diamond-shaped brass pendants anchor the island, adding a sense of glow and warmth to give the kitchen a healthier look. Lastly, the medium-tone wood floor seals the overall look with warming shades.
How do you keep a white kitchen warm?
White kitchens already feel inviting thanks to their bright and airy vibes, but sometimes they need some tiny touches to feel warm and cozy. To do that, you can benefit from kitchen plants, wood floating shelves, and some accessories in earthy shades. Brass hardware and pendants could be another way to add some sparkle and warmth. Likewise, a wood floor finish and butcher block countertops topping the island could radiate warmth and ensure diversity within the kitchen. Backsplashes in warming shades can also elevate the overall look instantly. If you have extra space, you can add a banquette and create a cozy nook for yourself and your family. This addition can instantly make your kitchen feel warm and homier. Apart from those, LED strip lighting and interior cabinet lighting can be used to provide warm lights that can change the aura of the kitchen immediately.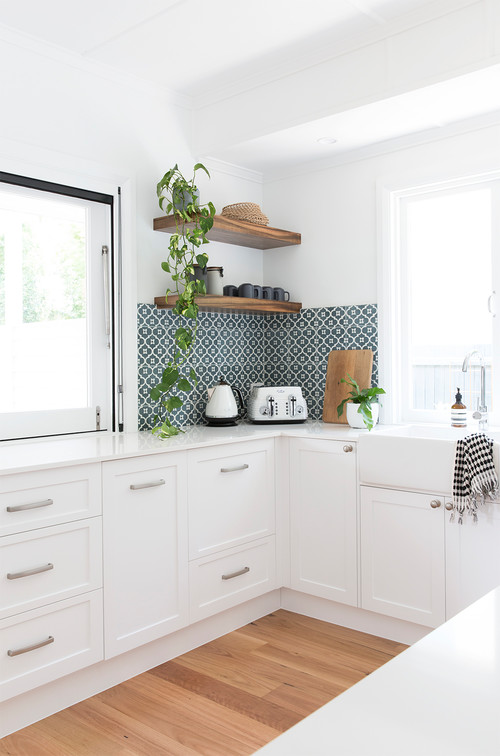 ID# 138317 | Houzz.com – Credit | © The Design Villa
---
Beach-style Kitchen with Black Tiled Backsplash And White Cabinets
The U-shaped layout in this beach-style kitchen aims to maximize storage, providing an efficient workspace. The all-white color scheme befriends this cabinet configuration to enhance openness and brightness with white cabinetry topped by white quartz countertops. The upper cabinetry is also given up to serve the same aim. And the rest of the space is fitted with a black patterned tile backsplash and timber floating shelves to add dimension to the white-painted walls. Also, kitchen plants add a pop of color while the picture windows let an abundance of natural light flow inside. Lastly, the chrome hardware on the cabinets allows for easy grip without causing any clutter.
Blue Backsplash for White Shaker Cabinets
Associated with the sea, oceans, and sky, blue connotes freedom for many. And it is popularly used in beach-style, transitional, and contemporary kitchens, paired with marble, quartz, and wooden countertops. Depending on its shade, it can instill calmness, tranquility, edginess, and even a sense of gloominess. That's why while going with blue, it is important to decide what kind of mood you want to evoke and choose the shade accordingly.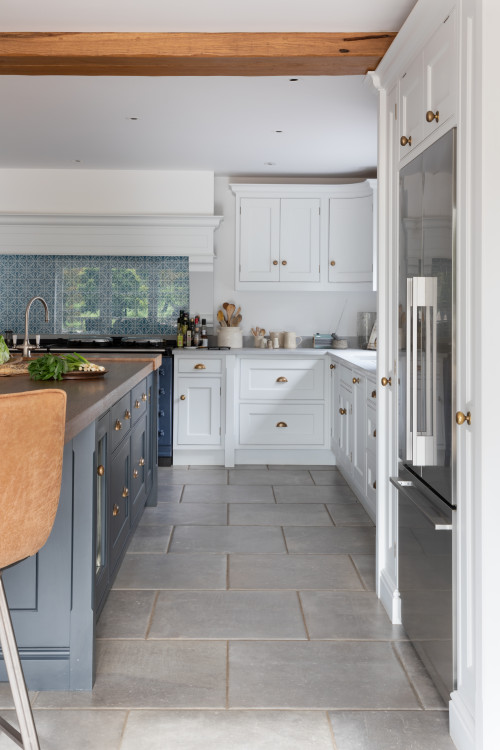 ID# 138318 | Houzz.com – Credit | © Tulip
---
Country Kitchen with Gray Island and Brass Hardware
This vast country kitchen tinged with a Mediterranean look brings together white shaker cabinets with a blue glazed backsplash. This light and soothing color scheme receives refreshment with a blue island unit topped by butcher block countertops. The stone-look floor tiles with golden grout converse with the brass cabinet handles. The resulting scheme provides a well-organized working space that has all the comforting and motivating elements for cooking: the light shades, tranquility coming in shades of blue, and organic textures with wooden countertops. What else could we expect from a kitchen?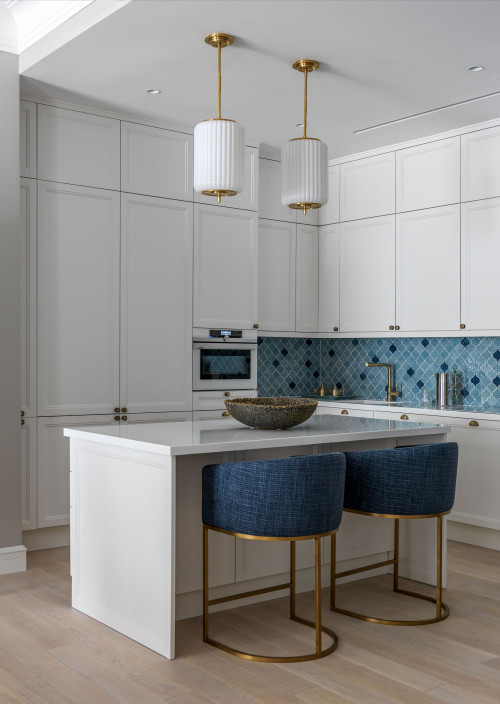 ID# 138319 | Houzz.com – Credit | © Ангелина Аскери / Angelina Askeri Interiors
---
Contemporary Kitchen with Blue Diamond Tile Backsplash and Golden Accents
Sitting in luxury as part of a larger combined-concept room, this contemporary kitchen is mainly characterized by a blue backsplash and modernized white shaker cabinets. Reaching the ceiling, these cabinets not only make the kitchen look taller but also optimize storage space to compensate for the kitchen's smallness. And while doing so, it doesn't compromise its aesthetic value and speaks volumes of luxury with golden accents and diamond-pattern backsplash. Likewise, the breakfast island, though an informal eating space, is treated with luxurious and chic pendants and stools with brass detailing. This way, it preserves a more official and formal meeting spot reserved only for two people.
What is the most popular backsplash for the kitchen?
White ceramic subway tiles are the most popular backsplash options. They are used in all kitchen designs, be it modern, traditional, contemporary, beach style, or farmhouse. Since they provide a canvas-like background, homeowners can feel freer and less confined while choosing the other design elements. In other words, subway tiles are like neutral elements upon which any look can be constructed.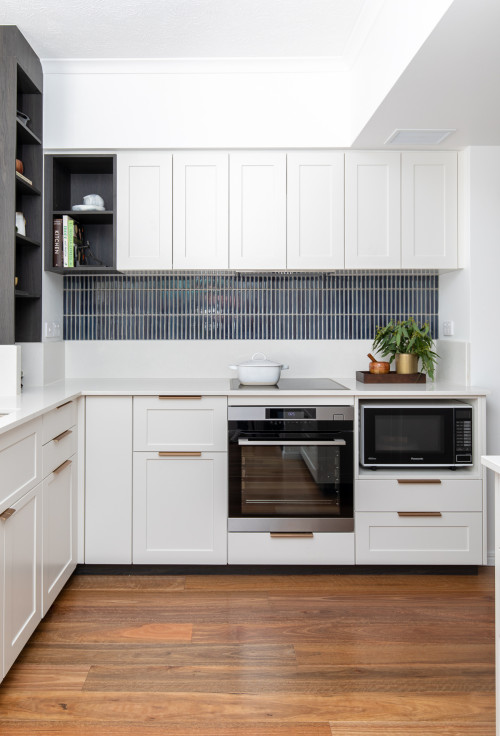 ID# 138320 | Houzz.com – Credit | © Designtank
---
Blue Kit Kat Backsplash for White Shaker Cabinets and Wood Floor
This white-dominant kitchen is added a new dimension with a dark blue kit kat backsplash. These vertically stacked backsplash tiles provide a nice, eye-catching transition between the cabinets, while the dark blue-painted cabinet shelves ease these fluctuations between white and blue. The accessories, plants, and brass lip pull notches bring extra interest to the kitchen, while the cool and warm shades are juxtaposed for a more approachable and comprehensive design with the aid of a medium-tone wood floor finish.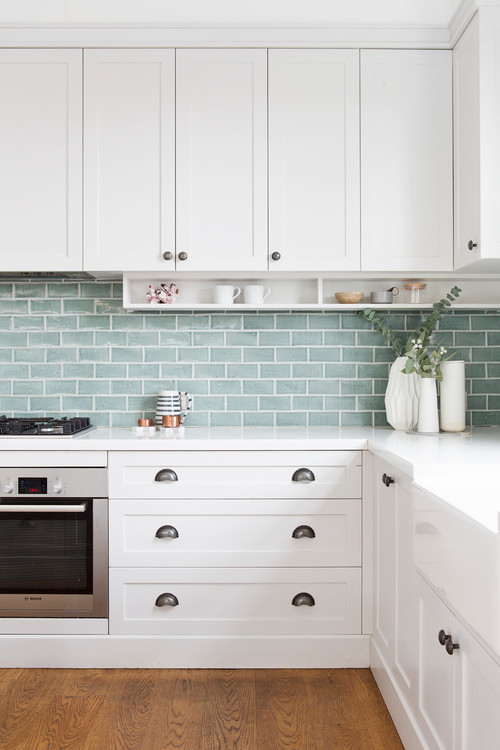 ID# 138321 | Houzz.com – Credit | © Cloth + Stone Designs
---
Transitional Kitchen with Blue Tile Backsplash and Brushed Nickel Hardware
This kitchen might look very basic and plain, but it has everything one needs, from a calm atmosphere to an airy and light working space, and enough storage to maintain a decluttered look. To start with, the blue subway tile backsplash instills tranquility enhanced with bright white shaker cabinets, while this visual comfort is enriched with brushed nickel hardware that adds a lived-in feel. The white cabinet shelves, accessories, and small appliances with wooden floors enliven the overall look and kitchen repertoire for a more casual atmosphere.
Are shaker cabinets out of style?
Shaker cabinets are considered versatile, timeless, and adjustable to different kitchen styles, which explains their maintained popularity in the long term. Whether you want to go with a classic, transitional, or modern look, you can employ shaker cabinets in all cases thanks to their flexibility and various interpretations of this style. You can, for example, find these cabinets available as glazed doors, sliding shaker doors, oak shaker doors, frosted or glazed-front cabinets, and various color combinations. For the same reasons, shaker cabinets don't seem to be out of style and will probably maintain their popularity in the long term.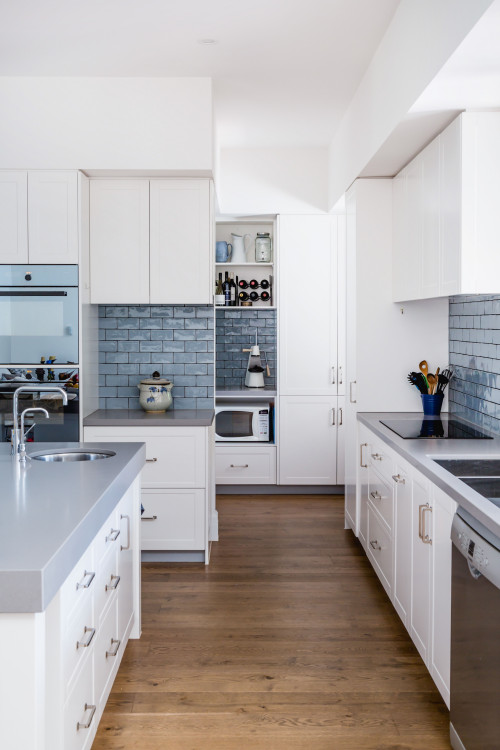 ID# 138322 | Houzz.com – Credit | © Style Precinct Interior Design & Decoration
---
Gray Countertops with Blue Tile Backsplash and Chrome Hardware
This friendly and soothing kitchen design has a relaxed color scheme with plain features without trying to look extra sophisticated. The blue subway tiles laid in a running bond style come with a glazed finish for extra interest. The white shaker cabinets topped by gray countertops of various thicknesses support the neutral scheme. The low-profile hob and appliances blending into their environment maintain a clutter-free and clean look.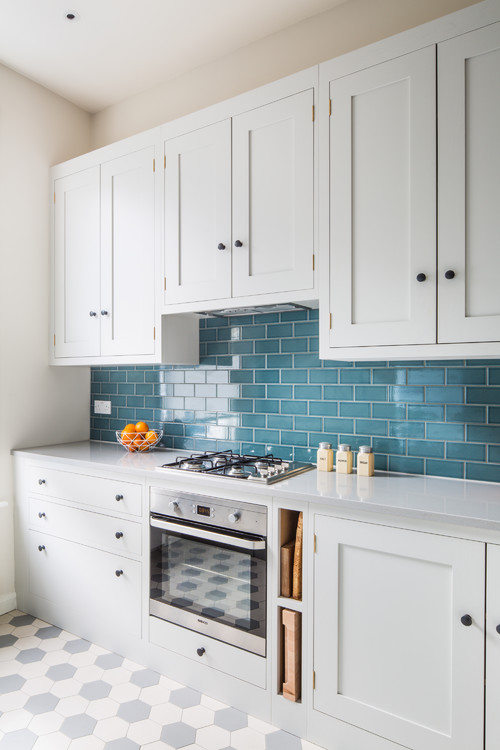 ID# 138323 | Houzz.com – Credit | © Sustainable Kitchens
---
Modern Kitchen with Hexagon Floor Tiles and Blue Backsplash for White Shaker Cabinets
This modern kitchen presents a modern and cool style, fitted with white shaker cabinets and a blue subway tile backsplash. To preserve the uniform look, the range hood is concealed in the cabinet, remaining out of sight. The white-engineered quartz worktops provide a clean and smooth working space that is easy to maintain thanks to its pore-free nature. Below, the hexagon floor tiles with gray and white shades create a puzzle-like design that entertains the space.
Green Backsplash for White Shaker Cabinets
Just like blue, green is also associated with outdoor life, nature, and forests. In addition to that, it also suggests wisdom (e.g., sage green). Coming in different shades from emerald to mint, forest, sage, and hunter green, green can also evoke different moods. But overall, it is soothing and sophisticated, suiting the farmhouse and rustic kitchens at most. To spice it up, you can use a butler sink, brass hardware, and copper pots. This way, white shaker cabinets paired with a green backsplash start to feature a better definition.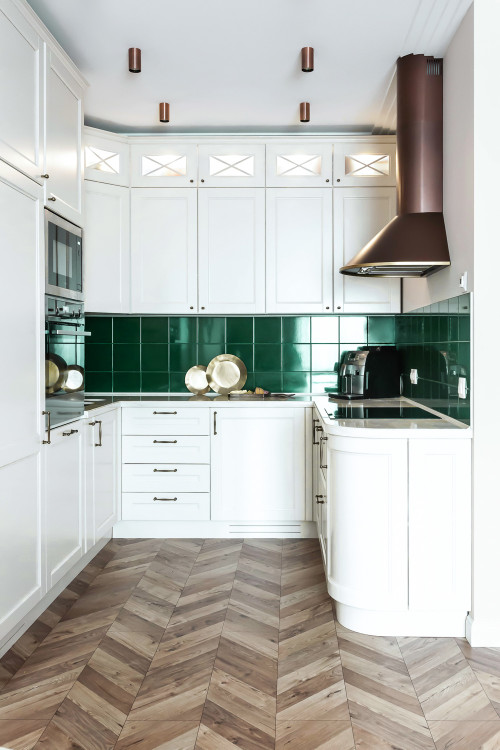 ID# 138324 | Houzz.com – Credit | © Женя Постухова
---
Green Backsplash for White Shaker Cabinets and Brown Range Hood
This intriguing open-plan kitchen design juxtaposes a glowing green square tile backsplash with a brown range hood. Though compact in its size, it uses a few design magics. First, the reflective surface of the backsplash creates a more interactive surface to expand the kitchen visually while white shaker cabinets preserve a state of calmness for a sense of balance. Secondly, the interior-cabinet lighting installed in the top glass-front cabinets provides accent lighting, drawing eyes up and making the kitchen look taller. Lastly, the brown cylinder-shaped flush mounts replace the pendants to keep the overhead clutter-free and enhance the openness of the space.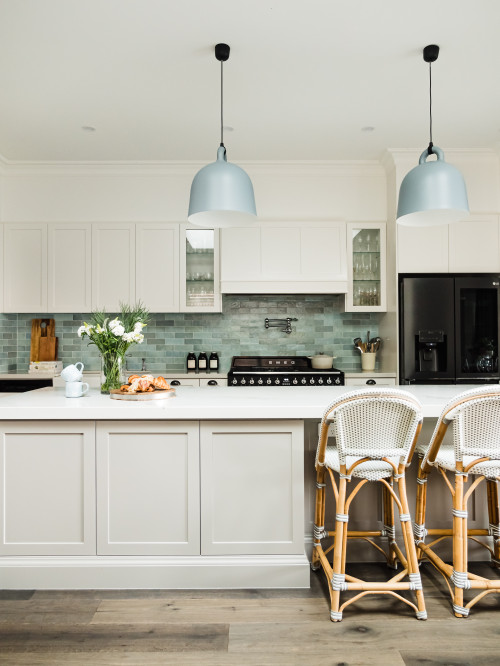 ID# 138325 | Houzz.com – Credit | © renae barrass interior design
---
White Cabinets with Black Appliances and Rattan Stools
This transitional kitchen features a coastal vibe, characterized by plenty of blue details. From the pastel blue pendants to the bluish-green subway tile backsplash, and sailor-striped French bistro stools, each piece adds a discerning character to the kitchen. The white shaker cabinets provide the best setup for complementary additions to take the design anywhere they want to. In addition to the white and blue juxtaposition, the black appliances bring a striking contrast and add more depth and solidity to the space, while rustic stained wood planks line the floors. The all-white kitchen island oozes brightness, creating a social hub of sorts and feeling ready to host guests and kitchen users.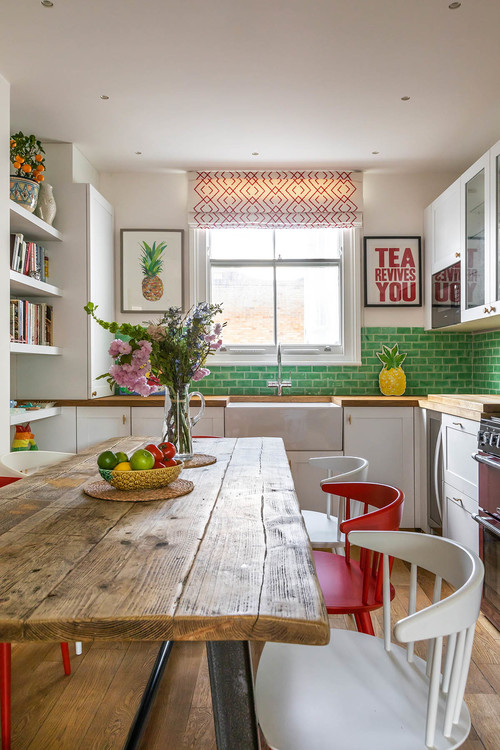 ID# 138326 | Houzz.com – Credit | © Barlow & Barlow Design
---
Eclectic Kitchen with Green Tile Backsplash and Butcher Block Countertops
If you are not into one of those refined and modern design kitchens but favor casual looks, this eclectic kitchen has the perfect look for you. It is fitted with wooden countertops, a reclaimed wood dining table, whimsical decorations, and bold contrasting elements without compromising its neat and bright look. In the background, the green subway tile backsplash paired with wooden countertops enlivens the kitchen occupied by white shaker cabinets. The butler sink, brass hardware, paintings with intriguing details, and vases colonize the walls and open shelves to personalize the kitchen. Toward the other corner of the room relaxes the dining table paired with red and white dining chairs; a fruit bowl and flowers decorate this table with nuanced details to create a more inviting look.
Multicolored Backsplash for White Shaker Cabinets
If you love energizing kitchen backsplashes that pop right away, multicolored backsplashes are up your alley. Plus, they are the best ways to introduce more than one color to team up with white shaker cabinets. You can enrich this couple by using neutral countertops such as gray or white to highlight the backsplash itself. And if you are one of those who love Mediterranean looks, multi-colored Moroccan backsplashes with white shaker cabinets can create an impeccable design for you.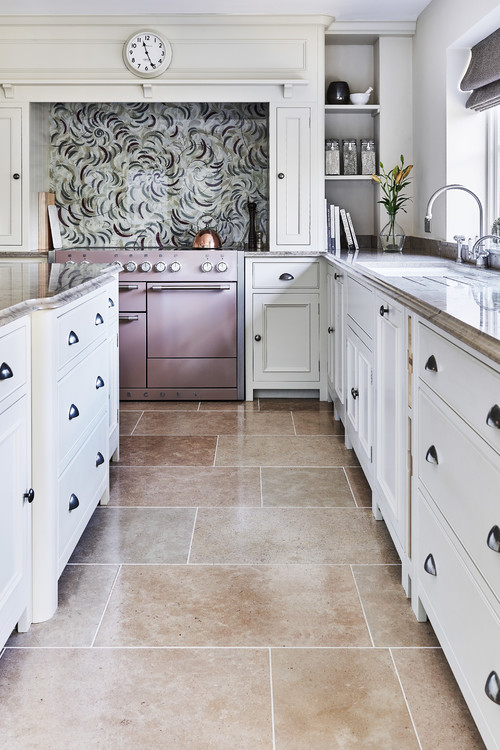 ID# 138328 | Houzz.com – Credit | © Ben Heath Interiors
---
Custom-made Backsplash and Limestone Countertops with Purple Stove
This lovely kitchen features a custom-made backsplash paired with a purple stove. The black and gray floating patterns on this gray backsplash serve as a showstopper, surrounded by white shaker cabinets. The limestone grey countertops and limestone floor tiles add a classic flair, taking the kitchen users back in time.
What is a white shaker cabinet?
A typical white shaker cabinet consists of a flat central panel and square edges with minimal detailing or simple trim on the edges. In other words, it comprises two rails, two stiles, and a center panel, and the resulting scheme resembles a box shape. Shaker cabinets are generally made of hardwood, though some feature plywood and or solid wood. For the final look, they can be painted or given various finishes such as burnished, polyurethane, and thermofoil. This way, you can get different looks and vibes.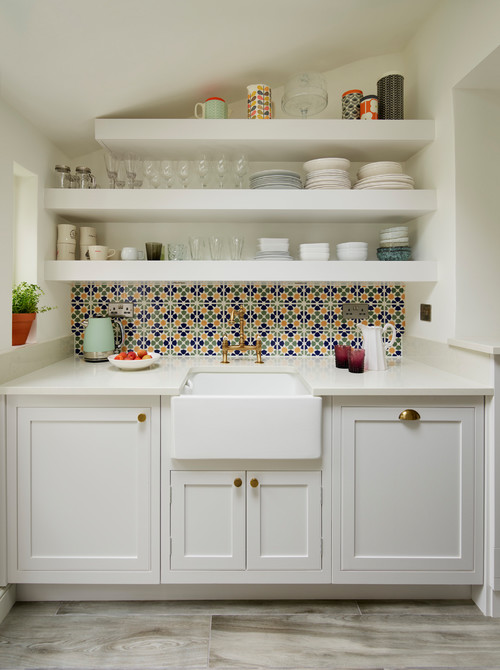 ID# 138329 | Houzz.com – Credit | © Harvey Jones Kitchens
---
Transitional Kitchen with Farmhouse Sink and White Floating Shelves
The highlight of this transitional kitchen is without a doubt the multi-colored backsplash dotted by yellow star-shaped patterns resembling tiny daisies. Situated between the white shaker cabinets and floating shelves, it serves as the visual focal point, stealing the show. To complement it, the farmhouse sink, brass cabinet handles, and brass tap delivers a sense of warmth, conversing with the yellow shades of the backsplash.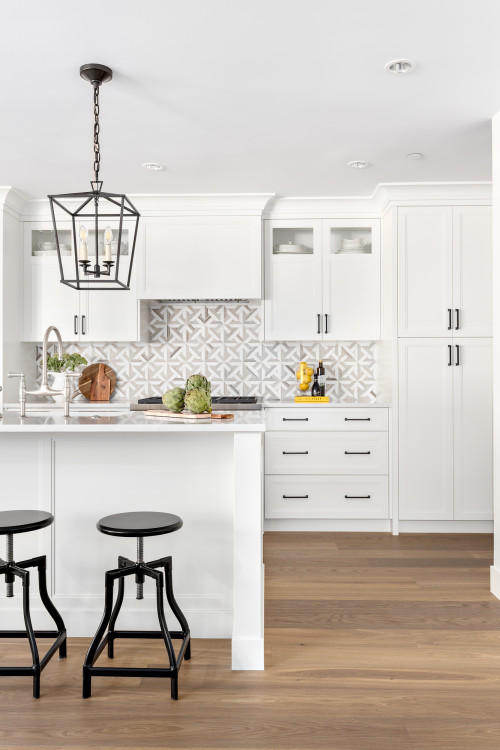 ID# 138330 | Houzz.com – Credit | © Goldcon Construction
---
White Cabinets with Cage Pendants and Black Stools
This all-white kitchen gains some movement with the backsplash featuring arrow-like patterns. The cage pendants bring an old-world charm, while black cabinet pulls punctuate the cabinets. The chrome faucet and black stools pair perfectly with the all-white island, adding contrast and more character to the kitchen.