54+ Butcher Block Countertops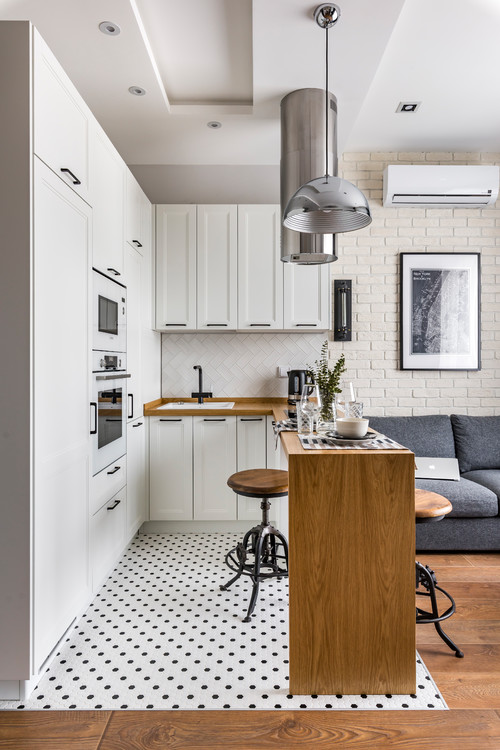 ID# 116513 | Houzz.com – Credit | © Бриц АннаArchIdea
---
Contemporary White Cabinets With Butcher Block Countertops
If you don't have space to design an entire room like a kitchen, you can create a cozy kitchen in your living room corner. This corner kitchen features white shaker cabinets with black handles, butcher block countertop, cylindrical range hood, metallic pendant, vintage wooden stools, and dotted the carpeted floor. Expansion of the countertop provides a separation between the living area and kitchen, besides create a dining area.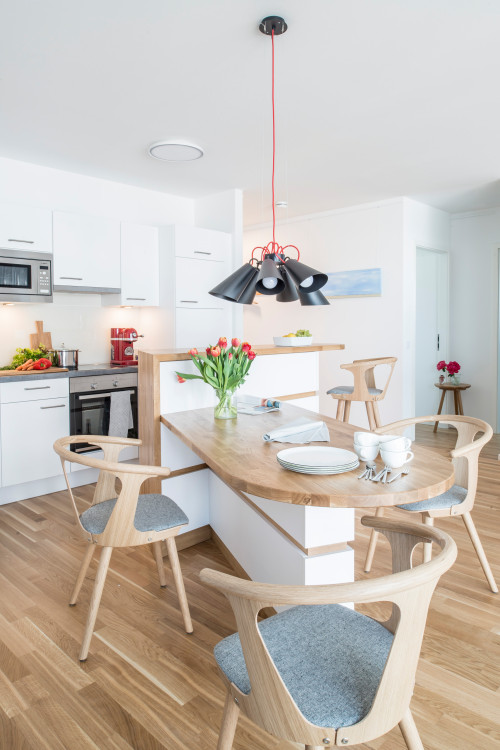 ID# 116538 | Houzz.com – Credit | © Tischlerei Mau
---
Single Wall Contemporary Kitchen with White Cabinetry and Wood Countertop
This unique design of the kitchen island/dining area, take this contemporary kitchen to the next level. Also, this design while creating a dining area, it provides a separation between the kitchen. A black lighting fixture with red wire creates a focal point.
Butcher Block Countertops for White Cabinets in Different Styles
When it comes to countertops there are plenty of options but for the perfect combination of affordability and durability, a great option for white cabinets with butcher block countertops. Here, we gathered our favorite white cabinets with butcher block countertops!
Create a timeless look with butcher block
Harmony between the white and wood is undeniable. While white kitchen cabinetry brings a rich, clean, and chic atmosphere, butcher block countertops consisting of individual wooden strips fused together into a sleek slab and create a cool, cozy, and timeless look, for your kitchen! If you want to know more about the white cabinets with butcher block countertop, check out our inspiring gallery to create your dream kitchen.
With plenty of options butcher block countertops gives an earthy element into white kitchen cabinets.