34+ Best Backsplash for Honey Oak Cabinets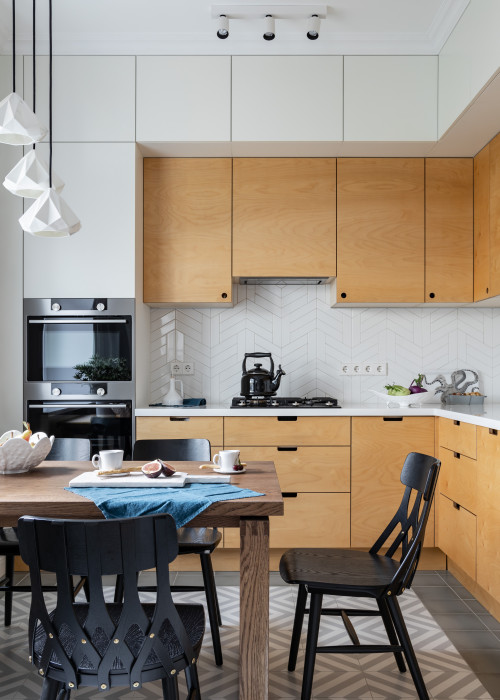 ID# 131202 | Houzz.com – Credit | © Anna Koroleva
---
Scandinavian Kitchen Design with Flat-Panel Honey Oak and White Cabinets
You can achieve such a stylish look with the Scandinavian design style, too. Flat-panel cabinets and white surfaces create a simple look with the honey oak cabinets. Having recessed handles as if they look like black handles creates a beautiful contrast on the surface of the wood cabinets. The white flat panels without any handle keep the simplicity of the kitchen. The white chevron tile backsplash and the white countertops create beautiful harmony together keeping the minimalistic look of this kitchen.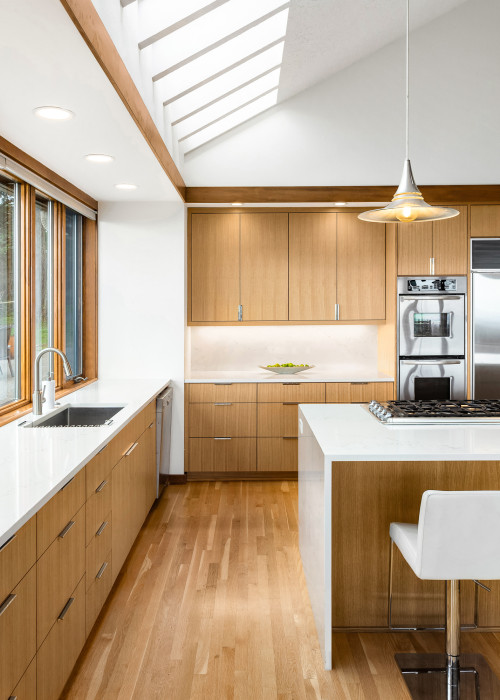 ID# 131221 | Houzz.com – Credit | © Northland Design & Build
---
Ceiling Illumination for a Contemporary Kitchen with White Backsplash for Honey Oak Cabinets
High ceilings provide a spacious look but this kitchen has a special lighting source! The dominant color of this kitchen is white and this helps the kitchen be illuminated well with the ceiling illumination. Even the cabinets and the floors are wood, they have different textures, with this the honey oak cabinets can stand out. The white backsplash and the countertops have a seamless surface that blends with the flat panel cabinets.
Best Backsplash for Honey Oak Cabinets
Thanks to their lovely, golden, and honey-like hues, honey oak wood is one of the perfect materials to create a warm and natural look for the kitchen. Honey oak is not a real wood type, it has a special process to gain its honey color. In the '80s people started to stain red oak trees, and the term "honey oak" has come to life. This material can add rich, golden, and warm appeal to your kitchens. You may wonder what can be the best backsplash for honey oak cabinets? Because there are dozens of alternatives to use for.
In today's market, oak kitchen cabinets come in different colors from dark oak to white oak. You might think that honey oak cabinets are outdated but with the right approach, they can look as stylish as other cabinet options. Since the honey oak has golden hues, it is better to use neutral colors for the backsplash. Naturality gains importance here, for example, if you will use a white backsplash it is better to have stone-like textures. If you do not like this, you can go with ceramics. Gray, black, and beige are the other colors that you can go with for the honey oak cabinets. Let's check what can be the best backsplash for honey oak cabinets!
Backsplash Color for Honey Oak Cabinets
If you like to have a warmer and inviting atmosphere in your kitchens, honey oak cabinets are one of the alternatives. Their golden, honey-like hues add naturality to your kitchen cabinets, as well. Their grain has large portions which take on colored stain very well. You can see that the color of the honey oak cabinets will change to minor amber tones. But this is a minor change, so do not worry, they will still good perfect. The backsplash colors for honey oak cabinets have importance here. There are beautiful colors for backsplashes that can tone down your cabinets or create a beautiful harmony. You can use neutral colors such as white, gray, black, beige, and brown backsplash.
White Backsplash for Honey Oak Cabinets
If you do not want to take any risqué, a white backsplash for honey oak cabinets is a perfect idea, thanks to the white color's ability to be paired with any wood cabinet and color. You can have a clean and bright look with white backsplashes when they are used with honey oak cabinets, also they can be paired with any type of appliances and accessories. You can have a timeless look with a white backsplash for honey oak cabinets, which is a big plus.
Gray Backsplash for Honey Oak Cabinets
Gray color can create very different designs in kitchens and other interiors. This color, which is neither white nor black, and with its different tones, can do great works with honey oak cabinets. If you want to have stainless steel appliances, gray color is the best to work with. A gray backsplash for honey oak cabinets can give an expensive and rich feel. You can keep the kitchens inviting and warm with the gray color.
Black Backsplash for Honey Oak Cabinets
Black is a strong color that can change any interior with one touch. A black backsplash for honey oak cabinets creates a sophisticated look with a personality. The stone-like black textures can take your kitchen cabinets to next level. There is a lovely specialty of it, it can hide coffee stains and is easy to clean. If you want to have a focal point together with the cabinets, a black backsplash is the best for it.
Beige Backsplash for Honey Oak Cabinets
You can gain naturality with this neutral color. It can match any color in your kitchen and help you to create a stylish design. Beige color is one of the best ones which can hide stains. It increases the warm, welcoming atmosphere in the kitchens. If you will use a beige backsplash for honey oak cabinets, you will see that I can complement the cabinets easily. The beige color and the honey oak cabinets have the same color temperature, and it is a perfect color to complete the warm honey tone of the cabinets.