45+ White Quartz Backsplash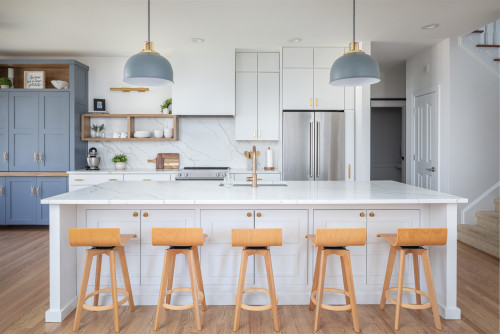 ID# 130601 | Houzz.com – Credit | © Clearcut Construction, Inc.
---
Scandinavian Kitchen Design with White Cabinets and White Quartz Backsplash
This kitchen has a stylish movement thanks to the two-tone blue and white cabinets with wooden shelves. Using brass hardware for both white and blue cabinets adds an amazing chic look. The white quartz backsplash and the countertops complete the white cabinets and put harmonious appeal to the kitchen. Using light wood floors highlights the cabinets well. The matte finish of the quartz slabs enhances the modernity.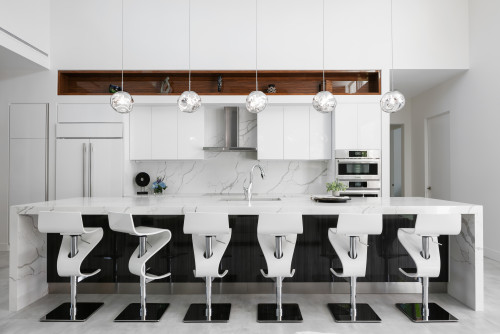 ID# 130643 | Houzz.com – Credit | © DSDG Architects
---
White Appliances with White Flat-Panel Cabinets and the Quartz Backsplash
Using white Corian quartz countertops and the waterfall of the island create an amazing harmony with the white flat-panel cabinets. You may like to use white appliances in this kind of design style to keep the integrity. The black knee wall of the island adds contrast with the white cabinets. This put a stylish look to the kitchen.
White Quartz Backsplash
Di you know that quartz is an abundant mineral found on earth? The minerals of it are mined and then ground into an aggregate. In here, they take the slab form. Pigments are added for providing colorful impact during this process. Quartz has a perfect specialty such as being durable, non-porous, and they do not need to be sealed. You can use them in different colors and incorporate them into different places like a kitchen backsplash or bathroom vanity. The most popular one is the white quartz backsplash, of course. The sleek beauty of the white quartz can be a stunning addition to your kitchen design project!
You may wonder what can be the best for your kitchen backsplash and the design. Thanks to its wide variety of pattern and texture options, whether contemporary or traditional you can use a white quartz backsplash in your kitchen design. White color is a perfect selection for a kitchen thanks to its ability to harmonize with every color and texture. Also, the timeless elegance of this easy-to-install material is great to create a sleek backdrop for your kitchen! Besides the pure white options, white quartz countertops also come with marble-like textures. That means you can incorporate the luxurious feel of the marble into your design with less maintenance! If you want to learn more about the facts of the quartz, keep reading and check these stylish inspirational design ideas to find the perfect backsplash!
Can you use quartz as a backsplash?
You may wonder what material will be the best for your backsplash and the kitchen design. Quartz is one of those materials that you can use as a backsplash. They add perfect elegance to your interiors.
What Are Top White Quartz Backsplash Colors?
Even the white color has issues with matching, right? There are patterns, hues that differ according to design and the cabinet color, even if they are white. There are a lot of options for the top white quartz backsplash colors. If you want a pure white look with the cabinets you can use a seamless white quartz backsplash. Sometimes gray hues can be perfect if you will add a soft movement to the kitchen. There are Calacatta quartz materials that provide a marble look with its soft gray patterns on them. The beige hues are also perfect fits for the white backsplash colors thanks to their charming and inviting look.
Here are the top white quartz backsplash colors,
-Arctic White, seamless, minimalist, solid surface,
-Iced White, contains sparks, a light-catching surface with a 3-d textured look,
-Calacatta White, you will have smooth gray veins with a marble look
-Carrara White, you will have small clouds on the white background of the backsplash
-Cascade White, you will have gray and taupe patterning
-Empire White, soft gray marble veins with minimalistic lines
-Pure White, a complete densest white
Types of White Quartz Backsplash
Prefabricated materials such as quartz can make you save money. If you can not afford a custom quartz backsplash for your cabinets, you can try out some of the common types of white quartz backsplash. The size matters, also. There are slabs, full-heights, and the 4-inch ones for the backsplash. You can use Calacatta Classique with large gray veins, Blanca Arabescato which is gray quartz with brownish veins, Mystic Gray can provide dark flecks on solid mid-tone gray, Calacatta Verona which has a classic marble look, and the Calacatta Laza which provides gray veining on white quartz stone surface. You can decide the size and use them in your design!
Is Quartz good for a backsplash?
Yes, quartz is good for a backsplash. They are durable and versatile. Thanks to their ability to provide a continuous surface and a modern look. Because quartz is a man-made material, it has a non-porous surface that prevents stains. So, unlike the natural stones, these materials don't require sealing and provide more durable surfaces for a kitchen backsplash. Also, they create a seamless view with the cabinet design. If you want an aesthetically pleasing design you must try it out!
How thick is a quartz backsplash?
Traditionally they are 1 or ¼" (3 cm thickness) but you can have it as thin as ¾" as well.
White Full Height Quartz Backsplash
If you want to stretch your backsplash from the countertop surface to the bottom surface of the upper cabinets you can use a white full height quartz backsplash. They can also be used to the ceiling and you can use floating shelves with them to create movement and harmony. With this, you can have integrity both with the cabinets and the backsplash. This size is used mostly in contemporary design style, minimalistic, modern styles. But you can add a minimalistic touch to your farmhouse kitchens, right? Let's see what can be done with this material for your kitchens!
How much does quartz backsplash cost?
Per square foot, they generally cost $65 to $90, they can cost higher prices if you want higher-level ones or something custom.
4 Inch White Quartz Backsplash
In standards, you can find backsplashes 4 inches from the surface of the countertops. If you have some considers about the cost you may choose a 4-inch backsplash for your kitchen design. Thanks to their size they use fewer materials and this mean it costs less. If you think that they are outdated, you are looking at the wrong pictures! With the 4-inch white quartz backsplash, you can create amazing designs, contemporary appeals, minimalistic approaches, or you can add a little plain look to your traditional design style kitchens.
Is quartz cheaper than granite?
There are cost ranges for both the granite and the quartz of course. There are many details to make this comparison such as thickness, color, size, and quality. Generally, it can be said that quartz is less expensive than granite.
Pros&Cons of Quartz Backsplash
If you want to choose quartz material for your backsplash, of course, you will wonder what are the pros&cons of quartz backsplash. They can have many advantages or disadvantages!
Pros of Quartz Backsplash
-Variety of patterns and designs
-You can find them in many color alternative
-They are non-porous
-You have a chance to use them whether contemporary to traditional kitchens
-They can provide less cost for your kitchen
-They are resistant to mold and mildew
-You can easily repair and maintain them
-You do not need to seal them
-They are resistant to water and stain
-They provide a seamless surface
Cons of Quartz Backsplash
-If you want high-quality custom quartz backsplash, they can be expensive
-They are not unique as natural stones
-If you have cheaper quartz backsplash, they may have seams
-They are resistant only up to 200°F
-They fade in sunlight, so you need to protect them from direct sunlight
How do you seal quartz backsplash?
Thanks to the technology the quartz does not need ant sealing. They come as pre-sealed and you can easily maintain them by wiping them down.