31+ How to Match Backsplash with Countertops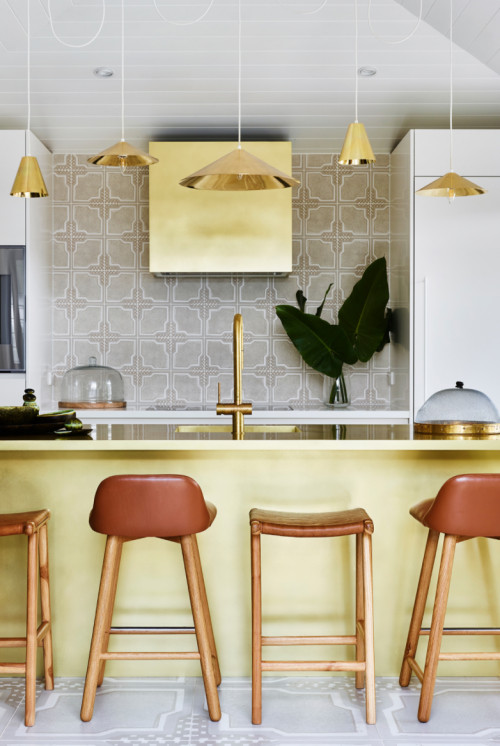 ID# 139512 | Houzz.com – Credit | © Langlois Design
---
Luxurious Contemporary Kitchen with Brass Island and White Cabinets
In kitchen designs, islands serve as important additions, whose materials have a profound impact on the overall feel, which is proven by this kitchen design as well. Accommodating a brass island with brass countertops, and brass lighting fixtures, it communicates luxury and creates a focal point. And downplaying all these brass additions are the backsplash and perimeter countertops that are kept neutral. Likewise, the cross-shaped patterns in off-white shades on the backsplash are understated and are also used on the floor in larger formats to create a continuous look.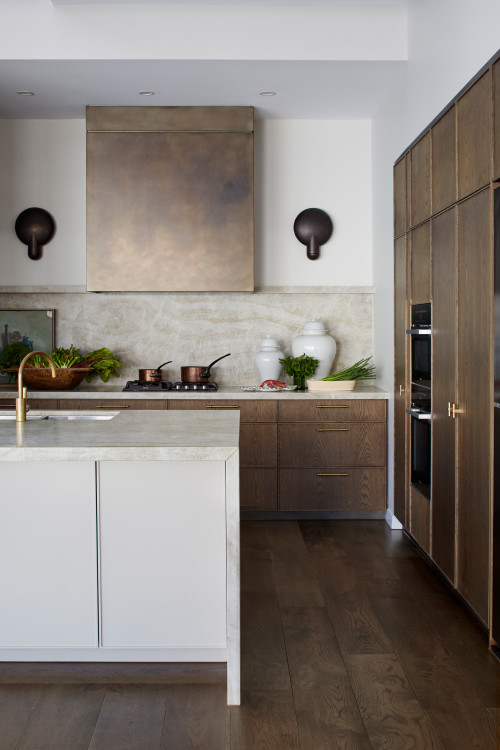 ID# 139525 | Houzz.com – Credit | © Brownlow Interior Design
---
Wooden Cabinets with Beige Marble Backsplash and Brass Hardware
This heartwarming cozy kitchen is abundant in wooden textures and shades that add a robust look to the interiors alongside the light beige marble backsplash and matching countertops. The metal range hood just also blends harmoniously with the surrounding joinery, suggesting a lived-in feel with a rustic allure. This well-integrated combination also ensures the longevity of the design, while the brass hardware adds a glowing gesture to the cabinets.
How to Match Backsplash with Countertops
Designing a kitchen necessitates several considerations, from the backsplash to cabinets, countertops, floor tiles, hardware, and many more. And every single decision regarding the design elements needs to come together like puzzle pieces for the resulting visual scheme to feel cohesive and continuous. But how to manage to create a well-coordinated look? And even more importantly, how to match backsplash with countertops?
Backsplash and countertops, depending on the personal taste of the homeowners, could come in matching or contrasting shades or even in the exactly same patterns, colors, and materials. While the amalgamation of various textures and shades adds depth and dimension, the monochromatic looks instill a sense of calmness that slows down the passage of time. But which one would you prefer? In this round-out, we have numerous kitchen designs which will guide you on how to match the backsplash with countertops. So read on to get a better idea and feel inspired for your next renovation project.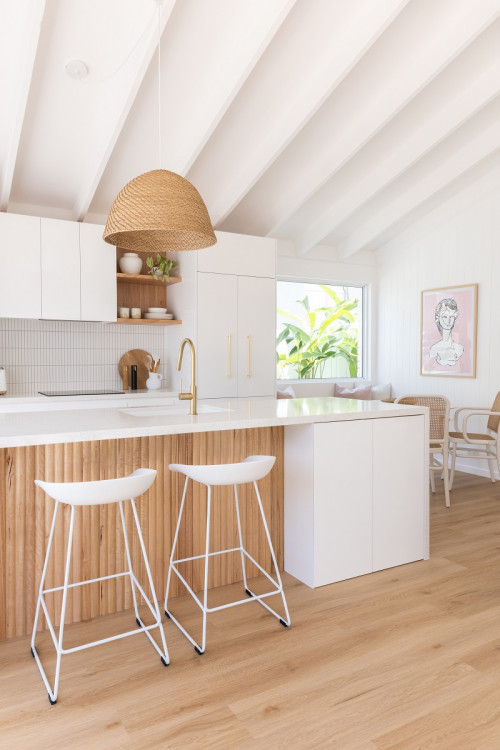 ID# 139510 | Houzz.com – Credit | © Smartstone | Quartz Benchtops, Engineered Stone
---
How To Match Backsplash with Countertops in Beach-Style Kitchen
This beach-style kitchen in Sydney welcomes its users and guests with comforting aesthetics and a banquette that serves as a social hub to pack guests and family members. And it is mainly outfitted with a white kit kat mosaic tile backsplash that blends harmoniously with the white joinery and quartz countertops for a seamless look. The rest features softening textures and shades, including brass hardware, boho pendants, and a front panel with Tasmanian oak for the kitchen island. In addition to those, it is also the picture window that borrows peaceful views from the outdoors, creating a more natural environment indoors.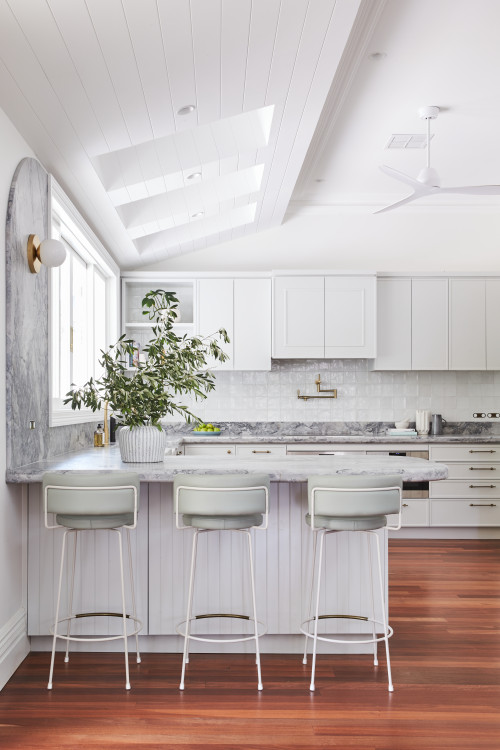 ID# 139511 | Houzz.com – Credit | © Danielle Victoria Design Studio P/L
---
Sophisticated Traditional Kitchen with a Neutral Color Palette and White Cabinets
This traditional kitchen uses not just one but two backsplashes to create a more dramatic and layered look. First, it starts by creating a blank canvas with white cabinets that offer a clean and sleek look. To complement them, it uses a white ceramic square tile backsplash that is treated with a satin finish for extra interest and coordinated with gray marble cladding the countertops. The same marble is also used as a slab backsplash to create a feature wall as a full-height backsplash and an extra layer on the main square tile backsplash running shorter on the walls. This way, the kitchen uses its walls as focal points. And lastly, to warm up this neutral look, it employs brass hardware, a white fan, and brass-detailed wall sconces along with a wood floor.
Kitchen Backsplash and Countertop Combinations
When designing a kitchen, you are required to make plenty of decisions regarding the color and material combination, the style of cabinetry, how much natural light the kitchen receives, etc. And kitchen backsplash and countertop combinations are one of the basics of kitchen design that set the tone of the space. But the good part is that you can make different combinations and incorporate a variety of elements to add more depth and dimension. But if you prefer achromatic looks, you can just use a backsplash in the same material and color as countertops.
Matching Kitchen Backsplash and Countertops
If you don't love contrasting shades and want colors and materials to match each other, it is better to use matching kitchen backsplash and countertops. For example, you can combine white ceramic tiles with white quartz countertops, off-white backsplash with gray countertops, and creamy beige backsplash with timber countertops. So, this way, you can achieve synchronized looks that feel cohesive.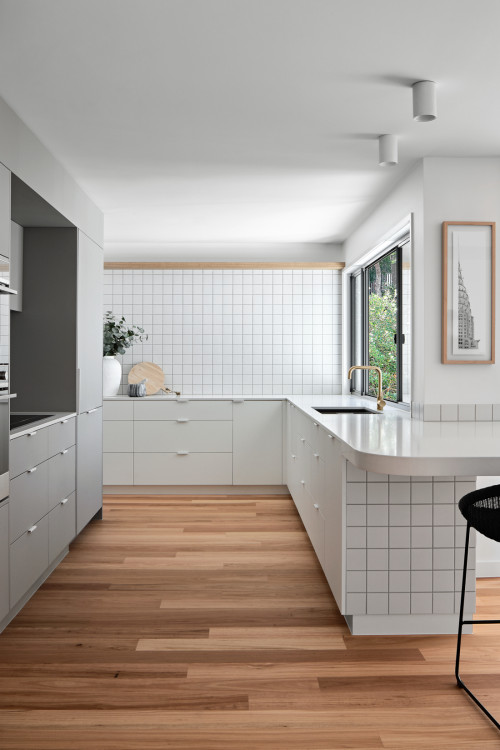 ID# 139513 | Houzz.com – Credit | © Toscano Constructions
---
How to Match Backsplash with Countertops in Contemporary Kitchens
This maze-like kitchen has an entertaining layout that is filled with surprises that are kept modest with a neutral color palette. The oversized picture window brings the outdoors in, encouraging natural lights to flood in, while inside, what dominates the kitchen is white cabinets and a full-height square tile backsplash. The black grout gives these tiles extra interest with a modern edge. Also, the lip-pull notches, brass tap, and wooden floor finish inject a healthy dose of warmth to give the kitchen the effect of flushed cheeks.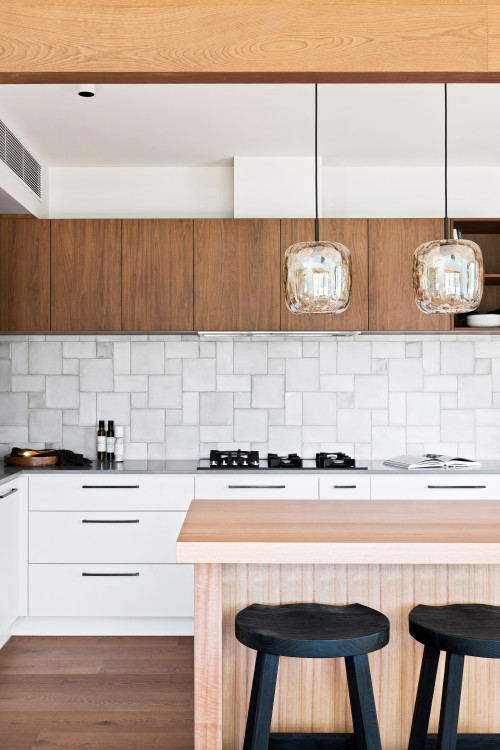 ID# 139514 | Houzz.com – Credit | © Scale Constructions
---
Wooden Cabinets with Gray Backsplash and Off-White Backsplash
If you are looking for something different, why not try a backsplash consisting of variously sized tiles? It gives the kitchen a more natural look with less intentional purposefulness as showcased by this modern kitchen. Here, for example, the off-white tile backsplash is paired with the gray quartz countertops, while the wooden island and cabinets soften this neutral palette with warming shades. The square glass pendants resonate with the backsplash sizes, adding also an intriguing form that provides task lighting.
Does the backsplash need to match the countertop?
Backsplashes can have contrasting, exact, and matching looks with the countertops. As such, there is no design rule or requirement concerning the backsplash and countertop. If you love eclectic looks, for example, that surprise their users and guests with whimsical and unexpected moments of design, feel free to use contrasting and seemingly irrelevant materials and shades that will surely result in a dynamic kitchen look.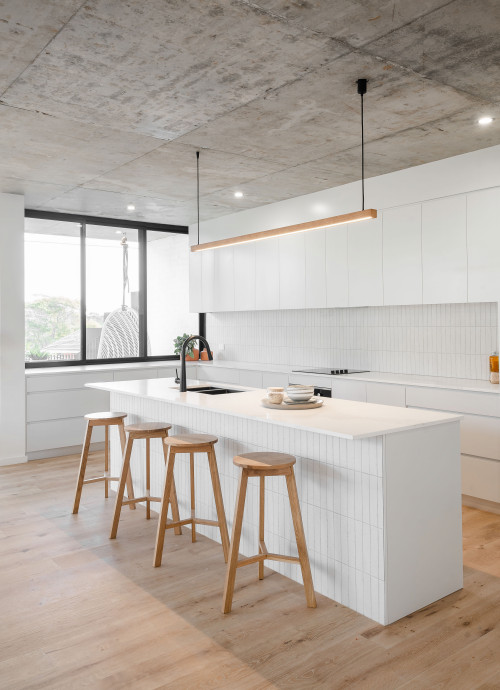 ID# 139515 | Houzz.com – Credit
---
Matching Kitchen Backsplash and Countertops in Contemporary Kitchen with Exposed Concrete Ceiling
Awash with white shades, this achromatic contemporary kitchen employs handmade Spanish ceramic tiles as a backsplash. These vertically stacked stunning tiles also continue on the island's front that creates a continuous look with a sense of integrity. And the white countertops match perfectly with these white tiles and crisp white joinery, resulting also in a sleek design. The wood fixtures and exposed concrete ceiling introduce raw textures without stealing anything from the refined and genteel atmosphere of the kitchen.
Contrasting Kitchen Backsplash and Countertops
To contrast a kitchen backsplash with countertops, you can either use contrasting shades or contrasting materials, or both. For example, white-gray and white-black create soft and strong contrasts which can be tempered with wood accents. Glass backsplash and timber cabinets could also form a contrast in terms of materiality. But while doing so, it also adds depth and provides a layered material complexity for the kitchens that generally result in satisfying visual schemes.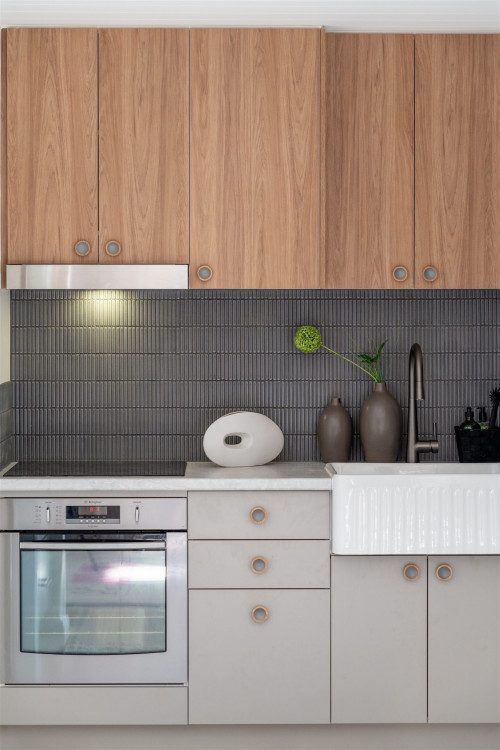 ID# 139516 | Houzz.com – Credit | © Annette Pust Design Studio
---
Contrasting Kitchen Backsplash and Countertops with Scalloped Butler Sink
Like any other Scandinavian kitchen, this one also includes neutral shades, organic textures, and indoor plants to keep the senses stimulated. The scalloped butler sink and sculptural decorative pieces as stylizing elements carry artsy vibes into the kitchen, bringing biomorphic forms to create an outdoor feel. The gray kit kat mosaic tile backsplash with greige and timber cabinets orchestrate a contrasting scheme that feels complementary to each other.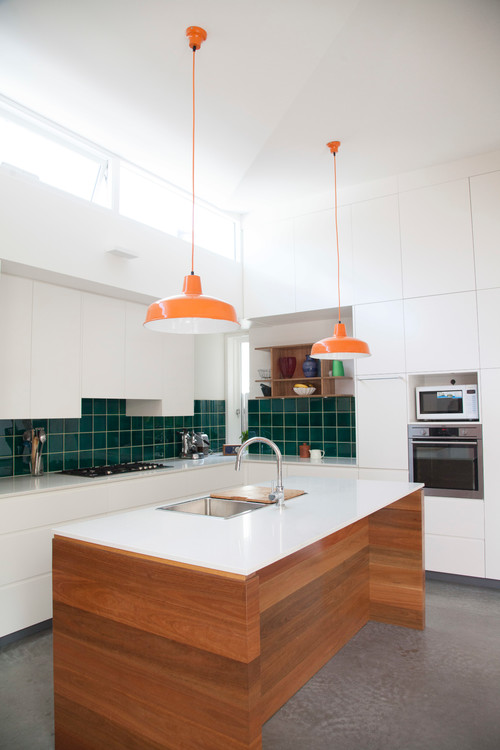 ID# 139517 | Houzz.com – Credit | © Daniella Photography
---
Green Backsplash with White Cabinets and Orange Pendants
In this contemporary kitchen, the white flat-front cabinets blend seamlessly with the white walls, while the green square tile backsplash brings a pop of color. The wooden kitchen island paired with orange pendants feels enough to energize the kitchen, also adding new dynamics along with the concrete floor that brings an industrial edge to the space.
Should the backsplash be lighter or darker than the countertop?
When deciding whether your backsplash should be lighter or darker than the countertops, there is a third factor you should consider, which is the cabinets. If you have light cabinets and light countertops, you can either match them with a light backsplash to enhance the openness and brightness or go with a darker backsplash to add more depth and drama to the background. And if your kitchen receives enough sunlight, you can also use dark backsplashes for your dark countertops and cabinets, which wouldn't make the space feel confined or immured.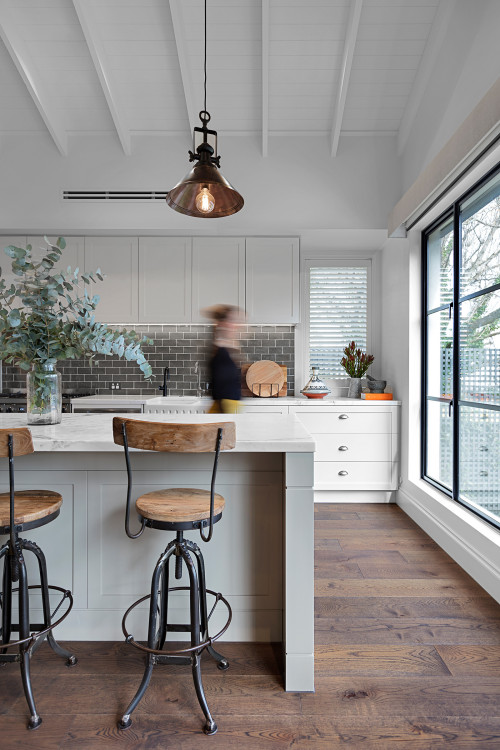 ID# 139518 | Houzz.com – Credit | © Glenvill Homes
---
Gray Subway Tile Backsplash with Rustic Stools And White Cabinets
This country-style kitchen offers rustic vibes introduced by wood floors, stools, and metal pendants. Yet by placing them in a white setup provided by white shaker cabinetry, it imposes a sense of modernity through the clean lines. And the gray ceramic subway tile backsplash adds a neutral vibe between the white cabinets, bringing a soft contrast that suits the overall rustic charm of the kitchen.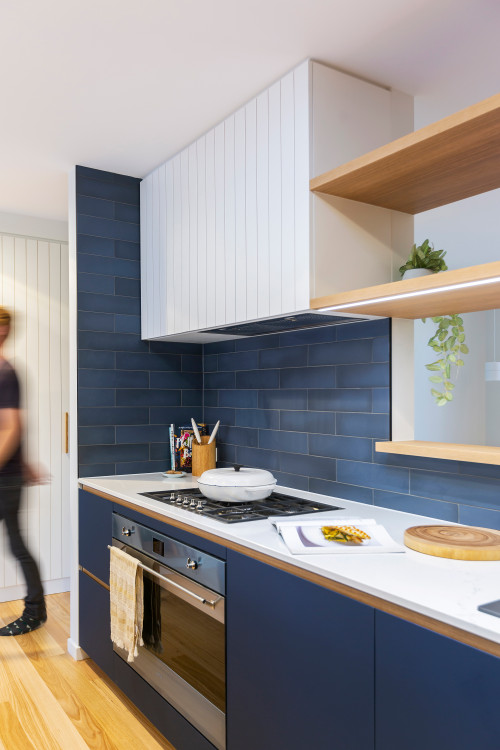 ID# 139519 | Houzz.com – Credit | © Built By Drew
---
Modern Kitchen with Blue Cabinets and Timber Floating Shelves
The blue cabinets, blue subway tiles, and timber floating shelves collaborate in this modern kitchen to create a dynamic space. And what mediates between them is sleek white countertops synchronized with a white beadboard hood fixture that lightens up the atmosphere and enhances the openness.
Kitchen Backsplash Same as Countertops
Natural stone backsplashes create immersive looks, which you can always support by using the same material for the countertops. For example, quartzite, marble, soapstone, quartz, and granite are some of the most popular material options if you would like your backsplash and countertops to look the same. Since they can also be used as slab backsplashes, they create a sleek and seamless look with the countertops.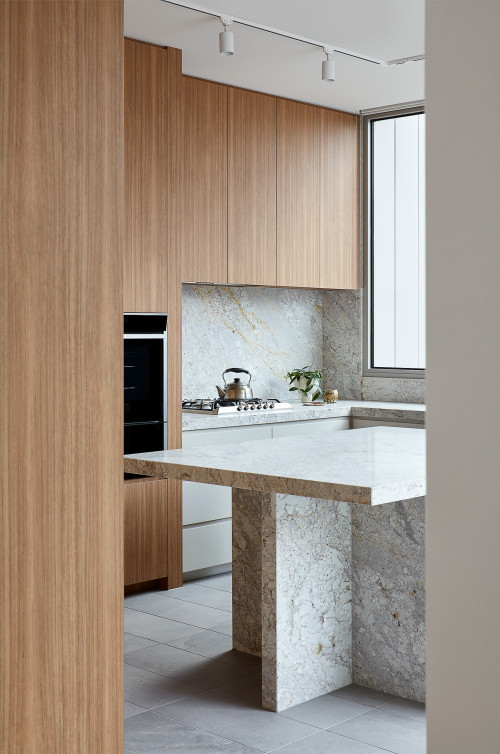 ID# 139520 | Houzz.com – Credit | © Jane Cameron Architects
---
Kitchen Backsplash and Marble Island with Timber Cabinets
Once inside this kitchen, you can just immerse yourself in the bountiful natural textures and shades. The timber cabinets and the white natural stone backsplash with gold veins create a visually soothing scheme, which continues on the matching marble countertops and island unit. This well-coordination between the different features established via the same material vocabulary ensures a high consistency, visual continuum, and elegance. Plus, the sculptural form of the island gives the kitchen an artsy vibe, while the tracking spotlight lighting fixture brings a modern edge to the kitchen.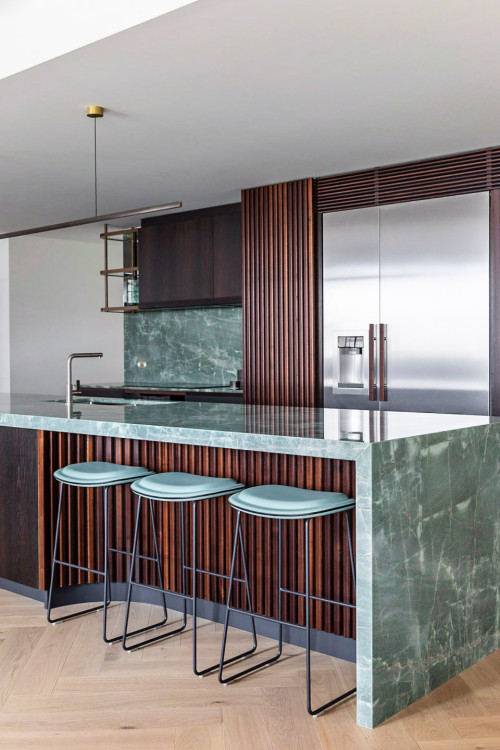 ID# 139521 | Houzz.com – Credit | © Matter Design & Make Pty Ltd
---
How to Match Backsplash with Countertops in Contemporary Kitchen
This penthouse kitchen is designed with a focus on functionality and sustainability and thus, filled with materials that can be reconditioned over time such as smoked oak veneer cabinets. While these cabinets also impose aesthetic values of richness and opulence, the green quartzite backsplash with matching countertops and island waterfall edge imparts soothing aesthetics to the space. As complementary features, the slatted wood features, a brass pendant, and bluish-green modern stools round out the design, also making the design pop against the house's overall theme.
Should the backsplash and countertop be the same color?
Backsplash and countertops can feature different and even contrasting colors, which would add depth and dimension to the kitchen and create a more dramatic and visually engaging look. But those who prefer monochromatic looks can match the backsplash and countertop colors and enrich the look with complementary elements such as lighting fixtures and hardware.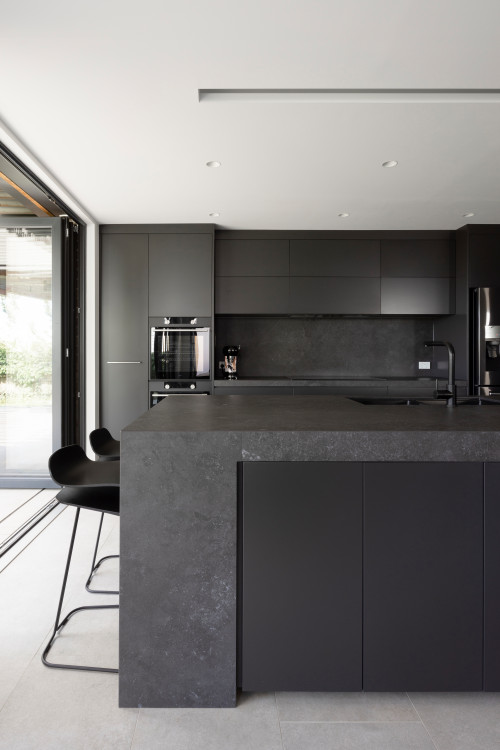 ID# 139522 | Houzz.com – Credit | © Kitchen Elegance
---
Monochromatic Kitchen with Black Cabinets and Backsplash
This contemporary kitchen forms part of a larger open space that is brought into dialogue with the surrounding environment and outdoor spaces. This, in turn, allows for more convenient access to natural lights and a darker color palette for the interior design. Finding reliance on the sunlight, the designers go with a monochromatic color palette awash with black. The matte finish cabinetry, Australian hardwoods, high-performance products of black Dekton backsplash and countertops, and vitrified floor tiles tie the space together, feeling sophisticated yet approachable enough for a welcoming atmosphere.
Kitchen Backsplash Options for Countertops
Natural stones, ceramic, porcelain, glass, patterned, and metal backsplashes come with a wide spectrum of design options including intriguing patterns and shades. As such, homeowners are offered numerous designs which give them lots of freedom and option to choose from. Though, these limitless options could create confusion and make it harder for homeowners to decide. And to avoid that, here you can continue to check the design projects centered on many different looks and backsplash types that will give you a more solid idea.
Natural Stone Kitchen Backsplash
Available in tiles, various finish options, colors, and slab backsplashes, natural stones provide kitchen walls with statement finishes and create focal points easily. For those looking for a high-end feel, natural stone backsplashes are one of the best options, including marble, granite, quartzite, slate, and more.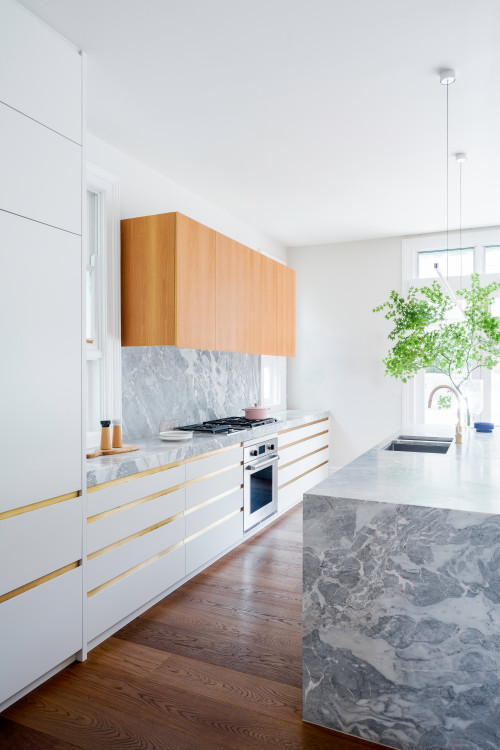 ID# 139523 | Houzz.com – Credit | © Nathan Gornall Design
---
How to Match Backsplash with Countertops and Custom Cabinetry
This vast contemporary kitchen grounds its design narrative on the natural stone slabs carved out of marble. From the backsplash to the countertops and the kitchen island, each element is made of gray marble that oozes opulence and elegance. The brass inlays of the drawer pull on the white custom cabinetry add nice warming touches that coordinate perfectly with the brass linear lighting fixture hanging above the island. The wooden wall units proceed a continuum with these warming brass accents that deliver coziness, injecting a sense of organic modernism into the space.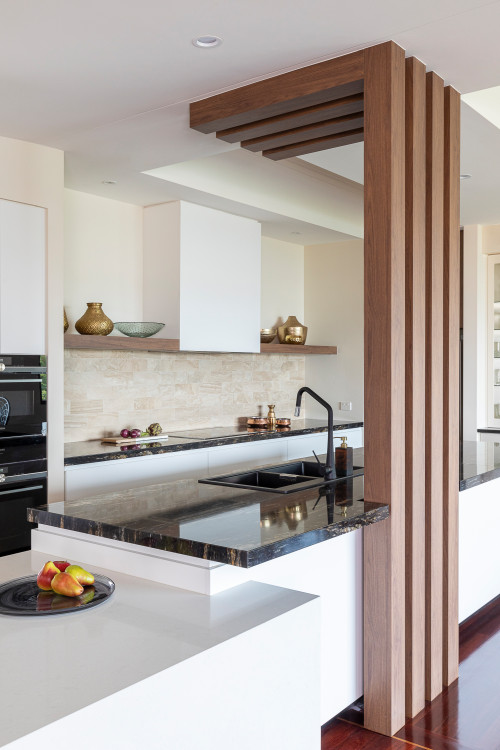 ID# 139524 | Houzz.com – Credit | © Popham Interiors
---
Natural Stone Kitchen Backsplash with Black Countertops and White Cabinets
Using contrasting shades of backsplash and countertops in a complementary manner serves kitchens as skillfully as matching countertops and backsplashes. This contemporary kitchen, for example, benefits from a beige natural stone backsplash and black solid stone countertops that complement each other perfectly. The matte backsplash tiles also create a soft contrast with the glazed countertops to ensure a sense of diversity within the kitchen. To achieve integrity, the timber floating shelves are also used to create a feature wall that accentuates the kitchen island, while brass decorative accessories communicate a sense of luxury.
How do you pick a backsplash color?
To pick a backsplash color, first, you can order some tile samples in a variety of colors and materials you love and tape them to your kitchen walls just to see how they look and check whether they match your cabinets and countertops. Some designers recommend homeowners should take the countertops' color and material as the main reference point as well as the cabinet hardware and lighting fixtures. So, you can pick a backsplash color that will coordinate with the small details and countertops of your kitchen.
For some designers, the context of your home and where it is located is an important cue for interior design as well. So, if you have a house by the lake, mountains, beach, and forests, you can use a scale of colors that your find around your house. Another cue is how much light your kitchen receives. If you don't have much sunlight, then it would be better to avoid dark colors and use light shades.
But if you still can't feel sure, you can get peel-and-stick backsplashes which are affordable, easy to install, and can be removed without damaging the walls. It will allow you to see how the tile color and material match your kitchen.
Also, don't focus on the trending colors and materials. Trends come and go, leaving you unguarded. Go after whatever feels more timeless and comforting for you. Keep in mind that colors are important additions to our kitchens, dictating how we feel.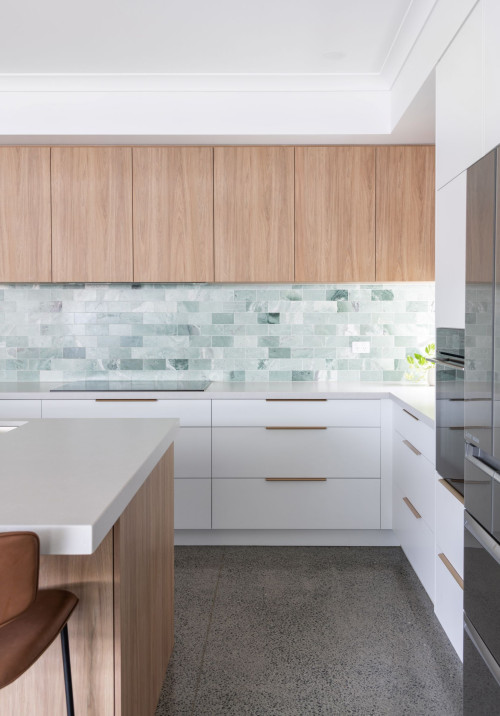 ID# 139526 | Houzz.com – Credit | © KBK – Custom Kitchens Designers based in Brisbane
---
Green Marble Subway Tile Backsplash with Two-Tone Cabinetry and White Countertops
Marble backsplashes are popularly paired with white quartz countertops that orchestrate a sleek and solid look like they do in this contemporary kitchen. The light wooden and white cabinets accompany them to create a soft canvas-like setup, which is spiced up with a subtle shade of green and genteel elegance. On the floor level, the speckled-finish seamless concrete comes with a nice sheen that lends extra smoothness to the kitchen and an easy-to-clean surface for the convenience of the homeowners.
Ceramic or Porcelain Tile Kitchen Backsplash
Highly durable and much more affordable than their countertops, ceramic and porcelain tiles open up almost limitless design possibilities thanks to their high customizability. Their almost pore-free surface makes things even more favorable since, unlike natural stone, they don't require annual sealing. And even better, they can also mimic marble, wood, brick, and stone patterns, which allow homeowners to create natural backsplashes without making them deal with their porous and hard-to-maintain surfaces.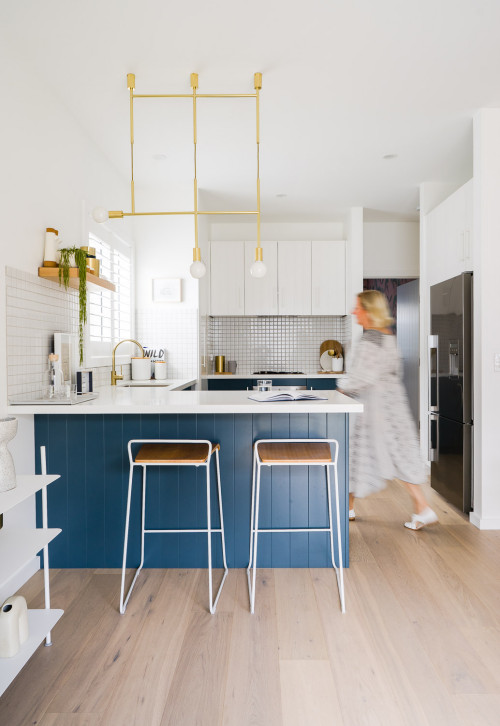 ID# 139527 | Houzz.com – Credit | © Rebecca Lu Photography
---
White Cabinets with Blue Beadboard Island and Brass Accents
This cozy kitchen honors beach-style designs with its blue cabinets, brass-accentuated detailing, and white ceramic tile backsplash. The beaded board design of the cabinets gives that rustic charm to the kitchen, while the timber floating shelf adds an organic touch with a kitchen plant. The modern sputnik lighting fixture hung above the peninsula creates a focal point, while the square tile backsplash peeks out at the back. The black grout between the tiles brings a slight contrast and modern edge to the design.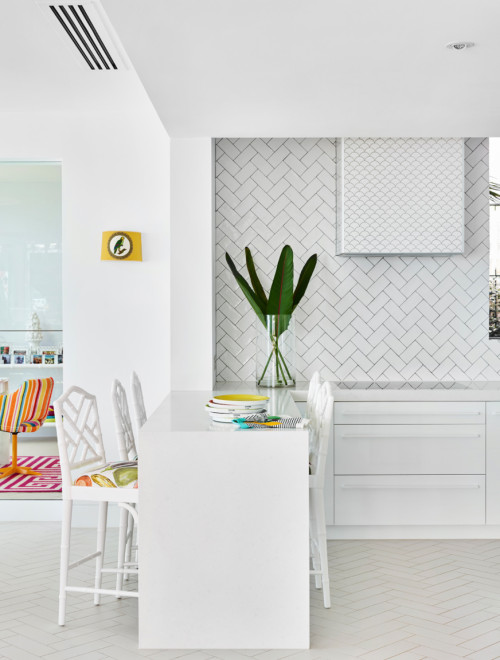 ID# 139528 | Houzz.com – Credit | © Langlois Design
---
Herringbone Tile Backsplash with White Quartz Countertops and Cabinets
Though the interior volume of this house is achromatic and dominated by white, it still manages to be colorful to energize its users. The same applies to the open-plan kitchen that consists of white cabinets, white quartz countertops, and a white backsplash. To start with, the herringbone backsplash tiles traverse the walls, going up to the ceiling and taking advantage of the lack of upper cabinetry, while the fish-scale tiles envelop the range hood. The white quartz countertops and white cabinets keep the rest neutral, avoiding overwhelming the space with extra patterns. The green leaves, yellow wall accessory, and colorful stool cushions pop against the all-white look to deliver some colorful touches and break up the monotonic look.
What is the most popular backsplash for the kitchen?
Affordable and available in multiple shades, patterns, and formats, ceramic tiles are pretty popular. Plus, they provide heat resistance and ease of maintenance that make them practical options as well in addition to their aesthetic benefits. But apart from them, white and subway tiles seem to be other popular backsplash options for the kitchen.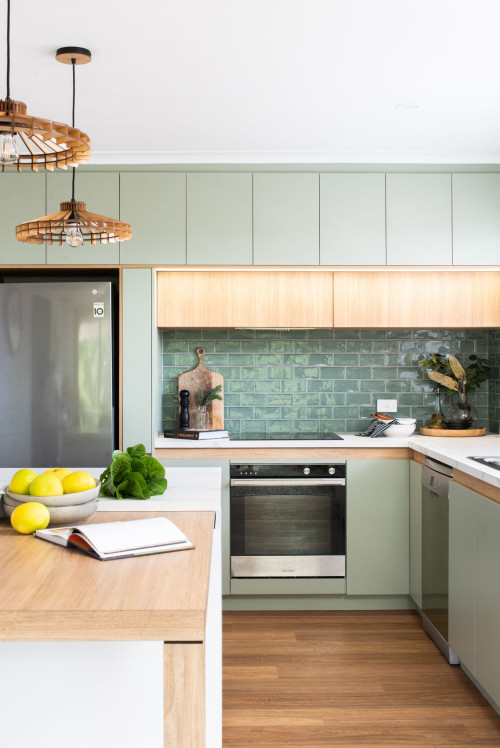 ID# 139529 | Houzz.com – Credit | © Lydia Maskiell Interiors
---
How to Match Backsplash with Countertops in Scandinavian Kitchen
In this Scandinavian kitchen in Hobart, the juxtaposition of green ceramic tiles with timber cabinets establishes a state of calmness. And what lightens this soothing color and material palette is white countertops that introduce clean lines. The satin finish on the backsplash evokes extra interest, portraying a soft contrast to the organic wood textures.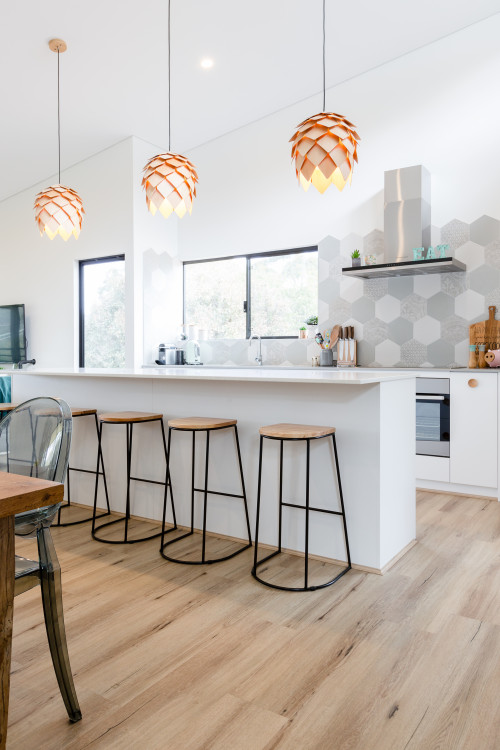 ID# 139530 | Houzz.com – Credit | © IQ Construction
---
Hexagon Tile Backsplash And White Cabinets with White Countertops
The use of large format tiles is as popular as the small ones, helping the kitchen walls feel expanded visually. And this contemporary kitchen participates in the fashion of sizeable hexagon tiles to create a focal point in the background. Though, the neutral shades of the tiles downplay their sizes, turning them into little silhouettes, while the white flat-front cabinets, countertops, and galley-style breakfast bar round out the design. Lastly, the petal hanging lamps add a ripple of color and an eccentric touch that pops against the neutral color scheme of the overall look.
Glass Kitchen Backsplash
Available in tile, sheet versions, and almost in every color you can imagine, glass kitchen backsplashes come with a nice sheen with them. Thanks to their translucent nature, they add a sense of refreshment, lightness, and openness to the interiors. If you don't want them to look shiny, there are more matte-finish versions as well. Plus, they are very practical, eco-friendly, easy to clean, and heat-resistant.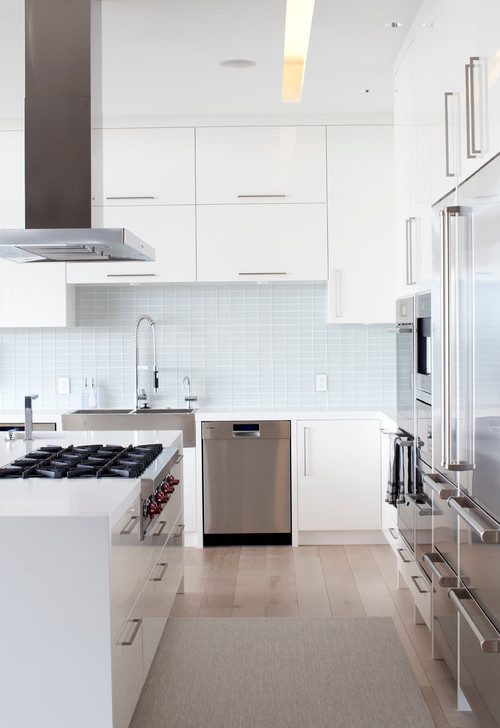 ID# 139531 | Houzz.com – Credit | © Tanya Schoenroth Design
---
How to Match Backsplash with Countertops and Modern Cabinets
This monochromatic kitchen presents calm aesthetics which zones you into a place where time slows down, while the stainless-steel appliances create a chef's kitchen. Between the white gloss-finish cabinets, the glass tiles introduce a subtle shade of blue, and the white quartz countertops blend harmoniously with the cabinets. And the rest of the design feels complete with chrome hardware, a stainless-steel butler sink with a commercial sink, and built-in appliances that preserve the sleek profile of the kitchen.
What backsplash is out of style?
Granite backsplashes that we are used to seeing in traditional kitchens find no place in kitchens nowadays along with busy-pattern backsplashes. When the walls feel too crowded, it might be too much to take in the long term. So, avoid busy patterns and too colorful backsplashes along with outdated materials.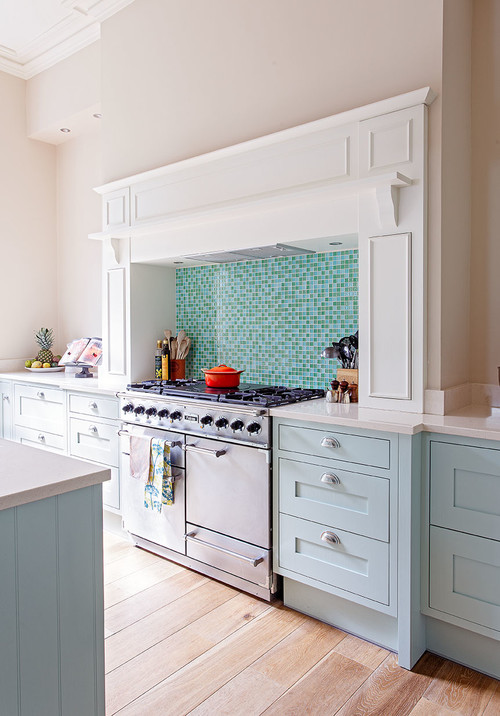 ID# 139532 | Houzz.com – Credit | © Kitchens International
---
Pastel Blue Cabinets with Glass Mosaic Tile Backsplash and Wood Floor
This traditional kitchen has a refined taste with genteel elegance. The pastel blue cabinets with a multicolored glass stove backsplash that consists of mosaic tiles add a dash of color, glitter, and character. The light beige-painted walls envelop the space with a sense of warmth, while the wainscoting wall design and corbels create a traditional fixture for the hood. Right across sits the blue beadboard island that generates a sense of movement, and the light wood floor gives the kitchen a rustic charm, making it also more alluring and welcoming.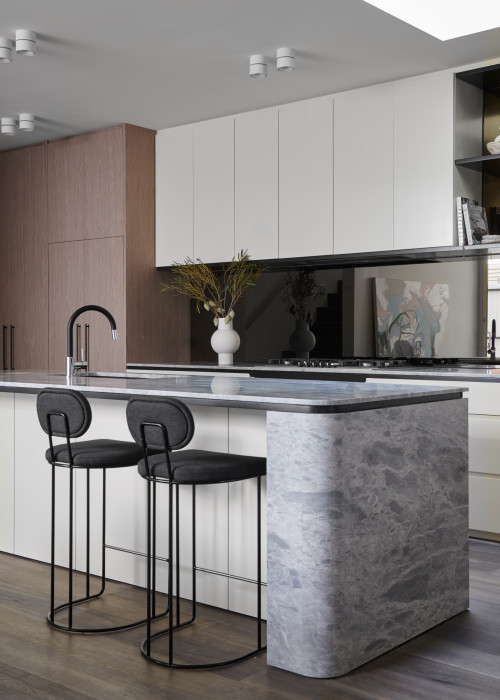 ID# 139533 | Houzz.com – Credit | © S&K Group
---
Black Glass Sheet Backsplash with Two-Tone Cabinetry and Marble Countertops
Two-tone cabinetry, consisting of white and cream modern cabinets, creates a well-balanced look in this contemporary kitchen, contrasted by a black glass sheet backsplash. The translucent finish of the glass flirts with the lights playfully while the room's reflection falls across the backsplash, creating a cinematic effect. Right below, the gray marble countertops create a waterfall edge for the cabinets and the kitchen island. The undulating forms on the marble echo the ocean waves to instill a sense of calmness and tranquility, while the union of black glass and gray marble make a perfect pair, adding depth and dimension.
Metal Kitchen Backsplash
With the advancement of technology, metal kitchen backsplashes are nowadays available in multiple forms, including nature-inspired designs. Divided into subgroups like brass, stainless steel, silver, zinc, bronze, and copper, they offer numerous design options for homeowners. Nowadays, they are not only used in rustic and traditional kitchens but also in contemporary and modern kitchens for their multi-facetious nature and practical benefits.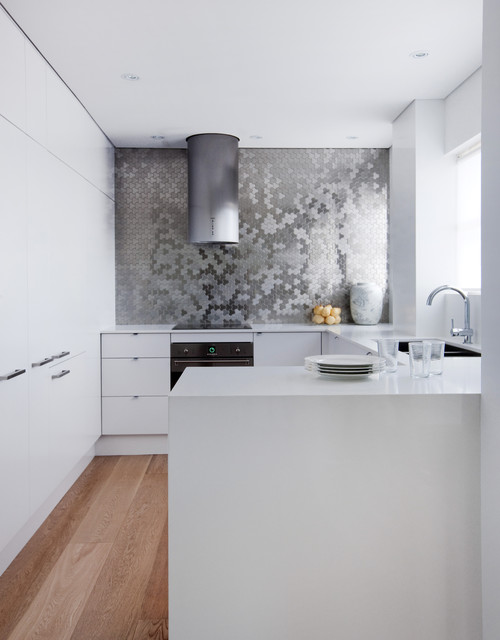 ID# 139534 | Houzz.com – Credit | © ALLOY Solid Metal Tiles
---
How to Match Backsplash with Countertops and White Cabinets
Composed of undulating and nature-inspired cells, this stainless-steel backsplash goes all the way up to the ceiling to introduce a fluid and soft form that breaks up the formality of the space. Even though each piece interlocks like puzzle pieces, they are designed to contradict each other, delivering a seamless finish with a 3-dimensional feel. To complement it, a cylinder-shaped brushed steel hood is used, which makes a smart addition matching the curvilinear forms of the metal tiles. And the rest is just fitted with white cabinets and white countertops that also create a blank canvas for the metal backsplash to remain as the focal point. And the wooden floor brings the right amount of warmth voicing the nature-inspired tiles via a truly organic form.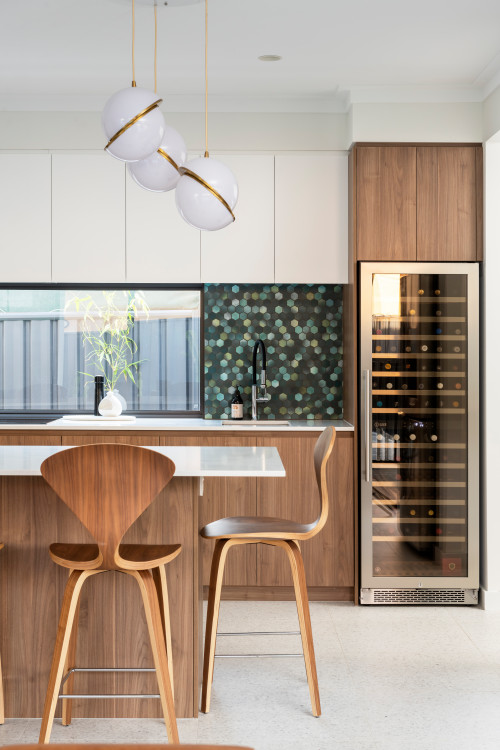 ID# 139535 | Houzz.com – Credit | © Residential Attitudes
---
Midcentury Modern Design with Walnut Cabinets and Orb Lighting
This effervescent midcentury kitchen takes you back in time to the 1950s and 60s, enveloped by warming shades thanks to the walnut cabinets. The mirror backsplash flanked by multicolored metal backsplash makes a statement between the walnut flat-front cabinets. The hourglass-shaped walnut counter stools add an intriguing form, while the white quartz countertops inject a sense of optimism into the kitchen. Also, the concrete floor finish with subtle speckles resonates with the metal backsplash and wine bottles peeking out behind the glass-front beverage cooler. And finally, the cluster orb lighting with brass accents brings warmth and luxury, giving clues about the Cold war years and ambitious space projects of that era.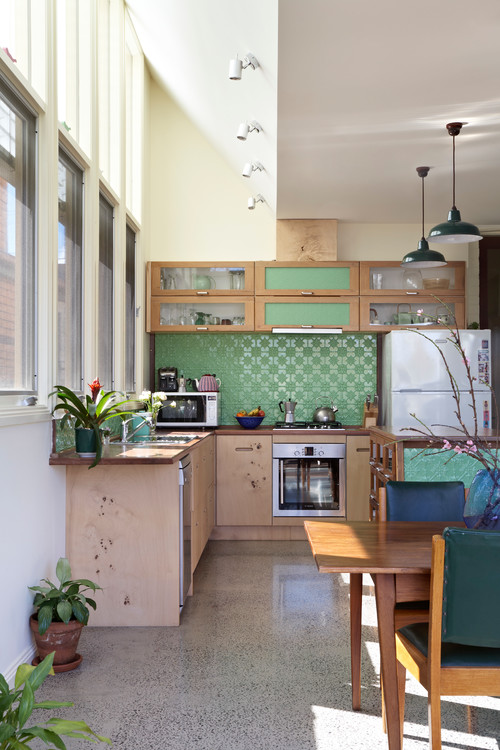 ID# 139536 | Houzz.com – Credit | © Positive Footprints Pty Ltd.
---
Green Metal Backsplash with Timber Cabinets and Butcher Block Countertops
Featuring a combination of timber cabinets, butcher block countertops, and a green floral-patterned metal backsplash, this open-plan kitchen offers a biophilic design that feels modern and soothing. To enrich this organic flair, the black vintage-style pendants above the island unit give the kitchen retro vibes, suggesting also a lived-in feel. The high ceiling feeds the feeling of spaciousness, while the concrete floor brings the outdoors in along with the kitchen plants sprinkled throughout the space.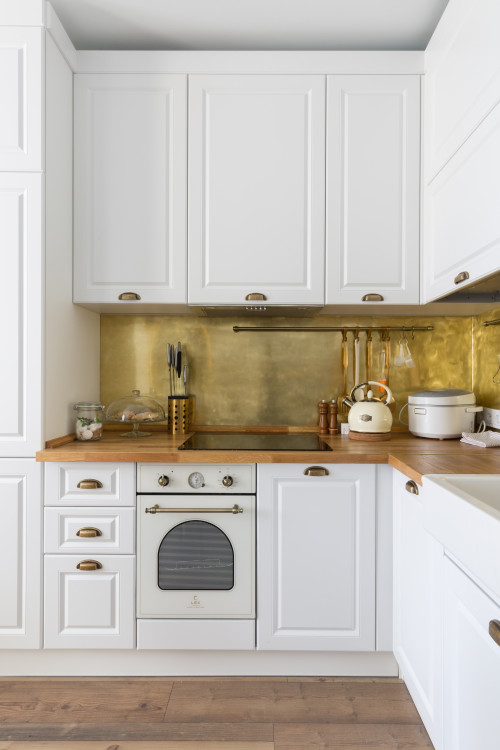 ID# 139537 | Houzz.com – Credit | © Шакирова Елена
---
White Raised-Panel Cabinets with Wooden Countertops and Brass Backsplash
This heartwarming eccentric kitchen is outfitted with white raised-panel cabinets, a seamless brass backsplash, and wooden countertops, where each of these design ingredients converses with each other and captures a well-integrated harmony. The soothing wooden shades and textures calm the oxidized and glorious brass backsplash, while the white cabinets brighten up the kitchen deftly. The oil-rubbed brass hardware also punctuates these raised-panel cabinets to coordinate them with the rest of the warm pieces for a harmonious blend.
Patterned Kitchen Backsplash Tiles
Whether you want to clad the entire walls or use it only as a stove backsplash, patterned kitchen backsplash tiles could make interesting additions to any kitchen. The geometric patterns are popular in Scandinavian and contemporary kitchens, while the Tuscan and Mediterranean kitchens also embrace printed and mosaic tiles.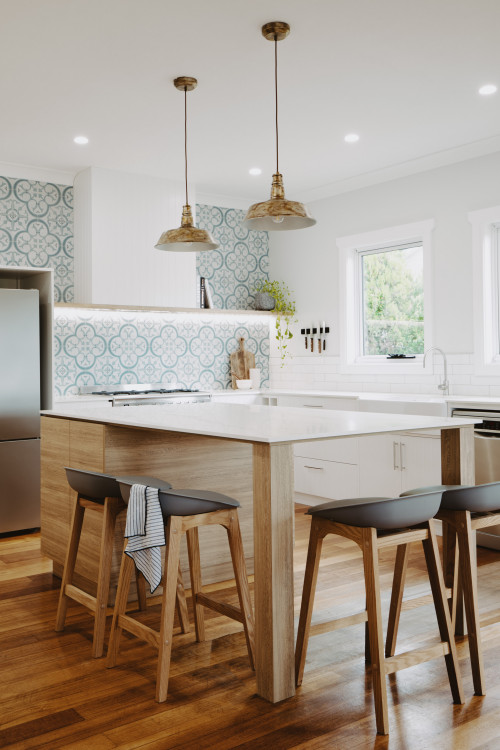 ID# 139538 | Houzz.com – Credit | © Lydia Maskiell Interiors
---
Blue Patterned Backsplash with Wooden Island and White Countertops
If you would like to highlight your patterned kitchen backsplash, you can use warm or cool LED strip lighting under cabinets. This contemporary kitchen, for example, though it doesn't have any upper cabinetry, uses a timber floating shelf to house LED strip lighting to provide task and accent lighting for the beautiful backsplash. Consisting of blue larger format patterned tiles, this Mediterranean-inspired backsplash pairs perfectly with the wooden island, white cabinets, and white countertops. Overall, it executes a well-balanced look with a designer look.
Design tip: If you have a compact space and are worried that patterned tiles might cause eyesores in the long term, you can use such statement tiles only as a stove backsplash rather than a wraparound one.
What are the 2022 kitchen backsplash trends?
As the pandemic's impact preserves its influence on interior design as well, the kitchen designs focus on enhancing the spaciousness and brightness and employ backsplash forms and shades that will support this feel. That's why ceiling height and slab backsplashes, glazed tiles, warm shades, and window backsplashes are on-trend backsplashes in 2022.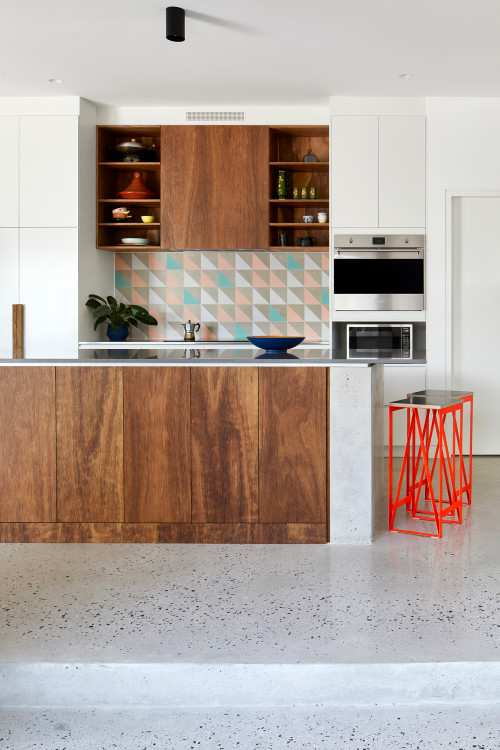 ID# 139539 | Houzz.com – Credit | © Poly Studio
---
How to Match Backsplash with Countertops and Concrete Floor
Wood, concrete, and gray are failsafe additions that can be used to downplay the bold multicolored backsplash tiles and instill a balance just like in they do in this contemporary kitchen. The pastel green, brown, and pink colored geometric patterns feel neutralized thanks to the wooden and white modern cabinets and cabinet shelves. Likewise, the light gray countertops and sleek steel built-in appliances guarantee smooth transitions between different materials and shades. The poured concrete with a speckled finish makes a neutral yet impactful addition, while the raw orange counter stools pop against the white-painted walls.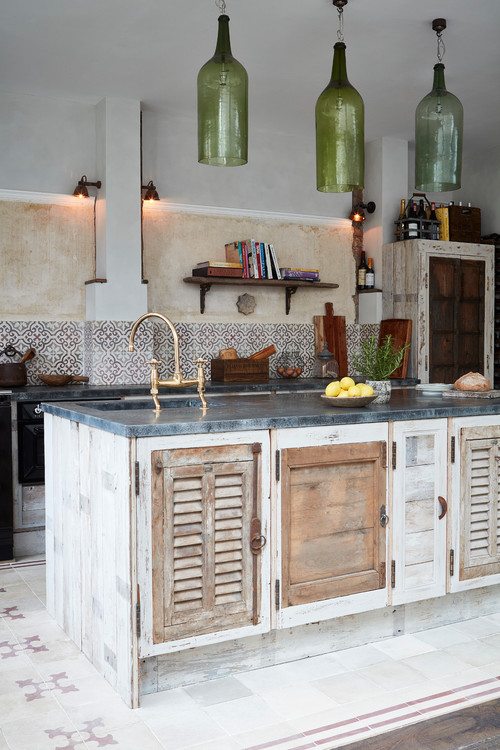 ID# 139540 | Houzz.com – Credit | © Maitland & Poate Ltd
---
Mediterranean Kitchen with Repurposed lighting fixtures and Blue Countertops
This Mediterranean kitchen is filled with repurposed and aged-looking items that deliver a truly lived-in feel and look. From the reclaimed and white-painted island to the discolored blue countertops, beige wallpaper, and Mediterranean patterned tiles, each element works harmoniously to build into the existing narrative of the kitchen. Also, the green repurposed bottles serve as new lighting fixtures above the island, adding a vibrant hue along with the blue countertops.