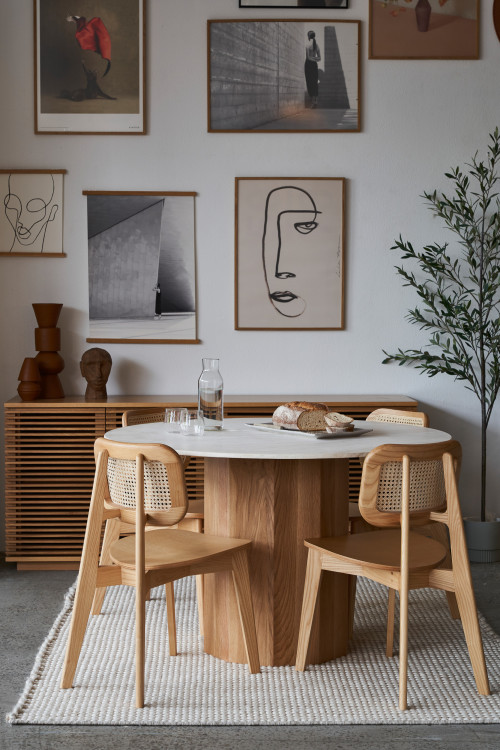 ID# 158904 | Houzz.com – Credit | © Trit House
---
Contemporary Dining Room with 2023 Color Trends and Gallery Wall
One of the best things that could accompany a dining table is surely a gallery wall. Here, for example, one finds everything from monochromatic prints to doodling and more colored pieces with depth and perspective. Right under, the vases invigorate the artsy wall design as corporeal transformations of the prints. The rounded wood table paired with wood cane chairs serves as the main bones of the living room. They create a warm and light setup for the pieces of art to make a statement.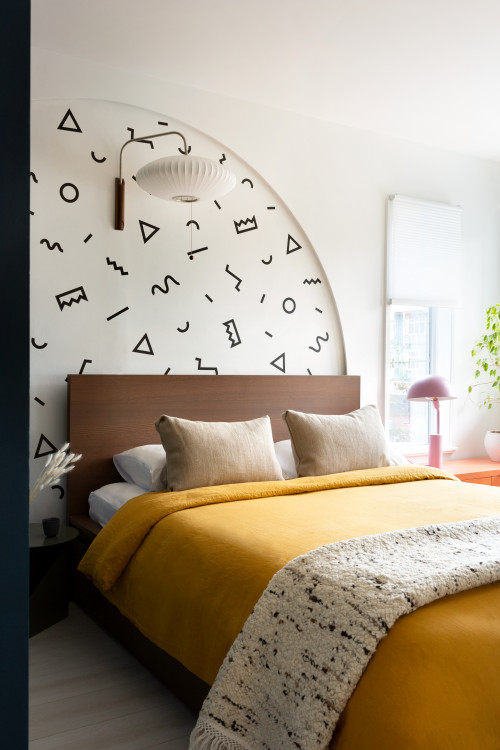 ID# 158921 | Houzz.com – Credit | © PlaidFox Studio
---
2023 Color Trends with Mustard Yellow for Scandinavian Bedroom
Championed for their minimalist and functional designs, Scandinavian designs employ color only via accents- as proven by this bedroom one more time. Here, the pink lamp, mustard yellow bed lining, and orange bed table bring jolts of color to create a more dynamic ambiance. And they are all set against a white background to retain the balance and not overwhelm the space.
2023 Color Trends
The year is 2023. Say goodbye to the hegemony of cool grays and pristine whites dethroned by the rise of vibrant hues and warm neutrals. 2023 color trends encompass expressive colors and effervescent hues that will alter the mood of your rooms drastically. From reds, oranges, pinks, jewel tones, and earth tones, homeowners have plenty of options to work with.
That being said, choosing the right color palette could be an onerous task. But don't despair since 2023 color trends are more about experimentation and individualization of spaces. Thus, they give you a lot of room to toy with shades and styles, welcoming eclectic touches.
Here you find the most popular color trends that show you countless inspiring ways how to integrate them into your home. For example, do you want to upgrade your bedroom, living room, or children's room? This round-up gives you hints, covering different designs from a variety of contexts. Scroll down to see which colors get big in 2023 home design trends!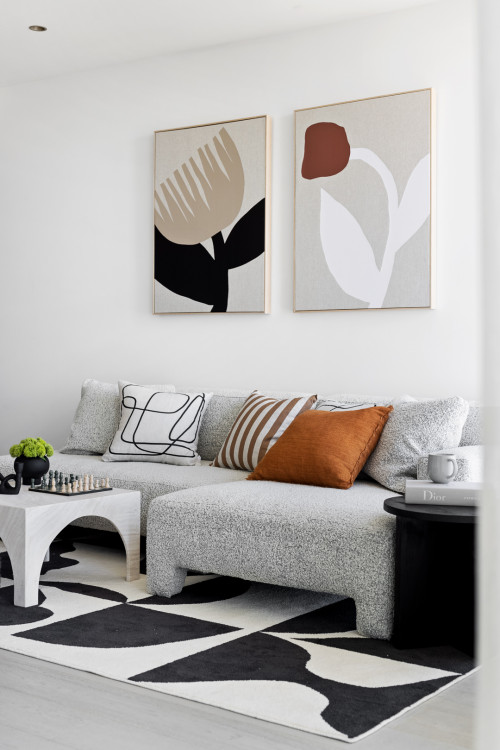 ID# 158901 | Houzz.com – Credit | © FURNISHD.
---
2023 Color Trends for Contemporary Living Room with Accent Pillow and Artwork
Did you know you could create a statement look even with neutral colors like gray? Well, this Scandi-inspired contemporary living room mixes white, black, and light gray introduced by a sofa and coffee tables. These colors find a body on wall-mounted artwork and the carpet. Yet, the contrasts and the rounded shapes used here and there add enough interest and intrigue to the design. The accent pillows with doodling patterns and orange shades bring a jolt of color and pattern without going over the top.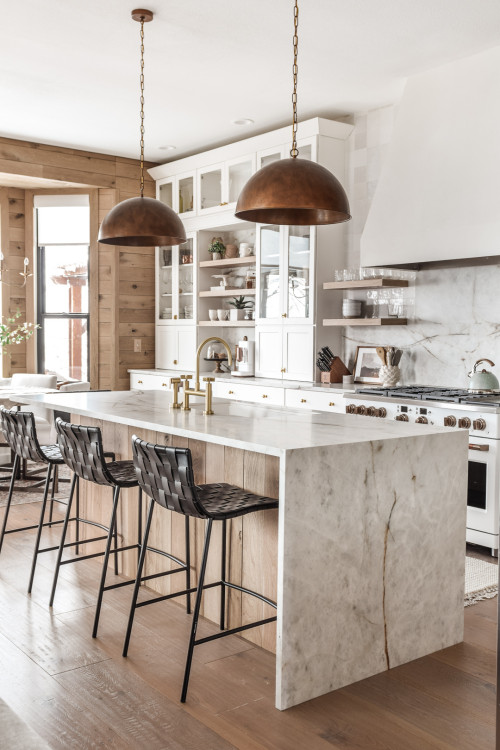 ID# 158902 | Houzz.com – Credit | © Neolith Australia
---
Soft Warm Palette for Farmhouse Kitchen with Bronze Dome-Shaped Pendants
This modern farmhouse kitchen is an amalgamation of opposites, where rustic features marry clean lines. On the one hand, one gets to enjoy the patinated dome-shaped pendants suspended over the island. On the other, the polished marble countertop and the slab backsplash introduce a sheen, making a counterpoint to its farmhouse roots. The display cabinets, timber floating shelves, and rosy gold hardware round up the look, furthering the dual-identity of the kitchen. Overall, this visually appealing kitchen presents one of the soft yet warm palettes that aligns itself with 2023 color trends.
What are the popular accent colors for 2023?
Jewel tones, warm neutrals, blush beige, and wood are popular accent colors for 2023. Bold colors such as orange, viva magenta, dark green, and vivid red shades do also take part in the list. As a result, such a variety of shades promote individualized spaces while colors remain in the service of creating unique looks. So, feel free to combine different shades and materials. Also, keep in mind that each material has a way of its own to communicate a specific color, especially natural materials.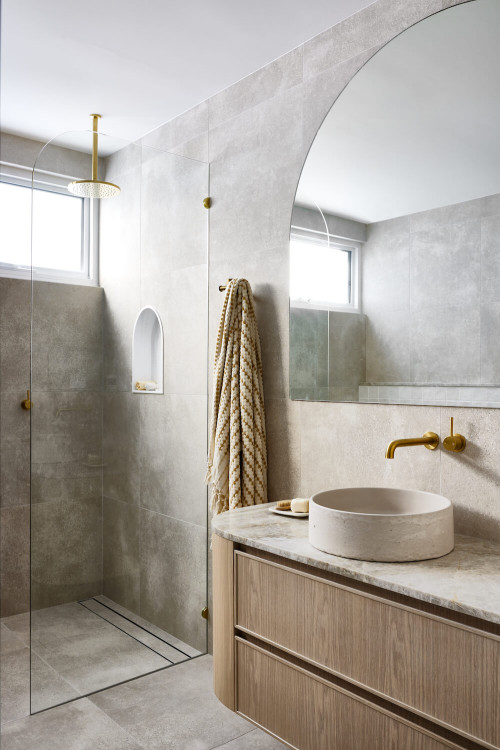 ID# 158903 | Houzz.com – Credit | © iSpace Solutions
---
Contemporary Bathroom with Wood Floating Vanity and Gold Hardware
This contemporary bathroom takes bath in warm neutrals brought in by grayish tile that wraps the entire room and a light brownish marble countertop. Each color complements the other harmoniously, including the wood floating vanity suspended to keep the energy flowing. Serving the same aim is also the glass division that creates a boundary without breaking visual integrity. Complementing them are curved forms, another key feature used in the vessel sink, vanity ends, mirror, and wall niche. Together they deepen the soft aesthetics of the room, boosting its mood and energy.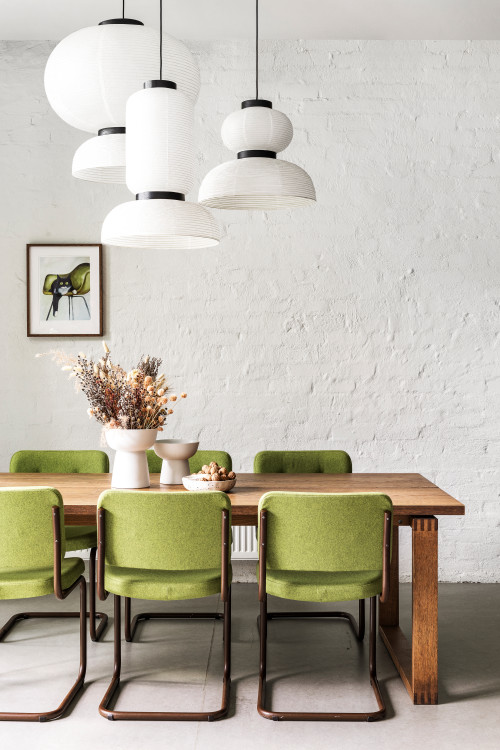 ID# 158905 | Houzz.com – Credit | © Kirsty Ristevski @miss.sneakypeek
---
Industrial Dining Room with Whitewashed Brick Wall and Green Dining Chairs
In this verdant industrial dining room, the whitewashed brick wall feels assimilated yet still preserves its texture-rich surface. And the staggered edges of the bricks are enough to add depth and dimension. Coloring it up are vivacious green chairs coupled with a wood table. Overhead, the oversized cluster pendant with shades suspended at different heights creates a visual focal point effortlessly. This staggered arrangement also allows them to sculpt a more dimensional presence. Additionally, the vases on the table are also like mirror images of the pendants, pursuing visual integrity and consistency. And lastly, a single artwork of a green chair alludes to this room in a fun and entertaining way.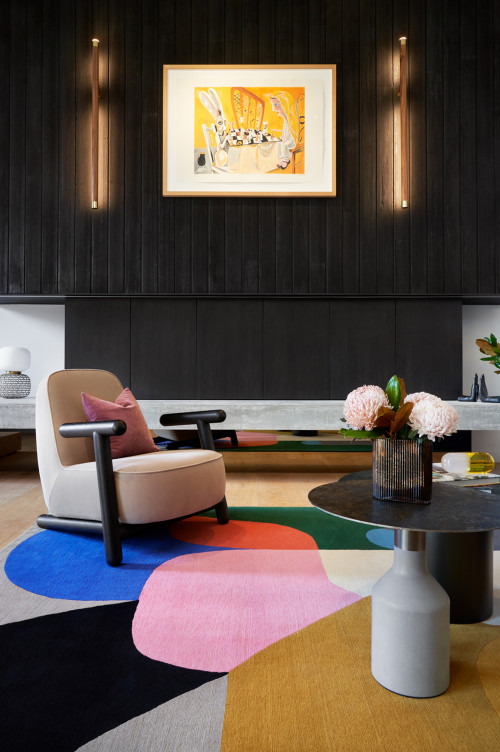 ID# 158906 | Houzz.com – Credit | © DMP Creative
---
Contemporary Living Room with Pink Armchair and Multi-colored Carpet
Get ready to be bombarded by a rush of colors because this year welcomes pops of colors as much as warm neutrals. Benefiting from this trend to the fullest, this contemporary living room gets a multi-colored island with a rich color spectrum. A pink cushioned seat with a pink accent pillow adds a rosy hue, put into dialogue with pink flowers. Not to mention, the yellow Picasso-style painting pops against the background. The black accent wall and black coffee table, by contrast, anchor the room, bringing a calming solidity.
What Are the Color Trends for 2023 Interiors?
Color trends in 2023 range from warm neutrals to soothing shades, vivacious reds and oranges, pinks, and jewel tones. So, be ready for a resurgence of colors and focus on the impressionistic designs that go beyond conventional design formulas.
Vibrant Reds and Oranges
Vibrant reds and vivacious oranges are making a big comeback this year. Animating interiors, they elevate the energy level of the rooms. Especially orange shades brighten up the interior just like white and yellow shades. But it is important to achieve a sense of balance to prevent any potential color poisoning and retain balance. You can introduce these luscious colors with accent pillows, accent chairs, and artwork.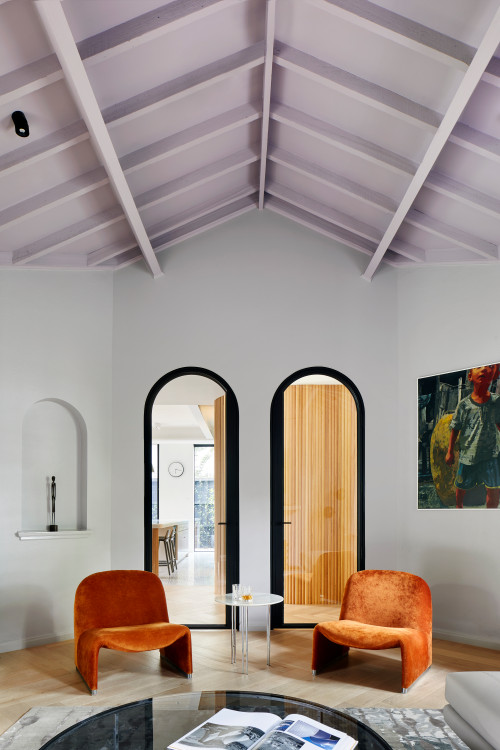 ID# 158907 | Houzz.com – Credit | © Hindley & Co
---
2023 Color Trends with Paprika Orange and Oak Flooring
In this contemporary living room, a duo of paprika orange chairs in a velvet finish lends plenty of texture and color. In this way, the mauve-painted ceiling and beams come back to life. The arched doorways given further definition with black beams maintain the art deco vibe of the room. On the floor, the white oak flooring laid in a herringbone pattern generates a sense of movement.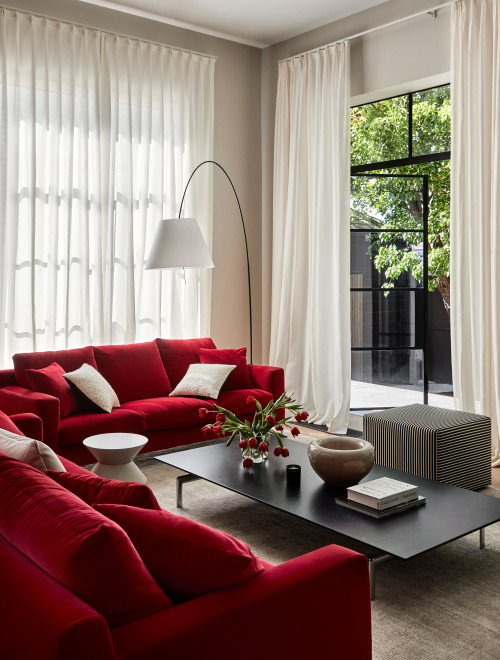 ID# 158908 | Houzz.com – Credit | © Nexus Designs
---
Red Sofas with Black Coffee Table and White Curtains
As of 2023, a shift to warmer colors, including luscious reds and burnt orange, has been on. And this radical change from neutrals to a warm color palette is made evident in this modern living room. Embracing a surge of reds, here, this room completely restores to a more dynamic ambiance via red sofas. To accompany them, the mixture of white and black additions balances out the red couches without making them a secondary element. To further soften this vibrant shade, the white curtains are kept thin to let light pour into the space. Another benefit these curtains brings is as they are full height, they give the room extra height.
What is the best color for the kitchen in 2023?
Nowadays kitchens are not only for cooking but also socializing and gathering together. As such, it gets more and more important to choose the right color palette that feels welcoming and alluring. We all know that for a very long time, grays, neutral color schemes, and high-contrast themes have been popular. Yet, as of 2023, a radical shift from neutral shades to warm color palettes has been observed. So, get ready to encounter warm neutrals, earthy palettes, and muted blue/green shades as 2023 kitchen design trends.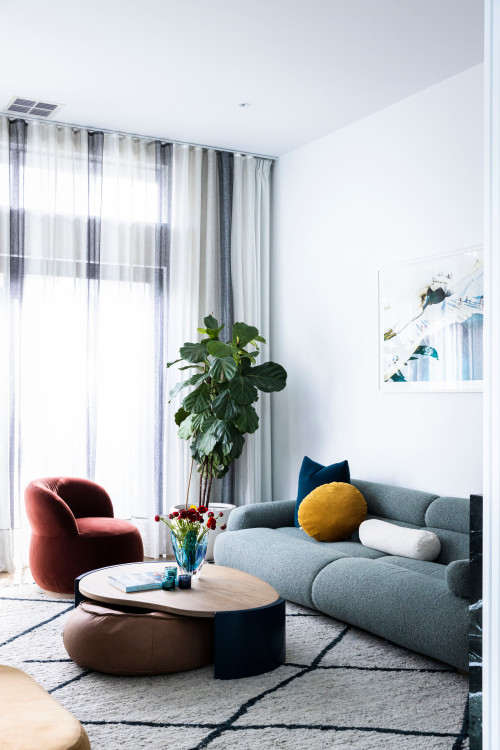 ID# 158909 | Houzz.com – Credit | © HK Interiors
---
Mid-Century Living Room with Red Chair and Low Profile Couch
Though having been popularized in the 1940s, it is still possible to find correspondences between the mid-century design movement and today's aesthetic principles. Relying on clean lines and ergonomic designs, mid-century furnishings still ring true today. And in this living room, we see a more casual version of it with a low-profile couch. And a red upholstered chair that feels mid-century with its organic curvature form adds a jolt of color. Furthering these colorful statements are also accent pillows, an indoor plant, sublime artwork, and a round wood table.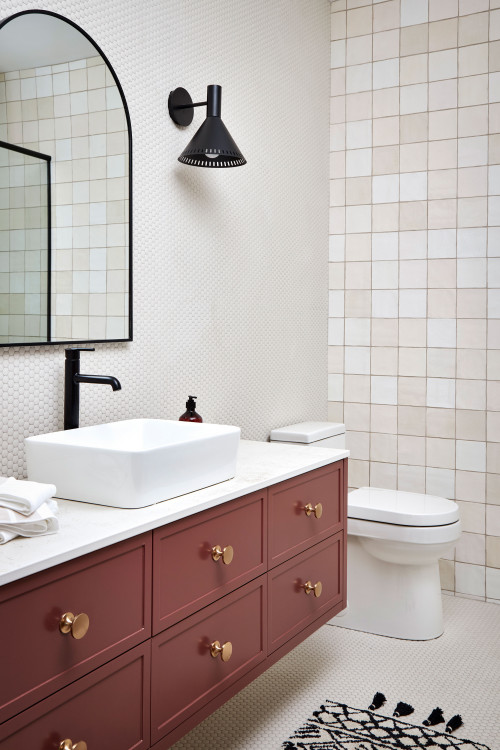 ID# 158910 | Houzz.com – Credit | © Tanya Collins Design Inc.
---
Rosy Vanity with Penny Round Tile Backsplash and Arched Mirror
Taking cues from mid-century modern style, this transitional bathroom boasts color, texture, and pattern. First, a reddish-pink vanity lends warmth, paired with a white penny round tile backsplash. Extending on the floor, these penny round tiles keep the floor traction rich, thus less slippery. Secondly, the arched accent mirror and black wall sconces support the mid-century vibes that love organic patterns. The square tile backsplash with subtle tonal variations adds understated hints of the color pink for the sake of more color. The gold knobs also contribute to the warm ambiance of the room.
Warm Neutrals
Warm neutrals, such as gray, white, and wood, make any space inviting and welcoming, imparting calmness to their users. They can be integrated into any room regardless of their functionality. For example, in bathrooms, they create one of the best ambiances to wash the day off. In kitchens and dining rooms, again, they create a warm, cozy, yet serene atmosphere, allowing you to relax. Scandinavian, modern, and minimalist designs favor warm neutrals for a sense of tranquility those shades inhabit. Plus, you can play up warm neutrals easily with a few texture-rich additions, including tapestries and rattan pendants.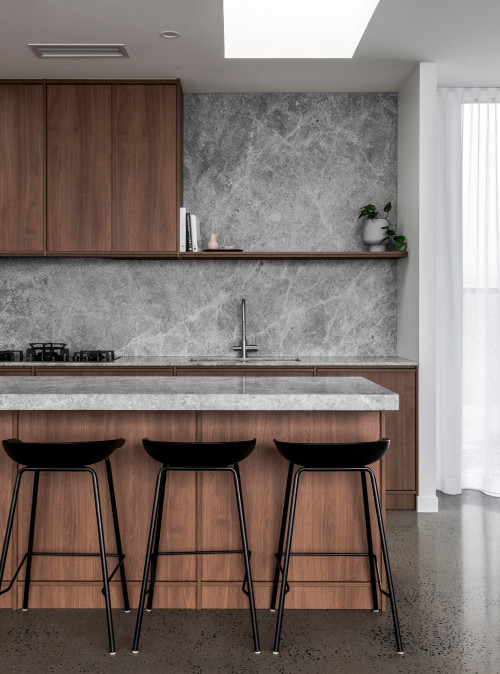 ID# 158911 | Houzz.com – Credit | © Big House Little House
---
2023 Color Trends with Warm Neutrals and Marble
The overarching design narrative of this kitchen is centered around the gray marble backsplash and walnut cabinets. Together they infuse the kitchen with nods to mid-century style that champions organic materials. And here, used in abundance, the gray marble backsplash and timber cabinets conjure a contemporary mid-century look. These warm neutrals keep the design on-trend and timeless all at once, while the walls swathed in white provide a clean setup. The concrete flooring adds another layer of earth-ed quality, strengthening the outward connection of the design.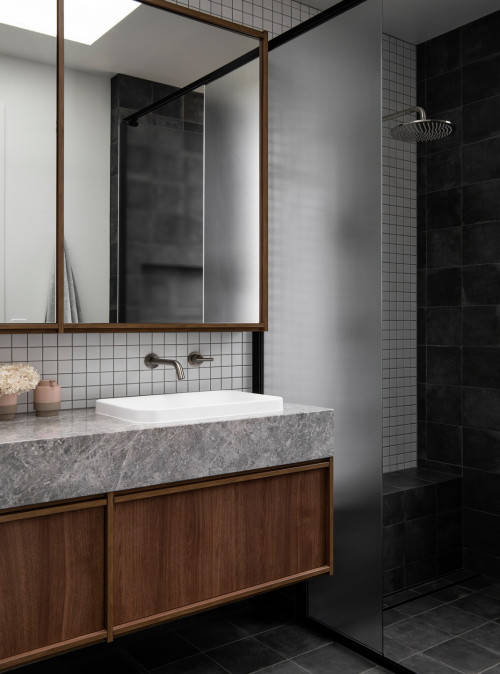 ID# 158912 | Houzz.com – Credit | © Big House Little House
---
Wood Floating Vanity with Gray Marble Countertop and White Backsplash
In this contemporary bathroom, the warm neutrals create a canvas while the authenticity of materials does the talking. For example, the gray marble countertop oozes sophistication. And the suspended wood vanity warms up the neutral shades. Complementing them are a white ceramic square tile backsplash accentuated with gray grout. It delivers a sense of contrast, creating a basic background focused on functionality.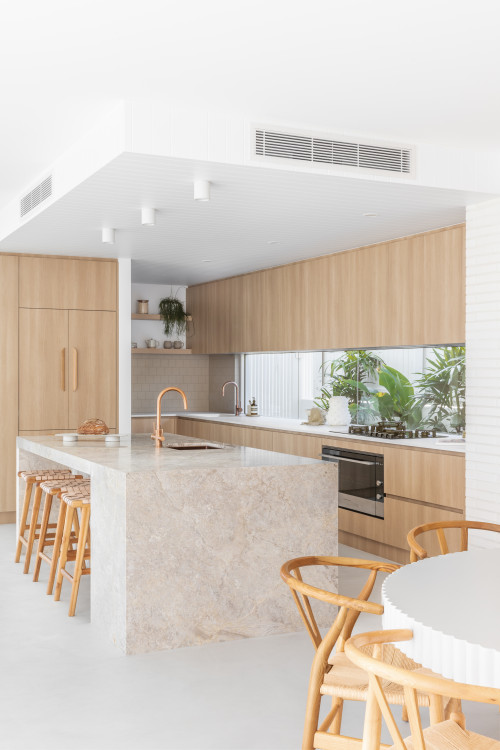 ID# 158913 | Houzz.com – Credit | © ABI Interiors
---
Window Backsplash with Marble Island and Timber Cabinets
The best part of warm neutral colors is that they are non-intrusive and feel natural as a natural extension of outdoor life. And in this beach-style kitchen, for example, they help develop an inherent sense of place- proving its relevance to the beach and nature- with the abundant use of timber cabinets. A marble-topped waterfall island also changes up the room's basic yet timeless look. Coming as another smart addition, the window backsplash serves two main purposes. First, it allows plenty of sunlight to flow in, using natural light as an important design element. And secondly, the green outdoor views behind the window serve as part of the design. This way, an intimate conversation is initiated between inside and out.
Jewel Tones
Highly saturated jewel tones refer to shades associated with gemstones, including emeralds, sapphires, amethysts, and rubies. Oozing drama, gloominess, and warmth, they have a way of bringing dignity to your home. If you are bored with neutrals and want to act more adventurous, you may want to consider jewel tones. You can either use them sparely or dedicate your entire room to them. 2023 color trends advise you to be brave and benefit from colors in generous doses.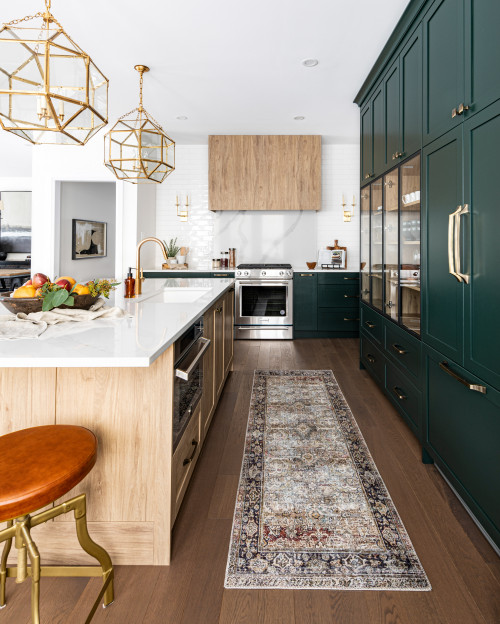 ID# 158914 | Houzz.com – Credit | © West of Main Design
---
2023 Color Trends with Jewel Tones and Wood Island
Jewel tones are introduced by forest green full-height and base cabinets in this contemporary kitchen. Creating a visual drama and grounding the entire room, these cabinets are offset and given a break with brass hardware. The wood cabinet also comes in handy to make a further counterpoint to the jewel-tone cabinets. In the rest of the design, modern and farmhouse design elements come together, constituting a very individual design for this kitchen. Though leaning into traditional looks, geometric touches, and on-trend jewel tones bring this design back to 2023.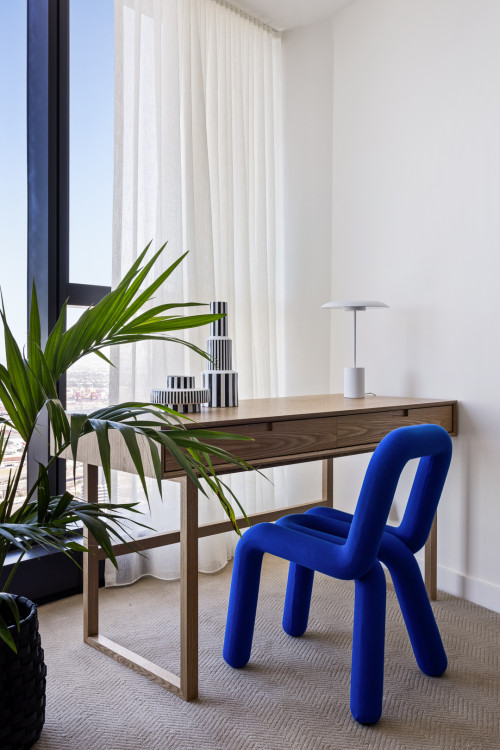 ID# 158915 | Houzz.com – Credit | © FURNISHD.
---
Home Office with Wood Desk and Blue Chair
If you want to keep yourself and the room awake 24/7, jewel tones might be the way to go. Here, this home office, for example, employs a jewel-toned blue chair. Its intriguing form also finds more emphasis rather than remaining understated in this way. A basic wooden desk placed by the full-height window with white-painted walls brings a calming effect. The indoor plant also boosts the mood and energy of the room, while the beige carpet adds comfort underfoot. Overall, the color, material, and furnishing details give birth to an impeccable home office that feels relaxed, dynamic, and peaceful.
How to choose a color for your design?
You can start by thinking about what your favorite color is. Or if you want a trendy look, do research on the trending colors and choose whatever suits your extant home design. Take note of every color shift that defines your home. When doing so, keep the color wheel with you to check which colors go with each other better. Better put, there is no right or wrong color but it is all about the combination of them with a honed skill in choosing the right tonality.
When choosing a color, it is also important to decide on what kind of design and mood you aim for. For example, do you want something nature-inspired and cozy? Or do you wish for something more masculine and industrial? Such guiding questions help you to negotiate in your mind what color is best for your design. On the other hand, you can check the catalogs of paint companies like Benjamin Moore or Sherwin Williams to learn more about paint colors.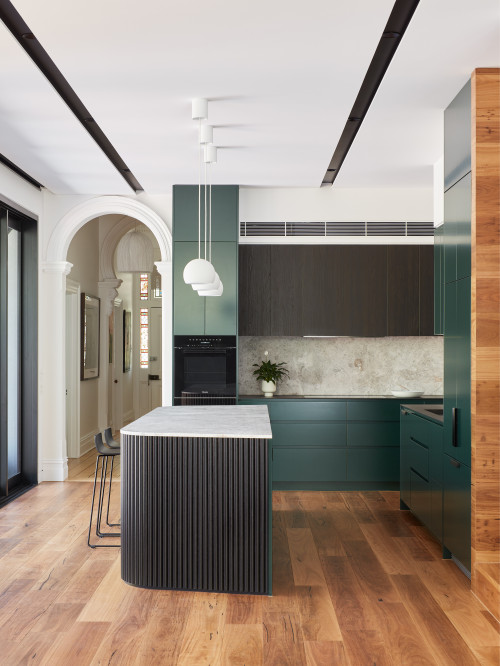 ID# 158916 | Houzz.com – Credit | © Bryant Alsop Architects
---
Jewel-Toned Kitchen with Green Cabinets and Marble Backsplash
We are all accustomed to seeing neutral grays and pristine white schemes. Wouldn't you also like to have some change? This contemporary kitchen with its green cabinets provides a great alternative to all-white looks. It feels more dynamic and solid, which is balanced out with a light beige marble splash-back. The wood flooring, curved edge of the island, and black accents round up the look tenaciously. The final product feels resilient and immersive.
Pastels
If high-saturated jewel tones feel too much for you, you may want to consider pastel shades. Soft and easy to work with, pastel shades restore calmness and tranquility to your home. Especially if you live in a big metropolitan city, muted pinks, blues, and greens help you create a getaway from the bustle of the city. They propose a counterpoint to the hectic city life while also helping designs to feel more cohesive. And you can easily change them up, if needed, with metal finishes.
Mustard Yellow
Mustard yellow is a fun accent color that will energize the room and inject happiness. It could as well be used to brighten up the room and add personality. To keep you awake and energic, you can especially use it for home office designs. One way to do it is to create an accent wall. You can even add a cluster of green plants to boost energy. Or if you want your living room to pop, just get a mustard yellow accent chair. In bedrooms, it could be a mustard yellow lining or accent pillows. It is always fun to work with cheerful colors like mustard yellow. All you need to do is keep the balance maintained.
Pink and Rose Hues
For gentility and warmth, pink and rose hues can be incorporated in a wide range of ways. They can be paired with light grays and whites if you prefer a neutral and basic setup. Brass and wood are two other accomplices of pink shades. You can embrace this trio in bathroom designs. And in kitchens, feel free to use pink grout between the white subway tiles. In bedrooms, get bed linen or pillow covers in pink and flower patterns. For living rooms, you can consider pink wallpapers that will wrap the entire room in warmth.
What is the lucky color for the Year 2023?
According to Feng shui, forest green is the lucky color for the year 2023. It is counted among the high-saturated jewel tones that add drama and warmth. Associated with nature and earthy shades, it brings wellness and boosts the energy of the room.
What color is replacing gray in 2023?
Warmer neutrals and jewel tones have ended the hegemony of gray, as of 2023. The plain neutral schemes abundant in whites and grays are seen off to welcome beige, taupe, and deep-saturated shades. So, feel ready to be wrapped in strong, dramatic, as well as warm and pastel shades this year.
Blush Beige
Easy to incorporate and change up, blush beige suits any room. From kitchens to living rooms, children's rooms, powder rooms, and more, you can use it in any part of the house. Even if you don't want to make it the big piece, carpets, pillows, and feature walls could introduce a dose of blush beige.