30+ Backsplash for Green Cabinets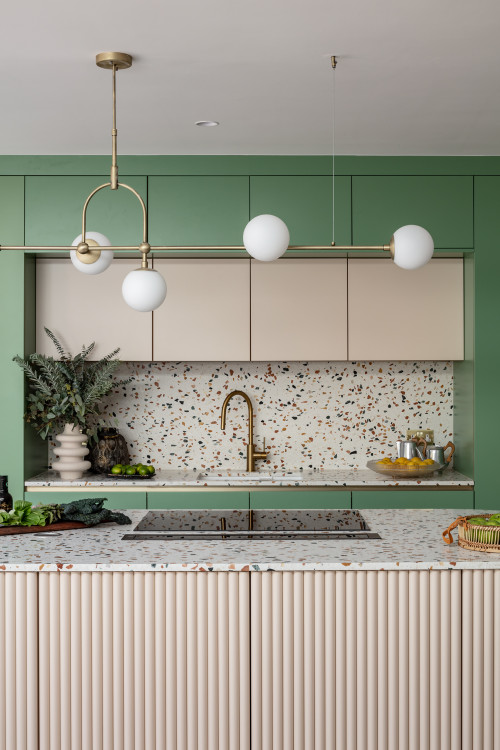 ID# 164702 | Houzz.com – Credit | © Diespeker Terrazzo & Marble
---
Terrazzo Backsplash for Green Cabinets and Pink Island
In this modern kitchen, the refreshing pastel color scheme is completed with attractive pink and green cabinetry that adds a whimsical and individualized touch to the area!.he finely paneled kitchen island quickly attracts your attention. The terrazzo backsplash and countertops lend a beautiful texture and pattern to the kitchen while the sleek brass lighting fixtures with simple designs add a classy and inviting feel to the area.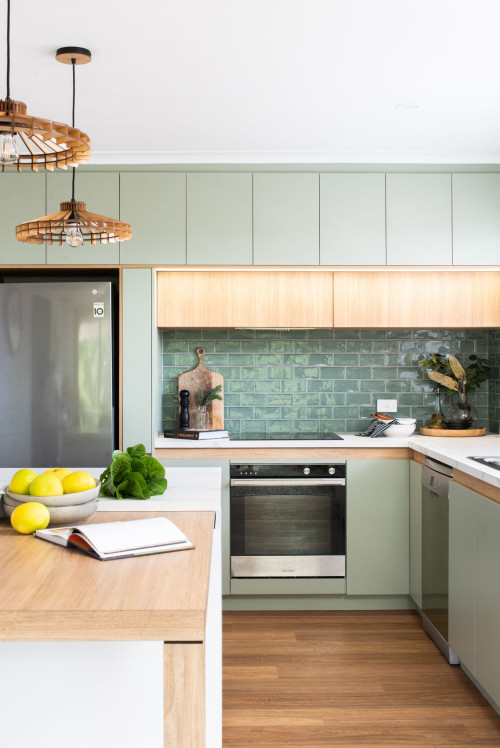 ID# 164722 | Houzz.com – Credit | © Lydia Maskiell Interiors
---
Scandinavian Kitchen with Glossy Green Subway Tiles
This Scandinavian kitchen is surrounded by natural color shades that offer a welcoming atmosphere!! The light green kitchen cabinets dominate the space and create a sleek and elegant appeal while the wooden details of the cabinetry add a nice texture. The green subway tile backsplash complements the cabinets while adding a bright and fresh look with its glossy finish for a final touch.
Backsplash for Green Cabinets
The unnegotiable beauty of green cabinets feels evident in kitchen designs, not to mention their easy-to-work-with nature and effortless compliance with other materials. As green features a wide array of shades, it allows the creation of industrial, contemporary, modern, traditional, and farmhouse vibes easily with the right hues. But in this blog, we tackle the question of how you complement green cabinets and what kind of backsplash for green cabinets is used most popularly!
In general terms, a backsplash for green cabinets is one of the key features to give direction to the design and is the point when you decide if you would like to go with contrasts and ensure a soothing atmosphere. Ranging from white to black, wood, brick, stone, pink, green, and yellow, you have many options to work with green. To discover how these various options impact the green cabinets and how you can bring the right materials and colors together, stay with us and get familiar with the inspiring projects we will be discussing right below.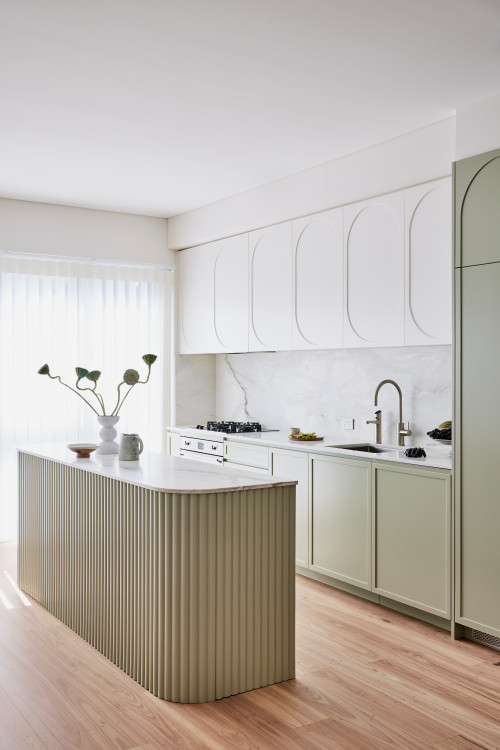 ID# 164701 | Houzz.com – Credit | © Blue Tea Kitchens and Bathrooms
---
White and Green Kitchen Cabinetry with Wood Floor
The white top cabinets with unusual curving frames in the modern kitchen provide a touch of beauty and refinement to the design!! The sage green base cabinets stand out in stark contrast to the white upper cabinets. The white quartz backsplash and countertops have a sleek and modern appearance while still being durable and easy to maintain. The ribbed and curved soft green kitchen island creates a one-of-a-kind and eye-catching focal point in the room.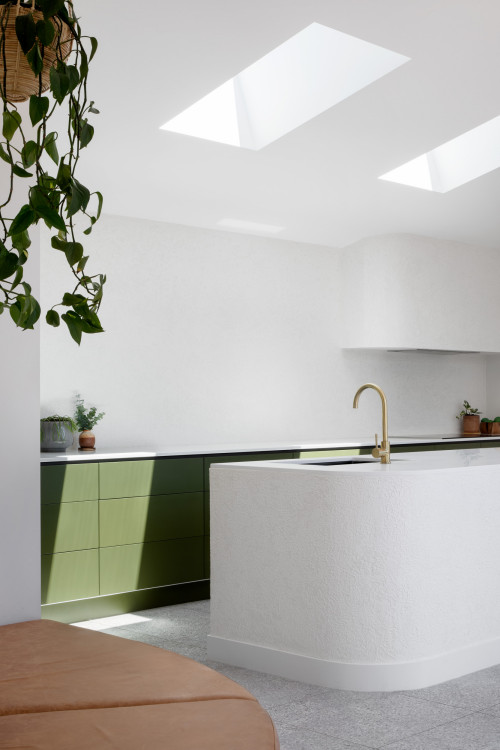 ID# 164703 | Houzz.com – Credit | © DOOD Studio
---
White Kitchen Design with a Pop of Green
In this contemporary kitchen, the pure white island, walls and ceiling create a bright and spacious atmosphere! The green base cabinets make an unexpected twist to elevate the space while the light gray floor tiles soften the crisp white colors.
What color backsplash goes with green kitchen cabinets?
White, gray, and black are the most popular backsplash colors coupled with green kitchen cabinets. These three colors rather give a direction to the design while balancing it and playing with the scale and proportions of the space. But you can as well feel free to use other colors such as green and blue to enrich the color repertoire and energize the space.
If you love green so much, for instance, various shades of green feel very much welcomed in your kitchen. While playing with the backsplash material and pattern, you can get an impactful look in different shades of green. Also, for those who love monotonic looks, the shades of gray can be used to create a monochromatic design that will slow the pace of time enveloping the space with a sense of serenity.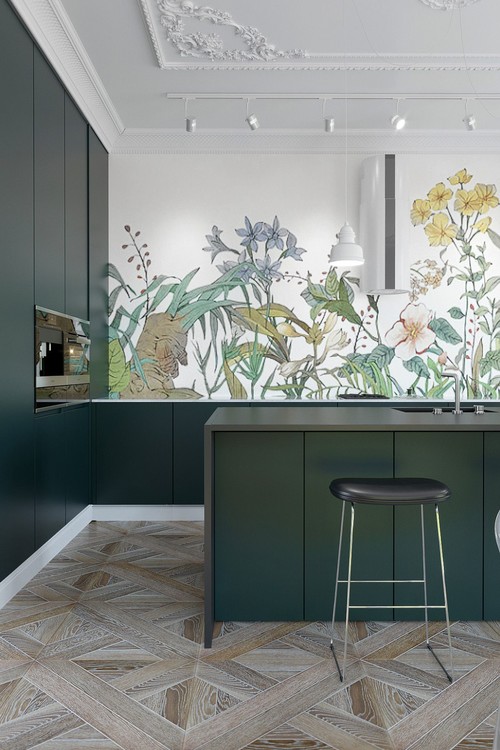 ID# 164704 | Houzz.com – Credit | © Barbara Lbt
---
Contemporary Kitchen with Floral Mural and Eye-Catching Wood Floor
If you want to make a strong statement with your backsplash but don't want to use tiles, murals might be the one that you are searching for! In this contemporary kitchen, the floral wall mural creates an eye-catching appeal that will be a conversation piece for years. The dark green cabinets provide a harmonious look with the flower paintings. The black waterfall countertop of the kitchen island complements the modern style of the flat-panel doors while the unique wood flooring makes a characteristic final touch.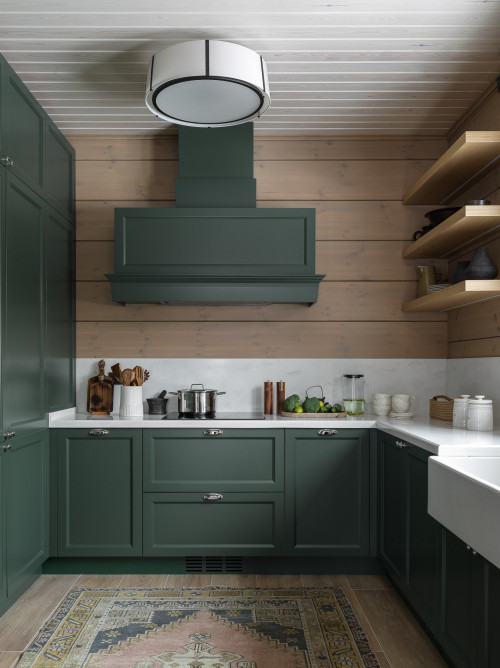 ID# 164705 | Houzz.com – Credit | © Салахова Дина
---
Rustic Kitchen with Marble Backsplash and Countertop
The neutral color palette of this rustic kitchen creates a warm and friendly ambiance. The dark green cabinets dominate the area to offer it a sleek and beautiful appearance. The wood wall panels complement the naturalness of the green while providing a lovely textured backdrop!! The white marble backsplash and countertop, add a luxury touch to the room.
Green Shades
The shade spectrum of green feels almost limitless. From pastel tones to bold and bright hues, light, dark and medium shades, each green hue has a different character and impact. Now let's take a closer look at what those shades are and how they influence the overall look!!
Sage green: It is a rather light shade that looks sophisticated, giving a contemporary feel and creating a sense of spaciousness.
Sea green: To achieve a Japan-inspired design, you can use sea-green cabinets that capture the gist of Japanese philosophy. Sea green embodies serenity and tranquility.
Olive green: Olive is one of the dark green shades. It is warming and feels close to the earth, delivering depth and sophistication to the kitchen. For industrial-farmhouse vibes, you can use olive green. Or you can pair it with pink to make a statement to energize the space more rather than going for drama.
Mint green: It is one of the fresh green shades that is light with a lot of warmth in it. If you want to achieve a soothing atmosphere that also feels otherworldly, a mint green may be what you are looking for.
Aqua green: Aquatic blue-green shades are an interesting addition. If you want a color embodying blue and green together, you can try aqua green.
Dark green: Dark green adds visual drama to the space. If you would like to champion this dramatic effect, go with a white marble backsplash with pronounced veins. For a contemporary look, you can also add terrazzo.
Backsplash for Sage Green Cabinets
To achieve a relaxing atmosphere that will trick your sense that you are surrounded by nature, sage green is the shade you should be heading for. It is soothing, refreshing, and tranquil, gaining its true beauty with wooden materials and solidity with black. With the incorporation of the brass cabinet handles and antique finish fixtures, the design with sage green cabinets is taken to another level. Especially if you are looking for something edgy with sage green, black marble, and soapstone countertops are great materials you can integrate into the space. However, if you want to create a visually lightweight space, then white marble, marble-look porcelain or quartz, white concrete, and white ceramic subway tile backsplashes are some of the alternatives you can consider.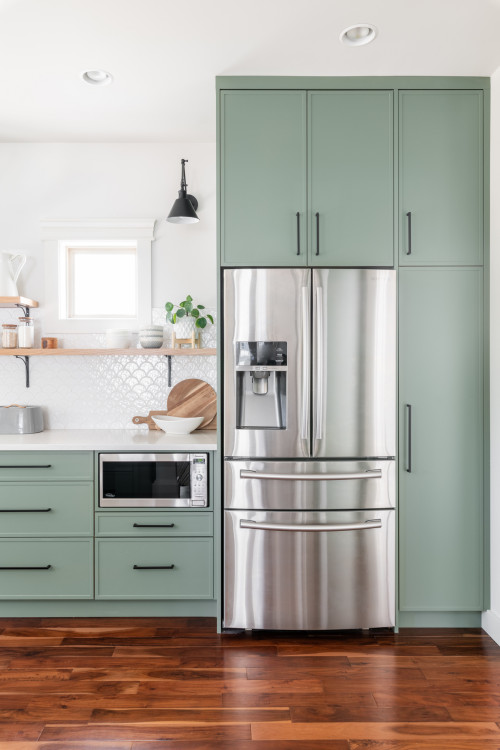 ID# 164706 | Houzz.com – Credit | © MAC Renovations LTD.
---
Sage Green Kitchen Cabinetry with Black Hardware
If you want to complete the sleek and elegant look of your sage green cabinets, black hardware might be an excellent pair! Here, these duos create a cohesive appeal while the white fish scale tile backsplash brings a bright and fresh feel to the space. Using floating shelves instead of upper cabinets enhances the open and airy feel. The stainless steel appliances perfectly complete the modern lines of the kitchen furniture and finalize the overall look.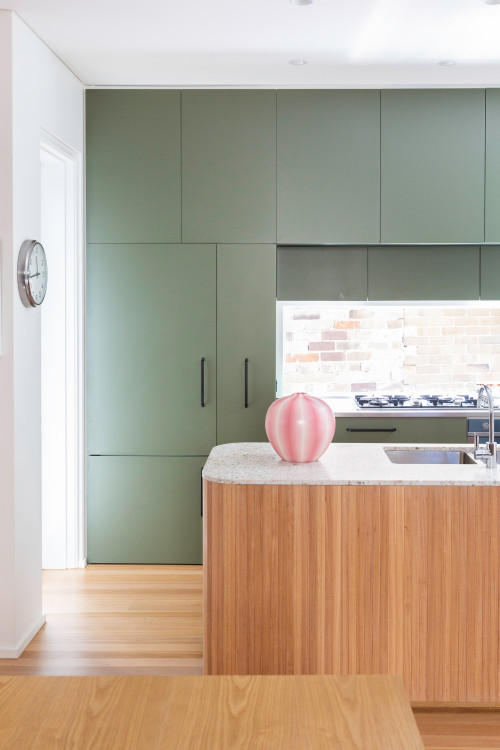 ID# 164707 | Houzz.com – Credit | © Wildly Illuminating
---
Contemporary Kitchen with Window Backsplash
The natural color palette in this modern kitchen creates a warm and welcoming atmosphere!! The pastel green kitchen cabinets have a clean and beautiful appearance, while the wood island and floor complement the green wonderfully. The window backsplash lets natural light into the area to make it bright and expansive.
Are green kitchen cabinets popular?
As green cabinets feature a natural color, you can confidently use them and feel assured that they will remain popular for good. Though there might be times when they get more or less popular over time, green kitchen cabinets are more than a fad. Especially if you love nature and neutral shades, there is no reason for them to feel outdated for you.
But what you can do is rather to stick to the lighter shades of green also to keep things simpler and allow yourself to change other complementary elements much more easily in the future. With small adjustments, you can upgrade how your kitchen looks, while green cabinets still add timeless value to your kitchen.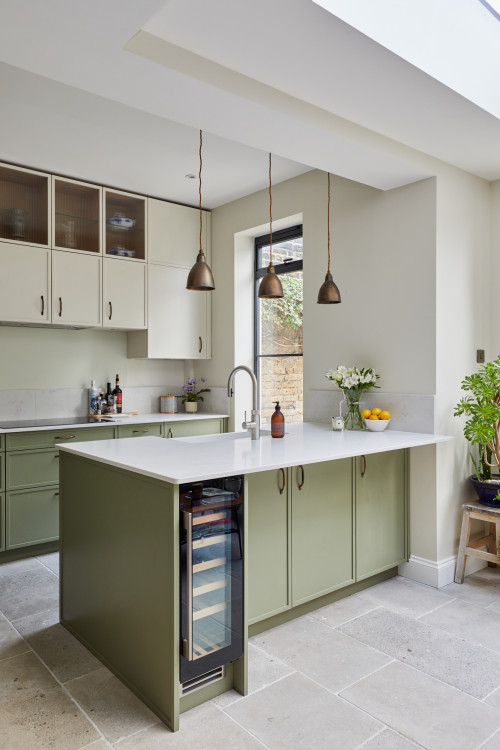 ID# 164708 | Houzz.com – Credit | © piqu
---
White Backsplash for Green Cabinets and Gray Floor Tiles
In this inviting kitchen, the pastel green peninsula and base cabinets add a pop of color, complementing the sleek off-white upper cabinets that create a bright and airy ambiance!! The bronze hardware and pendant lights exude warmth and elegance while beige floor tiles enhance the spaciousness.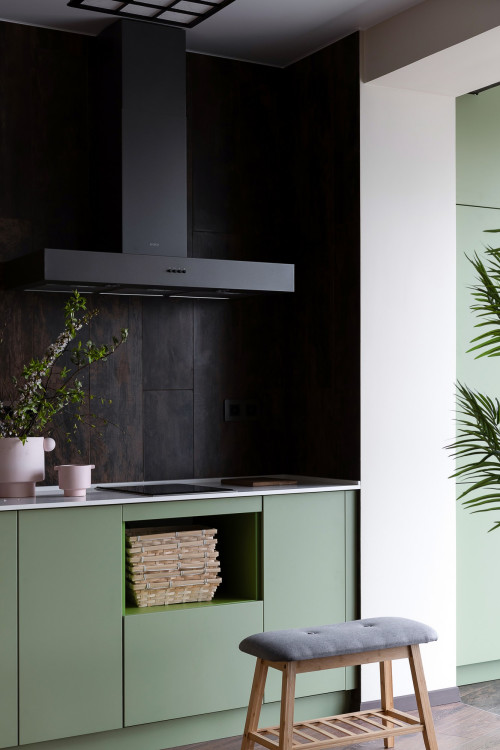 ID# 164709 | Houzz.com – Credit | © K1 Бюро
---
Tiny Kitchen Design with Dark Wood Wall Panels
This compact kitchen room is contemporary and elegant with its sage green cabinetry and wooden wall panels. The rich finish of the hardwood panels and the black range hood stand out against the light sage green flat-panel cabinets. The clean white countertop complements the light mood of the cabinets. Even though this kitchen is quite small, the well-designed cabinets give an efficient culinary experience.
Backsplash for Light Green Cabinets
Light shades are easy to work with, and light green cabinets are not exceptional. They are soft, humble, and versatile and can be reimagined through various backsplash materials and colors. Most popularly, you can combine them with dark green, white/black marble and soapstone, stone-look porcelain tile, and marble-look quartz backsplashes. Each color and material with light green cabinets execute an individual expression while achieving a timeless, sophisticated, and optimistic look depending on the material you go for.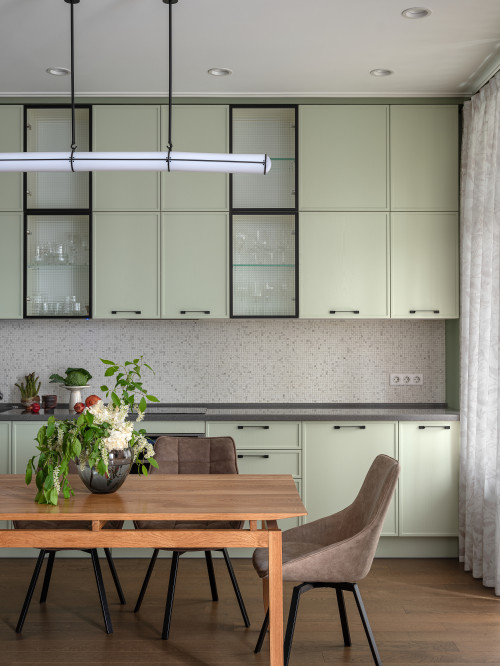 ID# 164710 | Houzz.com – Credit | © Ната Волкова
---
Asian-Style Kitchen with White Mosaic Tile Backsplash
This Asian-style kitchen showcases a modern elegance with its sleek light green kitchen cabinets. These cabinets offer style and functionality at the same time!! While the light green shade creates a soft and inviting atmosphere, the glass-fronted upper cabinets add visual interest to the beautiful glassware in it. The gray granite countertop complements the pastel hues while the white mosaic tile backsplash creates a nice textural backdrop.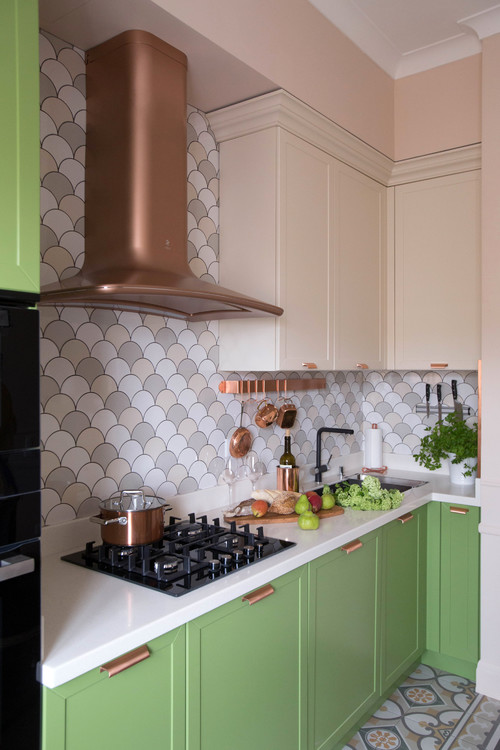 ID# 164711 | Houzz.com – Credit | © BRICKTILES.ru плитка из старого кирпича
---
Colorful Kitchen Design with Copper Range Hood
This tiny kitchen is transformed into a fun and joyful space with a lively color scheme. The light green base cabinets create an eye-catching foundation while the pastel pink upper ones add a dose of romanticism. The multicolored fish scale tile backsplash completes the creative overall look while the copper hardware and stunning range hood make a retro final touch.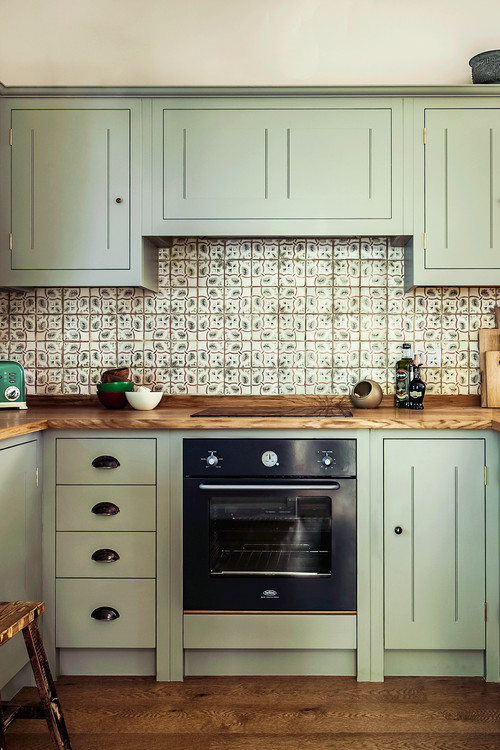 ID# 164712 | Houzz.com – Credit | © British Standard by Plain English
---
Rustic Kitchen with Wood Countertop and Bronze Hardware
In this transitional kitchen, the soft green shade gives it a warm and fresh ambiance. The natural wood countertop offers a rustic touch and complements the light green cabinets splendidly. You'll be captivated by the green patterned backsplash tiles that add a pop of color and visual interest to the kitchen. And, the bronze hardware brings in a touch of elegance and complements the pastel-green cabinets exquisitely.
Backsplash for Dark Green Cabinets
If you have dark green cabinets in your kitchen, you can use white and gray to alleviate the shade's dominance over the space. Gray and white subway tiles or geometric pattern tiles achieve exciting looks that will spice up the background. To benefit from subtle tonal variations and textures, Zellige tiles could be an authentic touch to redefine green cabinets or satin finish white ceramic tiles can change the aura of the space as well. To complement dark green cabinets and lighter shade backsplashes, you can go with brass, black, and chrome finish hardware along with the wood detailing.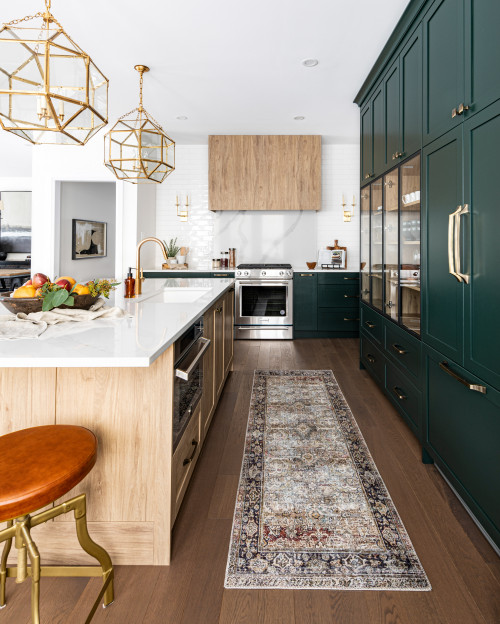 ID# 164713 | Houzz.com – Credit | © West of Main Design
---
White Quartz Backsplash for Green Cabinets and Wood Island
If you want to create a regal atmosphere in your kitchen, rich and dark shades of green may be ideal!! The dark green cabinetry in this contemporary kitchen creates an attractive and dramatic ambiance while also adding depth to the area. The dazzling white full-height quartz backsplash and worktops contrast with the dark tone and add to the room's spaciousness. The classic patterned runner and eye-catching pendant lights add a special finishing touch.
Do green and grey go together in the kitchen?
Yes, green and grey work well together especially if you keep the grey a lighter shade and green darker or vice versa. By doing so, you can capture a timeless look as both colors are rather versatile. But before deciding, you can also observe the amount of light your kitchen gets and how colors interact with the sunlight throughout the day and then adjust the shade of the colors accordingly.
There are plenty of design ideas you can go with green and gray. For example, complement green cabinets with gray countertops or distinguish your island cabinets from the perimeter counters by painting the island gray. Or use a gray backsplash that could be made of ceramic, marble, or glass for a shimmering effect.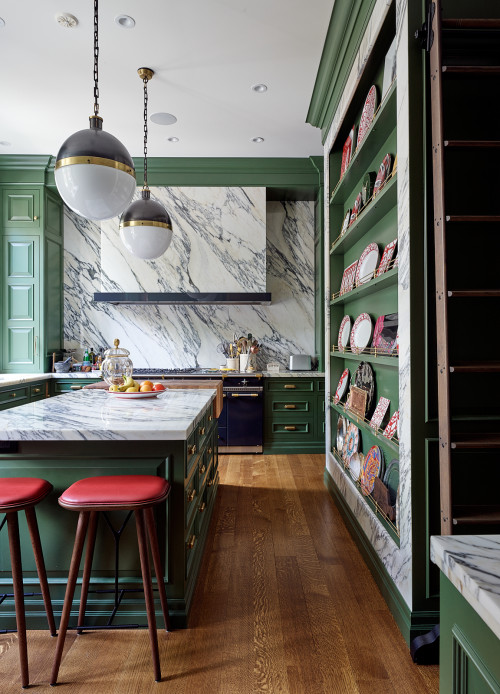 ID# 164714 | Houzz.com – Credit | © Whitehall Homes
---
Luxurious Kitchen Design with Marble Backsplash and Countertops
Wow!! This transitional kitchen has a breathtaking design that will be a conversation piece for years. While the dark green kitchen cabinets extrude a rich and sophisticated base, the giant marble slabs as a backsplash and countertops enhance the sense of luxury. The same marble is also used on the range hood to create a continuous look.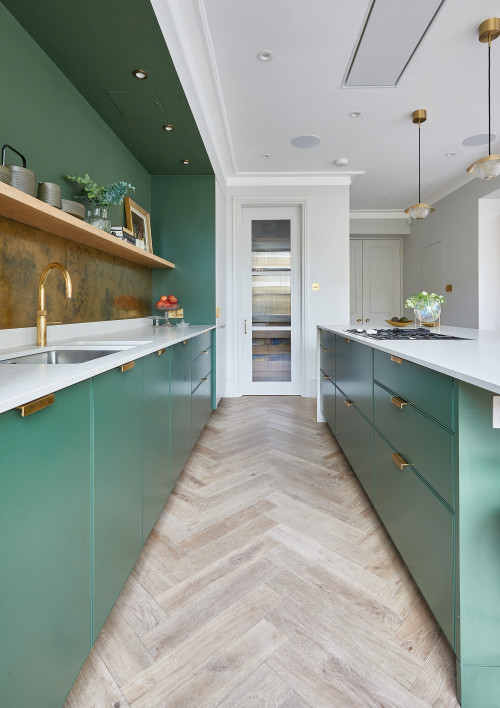 ID# 164715 | Houzz.com – Credit | © Kitchens By Holloways
---
Scandinavian Kitchen with Brass Sheet Backsplash
This Scandinavian kitchen offers a warm and inviting atmosphere with its green cabinets! The brass hardware and aged brass backsplash complete this appeal to bring a dose of luxury to the space!! The white Silestone quartz countertops add a bright and fresh look. For a final touch, the light wood floor complements the natural sense of the green, adding a nice texture.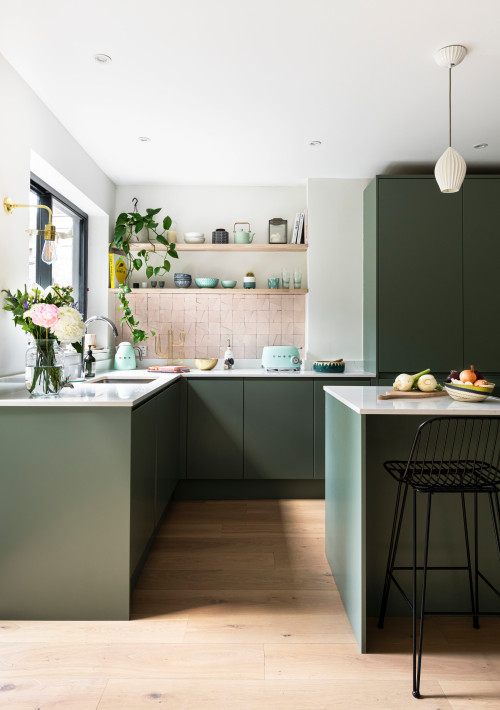 ID# 164716 | Houzz.com – Credit | © Mon Concept Habitation – London
---
Pink Backsplash for Green Cabinets and Wood Floating Shelves
In this contemporary kitchen, the forest green cabinets combine perfectly with the pastel pink Moroccan tile backsplash. This unique combination offers a stylish and inviting atmosphere. Above the backsplash, the wood floating shelves display the greenery plants and some decoration units to add visual interest. The crisp white color of the quartz countertops enhances the spacious atmosphere which is created by the white wall paint.
Backsplash Color and Material Options for Green Cabinets
Backsplash color and material options for a natural shade like green are very expensive. Ranging from grays to whites, black, yellow, and green, many color options for green cabinets are available. It only depends on the impact you dream of to decide which color is best for you. For instance, to achieve a sense of depth, black slab backsplashes are one of the best, whereas white creates a visually lightweight appearance feeding the spaciousness. 
As for material options, ceramics, marble, wood, brick, floral pattern wallpapers, and terracotta backsplashes help tie the space together through authentic vibes. As green resonates with nature, you can feel free to use abundant natural materials in your backsplash. But if you rather look for something simple, budget-friendly, and durable, you can consider ceramic tiles available in all sorts of colors, patterns, and designs. While giving tiles various styles of finishes, you can recreate them to achieve the look you aim for.
White Backsplash for Green Cabinets
The union of white and green is not arguable. Especially, if you have dark green cabinets, white backsplashes help balance the darker shades for those who love spaciousness and brightness in the kitchen. As green refers to nature, wood installations enrich the design along with a white backsplash, giving the space a lot more character and depth.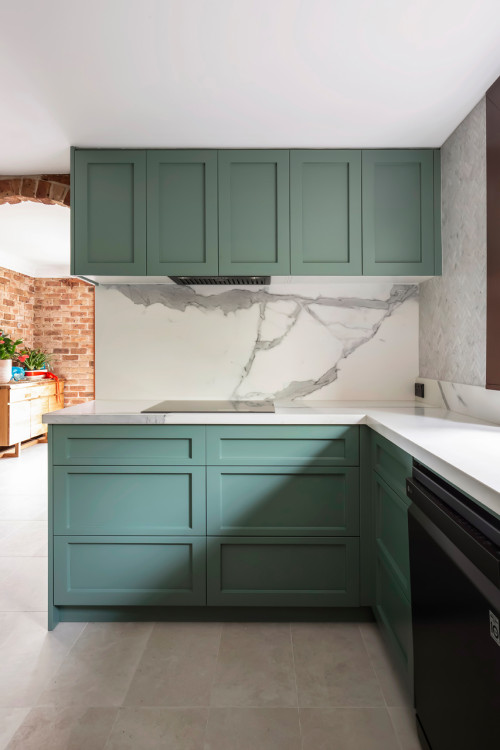 ID# 164717 | Houzz.com – Credit | © Northern Beaches Kitchens and Bathrooms
---
Quartz Countertop and Backsplash for Green Cabinets
Clean, simple, yet effective!!! In this traditional kitchen design, the combination of the dark green shaker cabinets and the white quartz slabs create a classic and timeless appeal. The marble-look gray veining of the quartz backsplash and countertop provides a nice textural backdrop.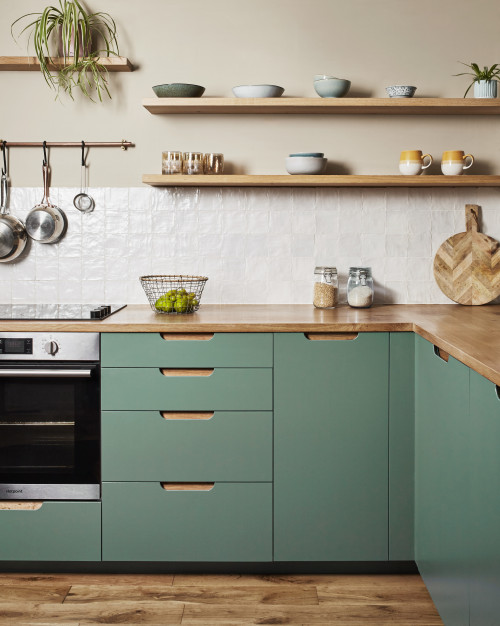 ID# 164718 | Houzz.com – Credit | © Green Bird Workshop
---
Modern Kitchen with Solid Oak Countertop and Floating Shelves
In this modern kitchen, the soft and warm green shade of the kitchen cabinets blends tastefully with the solid oak countertop and they create an inviting space together. The white square tile backsplash adds a fresh look while completing the retro flair of the design.
Design tip: If you want to create an open and airy feel for your kitchen, floating shelves are excellent options rather than closed cabinets.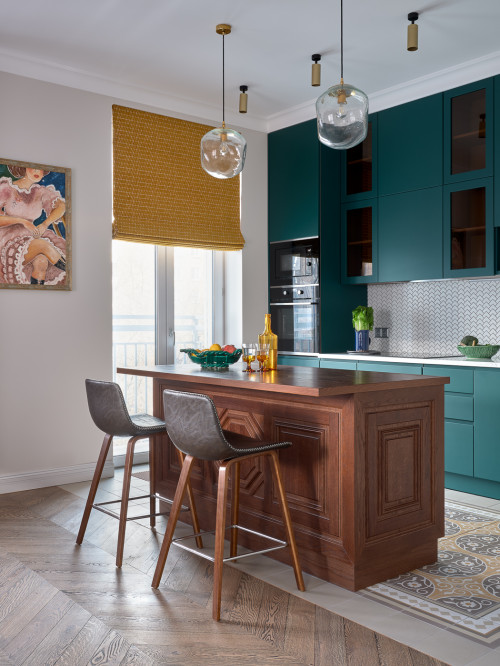 ID# 164719 | Houzz.com – Credit | © Студия Enjoy Home
---
Unique Wood Kitchen Island with Glass Pendant Lights
This wood kitchen island makes a statement that features a lovely molding which demonstrates an excellent level of craftsmanship! The dark green kitchen cabinetry and white herringbone backsplash provide a clean and contemporary backdrop for the island. The colorful floor tiles, glass pendant lights, leather counter seats and yellow window treatment round out the design's distinct aesthetic!
Gray Backsplash for Green Cabinets
Famous for being a versatile color, gray is a safe color to work with even if the color scheme is challenging and features very bold shades. In most cases, it is gray that just comes into play to neutralize and put the bold shades into balance with the rest. As for green cabinets, you can utilize gray chevron and herringbone tiles for a modern upgrade, gray marble for elegance, and gray stone backsplashes for a rustic look. Likewise, gray subway tiles are extremely popular. For a more diverse and intriguing look, gray KitKat mosaic backsplash tiles could be another option you can give a chance.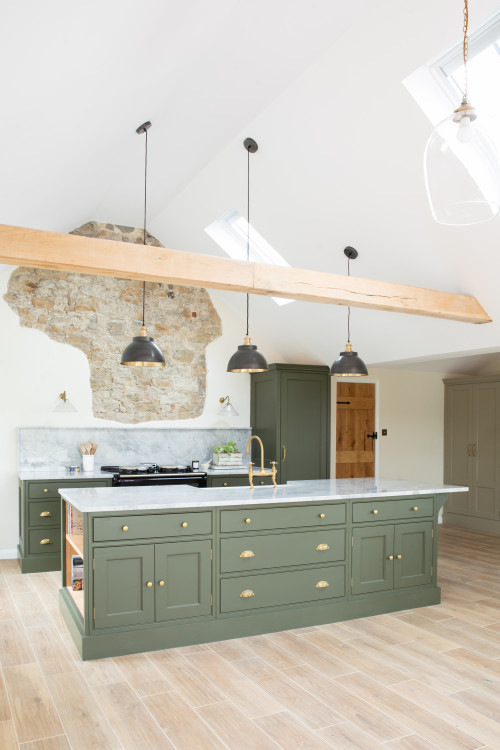 ID# 164720 | Houzz.com – Credit | © eatrice Holland Interiors & Property
---
Marble Backsplash for Green Cabinets and Brass Hardware
This kitchen offers the warm and inviting atmosphere of the cottage style perfectly! Here, the green kitchen cabinets take the stage and create an elegant look. The gray marble backsplash and countertops complete this elegance while the black pendant lights create a focal point above the island and add a modern vibe. The brass cabinet hardware enhances the glamour of the green shade.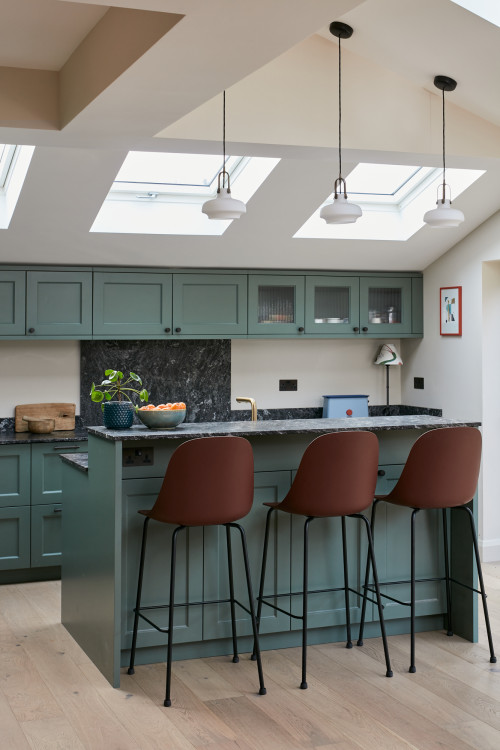 ID# 164721 | Houzz.com – Credit | © piqu
---
Traditional Kitchen with Double-Height Island and Granite Countertops
This warm and inviting classic kitchen with wonderful handmade elements is ideal for entertaining. Smooth shaker-style cabinet doors in a beautiful green provide a charming touch to the kitchen. The gray granite stone on the double-height kitchen island stylishly covers the sink, tap, pantry unit, and drinks cabinet. The same granite slab is also used as a backsplash behind the stove to create a striking focal point. The brown leather seats on the higher side of the island provide a lovely eating experience.
Green Backsplash for Green Cabinets
Green with green? If you are worried about how green-on-green will look together, you shouldn't. Especially if you love green and want to channel natural vibes that will make you feel in a forest, with various shades of color you can manage it. As much as you can bring different green tones to establish contrasts, you can as well create a monotonic kitchen to achieve a sense of serenity and a modern look.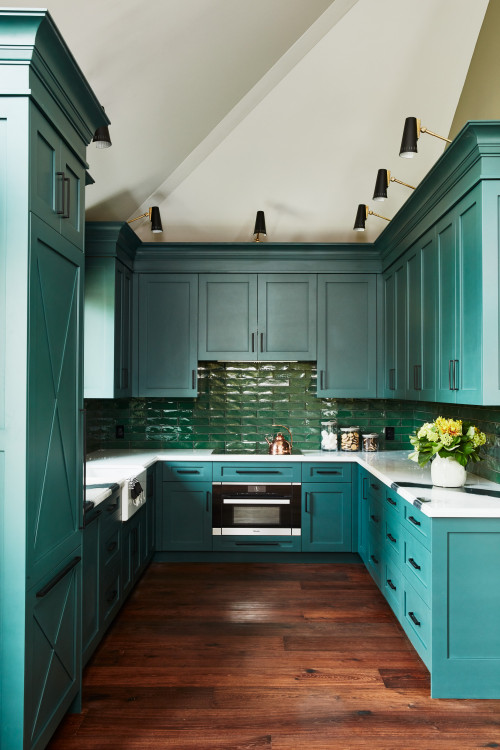 ID# 164723 | Houzz.com – Credit | © M-Squared Contracting Inc.
---
Farmhouse Kitchen Design with Dark Green Cabinetry
To add a vibrant and fresh touch to a kitchen, black hardware may make a dramatic and beautiful contrast with green shaker cabinets!! In this farmhouse kitchen, the green subway tile backsplash adds a pop of color and a traditional touch. The white counters lighten the space and provide a clean classic look while the medium-tone wood floors in the kitchen add a cohesive final touch.
How do you style a sage green kitchen?
Sage green is a serene, light shade color that can easily create a feature element. You can integrate this color into your kitchen in various ways. You can color your walls, create accent walls and get sage green cabinets or sage green backsplash tiles. To complement them, wood, brass, and black detailing can be utilized to give a better definition to the kitchen. For example, if you want to go natural, you can integrate wood and bamboo. To embed a feeling of edginess and moodiness, black soapstone and marble backsplash and countertops can top the sage green cabinets.
Wood, particularly pine and oak, or sage green floating shelves or sage green-painted beadboard panels add movement to the walls emitting coastal and farmhouse vibes. A wood kitchen island with open shelving features can be used to place at the center. Ornamental rugs, brass wall sconces, vintage-style lighting fixtures, white glass pendants, ceramic vases, wicker baskets, and wood counter stools also add character and style to a sage green kitchen wisely. Just try to stick to a natural color palette and warming shades to complete the sage green.
If you want something different from wood, you can go with terracotta floor tiles, terracotta lighting fixtures, custom-design bulky range hoods ( if you have high ceilings), rock backsplashes, dark herringbone flooring, and brick backsplash and floor tiles that work well with a sage green theme, creating an expressive design with a high level of authenticity.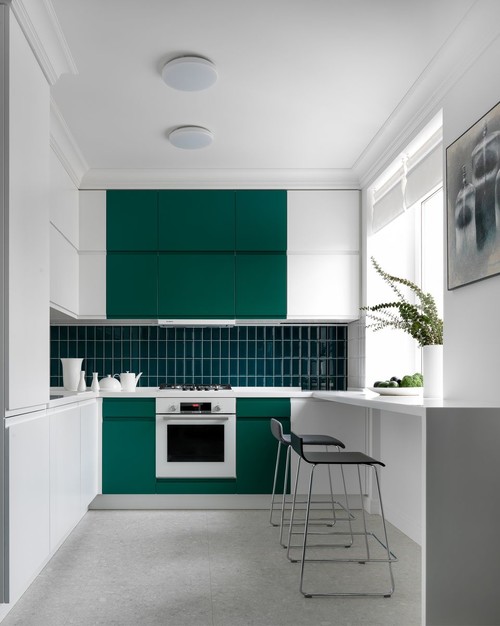 ID# 164724 | Houzz.com – Credit | © «Точка дизайна»
---
Contemporary Kitchen with Green Stacked Tile Backsplash
The contrasting appeal of dark green and white offers a sleek and elegant contemporary kitchen look!! While the white cabinets and countertops create a clean and simple look, dark green cabinets and backsplash add a wow effect. The white grout of the green tile backsplash complements the white features while highlighting the grid pattern of the tiles. The white peninsula is placed against the window, providing an additional counter space.
Marble Backsplash for Green Cabinets
One of the best ways to complement your green cabinets is with a marble backsplash with subtle or noticeable veins. White and black marble backsplashes are very well suited to creating a design that will last for a long time! Blend reddish-pink marble with light green cabinets for a stunning kitchen design with a sense of diversity.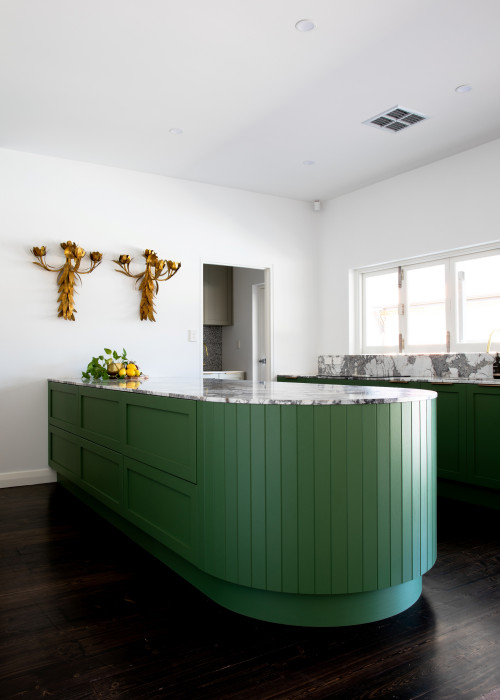 ID# 164725 | Houzz.com – Credit | © Jag Kitchens
---
Gray Marble Countertops and 4-inch Backsplash
This modern kitchen offers a simple yet highly functional and timeless design. Here, the green kitchen island takes the stage and creates a true feature point in the somewhat monochromatic home. The eye-catching marble countertops and 4-inch backsplash ooze drama and a sense of quirkiness. The gold wall-mounted lighting fixtures bring a vintage flair and enhance the luxurious sense of the room.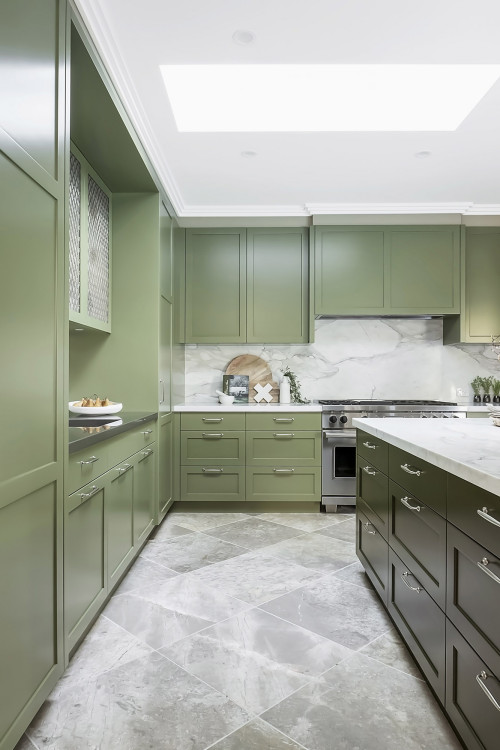 ID# 164726 | Houzz.com – Credit | © Dan Kitchens Australia
---
Marble Backsplash for Green Cabinets and Chrome Hardware
The initial impression of this shaker design kitchen would be unabashedly and distinctively green. While the green shaker cabinets serve an elegant base, the Calacatta marble backsplash and countertops add a dose of luxury. The same marble texture is also used on the floor tiles to create a continuous look.
What color goes with forest green cabinets?
White, black, brass, yellow, and neutral shades go well with forest green cabinets that rather bring solidity and strength to the space. Thus, choosing lighter shades to accompany them is recommended if you want to achieve a more relaxing ambiance. Wood and bamboo can be widely used to clad the islands, the interior of the display cabinets, and countertops, and also as floating shelves to soften the strong look of the forest green cabinets. Brass hardware and wall sconces add a sense of warmth. To suggest the passage of time, you can choose antique finish hardware. On the floor, you can benefit from brick and terracotta floor tiles to make the design feel more down-to-earth. Copper kitchenware and wood cutting boards can serve the space as other additional details to complement the green cabinets.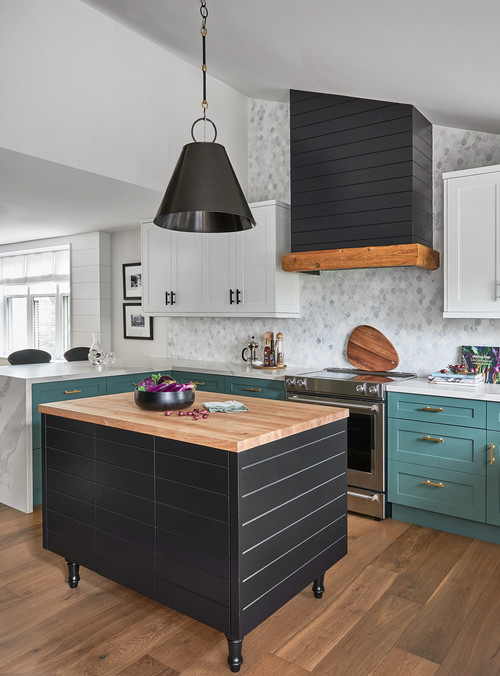 ID# 164727 | Houzz.com – Credit | © Soda Pop Design Inc.
---
Farmhouse Kitchen with Black Range Hood and Island
Looking to add some extra style to your modern farmhouse kitchen classic? One tried and true trick is to mix and match hardware finishes for a truly unique look!! Take inspiration from this kitchen design, where crisp white upper cabinets pop against bold matte black hardware. The lower cabinets in a soft green shade offset beautifully with shiny brass hardware, for an undeniably stunning effect. A marble backsplash reaching all the way up to the ceiling adds an element of luxury to the space while a sleek black range hood commands attention and complements the wooden-topped black island.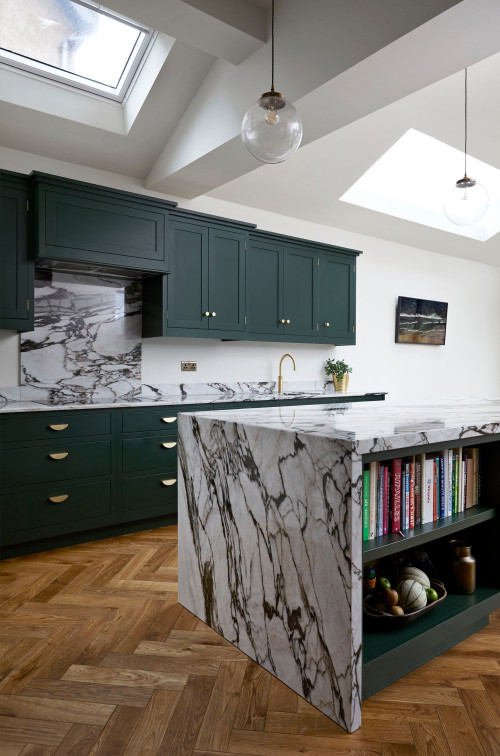 ID# 164728 | Houzz.com – Credit | © Thomas Davies Kitchens
---
Marble Waterfall Kitchen Island with Open Storage
This marble waterfall kitchen island is a true game-changer!! While the eye-catching marble pattern creates a dramatic and elegant appeal, the green open shelves provide additional space for storage. The same green shade is also used for kitchen cabinets which bring depth to the space. The marble backsplash behind the stove creates a focal point, acting as a piece of art.
Ceramic Backsplash for Green Cabinets
When talking about tiles, it is hard not to include a ceramic tile backsplash as it is budget-friendly, durable, and versatile. To complement green cabinets with a ceramic backsplash, you can use gray and white subway tile backsplashes. But, especially vertically stacked satin finish white ceramic tiles provide an authentic look with subtle tonal variations. As for the pattern, you can go with square and metro tiles that bring a timeless value that feels modern and vintage simultaneously. For a sense of drama and luxury, you can use glazed black subway tiles. Or for a modern look, use black hexagon tiles and apply white grout for a slight contrast.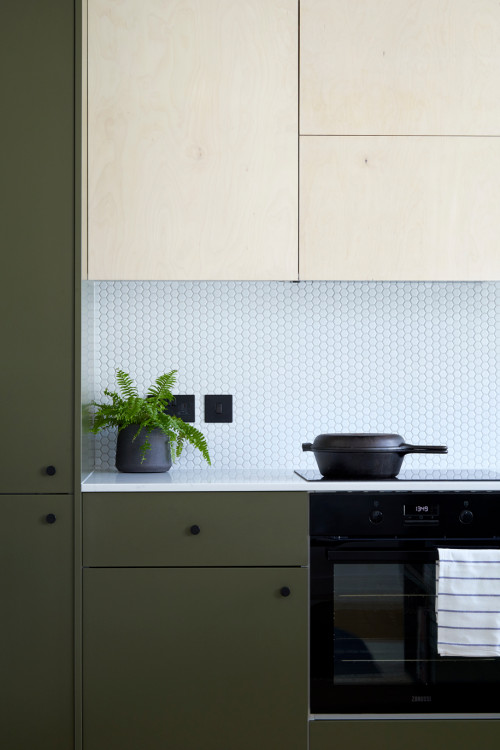 ID# 164729 | Houzz.com – Credit | © Varisco Stone Ltd
---
Two-Tone Cabinetry with White Penny Tiles
This kitchen delivers modern elegance with its clean and elegant lines and neutral color palette!! While the light wood upper cabinets add brightness, the dark green base cabinets add depth to the room. The white penny tile backsplash is both traditional and attractive, plus it adds a great texture. The small matte black knobs are the ideal finishing touch, completing the modern look.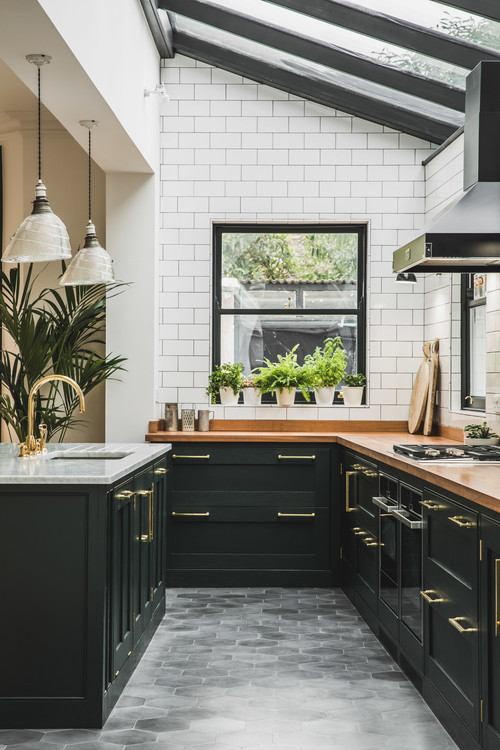 ID# 164730 | Houzz.com – Credit | © Lukonic
---
Full-Height Subway Tile Backsplash for Green Cabinets
Subway tiles are a ceramic material that has stood the test of time!. The white subway tile backsplash gives a timeless and elegant backdrop in this conventional kitchen. The absence of higher cabinets adds to the effect of these tiles. The charcoal grout lines, on the other hand, enhance the typical running bond pattern. To convey a sense of elegance, the dark green cabinets contrast with the white tiles.