31+ Marble Countertop Ideas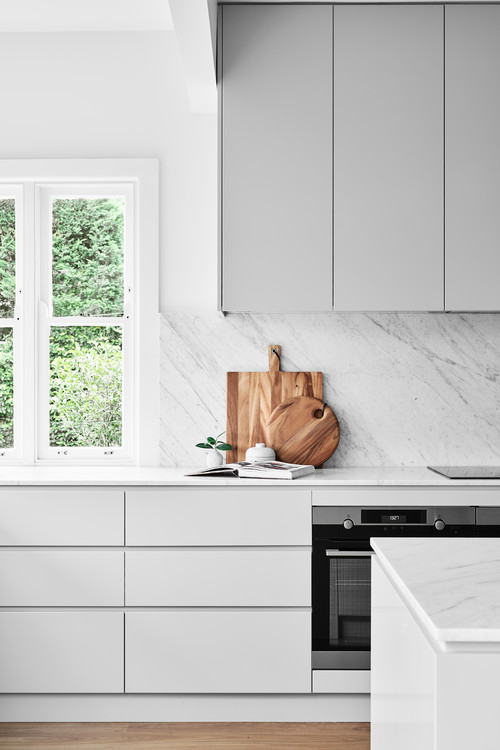 ID# 141819 | Houzz.com – Credit | © Henry and Co Interiors
---
Gray Flat-Panel Cabinets and a Stone Slab Backsplash
The handleless cabinetry design is one of the clever design ideas to prevent any busy look in the kitchen. Especially, you can apply this idea to your contemporary designs. The white marble countertops and slab backsplash design complement the gray flat panels adding an organic flow to the kitchen.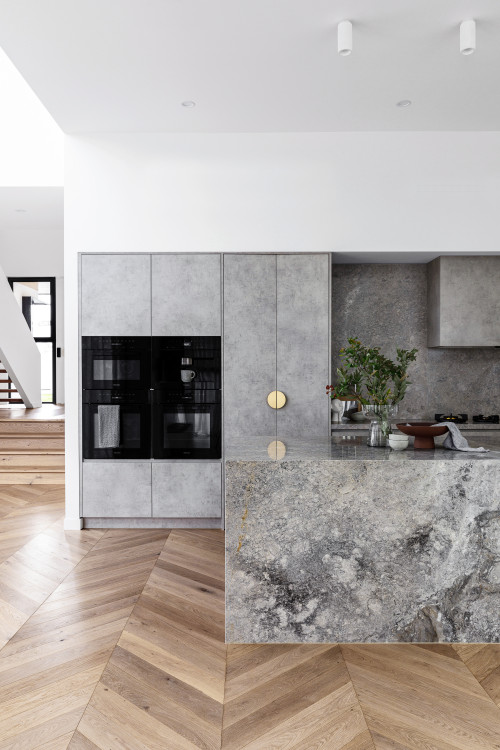 ID# 141827 | Houzz.com – Credit | © Dion Group Projects
---
Gray Flat-Panel Cabinets and Gray Marble Countertop Ideas with a Slab Backsplash
The chevron pattern wood floors and the gray cabinetry design with countertops and backsplash complement each other adding a warm atmosphere to this modern kitchen. The marble island, countertops, and backsplash complement the gray flat-panel cabinets. Brass accents enrich the kitchen with a glam and luxe feel with the help of the marble textures.
Marble Countertop Ideas
It's easy to become intrigued with the natural material after reading through your postings because there are so many kitchens and bathrooms with beautiful marble countertop ideas online. Marble is unquestionably gorgeous, but we'd be remiss if we didn't let you know that it needs some maintenance. First off, marble is softer than granite, so use a cutting board rather than cutting directly on top of it to prevent scratches. The stone is porous, so spills that aren't immediately cleaned up risk changing their color. Although marble is unquestionably one of the priciest countertop materials, some grades can be as pricey per square foot as high-end granite or quartz. However, some homeowners like the timeless appeal and sculptural quality that marble countertop ideas add to the kitchen.
Designs for marble countertop ideas provide several benefits. Although marble is heat resistant, experts advise using a trivet, potholder, or kitchen towel to protect the countertop from burns when using boiling-hot cookware. To make a marble countertop more resistant to stains and minor scratches, it should also be sealed once a year. Remember that there are other types of marble to choose from as well. Let's scroll down and get inspired by the gorgeous marble countertop ideas that we have gathered for you!
Is marble a good option for countertops?
If you are ready to put in a little more effort in terms of upkeep or a change in perspective toward the flaws brought on by daily living, marble may be used in the kitchen. You can have the white marble kitchen countertops you've always wanted if this is okay.
Marble surfaces will keep you as cool as central air as you bake in a heat wave. Additionally heat-resistant, the stone is a great option for bake-offs in your kitchen. Despite marble's ability to withstand high temperatures, you should never place a boiling hot pot directly on the surface out of concern that you may burn or discolor it. Instead, always use a potholder.

What looks good with marble countertops?
In todays market, marble countertops come in a wide array of color options. According to your marble color, you can create stylish designs.
Top Colors for Marble Countertops
When sediment becomes thicker due to heat or pressure, marble is created as a metamorphic stone. Marble may be polished due to its crystallinity. Each slab is distinctive because of the veins in the mineral deposit that create patterns. Marble is available in many different forms and colors. Various types of marble have slight variations based on the circumstances surrounding the formation of the rock. Marble's appearance and characteristics are determined by the amount of pressure, time, and heat that it is created under as well as the level of impurities.
Finding a balance between the intended aesthetic of the marble and the available colors or hues is usually required when choosing a type of marble. You might want to check immediately for the top colors for marble countertops if you are in the middle of designing countertops and do not want to wade through this wide range of color selections.
You can get a marble that matches the aesthetic of your kitchen or bathroom because it comes in several colors. The following colors are some of the most popular ones for marble countertops, even though there are many different shades of marble and the type of marble can affect the coloring: Black, gray, and white. Check out these stunning top colors for marble countertops.
White Marble Countertop Ideas
Among many homeowners, marble is still the material of choice for kitchen countertops. Marble backsplashes and countertops are not a surprise because the material has long been a favorite. White marble countertop ideas are one of the numerous color possibilities for marble countertop ideas, as is well known. White marble has long been recognized as a high-end building material. These designs can undoubtedly come in handy if you want to create a luxurious and stylish kitchen.
You could believe that your effort is finished once you've decided on the hue. But you'll be surprised to learn that even white marble countertop ideas offer a variety of white shades that may give your interior personality with their various white tones. Due to its gorgeous and pure look, this is a traditional option with remarkable significance. However, because of its white color, its flaws are extremely obvious. But occasionally, flaws are what give things beauty, right? For instance, we don't whine about the craters on the moon. Let's look at a few of the common white marble varieties.
Carrara Marble
The most common type of marble, maybe called Carrara, is frequently used in kitchen and bathroom surfaces. Additionally common are floors and walls. All of the white marble used for these countertops is sourced from Italy, mostly from Tuscany and the Carrara region. Although the majority of Carrara marble is white and appropriate for use in bathrooms and kitchens, it is also offered in grey or blue-grey hues. It may be distinguished as Carrara marble by its nearly invisible fine or feathery soft linear veins. Countertops made of pure white Carrara marble are frequently chosen for their slightly dramatic appearance.
Calacatta Marble
Due to its popularity and predominantly white color, many people mistake Calacatta marble for Carrara marble. As a result of its origins in the Apuan Mountains of Carrara, Italy, Calacatta marble is considerably rarer and more expensive than Carrara marble. You can tell the difference between them when you put them side by side. Pure white Calacatta marble has deeper, thicker gray veins, as well as gold flecks. It seems far richer than other types of white marble slab and depending on the color combination, the room either feels warm or cold.
Crema Marfil
Crema is warm to the touch. Marfil marble, which is imported from Spain, has irregular veining and colors ranging from beige to yellow. The even and neutral base color has a calming and hospitable effect on the surroundings. Since it goes well with both stone and wood, its neutrality also makes it particularly flexible as a material for kitchen countertops.
Thassos Marble
The crystal-white marble from the Greek island of Thassos is known as Thassos marble. This stone stands out for having a shimmering, almost glowing appearance. The Thassos marble, which was well-liked even in antiquity, is excellent for reflecting light and illuminating a space. Given its versatility to complement or contrast an existing design scheme, this white marble's simple color pallet makes it suitable for a range of home design styles. The polished white marble is perfect for tiled floors as well as kitchen and bathroom countertops.
Mystery White
Marble stone known as "Mystery White" has been used for centuries. The white marble has a crisp, pure appearance because of its white background and cream-colored veining. This marble has a delicate appearance and is excellent for people who appreciate the look of marble but want a lighter veining contrast. Worktops, tub surrounds, and bathroom areas are just a few places where Mystery White may be used.
White Himalaya Marble
Another Greek marble, White Himalaya (or Volakas), has characteristics similar to Carrara. On top of a background that is entirely white, white Himalaya marble veins can have hues ranging from gray and brown to somewhat purple. This marble is striking and may be used for kitchen islands with waterfalls, wall panels, bathroom floors, countertops, and tub surrounds.
What can you not put on a marble countertop?
A wonderful real stone substitute like marble may make your kitchen into a magnificent entertainment space. Visitors, meals, and beverages are all included in the entertainment package. You already know that marble is porous and does not mix well with food and drink if you have marble surfaces. The following items are prohibited from being placed on marble countertops:
Harsh Cleaning Products
– Avoid using any cleaning products from your neighborhood store that are not specifically designed for marble; frequently, the necessary marble cleaners are not offered at these places. Cleaning products from your neighborhood shop most likely contain substances like acids and alkalis that might damage the surface or wear down the sealer, causing the marble surface to etch or discolor. The majority of common cleaning products damage marble. Don't try to save money by using a low-quality cleaner since you will end up spending more money trying to repair the damage.
Acidic Fluids
– Avoid using vinegar, ammonia, or citrus juices like lemon or orange while washing the countertops. As previously said, daily cleaning may be done with a soft cloth moistened with hot water, and once a week, a professional stone cleaner can be used.
– Cleaners for grout shouldn't be used. Even if it is a "soft" cream or powder, grout cleaners sometimes contain abrasives that are overly abrasive and will scrape and dull the surface.
-Move away from marble countertops while you sit or stand. Marble countertops may shatter if too much weight is placed on one area since they are less flexible than laminate counters and do not have the same level of support as plywood.
– Hair products, perfumes, toothpaste, creams, lotions, colognes, nail polish removers, and other items can damage marble surfaces and leave rings. We advise keeping these items on a chic tray if you want to display them.
– Even though marble can resist high heat, you should always use a potholder to prevent scorching or discoloring the surface.
Gray Marble Countertop Ideas
Because it can be used in both rustic and modern settings, gray is a popular color for kitchen countertops. There are not many options when it comes to grey marble countertop designs. The many types of grey marble stone for kitchen countertops are as follows. But remember that every marble stone block has a unique pattern. You won't come across a replica of it anywhere, just like your finger patterns. That is what makes this gorgeous stone so alluring. There are numerous choices for gray marble countertop ideas, and we've included a few of the more well-liked ones below.
Pietra Gray
Have you ever thought of selling anything from Iran besides oil? Pietra Grey marble is the proper reaction. The Iranian city of Isfahan is where this stone is mined. The stone looks amazing with its hazy charcoal background and dazzling white veins all over the surface. The kitchen countertops made of Pietra grey marble are distinctive and offer a beautiful appearance. This gorgeous stone surface offers a variety of designs and color choices. Depending on your choices for your kitchen, pick one of these.
Tundra Gray
A stunning cool gray marble called Tundra Gray with white veins that occasionally produce patterns that resemble clouds. A family of local gray stones called Tundra Gray includes the marble. In comparison to colored limestones of equivalent density and strength, it is stronger. Additionally, Tundra Gray has the benefit of having a more consistent pattern, which increases uniformity when used. This gray marble's patterning exudes the kind of richness and elegance that only marble can convey, and it looks fantastic in both contemporary and traditional settings.
Pacific Gray
The distinctive vein patterns of Pacific Gray Marble are often used to draw attention to the stone's lighter shade. When gray limestone deposits and black carbon deposits are mixed together to create marble, these veins are created. In no other sort of stone can you find a design like the one created by this combination.
Does marble crack easily?
Marble tiles often withstand normal wear and tear well. However, if you are given marble that is of poor quality, your marble flooring may crack and crumble soon with heavy use. The tiles may already have hairline cracks before installation. The generalization that applies to all stone products also applies to marble countertops. On the other side, it takes a lot of effort over time to destroy a marble countertop.

Black Marble Countertop Ideas
Numerous applications of black marble include worktops, floors, cladding, and even accents for furniture. Black marble isn't the only kind of marble used for this, of course, but it's clear that it gives any setting a touch of exclusivity and elegance. Consider a kitchen with black marble countertop ideas. The ideas for black marble countertops may create stunning designs with a refined appeal.
This stone's dark color is mostly explained by the fact that it formed on continental platforms that absorbed a huge amount of sediments with significant organic compounds and carbonate in anoxic conditions. Throughout the Mesozoic (Cretaceous) and Paleozoic (Devonian-Carboniferous) epochs, this type of deposit was found in a wide range of geological stages all over the world. Black marble countertop ideas can vary depending on the varieties of black marble, just as with other marble hues. Below are some suggestions for your black marble countertop ideas, which we've provided for you!
Marquina Black
Marquina Marble is undoubtedly the most well-known black marble in the world because of the intensity and consistency of its black background, its distinctive white veins, and its large volume of manufacture. It is a black reef limestone with white calcite veins and tiny grains. The Markina (Biscay) quarry in Spain is where it is mined.
Noir Saint Laurent
A well-known French locality called Noir Saint Laurent is distinguished for its profusion of black marble. A coppery black marble called Saint Laurent marble is perfect for natural stone design elements. It has a crystalline black background that is petrified. It is really beautiful with fine-grain, delicate brown, gold, and white tones as well as uneven veins and sporadic coral touches.
Port St Laurent
The Nero Port Saint Laurent marble has fine-grained, golden calcite veins, and is a brown/dark grey limestone when polished. The Mesozoic material was discovered at a quarry in the Agadir-Biougra area, between the High Atlas and Anti Atlas carbonate platforms.
The primary attributes of this stone are fine-grain. Sometimes with fossils. The backdrop of deep gray to near-black is a little clearer than the others.
Sahara Noir
Black marble from Tunisia is also referred to as Nero Dorato, Nero Sahara, Black Aziza Marble, Nero Tunisi, Nero Berber, and other names. It lies 60 kilometers south of Tunis in the northeastern Tunisian area of Zaghouan. Ooliths and planktonic foraminifera may be found in this limestone, which is micritic. Its colors range from grey to black and include brown and gold as well as white calcite recrystallization veins. The Sahara Noir marble's main characteristics are as follows:
-Very fine or fine grain
-Occasionally include fossils
-Black background with dark gray to black colors
-Veins of recrystallized calcite that are white, brown, or gold.
Nero Portoro
Italian marble is used to create Nero Portoro. One of the most costly marbles in the world, according to certain estimates. Since ancient times, when it was manually harvested in the seventh and eighth centuries, it has been understood and used.
It is a micritic limestone that is black in color with golden limonite and sulfide veins. The two secondary minerals most frequently found are calcite and dolomite. Its dark color is caused by bitumen, sulfides, and organic waste that is collected under anaerobic conditions. The main qualities of Nero Portoro are:
Fine-grain
Occasionally include fossils
The backdrop is a pitch-black color.
The same golden streaks have wavy forms and uneven filling.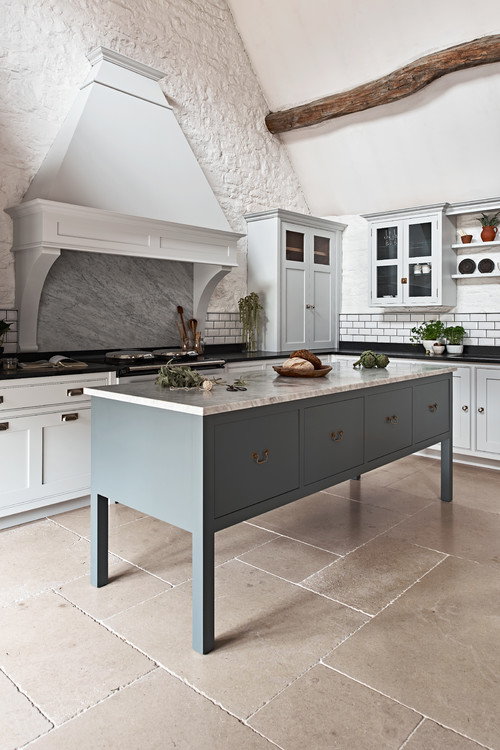 ID# 141828 | Houzz.com – Credit | © Cheverell
---
Country Kitchen with Black Marble Countertop Ideas And White Cabinets
The white stone wall of the kitchen draws attention while the exposed wooden beam adds a natural cottage look to this country kitchen design. The white cabinets and the black marble countertops have a striking contrast that is balanced by the white subway tiles and a gray marble slab backsplash behind the stove. The beige floor tiles increase the natural feel of the kitchen with their hard surfaces.
Finish Options of the Marble Countertops
Unfortunately, problems do not cease by just selecting a countertop material. If you intend to utilize marble for your countertops and have so far not made a decision on the type of material, color, or tints, then here is what you need to do: alternatives for marble countertops' finishes.
Choosing the finish options for the marble countertops is almost as important as choosing the stone. Knowing how each finish looks, feels and influences the aesthetic of the stone is essential because it has the potential to change how the countertops look and, by extension, how your space appears. The marble slab you choose for your new countertop will be affected both in terms of appearance and functionality by the finish options of the marble countertops you choose. This is one common area over which you have some control.
Polished Marble Countertop Ideas
For those looking for the smoothest, most reflective surface for their marble countertops, the polished marble finish is typically the best choice. It is created via a procedure that involves grinding, buffing, and polishing. These steps all help to create a very reflective surface that draws attention to the color and veining of the marble slab you've chosen. The polished marble countertop ideas may astound you if you enjoy the shine!
The polished marble finish is also the least porous of the conventional finishes. As a result, it is less likely to discolor than other types, although scratches, fingerprints, and other marks like etching might be more obvious. Kitchen designs with polished marble countertop ideas may be eye-catching.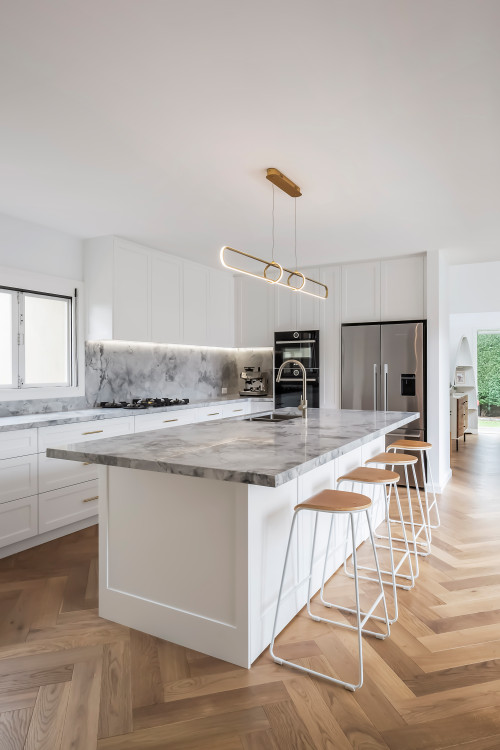 ID# 141829 | Houzz.com – Credit | © Northern Beaches Kitchens and Bathrooms
---
Polished Marble Countertop Ideas with White Shaker Cabinets
The medium-tone wood floors and gray polished marble countertops with a slab backsplash complement each other creating a warm atmosphere in the kitchen. The white shaker cabinets increase the homey look of the kitchen providing a familiar environment. The brass accents and the marble texture enrich the kitchen and bring a luxurious atmosphere.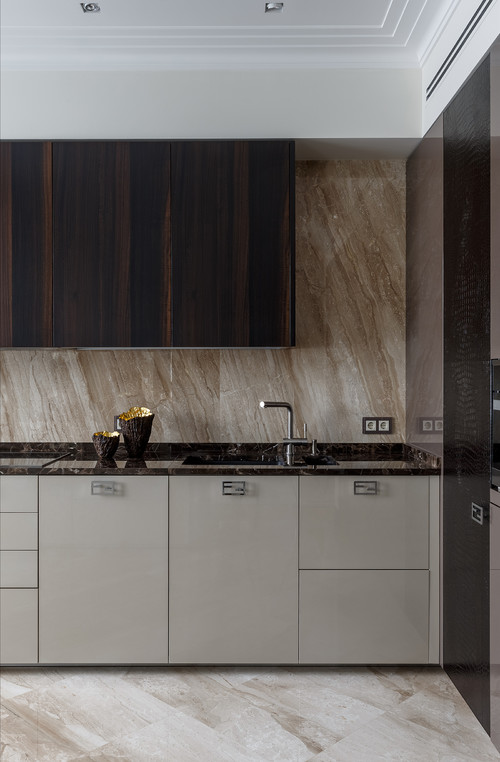 ID# 141830 | Houzz.com – Credit | © AB Architects
---
Contemporary Kitchen with Dark Wood Uppers and Gray Base Cabinets
The perfect harmony between beige and gray is boosted by the gray flat-panel cabinets and dark wood upper cabinets. The brown polished marble countertops match the dark wood upper cabinets and make the slab backsplash design stand out. The gray floor tiles and gray flat-panel base cabinets complement each other enlightening the dark brown hues.
How much is the marble countertop?
When renovating kitchens and bathrooms, marble countertops—often seen as the height of grandeur and elegance—are at the top of the majority of homeowners' wish lists. The price of marble countertops in comparison to those of granite, quartz, quartzite, and other common types of worktops is a significant consideration because, of course, money is always a concern. What is the price per square foot of marble countertops? There isn't just one solution. A marble countertop might cost anything from $40 and $200 per square foot. Installing marble countertops normally costs between $65 and $95 per square foot.
Depending on the background color and veining, prices vary not just from one hue to the next but also within the same color family.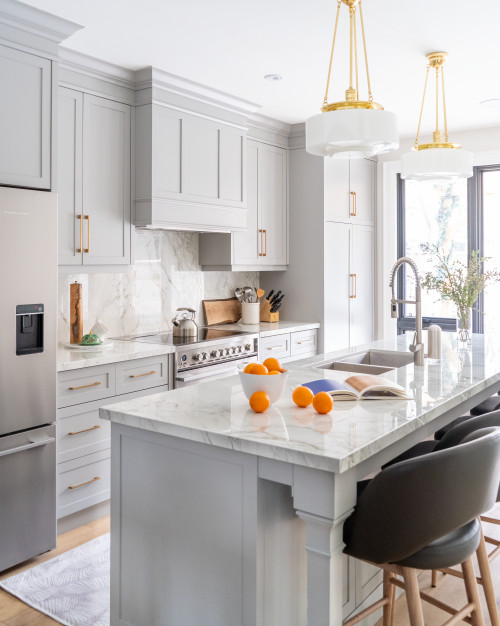 ID# 141831 | Houzz.com – Credit | © Alair Homes Lorne Park
---
Transitional Kitchen with Polished Marble Countertop Ideas with Gray Shaker Cabinets
The gray shaker cabinets and brass hardware provide a perfect elegant appeal to the kitchen. The medium-tone wood textures harmonize with brass hardware and enhance the atmosphere. The polished marble slab backsplash and countertops enrich the kitchen's overall look with an expensive touch.
Honed Marble Countertop Ideas
Contrarily, honed marble is produced by the sanding and grinding process, yielding a flat, smooth slab. Honed marble gives a matte look with a powdered surface rather than a polished appearance. Honed marble countertop ideas provide a classic appearance and won't show scratches or etch as soon. They may be more susceptible to stains, though, as they are more porous than polished options.
A honed finish offers a silky polished appearance. This finish would seem softer than a polished finish since it would have less reflection and sparkle. Honed marble countertop ideas may maintain the precious stone's great elegance and character while fostering a casual, comfortable atmosphere.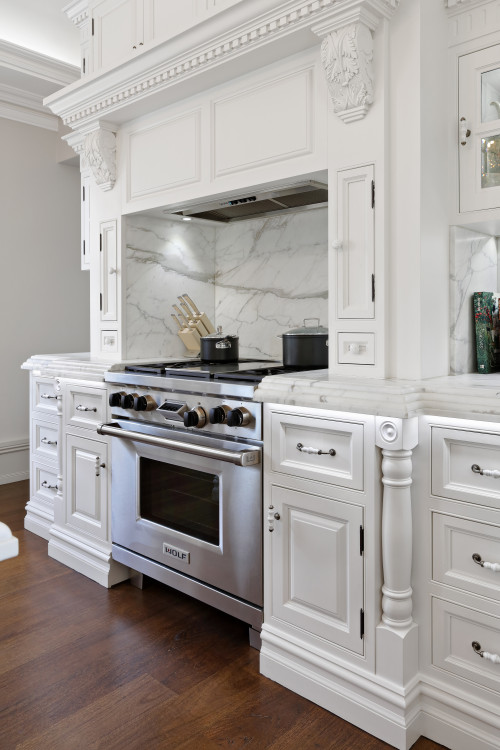 ID# 141832 | Houzz.com – Credit | © Degabriele Kitchens
---
Honed Marble Countertop Ideas with a Slab Backsplash and White Raised-Panel Cabinets
The matte and silky surface of the honed marble countertops provides an elegant appeal with the white raised-panel kitchen cabinets. If you want an old-world or noble look in your kitchens, the structural aspect of the marble may help you to achieve that dream design. The medium-tone wood floors emphasize the white cabinetry design creating a warm atmosphere.
Where to buy marble countertops?
If you have chosen to use a marble countertop in your kitchen design, it is likely that you have already looked up ideas for marble countertops and discovered several online shops while doing so. The first solution is to do an internet search, but marble is a material that you should see in person because viewing it on a screen isn't always beneficial. The eye must be able to see the actual surface, patterns, and color. Therefore, you may look up nearby home renovation shops and make purchases there.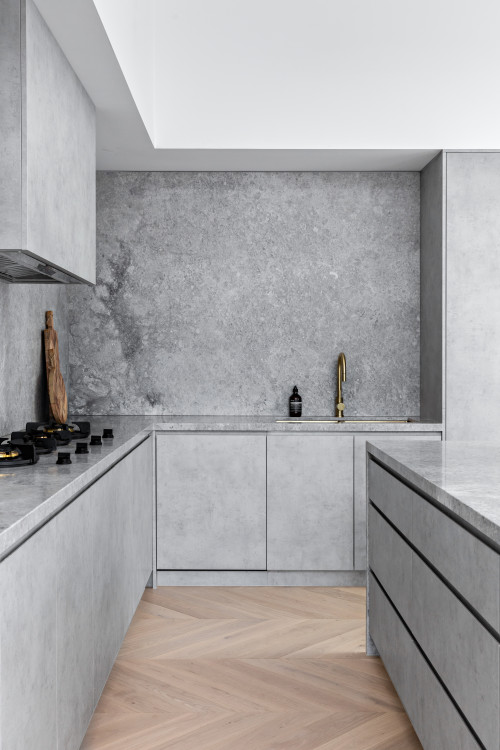 ID# 141833 | Houzz.com – Credit | © Dion Group Projects
---
Contemporary Mediterranean Kitchen with Gray Flat-Panel Cabinets
The gray flat-panel cabinets and the honed gray marble slab backsplash and countertops complement each other creating a flawless look. The seamless design of the backsplash and countertops draws attention with its harmony with gray flat panels. The light wood kitchen floors highlight the gray cabinetry increasing the contemporary design look.
Faux Marble Countertop Ideas
We are confident that you are familiar with marble because it looks to be a material that every homeowner and designer around the globe adores. It's beautiful, but it can be hard to keep up, so you're thinking about alternatives. Faux marble countertop ideas could be a great option for you if you like marble but are on a tight budget.
Faux marble, commonly referred to as cultured marble, is a synthetic material that is created by mixing crushed actual marble with artificial resins, and colors, and finishing it with a clear, protective gel. Cultured marble is not genuine marble, although it does contain actual marble dust. It's imitation marble. You can create real marble looks with different engineered materials, such as quartz or laminate. Ideas for fake marble countertops can exhibit a simple, conventional, or even modest elegance depending on the hue and design.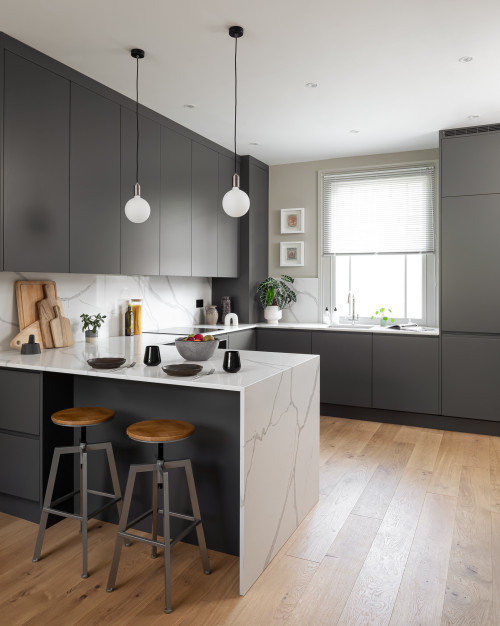 ID# 141834 | Houzz.com – Credit | © John Lewis of Hungerford
---
Contemporary Kitchen Design with Faux Marble Countertop Ideas and Backsplash
The handleless gray flat-panel kitchen cabinets and white faux marble countertops with a backsplash provide a gorgeous contrast with a natural look. Quartz material is one of the faux marble materials you can use in your kitchens to create a marble look. The gray veins of the backsplash and countertops bring an organic flow to the kitchen blending with the gray kitchen cabinets.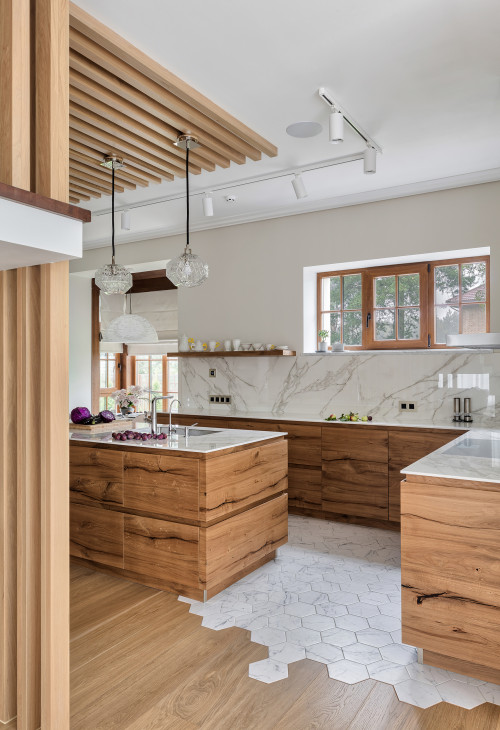 ID# 141835 | Houzz.com – Credit | © goro_da
---
Wood Flat-Panel Kitchen Cabinets with Hexagon Floor Tiles
The marble countertops and slab backsplash design blend with the light wood flat-panel cabinets perfectly. The white hexagon tile kitchen floors provide visual interest making a difference in the kitchen. The faux marble countertops and slab backsplash design enlighten and balance the wooden textures of the kitchen.
What backsplash goes with marble countertops?
Material coordination is essential to developing a coherent kitchen or bathroom design, regardless of whether you're starting from scratch or just updating an existing area. Therefore, selecting the right backsplash for marble worktops is essential.
Bringing your new space together may be difficult when combining your two main surfaces, backsplash tile, and countertops. Getting these two qualities just right might be key to producing a gorgeous designer-style environment!
While combining these components, you can do a variety of things.
-You may use glass tiles or patterned ceramic tiles in your kitchen to create a focal point. Marble worktops go particularly well with glass tiles.
– Marble slab backsplash is ideal if you prefer to create modern appearances. They can also produce a neat, tidy appearance.
– Finally, marble countertops may be used with marble tiles. Marble subway tiles in particular are timeless!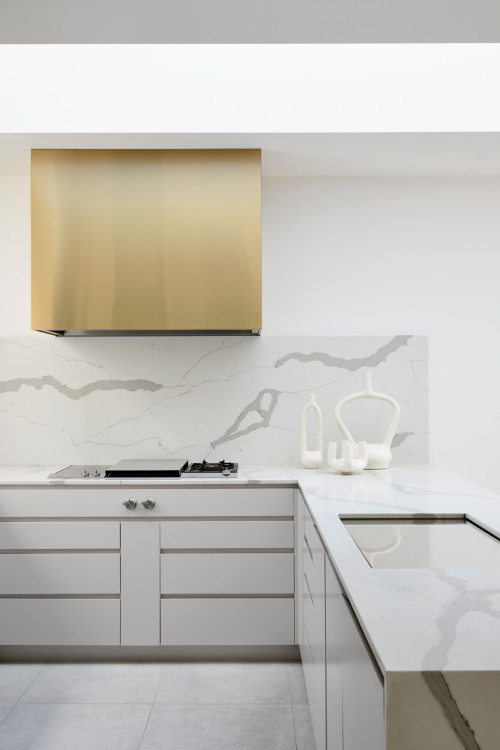 ID# 141836 | Houzz.com – Credit | © WALA
---
White Flat-Panel Kitchen Cabinets with Faux Marble Countertop Ideas and a Slab Backsplash
The white flat-panel cabinetry and the slab marble backsplash and countertops are always perfect for kitchens. If you want a budget-friendly option for marble countertops and backsplashes you can go with faux marble options such as laminate or quartz. These materials mimic the exact look of the marble and its veins.
Backsplash Options for Marble Countertops
If you will use marble material in your kitchens for countertops, you will see a couple of options. For instance, marble or different material tile backsplash designs, or slab backsplash designs. According to your design taste and budget, you may use these options. Thanks to the backsplash industry, there are tons of alternatives for backsplash options for marble countertops.
From glass tiles, and sheets, to faux marble options, with stylish contrasts or blendings, let's check out some of the beautiful backsplash options for marble countertops that we have gathered for you to get inspired by!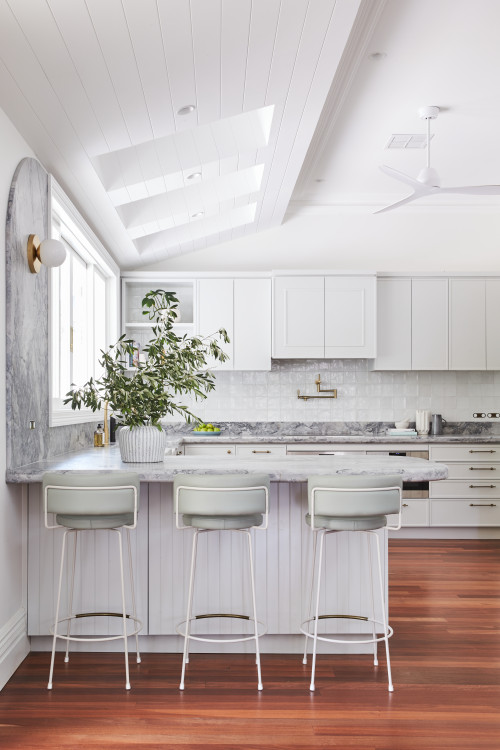 ID# 141837 | Houzz.com – Credit | © Danielle Victoria Design Studio P/L
---
White Shaker Cabinets and White Ceramic Subway Tile Backsplash Alternative for Marble Countertops
This transitional kitchen design is one of a beautiful examples of mixing elegance and classic looks. The marble countertops and white shaker cabinets provide an elegant appeal while the white ceramic subway tile backsplash brings a timeless look. The medium-tone kitchen wood floors highlight the white kitchen cabinetry creating a warm atmosphere.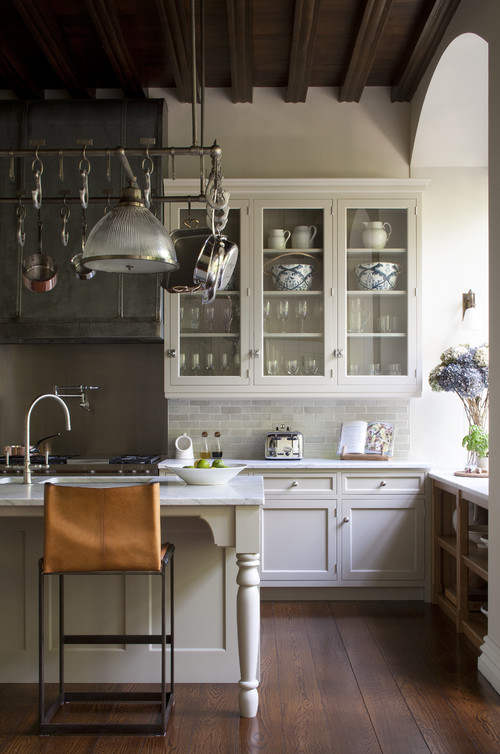 ID# 141838 | Houzz.com – Credit | © Artichoke
---
Traditional Kitchen with White Cabinets and White Tile Backsplash
From the dark wood ceilings to the elegant design of the white cabinets, this kitchen welcomes you to English nobility. The white marble countertops and white marble tile backsplash design complement each other balancing the elegant look of the kitchen with their expensive feel.
How to clean the marble countertop?
Unquestionably, marble is beautiful. Since marble is a natural stone mostly composed of calcium carbonate, it is vulnerable to acidic solutions and cleaners. On a marble surface, even a tiny amount of lemon juice or vinegar might cause blemishes. Clean your marble surfaces using the most straightforward cleaning agent you can find to prevent this. It takes very little soap and water to get the job done. The methods below will demonstrate how to properly clean your marble countertops.
To clean marble countertops you will need :
-Soft sponge          
-Dish soap
-Water
-Clean dish towel
-Spray bottle
Step 1: Apply a few drops of gentle dish soap and a little water with a clean sponge. Scrub the marble counters vigorously until a beautiful lather builds using the sponge's softer side.
Step 2: Wipe the soapy foam off the counters with the sponge after removing the suds from it. To restore the area's glossy sheen after removing the soap from it, rub it dry with a fresh dish towel. If necessary, sand and polish the marble to remove scratches and defects and bring back its original shine.
That's it.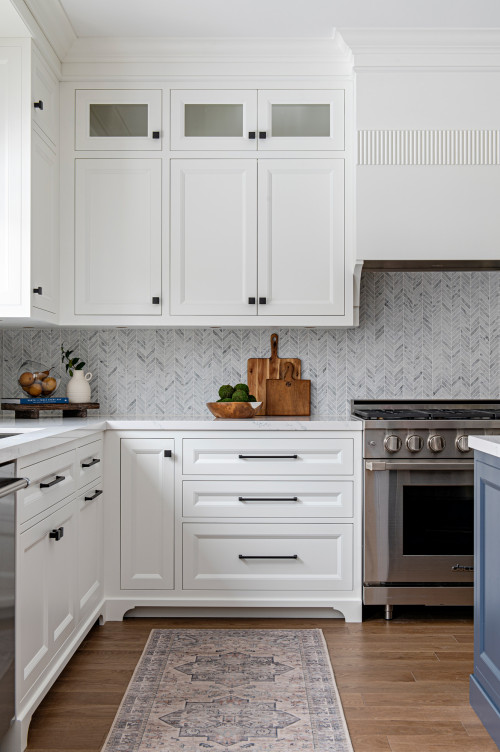 ID# 141839 | Houzz.com – Credit | © Cambro Contracting
---
White Shaker Cabinets and Chevron Tile Backsplash Alternative for Marble Countertops
A classic pairing of black hardware with white cabinetry gives a traditional feel to your kitchen while the white marble countertops and chevron tile backsplash create a stylish and modern ambiance. The captivating pattern of the chevron tiles add an exciting movement to the room, giving it an inviting atmosphere that is sure to make you feel right at home!
How to install marble countertops?
Learn how to install a marble countertop to bring beauty and sophistication to your kitchen. This is a significant undertaking that may be finished on a budget that is not excessive. You may learn how to install a marble countertop from this post.
You will need :
Sledgehammer
Marble countertop
Level
Protective eyewear
Silicone caulk adhesive
Gloves
Measurements are the first step. Carefully
Make careful to take precise measurements of the area. Choose whether you'll be installing a one-piece with a pre-installed sink or installing the sink separately after gathering all of the necessary widths and lengths.
Step 2: Select a Countertop
Visit your neighborhood home improvement store to look for a countertop you like. You may use the Internet to investigate various manufacturers, styles, and variations before making a purchase. You could occasionally get closeout bargains, which will cost you much less money.
Step 3: If necessary Old countertop removal
Carefully remove the old countertop, paying particular attention to the cabinets and sink. Remove the old countertop before installing the new one.
4th Step: Dry Run
Make sure the countertop is snugly above the cabinet shell before placing it. To get the countertop to sit properly, some cutting and sanding may be needed if it is not perfectly square. Using a power sander, remove any superfluous marble.
Install the backsplash in Step 5.
When putting the backsplash, make sure it is tight against the wall. Square it up and make any necessary adjustments before moving on.
In step six, glue
Use a 100% clear silicone caulking adhesive to seal everything together after making sure it all fits snuggly. The best material is clear silicone, which is highly sticky and won't stain any light-colored stone. Avoid using dark adhesives since they will make the marble seem different. Run a moist cloth soaked in alcohol across the whole marble surface before applying the adhesive. Any dust will be removed with this. Be sure to immediately clean off any remaining glue from the marble countertop.
Step 7: Let It Dry
Allow the countertop to dry overnight after reviewing the installation to guarantee a consistent, uniform bond. Consider every viewpoint. Place heavy items on top of the countertop while it cures to help create a strong bond. Use a level to check that the countertop is level front to back and side to side.
Clean your New Countertop in Step 8
Always clean the marble countertop with a soft, damp cloth. Avoid using abrasive cleaning products on your new marble countertop to prevent damage to the surface.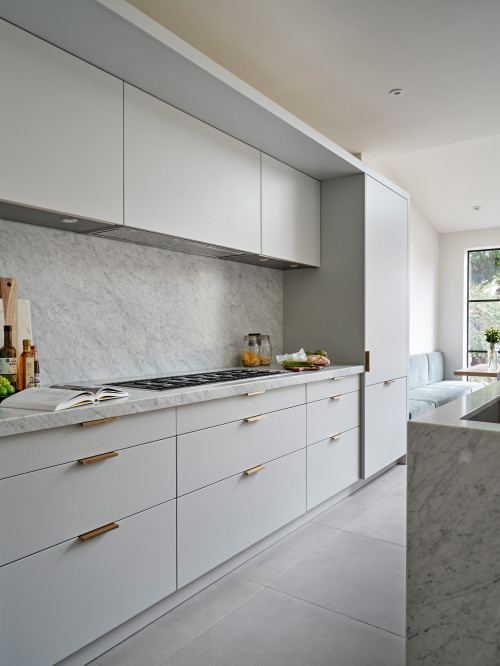 ID# 141840 | Houzz.com – Credit | © Brayer Design
---
Contemporary Kitchen with Light Gray Flat Panels and Brass Hardware
The gray marble slab backsplash and countertops complement the light gray flat-panel kitchen cabinets perfectly. The matching look of the gray materials blends with the brass hardware that creates a luxurious glam.