28+ Heat Resistant Kitchen Backsplash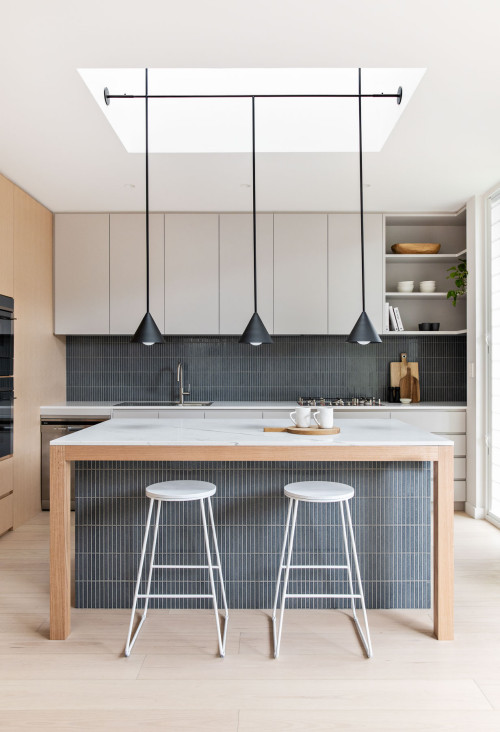 ID# 138907 | Houzz.com – Credit | © Hearth Built Pty Ltd.
---
Blue Kit Kat Tile Backsplash And White Cabinets in Scandinavian Kitchen
From the white slim upper cabinets to the open shelves and full-height timber cabinets, the Scandinavian kitchen accommodates storage spaces of various designs. And its natural color palette is injected with colorful touches introduced by the blue kit kat tiles. Used to clad the kitchen walls and the island front, these tiles create a continuous look, while the minimalist black pendants add dimension overhead. Overall, with loads of natural light thanks to the skylight and wood-and-dark blue color palette, this Scandinavian kitchen bridges natural charm with a sophisticated yet relaxed design.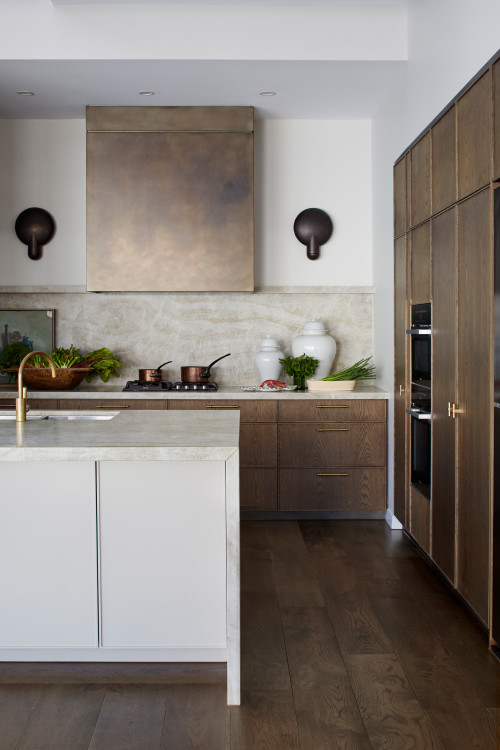 ID# 138915 | Houzz.com – Credit | © Brownlow Interior Design
---
Heat Resistant Kitchen Backsplash with Wooden Cabinets and White Countertops
As long as sealed and maintained regularly, natural stone marble is a reliable heat-resistant material as its counterparts. But the best part is that it not only comes with functional values but also aesthetic ones. Here, blending into its surrounding seamlessly occupied by wood cabinets, the beige marble slab backsplash provides a nice color transition. The creamy undulating forms on the white base make it even softer and well-articulated. Right above, the metal range hood complies with the timber cabinets in shades, offering an intentional aged-aged look. Finally, the golden hardware and plumbing fixtures soften these dark browns and introduce a sense of glow.
Heat Resistant Kitchen Backsplash
When designing a kitchen, one has several considerations and needs to make different decisions. These considerations generally regard color coordination, cabinet form, backsplash type, the layout of the cabinets, and the lighting system. However, beyond all these, safety is the priority for every home, which necessitates a heat resistant kitchen backsplash. Whether you are an avid cook cooking for a large family or just love snacks and informal dinners, you need a heat resistant kitchen backsplash no matter how much you spend your time in the kitchen.
Made of glass, ceramics, porcelain, natural stone, metal, and quartz, heat-resistant kitchen backsplashes come in various forms. Luckily enough, we have so many design opportunities with each one of these tiles. And we don't have to give up on aesthetics just because we are getting a well-functioning, heat-resistant backsplash. Plus, these aforementioned materials are also easiest to clean, which just makes everything much easier for homeowners. Here we have 28 kitchen designs with heat-resistant kitchen backsplashes. All that you need to do is check them out to borrow some inspiration for your renovation projects.
What can I use for the backsplash behind the stove?
For the safety of kitchen users, the backsplash material behind the stove requires a lot more attention and some research regarding the combustibility rate of the materials. And to provide a heat-resistant background, homeowners can choose materials, including ceramics, porcelain, natural stone, glass, concrete, terrazzo, and quartz, and this wide range of material options can be used behind the stove.
As a recently-got-popular material, concrete stands out and is appreciated for its raw and industrial look. Composed of chemically inert and non-combustible materials, including cement (limestone, clay, and gypsum) and aggregate, it provides a highly heat-resistance backdrop. Plus, it has a slow rate of heat transfer, which makes it a fire shield of sorts.
What kind of backsplash is heat resistant?
The heat-resistant backsplashes consist of concrete, ceramics, porcelain tiles, metals, glass, natural stone, and engineered quartz backsplashes. Backsplashes made from any of these materials can be installed behind the stove.
Ceramic and Porcelain Tile Backsplash
Ceramic and porcelain tile backsplashes provide durable, heat-resistant, and easy-to-clean backdrops while coming in various colors, patterns, and size options. These tiles can also mirror marble, wood, brick, and stone patterns. This way, you can get a natural look for your kitchen walls but also don't have to deal with the complicated sealing and cleaning processes (since natural stone materials are all rich in texture and porous).
And to make a differentiation between ceramic and porcelain, porcelain tiles' durability and heat resistance are a bit higher than the ceramics, since they are fired at higher temperatures. Also, while ceramic is made of clay, porcelain tiles consist of additives such as quartz and minerals that make it harder.
What is the most durable backsplash?
Stainless steel, marble, and terrazzo are considered one of the most durable backsplashes. When maintained properly, they can even outlive homes. But stainless steel, also a favorite of chef's kitchens, is additionally a pore-free material that is less demanding in nature. It is also inherently hygienic and offers unparalleled durability.
Glass Kitchen Backsplash
Glass tile backsplashes offer similar benefits to ceramics, providing ease of maintenance, various design opportunities, and heat resistance. But they also have an additional quality in terms of aesthetics. Thanks to their translucent nature, they encourage your kitchen to feel brighter and larger, allowing for a more interactive design. Whether you love seamless or tiled backsplashes, you can achieve both looks with glass backsplashes that bring a modern edge to any kitchen. And if you don't like too-shiny surfaces, their opacity also shows variance. While some feature a more matte finish, some have a crystal-clear translucence that creates a mirror effect.
Are subway tiles heat-resistant?
Known as brick tiles, subway tiles are commonly used to surround fireplaces, range hoods, and stoves. But whether they are heat-resistant or not depends on what the subway tiles are made of. If they come in ceramics, porcelain, metal, glass, and natural stone, they provide heat-resistant backgrounds, which means that they can be installed behind the stove.
How far down does the backsplash go behind the stove?
It is recommended that the backsplash should go 15-18 inches down behind the stove. Additionally, it is important to keep the stover burner at least 8 to 9 inches from the backsplash surface and follow the local fire codes when installing a stove and backsplash.
Natural Stone Kitchen Backsplash
Oozing opulence and bringing an upscale feel, natural stone kitchen backsplashes are as functional as visually stunning. They not only give the kitchen an organic and textured look but also exude elegance, evoking different moods depending on the tile. From marble to granite, soapstone, travertine, onyx, and more, natural stone backsplashes have various colors, patterns, and characteristics. They are durable and hard-wearing as well, but the only problem is that they require special treatment and periodic resealing. But as long as they are cleaned and sealed properly, they are to maintain their best versions and provide heat resistance backdrops.
Can you use glass tile behind a stove?
Non-porous and eco-conscious glass tiles are very heat-resistant, which makes them suitable to be used as a stove backsplash.
Quartz Kitchen Backsplash
Engineered material quartz consists of 90% quartz and 10% resin and pigments. As it is man-made, unlike other natural stones, it features a pore-free structure and therefore, doesn't require sealing. Also, its heat resistance and easy-to-maintain nature make it a popular backsplash option. A quartz backsplash can resist high temperatures but it is important to keep in mind that it is not heatproof. When it is exposed to too hot temperatures in the long term, it might get damaged.
When it comes to its aesthetic features, quartz kitchen backsplashes are available in many different colors and patterns. They even have marble-look versions that mirror marble patterns skillfully, including Statuary Classique, Calacatta Laza, Calacatta Verona, Carrara Morro, etc.
Metal Kitchen Backsplash
Naturally anti-bacterial and heat-resistant, metal kitchen backsplashes come with multiple functional benefits. Though, the subgroups of the metal show variance in their properties, all of them shared a lot in common: heat resistance, ease of maintenance, and pore-free structure. But if you are looking for unparalleled durability, the stainless-steel backsplash is the one you are looking for. For example, copper and brass tend to oxidize over time and grow akin to dark green, which is an unwanted look for some homeowners. To avoid that and preserve their glowing look, they require sealing from time to time. Another disadvantage they bring is that once they are scratched or receive abrasive damage, these scratches can leave irreparable marks which can't be fixed by sanding.
Additionally, be careful with faux metal (thermoplastic) versions since they are not suitable near a source of heat that exceeds 140 °F. They are just made of plastic, which makes them prone to bend, warp, and get damaged much more easily. Thus, they are not eligible to be used behind the stove.
How do you protect a wall behind a stove?
First, you can use backsplashes made of heat-resistant materials. But if you want to go with a less heat-resistant material such as wood or hard-to-maintain and clean backsplashes such as brick and rock, the solution is easy. You can add a layer of transparent glass sheet or any panel made of acrylic. This way your walls gain an extra layer of protection which will make them easier to clean and more heat resistant.