21+ Stainless Steel Backsplash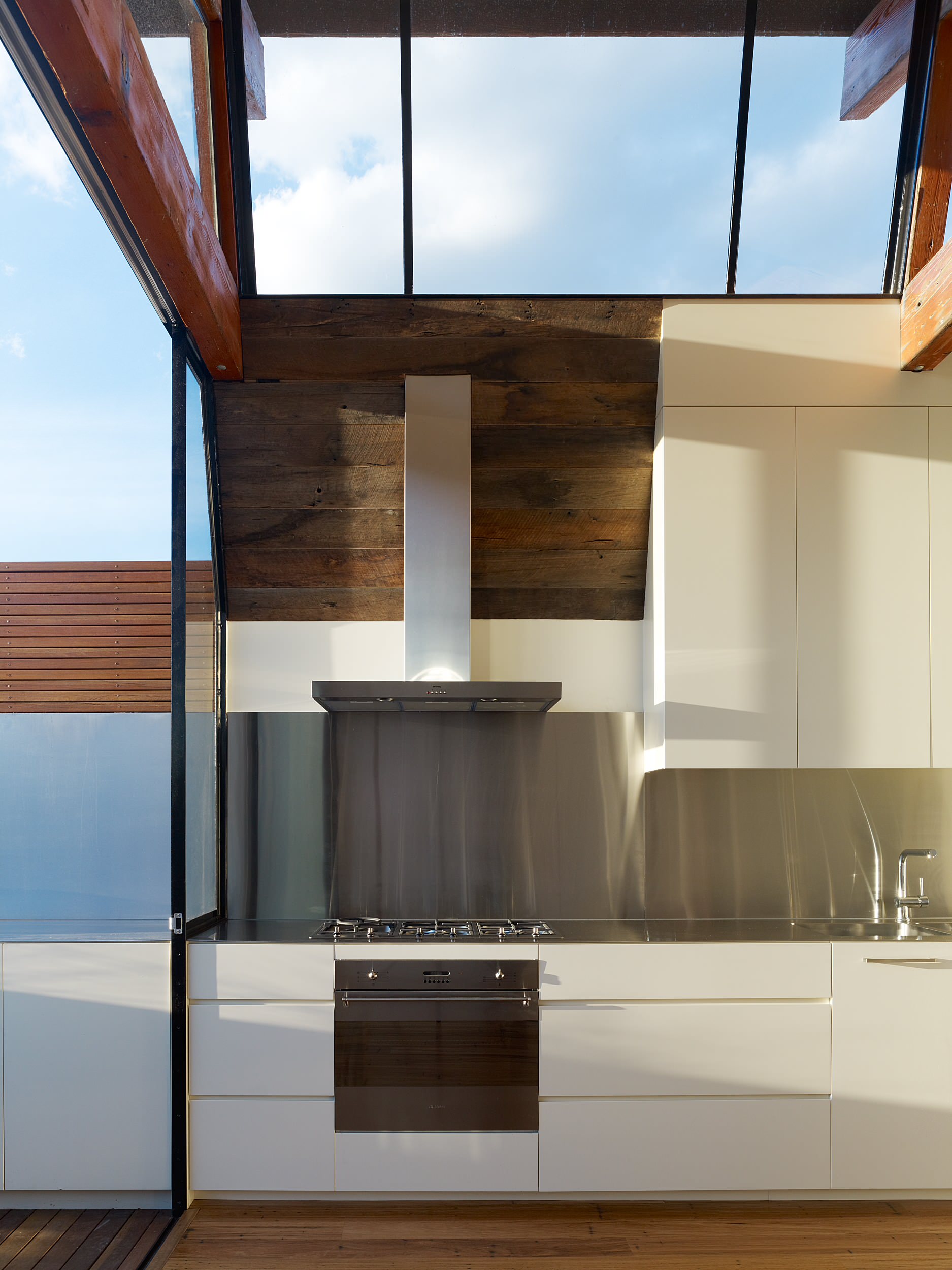 ID# 171801 | Houzz.com – Credit | © K+ARchitects
---
Industrial Kitchen with Stainless Steel Backsplash and Countertops
The shining stainless steel backsplash sheet becomes the visual focal point, balanced with white cabinets and wood accents. The stainless steel oven and hood complement the backsplash, while the wood panels above the hood add full contrast introducing a rather organic element with a different texture. Likewise, the stainless steel countertops of the perimeter cabinets achieve a seamless look with the backsplash. Lastly, to bring warming shades, the floors are finished with wood that softens the steel's industrial vibes.
ID# 171818 | Houzz.com – Credit | © O.NIX Kitchens & Living
---
Modern Kitchen with Stainless Steel Backsplash and Oversized Range Hood
One of the finest ways to accent the backsplash is by using the color orange, which works well with the metal sheet backsplash. The cabinets flawlessly mirror the modern lines since their color scheme matches that of the backsplash. The orange cabinet accents offer a pop of brightness to the gray cabinetry. In the kitchen, where the warmth is centered with the wooden detailing table, cooking becomes more joyful. Modern kitchens are using metal sheet backsplashes more and more because of how simple they are to clean. It provides a purpose beyond the kitchen visuality, which is more fascinating and provides the user with a response thanks to the reflection games accomplished with metal surfaces.
Stainless Steel Backsplash
While metal backsplashes preserve their popularity, a stainless steel backsplash belonging to this category stands out as a favorable backsplash for kitchens for its strong and modern appeal. A stainless steel backsplash comes in various textures and patterns, giving homeowners and designers multiple options to work with. Ranging from deliberately tin surfaces to mosaics, diamond patterns, harlequin patterns, and ridge surfaces, stainless steel backsplashes enrich the overall look of the design. They are impactful and immersive, becoming visual focal points of the design effortlessly thanks to their luminous surfaces. While reflecting light, they also add depth to the kitchen.
Cool & Characteristic Appeal of Stainless Steel
Stainless steel backsplashes are heavily employed in professional kitchens or chef kitchens, luxury hotels, and commercial spaces. Yet, they can also be used in residential settings to give a shiny character to kitchens. Whether it is a hemmed edge sheet metal or a shiny tile, stainless steel will be a perfect backsplash for your kitchen! If you are curious about how they look in kitchens, this blog will introduce you to multiple design projects with a stainless steel backsplash. If you are ready, just scroll down to discover some fancy stainless steel backsplash ideas.
What is the best way to clean stainless steel backsplash?
While cleaning a stainless steel backsplash, dish detergents are especially helpful to get rid of grease. You can wet a soft sponge or soft cloth with warm soapy water to rub the grease away with circular motions. The texture of the sponge is important. To avoid any possible scratches, don't use an abrasive sponge. After you are finished cleaning, dry the backsplash with a soft towel so the water won't leave any marks on the surface. If the stain is resistant and stubborn, you can use vinegar, chlorine, or table salt, but just don't let it stay on the surface too long. Long-term exposure to strong cleaners as such can cause damage to the steel.
Stainless Steel Backsplash Tiles
In addition to the backsplash panels and sheet versions, stainless steel backsplashes also come in a tile version. These tile forms vary significantly, featuring diamond, basketweave, square, mosaic, subway and ridge patterns reminiscent of rock backsplashes, and harlequin patterns used to crown the cooking zone. Additionally, a stainless steel backsplash can also be inserted as thin layers between subway tiles or any tile just for a sense of shine and integral charm!
How to install stainless steel backsplash?
Before installing the backsplash, make sure that the application area is clean, flat, and dry. Also, remove the electric layouts and repair any dents if there are any. You can sand the wall to get rid of any bumps or ridges so that the backsplash will stick better. Lastly, don't forget to wipe the wall to get rid of the dust.
If you are installing a sheet, installing it will be much easier. You can just lay the sheet on a flat surface, and apply the adhesive to the back of the material. Ensure to spread the adhesive evenly on the sheet. You can use a putty knife for it. Then gently install the stainless steel shit to the wall while you get the support from the countertop. Once in place apply some pressure against the wall.
Stainless steel backsplashes are delivered with a protective PVC film to prevent any scratches that may occur during transportation. These films should be removed after the installation to make sure that it doesn't get scratched or damaged during the application process. While pulling the film, you should pull it parallel with the backsplash, not at a right angle. If your backsplash has hemmed edges, then first, peel their protective films. And you can peel the film off the main corpse after the installation.
Stainless Steel Backsplash Sheet
Much more affordable than the tile options, stainless steel sheets create a seamless design with sleek and clean lines, featuring cutting-edge vibes. They look professional and modern, easily teaming up with other appliances. To complement a stainless steel sheet backsplash, matte lacquer cabinetry in neutral tones can be safely used. For rustic and warming shades and textures, brushed nickel finish, brass, and copper-finish hardware can be included to add dimension to the cabinets!
What is the best adhesive for stainless steel backsplash?
Silicone, mounting tape, construction adhesive, and contact cement are some of the adhesives that are commonly used to install stainless steel backsplashes. What is as important as the material itself is how you spread the adhesive. First, you can use a caulk gun to apply the adhesive, and then, to spread the glue evenly, you can use a putty knife. After applying the adhesive, press the sheet to the wall. Then use a soft cloth and move it as if you are wiping the sheet while gently applying pressure. It will help you to get rid of the air bubbles so that the glue will maintain its full contact with the wall surface.
Stainless Steel Backsplash Panel
Stainless steel backsplashes come also as panels offering a minimalist look, which fits the contemporary and modern design kitchens at best. To achieve full impact, you can choose the same material for the countertops. In some contemporary kitchens, the stainless steel countertops of the waterfall island achieve harmonious integrity. To complement the overall scheme, matte finish black fixtures are more favorable in modern designs. However, in a transitional kitchen that loves enmeshing the old with the new, glass pendants or chrome-finish fixtures complement the stainless steel backsplashes.
How to cut stainless steel backsplash?
Consisting of iron and carbon along with other additives to make it less prone to rusting and corrosion, the stainless steel backsplash is famous for its strength and durability. Needless to say, it would require a lot of effort and be challenging to cut it. However, some methods will make this cutting process much easier.
Let's first start with the list of the supplies you need while cutting a steel backsplash. The list includes a tape measure, a marker, tin snips, power sheers, an angle grinder (to cut thicker pieces of stainless steel sheet), and a circular saw. Also, your safety is much more important, so, don't forget to keep a face shield goggles, and gloves with you.
Before cutting it, the most important part is to have a free and flat working surface so that you can work with no restrictions. If you work outdoors, it will be much better. Before cutting the backsplash, first, make sure that your measurements are right and mark the spot where you want to cut it.
Thickness of the Stainless Steel is Important
Depending on the thickness of the steel, you can use power sheers, an angle grinder, and tin snips. For example, if you are cutting a steel sheet, you can use a pair of tin snips. Using a tin snip is like using a scissor, just cut through the material. If you want something stronger and if you have thicker material, then you can benefit from a power shear and a circular saw. While using these two, don't forget to wear eye goggles or a face shield. Your clothes are also important; wear long-sleeve shirts, long pants, and industry boots.
However, these tools cause hard edges which need to be manicured after you are done cutting. To do so, a metal tile will help you with smoothening the edges and giving the steel a fine finish.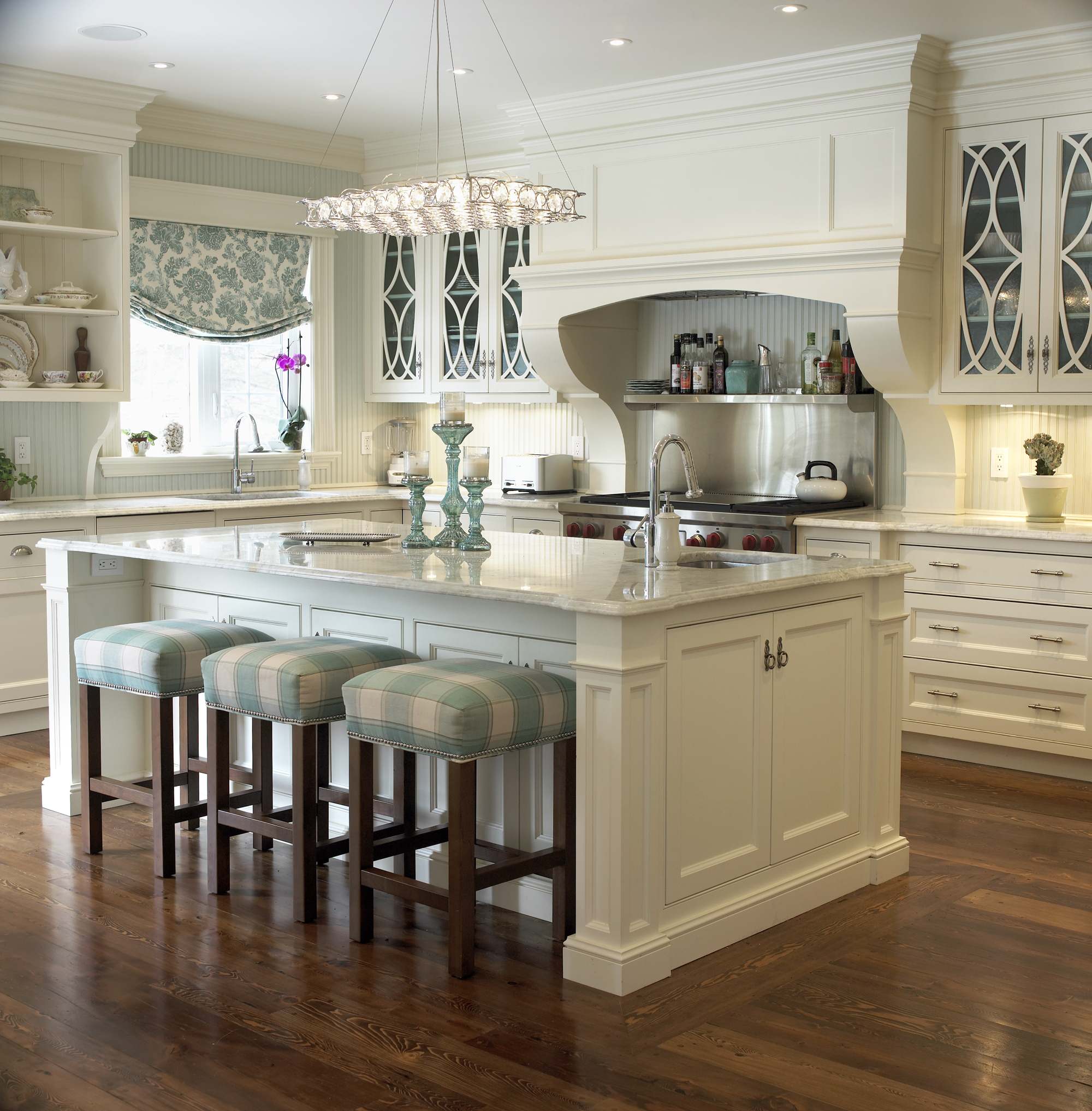 ID# 171813 | Houzz.com – Credit | © Cheryl Scrymgeour Designs
---
Traditional Kitchen with Off-white Cabinets and Chrome Hardware
The off-white cabinets provide an elegant foundation while the shiplap backsplash adds a nice textural look to the cabinetry. The stainless steel backsplash panel behind the stove creates a visually appealing focal point and also provides a durable wall surface for the cooking zone! The white marble countertops perfectly complete the sophisticated design. For the rest, the glass-fronted upper cabinets, crystal chandelier and counter stools make a cohesive final touch that enhances the overall look.
Stainless Steel Stove Backsplash
For those who find stainless steel backsplash a bit too shiny and too professional, using it only as a stove backsplash to mark a cooking zone is recommendable. It can be balanced with honed and tumbled finish tiles. The white subway tile backsplashes commonly accompany the stainless steel stove backsplashes, which creates a sense of diversity and extra interest in the kitchen.
ID# 171814 | Houzz.com – Credit | © Into interior design
---
White Contemporary Kitchen with Green Wall Paint
The choice of a metal sheet backsplash behind the stove increases both the aesthetics and practicality of the cooking space. The metal sheet backsplash shows out like a shining diamond against the background of vivid green walls, white cabinets, and cozy wooden elements!
How thick should a stainless steel backsplash be?
The thickness of a stainless steel backsplash varies, ranging from 125" (1/8") thick to 0.030" (1/32"), or 20 or 22 gauge for DIY lovers. The gauge numbers have an explanation as in the following: light Duty (24 gauge), Medium Duty (22 gauge), and Heavy Duty (20 gauge). Needless to say, the thicker the material is, the more expensive it gets.
As for the finishes, #8 features a mirror finish, while #4 refers to a brushed, or satin finish, the latter of which is better at hiding fingerprints. The former one is more interactive with the environment, bringing a mirror effect. #3 polished finish harmonizes easily with most of the hoods, stoves, and ranges.
ID# 171815 | Houzz.com – Credit
---
White Kitchen Cabinetry with Stainless Steel Backsplash Behind the Stove
The stainless steel backsplash in this kitchen acts as a focal point and offers a tinge of elegance and modernism in contrast to the natural wood textures! The stainless steel range hood and gray worktops give the backsplash sheet a continuous appearance while the white cabinets and island give the room a light and airy feel.
ID# 171816 | Houzz.com – Credit | © Ronan Cooreman Architecte d'intérieur
---
Black Kitchen Cabinets with Stainless Steel Backsplash and Wood Floating Shelves
This contrasted color combination creates a modern appearance with a touch of industrial flair! The white upper cabinets with black flat-front cabinets work well together and the backsplash from the stainless-steel stove gives the walls a solid appearance. The skylight makes sure that the kitchen is well-lit while the floating shelves, accessories and lighting fixtures with a natural design all add flair. The black and white floor tiles add another layer of texture to the space to enhance the overall look!
Design tip: If your backsplash is made of steel, you can keep your range hood open to maintain the clutter-free look because the two materials blend together without being overly obvious!
Brushed Stainless Steel Backsplash
If you don't like super-shiny or polished surfaces, you can go with brushed stainless steel backsplashes that easily blend with darker tones! Brushed steel features a directional grain which is customizable, allowing homeowners to choose and specify if they want the grain to run in a specific direction.
ID# 171817 | Houzz.com – Credit | © Make My House Home
---
Gray and White Kitchen with Dining Table and Black Chairs
Featuring a gray and white color palette, this l-shape contemporary kitchen offers a stylish design tinged with sleek lines. To start with, the white flat-panel cabinets provide a perfect frame for the stainless steel backsplash to fit in. The seamless surface of the backsplash blends perfectly with the stainless steel appliances that continue with white countertops. In the center of the kitchen sits a circular dining table with black chairs that bring a striking contrast.
Can you use stainless steel as a backsplash?
Yes, of course. Stainless steel backsplashes are popular for their sleek finishes, natural luminous surfaces, and a professional look reminiscent of chefs' kitchens. As such, it is a luxury material as well applicable to both residential and commercial areas. As they come in various versions such as sheet and tile versions just like other materials, they also provide options for design flexibility. You can also mix them with other materials such as glass and stone. Their hammered, quilted, and ribbed versions extend the finishing and textured options.
Experiment with stainless steel
In some designs, the kitchens also have two backsplashes. For example, stainless steel is used only to coat the cooking zone to create diversity within the space, while the second one could be anything ranging from subway tiles to hexagons. If you wish to create an industrial flair, stainless steel gives what you are looking for. Plus they can easily team up with other stainless steel appliances, including the refrigerator, oven, stove, and hood, which will help you retain consistency.
In aesthetic terms, their capacity to reflect light creates a cinematic effect, beautifying kitchen walls and adding movement to the space. Ranging from mosaics to subway and other intriguing tile shapes, you can shape the steel into various forms that look modern and updated. While choosing the pattern, you can make your kitchen look masculine, vintage, industrial, and even Mediterranean. To stock your oils and spices, you can apply stainless steel floating shelves that will allow easy access to the most used items in the kitchen.
Functional Benefits of the Stainless Steel
Among other advantages of using stainless steel as a backsplash, we can count its ease of maintenance. First of all, steel is easy to clean and almost a stain-free material, especially the sheet versions that offer a seamless look for your background. Also, having no pores makes it hygienic, and it lacks the space or gaps to harbor bacteria. Secondly, they are not demanding; unlike, brass, copper, and zinc, steel doesn't require any polishing, preserving its natural shine thanks to the additives composing them. Thirdly, they are heavy-duty materials and highly durable, therefore, you can consider them a one-time investment.
Are stainless steel backsplashes expensive?
Stainless steel backsplashes are relatively expensive when compared to other backsplash material. But their prices also show variances between different styles of steel. For example, the stainless steel backsplash sheets are less expensive, costing at least $20 per square foot. And of course, making the necessary adjustments for electric cutouts and mounting on a substrate backing will raise the price significantly.
When it comes to the tiles, they cost much more than the sheets as they have much more details. Depending on the size formats of the tiles, stainless steel tile prices range from 40 to 200 dollars per square foot.
If it is too much for you, metal laminates are an affordable substitute for the stainless steel backsplash. In the market, numerous finishes and textures are also available. Laminates mimicking the stainless steel backsplash cost 15-20 dollars per square foot.
ID# 171819 | Houzz.com – Credit | © Nexus Designs
---
Red Kitchen Cabinets with White Quartz Countertops and Metal Sheet Backsplash
Embraced by a cheery and magnificent ambiance, the kitchen stands out with its red cabinetry and brushed metal backsplash! The white worktops and red cabinets offer a pleasant and fashionable contrast in the kitchen design which is crowned by the brushed metal sheet backsplash they chose to employ. With the parquet flooring and ceiling-mounted pendant lights, this design seems more opulent and offers the user spacious storage places in addition to a pleasant and distinctive aesthetic.
Glass and Stainless Steel Tile
Thanks to its versatility, stainless steel gives you the flexibility to toy and experiment with it as it can be mixed with various materials and glass is one of the most popular of them. And the resulting themes are without a doubt interesting and worthy of consideration to apply to your wall!
ID# 171820 | Houzz.com – Credit |© Антон Петров | ANTON PETROV Unique Home
---
Dramatic Kitchen Design with Dark Color Scheme and Gold Accents
Anchored by textured gray cabinets, this contemporary kitchen offers a dramatic atmosphere. For the background, the backsplash consists of two materials, namely glass, and stainless steel, communicating a sense of luxury that dominates the space visually. The gray cabinets create a cohesive look with the backsplash tiles while the gold range hood enhances the luxurious sense. Contrasting in finish, the lacquer black upper cabinets increase the visual interest. At the heart of the kitchen, the island mirrors the base cabinetry while the granite extension of the island provides a dining area with gray velvet chairs.
What is a hem for a stainless steel backsplash?
After cutting the steel, you get rough edges on the sides, which might even cut your hand if you don't act carefully. So, the edges go through another process to get rid of those rough edges. And hem refers to the metal folded upon itself to double its thickness, thus providing rigidity. Hemmed edges are a great way to finish the stainless backsplash, which can be specified lengthwise, widthwise, and both. It is also recommended that if you don't have exposed edges, then you don't need hemmed edges.
ID# 171821 | Houzz.com – Credit | © TB.Design
---
Stainless Steel Backsplash with Glass Accents
A beautiful aesthetic result is produced by combining the flat-panel cabinets in sleek black with warm wood tones and soft grays. The glass and metallic embellishments on the gray kitchen backsplash provide a bit of glitz while also creating a feeling of movement thanks to its complex pattern. The tiny, shimmering bits catch the light brilliantly and give the room a soft glitter. White countertops serve as a unifying component that smooths the transition between the assertiveness of the black cabinets and the movement of the backsplash.