39+ Metal Kitchen Cabinets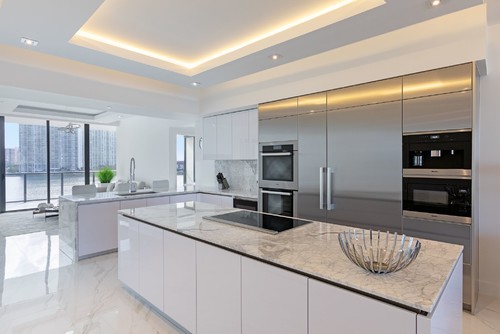 ID# 104833 | Houzz.com – Credit | © Azienda Interiors
---
Stainless steel cabinets with marble countertop and floor
The harmony of marble and metal comes from the harmony of their colors and brightness. Stainless-steel cabinets and marble countertop used in this kitchen are examples of this. The pattern of the countertop and the gray of the metal materials are matched and look great. White cabinets have created a delicate design with marble. Marble floor provides integrity with all materials and brings a bright atmosphere to the kitchen.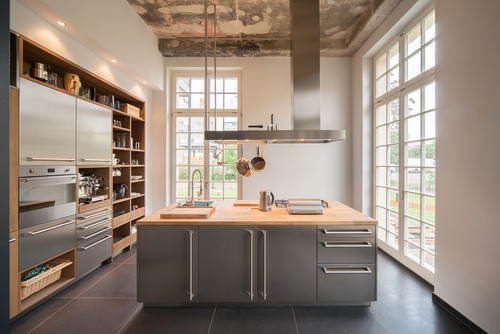 ID# 104801 | Houzz.com – Credit | © Eilmann Architekt
---
Industrial Kitchen With Metal Cabinets and Wood Countertop
Everything is very eye-catching in this metal kitchen! Open cabinets and stainless-steel cabinets are used in this large kitchen. The wood detail we saw in the cabinets continued as countertop and provided a great integrity in the kitchen. With the dark floor and the windows that receive natural light, it has gained a wider and more spacious appearance and has been a stylish kitchen design in general.
Modern, simple and attractive metal kitchen cabinets
Create wonderful kitchens with metal kitchen cabinets with many styles such as minimalist, modern or industrial. Metal cabinets that you can design with many types and materials will give you freedom with their simplicity and will bring elegance to your kitchens with a simple touch. Check out the many examples we've reviewed and decide what style you want.
Reach elegance with simple cabinets
Metal cabinets are not just about industrial style. You can adapt many metal options to your style. You can easily reach the kitchen style you want to achieve with different types of materials such as wood and glass.
Since metal cabinets can adapt to many materials with their simplicity, you can easily use materials that you combine with metal. You can decide on the material you want by examining the options.