10+ Kitchen Backsplash for Metal Cabinets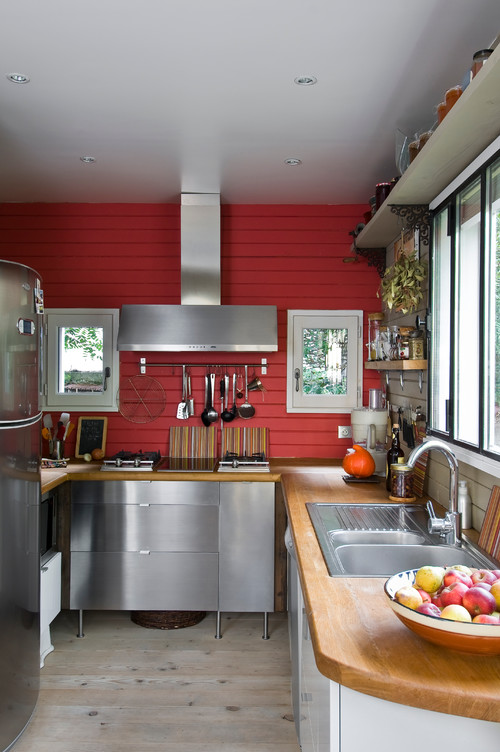 ID# 145802 | Houzz.com – Credit | © Julien CLAPOT
---
The Boldness of A Red Kitchen Backsplash in A U-Shaped Kitchen
The focal point of this U-shaped kitchen is the stunning metal cabinets with a red kitchen backsplash. Red gives warmth to the space and increases the shine of the metal cabinets. Using wood countertops makes the space cozy and chic. The absence of the upper kitchen cabinets makes the space look bigger and provides a fresh and open kitchen atmosphere.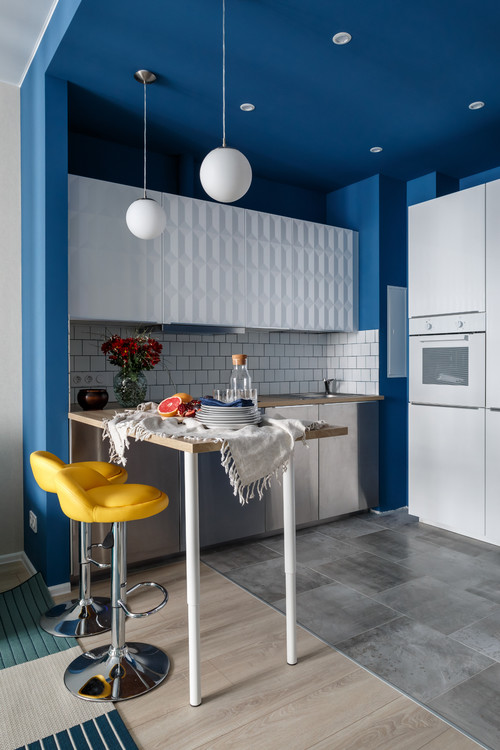 ID# 145807 | Houzz.com – Credit | © UD BÀSE
---
Stunning Metal and White Kitchen Cabinets With White Ceramic Subway Tile Backsplash In A Fresh Kitchen
Combining metal cabinets and white cabinets is a genius idea to create a unique kitchen look. The metal and white cabinets make the space look bigger and fresh whereas the ceramic subway tile backsplash adds depth and movement to the cooking space. The blue walls bring peace and calmness to the environment. The breakfast bar makes the space sociable and functional. Also, the gray stone tile floors highlight the metal cabinets nicely.
Kitchen Backsplash for Metal Cabinets
Nowadays, metal kitchen cabinets are becoming trendy. For residential, industrial, and commercial kitchens as well as for those who want to replicate similar designs, metal kitchen cabinets are a terrific option. It is a classy and sturdy alternative that is sure to attract your visitors' attention. Convenience is the primary selling point of metal kitchen cabinets. You won't have to worry about spills ruining other types of cabinets, and cleaning won't seem like such a chore. These qualities make them the ideal option for residential, industrial, or commercial applications, though they are not only applicable in these settings. Also, they are strong, simple to handle, and simple to install. When it comes to completing these cabinets, it is crucial to find the right kitchen backsplash for metal cabinets to pop up the elegance of metal.
Finding the ideal kitchen backsplash for metal cabinets is a challenge for many homeowners. Contrary to popular assumption, metal cabinets are practical and simple to use. It is simple to design with different kitchen backsplashes in a variety of hues and designs. You can pair your fabulous metal cabinets with ceramic, metal, marble, wood, and glass tile kitchen backsplash types. To highlight the attractiveness of metal cabinets, it is important to keep in mind that kitchen backsplashes should have simple designs.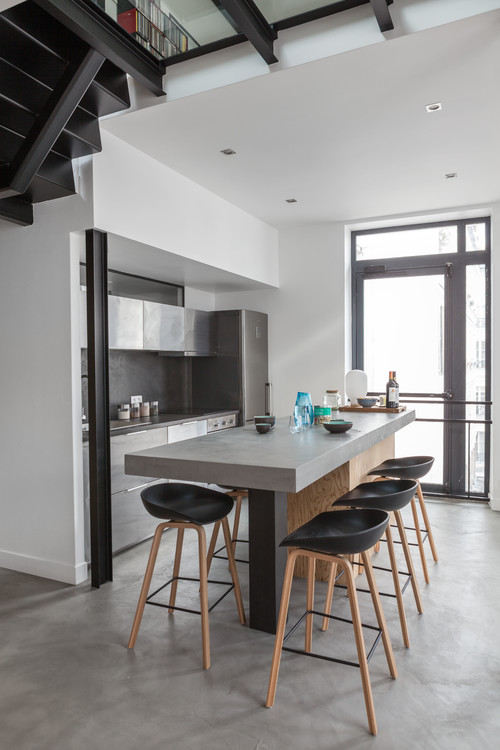 ID# 145801 | Houzz.com – Credit | © FELIX MILLORY ARCHITECTURE
---
Black Ceramic Kitchen Backsplash for Metal Cabinets in A Single-Wall Kitchen
This contemporary kitchen looks fresh and bright with its shiny metal kitchen cabinets. The black ceramic kitchen backsplash helps to draw attention to the beauty of the metal cabinets. Black granite countertops match perfectly the backsplash. The light wood kitchen island with gray granite countertop provides a dining area to the cooking space and adds warmth to the environment. Also the large kitchen windows increase the shine of the metal cabinets.
Kitchen Backsplash Material Options for Metal Cabinets
In addition to being essential for safeguarding the wall between the countertop and wall cabinets, a kitchen backsplash significantly enhances the kitchen's decor. Natural stone, porcelain or ceramic, metal, and glass are the four basic categories that can be used to categorize the materials used for kitchen backsplashes. In this case, the most suitable and popular kitchen backsplash material options for metal cabinets are metal, ceramic, and marble kitchen backsplash types.
These backsplashes will help you to draw attention to the beauty of the metal kitchen cabinets. Choose one of these backsplash styles according to your metal cabinets' style and the kitchen's layout.
Metal Kitchen Backsplash for Metal Cabinets
A metal kitchen backsplash is an excellent option for metal cabinets if you want a strong appearance. The gloss of metal has a richness to it that readily gives the kitchen a high-end appearance. You might think about matching it with exclusively stainless-steel appliances. A metal backsplash is valued for the modern appearance it gives your kitchen. Also, it is sterile because non-porous bacteria cannot dwell there or reproduce there. In addition, a metal backsplash may endure for years if you keep up with basic care because it is a material that is incredibly resilient and won't fade.
A metal backsplash for metal cabinets can be fitted practically any place because it is a flexible material. It has an easy-to-clean surface, can withstand heat, making it ideal for use behind a stove, and will never oxidize, unlike copper, zinc, or brass. Additionally, It is a reflecting surface that can give the impression that your kitchen is bigger. Because of this, a metal backsplash may give your kitchen, no matter how small, the appearance and impression of the greater room.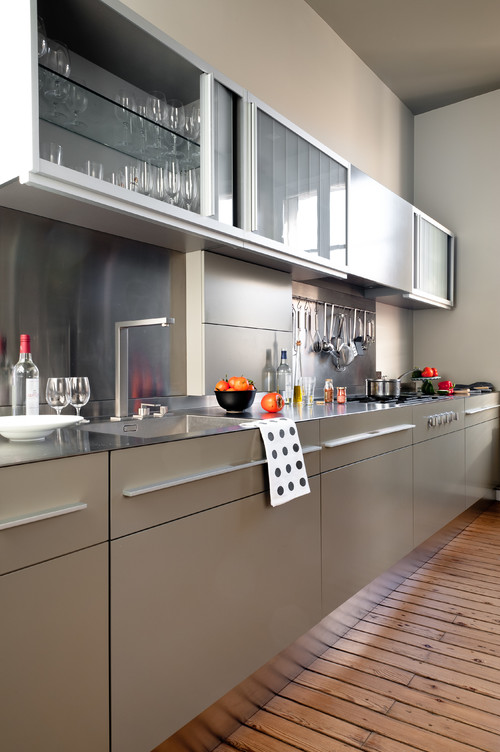 ID# 145803 | Houzz.com – Credit | © Daphné Serrado Architecte d'intérieur
---
The Industrial Effect of Metal Backsplash for Metal Cabinets and Beige Flat-Panel Cabinets In A Contemporary Kitchen
Choosing a metal backsplash for metal cabinets and beige flat-panel cabinets makes this kitchen unique and stylish. The metal and beige flat-panel kitchen cabinets have such a vibrant look together. The metal backsplash and metal countertops add shine to the cooking space charismatically. The neutral-toned kitchen walls create a cozy kitchen atmosphere and increase the natural light in the cooking space. The medium hardwood flooring makes the kitchen warm. Also, using a shelf instead of a kitchen island not only provides a dining space but also does not narrow the cooking space.
Are metal kitchen cabinets good?
Unlike wood, metal, or stainless steel, is incredibly resilient and will never bend, split, or develop mold or mildew. Although they may compliment just about any kitchen, metal kitchen cabinet designs are most frequently used in spaces with a more contemporary aesthetic.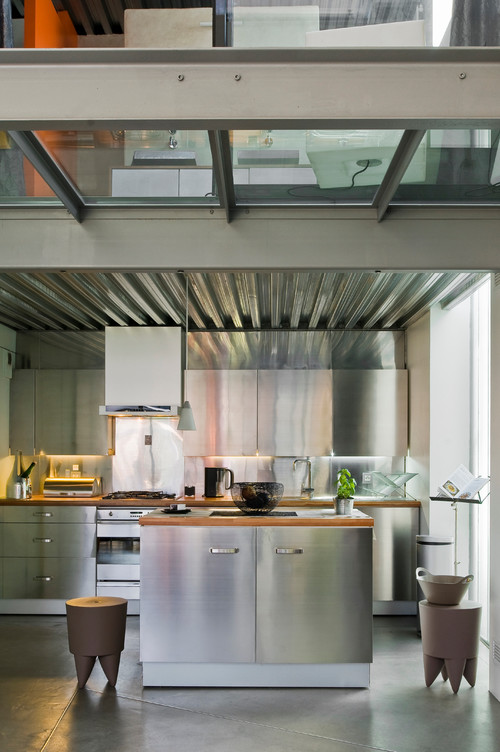 ID# 145804 | Houzz.com – Credit | © Julien CLAPOT
---
A Stunning and Shiny Metal Kitchen Cabinets with Metal Backsplash in An Open-Plan Galley Kitchen
This open-plan galley kitchen shines like a diamond with its metal kitchen cabinets with a metal backsplash. The wood countertops add coziness and warmth to the space. Also, the wood softens the metallic effect in the kitchen. Thus, the space looks like a part of the home. The lights under the upper cabinets increase the light in the room. Also, the gray stone flooring completes the industrial kitchen style.
Are metal cabinets more expensive than wood?
The short answer is yes. Usually metal cabinets are more expensive than wood variants. The average cost of $100-$900 per metal cabinet. According to the type and material, this price can go up much more higher!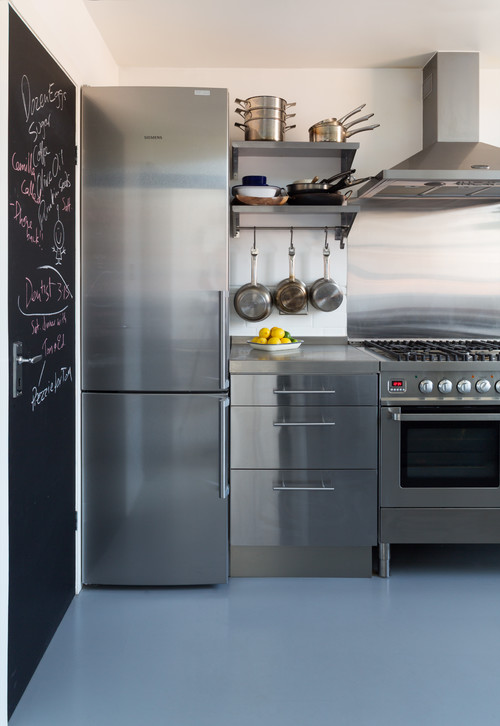 ID# 145805 | Houzz.com – Credit | © Element Studios
---
A U-Shaped Scandavinian Kitchen with A Glamour Metal Backsplash for Metal Cabinets
This U-shaped Scandinavian kitchen with metal cabinets with metal backsplash looks like a high-class restaurant kitchen. Everything in the cooking space is polished. The absence of upper cabinets opens the space and gives light. The orange kitchen utensils add color and also soften the metallic look. The white walls enlighten the space very well. Also, adding a white subway tile backsplash includes movement to the cooking area.
Will metal cabinets rust?
Keeping metal cabinets in a relatively humid atmosphere might cause them to get discolored, scraped, abraded, or rusted. Due to these circumstances, the majority of the cabinet paint may still be in fine condition except for a few minor touch-ups needed.
Yet, we have a solution. Salt and lemon juice can be used to gently remove the rust. Remove the cabinet door from the cabinet if rust is on it to make this option simpler. On top of the salt, sprinkle some freshly squeezed lemon juice on the rust. After letting the mixture sit for a few hours, scrape it to remove the last of the juice and salt.
How much do metal kitchen cabinets cost?
You should budget between $100 to $900 per cabinet for stock alternatives because metal kitchen cabinets are typically more expensive than their wood counterparts. Depending on the order, the price for each custom cabinet can reach $1,000 if you wish to have one made. This excludes installation fees, which change from business to business.
Hiring a handyman is a common solution to decrease those costs, but you should be aware that if the handyman installs them improperly, you could wind up increasing them. Asking your metal cabinet manufacturer about pricing specific to your scenario is the best course of action.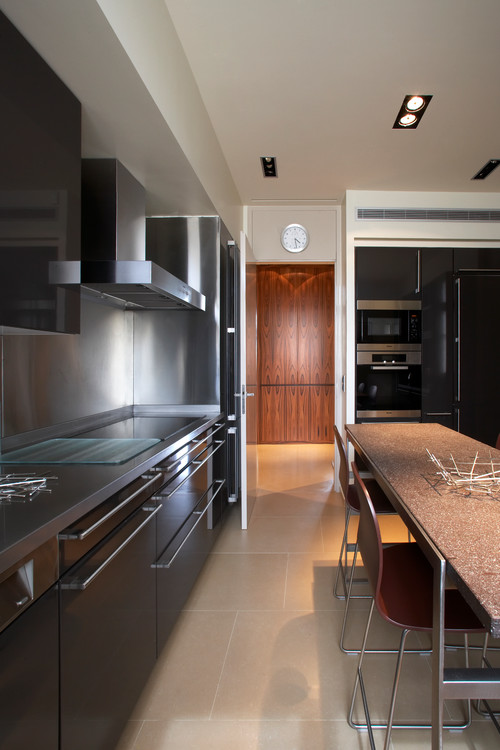 ID# 145806 | Houzz.com – Credit | © C'est Magnifique
---
A Gorgeous Metal Cabinets With Metal Backsplash In A Medium-Sized Contemporary Kitchen
This medium-sized contemporary kitchen looks super modern and breathtaking with its metal cabinets and backsplash. The stainless steel appliances perfectly complete these modern vibes while beige floor tiles balance the dark color scheme.
When did metal kitchen cabinets become popular?
In the 1950s, metal kitchen cabinets were extremely popular as manufacturers tried to find uses for the steel factories that had been used to make wartime armaments. With their contemporary look, these cabinets are still popular choices especially for industrial style kitchens.
Ceramic Kitchen Backsplash for Metal Cabinets
Because ceramic tile strikes a mix between price and durability, many homeowners adore it. The ideal backsplash tile for kitchens is typically ceramic. It is one of the most reasonably priced options for backsplash tiles on the market, easy to install, and heat, stain, and water resistant. Additionally, there are numerous color and pattern possibilities available for ceramics, ranging from subtle hues to striking hues and patterns. If a crack or chip does appear in your ceramic tile, it is very simple to fix or replace the broken tile and restore your backsplash to its original splendor.
A kitchen makeover may get expensive very quickly. You might need to make some budget cuts, but you don't want to sacrifice quality or aesthetics. The ceramic kitchen backsplash for metal cabinets shines in the situation! Ceramic tiles are a more affordable option than glass tiles, in particular. Also, it increases the elegance of the metal cabinets by making them the focal point of the kitchen.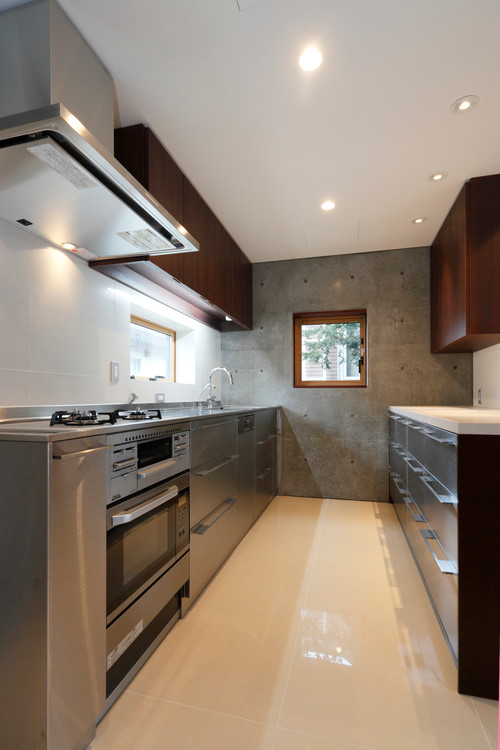 ID# 145808 | Houzz.com – Credit | © ヒココニシアーキテクチュア株式会社
---
A White Ceramic Backsplash for Metal Cabinets and Dark Hardwood Flat-Panel Cabinets in A Galley Kitchen
The white ceramic backsplash for metal cabinets and dark hardwood flat-panel cabinets increases the airy and fresh kitchen look. Pairing metal cabinets and dark wood cabinets create a warm and industrial kitchen. This galley kitchen doesn't look narrow and suffocating because of the light floors, white ceramic backsplash, and white ceiling. Lastly, the cream laminate countertops highlight the wooden cabinets while the white ceramic backsplash increases the glamour of the metal cabinets.
Which metal is best for kitchen cabinets?
Stainless steel and aluminum are the best metal types for kitchen cabinets. Due to theiir durability and easy to clean surfaces, you can use these cabinets for many years.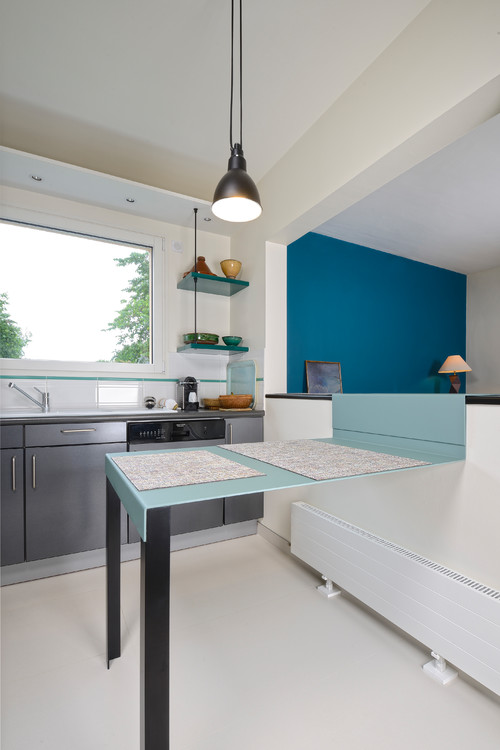 ID# 145809 | Houzz.com – Credit | © Les Ateliers de Cécile
---
The Calmness of A Contemporary Kitchen with Metal Cabinets and White Ceramic Backsplash
This contemporary kitchen looks calm and fresh with its beautiful white ceramic backsplash for metal cabinets. The backsplash highlights the beauty of the lower metal cabinets nicely. Installing a large window and green open shelves instead of upper cabinets makes the space look spacious and open. Lastly, the blue island gives a dining area and extra counter space to the kitchen. Overall, this kitchen is a good example of how metal cabinets give light and glamour to the space.
Marble Kitchen Backsplash for Metal Cabinets
Marble tiles are stunning statement maker elements to any kitchen design. A marble backsplash is most commonly desired for its opulent appearance and feel. The stone marble is known for its beauty, style, and enduring quality. It gives any space a light and airy feel, and no other natural stone can match its singular beauty. It can give your metal kitchen cabinets even more light. Thus, a marble kitchen backsplash for metal cabinets provides you with a glamorous and shiny kitchen look.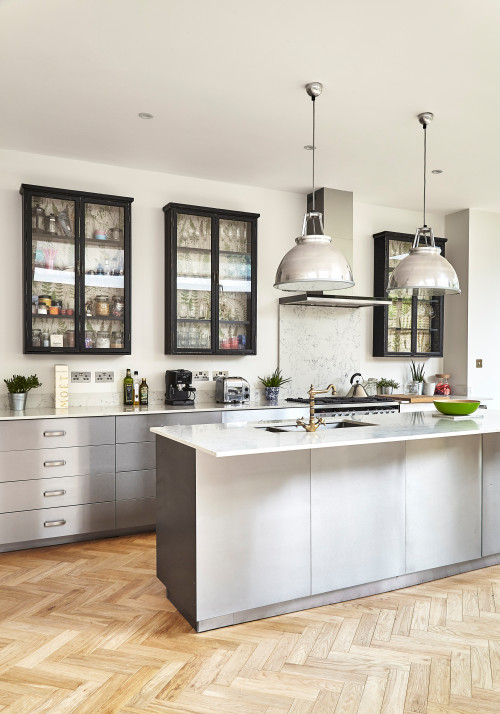 ID# 145810 | Houzz.com – Credit | © JNJ Building Services Ltd
---
The Deluxe Effect of Marble Kitchen Backsplash for Metal Cabinets
This open-plan kitchen looks rich with its stunning metal cabinets with white marble backsplash and marble countertops. The narrow dark hardwood glass-front upper cabinets match perfectly the metal cabinets and also they make the space look bigger and open. The kitchen island provides more counter space and a possible dining area to the cooking area. Also the light herringbone wood flooring invites coziness and warmth to the environment.
Are metal cabinets safe?
Kitchen cabinets made of metal are very water-resistant and corrosive-resistant. Additionally, they are extremely strong and long-lasting. With little upkeep, you can maintain their impeccable appearance. Although there are fire-resistant solutions available when looking for a metal storage cabinet to assist keep your kitchen contents as safe as possible in the case of a fire, metal cabinets are not fireproof.
How can I make my metal cabinets look good?
There are a few options to make the metal cabinets look good. To give a more inviting appeal, you can paint your metal cabinets. This is the most affordable way to give a totally fresh look too dated or cold-look cabinets.
What backsplash goes with metal cabinets?
Thanks to their sleek and modern appearance you can pair them with almost every backsplash from ceramic to glass. These backsplash types offer you various colors and patterns that go well with metal kitchen cabinets. You can also use a metal backsplash to give a totally industrial look to your kitchen.