38+ Kitchen Backsplash Material Options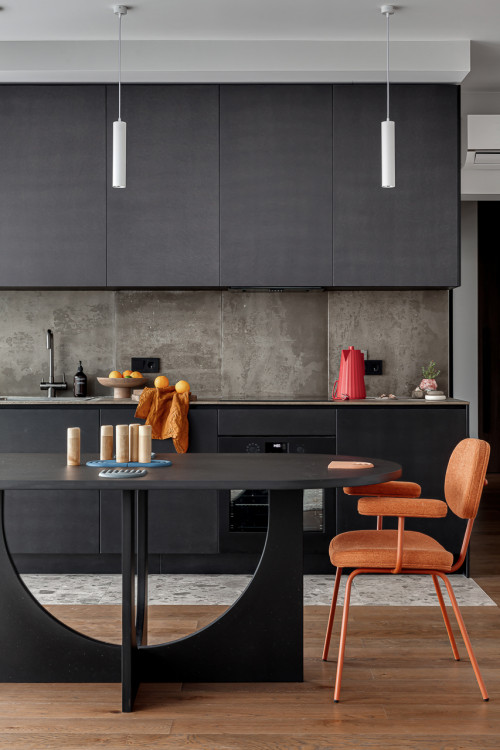 ID# 142527 | Houzz.com – Credit | © num.21
---
Black Flat-Panel Cabinets and Concrete Countertops with a Gray Porcelain Tile Backsplash
The harmony between the black and gray colors is balanced by the wood textures creating a warm atmosphere in this contemporary design kitchen. The concrete look of the porcelain tile backsplash harmonizes perfectly with the concrete countertops. The movement of the backsplash tiles blends with the warm wood textures.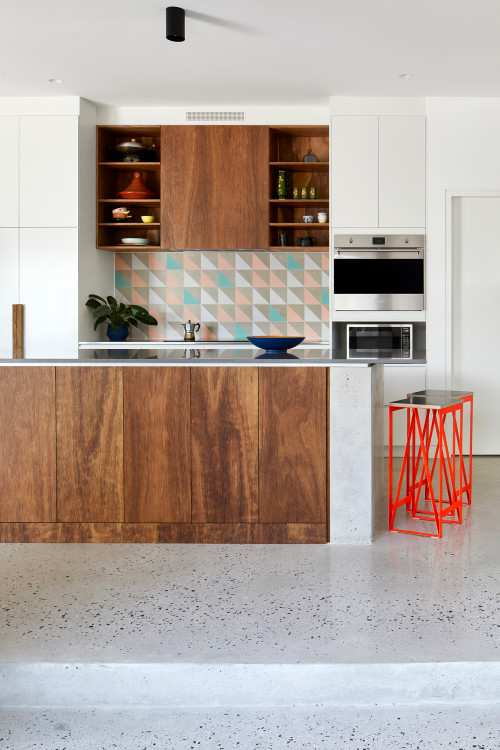 ID# 142546 | Houzz.com – Credit | © Poly Studio
---
Colorful Tiles with Wood Flat-Panel Cabinets and White Countertops
The medium-tone wood and white color flat-panel cabinets complement each other providing a fresh and natural harmony. This harmony is balanced by the white countertops. The multicolored cement backsplash tiles bring pops of color and movement to the plain design of the kitchen cabinets.
Kitchen Backsplash Material Options
Backsplashes are the ornamental center of your kitchen, bringing personality, aesthetic appeal, and a sense of style to the hub of your house. Backsplashes, however, were initially put as a means to protect the wall above the stove or sink from splashes of water, oil, and food splatter. Today they are recognized as a distinctive design element. The early backsplashes were composed of cheap ceramic tile and barely 4 inches tall for this practical use, but today, there are a large plethora of kitchen backsplash material options to choose from for your dream kitchen design.
The idea of using backsplashes as ornamental components didn't begin to enter designers' minds until the middle of the 20th century. Backsplashes started to get bigger, occupy more space, and have more intricate designs with a range of hues, shapes, and materials. From 1980s ceramic accent tiles to modern glass subway tiles and stone mosaics, design trends came and went. Let's scroll down and get some inspiration from the kitchen backsplash material options!
What are the new trends in kitchen backsplash?
The foundation of a modern design for kitchen backsplashes, which consists of clean, straight lines and neutral color palettes, stands out in 2022 trends. Traditional subway tiles may be used in a stacked arrangement to create a more contemporary look. For a contemporary look, geometric tiles like triangles or hexagons work great!
What Is The Best Material to Use for Kitchen Backsplash?
It's vital to take your time picking a kitchen backsplash material since it will be a permanent component of your kitchen decor—at least for a few years—much like choosing tiles for the shower or hardwood for the floor. Every time you cook, bake, clean, or even go to the kitchen to get a snack, you may have to stare at an unappealing aesthetic as a result of a hurried decision. To prevent this it is a clever idea to understand what are the best kitchen backsplash material options.
You should attempt to obtain a better grasp of the numerous backsplash tile possibilities in order to make the best selection possible about the kitchen backsplash material options and design for the kitchen. You may select a kitchen backsplash material that you won't regret by learning about the advantages and disadvantages of each type as well as the price, style, installation challenges, and other crucial variables. Read this article to find out what is the best kitchen backsplash material options for your design.
Ceramic Tile Backsplash
Installing a ceramic tile backsplash in your kitchen may enhance the aesthetic appeal and design of the space while shielding the walls from unattractive and potentially damaging food splashes. A ceramic tile backsplash may offer a ton of aesthetic appeal, color, and personality to your kitchen design in addition to its protective qualities. A ceramic tile backsplash presents many homeowners with the chance to try out daring patterns, hues, and designs.
The fact that ceramic tile is quite simple to clean is another benefit of ceramic tile backsplashes, which is crucial in any busy kitchen. If dinner preparation has left them splattered with food and filth, the majority of ceramic tile backsplashes will easily wipe clean. One of the alternatives with the most customization for a kitchen backsplash is ceramic tile. It can be bought at practically any home improvement store, online or in-store, and it is available in an almost infinite variety of designs, colors, forms, and sizes. Additionally, there are several specialist stores for ceramic tile accessible to meet the form, color, and texture requirements of any customer.
What type of kitchen backsplash is easiest to clean?
Because they are inherently nonporous, stain-resistant, and don't need any special cleaners to clean them, porcelain, ceramic, metal, and glass tiles are at the top of the list of kitchen backsplash material options that are simple to maintain.
Glass Tile Backsplash
A glass tile backsplash is a fantastic way to add color and visual appeal to your kitchen. The tiles can also be set in an almost limitless number of designs, which gives your kitchen even more personality and design flare. The layout you choose will ultimately be totally up to you because glass tile is available for backsplashes in just about any shape, from rectangular subway tiles to mosaic and penny forms.
Glass tiles are incredibly adaptable and offer a wide range of possibilities, giving you more creative freedom and versatility.
Contrary to common belief, glass is also extremely robust, water and fire-resistant, and simple to clean and maintain. Given all these advantages, glass tile should be an obvious choice for your kitchen backsplash. It may completely change the look of your kitchen and provide aesthetic value while standing up to frequent use. Following are some glass tile backsplash ideas that you may use to plan ahead and find some inspiration if you want to remodel your home soon.
What type of backsplash is best for behind the stove?
When used as a backsplash behind the stove, ceramic or porcelain tiles give a sturdy, heat-resistant surface that resists inevitable sauce and oil spills while providing plenty of space for imaginative kitchen wall décor.
Porcelain Tile Backsplash
If you want to use a porcelain tile backsplash, let's understand the porcelain material first. Although technically a form of ceramic, porcelain is made from a combination of clays of superior quality and is burnt at greater temperatures. Because of this, porcelain tile backsplash is more solid and durable than ceramic tile, as well as tougher and less porous. Porcelain tile comes in two different basic varieties. Through-bodied porcelain tiles have color and texture that permeate the whole surface, hiding any chips or scratches. It has no gloss that may wear off and is strong and resilient. It is appropriate for counters, walls, and floors. The whole surface of glazed tile is coated in a hard, usually colored wear layer. It has the broadest selection of colors and designs and is thick and sturdy.
Frequently, porcelain tile backsplash is unglazed. Additionally, there are often fewer possibilities than with ceramic tile, but it lasts longer than the latter. Additionally, porcelain tile is more expensive than ceramic tile. However, over time, it requires less maintenance, which lowers long-term expenditures.
Metal Kitchen Backsplash
The metal kitchen backsplash ideas are the best illustration of the fusion of kitchen planning and interior design. With a new selection of opulent metallics, it has evolved from a merely functional role—after all, it shields the walls from spills, grease, or dampness. Designers are eager to make the backsplash ideas in your backsplash stand out as it, along with the countertops, is sometimes the first thing guests see when they enter the space.
Metal backsplashes come in a variety of designs, hues, and coatings. Metal can have a smooth, slippery, or embossed surface and is available in sheets or tiles. Glaze, powder, or both can be used to paint metal. Decorative features like fleur-de-lis, diamonds, medallions, or other recurring patterns are frequently used as backsplash accents. While a simple metal kitchen backsplash may serve to emphasize the look of a clean and modern kitchen, a complicated backsplash will provide character to a kitchen with a Victorian or historical design.
What type of backsplash is easiest to install?
Peel-and-stick tiles offer a less expensive backsplash option that is also simpler to install than regular tile. There is no need for grout when applying the self-adhesive backing to the wall.
What type of backsplash is easiest to maintain?
Metal, glass, porcelain and ceramic tiles are among the easiest kitchen backsplash material options to keep since they are naturally nonporous, stain-resistant, and don't require any special cleansers to be cleaned.
Natural Stone Backsplash
Of all the options, a natural stone backsplash is one of the best choices for a kitchen backsplash. They provide character to the central area of the house and are beautiful and sturdy. Natural stone is one of the perfect kitchen backsplash material options for a stunning kitchen backsplash since nothing makes a more blatant statement. Only a few of the backsplash materials accessible to the kitchen designer for a natural stone backsplash are stone tile and stone slabs. There will also be no lack of creative ideas to implement, ranging from rigidly geometric to freeform fluidity. Stone is undoubtedly superior to other materials, and a natural stone backsplash's long-term effects shouldn't be disregarded.
Natural stone backsplashes make excellent backsplashes because they are both aesthetically pleasing and long-lasting. And with the right approach, you may preserve their breathtaking beauty for years to come. Try installing a natural stone backsplash in your kitchen to bring in some natural appeal. Check out these wonderful backsplash suggestions, such as marble, travertine, granite, soapstone, or more, for the kitchen of your dreams!
What is cheapest kitchen tile?
Ceramic tiles can be the perfect choice for you if you're searching for a low-cost solution that will give your kitchen a beautiful look.
If you pick ceramic tiles, you should be aware that some can only be used as backsplash or kitchen wall tiles and cannot be set on the floor. Check appropriateness before purchase.
Quartz Kitchen Backsplash
Did you know that quartz is an abundant mineral found on earth? Its minerals are mined and then ground into an aggregate. Here, they take the slab form. Pigments are added for providing a colorful impact during this process. Quartz kitchen backsplashes have a perfect specialty such as being durable, and non-porous, and they do not need to be sealed. You can use them in different colors. The most popular one is the white or black quartz kitchen backsplash, of course.
You might be unsure of the ideal backsplash and style for your kitchen. You may include a quartz kitchen backsplash in your kitchen design whether it is modern or classic. Because it blends well with every shade and texture, white is the ideal color for a quartz kitchen backsplash. However, to compliment the overall style of your kitchen, you may pick any color for your quartz kitchen backsplash.
Cement Kitchen Backsplash
Cement tiles are ideal for use as a backsplash because of their distinct design and capacity to brighten your room with their vibrant patterns. They go well with a variety of design aesthetics, including modern, antique, industrial, and farmhouse types. Because of their strength and effectiveness, they can shield your walls from splatters and spills. They include trendy, vibrant designs as well as contemporary hues. You could prefer to pair them with both strong and delicate hues. Use a cement kitchen backsplash design if you want to create a distinct kitchen with movement.
Regarding the manufacturing process, cement tiles are distinct from ceramic tiles since they comprise cement, a durable blend of mineral powder, color pigment, and sand. The most common patterns are floral or Moorish, which you may utilize if you're unsure about what the design should be. You have an almost limitless number of design choices using cement kitchen backsplash tiles!