29+ White Ceramic Tile Backsplash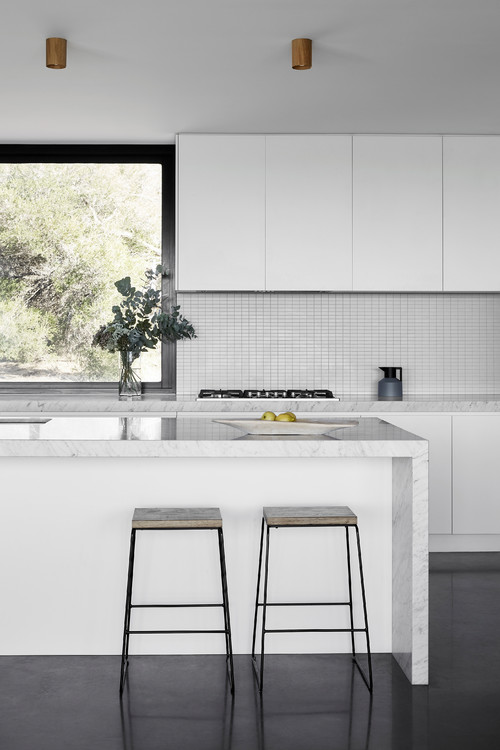 ID# 150702 | Houzz.com – Credit | © Tom Robertson Architects
---
Contemporary Kitchen Design with White Ceramic Backsplash and White Details
Vibrant and modern, this white-toned kitchen provides a refreshingly clean and airy living space! The intricate backsplash of small sized tiles adds texture and interest to the contemporary lines of the design, creating a deep and active atmosphere. To further emphasize its simplicity and elegance, the white marble countertop and island contribute with a peaceful uniformity. This kitchen delicately blends contemporary style with relaxation, offering a tranquil and calming experience for its users.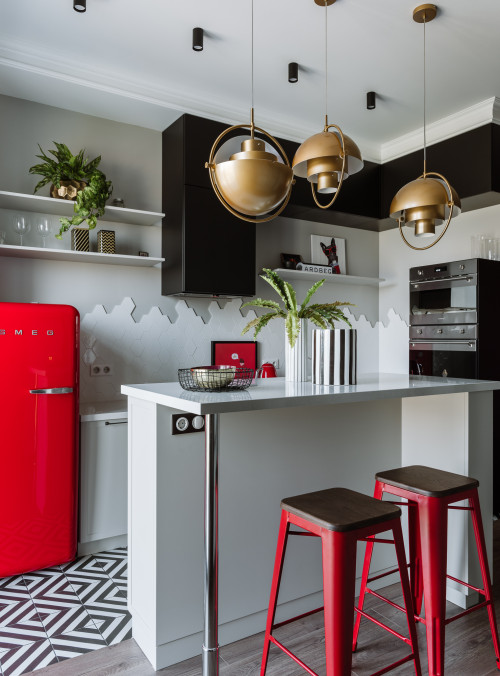 ID# 150719 | Houzz.com – Credit | © Анна Моджаро
---
Different and Fun Kitchen Design with a white Hexagonal Ceramic Backsplash
The kitchen offers a unique design, with modern lines delightfully complemented by the hexagonal ceramic backsplash. The black cabinets, red furniture and fridge breathe life into the space, whilst small additions carefully placed lift the atmosphere. The different textures on the floor put boundaries on the space, to enhance its usability. Finally, the small island, full of practicality, ties it all together – creating a kitchen that brings out joy and comfort.
White Ceramic Tile Backsplash
In this era of the proliferation of white ceramic tiles, designers are more observant in their use of white tile backsplash. The resulting designs are aesthetically-pleasing and bring out a crisp, clean appearance. This way, the users experience more pleasant and stylish interiors, filled with an atmosphere of comfort and beauty. From classic subway to modern hexagons, today's market offers a wide range of white ceramic tile backsplash designs. Scroll down and find these sleek tile designs to create timeless elegance for your kitchen!
White ceramic tiles adorning kitchens induce a sense of serenity or vibrancy with their backsplash visuals. Spaces uplifted by these designs gain far more character than the mundane, creating simpler, stylish atmospheres while offering users an array of options with practical convenience. In this article, we gather 29 white ceramic tile backsplash ideas that will inspire you and help you to add a timeless element to your kitchen design!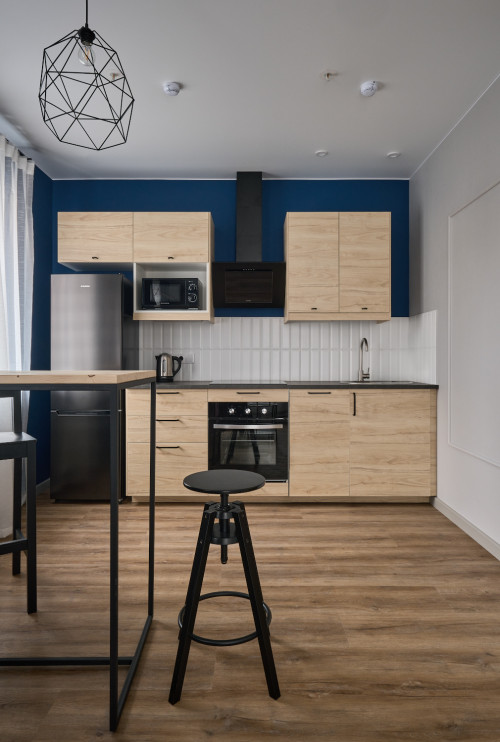 ID# 150701 | Houzz.com – Credit | © Ксения Розанцева | Творческая группа «Оcобинка»
---
White Ceramic Backsplash Effect In a Contemporary Kitchen
While the kitchen design with contemporary lines presents the wooden cabinets, the white ceramic backsplash, and the warm-cold relationship in a balanced way, the blue wall paint adds a splash of color. The wood flooring creates a continuous look with the natural wood kitchen cabinets. On the other hand, the white kit kat tile backsplash brings a fresh and clean look between the wood tones. The black appliances and bar stools complete the industrial vibe of the cabinetry. .
Is a white backsplash a good idea?
The short answer is definitely yes! Thanks to its timeless and classic appeal white backsplash is always good for kitchens.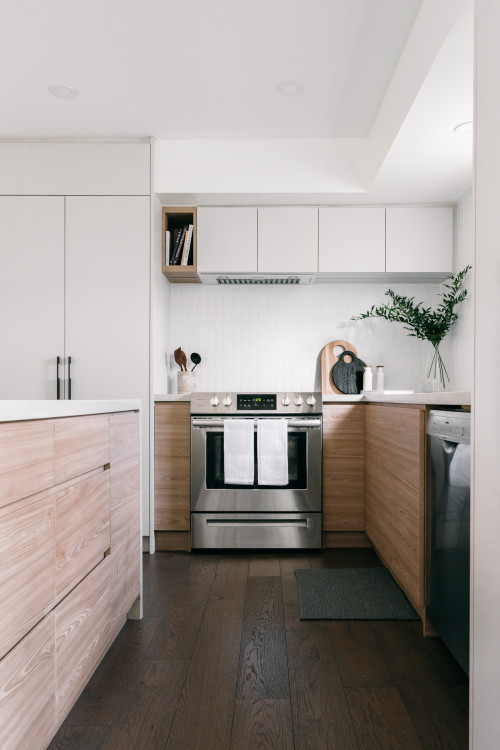 ID# 150703 | Houzz.com – Credit | © Ke Design Collective Inc.
---
White Ceramic Backsplash in Harmony with White and Wooden Cabinets
The kitchen, which consists of white and wooden cabinet doors, gives a complementary effect with its white clean look and white ceramic backsplash! The natural tones of the wood on the floor are created by being softened by the transitions of the kitchen from dark to light. The feeling of simple elegance is passed on to the user as a more inviting and spacious environment. While plain flat cabinet doors and small pieced white ceramic backsplash complement each other, the clean look in the kitchen stands out and creates a complementary factor.
Tile Shapes for White Ceramic Tile Backsplash
Kitchens crowned with backsplash lead to designs with different shapes, which are even more modern or where traditional influences are felt. While the use of the same materials in different ways gives more dynamic and different results, it offers designers a more free working space. It offers convenience to achieve the results desired by both designers and users by responding to the requests of users from different angles. It is possible to obtain results suitable for every design and taste with the main white ceramic shapes. In general, there are main varieties such as subway tile, hexagon, chevron, herringbone, and arabesque. In addition, white ceramic backsplash applications, which can be further diversified with joint colors and different application forms, are an important material type to bring spaces together with different and original designs.
White Ceramic Subway Tile Backsplash
Perhaps the first thing that comes to mind when talking about the white ceramic backsplash, is subway tile a material that crowns kitchens with its simple beauty and stylish appearance while adapting to every kitchen and space. It is a wonderful material used as a subway tile backsplash, which stands out with its different textures, its timeless design away from boringness, and its compatibility with every material and design. With this material, easier cleaning is provided, creating more beautiful spaces, while at the same time sterile and easy-to-work spaces are created.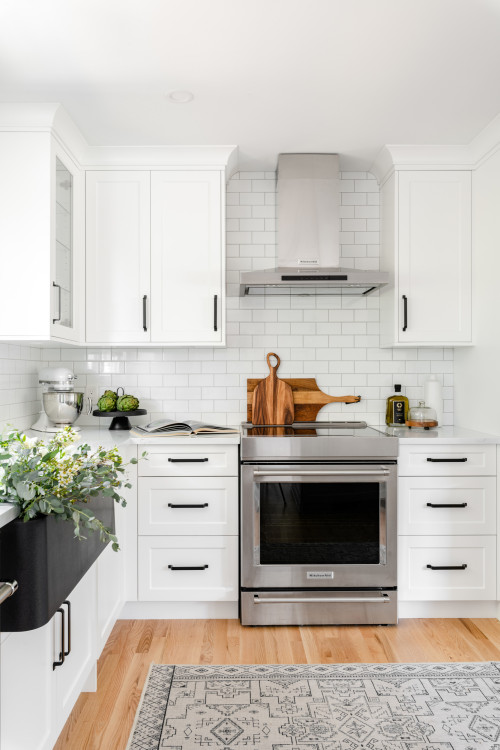 ID# 150704 | Houzz.com – Credit | © MAC Renovations LTD.
---
White Subway Wile Backsplash Effect in Kitchen Designed With White Cabinets
This kitchen, which brings together simple thoughts between plain and stylish design, comes to life with a white subway tile ceramic backsplash. With its white traditional cabinets and black handles, the kitchen, which is synonymous with subway tile, stands out more harmoniously with the use of black joints. With the wooden texture on the floor and the rustic carpet, the comfort and life feeling in the space are brought to the highest level, while offering a useful space to the users. The kitchen, in which small black details are used abundantly, opens the doors of a unique experience to the users by signing a wonderful and simple design with few colors.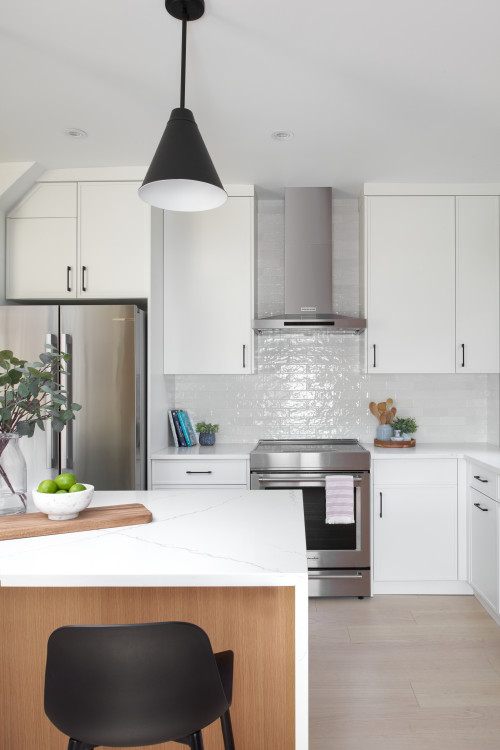 ID# 150705 | Houzz.com – Credit | © ALC Interiors
---
Simple and Stylish Kitchen Design with White Glossy Subway Backsplash
The bright appearance and textured structure of the white subway tiles bring a vibrant energy to this modern-style kitchen. The wood textures on the floor and island contrast with the white to inject warmth and life into the space. Meanwhile, simple black handles keep the design focused on functionality. White-preferred metal appliances rounded out the look, giving the kitchen a classic and elegant vibe. But the true star of the show? The beautiful backsplash and cabinets, which add a touch of luxury and practicality to your cooking area. In short, these design elements make everyday cooking experiences more enjoyable and inspiring!
What is the most popular backsplash right now?
In this ever-changing world, it can be difficult to stay on top of what's trend-worthy. However, in terms of tiles, there's something for everyone. Natural stones with earthy shades, pastel hues, and geometrical patterns are the trendiest options for 2023.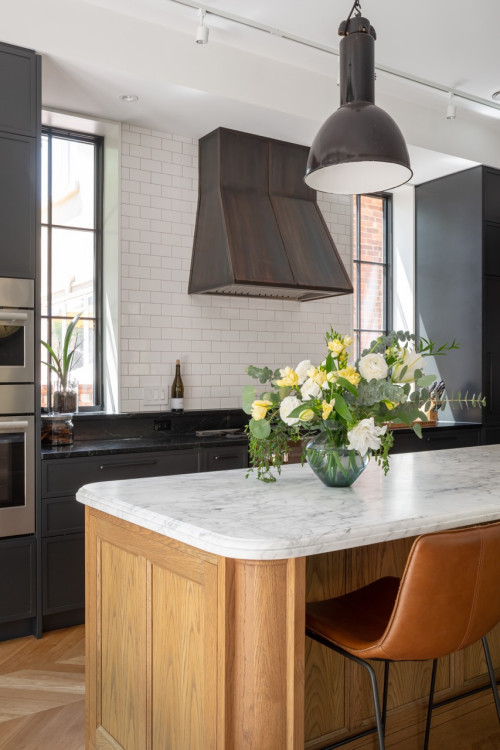 ID# 150706 | Houzz.com – Credit | © M-Squared Contracting Inc.
---
White Subway Tile Backsplash in The Timeless Kitchen That Boldly Combines Different Textures
With its lively and vibrant look, the white subway tile backsplash creates a sense of unity and belonging in this kitchen. It brings together industrial and traditional elements giving a warm, inviting and homely feel. Different countertop materials and cabinet colors add to the richness of the space and make it more pleasant and clear. The white backsplash makes the cooking area seem cozier and prevents the fear of combining different textures. This timeless design highlights the flexibility of the subway tile and its ability to stay on trend. Through its presence the kitchen feels alive, creating the perfect balance for a visually arresting space.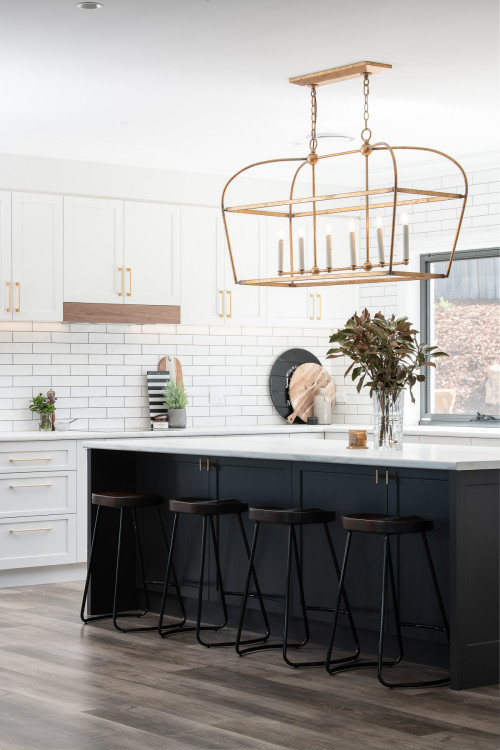 ID# 150707 | Houzz.com – Credit | © Prime Design Tasmania Pty Ltd
---
The combination of White Subway Tile Backsplash and Country Style Kitchen
This kitchen design radiates warmth and invites positivity with its bright and spacious atmosphere. The clever contrast of contemporary country style with white subway backsplash tiles ensnares viewers, enthralling them with glimpses of elegance. The assembly of a black island and white cabinets, with a white bench and matching handles, sets the scene for a harmonious melting pot of texture, style and color. Gold and copper accents anchor a sensory contrast between the white subway tiles and parquet flooring, complete with shimmers of earth tones to accentuate its naturalness. The use of black contrast in the tile joints produces a wholesome clarity, strengthening its refreshing aesthetic. Overall, the kitchen weaves a comforting atmosphere together with a visually pleasing color palette that evokes an array of human feelings.
Can I use ceramic tile for the backsplash?
Yes, of course! Due to their affordability and versatility, ceramic tile is perhaps one of the most popular and common materials to be used for backsplash in kitchens.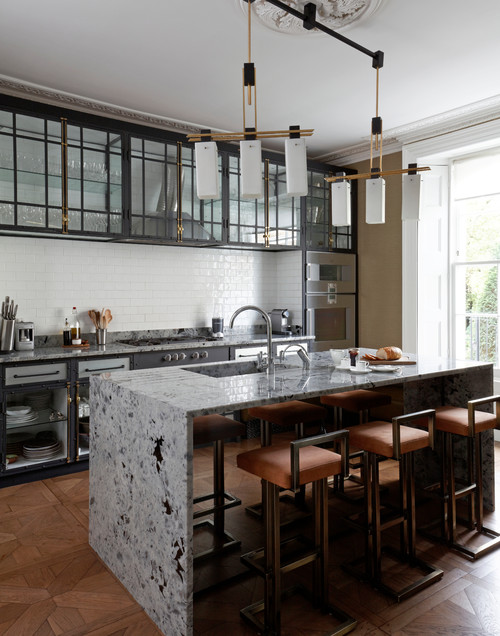 ID# 150708 | Houzz.com – Credit | © GRANT WHITE DESIGN LTD
---
White Subway Tile Backsplash in a Timeless Kitchen Dominated By Mid-Century Style
This kitchen, in which the mid-century style is very evident, contains impressions of the future from the past. That's why the kitchen, adorned with timeless materials, dances with the wonderful harmony of old and new! The white subway backsplash and metal cabinets in denim color match the midcentury style from start to finish with a wonderful stone selection creating a timeless yet innovative kitchen. While providing even more depth to the space with the wooden parquet patterns on the floor, it helps the cold colors and materials to be warmer and passed into the space. The gray countertop of the base cabinets and island add another layer of texture.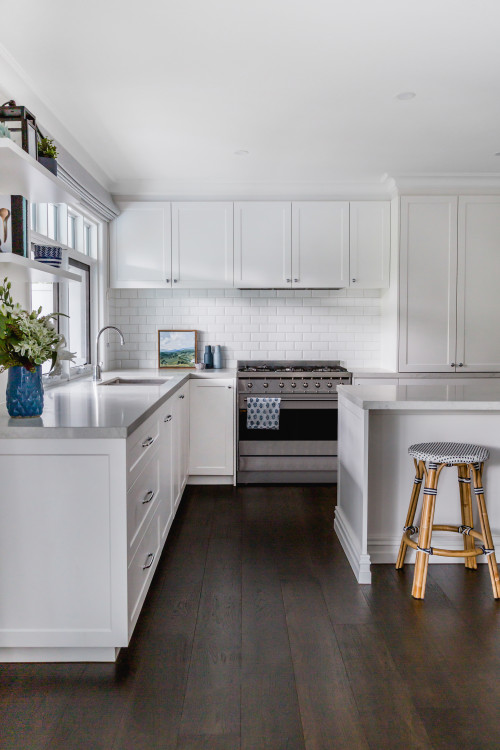 ID# 150709 | Houzz.com – Credit |© Gallerie B
---
Combination of White Subway Tile Backsplash and White Kitchen
The harmonious blend of white cabinets and white tile backsplash emits an aura of serenity, creating a stunningly simple yet elegant space with a perfect balance of beauty and function! Warm and cool materials, enhanced by the captivating contrast of white and dark wood, infuse the space with life, eliciting a pleasant and stylish atmosphere.
White Ceramic Herringbone Tile Backsplash
We often look to herringbone ceramics when we desire to introduce life, vibrancy, and variation to our kitchens. With its stylishness and flexibility, this beloved material is a guarantee for success when utilized in any kitchen, no matter the size or design. White herringbone ceramics can lift the atmosphere, transforming dull kitchens into refined, welcoming spaces with their complementary effect. This is why herringbone ceramics is a kitchen staple – and will remain so – one we can rely on to make us feel at home.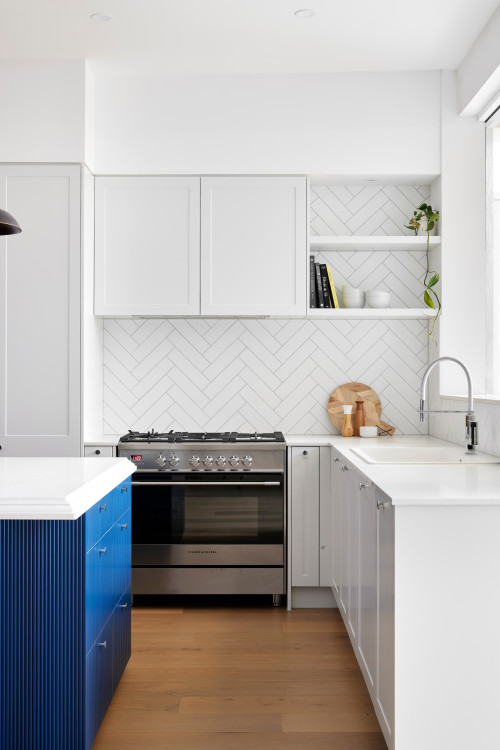 ID# 150710 | Houzz.com – Credit | © smarterBATHROOMS+
---
Modern Kitchen Design with White and Blue Cabinetry with White Herringbone Ceramic Backsplash
This kitchen stands out with its bold, modern design and herringbone white backsplash -all blending together seamlessly to create a stunning presentation. From the white cabinets, blue island, and white countertop – to the elements of texture and light – the place conveys a wonderful visual. Natural light flooding through gives an extra pop of illumination, brightening the space and making it feel larger. The warm wood tone on the floor adds to the cozy atmosphere, and the herringbone backsplash with black joints adds a vibrant energy to the overall look. An artful combination of beauty, comfort, and style – this kitchen radiates both classic and modern vibes.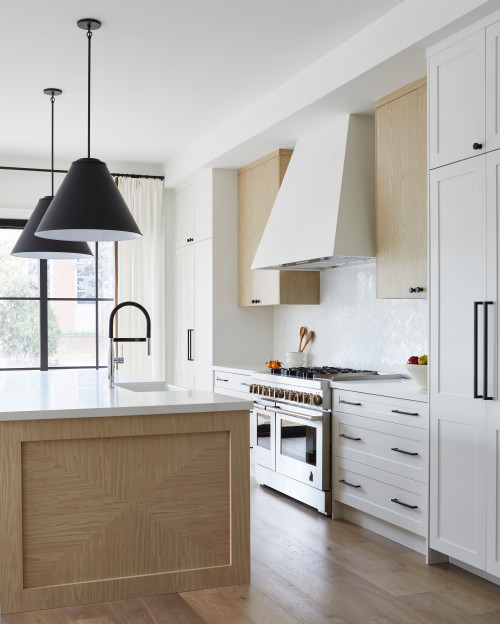 ID# 150711 | Houzz.com – Credit | © Designtheory Inc.
---
White Herringbone Ceramic Backsplash Effect in Kitchen with White and Wooden Cabinets
The kitchen, adorned with its wood and white combination, provides a calming and airy atmosphere, creating a unique setting! The white herringbone ceramic backsplash stands out among these textures, with its pleasant elements that bring life and light to the room while being extremely useful with its functions. The wood details on the floor and cabinets add warmth, while natural light only enhances their brightness and spaciousness. With the sublime harmony between the white cabinets, this kitchen inspires blissful feelings with its excellent quality and beautiful grace.
What is the disadvantage of ceramic tile for a kitchen?
The disadvantage of ceramic backsplash is almost non-existent, it is resistant to extremely high temperatures. The fact that it is resistant to impacts to a certain extent puts the material ahead in terms of use. However, scratching problems in some models can be shown as a disadvantage.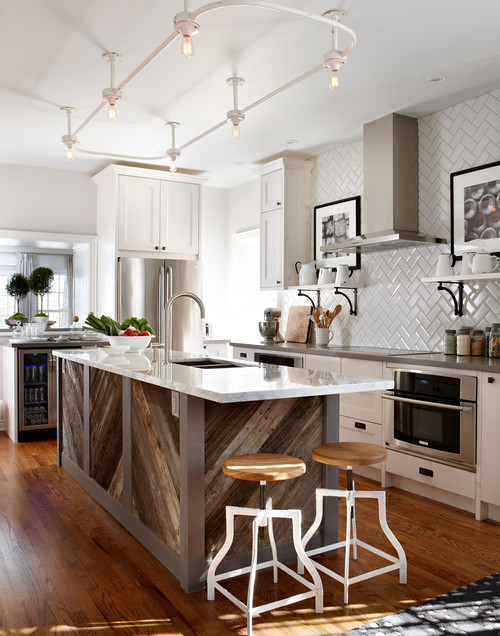 ID# 150712 | Houzz.com – Credit | © Stacey Brandford Photography
---
Traditional Kitchen Design Combined with White Herringbone Backsplash
While wood textures and cream tones abound in this traditionally designed kitchen, we see a white herringbone ceramic backsplash on a large wall! You see how this design boldly combines different textures without being tied to one material. The kitchen, which is formed by the harmony of different colors and textures from floor to ceiling, has a more inviting and lively feeling with a sense of experience. The combination of cream-colored cabinets with the natural look wooden island creates a pleasant space, while the white herringbone ceramic backsplash provides a clean and tidy look. The kitchen, which highlights the interior with its plain ceiling and calm design, uses traditional lines to allow different textures to coexist in harmony.
White Ceramic Chevron Tile Backsplash
The chevron tile design can give any space a luxurious, sophisticated feel – truly a pearl among precious stones. By using white ceramic tiles in a chevron pattern, you can create a look that will leave your guests in awe. With different applications and installation techniques, you can open up many creative possibilities, offering an abundance of choice for both designers and users. Let this beautiful tile design offer your kitchen a feeling of elegance as it shines blissfully from its wall.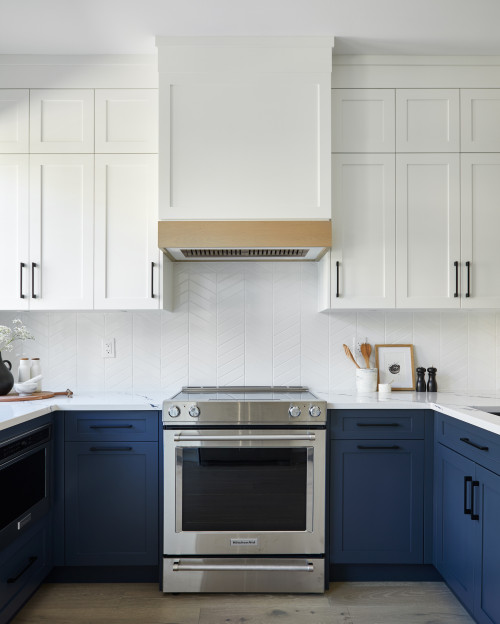 ID# 150713 | Houzz.com – Credit | © Eurodale Developments Inc
---
Chevron White Ceramic Backsplash Between White And Blue Cabinets
Shining like a pearl among the blue and white cabinets, the chevron ceramic backsplash reveals the space in a clearer and cleaner way! The kitchen, which has a modern impression with cabinets in different colors, needs a bright area for a more pleasant and stylish look and completes this need with chevron ceramic tiles. This design does not contain many textures but offers users a warm and comfortable experience with a wonderful presentation with its simple and clear appearance.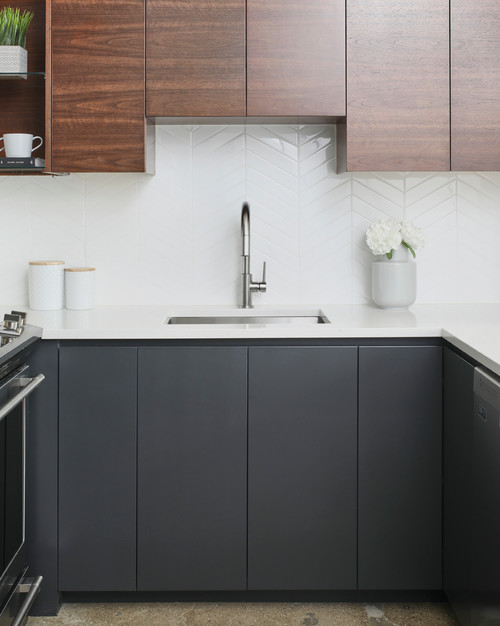 ID# 150714 | Houzz.com – Credit | © Britt + co Interiors
---
Chevron Ceramic White Backsplash Between Anthracite and Wood Cabinets
This elegant kitchen offers a modern look with its two-tone cabinets and chevron ceramic backsplash! The chevron ceramic backsplash that breaks the uniform in small spaces makes small spaces more active, making the design lively and inviting. Combined with the white countertop, the chevron ceramic backsplash adds brightness and functionality to the space. While anthracite and dark wood textured cabinets define the storage areas of the kitchen they establish a warm-cold balance with color variations.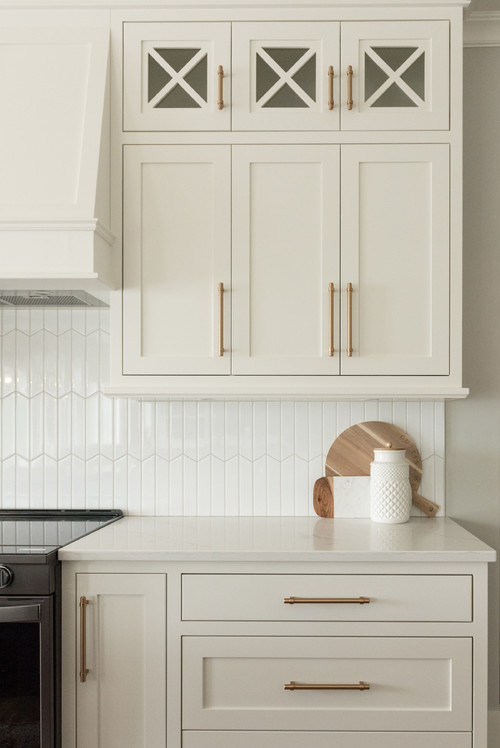 ID# 150715 | Houzz.com – Credit | © Refined Cabinets Inc.
---
White Ceramic Chevron Backsplash with Cream Cabinets and Bronze Handle
The beige-toned kitchen is brought to life with a crisp and fresh look from the white chevron ceramic backsplash! This backsplash brings a nice textural look between the warm textures, making it stand out as a key element of the kitchen. The beige kitchen cabinets appeal to the eyes, making the space clearer and more stylish. The brass handles perfectly complete the elegant overall look and add a dose of sparkle.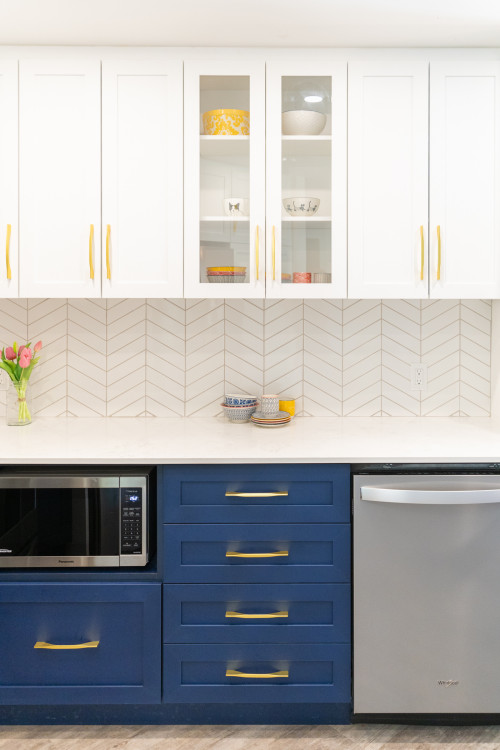 ID# 150716 | Houzz.com – Credit | © Jessica Locas Design
---
White Ceramic Chevron Tile Backsplash with Blue White Cabinets
The kitchen is a sight to behold with its blue cabinets creating a vibrant and fresh aesthetic! The white ceramic chevron backsplash provides even more energy while the golden handles tie everything together. The chevron tiles divide up the straight lines, creating a more lively environment. With its gray grouts it provides a balanced, calming experience while still being interesting and vibrant.
White Ceramic Hexagon Tile Backsplash
The white ceramic hexagonal backsplash promises to bring movement and elegance to kitchens all over, creating designs that resonate with everyone thanks to the variable and eye-catching hexagon. With its easy-to-use and durable build, designers love to utilize this decorative material as an accent to their vision, evoking a sense of warmth, sophistication and permanence.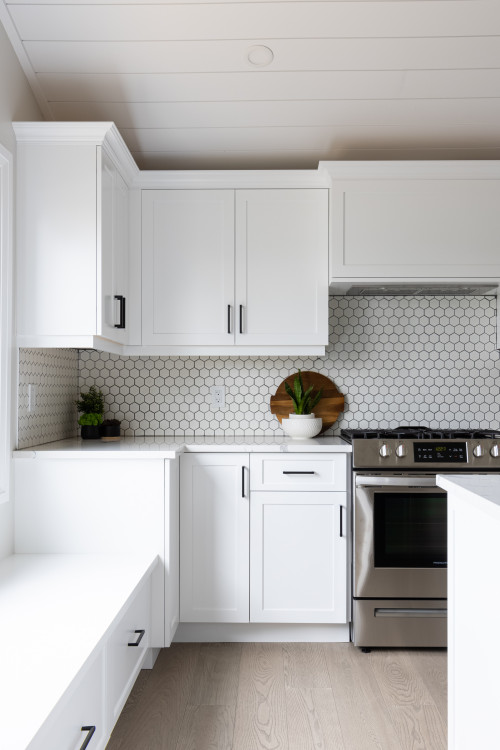 ID# 150717 | Houzz.com – Credit | © Azule Kitchens
---
Touch of Hexagonal White Ceramic Backsplash, Combined with White Cabinetry and Countertop
In this simple all white kitchen, the hexagonal white ceramic backsplash adds both depth and movement to the calm kitchen, enabling a more meaningful design. The feeling of a warm space continues with the warm-toned wood on the floor and the covering on the ceiling. In this way, the elegance brought by the clean appearance continues and the kitchen as a whole turns into a living space that appeals to visual pleasure with the hexagonal white ceramic backsplash.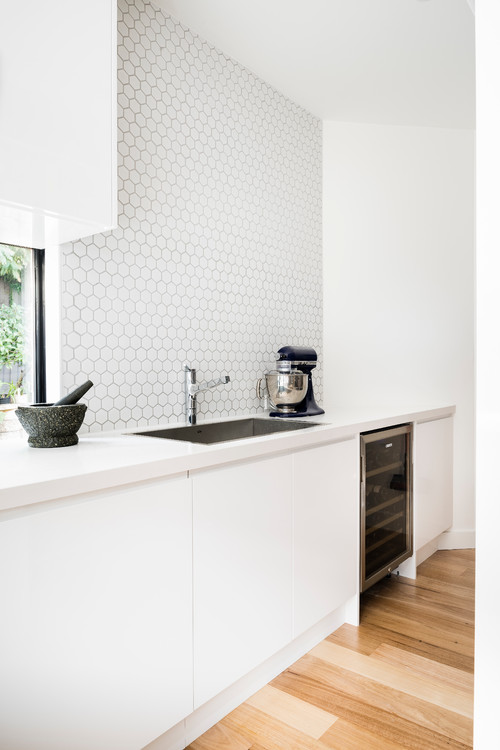 ID# 150718 | Houzz.com – Credit | © Smith & Smith Kitchens
---
Contemporary Kitchen Design in Combination with White Hexagonal Ceramic Backsplash
The simple and useful kitchen with a contemporary design provides wonderful texture integrity with its hexagonal ceramic backsplash. Bringing the movement and excitement that a white kitchen lacks, to the kitchen, the hexagonal white ceramic backsplash moves the space away from the standard and brings it closer to a more pleasant and stylish presentation. The kitchen, which attaches importance to function as well as visuals, prefers the materials used functionally while supporting the visual on an application-based basis. While the resulting design radiates a simple and serene feeling, the wood texture on the floor creates a warm touch that continues this. Continuing this feeling with white walls and natural light, the kitchen creates a pleasant and spacious space by using white and simplicity in every area.
White Ceramic Arabesque Tile Backsplash
The soft and timeless elegance of arabesque white ceramic backsplash is undeniable! It can infuse your kitchen with a classical and sophisticated atmosphere, while adding texture and a unique flair to your space. Although arabesque tile has a traditional appeal it can work with different styles from contemporary to midcentury.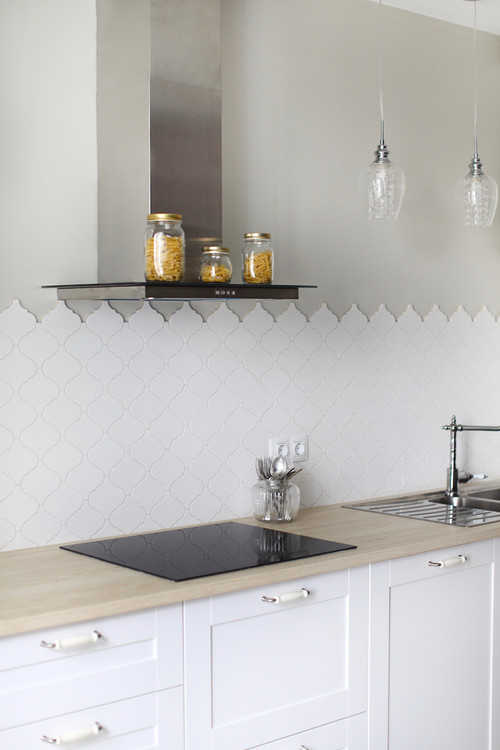 ID# 150720 | Houzz.com – Credit | © Konstantinova Tatiana
---
Calm Kitchen Design with Arabesque White Ceramic Backsplash
The kitchen, a place of gathering and nourishment, gains a more modern feel with the addition of a timeless, calming arabesque ceramic backsplash! With its soft white texture, this exquisite backsplash provides visual appeal and breaks the monotony of the wall. The contrast of light and dark offers a tranquil sophistication and creates a beautiful space that you and your family can enjoy. Not only adding aesthetic value but it is also highly practical and long-lasting, a desirable feature.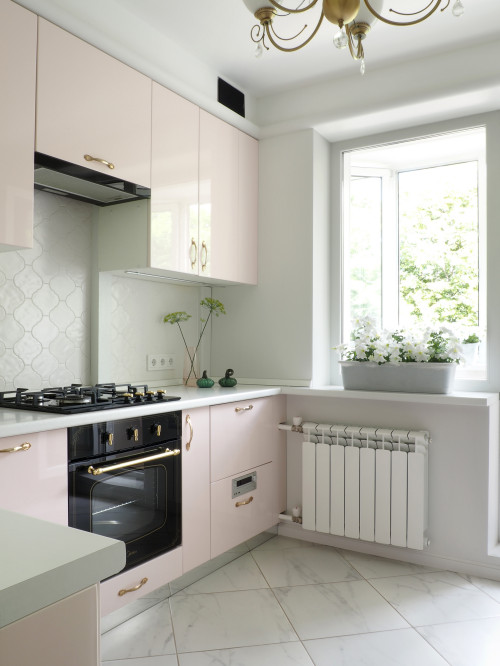 ID# 150721 | Houzz.com – Credit | © Николаева Татьяна
---
White Ceramic Arabesque Backsplash Effect in The Kitchen With Pink Cabinetry
The kitchen design with its pastel pink cabinets reveals a shimmering atmosphere with its arabesque ceramic backsplash! The unique material is accentuated throughout the light pink cabinets adding a special sparkle and texture to the overall space. The sense of the kitchen is heightened even more with the marble-textured tiles on the floor and the brilliant white walls which create a different view within each area, transporting one to a realm of enchanted delight. The gold accents perfectly complete the elegance while adding a dose of sparkle.
Grout Options for White Ceramic Tile Backsplash
The harmony of the space can be achieved with different color tones of grout applied to white ceramics! Customized to fit different areas and designs, the attention to detail in grouting preferences enhances the overall look of the space. Everyone will appreciate the visual pleasure of a grout and design that is perfectly matched.
White Ceramic Tile Backsplash with White Grout
The white grouted white ceramic backsplash is a beautiful choice often used to bring a sense of harmony and tranquility to a space. Its clean and elegant lines create an air of peacefulness and charm that make any room a more pleasant and inviting place. Whether you prefer a classic subway tile or more distinctive hexagons, white grout is the most elegant way to complete the clean and bright look of the white tiles!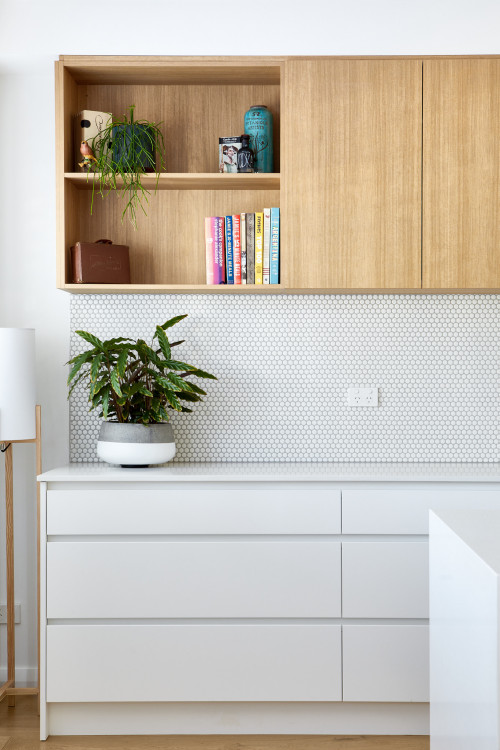 ID# 150722 | Houzz.com – Credit | © Absolute Carpentry & Cabinetry
---
Ceramic Tile Backsplash Effect with White Grout in The Kitchen with Contemporary Design
The kitchen consists of a combination of white cabinets with wood, breaking the simplicity of plain and modern lines with a white penny tile backsplash. Using wood upper cabinets and wood flooring brings a warm sense to the space.
How much it cost a white ceramic tile backsplash?
It can be overwhelming to find the ideal ceramic material for your needs and budget, but by researching color, texture, and size you can find one that fits both. Don't feel discouraged if your initial research yields unclear or general information – if you keep looking, you can find the perfect ceramic material that matches your needs and taste! On average, you may expect to pay anywhere from $10 to $95 per square foot for a white ceramic tile backsplash.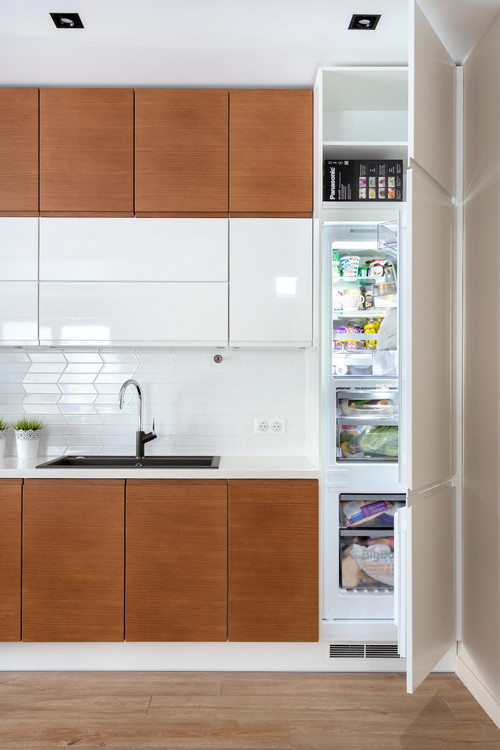 ID# 150723 | Houzz.com – Credit | © PUUSTELLI MOSCOW
---
White Ceramic and White Grouted Backsplash Between White And Wooden Cabinets
The Scandinavian-style kitchen captures a feeling of relaxation and freshness with its use of wooden and white cabinets, contrasting warm and cold materials, and a white ceramic backsplash with white grout! Its simple yet stylish appearance creates an atmosphere of serenity, giving users a sense of tranquility amidst the cabinetry and backsplash.
White Ceramic Tile Backsplash with Gray Grout
The gray grout, which stands in contrast to the white, brings depth to the texture and makes the space appear brighter and more inviting. This pairing of materials creates harmony and a cozy atmosphere, resulting in a homely kitchen experience. Our hearts are warmed by the beauty and clarity of this carefully chosen combination!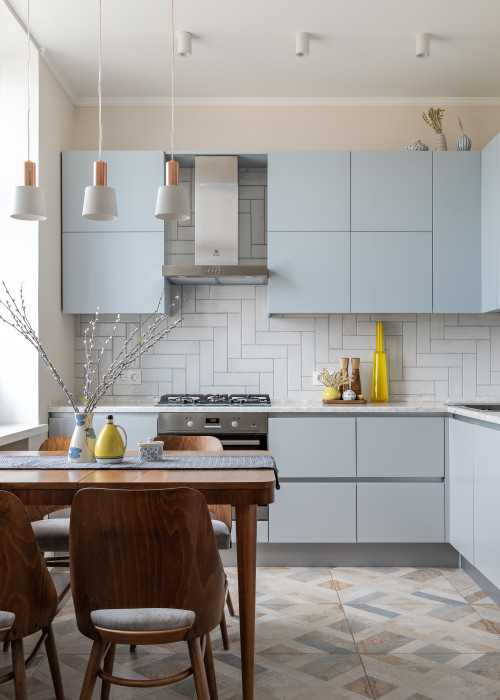 ID# 150724 | Houzz.com – Credit | © Maxim Maximov
---
Kitchen Design with Blue Cabinets Combined with Gray Grout and White Subway Tile Backsplash
The kitchen with contemporary lines draws attention with its blue cabinets and unique flooring! The white herringbone backsplash creates a nice textural look between the cabinetry while the gray grout highlights the beautiful fishbone pattern. The multi colored and patterned tiles on the floor create visual interest and bring depth to the space.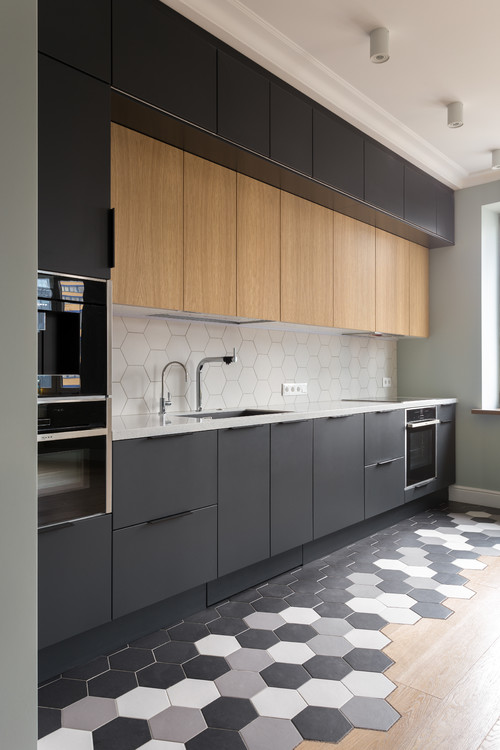 ID# 150725 | Houzz.com – Credit | © PUUSTELLI MOSCOW
---
White Ceramic Backsplash and Gray Grout in Scandinavian Kitchen
This kitchen with black and wooden cabinets winks at users with Scandinavian breezes in every area. The hexagonal ceramics as the backsplash provide light in the middle of the space. Choosing gray as the grout, the backsplash distinguishes itself from the kitchen, while at the same time, it connects to the kitchen with gray grout and takes an important place in the design.
ID# 150726 | Houzz.com – Credit | © Edmondson Interiors
---
Kitchen Design with Blue Cabinets and White Subway Tile Backsplash
In this kitchen, the light gray cabinets and the white subway tile backsplash create a sleek backdrop while the blue island adds a splash of color to the space. The gray grout combination under the white subway tile creates a deep space and offers an easier and more understandable use. The white countertops complement the ceramic subway tiles and enhance the fresh feel.
White Ceramic Tile Backsplash with Black Grout
The harmony of black and white is a timeless classic that can lend an air of elegance to any space! Our favorite contrast for white ceramics is black, giving any kitchen area a sense of sophisticated flair. The use of black joints as a form of backlash maintains both the aesthetic and functionality of the kitchen, staying stylish longer and easy to clean. All in all, this striking combination reminds us of all the emotions that can come with creating a beautiful space.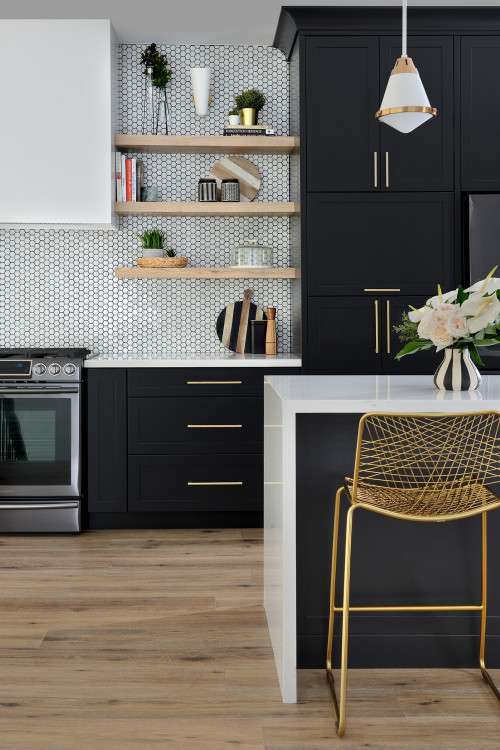 ID# 150727 | Houzz.com – Credit | © Michelle Berwick Design
---
Black Grout Kitchen with Black Cabinets and Hexagonal Backsplash
The kitchen with its contrasting black cabinets and hexagonal backsplash creates a truly striking space, with the white texture providing a warm, yet not overly bright, atmosphere thanks to the darker grout choice. By combining hot and cold materials, this design harmoniously ties the floor to the room and fosters a feeling of comfort in the kitchen brought forth by the wood and gold textures.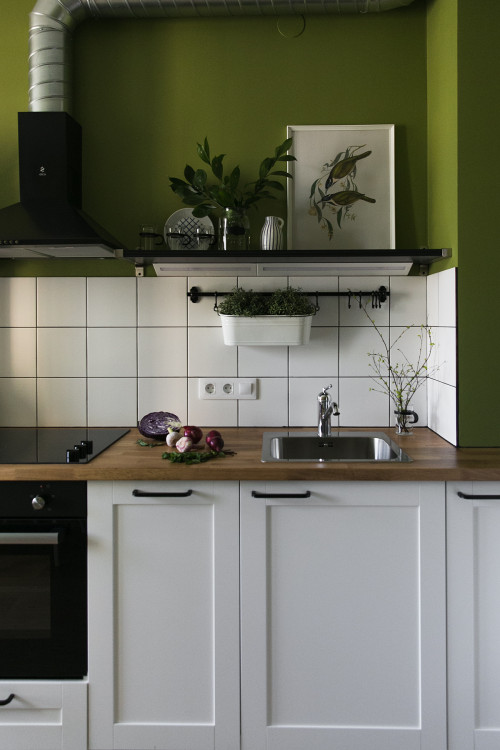 ID# 150728 | Houzz.com – Credit | © Zarkua Anastasia
---
Kitchen Design with White Cabinets with Green Prayers
The kitchen, which shows the wonderful harmony of white cabinets and green wall color, uses the white ceramic backsplash look together with black grout, offering a clearer and more cakey display of space! The black grouts of the white square tiles offer a retro vibe for the kitchen. For a final touch the wood countertop perfectly complements the natural sense of the green.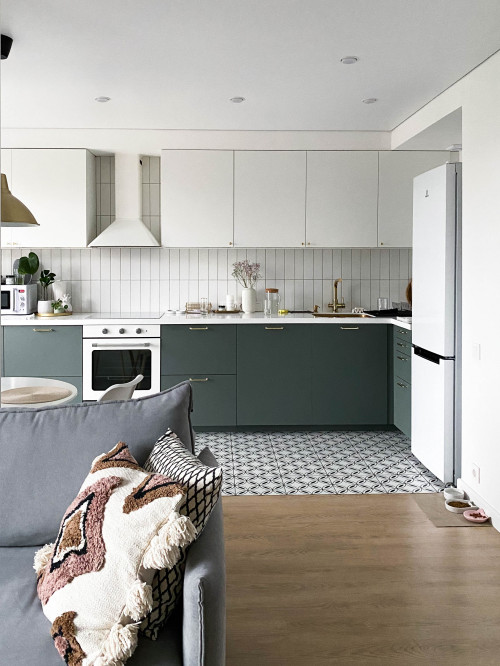 ID# 150729 | Houzz.com – Credit | © Светлана Афанасьева | SVETLA design
---
Scandinavian-Inspired Kitchen and White Ceramic Backsplash
Designed with Scandinavian inspirations, the kitchen achieves a clearer design by combining visuality and function. While the white subway tile ceramic backsplash comes together with the green under-counter cabinets and white countertop cabinets, the use of black grouts and bottom-top cabinets draws attention due to the color difference.