30+ Backsplash without Upper Cabinets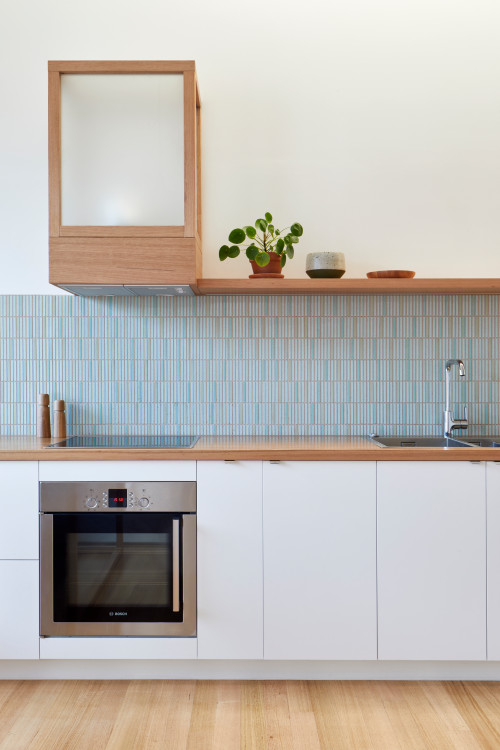 ID# 138003 | Houzz.com – Credit | © Scale Constructions
---
Blue Kit Kat Mosaic Tile Backsplash with Wood Countertops and White Cabinets
Even if you keep the upper walls free, you can still hide your range hood in a cabinet like in this particular kitchen. Here, this modern kitchen uses frosted glass for the cabinet to evoke extra interest. Right below, the blue kit-kat blue tiles add a sophisticated feel, bringing a subtle shade of color. And it is skillfully flanked by a timber floating shelf and timber countertops, while the white flat-front cabinets blend with the white walls harmoniously.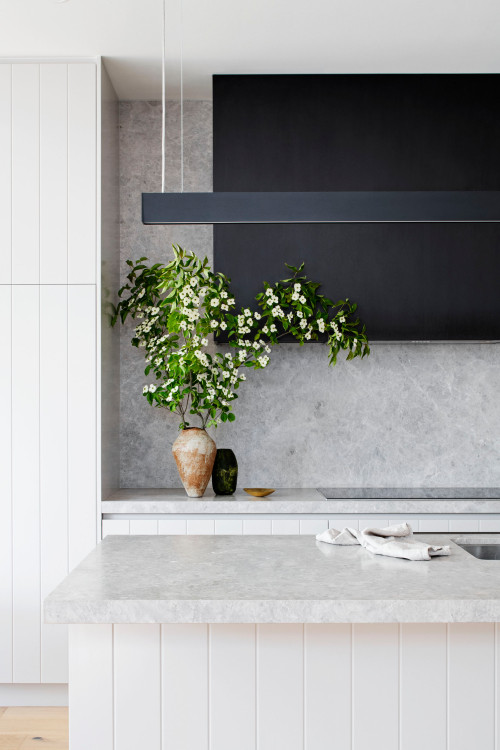 ID# 138017 | Houzz.com – Credit | © studio mkn
---
Gray Marble Backsplash with White Beadboard Cabinets and Black Linear Lighting Fixture
In open-plan kitchens like this one, using full-height cabinets not only helps zone the kitchen but also increases the storage area to compensate for the lack of upper cabinetry. But if that doesn't feel enough, the employment of a kitchen island serves as another strategic decision to create a better sense of space while offering extra storage. This way, the open-plan kitchen gains a better definition and more storage. Plus, forgoing upper cabinetry allows exposing the ceiling-height marble backsplash fully as here, while the rest of the space feels complete with a black linear lighting fixture, black stools, and beaded-board cabinets for extra interest.
Backsplash without Upper Cabinets
Recently we have started to see designs with a backsplash without upper cabinets more and more, which in turn, comes with a plethora of benefits. To name a few, a backsplash without upper cabinets means more open space, enhanced brightness, and more room for wall decorations and windows. What is more, by incorporating picture windows that are minimalist in character, you can invite sky and garden views indoors, which blurs the difference between the interior and exterior spaces. Plus, as the pandemic has already proved, our homes need extra brightness, spaciousness, and connection with the outdoors. And one way to accomplish this is to ditch overhead cabinets.
Though, a backsplash without upper cabinets comes with one disadvantage, leaving more stuff that needs to be stored and kept out of sight. But even it has a good part by requiring us to be more creative with storage solutions. Yet above all, whether you decide to go with a floating shelf, drawer cabinets, an island for extra storage, or a freestanding open closet, multiple solutions can compensate for the lack of upper cabinets. So, don't despair and just let your imagination do its job and walls be caressed by tiled and slab backsplashes available in limitless design options. Here we have compiled a list of backsplashes without upper cabinets to get you inspired and more familiar with this on-trend look.
How high should the backsplash be without upper cabinets?
There is no rule of thumb regarding the height of the backsplash. Hence, it rather boils down to personal preferences. You can either keep the backsplash at its standard size, which is 4-inch, run it shorter on the wall, or take it up to the ceiling. In each scenario, it works well. Of course, this decision is also shaped by the other design elements taking part in the existent narrative of the kitchen. The size of the available kitchen space could also serve as an impacting factor on the size of the backsplash. In short, just because you won't have any upper cabinets won't define or determine how high the backsplash should reach.
What can I use instead of upper cabinets?
Floating shelves are an excellent substitute for upper cabinets. They not only accentuate the walls but also help personalize the kitchen. This way, you can make your kitchen truly feel your own. If you are looking for a sense of change, you can also use kitchen islands, freestanding cabinets, pegboards, ceiling-mounted cast-iron pot racks, and bar carts instead of upper cabinets. In other words, the lack of upper cabinetry means more space for imagination, thus feel free to come up with your storage solutions for a more unique design.
Backsplash Height for Kitchen without Upper Cabinets
The minimum splash-back height measures 450 mm from the countertop, but if you are installing it behind the stove, it should go higher to provide full and impeccable protection for your walls. And when you don't use upper cabinets, you can go with any size backsplash, which depends on your personal preference. Generally, the backsplashes are kept at a standard size, only going 4-inch up from the countertop. It also costs less than cladding the whole wall until the ceiling. But if you love tiled or slab backsplashes rather than bare walls and are not on a tight budget, you can use ceiling-height backsplashes for a more dramatic effect.
Standard Backsplash without Upper Cabinets
Standard backsplashes only extend 4-inch above, starting from the countertops, which leaves the top half of the kitchen bare. This way, kitchens have more breathing space and feel opened up, having more room to be personalized. Whether it could be floating shelves, wall sconces, paintings, or other decorative pieces, these walls can be decorated with practical and eccentric objects. If you love shabby chic, bohemian, and modern Tuscan kitchens, you can keep the top part of the kitchen as empty as possible to leave more space to personalize the walls and the kitchen. It is one of the best ways to showcase that the kitchen is just your personal space, which will keep motivating you for kitchen work.
How can I organize my kitchen without upper cabinets?
Unlike traditional kitchens that tended to hide everything from view, modern kitchens prefer free and breathing designs even if it comes at the cost of sacrificing upper cabinets. And to compensate for the lack of extra storage provided by wall units, there are plenty of ways. One of them is floating or cantilevered shelves that can store plates, rugs, and other decorative features. The big ones and stainless-steel versions can hold up heavy weights, ensuring the longevity of the design.
Another alternative consists of wall-hung rails or ceiling-mounted pot racks over the islands. You can hang your pots and other utensils and expose them completely to allow easy grab and keep them more accessible. Apart from those, available in multiple shades, pegboards offer another substitute where you can hang a wide range of kitchen utensils to personalize your kitchen.
However, if you want to keep your upper walls empty, you can find better ways for storage. For example, adding slide-out drawers and cabinets divided into drawers could be one way to do it.
Kitchen islands could also function to provide extra storage. If you have a vast space, you can even use double islands that will give you more storage. Or you can dedicate one of your walls to the full-height cabinets to optimize storage. Buffet tables, sideboards, and bar carts could also be some eccentric and eye-catching additions to enrich the kitchen's furniture repertoire.
Full-Height Backsplash without Upper Cabinets
When you don't have upper cabinets, it means that you have more place for your backsplash. And today's market presents you with an immense repertoire of backsplash colors, materials, and size formats, ranging from encaustic tiles to ceramic, porcelain, and solid stone tile and slab backsplashes. Thus, whether you love metals, tiled, or solid stone, you have multiple options to choose from.
Does a kitchen have to have upper cabinets?
A kitchen can function well enough and feel self-sufficient without upper cabinets. And you can easily compensate for them while just employing floating shelves and getting freestanding open storage and a kitchen island.
Considering their visual impact on the space, the upper cabinets mostly feel extra and bulky overhead. Nowadays people seek open spaces and brightness. Thus, long gone are those days when upper cabinets used to be considered a must or a necessity.
Backsplash Materials
Backsplash materials are various, be it ceramic, cement, glass, solid stone (marble, granite, etc.), mosaic, or quartz. This limitless material vocabulary gives homeowners and designers the freedom to choose according to their budget, the overall design theme of the kitchen, and personal taste.
Marble Backsplash without Upper Cabinets
If you have the top half of the kitchen free, one of the best backsplash materials to go with is a marble. It is sophisticated, elegant, and seamless. Plus, the lack of upper cabinets allows space to open up for the marble backsplash and lets it be the true visual focal point.
Ceramic Backsplash without Upper Cabinets
Available at affordable prices and with various patterns, colors, and design options, ceramic backsplashes offer almost endless design possibilities. While getting rid of the upper cabinetry, you can reserve more space for these variously sized and designed ceramic tiles. With a gloss finish on the tiles, you can evoke extra interest.
How can I make my kitchen look taller?
You can easily make your kitchen look taller with a few magical design tricks. One of them is to forgo upper cabinetry, which almost always serves as a space-enhancing factor, exposing the bare walls and making them look taller.
Secondly, you can use full-height solid stone and vertically stacked tile backsplashes to encourage the kitchen to feel taller. Large format patterned encaustic tiles, mirror backsplashes, glazed tile splash-backs, and glass backsplashes also expand the kitchen visually. Additionally, you can go with slim cabinets, clean-line cabinetry, integrated appliances, cabinet lighting, and most importantly a light color palette.
Apart from those, if you have a gabled ceiling or a double-height volume and want to emphasize it, a range hood reaching the ceiling and oversized pendants dropped down can be used to highlight the tallness of the kitchen.
Glass Backsplash without Upper Cabinets
If you don't want your backsplash to be extremely visible but rather provide a barely-there existence, you can choose glass as your backsplash material. Since they come in sheet and tile versions and even non-colored options, you can just use them to add a glow to the walls and a layer of protection against food spills and water splashes. As they are easy to clean, pore-free, and non-demanding materials, you can confidently utilize them in your kitchens.
Metal Backsplash without Upper Cabinets
One of the on-trend looks of 2022, metal backsplashes, including zinc, copper, brass, and stainless steel come with plenty of functional and aesthetic benefits. Available in multiple patterns thanks to the advanced technology, they introduce undulating forms, eccentric geometric patterns, and easy-to-clean anti-bacterial surfaces. For the same reason, they exhibit a look that you would like to keep as a focal point. And to do that, it would also be better to keep the top half of the kitchen free of upper cabinets.