20+ Glazed Porcelain Tile Backsplash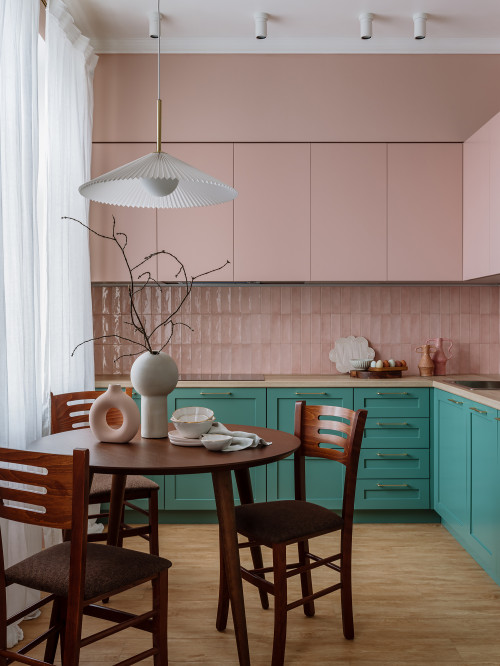 ID# 150002 | Houzz.com – Credit | © bellager design
---
Pink and Green Kitchen Cabinets with Pink Countertops
A stunning appearance is created by the pink flat-panel uppers and green base shaker cabinets with the backsplash and wall. The pink ceramic subway tile backsplash gives the finishing touch and creates a focal point in the kitchen while the pink and green hues draw attention. The vertical arrangement of the backsplash's subway tile is distinctive and gives a contemporary touch.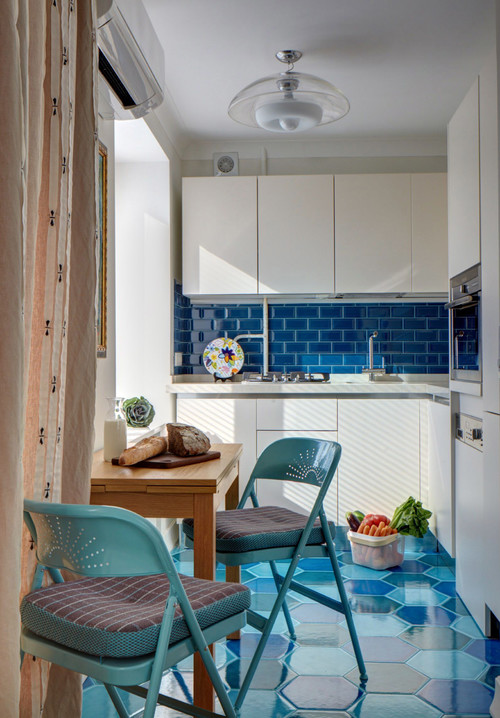 ID# 150013 | Houzz.com – Credit | © Валентина Савескул
---
Blue Glazed Porcelain Tile Backsplash with White Flat-Panel Cabinets
The white countertops add a clean and cohesive look to the space, while the blue hexagon tile floors add a pop of color and visual interest. The transition from dark blue to light blue in the hexagon tiles creates a dynamic and visually striking effect. The blue subway tile backsplash adds a touch of texture and pattern to the kitchen, while also tying in with the blue hexagon tile floors.
Glazed Porcelain Tile Backsplash
If you're looking to add a touch of personality to your kitchen, consider a glazed porcelain tile backsplash. These tiles open up a world of creative opportunities for your backsplash design. Whether you want a classic or modern style, you can achieve either look with glazed porcelain tiles. With a vast array of colors, patterns, and designs to choose from, you can truly personalize your space. If you're feeling adventurous, mix and match your tiles with other materials like glass or stone to create a unique, personalized look that reflects your individuality!
Give Your Kitchen a Glossy, Smooth Finish
These fabulous tiles are a godsend for the always-busy kitchen and bathroom spaces, thanks to their unparalleled durability! Porcelain tiles are more durable than ceramics. This is because they undergo kiln firing at a much higher temperature, resulting in a denser, more unbreakable structure. On the other hand, glazed porcelain tiles bring style and refinement to any area. With their silky, lustrous finish, they can instantly liven up any room, particularly when partnered with a light-colored wall. But wait, there's more! They have a range of colors, patterns, and finishes to match your personal preferences and decor ideas.
The best part? Glazed porcelain tile backsplash designs are incredibly easy to clean – a win-win situation. You won't have to worry about unsightly stains or messy spills from cooking or grooming products. Simply wipe them with a damp cloth, and they'll shine like new.
Are glazed porcelain tiles good?
Glazed porcelain tiles are an absolute game changer for people searching for a fuss-free and long-lasting option for their backsplashes! Constructed from densely-packed clay that's fired at high temperatures, these tiles are virtually immune to scratches, stains, and moisture. What's more, the glazing that coats the surface of the tile provides an extra layer of protection against damage, which makes them great for areas like bathrooms and kitchens that see a lot of foot traffic.
Color Options for Glazed Porcelain Tile Backsplash
Glazed porcelain tiles are available in a wide range of colors and finishes, making them a versatile choice for backsplash design. Some popular color options for glazed porcelain tile backsplash designs include:
Neutral shades, such as white, beige, and gray, can add a clean and classic look to a kitchen or bathroom.
Bold, statement-making colors, such as red, blue, or green, can add a pop of color and a modern touch to a backsplash.
Dark shades, such as black or charcoal, can sophisticated and dramatic look on a backsplash.
Wood-look or stone-look finishes can add a natural, rustic touch to a backsplash.
In addition to solid-color tiles, glazed porcelain tiles are also available in a variety of patterns and designs, such as geometric shapes, subway tiles, or encaustic patterns. These patterned tiles can add visual interest and a sense of movement to a backsplash and can be used to create a traditional or modern look depending on the design.
White Glazed Porcelain Tile Backsplash
White glazed porcelain tiles are an excellent choice for a backsplash because of their durability and classic appearance! They are resistant to scratches, stains and water, making them a practical choice for the kitchen. If you're considering a white glazed porcelain tile backsplash, there are many options to choose from to suit your style and design sense.
To add some visual flair to your white glazed porcelain tile backsplash, consider using tiles of various sizes or shapes in combination. This can create a dynamic and eye-catching appearance. You can also play with textures and finishes, such as a glossy finish or a matte finish, to add depth and character to your backsplash. Another idea is to mix and match white glazed porcelain tiles with other materials. For example, you can use white porcelain tiles as an accent next to a backsplash made of real stone, or incorporate them into a pattern or design within a larger backsplash made of another material. This can help to create a cohesive and beautiful design in your kitchen.
Which is better glazed or unglazed porcelain tile?
When it comes to picking porcelain tiles, the decision boils down to your personal preferences and requirements. Glazed tiles, coated with a layer of liquid glass, are renowned for their resistance to scratches and stains while offering a vast array of finishes, colors, and patterns, making them perfect for bathrooms and kitchens or any other moist areas. You'd love that the glaze makes them ideal for humid spaces, as it makes them more impervious to moisture.
On the other hand, unglazed tiles have a natural look and a matte finish, thanks to the absence of a glaze layer. Their usual applications cover spaces with heavy foot traffic and outdoor patios since they are less likely to show wear and tear. Additionally, they tend to be less slippery than glazed porcelain tiles, making them the safer choice around wet areas. It's all about weighing your needs with your style preferences in determining the perfect porcelain tile for your home or space.
Gray Glazed Porcelain Tile Backsplash
Gray glazed porcelain tiles evoke a sense of timelessness and classic elegance, making them a favored choice for both kitchen and bathroom backsplashes. These adaptable tiles complement various design styles, ranging from classic to industrial to modern, providing versatility in their use. With a broad range of shades, gray tiles can either create a mood or blend in seamlessly with the background depending on the color selected. The design options for gray glazed porcelain tiles are endless, with a variety of sleek subway tiles, matte honeycomb tiles, glazed square tiles, modern hexagon tiles, and long, thin tiles with a herringbone pattern to choose from. Accentuate the beauty of your gray backsplash by pairing it with contrast grout, such as white or black, or opt for complementary grout to match the overall style. Choosing gray glazed porcelain tiles = a smart, practical, and stylish design investment!
Black Glazed Porcelain Tile Backsplash
Looking for a way to make a striking statement in your kitchen? Black glazed porcelain tiles might be just the ticket. With their sleek, glossy finish and smooth surface, they bring an air of sophistication and class to your space, instantly elevating its elegance. Of course, their versatility is also a huge bonus – whether you're aiming for a modern, sleek look, or something more rustic and traditional, black glazed porcelain tiles are a surefire way to bring your vision to life. One exciting design option is to use large format tiles with clean lines and a glossy finish. This creates a seamless and minimalist look, perfect for those of us who love contemporary designs.
On the other hand, smaller black glazed porcelain tiles arranged in classic patterns like herringbone or subway tiles can give your kitchen a more traditional, homey feel. The options really are endless – so why not experiment and see where your creativity takes you?
What is the difference between glazed and unglazed porcelain tile?
When it comes to porcelain tiles, there's a big difference between glazed and unglazed. Glazed tiles are like the polished high heels you wear when you want to make a statement. They have a shiny finish that not only looks pretty, but also protects them from scratches and stains. Plus, they're super easy to clean – water and grime slide right off, thanks to that glaze. Unglazed tiles, on the other hand, are more like your favorite pair of jeans – comfortable, natural, and a little rough around the edges. They don't have that glossy finish, so they might be more prone to scratching and staining. But they make up for it with their rustic, earthy look. And, they'll keep you from slipping and sliding around, which is great news for bathrooms and other damp spaces.
Blue Glazed Porcelain Tile Backsplash
For a kitchen backsplash, blue glazed porcelain tiles are a chic and distinctive option. The blue glazed porcelain tiles' glossy texture and smooth surface give the room a sense of refinement and elegance, and their adaptability provides for a variety of design alternatives to fit any style. Use a big format tile with a consistent hue and glossy surface as one design concept for a blue glazed porcelain tile backsplash ideas. This results in a smooth, contemporary appearance that complements modern kitchen designs. Another option is to use smaller blue glazed porcelain tiles in a traditional design, like a herringbone or subway tile, to get a more traditional appearance.
Blue glazed porcelain tiles are a sturdy and simple-to-clean alternative for any kitchen backsplash, regardless of the design you select. Blue glazed porcelain tile backsplash designs are perfect for use in the kitchen since they are resistant to heat, moisture, and stains. Additionally, they are simple to clean and maintain looking brand-new thanks to their glossy finish.
Tile Styles for Glazed Porcelain Tile Backsplash
There are numerous alternatives to think about when selecting the ideal backsplash for your kitchen, including material, color, and style. Porcelain tile that has been glazed is a great option for backsplashes because of its toughness, adaptability, and shiny look. There are several tile styles for glazed porcelain tile backsplash ideas to pick from if you're thinking about using it for your kitchen backsplash, and each one may provide a distinctive and fashionable design.
For a backsplash made of glazed porcelain tiles, subway tiles are a traditional and timeless option. These rectangular tiles are put in a neat, organized arrangement to give the room a polished appearance.
Another well-liked alternative is hexagon tiles, which may give a kitchen a sleek and contemporary appearance. These hexagonal tiles may be stacked in several ways, such as a honeycomb design or in a more random manner. Whatever tile design you select for your glazed porcelain tile backsplash ideas, glazed porcelain tiles are a sturdy and fashionable option for a kitchen backsplash. They can give any kitchen a neat and coordinated appearance, and they will undoubtedly remain a classic and durable design feature. Scroll down and see some of the stylish tile styles for glazed porcelain tile backsplash ideas!
Glazed Porcelain Subway Tile Backsplash
Glazed porcelain subway tile backsplash ideas are a terrific alternative if you're searching for a traditional and timeless backsplash choice. Due to their strength, adaptability, and neat, crisp look, these rectangular tiles are a common option for kitchen backsplashes. The designs of glazed porcelain subway tile backsplashes may fit with any design ethos and assist you to create a stunning and enduring backdrop, whether you have a sleek modern kitchen or a warm farmhouse-style kitchen.
The offset or running bond pattern, in which the tiles are arranged at a 50% offset, is the traditional design for a glazed porcelain subway tile backsplash. This results in a unified and organized appearance that is ideal for traditional and vintage kitchen designs. You might choose a basketweave or diagonal design for a more contemporary and aesthetically pleasing appearance. As an alternative, you may utilize a third or fourth offset to provide a more modern and asymmetrical appearance. In addition to using alternative rectangular tiles with 1-to-2 proportions, such as 2 x 4, 3 x 6, or 10 x 20 inches, you may also use the traditional size for glazed porcelain subway tiles, which is 3 x 6 inches.
Do glazed porcelain tiles scratch easily?
Glazed porcelain tiles are a pretty tough cookie when it comes to dealing with scratches and wear and tear. The glossy finish ensures that the surface is shielded from unsightly stains, scratches, and other types of damage. But, let's be real here, no tile is invincible and some signs of wear and tear are bound to occur over time. The extent to which your beloved glazed porcelain tiles may suffer scratch marks is subject to the type of usage they are subjected to and the amount of TLC they get.
Glazed Porcelain Hexagon Tile Backsplash
Ideas for hexagon tiles in a glazed porcelain finish are a fashionable and modern pick for bathroom and kitchen backsplashes. These tiles consist of high-fired ceramic, which is then coated in a glossy layer, resulting in a hard-wearing and waterproof surface. The hexagon shape of the tiles contributes a one-of-a-kind and captivating touch to any location, rendering them a favorite preference for those who want to showcase their backsplash.
Glazed Porcelain Herringbone Tile Backsplash
The beauty and elegance of glazed porcelain herringbone tiles are perfect for any kitchen or bathroom, adding a touch of sophistication to your space! With these tiles, you can create a design aesthetic that complements your taste and reflects your unique personality. So why not elevate your home decor with a stunning glazed porcelain herringbone tile backsplash?
Are glazed porcelain tiles hard to keep clean?
Glazed porcelain tiles are a dream come true when it comes to keeping your floors looking clean and vibrant. With their shiny finish, these tiles effortlessly repel water and other substances, making them resistant to stains and an absolute breeze to wipe down. Plus, their hardy nature ensures they won't fade or become discolored over time, ensuring your floors will maintain their stunning appearance for years to come.
To keep your glazed porcelain tiles looking their absolute best, simply give them a quick clean with a mild detergent and warm water. Grab a soft cloth or sponge and you're good to go. In cases of tougher stains or dirt, don't fret! You can use a mild abrasive cleaner or a gentle-bristled brush to help work out the grime. But remember, it's essential to avoid any harsh or abrasive cleaners or tools, as these can cause irreparable damage to your flooring. Keep your glazed porcelain tiles sparkling and looking like new by treating them with the care and attention they deserve.