21+ Large Porcelain Tile Backsplash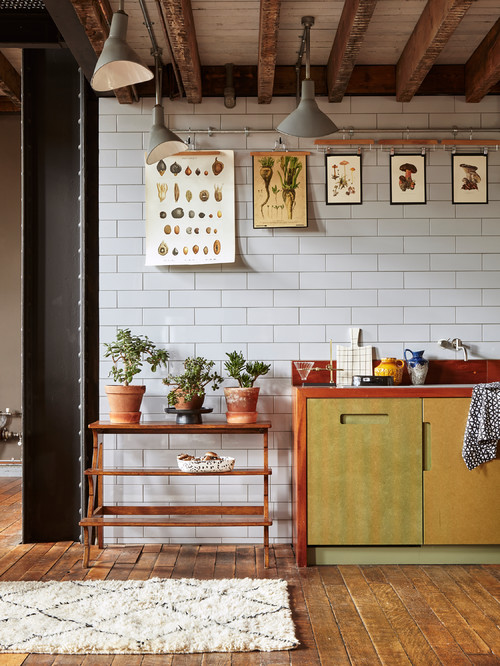 ID# 160506 | Houzz.com – Credit | © Ali Attenborough
---
Creating a Warm Atmosphere with Retro Kitchens
Retro-inspired kitchens can easily be created in houses that have a dominant retro atmosphere! These kitchens exude a friendly and warm atmosphere and are made perfect with the usage of a white large subway tile backsplash. To balance out the wood tones in the kitchen, the white porcelain tiles serve as the perfect counterbalance. Adding to the serene ambiance is the white soft carpet that meets the wood flooring, giving the area a peaceful look. The wood tones blend seamlessly with the earth tones, which creates an overall feeling of naturalness in the space. In addition, plant paintings on the wall serve as a perfect accentuation of the natural ambiance.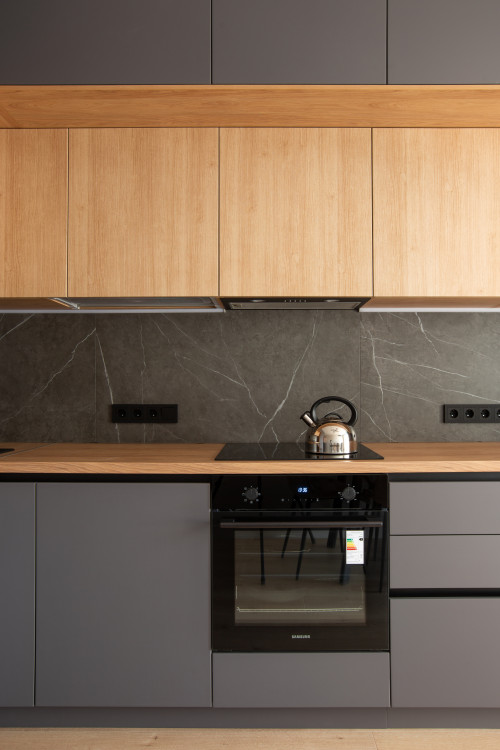 ID# 160512 | Houzz.com – Credit | © Студия дизайна Four Rooms
---
Contemporary Kitchens with Gray Large Porcelain Tile Backsplash
In contemporary kitchens, gray and wood tones are excellent options. From the floor, wood and gray tone transitions take place like a pattern. In the space, gray and wood provide a perfect balance. Preferring a black stove on a wooden counter, they form a whole with the black oven. In addition, the perfect balance is completed with the gray large format tile porcelain backsplash. Adding depth to the space, The gray backsplash creates a much warmer atmosphere. The kitchen, dominated by two colors, creates a perfect contemporary kitchen example.
Large Porcelain Tile Backsplash
Looking for a sleek and modern tile option for your kitchen? Consider a large porcelain tile backsplash! These tiles offer a sophisticated and clean appearance that can truly make a statement in your kitchen. The large format of each tile ensures a seamless look that creates a stunning visual impact!
Sleek & Modern Look of The Large Format Tiles
Porcelain tiles are known for their resistance to moisture, stains and heat, which makes them perfect for kitchens that see frequent cooking and spills. As an added bonus, they're incredibly easy to clean and maintain, making them a smart choice for busy households. Plus, with fewer grout lines due to the large tile format, you'll enjoy a streamlined and modern appearance that works well with various kitchen styles. This customization is perfect whether you prefer a contemporary, industrial, or minimalist vibe. Finally, the size of the tiles themselves can help visually expand the space, making it appear larger and more open than before, even if your kitchen is on the smaller side.
All in all, a large porcelain tile backsplash is an excellent choice for homeowners who are interested in a contemporary and sophisticated look for their kitchen. With durability, low maintenance needs, and unmatched aesthetics, it's no wonder that these backsplashes are so popular in modern kitchen design!
Can you use large porcelain tiles for the backsplash?
It is possible to create a very modern look with Large Porcelain Tile Backsplash. In addition, it creates a perfect choice for kitchens with its easy-to-clean feature.
Color Options for Large Porcelain Tile Backsplash
For contemporary kitchens, there are backsplash options that appeal to all tastes. large porcelain tile backsplash is an excellent option, especially for the kitchen to have a simple and elegant look. Creating a bright look becomes quite easy. In addition, kitchens, where colors come together with Large Porcelain Tile Backsplash, become very enjoyable spaces. Large Porcelain Tile Backsplash color options make spaces enjoyable in kitchens designed according to the tastes of the users.
White Large Porcelain Tile Backsplash
In the world of kitchen design, nothing quite compares to the beauty of white. It's a color that exudes a sense of cleanliness and naturalness, making it a perfect choice for the heart of any home. When white is used dominantly and in intricate details, it creates a modern and sleek vibe that's hard to resist. To top off this chic look, large white tiles are a perfect option that will bring your kitchen to the next level of modernity.
Gray Large Porcelain Tile Backsplash
The use of gray large porcelain tile backsplash in modern and stylish kitchens creates a flawless look. The fact that the gray color is a result of the combination of black and white makes it an easily adaptable color. It acts as a balancer in kitchens where all-white or all-black color is dominant. It should also be noted that wood tones are in perfect harmony with the gray tone. By evaluating many shades of gray, choices can be made depending on lighting and daylight.
What is the largest porcelain tile you can get?
Depending on the size and convenience of the kitchen area, many size options can be evaluated for use in the area.
Black Large Porcelain Tile Backsplash
Taking advantage of the noble image of the black in contemporary kitchens produces very good results. The use of Black Large Porcelain Tile Backsplash in kitchens dominated by black brings perfect integrity to the space. In addition, Black Large Porcelain Tile Backsplash can easily match with other preferred color tones. In kitchens where light colors are preferred, Black Large Porcelain Tile Backsplash creates contrast focuses and adds depth to the space. Black Large Porcelain Tile Backsplash armatures are also chosen black, which can be a good choice to add integrity to the space. In addition, the use of black and wood gives the space a very warm atmosphere. Kitchens with Black Large Porcelain Tile Backsplash can provide a brighter environment with the support of white color.
Can porcelain tiles be too heavy for a wall?
When it comes to tile options, porcelain tiles are known for being weightier than other types of tiles. There are several reasons for this, such as their larger size, thicker composition, and overall structure. This is especially true if you're considering using large format porcelain tiles – these tend to be much heavier compared to smaller ones. It's important to take note that if the wall is not sufficiently prepared or reinforced, the weight of these tiles may cause problems like sagging or even collapse over time. Proper installation is key, so it is advisable to follow manufacturer recommendations explicitly. This includes ensuring that the wall is structurally sound enough to support the weight of porcelains, utilizing appropriate adhesive or mortar, and following proper techniques for grouting and sealing. Keep these guidelines in mind to ensure that your porcelain tile installation is successful and lasts for years to come.
Marble Look Large Porcelain Tile Backsplash
If you're looking to modernize your kitchen, marble look large porcelain tile backsplash is a fantastic option. Its seamless blend of white color and marble appearance enhances any contemporary kitchen. Additionally, the tiling color options available make it easy to achieve the perfect harmony you're looking for. Not only does it look stunning, but it also provides the desired clean feeling you want in a kitchen. The ability to reflect daylight is a significant bonus. Using Marble Look Large Porcelain Tile Backsplash in well-lit kitchens brings harmony, brightness, and a sense of openness to your space. Trust me; it's an excellent choice!
What are the disadvantages of porcelain tiles?
Porcelain tiles, which make the kitchen very stylish and modern, can be said to be high in price and their disadvantages.
Is larger tile cheaper to install?
Larger tiles may be cheaper, it can be said that the prices may vary depending on the types of tiles used.
Wood-Look Large Porcelain Tile Backsplash
It is possible for users who favor naturalness to reach designs inspired by nature with wood-look large porcelain tile backsplash. The warm tones of wood add a very pleasant atmosphere to the space. In addition, it is seen that wood tones and other colors can easily match. Especially when the naturalness and cleanliness emphasis of white comes together with wood tones, it creates a perfect balance. The warm atmosphere created by the wood tones makes the time spent in the kitchen much more enjoyable for the users. In addition, kitchens with wood look tiles are supported with green leafy plant accessories, bringing the feeling of naturalness to the fore.
Are large format tiles worth it?
Larger tiles add a very modern atmosphere to the area. It also helps to provide perfect integrity to the space.