19+ Marble Look Porcelain Tile Backsplash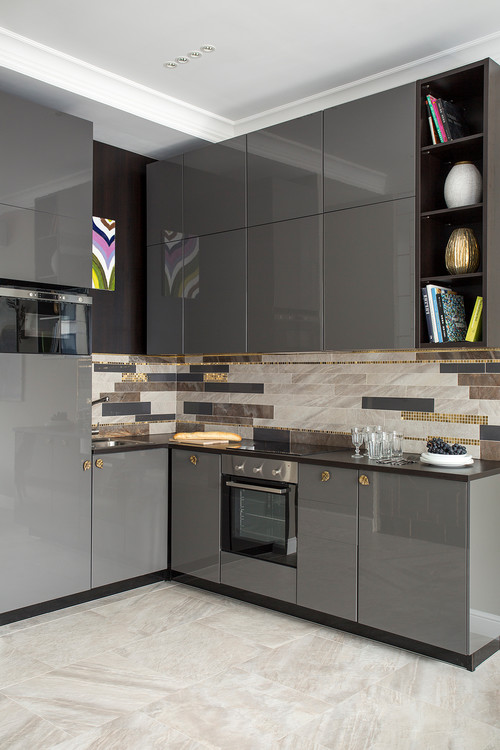 ID# 149506 | Houzz.com – Credit | © Vera Tarlovskaya Interiors
---
A Modern Kitchen Design with Colorful Marble Look Porcelain Subway Tile Backsplash
The gray, plain, and glossy cabinetry reach the ceiling to create plenty of storage space. These glittering cabinets are accompanied by golden detailed marble look porcelain subway tile backsplash. It offers a rich image with the golden details it contains. It is in perfect harmony with the golden handles on the lower cabinets. The backsplash can be called the star of this design. It changes the whole atmosphere of the kitchen.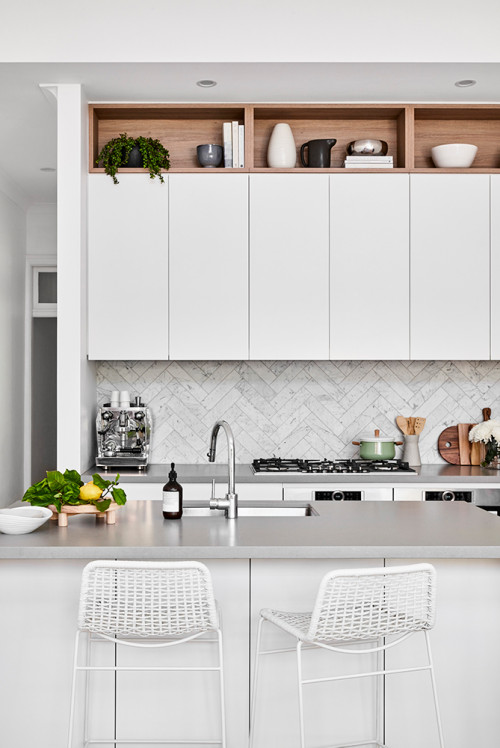 ID# 149513 | Houzz.com – Credit | © TM Design Studio
---
Contemporary White Kitchen Design with Wooden Details
We love the contrast of grey, wood, and white for a contemporary kitchen! While the gray countertop and white-gray marble look porcelain herringbone tile backsplash complement each other, the finish of the white upper cabinets with wood contrasts. The idea of shelves above the tall cabinets makes this kitchen a living space!
Marble Look Porcelain Tile Backsplash
A marble-look porcelain tile backsplash is a versatile and stylish choice for adding a touch of luxury to your kitchen. These tiles are crafted to emulate the natural beauty and elegance of marble, with intricate veining patterns, varying colors and textures that closely resemble the real thing. This non-porous material offers superior durability, making it an excellent choice for spaces with high traffic. With options ranging from classic white marble to more unique and exotic colors like Calacatta, Carrara, and Statuario, marble-look porcelain tiles offer endless design possibilities to fit different styles and preferences.
Achieve the Luxurious Sense of the Marble with Porcelain Tiles
With their sleek and sophisticated appearance, marble look porcelain tiles exude an air of elegance and luxury that can elevate any space. Plus, their more affordable price tag compared to natural marble makes them a budget-friendly alternative for those who want to achieve that high-end look without breaking the bank. Whether you choose to use them as a complementary feature or as the star of the show, marble-look porcelain tile backsplashes are guaranteed to enhance the overall aesthetic of your kitchen and create a timeless and stylish look. So why wait? Start planning your dream kitchen or bathroom today!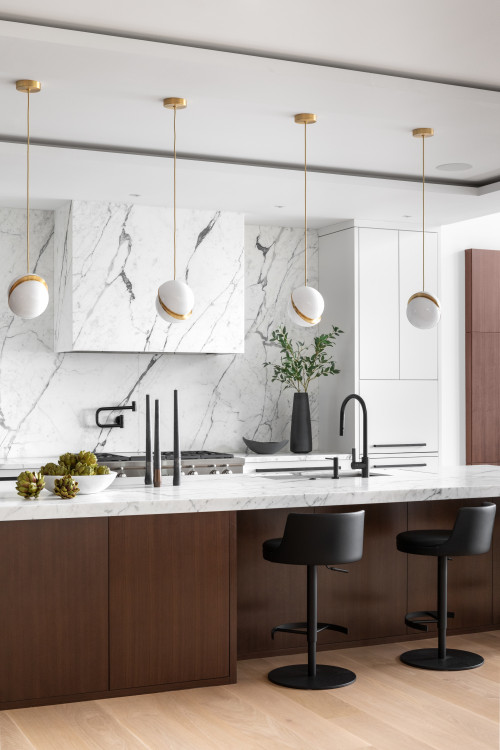 ID# 149501 | Houzz.com – Credit | © Madeleine Design Group Inc.
---
Luxury Looking Modern Kitchen Design with White Cabinets and Wood Island
The warmth added by the wood and the modern atmosphere of the marble look porcelain tile backsplash is in harmony. White plain kitchen cabinets stand in the background in front of the marble look porcelain tile backsplash, which looks like a work of art. Natural gray capillary patterns on the white of the backsplash add a modern flair to the kitchen. Unity is ensured by the fact that the kitchen counter is made of the same material. The lower cabinets of the island in dark tones add warmth and nobility to this space. Black fixtures, accessories, and chairs add a strong character to the kitchen with the contrast it creates. The gold details inside the pendants support the luxurious look.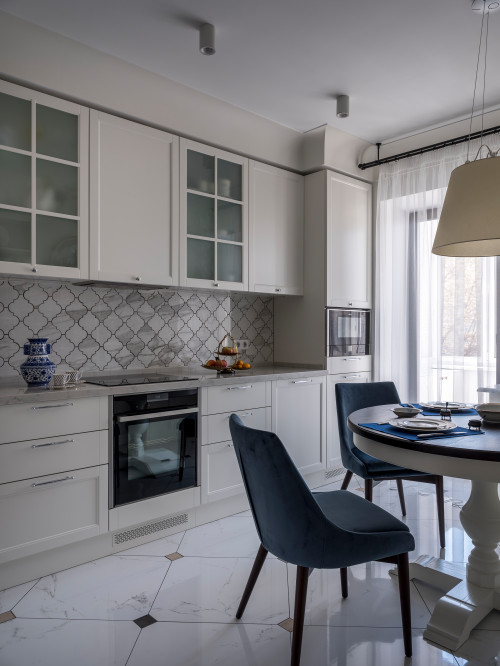 ID# 149502 | Houzz.com – Credit | © ANDdesign / Александра Дашкевич
---
Eat-in Kitchen Design with Marble Look Porcelain Tile Backsplash
Behold the exquisite kitchen with cream-colored shaker cabinets, adorned by a mesmerizing arabesque tile backsplash that emanates a subtle motion giving it a modern feel. The porcelain tiles, despite being exceedingly difficult to differentiate from marble, provide a unique texture and pattern, ingeniously enhancing the ambiance. The floor tiles, with captivating designs, delicately augment the kitchen's style. The wooden counter around the circular dining table imbues warmth into the environment, and the soft blue armchairs infuse freshness into the space, making it an exceptional abode to unwind and relax.
Can porcelain look like marble?
Absolutely! Porcelain tiles can act exactly like marble! It's no easy feat distinguishing the two due to their one-of-a-kind makeup. Plus, when you're searching for a specific color or texture, porcelain might be your answer since it offers more variety than marble. If you're wanting that marble look but want to explore your options, porcelain is definitely worth considering!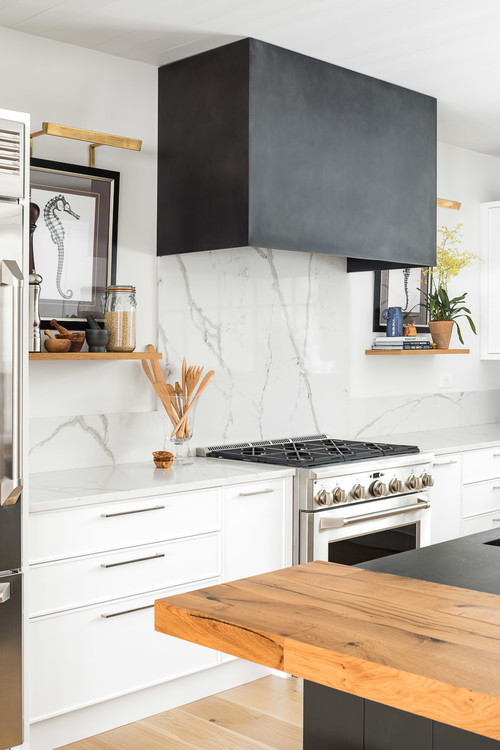 ID# 149503 | Houzz.com – Credit | © Astro Design Centre
---
Marble Effect for Porcelain Tile Backsplash Meets Black and Wooden Details
An aesthetic, fresh, and bright farmhouse design. Marble look porcelain tiles offer a very clean and spacious look with their integrity with the counter. A contrast is created with the black color used in the hood. With the black island bench, this detail is emphasized and a great harmony emerges. Wood adds warmth to every environment it enters with its natural texture. Here, too, the shelving details and the wooden insert on the island add a warm vibe to this farmhouse design.
Types of Marble Look Porcelain Tile Backsplash
Marble-look porcelain tile backsplashes offer a range of options to achieve different styles and aesthetics in your kitchen or bathroom. Popular options include classic subway tile with rectangular tiles arranged in a staggered pattern, mosaic tile with small tiles arranged in a mesh backing for intricate patterns, large format tile for a seamless and sophisticated look, herringbone tile for added movement and visual interest, and hexagon tile for a trendy and modern touch. These types of porcelain tile backsplashes are more affordable than natural marble but still provide a luxurious and elegant look. Choose the type that best fits your style and create a stunning focal point in your space with a marble-look porcelain tile backsplash.
Marble Look Porcelain Subway Tile Backsplash
Subway tiles can now be called a classic for kitchens and bathrooms. They are making a big comeback by starting to be used more often indoors. Subway tiles are a good idea if you want a warm and somewhat traditional space. If you want to add a farmhouse, Scandinavian, modern or traditional atmosphere to your kitchen, it is quite possible to create a timeless and stylish design with marble look porcelain subway tile backsplash.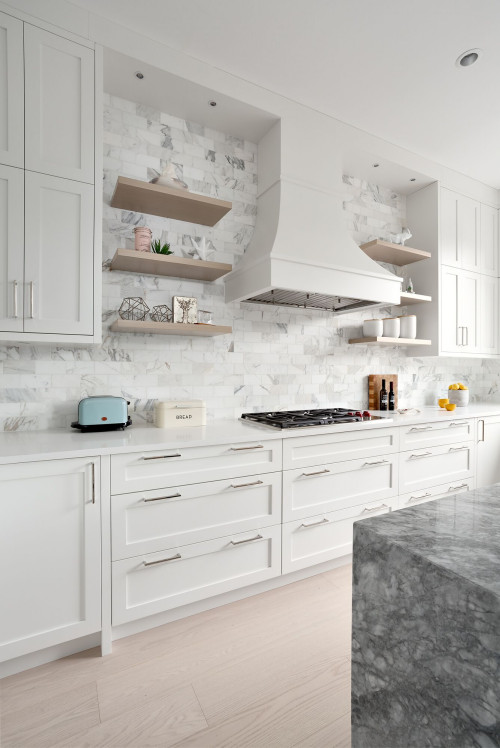 ID# 149504 | Houzz.com – Credit | © Kitchen Art Design
---
A Traditional Kitchen Design with Marble Look Porcelain Subway Tile Backsplash
A traditional kitchen design consisting of the harmony of gray and white. Marble look porcelain subway tile backsplash is the focal point of the kitchen with its gray-white color. While adapting to this traditional style, it also adds sparkle to the kitchen with its shine. It becomes a spacious and bright kitchen with white shaker cabinets and white countertops. The light wood-toned shelves and parquet flooring in between add warmth to this space.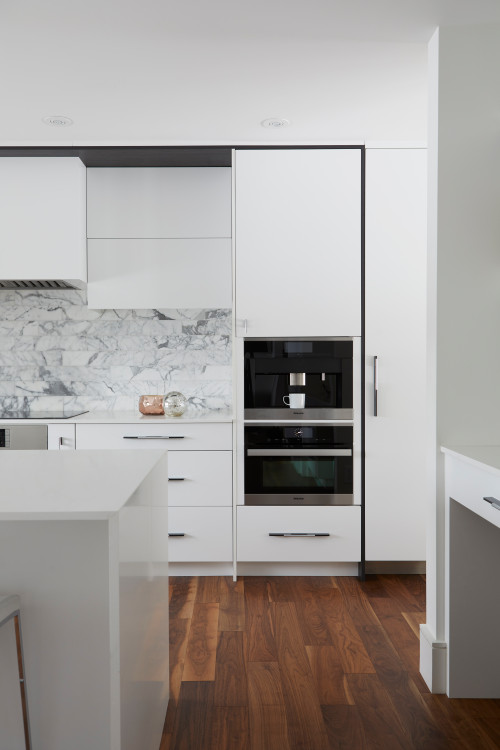 ID# 149505 | Houzz.com – Credit | © BiglarKinyan Design Planning Inc.
---
Contemporary Kitchen Design with Subway Tiles and Wood Floor
The contemporary design of the kitchen is accentuated by the plain white cabinets that are adorned with sleek and elegant gray handles, evoking a feeling of modernity. Your gaze shifts to the beauty of the marble-look porcelain subway tile backsplash that perfectly complements the white cabinets, adding charm to the whole set-up. Adding to the elegance of the kitchen, black frames are perfectly placed around the white cabinets, exuding a refined and sophisticated ambiance. The mid-century minimalism style is reflected in the carefully curated design, evoking a sense of orderliness and perfection!
Is porcelain or marble tile better?
Porcelain tiles are absolutely reliable and a smart choice for those who want something practical and enduring. They are known for their robustness which makes them able to withstand heavy foot traffic, less inclined to chipping, cracking, and staining, and require minimal maintenance. This flooring material is perfect for busy households or commercial spaces where you want to save time and money. However, people who are looking for a sophisticated and luxurious ambiance can opt for marble tiles. They possess natural veining and color variations which offer a unique and beautiful appearance.
Marble tile has a timeless and elegant look, which can instantly take the aesthetic of any space to the next level. On the other hand, natural marble is a porous material. It requires more maintenance, including regular sealing, to preserve its beauty and protect it from moisture damage. So, there are advantages and side-effects for both of these materials and before deciding you need to consider different factors.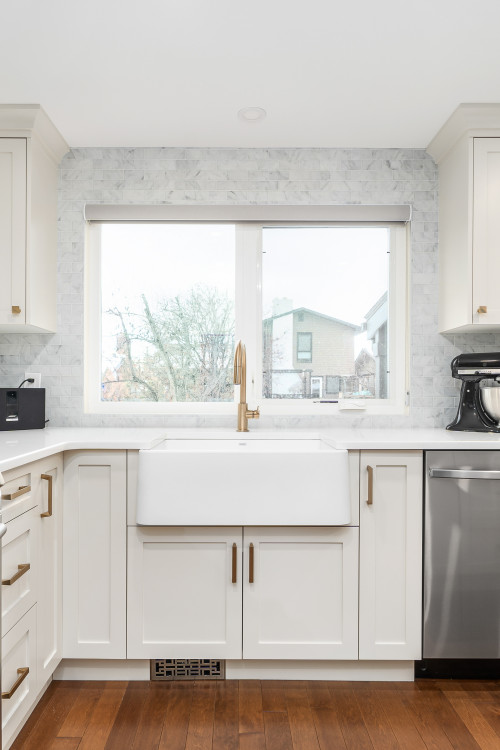 ID# 149507 | Houzz.com – Credit | © Kurmak Builders
---
Off-White Cabinets with Farmhouse Sink and Brass Fixtures
The marble look subway tile backsplash adds a nice textural look between the cream-colored dirty white kitchen cabinets. This traditional kitchen, which is decorated with small touches, can show its difference compared to today's trend, plain white kitchens. The white quartz countertop completes the marble look porcelain subway tile backsplash, while the brass-colored handles complement the warm feeling of the faucet and dark wood flooring.
Marble Look Porcelain Hexagon Tile Backsplash
Marble look porcelain hexagon tile backsplash offers a modern and sophisticated touch to any space. The hexagon shape adds a trendy geometric pattern that can instantly elevate the aesthetic of a kitchen or bathroom. The marble look porcelain tile captures the natural beauty and elegance of marble without the high cost and maintenance associated with natural marble. The hexagon shape creates a visually stunning backsplash that adds a touch of timeless charm to any interior design style, from traditional to contemporary.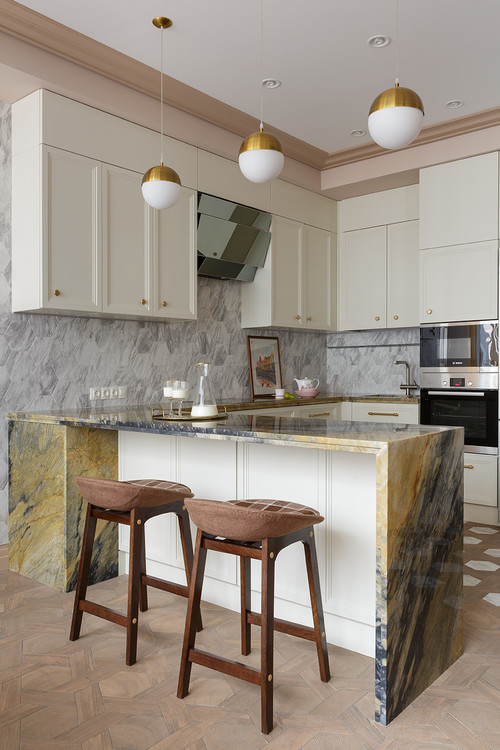 ID# 149508 | Houzz.com – Credit | © Архитектурное бюро Картун
---
Off-White Shaker Cabinets with Hexagon Tiles and Granite Countertpè
The backsplash in shades of gray adds a sense of movement to the kitchen with its toned pattern, creating visual interest in the space. The stunning granite counter and the continuation into the dining section add a touch of luxury and sophistication. The combination of yellow and gray tones on the granite counter creates an eye-catching contrast, adding a pop of color to the design. The gold-colored pendants and cabinet handle add a touch of glamour and enhance the overall glow of the space. The marble-look porcelain hexagon tile backsplash stands out against the off-white shaker cabinets, creating a beautiful contrast. The hexagonal floor tiles in a warm color add warmth and depth to the space while also harmonizing with the backsplash in terms of shape.
What are the disadvantages of porcelain tiles?
Porcelain tiles can be slightly more challenging to install compared to other materials like ceramic due to their density and hardness, requiring special tools and techniques. They are also generally more expensive due to their higher-quality and durability. However, their longevity, resistance to wear, and cost-effectiveness in the long run justify the higher cost. Despite their durability, porcelain tiles can still chip or crack, especially around the edges, if not handled properly during installation or in high-stress areas. Hiring a professional installer and following recommended installation guidelines can help ensure a successful and long-lasting porcelain tile installation.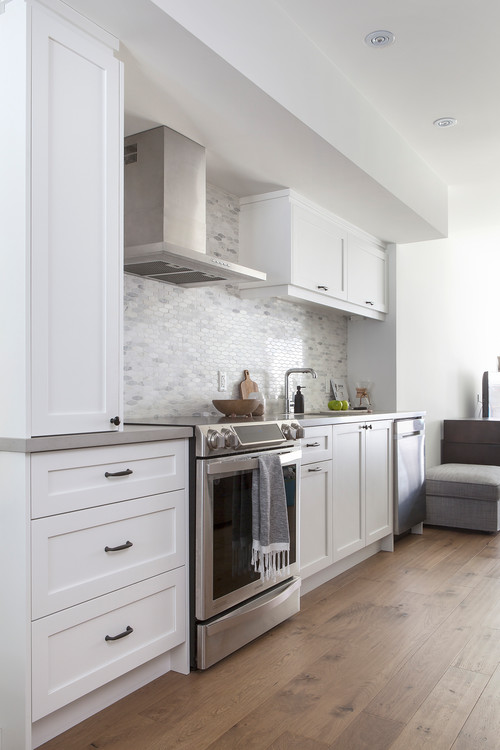 ID# 149509 | Houzz.com – Credit | © INTOR Construction
---
White Shaker Cabinets with Gray Countertop and Hex Tiles
White cabinets and hexagonal marble backsplash are in perfect harmony in this Scandinavian-style kitchen where white and soft transitions are at the forefront. With its hexagon tile backsplash in white and gray tones, it offers a look that does not tire the eyes but attracts attention. It supports the soft air of this place with its soft tone on the parquets. The silver hood and oven are in harmony with the backsplash.
What looks like marble but is cheaper?
There are several more affordable alternatives to marble that can mimic its appearance. Porcelain tiles, quartz, cultured marble and laminate are some options to consider. Porcelain tiles can be printed to resemble marble and are durable and low-maintenance. Quartz is an engineered stone with a marble-like look and is relatively durable and non-porous. Cultured marble is a man-made material that combines crushed marble with resin, offering a more budget-friendly option but with potential durability concerns. Laminate countertops or veneers can also imitate marble, but may not be as durable.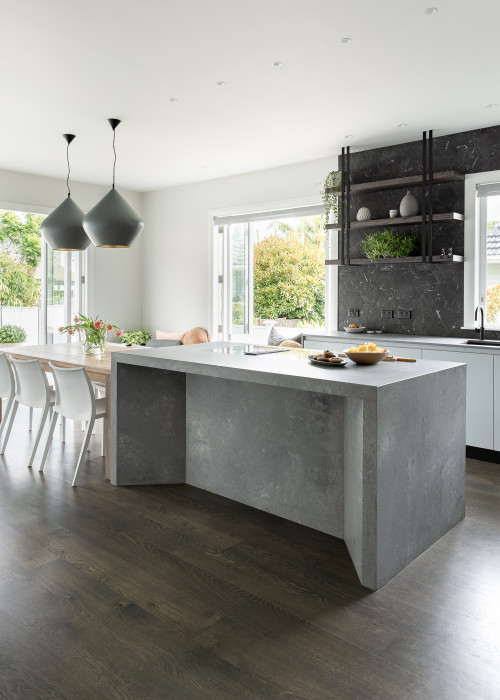 ID# 149510 | Houzz.com – Credit | © Du Bois Design Ltd
---
Contemporary Kitchen With Black Hexagon Backsplash and Concrete Island
Kitchen design that gives a bold image dominated by black and gray. A style that sheds light on new generation contemporary kitchen designs with its black hexagon tile backsplash. The black backsplash strengthens the visuality with its hexagonal form and texture and brings the kitchen design to the fore. The perception that the kitchen consists of two different parts in a single area is easily reflected in the colors used in this design. The island with its dominant shape and gray color are in perfect harmony with the black backsplash. The dining area, which is separated from this area, creates contrast with the white walls and light wooden table.
Marble Look Porcelain Herringbone Tile Backsplash
The herringbone pattern resembles the fishbones formed by rectangular subway tiles made of natural stone and is a very classic backsplash look. With the marble look porcelain herringbone tile backsplash you can make a different touch and gather all the focus here.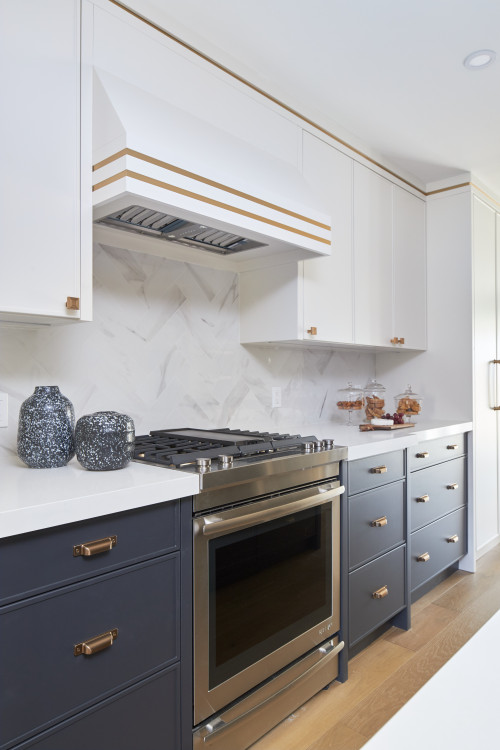 ID# 149511 | Houzz.com – Credit | © Elisse Navi Interiors
---
Modern Kitchen Design with Golden Touches on Blue and White Cabinets 
The porcelain herringbone tile backsplash provides a chic and elegant feel to the kitchen! Its stylish marble appearance accentuates the towering cabinets and creates an atmosphere of openness. The combination of white and gray hues in the tile design complements the dark blue lower cabinets flawlessly. The gold cabinet handles and stripes are the perfect finishing touch that adds a sense of luxury to the kitchen, bringing feelings of contentment and satisfaction!
Which type of porcelain tile is best?
Porcelain is truly versatile as it comes in various forms that cater to different preferences. From subway, hexagon, and herringbone, to large format, the options for porcelain tile backsplash are limitless. Each one offers a unique visual that can match the user's distinctive taste and complement the entirety of the design.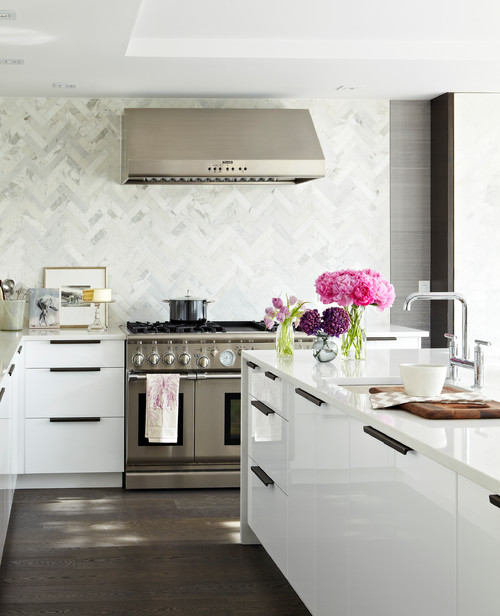 ID# 149512 | Houzz.com – Credit | © Kentwood Floors
---
Gloss White Cabinets with Stainless Steel Appliances
Matt marble look herringbone tile backsplash versus glossy white cabinets are the main elements that make this kitchen modern. Horizontal black handles are indisputably a great choice for this kitchen. This open-plan kitchen offers a very bright and pleasant space. The dark parquet on the floor offers a warm atmosphere in contrast to the modern air.
Large Format Marble Look Porcelain Tile Backsplash
Large format marble-look porcelain tile backsplashes are a popular choice for creating a seamless and sophisticated look in kitchens and bathrooms. These tiles come in larger sizes, typically measuring 12×24 inches or larger, which means fewer grout lines and a more seamless appearance. The larger size of these tiles allows for the full display of the veining and patterns, creating a striking visual impact. The ease of installation and versatility in design, with options such as stacked, staggered, or herringbone patterns, make large format marble-look porcelain tile backsplashes a practical and stylish option for any home. Whether you're looking for a sleek and modern aesthetic or a bold and dramatic statement, a large format marble-look porcelain tile backsplash can elevate the look of your space.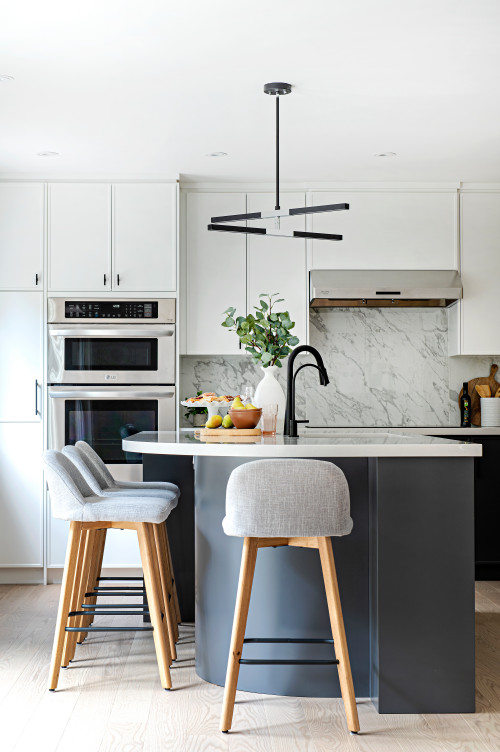 ID# 149514 | Houzz.com – Credit | © Bobeche Interiors
---
Contemporary Kitchen with Black Island and White Cabinets 
A functional and spacious contemporary kitchen design that will appeal to a large family. The large format marble look porcelain tile backsplash, strengthens the sense of integrity and looks great between the white flat cabinets, looks great. The backsplash increases the visuality with the gray tones it contains and the black of the island and the lower cabinets of the kitchen. While the bar chairs around the island symbolize comfort with their models and colors, they also add a warm atmosphere to the environment. Black taps and a black detailed lamp add a characteristic touch.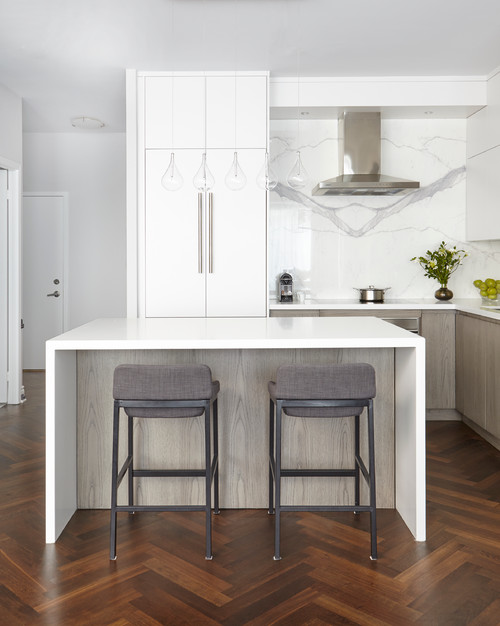 ID# 149515 | Houzz.com – Credit | © Keystone Ridge Developments Ltd.
---
Modern Open Concept Kitchen with Waterfall Island
Herringbone-tiled wooden parquets create a natural environment with their color and pattern, while the modern kitchen in soft and white color looks eye-catching. White flat cabinets and gray patterned white marble look porcelain tile backsplash are the most important elements that make the kitchen modern. The natural texture of the wood in the lower cabinets and the waterfall island adds a soft air to this area with a very soft tone. The glass stalactites on the island increase the elegance of this kitchen.
What is a good price for porcelain tile?
Porcelain tile prices can be quite unpredictable depending on several factors, including the brand, quality, size, design and location. The average cost of porcelain tiles mostly ranges from $3 to $10 per square foot for standard styles and sizes. But, if you fancy something more exceptional or more significant, brace yourself to spend at least $15 or more per square foot. It's crucial to consider your budget and preferences to avoid unpleasant surprises.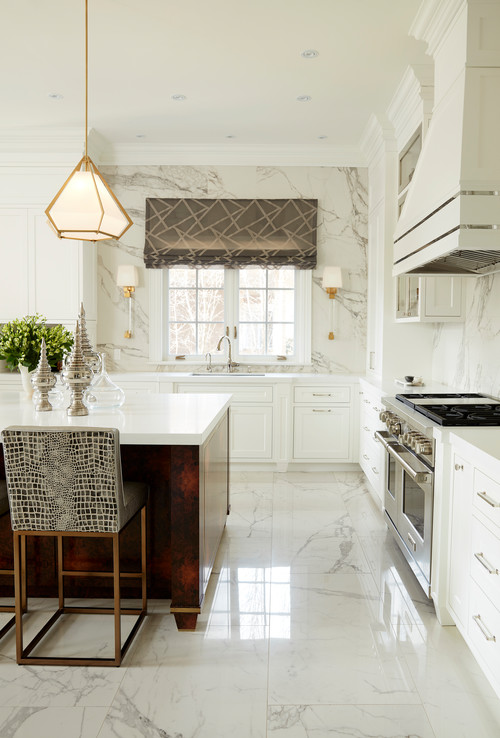 ID# 149516 | Houzz.com – Credit | © Shirley Meisels
---
Traditional Style Kitchen with Marble Look Porcelain Wall and Floor Tiles
The traditional kitchen exudes timeless elegance with its classic design elements. White shaker cabinets provide a clean and sophisticated look, complemented by the marble-look porcelain backsplash tiles that add a touch of luxury to the space. The same porcelain tiles used on the backsplash are also extended to the floor, creating a cohesive and seamless look. A brown island serves as a focal point, adding warmth and contrast to the predominantly white color scheme. The window treatment features a geometric print, adding a subtle pattern and visual interest to the space. The combination of white cabinets, marble-look porcelain tiles, brown island, and geometric window treatment creates a charming and inviting traditional kitchen design that is both functional and stylish.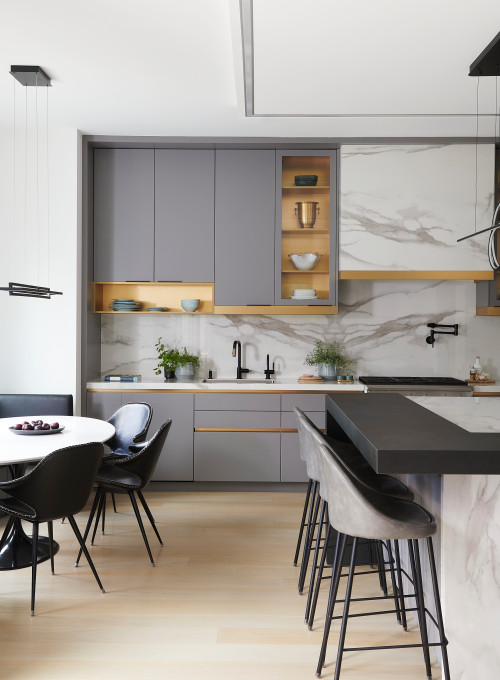 ID# 149517 | Houzz.com – Credit | © avenue design inc
---
Contemporary Kitchen Design with Large Format Marble Look Porcelain Tile Backsplash 
The chic grey flat-panel cabinets add a touch of sophistication with their clean and sharp lines, creating a streamlined and modern look that is sure to impress! The porcelain slab backsplash brings refined elegance to the kitchen, offering a sleek and easy-to-clean surface that maintains a spotless appearance. The marble range hood serves as a luxurious focal point, adding a touch of opulence and elegance to the overall design, making you feel like royalty in your own kitchen.
Do porcelain tiles chip easily?
Porcelain tiles have a hard structure, meaning they are less likely to break. However, dropping or hitting a heavy or hard object on the porcelain tile may cause the surface to crack or break. Porcelain tiles can be easily splintered by wet saws during the application, so while a variable blade wet saw is ideal, a normal depth saw can help keep the porcelain from chipping.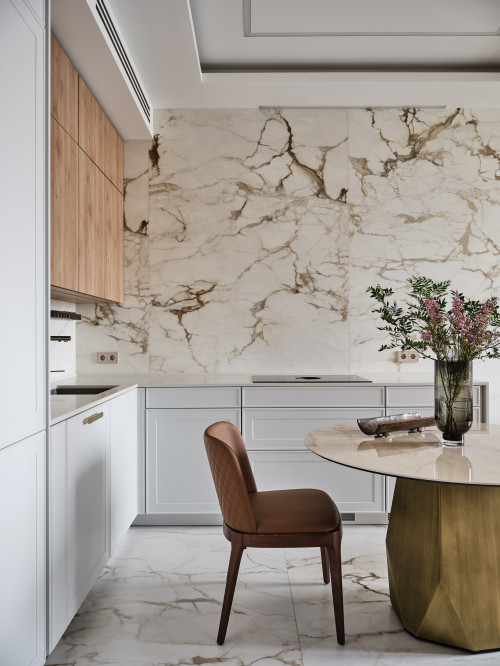 ID# 149518 | Houzz.com – Credit | © Ольга Долидзе
---
White and Wood Cabinets with White Countertop
Large format porcelain tile backsplash, with its natural patterns in coffee tones, becomes a wonderful visual when it meets wooden cabinets. On the floor of the kitchen, the tiles of the same colors provide integrity. Although this harmony gives a cold air, wood adds warmth to the space. The lower cabinets in light tones end with a plain white countertop, thus making the backsplash stand out more. The round dining table adds a different atmosphere to this space with its color and style and supports the modern look.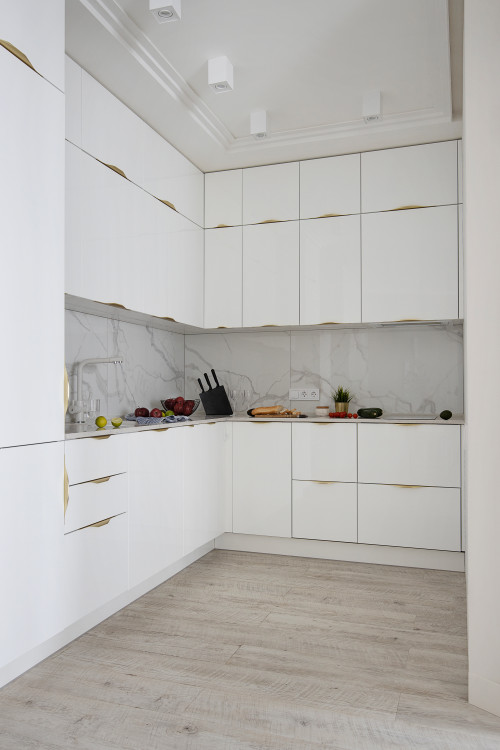 ID# 149519 | Houzz.com – Credit | © Студия дизайна Бойчук Марии
---
All White L-Shaped Kitchen with Light Wood Floor
A contemporary kitchen design consisting of white glossy cabinets in an L shape. Kitchen cabinets reaching up to the ceiling functionally offer a large storage area. Although it consists of a closet heavily, it does not look flat and boring. Because the golden color handle details used in the cabinets and the large format marble look porcelain tile backsplash disperse this atmosphere and offer a modern look. The light-colored parks of the floor make this area look spacious and add a warm atmosphere.