27+ Traditional Kitchen Backsplash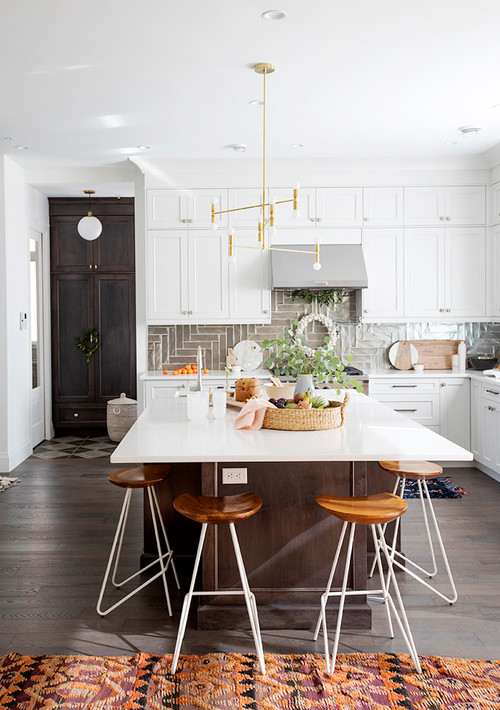 ID# 166303 | Houzz.com – Credit | © PURE Design Inc.
---
White Shaker Cabinets with Brown Herringbone tile Backsplash
As previously stated, subway tiles in a running bond pattern are a popular choice for kitchen backsplashes. However, because of their basic rectangular design, there are several arrangement alternatives, with herringbone being one of the most common. The brown herringbone tile backsplash in this transitional kitchen instantly improves the classic overall appearance while establishing a focal point. The white grout enhances the eye-catching fishbone design while also giving depth to the room. White kitchen cabinets and white quartz worktops, on the other hand, give a clean and fresh backdrop. The dark wood kitchen island contrasts nicely with the neutral color of the backsplash tiles and provides lots of storage space.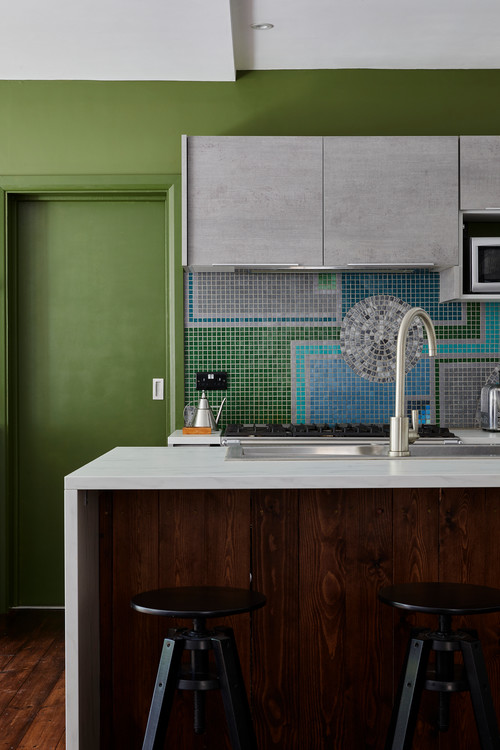 ID# 166317 | Houzz.com – Credit | © Caroline Couzens
---
Colorful Mosaic Tile Traditional Kitchen Backsplash with Moss Green Walls
Make the moss green on the wall pop with mosaic backsplash tiles! The combination of blue, green, and grey mosaic tiles with the moss-green wall creates a gorgeous backdrop for this kitchen. Upper cabinets in gray flat-panel finish the design simply and elegantly. The green tones of the natural material are complemented by a central island made of wood with a quartz countertop and a single sink and faucet.
Traditional Kitchen Backsplash
Backsplashes are one of the most significant components in kitchen design since they tie in all of the elements. Although the primary purpose of a backsplash is practical, they are also visually appealing features that may easily improve the overall appearance. Choosing a backsplash for your kitchen might be difficult with so many options. However, if you can't live without the classics, consider traditional kitchen backsplash ideas!
Timeless Elegance of Traditional Kitchen Backsplash Ideas
To create a consistent and classic appearance, traditional kitchen backsplashes usually employ neutral tones such as white, beige and gray. Subway tile is one of the most classic traditional kitchen backsplash materials. Marble or travertine natural stone tiles can also be utilized for a more costly and sophisticated aesthetic. For a more creative approach, mosaic tiles with intricate patterns or themes may be used to add visual appeal and vintage charm to your kitchen!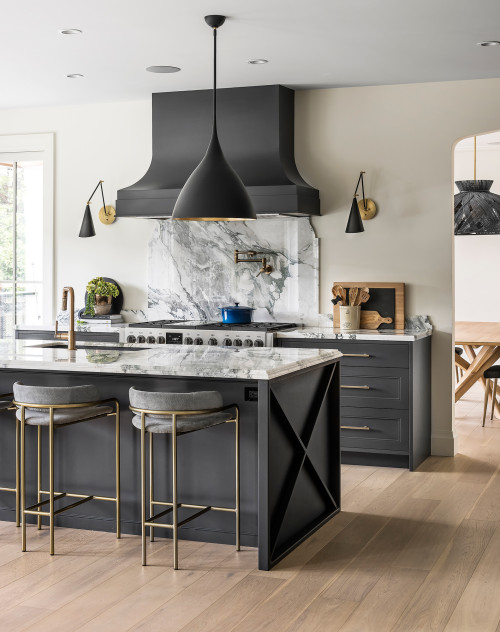 ID# 166301 | Houzz.com – Credit | © Esq Design
---
Gray Cabinets with Marble Traditional Kitchen Backsplash
If we are talking about a traditional kitchen backsplash, precious marble is one of the most popular materials!! With its natural charm and luxurious sense, a marble backsplash can easily match your expectations for a traditional look. In this transitional kitchen, the marble slab backsplash behind the stove creates an eye-catching focal point, acting as a piece of art. The same material is also used for the countertops to create a continuous look. The subtle dark gray color of the kitchen cabinets, island, and range hood perfectly complete the timeless elegance of the marble.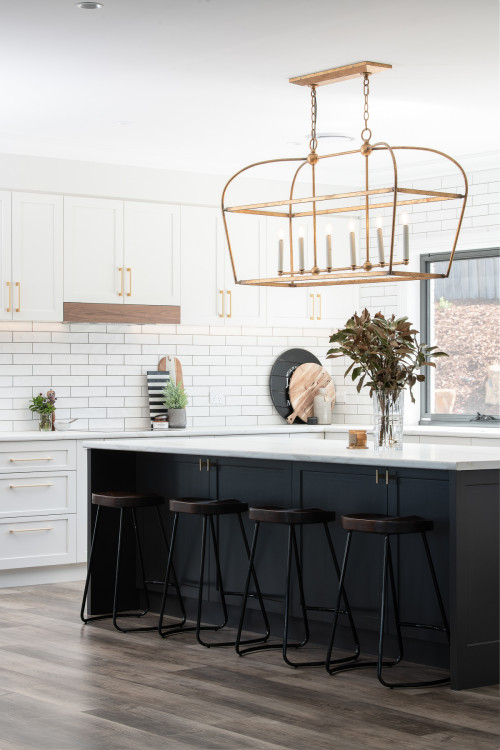 ID# 166302 | Houzz.com – Credit | © Prime Design Tasmania Pty Ltd
---
Black and White Farmhouse Kitchen with White Subway Tiles
White subway tiles are a backsplash tile classic that will never go out of style. So, if you want to create a timeless and elegant appeal for your kitchen, then you can freely go with these rectangular tiles! In this farmhouse kitchen, the white subway tile backsplash directly catches the eye with its classic running bond pattern and creates a nice textural look. Using contrasting grout colors is a perfect way to highlight the pattern of the tiles! For the rest, the white shaker cabinets provide a bright and luminous atmosphere while the large kitchen island becomes the focal point of the space, thanks to its deep black color.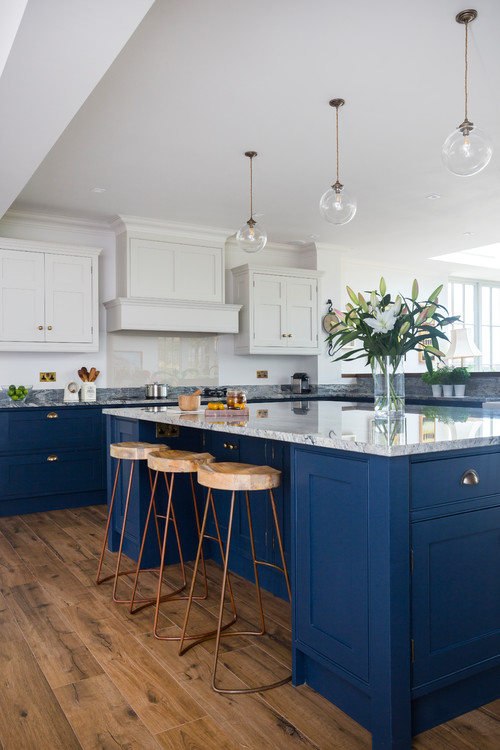 ID# 166304 | Houzz.com – Credit | © Traditional Bespoke Furniture
---
Blue and White Kitchen with Glass Sheet Backsplash
In recent days, navy kitchens have been increasing their popularity, and this transitional kitchen is a perfect execution! Here, the navy blue base cabinets and large kitchen island bring the calm and relaxing sense of the ocean into the kitchen, creating a timeless appeal. The gray granite countertops create a cohesive look with a lovely shade of blue. The same granite material is also used for a 4-inch backsplash. When it comes to the traditional backsplash, 4-inch slabs are the first thing that comes to mind. However, these types of slabs are not as protective as full-height designs. That's why adding a more durable layer behind your stove is a better way to maintain a clean overall look. As you can see here, the clear glass sheet backsplash not only provides a protective layer but also complete the overall design.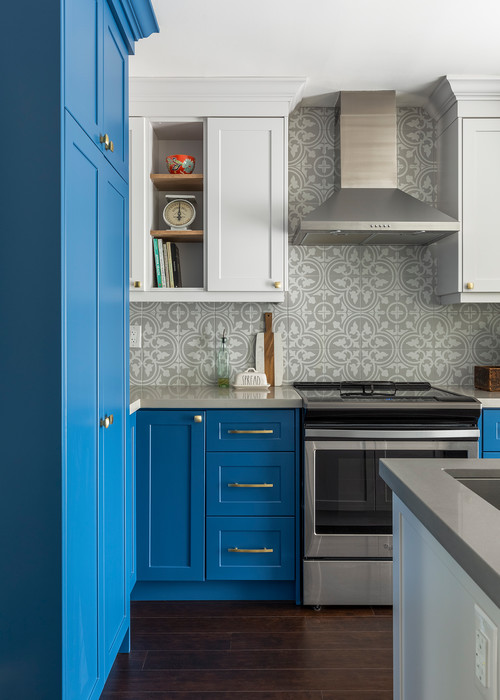 ID# 166305 | Houzz.com – Credit | © Urbanest Construction
---
Two-Tone Cabinetry with Traditional Kitchen Backsplash
The fascinating focus point is the eye-catching damask patterned backsplash tiles, which instantly boost the entire appearance!! The white and blue two-tone kitchen cabinets produce a relaxing and calm ambiance. The stainless steel appliances and brass hardware lend a feeling of coherence and luminosity to the area, finishing the whole appearance with a touch of shine!
Traditional Kitchen Subway Tile Backsplash
Subway tiles are a beautiful choice for almost any kitchen design, while also offering a timeless look. It has a wide user base with options in material types such as marble, ceramic, and glass. There are many affordable alternatives according to the material type. It works with just about any color palette, and while it's a fairly traditional option, there are many variations on using subway tile, making it suitable for any style and taste. Whether you prefer an eye-catching pattern that elevates a traditional white kitchen or keeps it simple with a standard subway tile, the backsplash is always a hotspot in any kitchen design. Of course, it is the number one traditional design with its classic, timeless stance.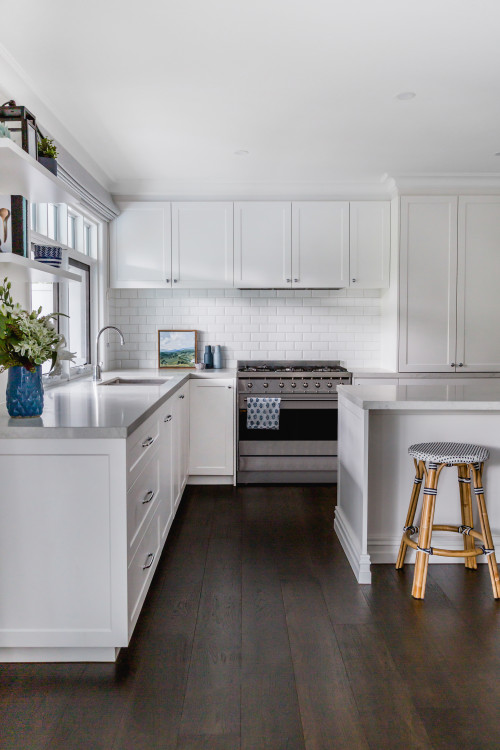 ID# 166306 | Houzz.com – Credit | © Gallerie B
---
All-White Kitchen with Chrome Hardware
If you are looking for the most fail-safe option, white subway tiles will never fail you down! In this elegant and functional kitchen, the white subway tiles with white grout complete the timeless appeal of the classic white shaker cabinetry. The gray marble countertops soften the crips look of the whites and add a dose of luxury. The chrome hardware and stainless steel stove enhance the transitional aesthetic.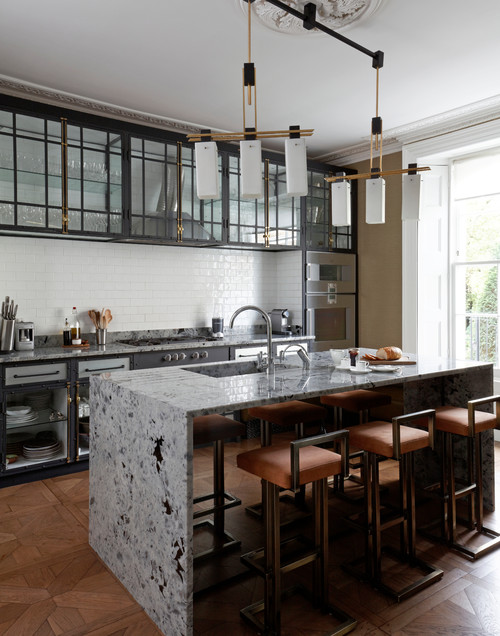 ID# 166307 | Houzz.com – Credit | © GRANT WHITE DESIGN LTD
---
Mid-century Kitchen with Black Cabinets and Granite Countertops
First thing first, the granite countertops!! These gray granite countertops make a big statement in this area because to their eye-catching texture. The waterfall edges of the island's countertop add modern vibes while the mirrored front of the island brings depth to the space. At the back, the black kitchen cabinets are adorned with glass doors that provide a layer of transparency. Traditional white subway tiles create a constant, flawless arrangement that ties everything together to complete the design.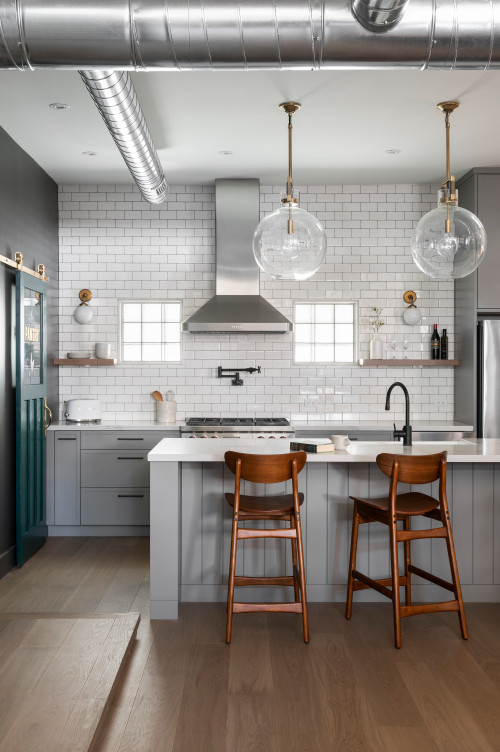 ID# 166308 | Houzz.com – Credit | © Studio Z Design
---
Industrial Kitchen with Full-Height Subway Tiles and Stainless Steel Appliances
This industrial kitchen design perfectly shows how a backsplash can make a huge impact on the overall look! As you can see, the full-height placement of the white subway tiles makes a visually strong statement and enhances the industrial charm. The stainless steel range hood wonderfully complements the industrial vibe of the exposed pipes and brick-effect wall tiles. The light gray kitchen cabinets and peninsula, on the other hand, lighten the atmosphere.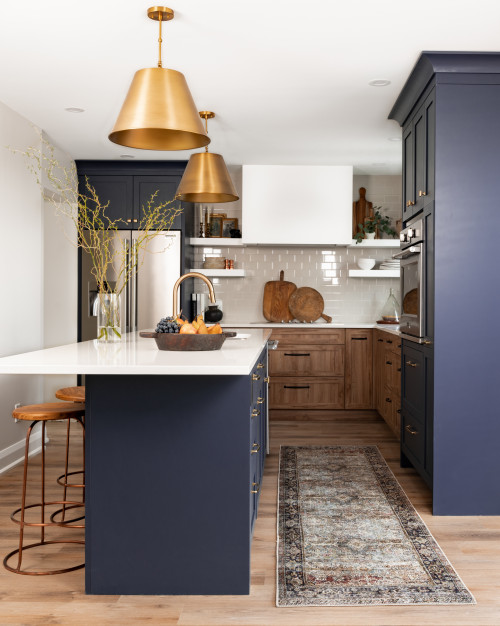 ID# 166309 | Houzz.com – Credit | © Synergy 3 Construction
---
Blue and Wood Cabinets with Beige Traditional Kitchen Backsplash
With the aid of the white range hood, floating shelves and quartz countertop, the wooden base cabinets and beige subway tile backsplash offer a soft and smooth appeal in the rear! The deep and rich navy blue hue surrounds the kitchen island and tall cabinets, adding depth to the area. The brushed brass pendant lights above the island complete the look and provide a touch of glitz.
What is the most classic backsplash?
The subway tile design in varying sizes, large and small, and thick and thin shapes, is a timeless variation of backsplash that is traditional and truly classic! With different material types and unlimited color options, it adapts to almost every design and taste.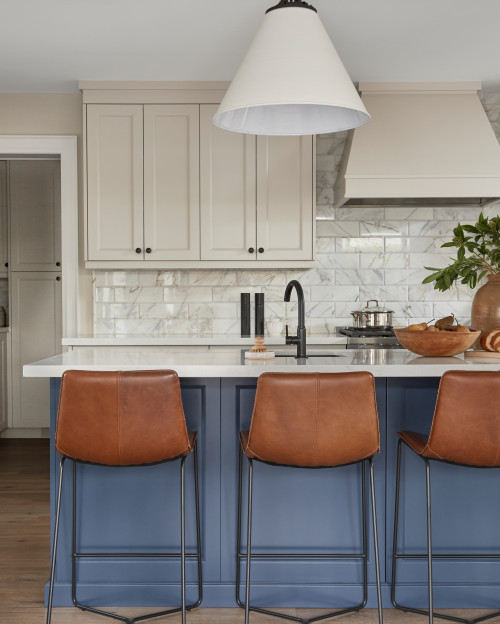 ID# 166310 | Houzz.com – Credit | © Kingsgate Construction Ltd.
---
Calacatta Gold Marble Subway Tile Backsplash with Off-White Cabinets
When the classic subway tile pattern meets the luxury marble texture, the outcome is excellent, and there is no better alternative for creating a traditional kitchen backsplash appeal than these two! With its gold and gray veining, the Calacatta gold marble subway tile backsplash adds to the room's opulent feel. The off-white shaker cabinets, range hood and white quartz countertops create a clean and sleek appeal that completes the classic feel.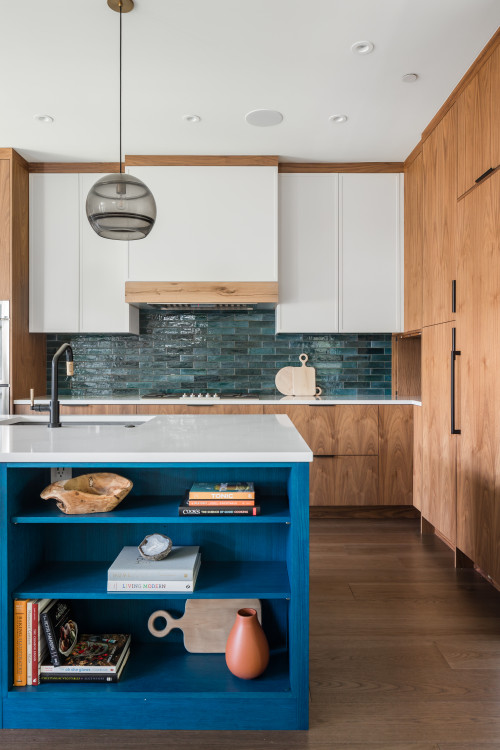 ID# 166311 | Houzz.com – Credit | © Designs by KS
---
Contemporary Kitchen with White and Wood Cabinetry
When it comes to subway tiles, color and material options are endless and this wide variety allows you to reflect your personal style into your design. In this contemporary kitchen, the blue-green subway tile backsplash directly draws attention and becomes the focal point of the space. The clean and sleek appeals of the white and wood cabinets provide a modern frame that allows the backsplash tiles to stand out. Adding another layer of color, the blue kitchen island not only enhances the overall design but also provides ample storage with its open cabinets.
Traditional Kitchen Mosaic Tile Backsplash
There are several materials to pick from when it comes to the backsplash. Mosaic tiles are now available in every conceivable material, from glass and stone to wood, plastic, and ceramics, thanks to their popularity. Making material selections will be much easier thanks to your budget. Stone, glass, and ceramic mosaic tiles are more expensive, but plastic and most wood tiles are far less expensive. There are other better choices for ceramic mosaic tiles. There are practically limitless color and pattern options, ranging from black-and-white designs to colorful and elaborately patterned styles, to arrangements evoking pastoral or classical art themes. Their forms span from round and square to hexagons, triangles, and a variety of other geometric shapes.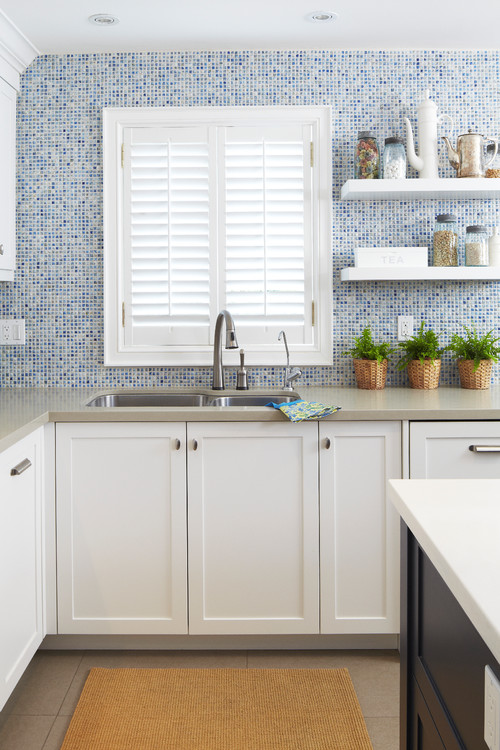 ID# 166312 | Houzz.com – Credit | © Sealy Design Inc.
---
Mosaic Tile Traditional Kitchen Backsplash with Gray Countertops
The more simple your kitchen, the more modern it is!! The simplistic features, such as the mosaic tile backsplash's tiny blue and white squares or the naive knobs, provide a stunning effect to the kitchen design. Light gray counters complement the chrome hardware and contribute to the overall harmony of this modest and contemporary kitchen.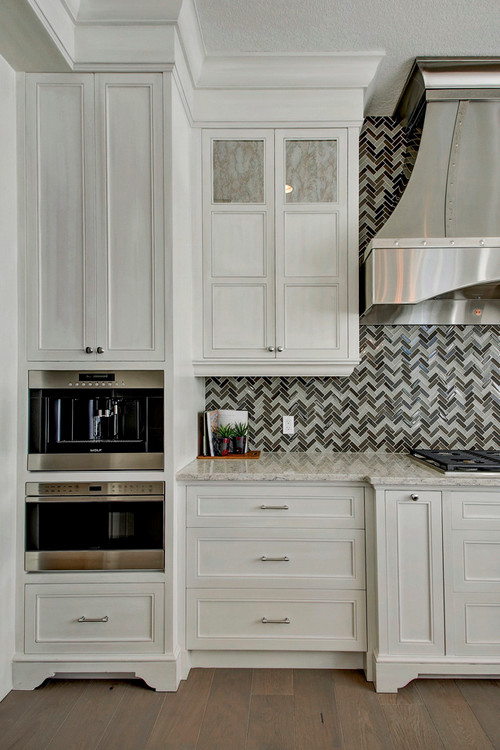 ID# 166313 | Houzz.com – Credit | © Sliver Custom Design & Finishing Ltd
---
Multicolored Herringbone Tiles with Oversized Steel Range Hood
Adorning with the classic herringbone pattern and glass material, this mosaic tile backsplash perfectly represents the timeless elegance of the traditional aesthetic! The off-white cabinets and marble countertop complement this visually pleasing feature while the oversized stainless steel range hood makes a statement.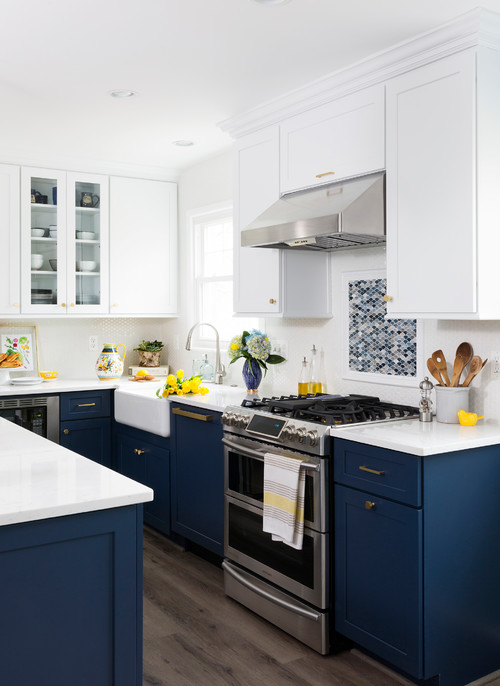 ID# 166314 | Houzz.com – Credit | © Case Design/Remodeling Halifax
---
Blue and White Cabinets with Stainless Steel Appliances
Small but fashionable! This small transitional kitchen demonstrates that even small rooms can be beautiful! The white upper cabinets, white quartz countertop and white backsplash provide a bright and airy ambiance while the navy-blue perimeter cabinets with brass hardware make an excellent design. Over the stove, the tiny blue scallop tiles form a mosaic that serves as a focal point. The design has an aesthetic variation because to the usage of multiple tiles.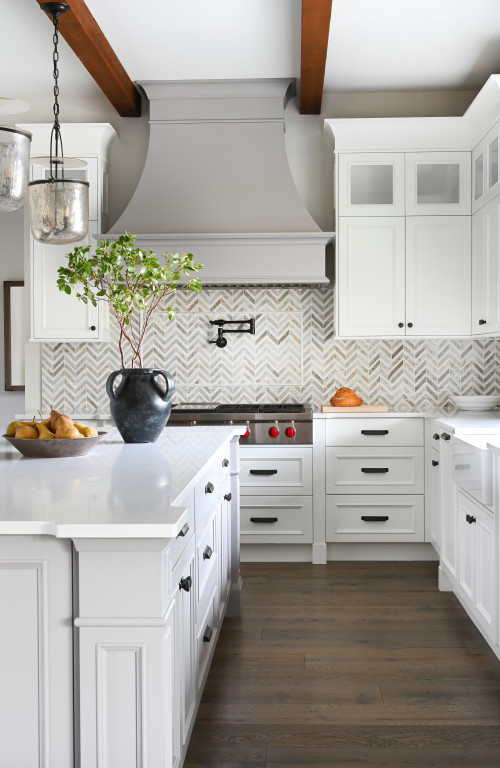 ID# 166315 | Houzz.com – Credit | © PlaidFox Studio
---
Farmhouse Kitchen with Oversized Gray Range Hood Design
The gorgeous chevron tile backsplash design adds vitality and dimension to this farmhouse kitchen. The big gray range hood complements the white kitchen cabinets with black hardware and the white quartz countertop. The oil-rubbed bronze hardware contrasts with the white features, emphasizing them. The exposed wooden beams and floors wonderfully depict the farmhouse style's warm and homey ambiance!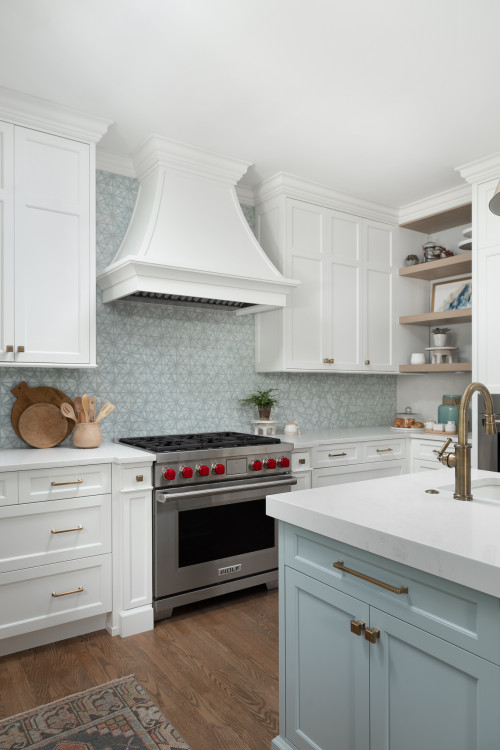 ID# 166316 | Houzz.com – Credit | © Plain & Posh
---
Beach-Style Kitchen with Pastel Blue Backsplash Tiles and Island
A pastel blue color is used not only for the backsplash tiles but also for the island in this beach-style kitchen. They bring tranquility and sereneness to the kitchen, while the white shaker cabinets add a traditional touch. The gold hardware and wood floating shelves add warmth.
Traditional Kitchen Arabesque Tile Backsplash
Consider using arabesque tile backsplashes if you want to build a traditional kitchen! The exquisite, eastern design of these tiles can make your kitchen's focal point. The unusual pattern interaction produced by the blend of curves and angles in arabesque tiles will give your walls depth and personality. Arabesque tile backsplashes offer something unique and exciting that will never go out of style, as opposed to the ubiquitous subway tile.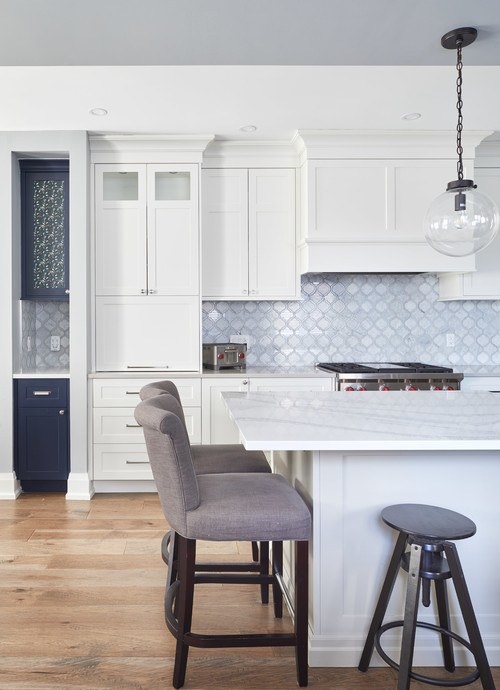 ID# 166318 | Houzz.com – Credit | © Gatti Brothers Ltd.
---
Marble Arabesque Tile Traditional Kitchen Backsplash
The marble arabesque tiles in the transitional kitchen radiate a vintage richness and beauty! The backsplash tiles may stand out and become the focus of attention due to the simple, uncomplicated design of the white shaker cabinets. White quartz countertops provide still another layer of texture and heighten the feeling of luxury with their marble-like texture.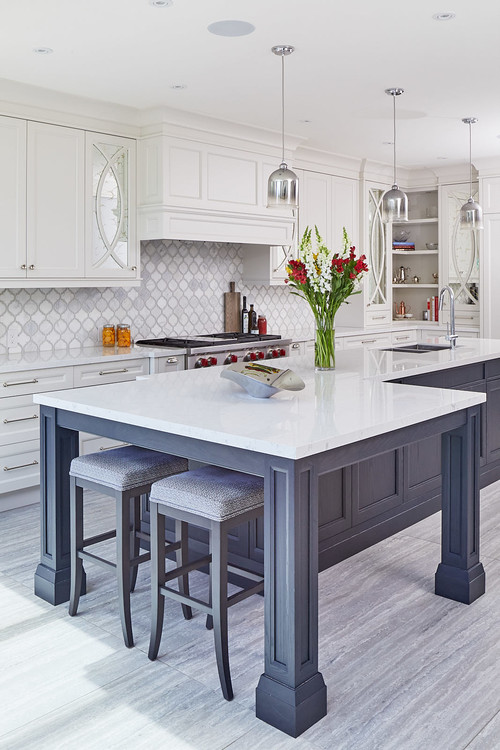 ID# 166319 | Houzz.com – Credit | © Lumar Interiors
---
Traditional Kitchen Design with Blue Island
The sophisticated color scheme in this traditional kitchen includes blues, grays, taupes and creams. The classic patterns and color pops produced a cozy atmosphere without losing refinement. The backsplash is made of arabesque tiles, the elaborate cabinetry, the quartz worktops, and the blue kitchen island. You have a magnificent haven thanks to the combination of all these lovely qualities!
Natural Stone Mosaic Tiles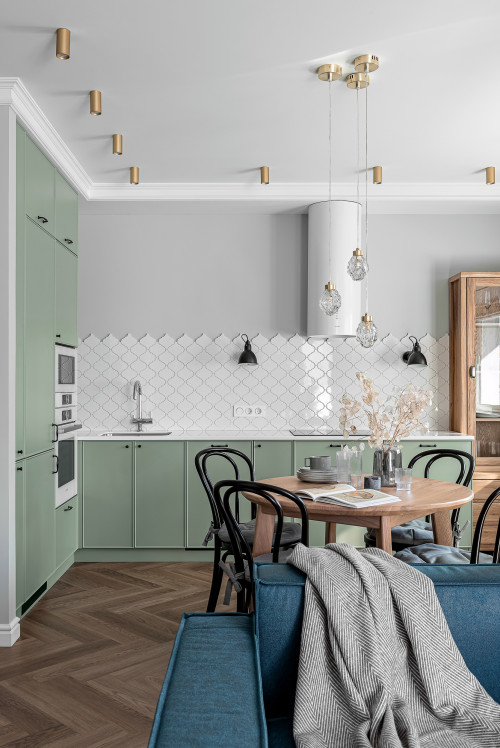 ID# 166320 | Houzz.com – Credit | © Михаил Косачёв
---
Sage Green Kitchen Cabinets with Matte Black Hardware
In this contemporary kitchen, the sage green cabinets dominate the space, creating a warm and welcoming atmosphere with full of joy! The matte black cabinet hardware and the white circular range hood perfectly complete the contemporary aesthetic of the cabinetry. On the other hand, the white arabesque tile backsplash makes a traditional twist that adds a nice textural look.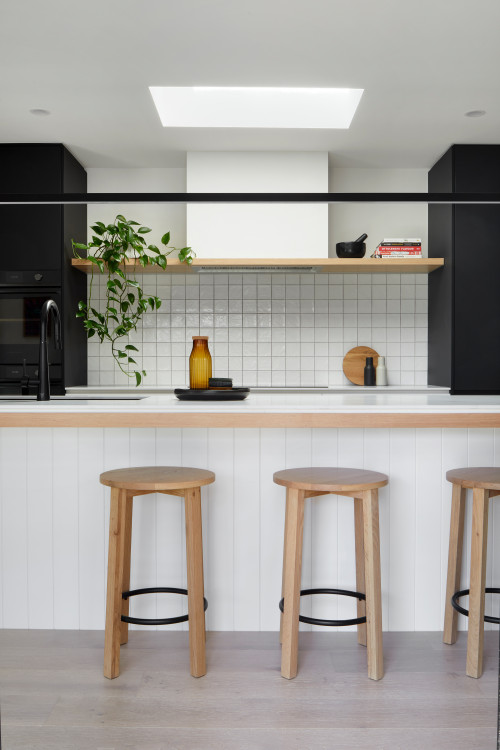 ID# 166321 | Houzz.com – Credit | © Demardi
---
Monochrome Kitchen Design with Wood Accents
Wood elements will soften the stark contrast and bring warmth to a black-and-white kitchen design! The white island and backsplash give this Scandinavian kitchen a bright, airy appearance while the black cabinets provide a refined sophistication. The square tile backsplash has a classic feel thanks to the grid pattern.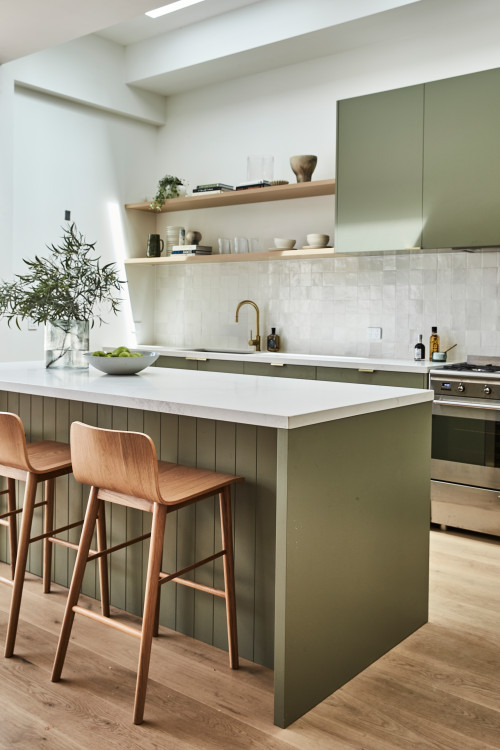 ID# 166322 | Houzz.com – Credit | © Naibu Design
---
Pastel Green Cabinets with Glossy White Traditional Kitchen Backsplash
If jewel tones aren't your thing or you want to tone them down, the color wheel will direct you to pastel colors. As seen in this contemporary kitchen, the subdued green cabinets create a gentle, natural aesthetic. The wood stools and floating shelves add to the organic sense that pervades the space. The white square tile backsplash's slight tonal variations, vertical horizontal features, and brass accents provide variety.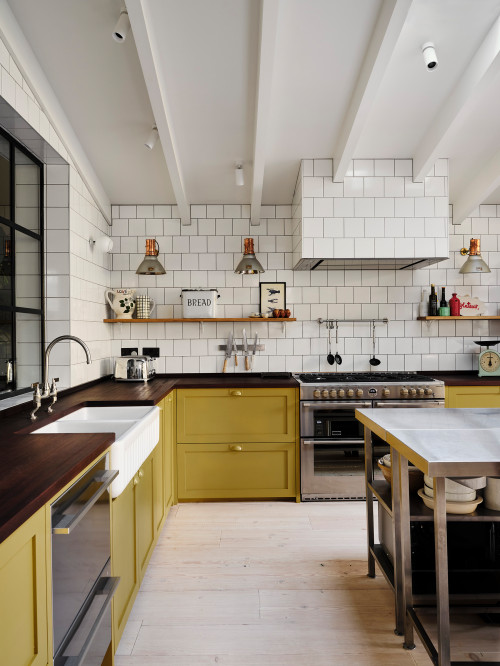 ID# 166323 | Houzz.com – Credit | © Field Day Studio
---
Yellow Cabinets with Dark Wood Countertops and Tiled Range Hood
If you are looking for a more traditional backsplash than subway tiles, then square tiles will be your savior! With its classic running bone pattern and white color, these square subway tiles make a string statement by covering the entire wall space and even the range hood. For the lower parts, the mustard yellow cabinets and dark wood countertops create a joyful appeal while reflecting the elegance of the traditional style.
Traditional Kitchen Stone Backsplash
Since it combines strength and beauty, stone is a popular choice for traditional kitchen designs. A stone backsplash easily raises the level of elegance in the room, whether it is made of marble subway tiles or slate mosaic tiles. A stone backsplash for your classic kitchen can become a significant investment by being properly sealed and maintained. It embraces the splendor of nature and is built to last, inspiring enduring appreciation!!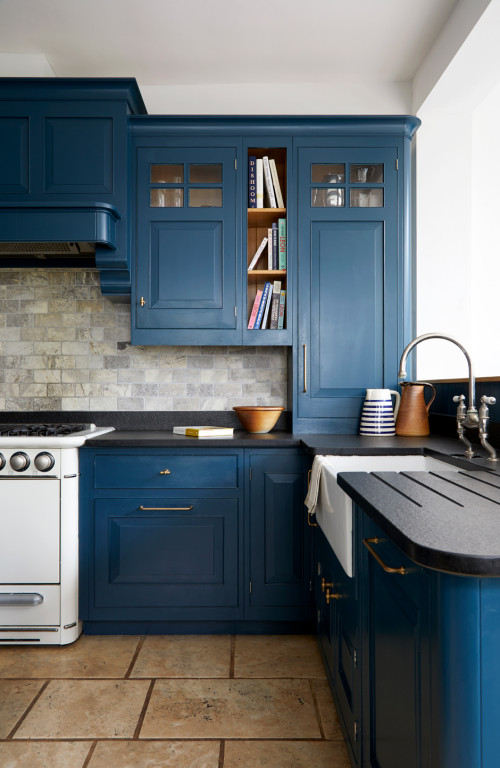 ID# 166324 | Houzz.com – Credit | © Fable Interiors
---
Navy Blue Kitchen Cabinets with Traditional Kitchen Backsplash
This Scandinavian kitchen concept's deep blue cabinetry creates a serene and tranquil atmosphere. The kitchen is aesthetically stunning because to the 4-inch backsplash and 4-inch black granite worktops that contrast with the navy blue cabinetry. The backsplash is beautiful and ageless thanks to the marble subway tiles. Beige stone floor tiles anchor the entire area and complete the aesthetic.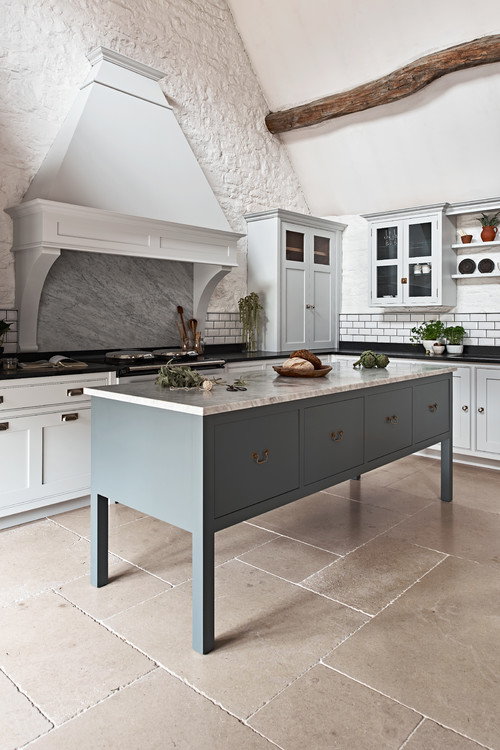 ID# 166325 | Houzz.com – Credit | © Cheverell
---
White Farmhouse Kitchen with Gray Island and Backsplash
With its double-height volume and white-washed stone walls and ceiling, this renovated farmhouse kitchen, despite its cavernous design, feels fresh and open. The massive range hood merges perfectly with the stone wall. The shaker cabinets, display wall units, and floating shelves add to the kitchen's storage options. Because the stone walls are difficult to maintain, they are overlaid with white subway and marble slab backsplashes. Finally, a rescued log takes the eye upward, highlighting the lofty ceilings and completing the rustic ambiance.
What is the most timeless kitchen backsplash?
A white backsplash is a traditional and genuinely ageless solution for any kitchen among all these alternatives. Any color scheme can easily be used with a white backsplash to create beautiful designs.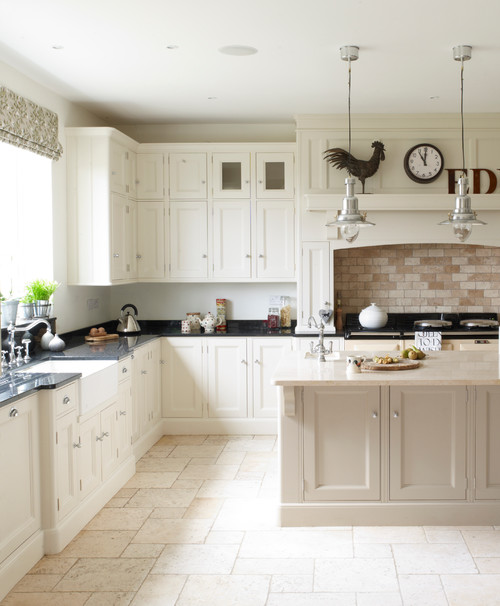 ID# 166326 | Houzz.com – Credit | © Rencraft Ltd
---
Hand-Painted Traditional Kitchen with Travertine Backsplash
This hand-painted, traditional kitchen combines luxury with practical family life. The historic elements, such as the paneled chimney, elaborate mantle, and travertine subway tile backsplash, complement the contemporary color palette and modern drop pendant lighting. The countertops around the wall units are dark granite, with a contrasting travertine worktop on the island unit.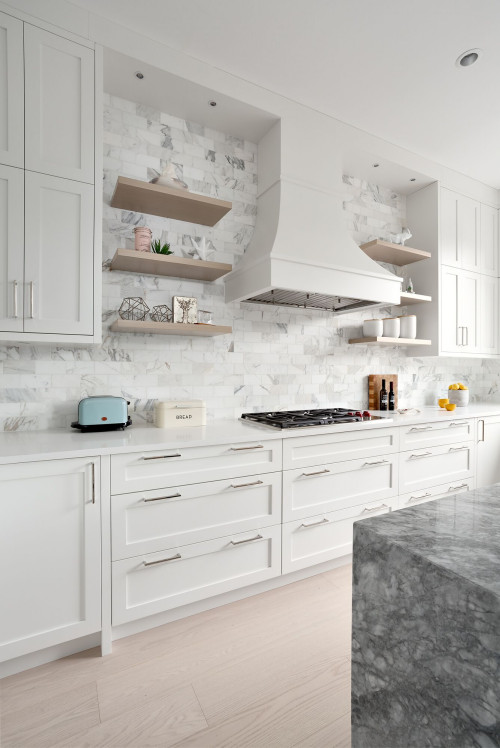 ID# 166327 | Houzz.com – Credit | © Kitchen Art Design
---
Marble Subway Tile Backsplash with Wood Floating Shelves
What an exquisite look!! This kitchen greets you with a magnificent appearance. With the sumptuous appearance of the marble subway tile backsplash, the white shaker cabinets and brass hardware offer a rich impression. The white quartzite countertops wonderfully balance the movement of the white shakers and the backsplash.