41+ Pendant Lights for Kitchen Island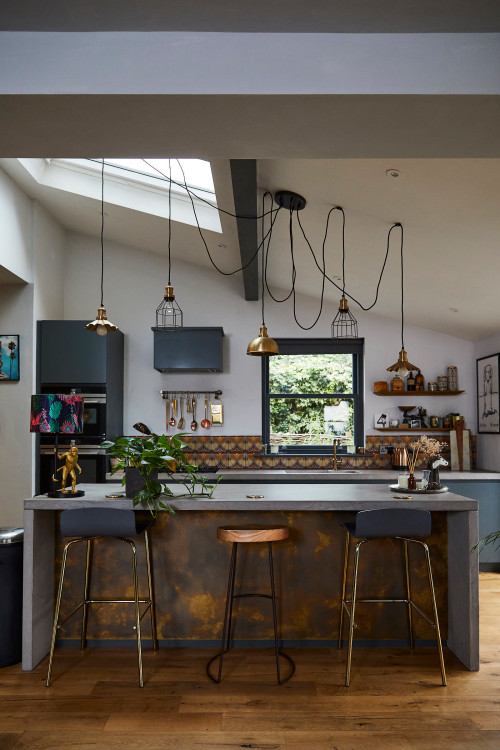 ID# 158206 | Houzz.com – Credit | © The Main Company
---
Eclectic Kitchen with Eye-Catching Island and Spider Pendant
This eclectic kitchen ties together a wide array of elements working in opposite ways but in a purposeful way to create harmony. First, let's start with the lighting fixture. This spider pendant over the island comes with a sense of casualty. Its lighting fixtures are suspended at different heights to create the illusion of casualness. Below is a concrete topped island with its oxidized metal corpse. Such a juxtaposition of these two different materials avails the kitchen to create authenticity. In the rest, the floating shelves, different-style stools, and hanging copper kitchen utensils bring more color and interest.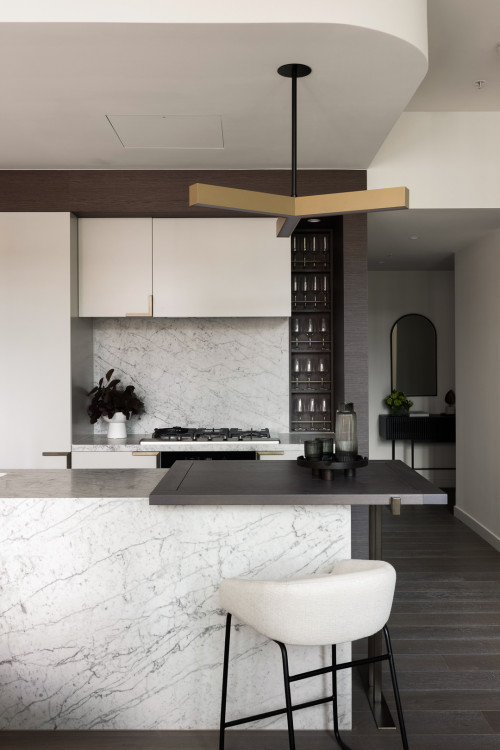 ID# 158235 | Houzz.com – Credit | © FURNISHD.
---
Unique Pendant Lights for Kitchen Island with Marble
In this contemporary kitchen the stunning marble island is merged with a bar counter extension that offers a cozy dining space reserved for one person. And it is complemented with a unique lighting fixture that adds a contemporary detail. At the back the white flat panel cabinets serve a clean and fresh backdrop while the dark wood details add visual interest. Also luxurious marble textures elevate the overall look.
Pendant Lights for Kitchen Island
One of the key elements of achieving a successful kitchen design is a good lighting system. No one would be able to work and want to cook in a dark and dismal space, let alone chop vegetables. Yet, aside from their functional benefits, surely, lighting fixtures bring in a high aesthetic value. And if you want to make a statement with them, pendant lights for the kitchen island are the best.
Available in chic glass, boho-style rattan, lantern, industrial, and modern designs, pendant lights for kitchen island come in various materials and sizes. Plus, they are one of the most cost-effective updating features. And even better, they are easy to work with and transform your kitchen island into a visual focal point. If you want to see how here we take a closer look at pendant lights according to two categories. First, we introduce different pendant design styles from rustic to modern, which are followed by pendant types. This second section includes the most popular and statement designs. All you need to do is to read on to explore some chic ideas for your kitchen design.
How do you pick pendant lights for a kitchen island?
Mainly used for task and accent lighting over kitchen islands, pendant lights have grown in popularity. Yet, the main reason behind that is that pendant lights are also enough to provide the entire kitchen with efficient light only by themselves. Though they are a fail-safe option both in functional and aesthetic terms, there are still a few details to keep in mind when picking a pendant light for a kitchen island
First, get something that reflects your kitchen's overall style unless you aim for an eclectic kitchen.
Secondly, decide how many pendants you will need, depending on the size of the kitchen island. For larger ones, generally, 3 pendants are enough. But if your pendants are rather small, then you can consider getting a fourth one. It is also recommended to leave 24-34 inches between the pendants.
Thirdly, the material is an important detail. If you prefer something easy to clean, then consider glass and metal pendants that are simple in form. And avoid fabric ones.
Styles of Pendant Lights for Kitchen Island
Just like kitchens that come in various styles from rustic to industrial and modern, pendants also come in various styles. They are also designed to fit specific looks including eclectic kitchen islands that mix and match different elements. Now let's take a closer look at them.
Modern Pendant Lights for Kitchen Island
Modern pendants include LED pendants, linear lighting fixtures, suspended tracking spotlights, abstract-formed pendants, and many more. In terms of design and structure, modern pendants could look experimental, futuristic, and geometric. Or you see them in sleek and minimalist forms such as the linear ones that are perfect for big kitchen islands.
How big should pendant lights be over a kitchen island?
When deciding the size of pendant lights for your kitchen island, there are a couple of factors to consider, such as the size of a kitchen island. If you have a small kitchen island, you won't need something oversized. Two small pendants of 8 inches are enough for a 4-5 feet island, for example. For bigger islands, you can act more generous. As a general rule of thumb, it is recommended to subtract 12 inches from the width measurement of your island and use it as a cue for how wide the pendant should be. For example if your island measures 30 inches, then you can choose a pendant with 18-inch width.
Traditional Pendant Lights for Kitchen Island
Traditional pendants feature classic metallic finishes. Lantern pendant lighting fixtures are the most popular style categorized as traditional-farmhouse designs. For a luxurious look, consider their polished chrome or gold finish. On the other hand matte black ones offer more contemporary appeal.
What are the best pendant lights for the kitchen island?
Glass pendants are very popular for kitchen islands. They are transparent, stylish, and versatile, suiting any kitchen design. However, if you don't like transparent ones, you can also find opaque and white glass versions. Plus, they are easy to clean and available in a wide array of sizes and designs.
Rustic Pendant Lights for Kitchen Island
Antler chandeliers, copper and antique brass fixtures, patinated pendants, and organic-formed lighting fixtures can create a truly rustic look for a kitchen island. You can push the boundaries of your imagination when it comes to rustic pendants and even make one yourself comprised of reclaimed materials!
Industrial Pendant Lights for Kitchen Island
Industrial pendant lights for kitchen islands include spider pendants, dome-shaped fixtures, tracking spotlights, heavy metal pendants, and rustic wood shades. Antique finish brass lighting fixtures and exposed Edison bulbs are also common, in addition to them. To create an industrial look, go with something basic and functional.
Types of Pendant Lights for Kitchen Island
Popular pendant light types can be grouped under the categories of globe, dome-shaped, rattan, lantern, and unique designs. Additionally glass pendant lights come in various styles and sizes, giving a contemporary upgrade to kitchens.
Glass Pendant Lights
The extensive array of glass pendant designs proves that it is a truly popular option and versatile. From smoky bell-shaped glass pendants to colored ones to seeded, geometric, tear-drop-shaped, gold ring glass, and many more, glass pendant lights are various. This variety ensures that there are multiple glass pendant options for every kitchen design.
Globe Pendant Lights
Globe pendants consist of large round-shaped shades generally made of opaque or transparent gold. Some are thoughtfully detailed with metal finishes, from brass to chrome. Some, by contrast, can be minimalist, luxurious, and modern, depending on the design. Unlike other lighting fixture designs, globe shades can also be tied together to create a cluster globe pendant. For a more statement look, you can give the cluster globe pendants a chance.
What is trending in kitchen lighting?
Trending kitchen lighting designs in 2023 opt for natural elements, statement-makers, and intriguing forms. In addition to them, a high level of adjustability and functionality are the following sought-after criteria for designers and homeowners. So, don't be surprised if you see an abundance of wicker and rattan pendants, organic-patterned lighting fixtures, wall sconces with adjustable arms, LED directional lighting, and spider pendants. Some are praised for functional benefits, while some are for their looks and textures. But they add value to your kitchens.
Apart from those, this year also welcomes old-world charm, texture, and warmth. And lighting fixtures are one of the best ways to evoke coziness and warmth, especially in high-traffic areas like kitchens. Hence, feel free to incorporate vintage pendants, lanterns, and rustic designs. Also, don't skip on creating a layered lighting system for a more eclectic look.
Lantern Pendant Lights
Popular in industrial and farmhouse kitchens, lantern pendants generally feature light bulbs that look like candle holders. While some- mostly the bigger versions- feature a glass frame, smaller ones may not. Black matte, satin nickel, chrome, brass, and copper finish versions are available. For a luxury look, you can choose chrome versions. Or for a more modern vibe or industrial feel, black matte pendant lights are the way to go.
Rattan Pendant Lights
Associated with beach-style, Bohemian, and Scandi kitchens, rattan pendants are the best way to add warmth and texture. They have a way of their own to constitute a sense of casualness. It is almost impossible to go wrong with them!
Dome Pendant Lights
For a functional downward lighting system, dome-pendant lights are very effective and great way to create focal points above your kitchen island. From black to brass they are available in different materials and finishes, including rattan and wood ones. In terms of style they have very eye-catching and highly curvy forms.
How do I choose the right size pendant light?
Choosing the right size pendant light depends on the island size. But first, keep in mind that a 30 to 36 inches distance should be maintained between the countertop and the light base. This way, you ensure that clearance is secured, and pendants don't block your view. At this point, ceiling height may also need to be considered. If you have a low ceiling, for example, then you may need to get a smaller pendant. And when it comes to choosing the right size pendant, it is recommended for the lighting fixture to be between 2/3 and 3/4 of the measurement. So, all you need to do is to measure the width or diameter of your island. Then you also automatically know how big your pendant should be.
Unique Pendant Lights
With unique pendant lights, you can make your island the star piece of your kitchen. Just to name a few, modern fat light fixtures, cluster pendants, copper/brass pendants, tear-dropped glass fixtures, and many more could be regarded as unique pendant lights. If you want something more minimalist and sleeker, slim LED, summit, and linear lighting fixtures could be a great alternative.
Oversized Pendant Lights
Oversized pendants are one of the best pendant types for kitchen islands since they also help delineate the space. As such, they can be extra beneficial for kitchens inserted into dining rooms and lounges. In such floor plans, not only do they make instant statements but also create focal points. When it comes to their most popular designs, we can count dome-shaped oversized pendants, paper lanterns, cluster pendants, and large rattan fixtures. Each one of those brings a very immersive look. So, free feel to act bold and get artful ones.